If you're curious about the Holland America Daily Program and onboard activities, I saved each program from our 7-Day Alaska Cruise. I'm going to go over the various activities you can expect to enjoy throughout your trip and during sea days. You'll find that many activities are common among all ships while other activities are specialized for your location.
Each evening your room steward will leave a printed-out daily program highlighting special events and listing and hour by hour run down of all scheduled activities for the day. While some cruise ships only offer their daily program on an app, I really enjoyed receiving mine each evening.
Holland America Lecture Series at Sea
For those looking to truly immerse themselves in their destination, the Holland America daily program includes a Lecture Series at Sea which shares the rich culture of Alaska. Learn about the Iditarod legendary dog sled race, the great whales that visit the Alaskan waters, and there is even a live Raptor encounter.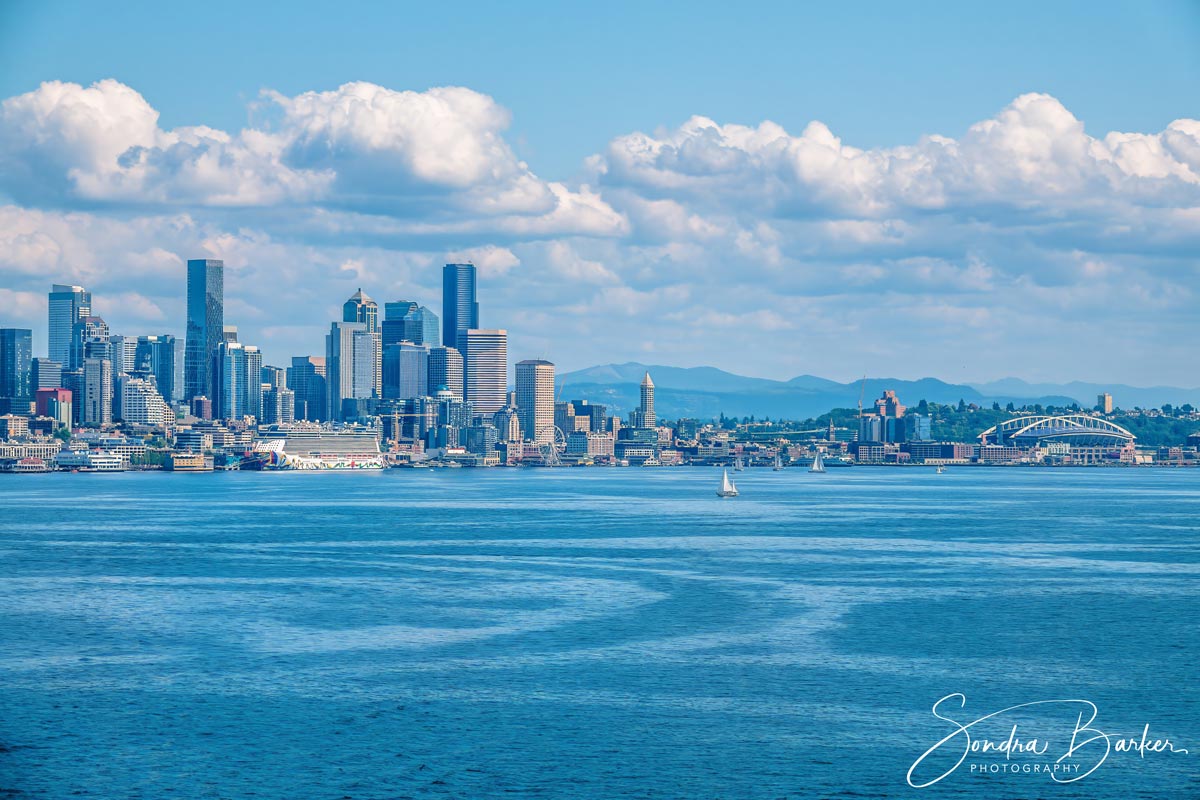 Alaska Up-Close
As part of Holland America's educational programs, they've introduced Alaska Up-Close which brings expert natives of Alaska on board the ship to lead both the lectures and commentary. Nationalists and park service rangers will share their knowledge on topics such as Pacific Giants: Iconic Whales of the Northwest and Breaking the Ice Ceiling: Pioneering Women of Alaska.
Embarkation Day Daily Program
Embarkation day is always like an introduction to the ship. There are a variety of raffles to win gift certificates and tours of the various facilities like the spa & fitness center. Many of the shops will offer complimentary glasses of champagne to entice you to visit.
Below is the Holland America Daily Program for embarkation day out of Seattle.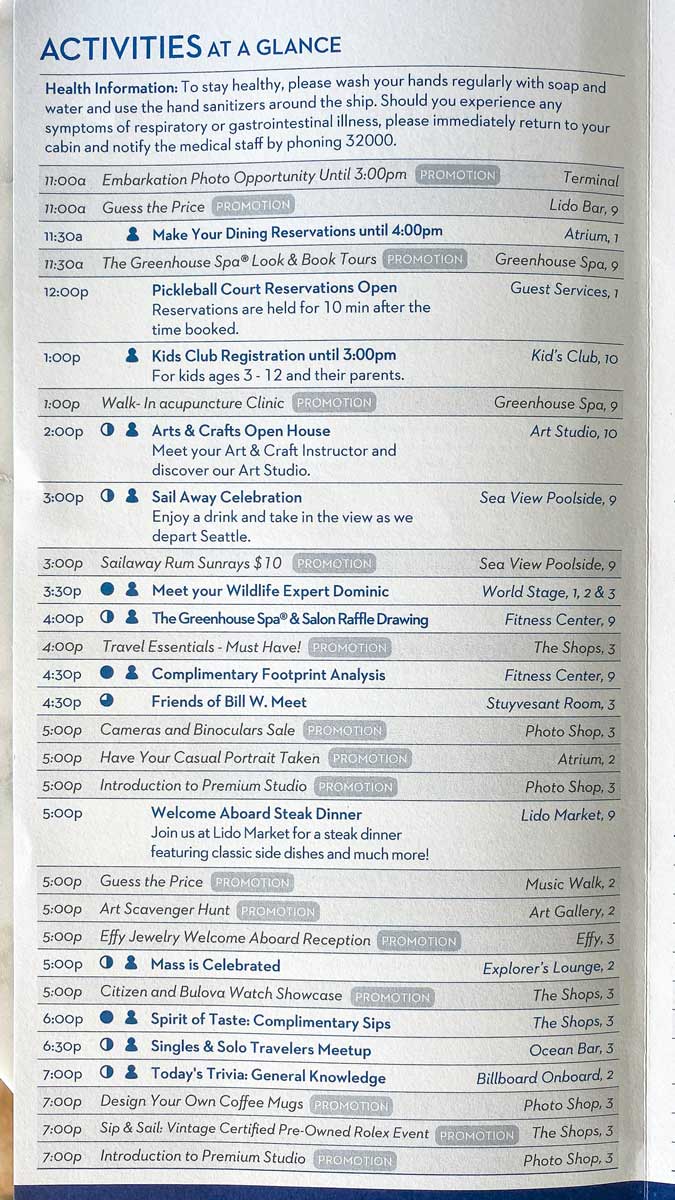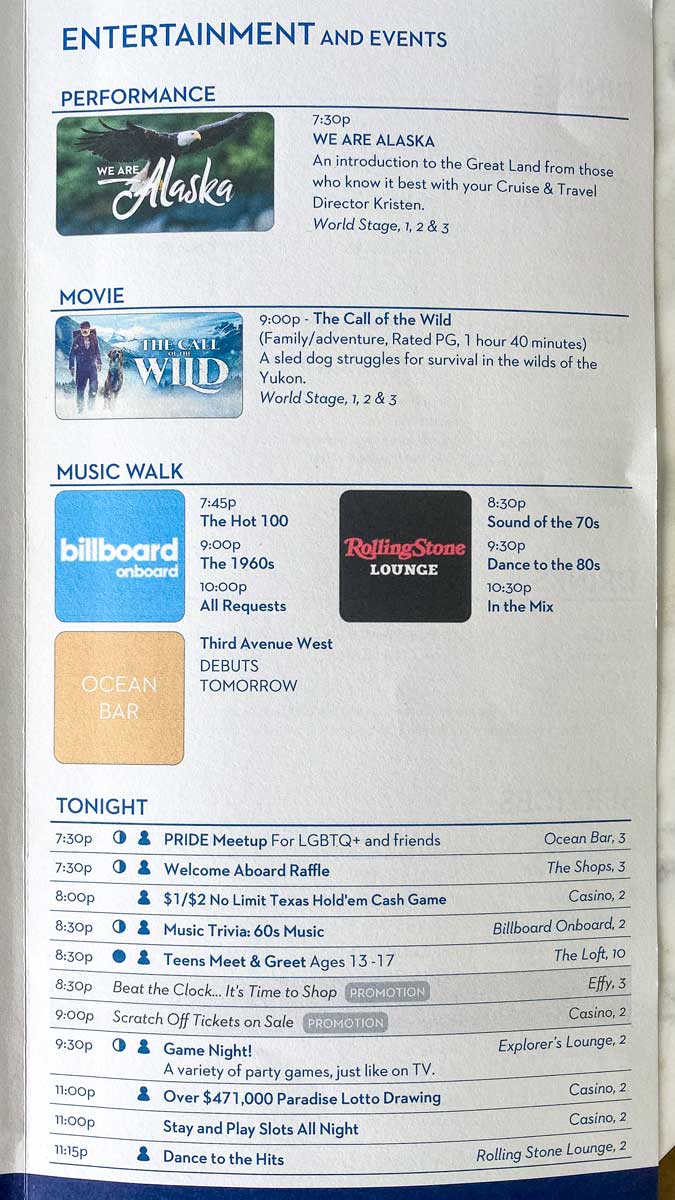 Movies
Throughout the cruise, there are a variety of movies and documentaries shown. Most were themed to the Alaska cruise but on the last night, those who decided not to go into Victoria, Canada were able to watch the new Guardians of the Galaxy. I'll admit I was slightly jealous and wish they would have shown this on a sea day instead of a port day.
Daily Program Day 2
Day two of our Alaska trip was an "At Sea" day and also our first Gala Night in the main dining room. We also had our first performance at the World Stage which was preceded by a champagne toast with the caption. You'll see this at 7:15 "Captains Welcome" which was also shown on the front page of the daily program.
Pro-tip: Everyone loves their free champagne so make sure to arrive early if you hope to grab a seat for the show. By the time we arrived, it was too crowded to find a decent seat, but we were still able to enjoy a glass of complimentary champagne which was nice.
Below is the Holland America daily program for our second day at sea.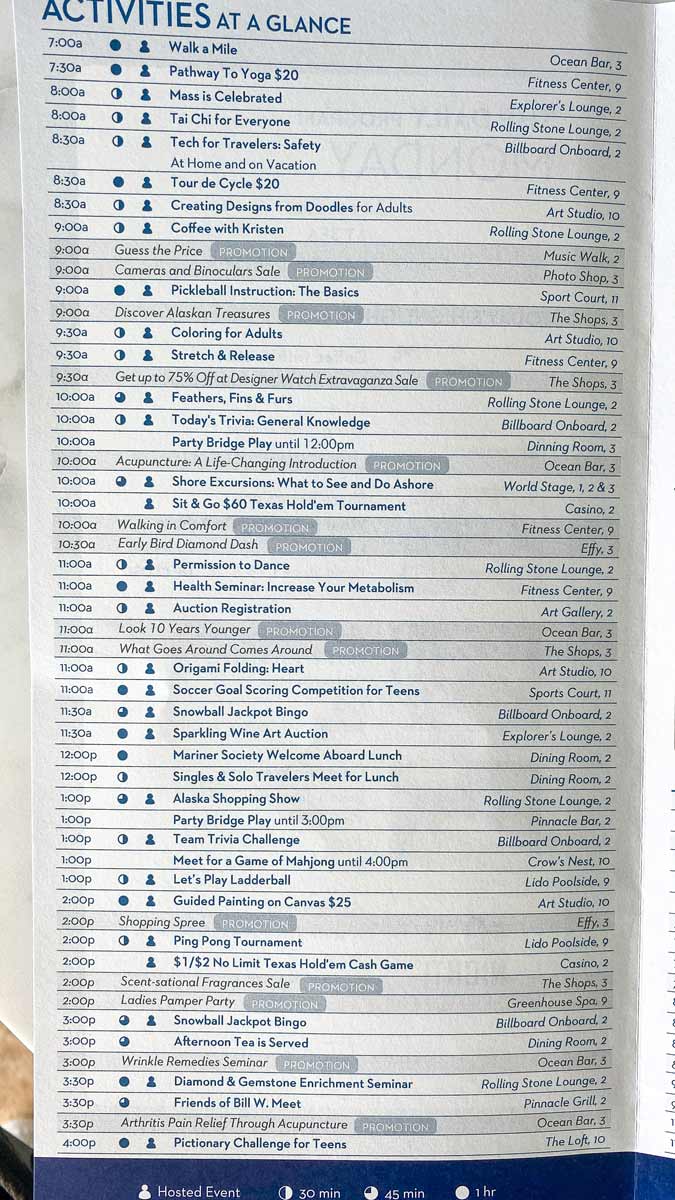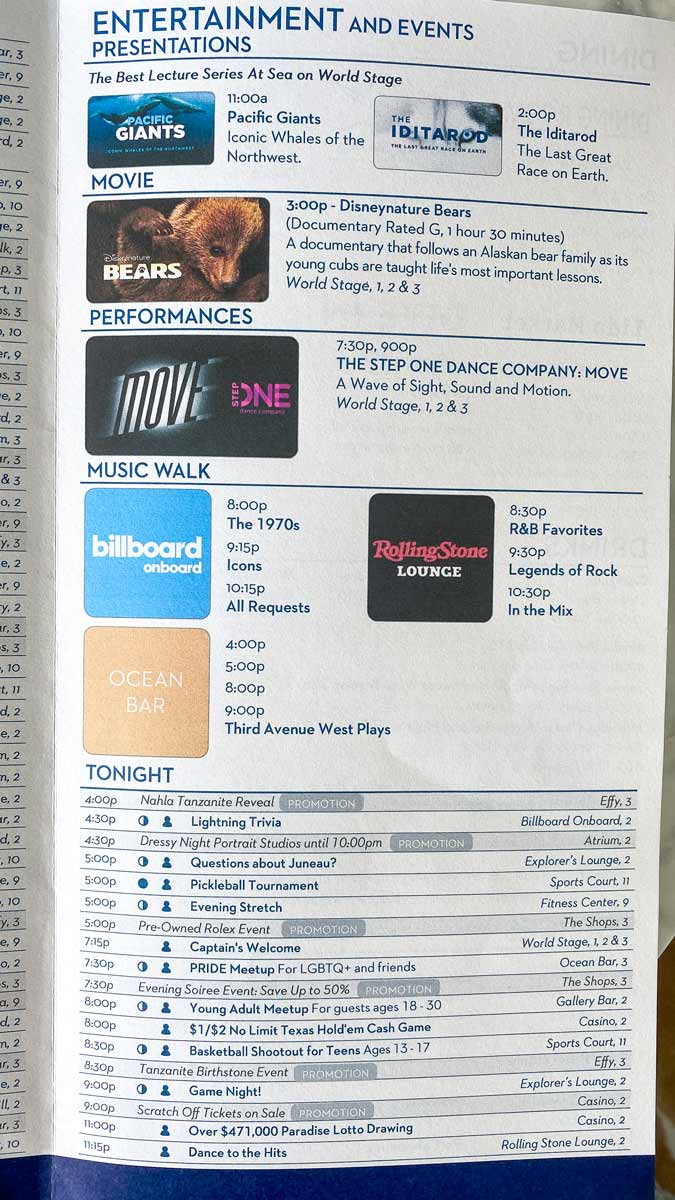 World Stage Performances
There are a variety of nightly shows on all of Holland America's cruises. During our 7-day Alaska cruise there was the Step One Dance Company and Major Fourth singing group. Shows typically start at 7:30pm and then show again at 9pm. We would have dinner around 5-6pm to catch the 7:30pm shows.
Daily Program Day 3
Day 3 of our Alaska cruise was the first port day in Juneau. Alaska's capitol city is spectacular with some of the most popular excursions. Arrival was from 1pm – 8:30pm which allowed plenty of time to explore the city. Activities on long port days are typically very light.
Below is our Holland America daily program for Day 3 of our cruise in Juneau.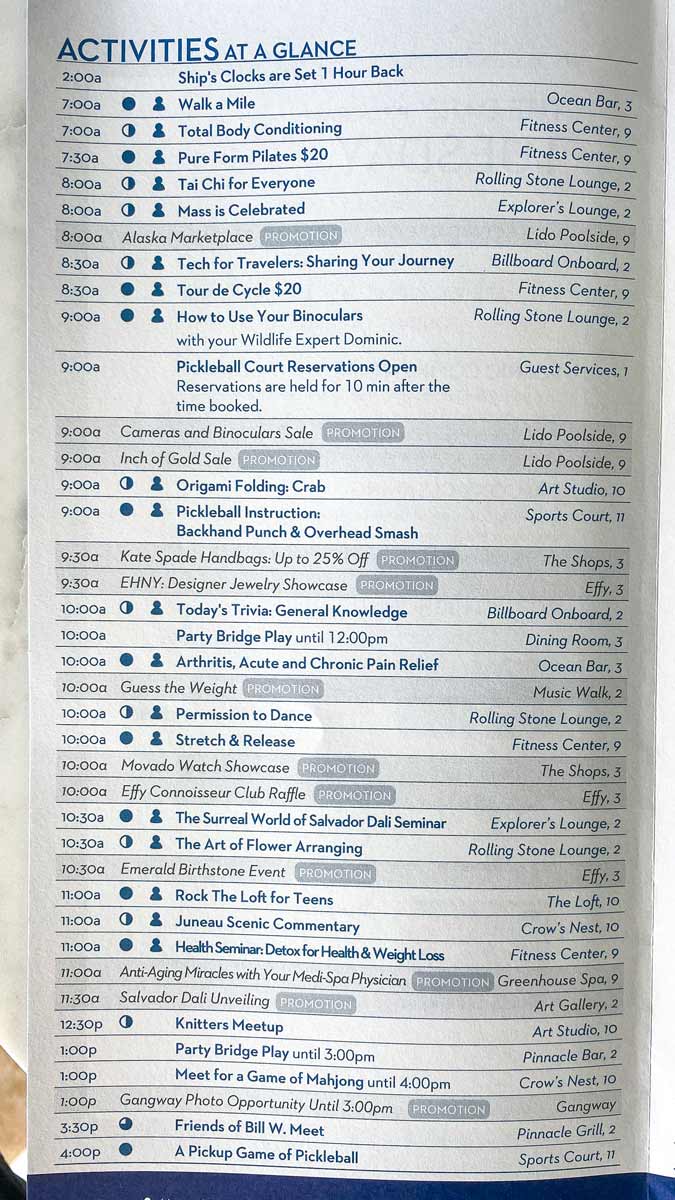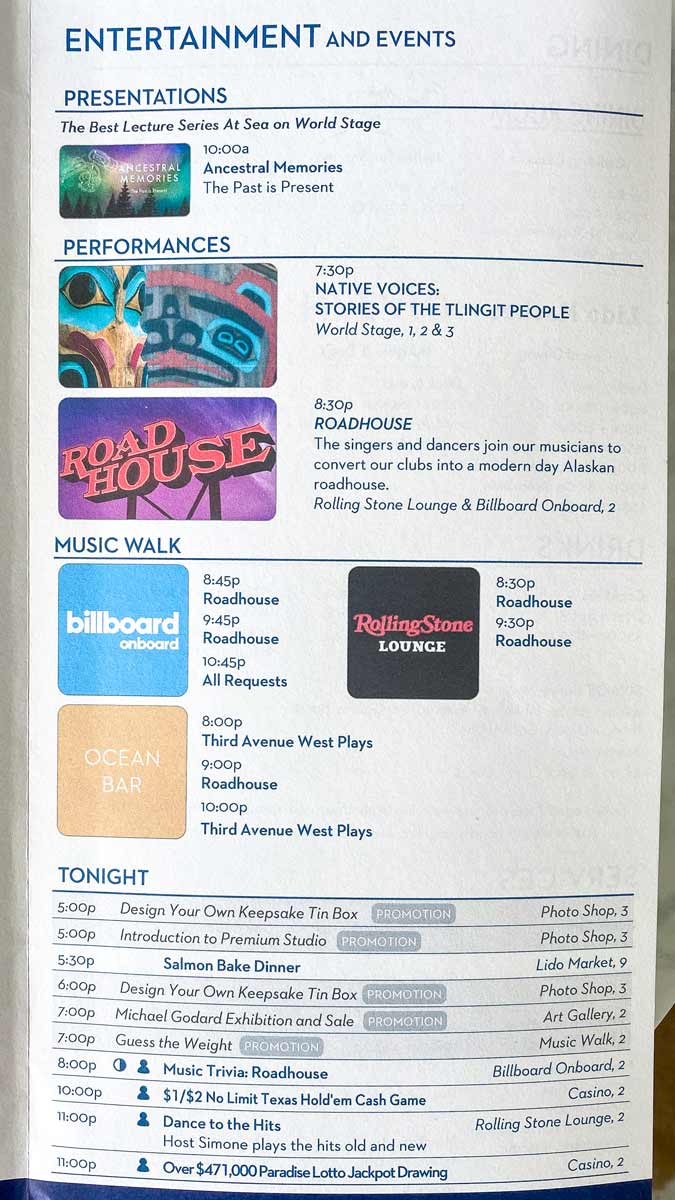 Pickleball
It seems Pickleball is all the rage and Holland America offers Pickleball instructions and tournaments throughout the cruise. Pickleball is like a cross between tennis, ping-pong, and badminton. Pickleball is much easier to play than tennis, but for those wanting to stay active on a cruise ship you can burn around 350 calories playing!
Daily Program Day 4
Day 4 of our Alaska Cruise was our fabulous visit to Hubbard Glacier. During this day they opened the bow of the ship to view this wonderful spectacle. Being so close to the glacier is chilly so Holland America also serves Dutch pea soup and mulled wine while viewing.
Pro-tip: Pack a light winter jacket like a puffer jacket and a winter hat or earmuffs with gloves. Those who weren't bundled up didn't stay outside very long.
Below is our Holland America daily program for Day 4 of our cruise to Hubbard Glacier.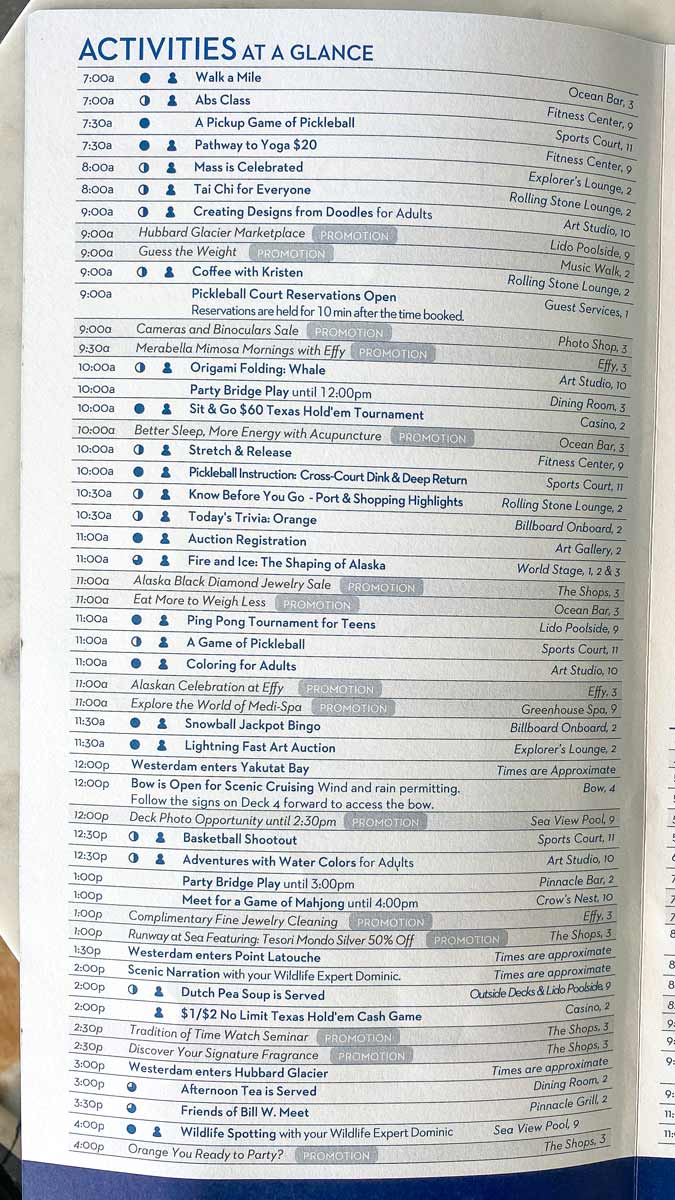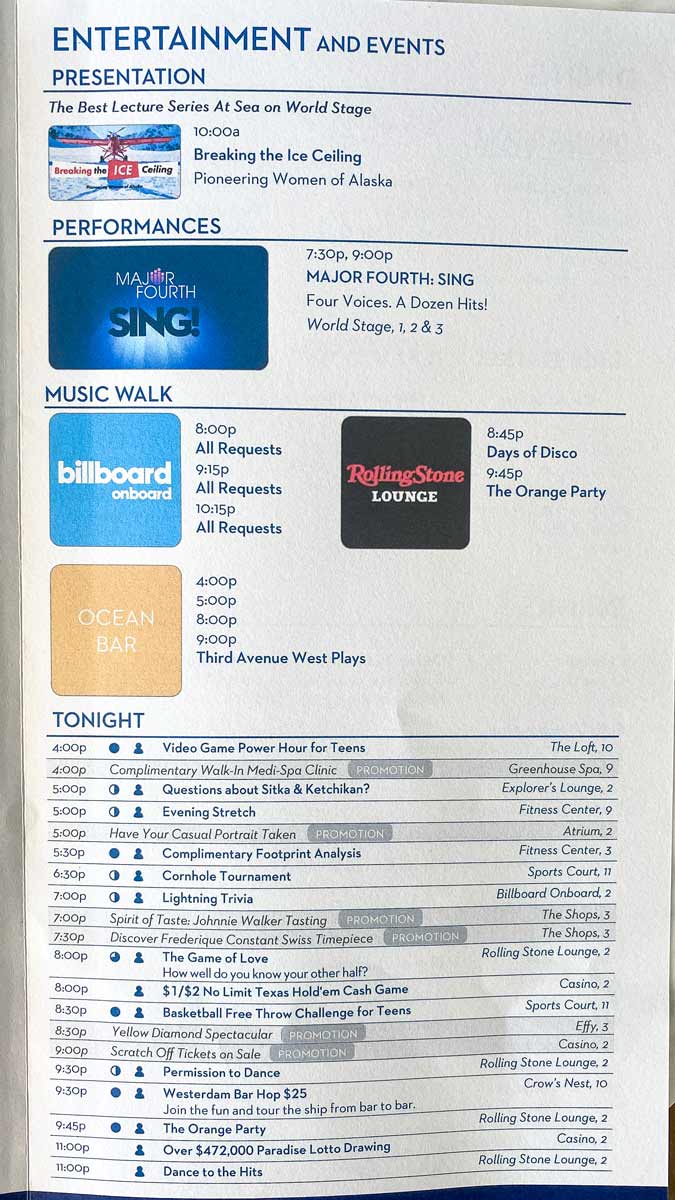 The Orange Party
Make sure you pack your favorite orange outfit for the Orange Party which takes place on every cruise. There are themed Dutch foods, orange cocktails, live music, and dancing. The Holland America cruisers love this event and go all out!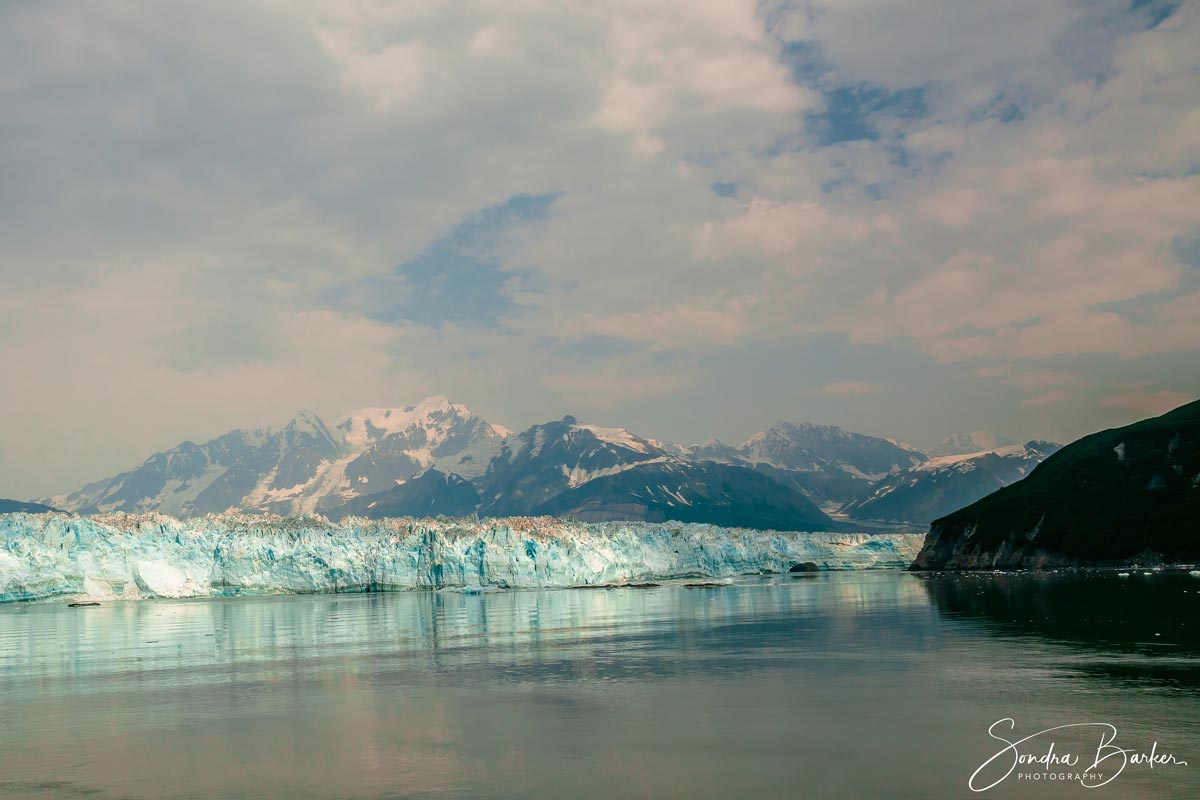 Viewing Hubbard Glacier on Holland America
Holland America will stay in front of Hubbard Glacier for a few hours offering plenty of time for scenic viewing and photography. I highly recommend opting for a balcony room when you are taking an Alaska cruise. The captain will do several full 360 turns of the ship so you will be able to enjoy Hubbard Glacier right from your balcony. If you're a photographer, it makes for some breathtaking photos.
Pro-tip: I kept my tripod right next to my balcony and was able to capture amazing photography right from my room!
Daily Program Day 5
On Day 5 of our cruise, we arrived in Sitka at 8am and all aboard was at 3:30pm. This was my favorite port on the cruise. On this evening they had The Comedy of Leland Klassan. Comedy shows are always our favorite. If you sit in the front you'll often end up as part of the jokes!
Below is our Holland America daily program for Day 5 of our cruise in Sitka.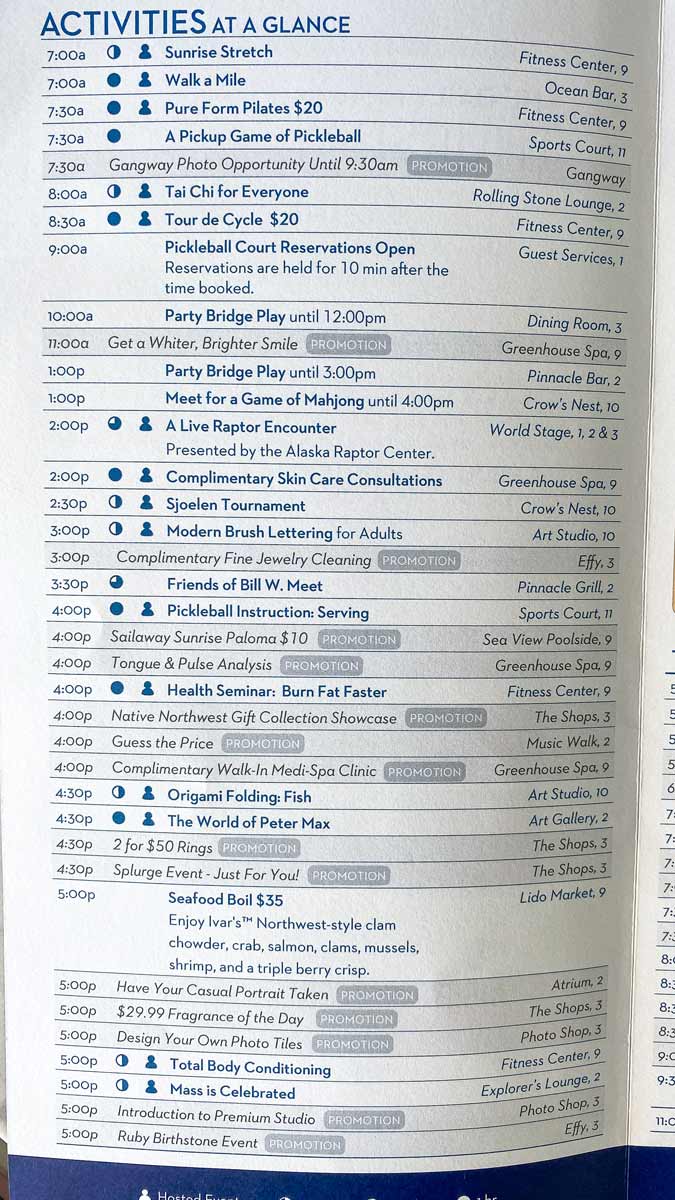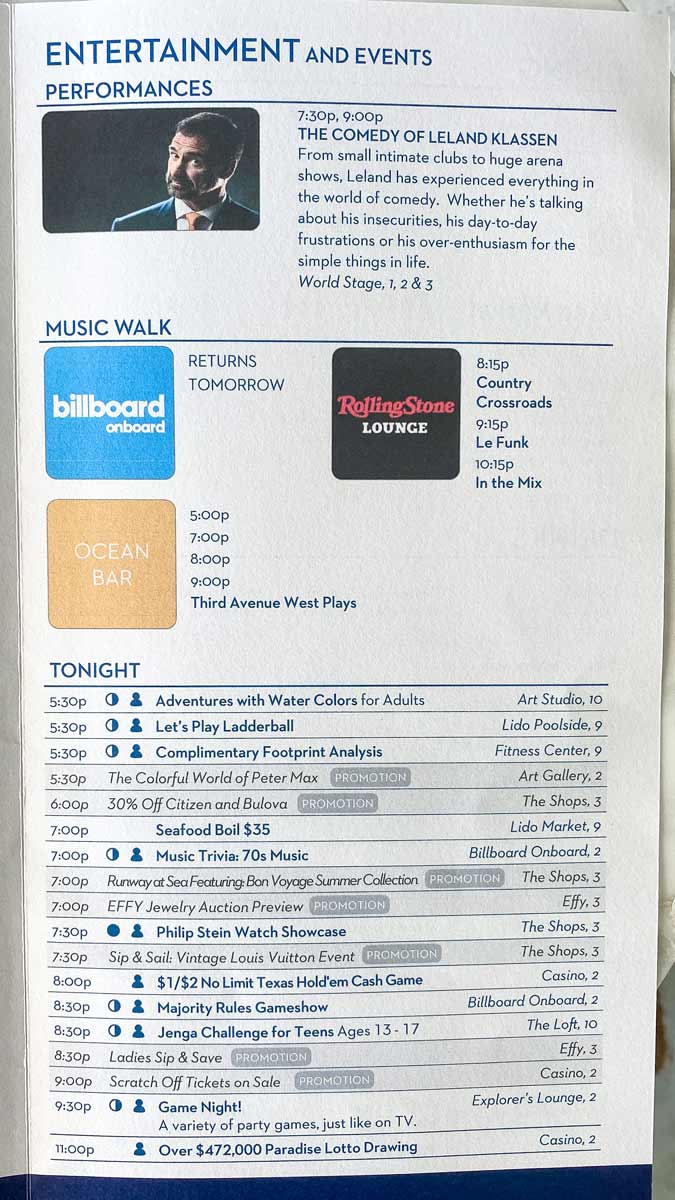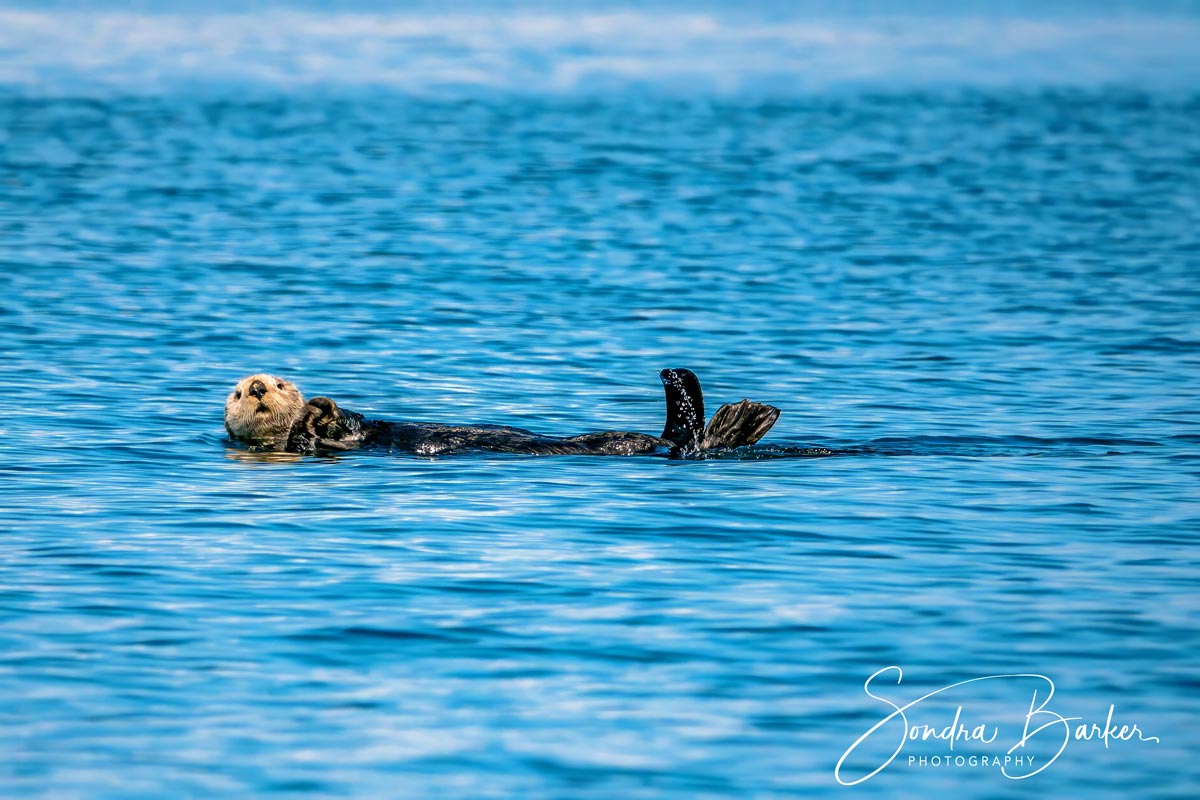 Best Excursions in Sitka, Alaska
During our visit to Sitka, Alaska we booked a private boat with a guide and saw whales, sea otters, and even spotted eagles on our way back. I got the most amazing photography and it was definitely my port on our Alaskan cruise. I highly recommend booking any type of boat tour to view wildlife or kayaking.
Daily Program Day 6
On day 6 of our cruise we arrived in Ketchikan at 7am. This was a very short visit as all aboard was at 12:30pm. For those who dare to brave, Holland America holds a special Polar Bear Plunge at 1:30pm in the sea view pool. Those who take this chilly dip will receive a certificate of their accomplishment and be indoctrinated into their Polar Bear Plunge Hall of Fame.
Below is our Holland America daily program for Day 6 of our cruise in Ketchikan.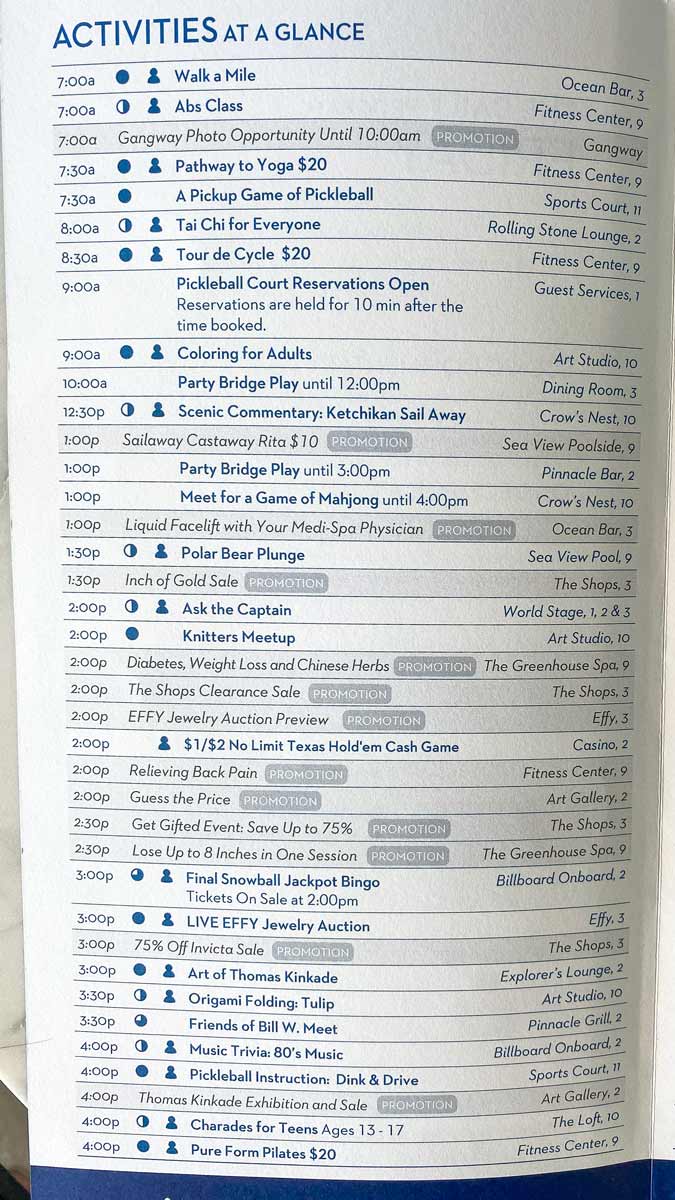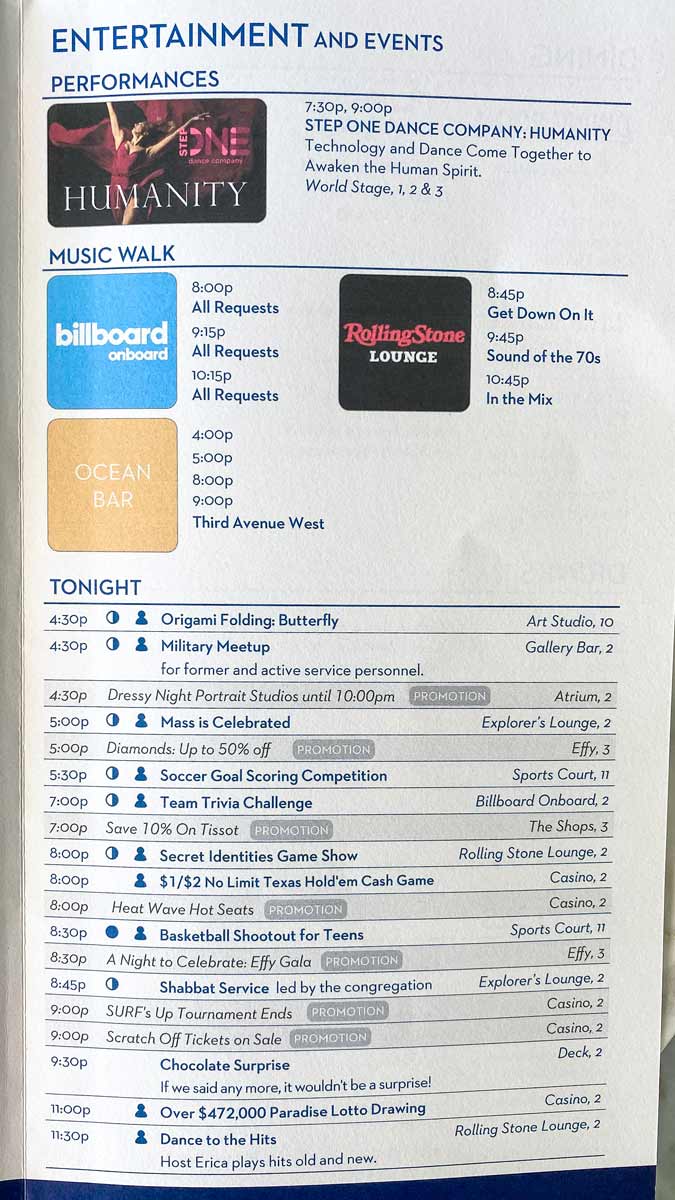 Pro-tip: Fellow foodies should also take not of the 9:30pm Chocolate Surprise on deck 2!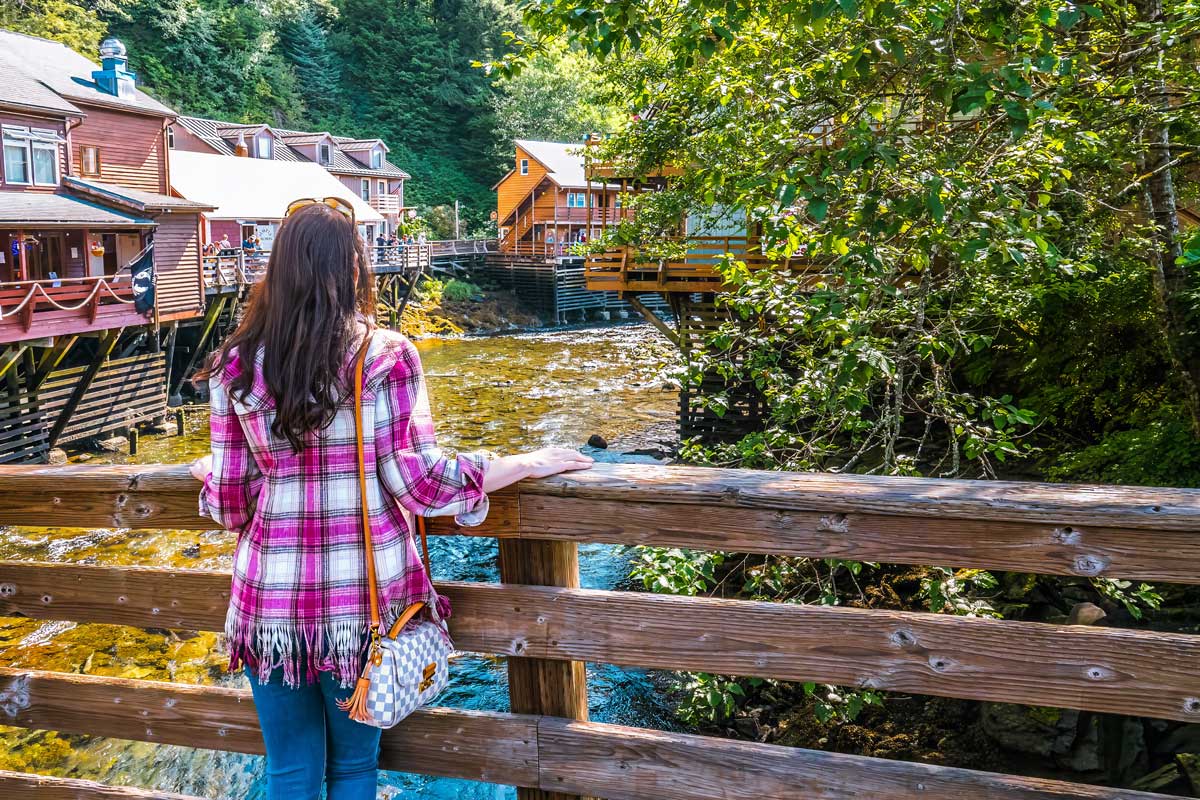 Exploring Ketchikan
If you don't mind waking up early, this is a great city to book excursions to see bears in the wild. We did not want to wake up too early however so on this day we enjoyed a couples massage and salt scrub. Then we went into town to check out the salmon swimming upstream at Creek Street and enjoyed fresh Dungeness crab at one of the local restaurants for lunch.
Daily Program Final Day
Our final day of the cruise did not arrive in Victoria, Canada until 8:30pm and all aboard was at 12:30pm. An early show by Major Fourth singing group started early at 5pm and for those who decided to stay on ship, there was a viewing of Guardians of the Galaxy. My fiance insisted we step foot in Canada since he had never been.
Pro-tip: If you are heading into Victoria, just take a taxi as the line to get back on the shuttle was so long we ended up paying for a taxi back to the ship anyway even though we paid $60 for the shuttle.
Below is our Holland America daily program for Day 7 the final day of our cruise.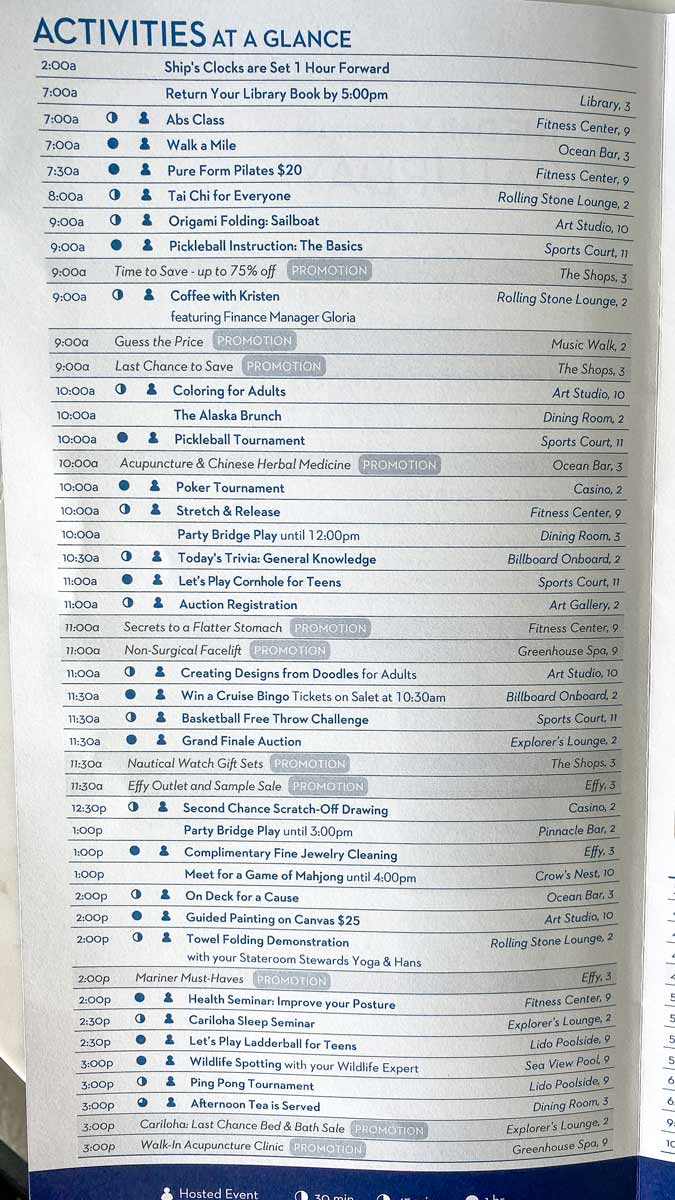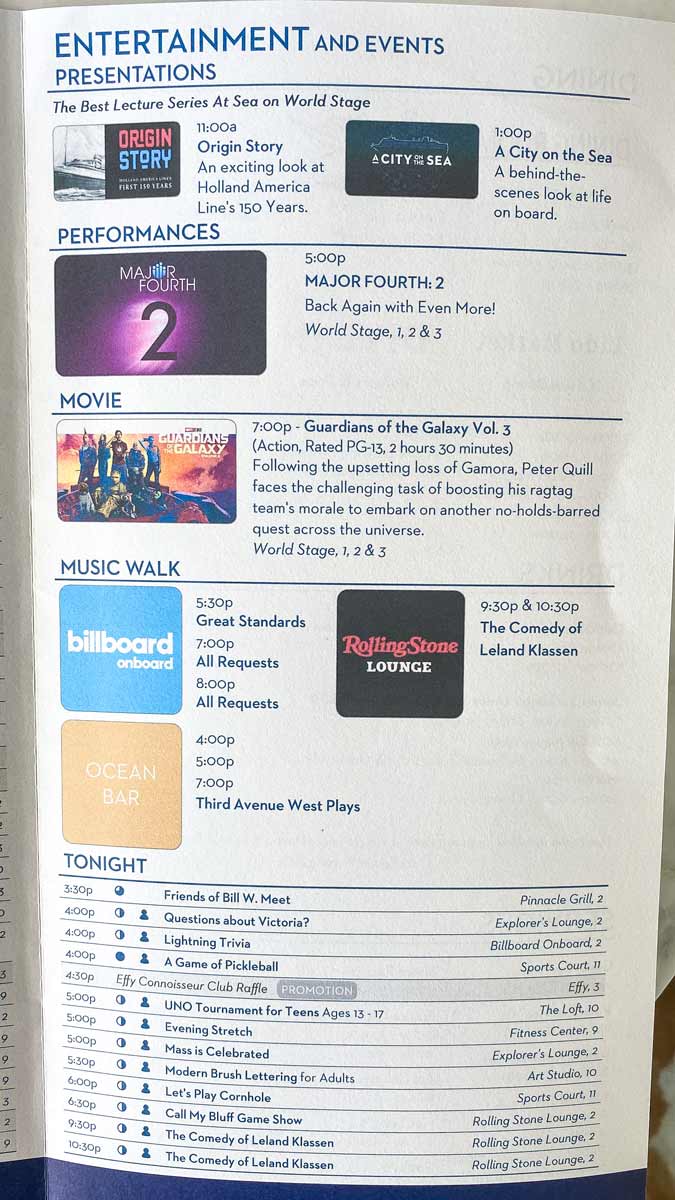 Games, Trivia, and Tournaments
Each day on the ship hosts a variety of different games such as cornhole, bridge, and mahjong. For a fee, guests could play Bingo to win various prizes. If you're looking for a little competition there were also numerous tournaments and buy in Texas Holdem. Almost every day also had various trivia and team trivia in the Billboard Room
Activities For a Fee
Most activities are free but there are a few specialty activities that have a fee. Those include various wine and spirit tastings, the Westerdam bar hop, guided painting on canvas, and their morning yoga, pilates, and cycling classes.
Alcohol Tastings
Be sure to view the back of your programs for the various tastings which range in price. Below is a list of what is offered and their prices.
James Suckling's Great Wines of the World $39
Mixology Class: Old Fashions & Mai Tai's $15Single Malt Whiskey Tasting $25
Alaska Beer Tasting $15
James Suckling's Pacific Northwest Wines Tasting $25
Mixology Class: Margaritas & Mojitos $15
Westerdam Bar Hop $25
Overall, the activities on Holland America are similar to many other cruise lines. The focus a bit more on educational lectures and diving into the culture of each destination which I enjoy. There is really something for everyone. In addition to all the ship activities they also have a library where you can rent out books to read on your balcony or by the pool. On level 10 in the Crows Nest they also have a variety of fun board games. We played several rounds of Apples to Apples while gazing out at the open Alaskan sea. I would have no hesitations to book with Holland America again!
Discover Our Travel Guides
View all of our travel guides and get tips on things to do, where to stay, and what to eat in each destination.