Here is an inside look at our Holland America dining experience in the MDR ( main dining room) including menus and photos of the various meals I enjoyed. This review is from my 7-day Holland America Alaska Cruise aboard the Westerdam, but this will give you a great idea of what to expect on all Holland America cruises.
What food is included with my cruise?
When cruising with Holland America, all the food in the MDR, Lido Deck Buffet, and Drive-In are included with your cruise. We always prefer to enjoy the food in the Main Dining Room for breakfast, lunch, and dinner as the food is more elevated and the experience is much more relaxing.
While some people declare the food in the buffet and MDR are the same, I have not found this to be the case.
Holland America MDR Special Events
Throughout our 7-day Alaska Cruise with Holland America, there were numerous special dining opportunities. Here are the 3 special dining events to look for on your next cruise.
Gala Nights
All 7-day cruises have two Gala Nights in the main dining room which I highly recommend. On Gala Nights you can expect the food choices to be even more elevated than normal. For example, we enjoyed dishes like rack of lamb, escargot, and duck breast.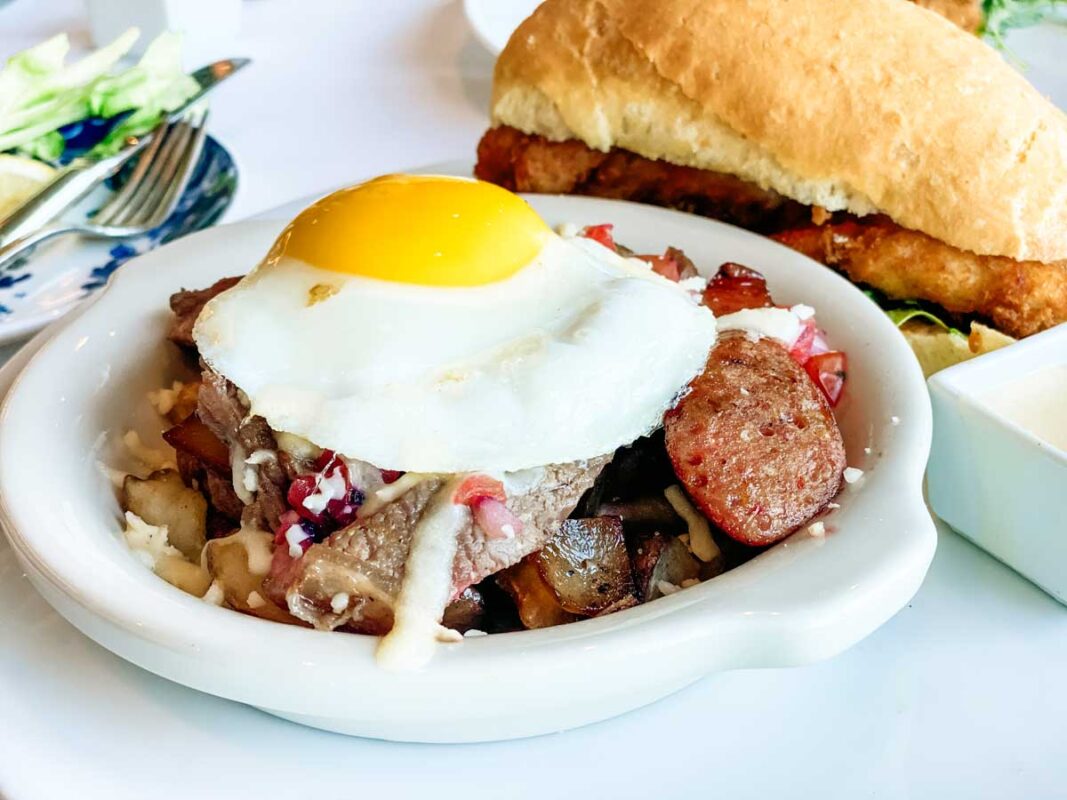 Alaska Brunch
Additionally, the Alaskan cruise also had a special Alaska Brunch on the morning before disembarkation. This brunch had special dishes such as steak & eggs with reindeer sausage.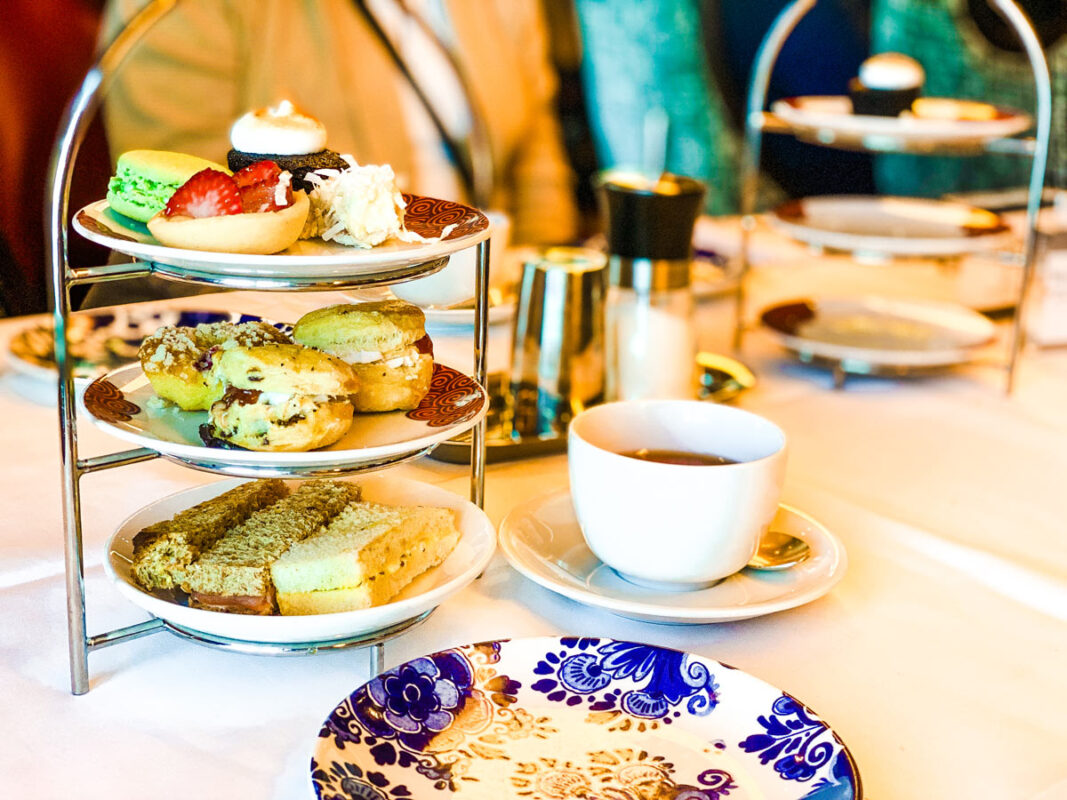 Afternoon Tea
Afternoon Tea is also held most days at 3pm in the main dining room. Cruisers can expect a variety of teas to choose from as well as a tiered tray featuring a variety of savory tea sandwiches, fruit tarts, cupcakes, and scones.
Does Anything Cost Extra with Holland America Dining in the MDR?
Holland America Dining in the Main Dining Room is included in the cost of your cruise, however, there are a few upcharges. For breakfast, there is a charge of $12.50 for the Lobster Benedict and the Prime Steak & Eggs is a $15 charge. During dinner service, cruisers can order two 5oz Lobster Tails for $15, a 5oz Filet with 5oz Lobster Tail Surf & Turf for $18, and a 12oz Pinnacle Grill Strip Loin for $20.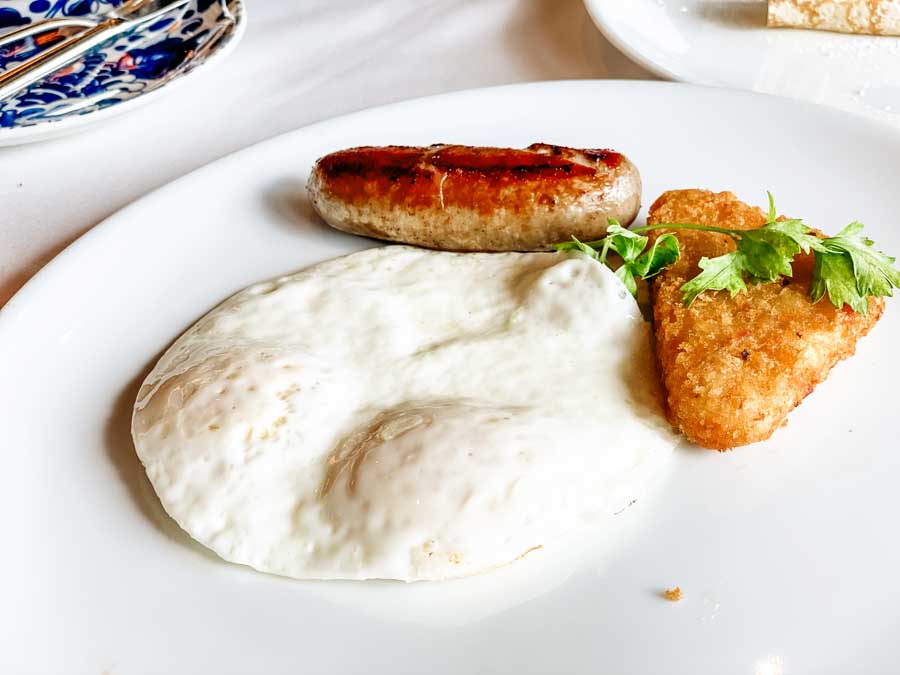 Holland America MDR Breakfast Menu
The Holland America Dining Room Breakfast is impressive with a wide variety of selections. The menu also features a selection of unique cultural cuisine along with several type of benedicts, sweet options like crepes, all-american breakfast, fresh fruits, and plenty of sides.
Pictured below is the full Holland America Main Dining Room Menu.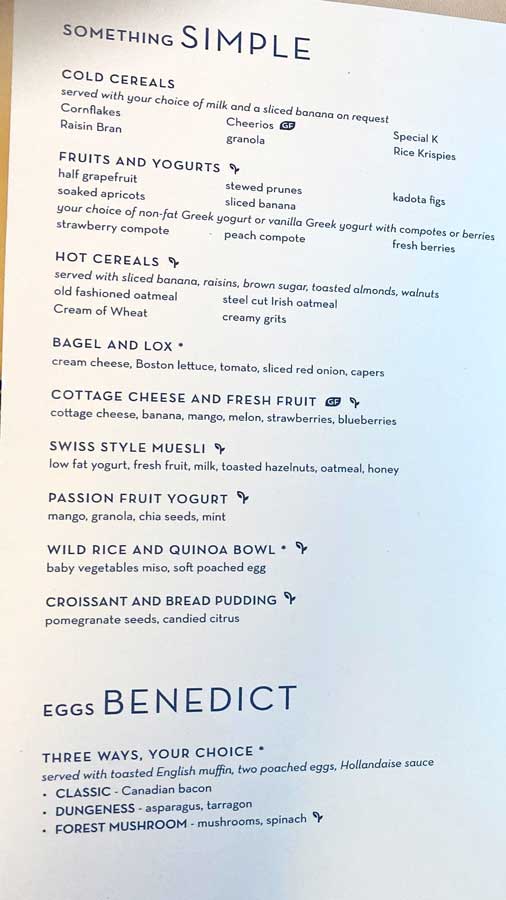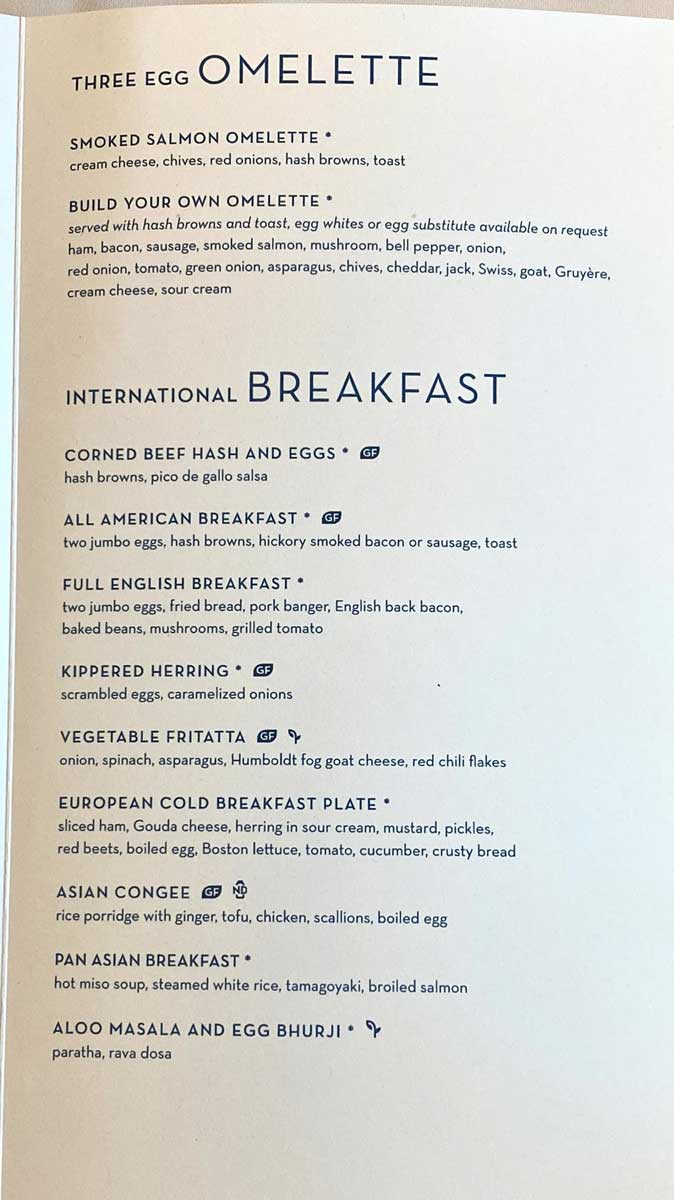 I love variety and all the different options. My typical breakfast was the All American with a Banger sausage instead of the regular sausage. I also ordered fresh fruit with cottage cheese or fresh berries. Towards the end of my cruise, I discovered the fresh figs in syrup which I loved.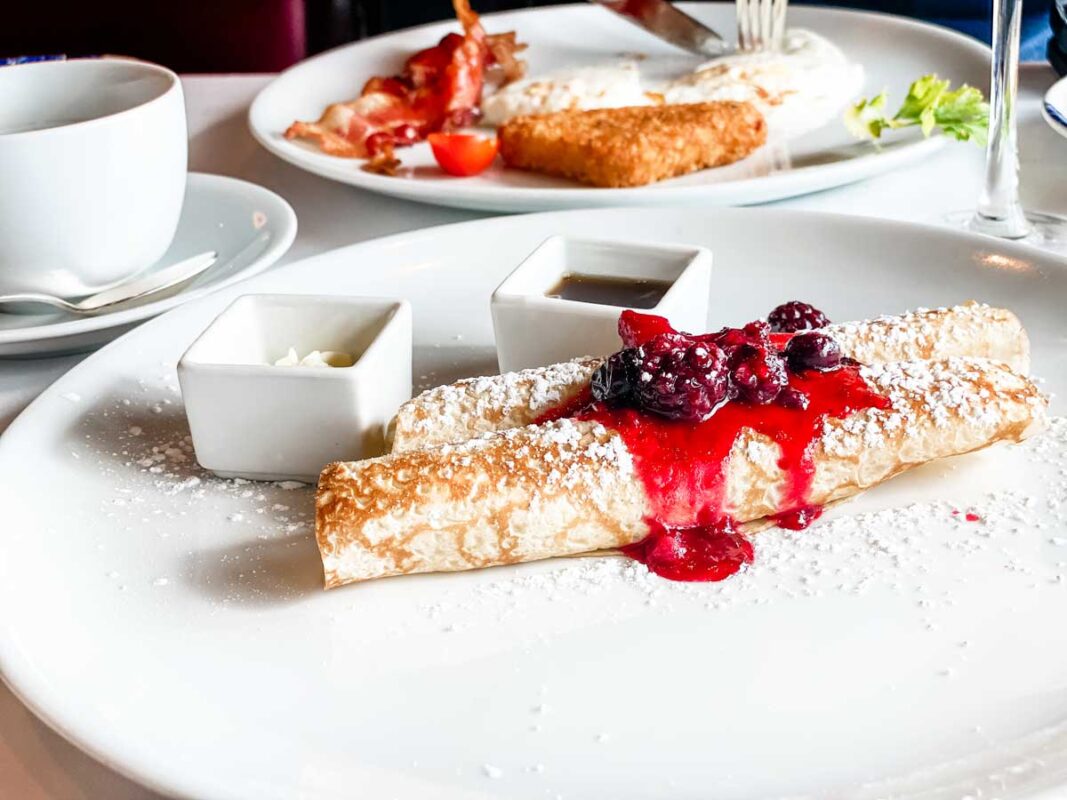 One morning I also decided to try the Swedish Pancakes which are their crepes with mixed berries. The crepes were fantastic!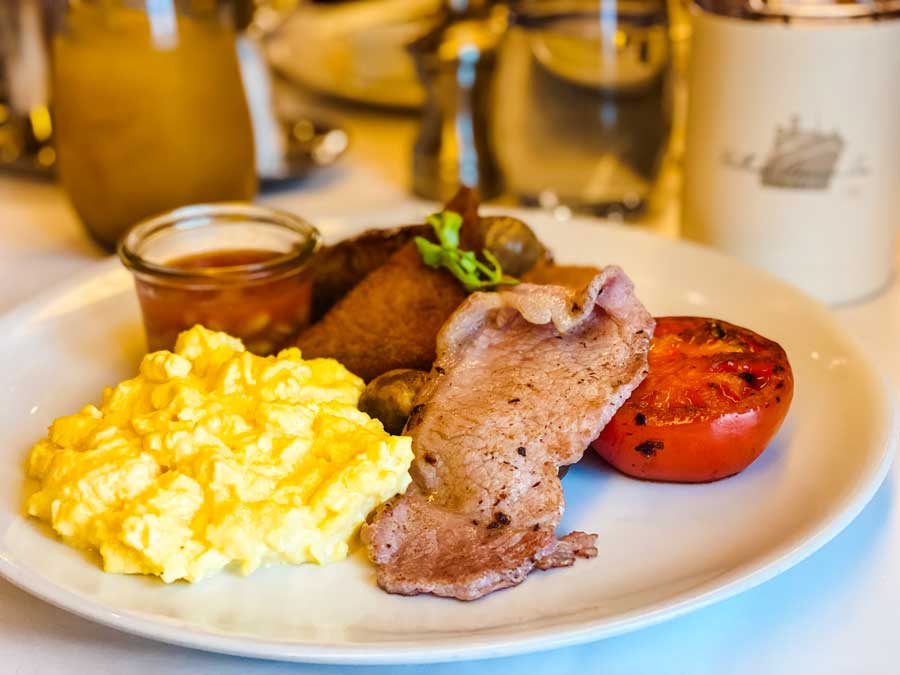 To try something different I also tried the hot English Breakfast, but I have to be honest, we Americans do breakfast much better. I am still not a fan of baked beans for breakfast or at all unless its with a hot dog at a BBQ. Everything is complimentary so I do recomend trying one of their more cultural dishes.
I also tried their crab benedict which was delicious, but it was not as generous with the crab as I'd hoped. I recomend at least one day splurging for the Lobster Benedict which is what I'll do next time!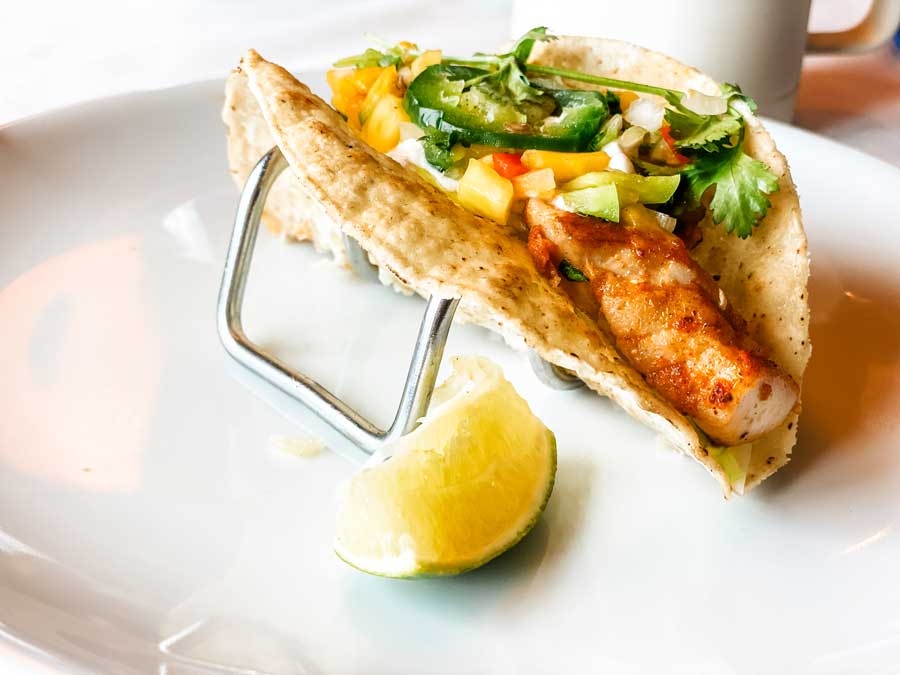 Holland America MDR Lunch Menu
From what I can tell, the Holland America dining lunch menu seems to be more vast than other cruise ship menus I've seen. They also offer a daily special each day to mix things up.
Pictures below is the Holland America MDR Lunch Menu.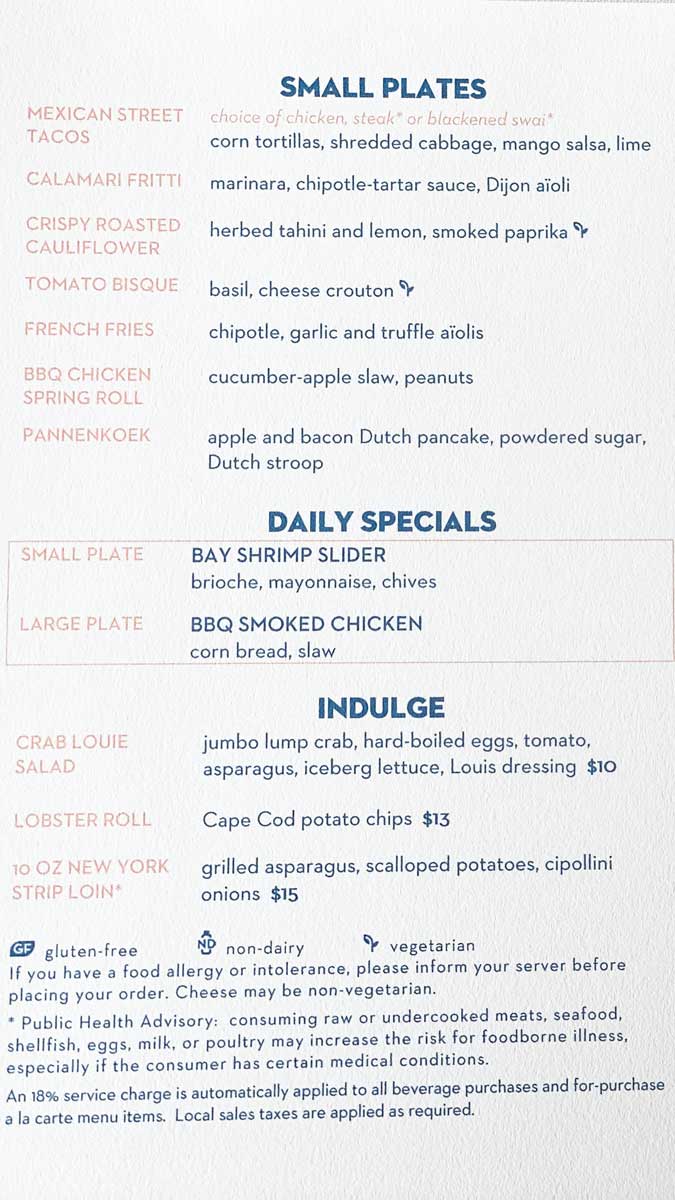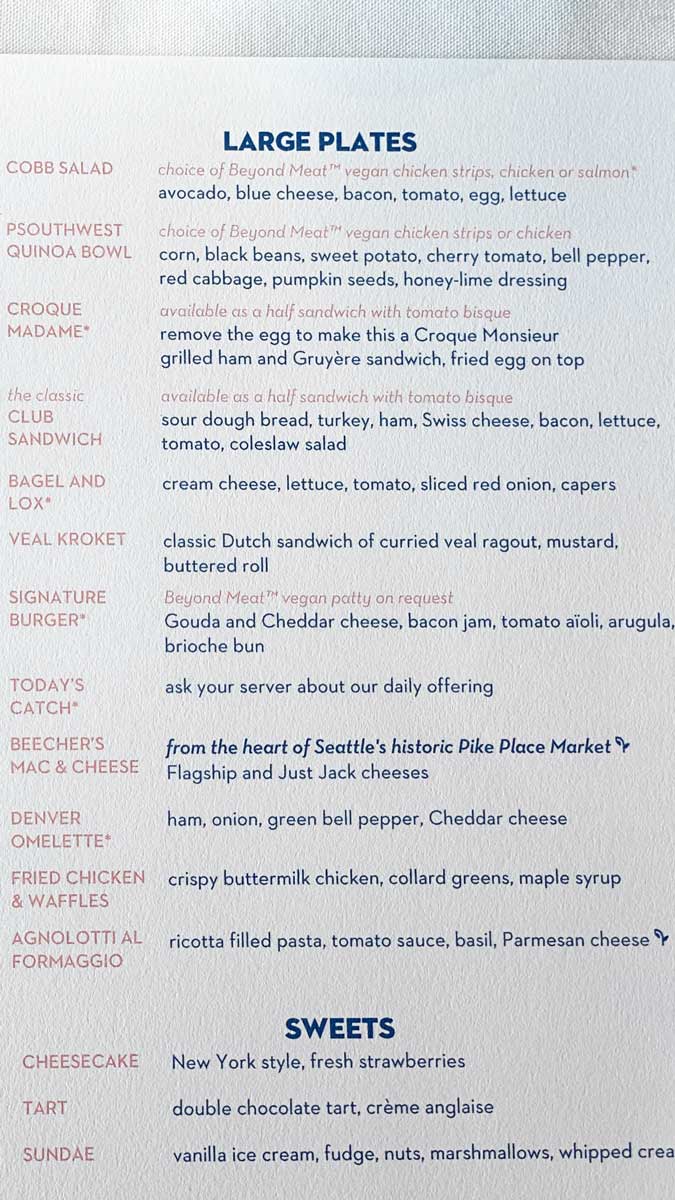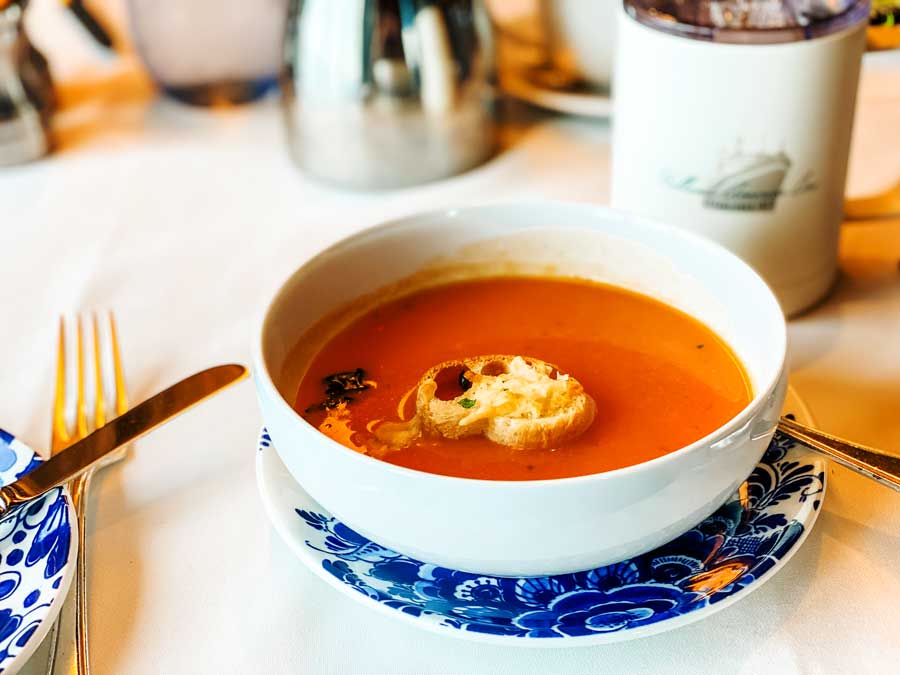 For lunch I would typically enjoy the Tomato Bisque and a few different tacos. The Holland America soups are always delicious so I typically like to try them all.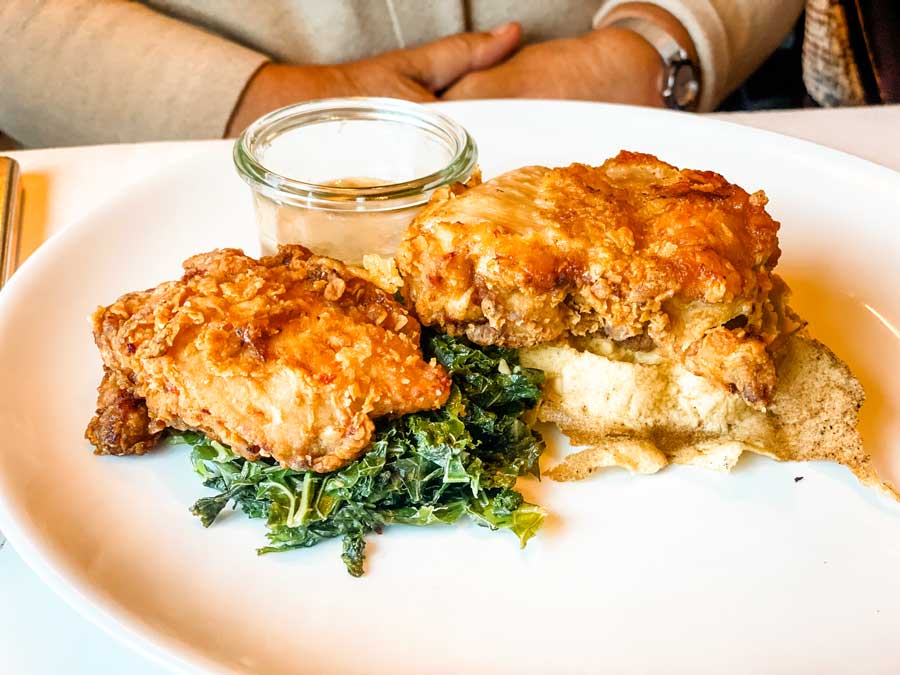 One afternoon they had Chicken & Waffles with collard greens as a special option and it was very tasty.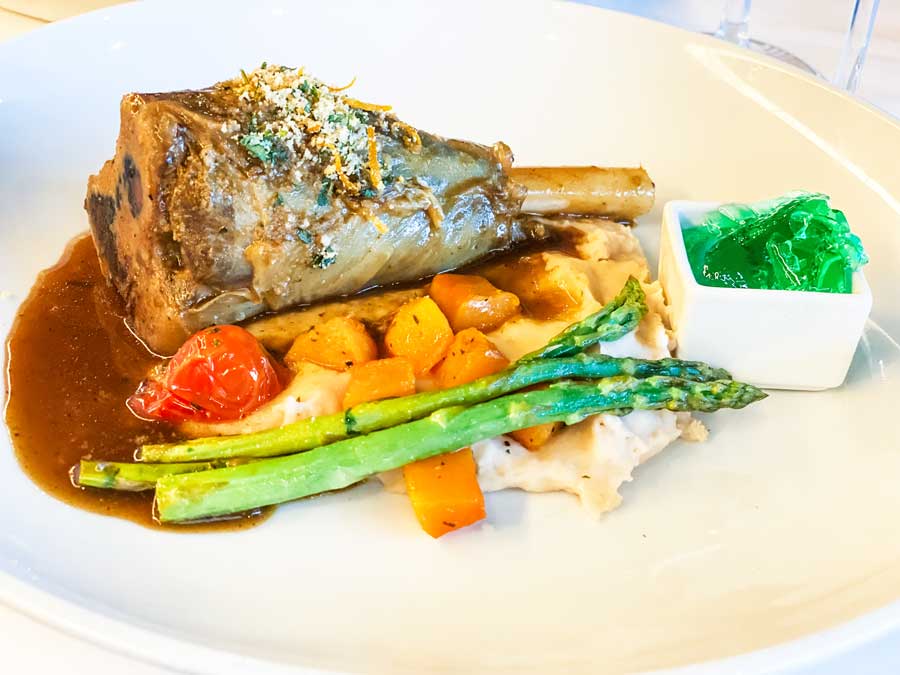 Holland America MDR Dinner Menu
Below is the Holland America dining menu from our first night in the MDR. You'll notice there are a few items which are offer every night. Those are the French onion soup, classic ceaser, and upgraded Lobster tail, Filet, or Loin Steak.
Below is one of the Main Dining Room Dinner Menu from the first embarkation day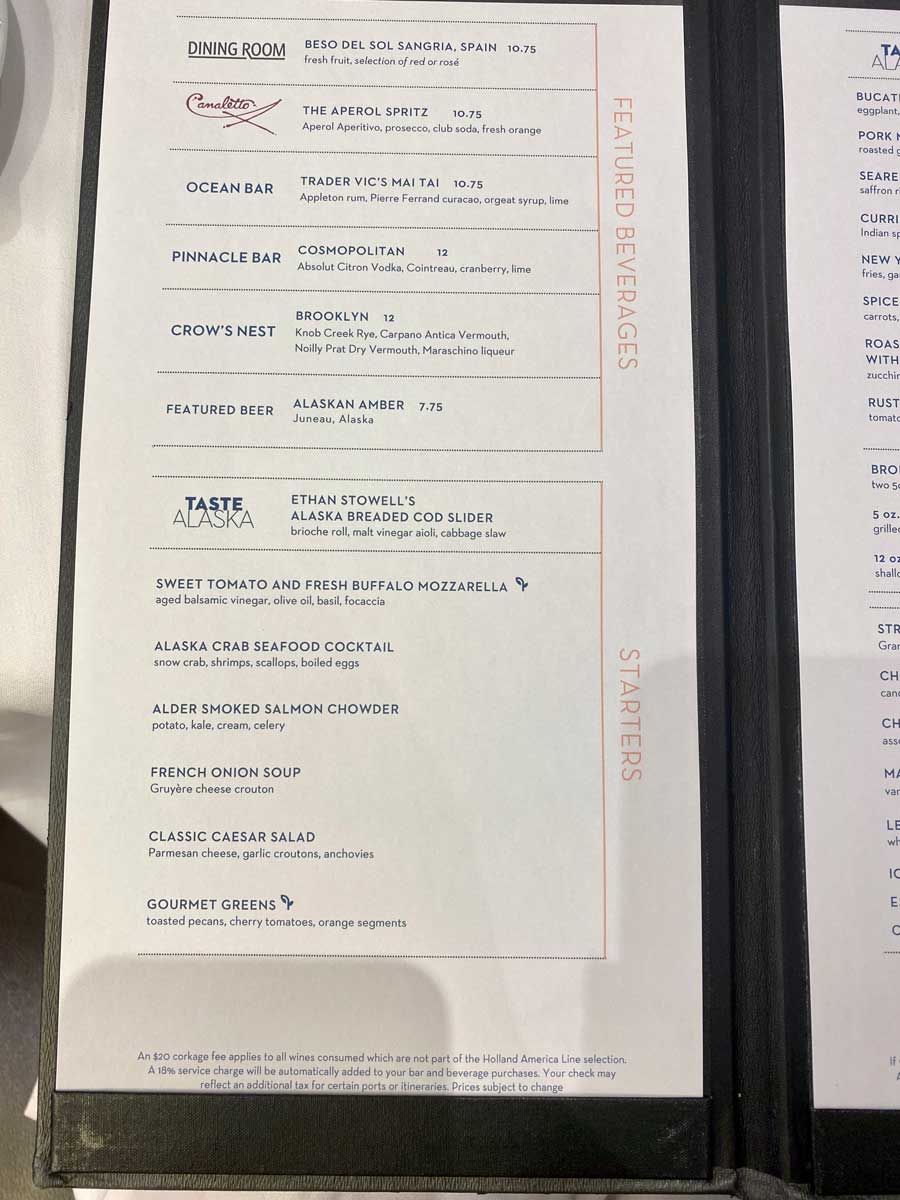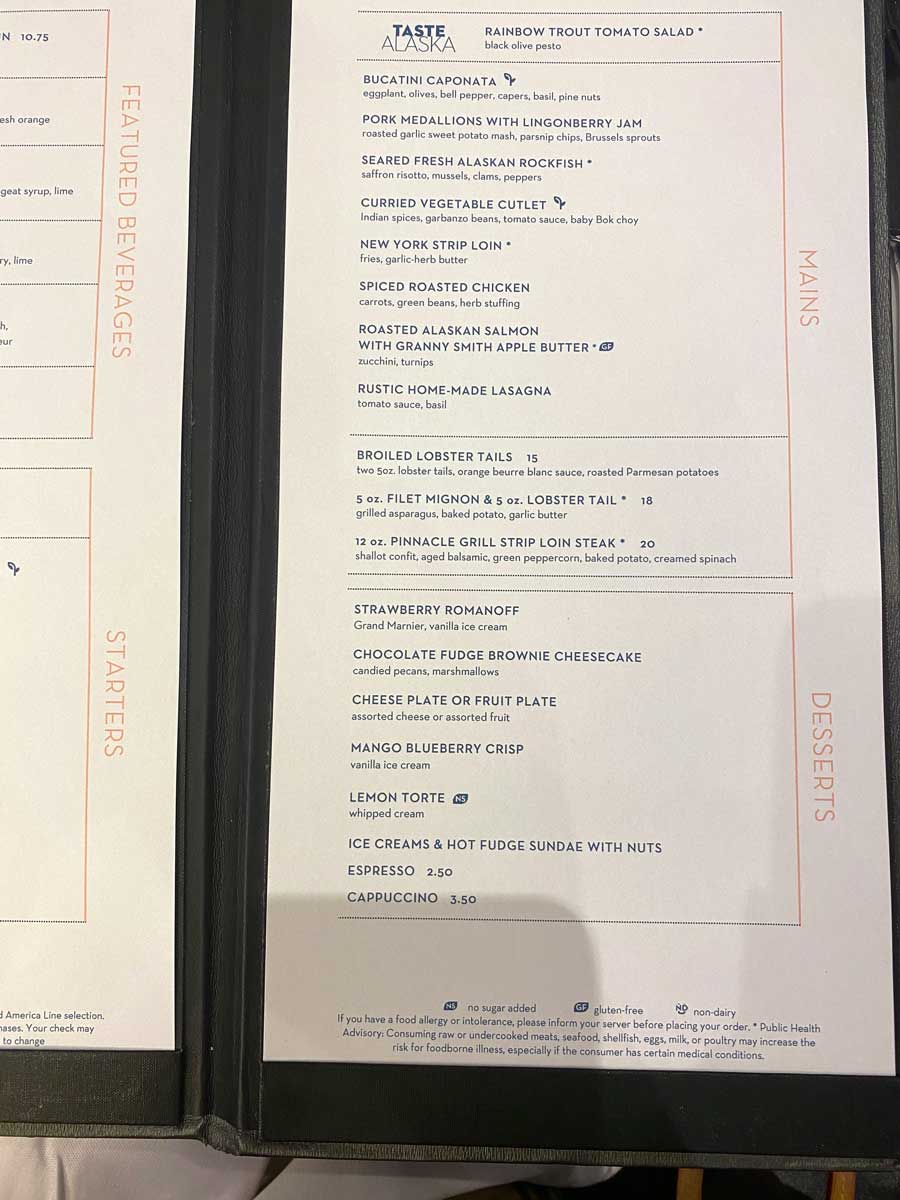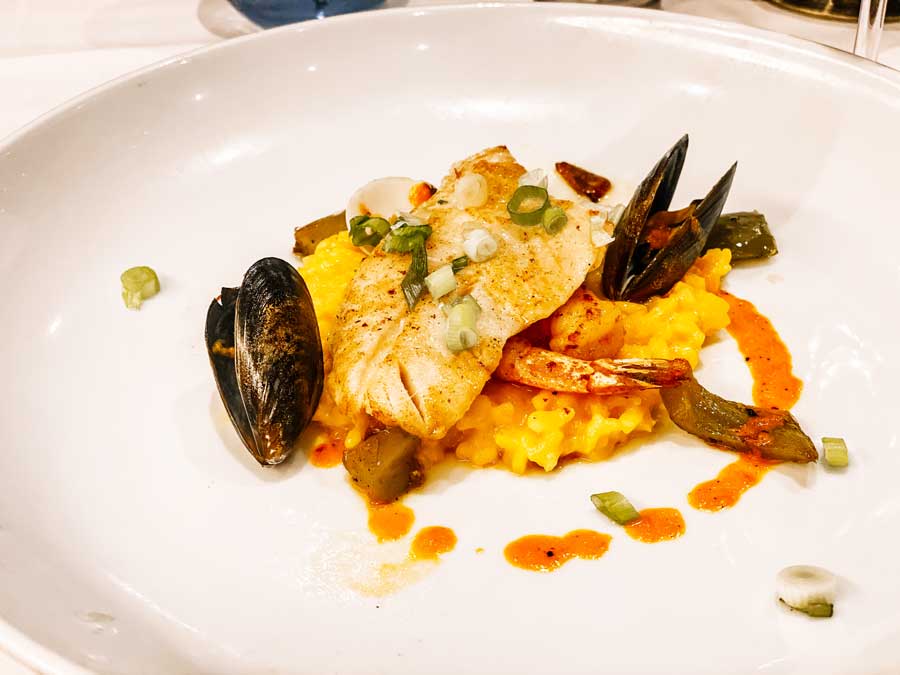 From this menu I choose the Alaska Rockfish as well as the Salmon Chowder. Also pictured above from another evening was their delicious Lamb Shank which was fantastic.
Holland America MDR Gala Night Menu
I love the Gala Nights in the MDR and we all get dressed up for the occasion. You can expect the cuisine to be even more elevated with more refined food selection. I always recommend planning any specialty dining reservations around the Gala Nights which you don't want to miss. This particular menu is to celebrate their 150 year anniversary!
Below is a sample of their Gala Night Menu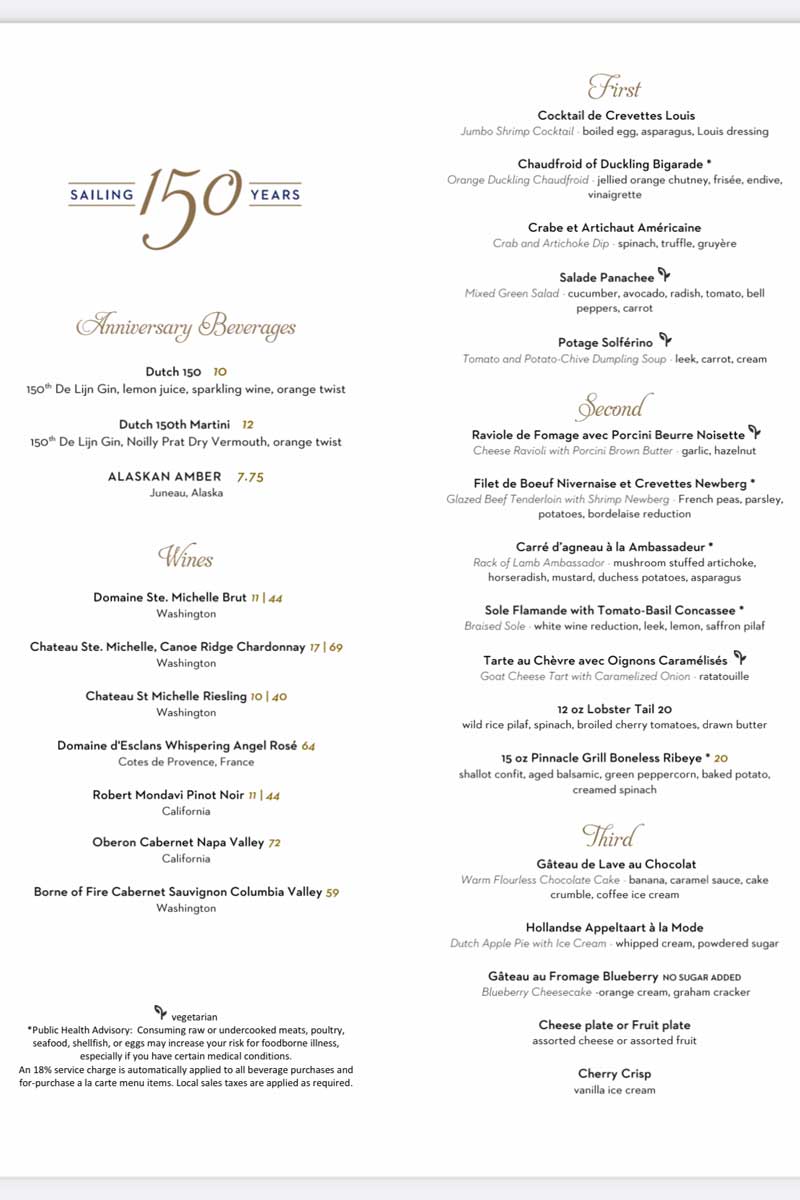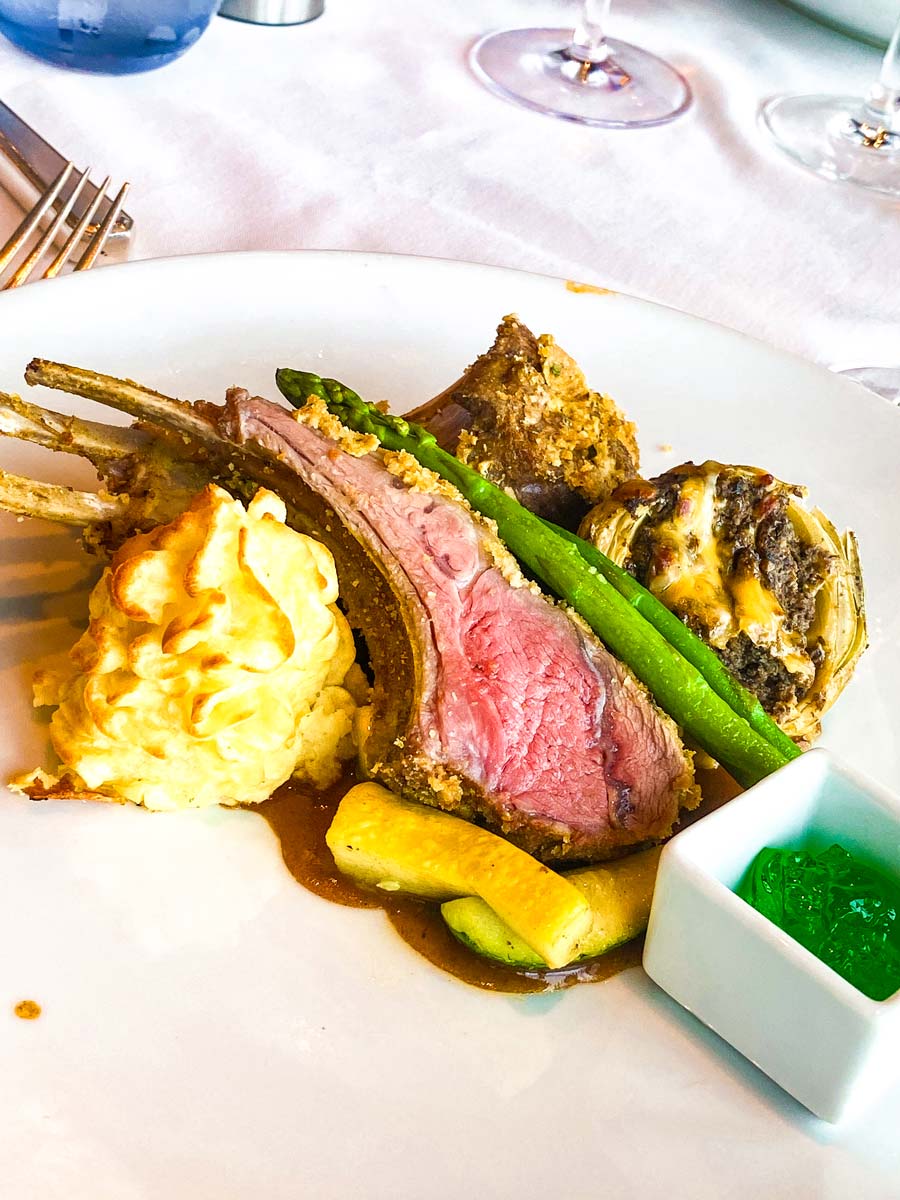 For an appetizer, I enjoyed the escargot. My father-in-law enjoyed this so much that he ordered a second. For this evening almost the entire table got the Rack of Lamb and for good reason. It was delicious!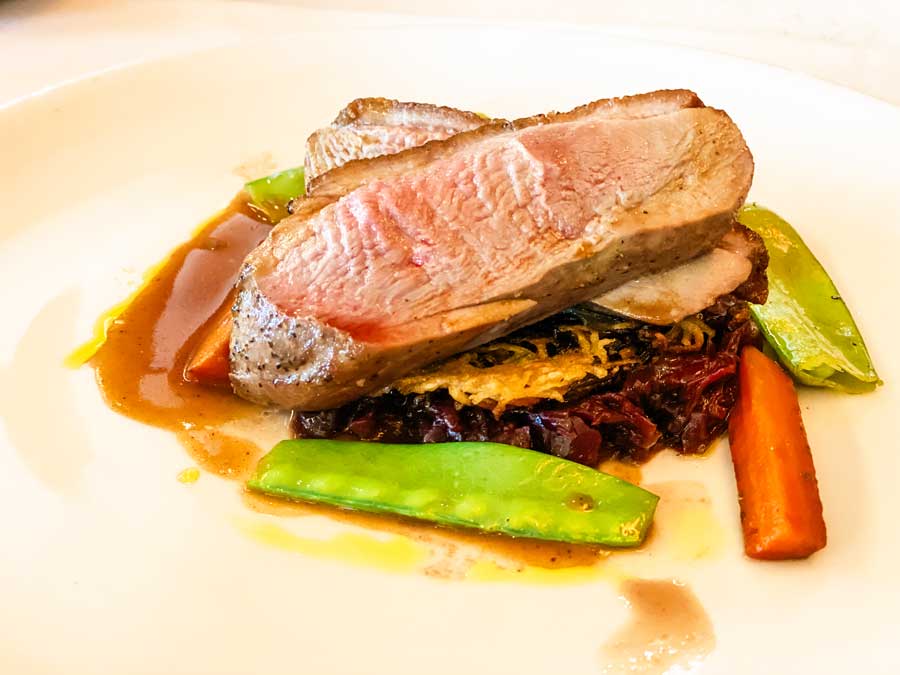 For the second Gala Night, I opted for the duck breast which was cooked perfectly and served over a colorful display of purple cabage.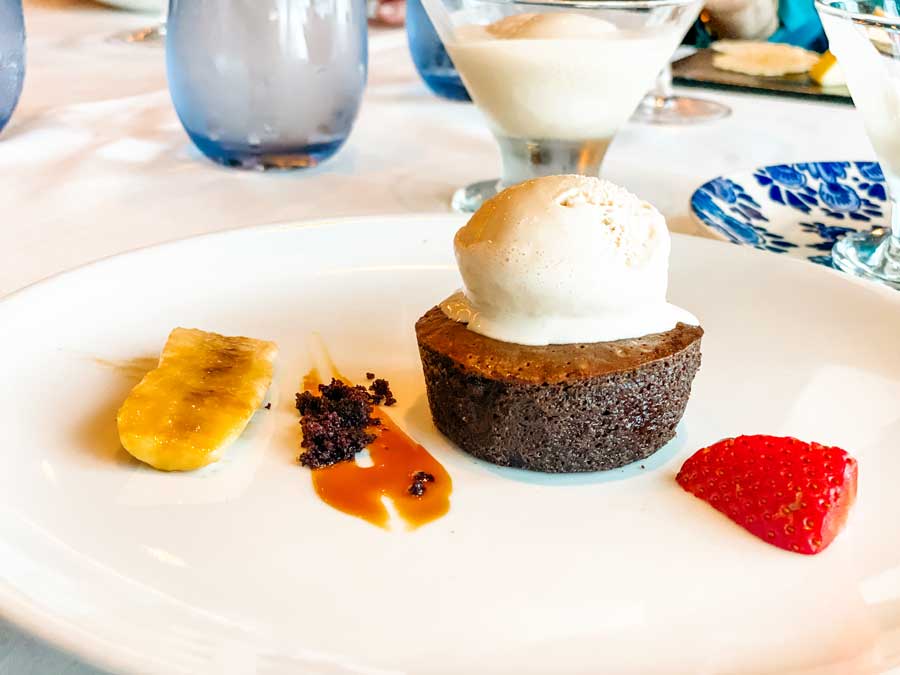 For my Gala Night dessert, I enjoyed this fabulous flourless chocolate cake.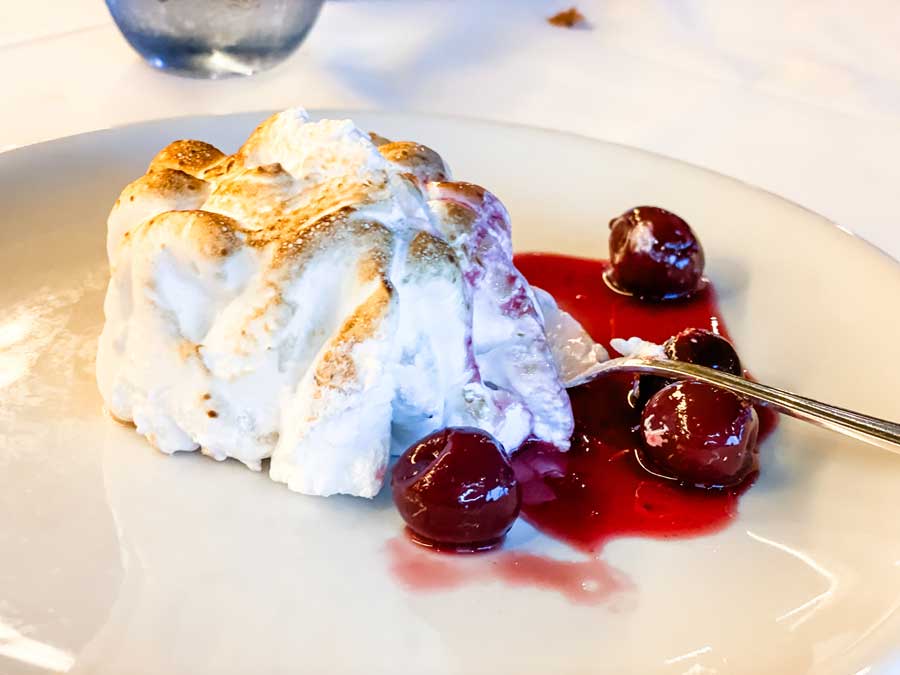 On the second Gala Night I order this Baked Alaska dessert which I highly recomend. I thought it was even better than the Baked Alaska dessert at Pinnacle Grill.
About Holland America
Holland America has a fleet of 11 ships that sail to over 500 destinations. They are known for providing a more elevated experience. Their crowd averages from 40yrs of age to 70yrs of age and is geared toward those who prefer a more relaxing cruise ship experience with finer dining. Holland America does a fantastic job and making all guests feel like they are having a 5-star dining experience when they are seated in the main dining room. My in-laws are very loyal to Holland America and have taken over 20 cruises with them.
Discover More Travel Articles