The Pinnacle Grill Holland America specialty restaurant is one of the most popular restaurants available on almost all Holland America Cruise Ships. We've cruised with Holland America twice and enjoyed dining at Pinnacle Grill on both occasions. On our Holland America Alaska cruise, I decided to take photos and video of the experience so I could show you what to expect.
If you prefer video, be sure to follow my Instagram page @cuisineandtravel
Holland America Specialty Restaurants
Holland America has several specialty restaurants serving a variety of different cuisines. Each specialty restaurant has an additional price but they are well worth it. With that being said, the MDR (main dining room) on Holland America is also surprisingly wonderful. I recommend booking for specialty restaurant visits on evenings that are not Gala Nights.
While this article is our review of Pinnacle Grill, below are all of the specialty restaurants on Holland America and their associated fees.
Pinnacle Grill is Holland America's signature steakhouse offering popular options like filet mignon and also exclusive dishes by chef David Burke. Prices are $15 for lunch and $39 for dinner +18% gratuity. This includes 1 appetizer, 1 main dish, unlimited sides, and unlimited desserts. An additional appetizer is $7. A 5oz lobster tail is an additional $10 (and worth it!)
Canaletto is Holland America's Italian restaurant and our personal favorite. They offer traditional Italian dishes like lasagne as well as daily specials such as veal. Prices are $25 for dinner.
Tamarind offers inspirational cuisine from Southeast Asia, China, and Japan. This restaurant is a favorite among Holland America cruisers. Within Tamarind is also a sushi restaurant. This restaurant is an additional $25 fee.
Rudi's Sel de Mer is an intimate seafood brasserie featuring classic French dishes with a reimagined contemporary flair. This restaurant is only available on 3 ships and on other ships, it may appear as a pop-up restaurant inside Pinnacle Grill. It features dishes like foie gras and seafood towers for an additional price of $49. I'm so sad I missed this and will know better for the next cruise!
Pinnacle Grill Holland America Menu
Chef David Burke offers both a Clothesline Candied Bacon specialty appetizer and a Beff Tenderloin with Lobster Dumplings. There was a variety of steak options as well as lamb and seafood dishes. Below is the current 2023 Pinnacle Grill Holland America menu.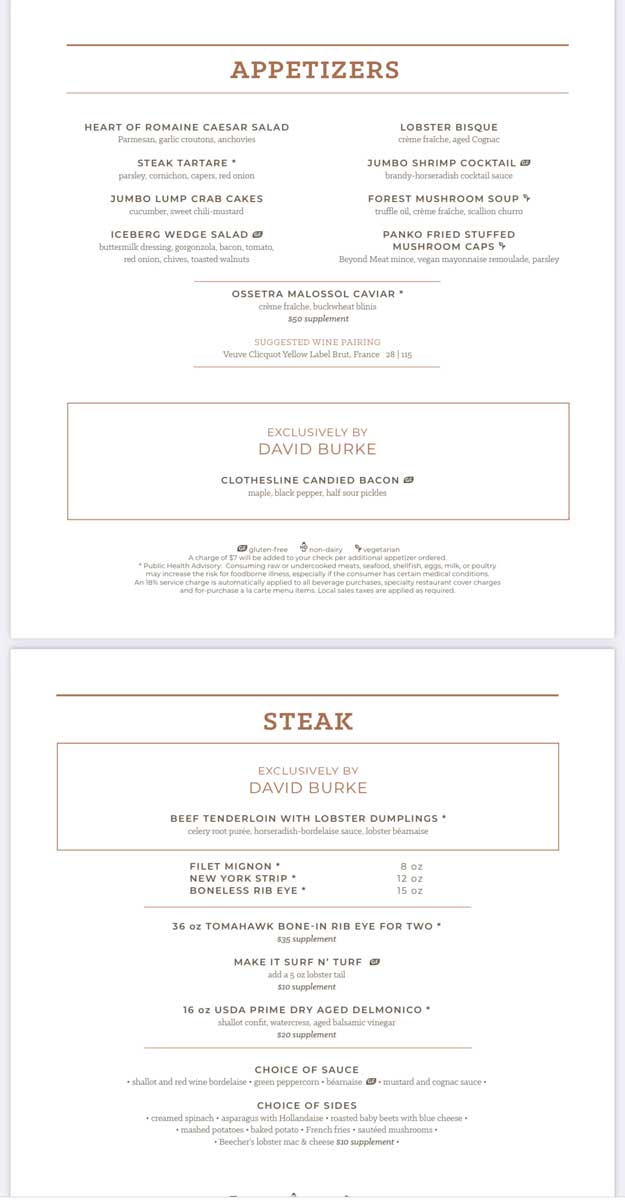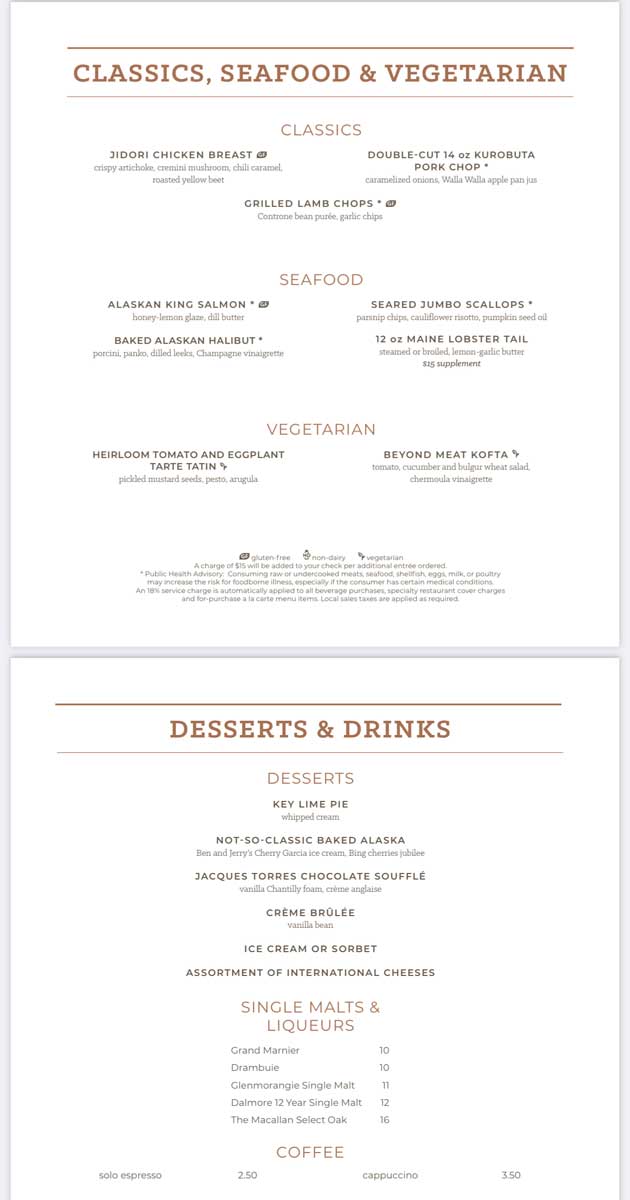 Our Pinnacle Grill Holland America Dinner
Here is our full dinner from the Pinnacle Grill Holland America specialty restaurant. I'm including a variety of dishes ordered by myself, my fiance, and in-laws which will give you a great representation of their overall menu. I'll include our honest thoughts, but I should warn you that we are all really picky eaters. When I say picky, I mean that we eat all types of cuisine but are very picky about the quality and preparation. I am a culinary writer and my in-laws are very outspoken if they do not like something. Hopefully, that will just make this review even more thorough.
The Staff
One thing I should also mention is how amazing the staff are on Holland America. In fact, they are one of the reasons that Holland America is such a wonderful cruise line. The service and staff are top-notch. Even when busy, they are wonderful. If anything is ever wrong they will go out of their way to try and make it right. They just had the most wonderful personalities and made our trip feel extra special.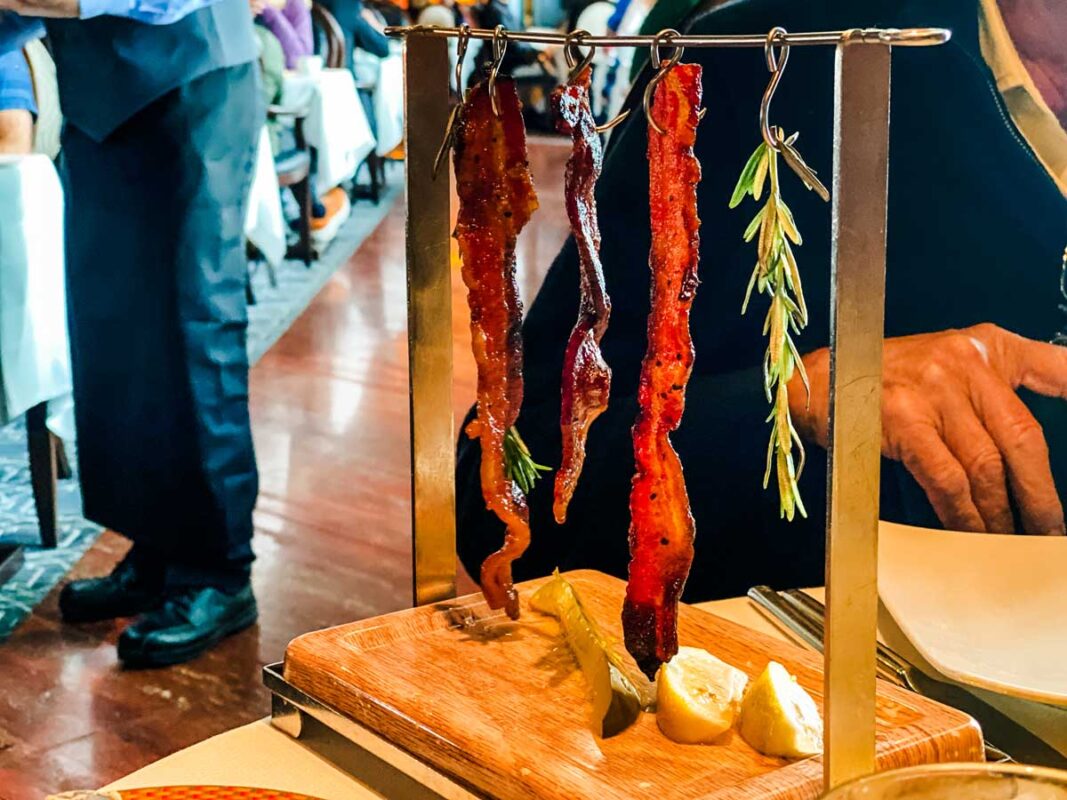 Clothesline Candied Bacon (David Burke Special)
For appetizers, my in-laws ordered the Clothesline Candied Bacon. When the dish first came out my in-laws felt it was not crispy enough and sent it back. It returned to be much crisper and had a light sweet flavor that was not overpowering. If you enjoy bacon, this is a must order and one of the most popular dishes at the restaurant.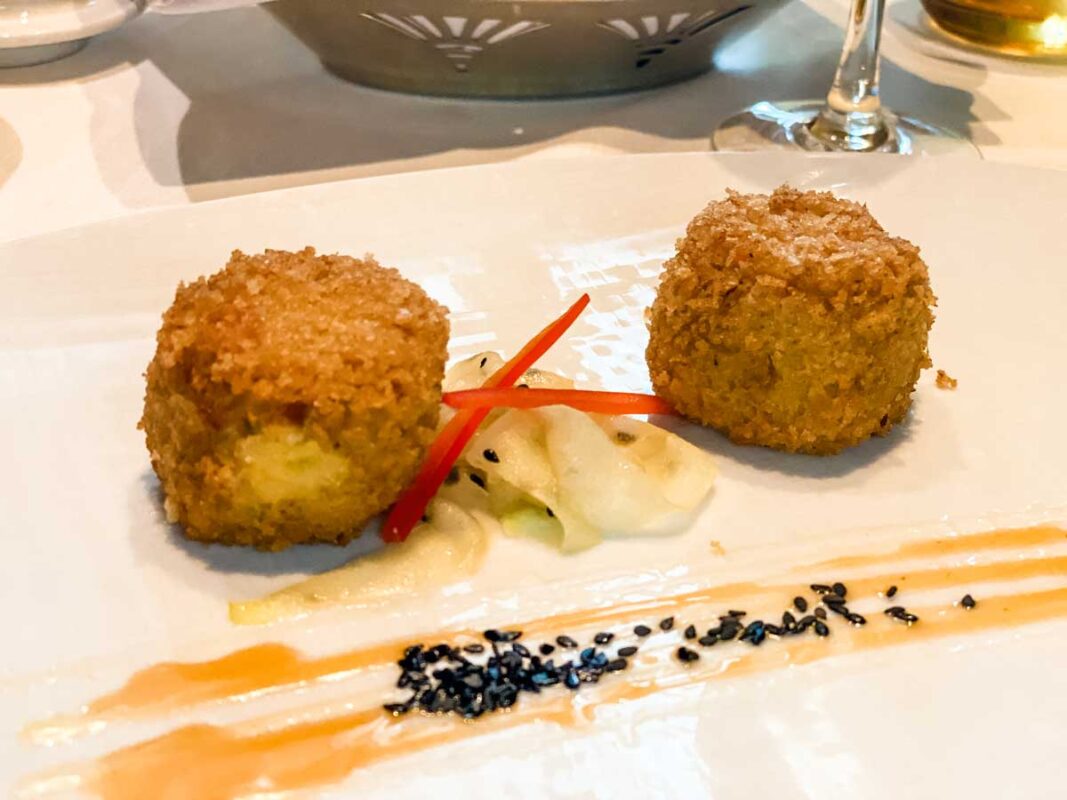 Crab Cakes
I ordered the Jumbo Crab Cakes, but I honestly found them to be very small. I really love crab but it was not very evident in this dish and I ended up sending them back.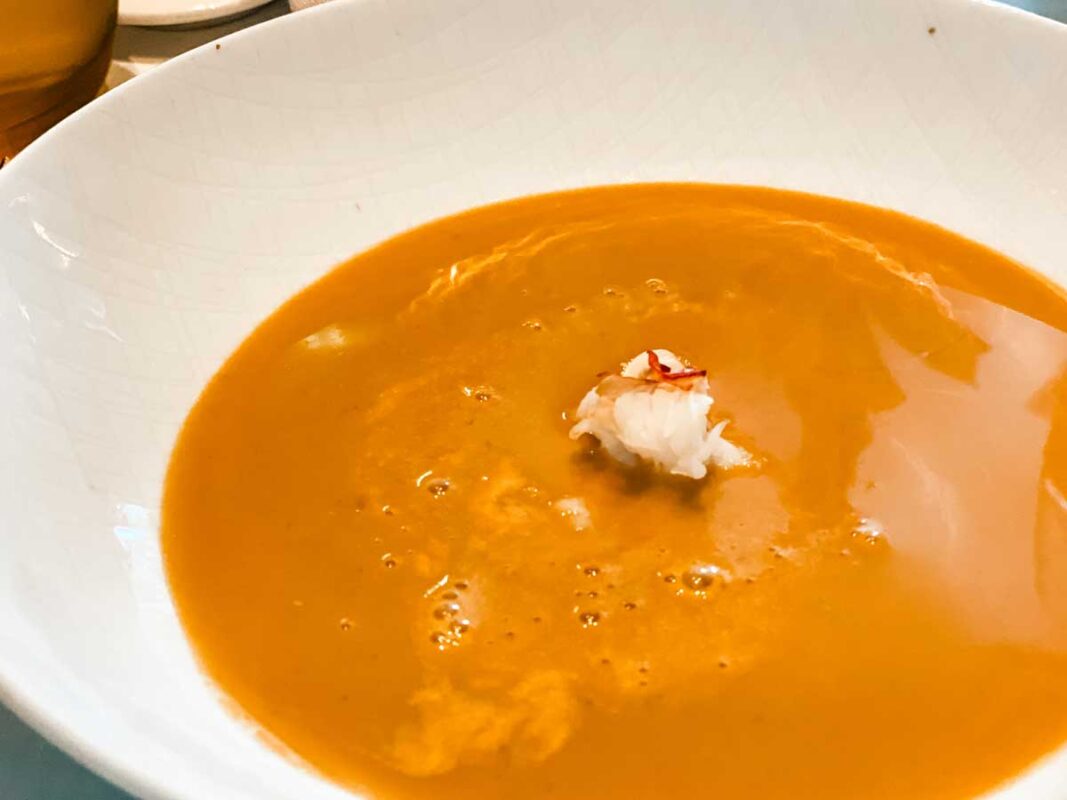 Lobster Bisque
Instead of the crab cakes, I opted for the Lobster Bisque, I enjoyed this soup more than the crab cakes, but it was a bit salty and had very little lobster. I will say that the soups on the Holland America cruise line are absolutely fantastic so this is still worth ordering and could just have been an off night.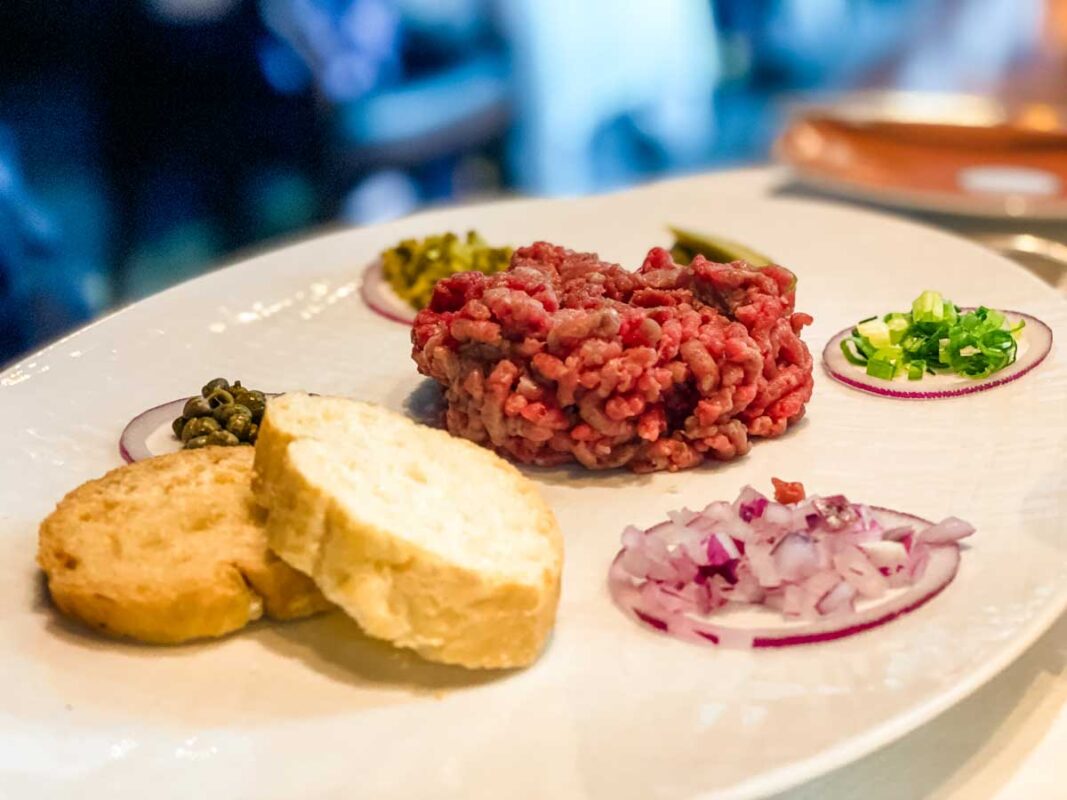 Steak Tartare
I have mixed feeling about the steak tartare. The texture was more like ground meat which I was not a fan of, but it was also very dry since it did not have a quail egg like traditional tartare. It was however, a very generous portion size and enough for 2-3 people to share so my recommendation would be to just order one and share.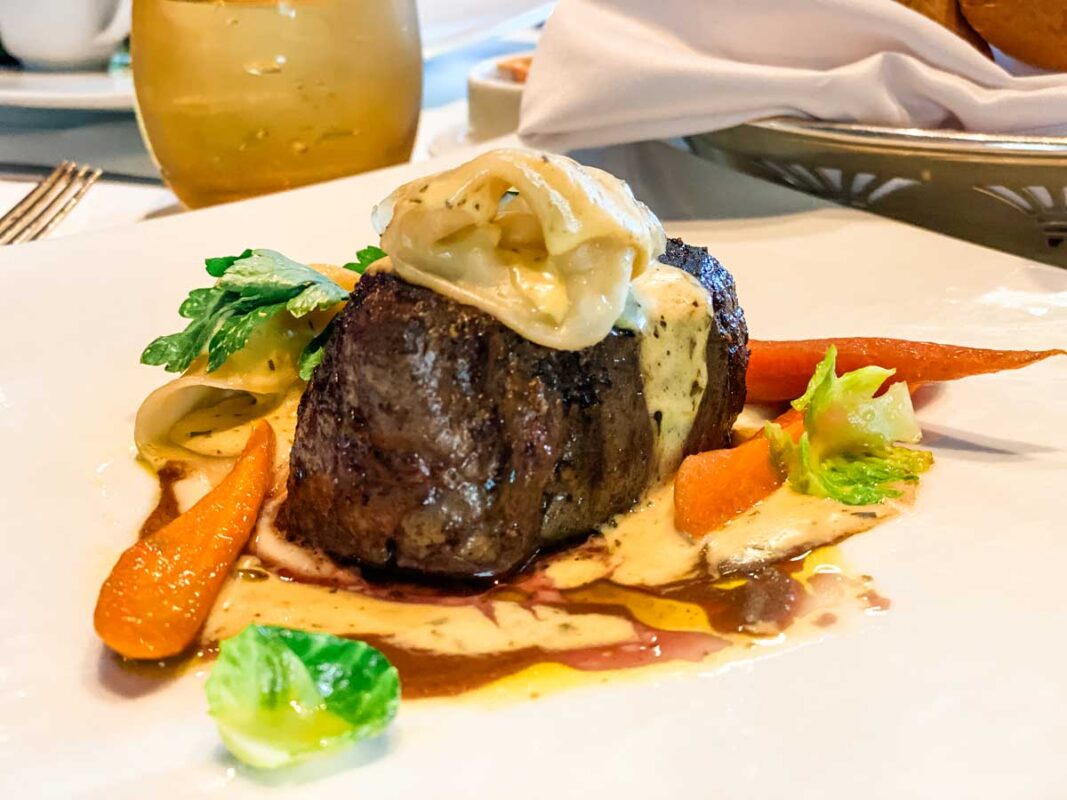 Beef Tenderloin with Lobster Dumplings
For my entree, I ordered the Beef Tenderloin with Lobster Dumplings. The tenderloin was very tender and cooked to a perfect medium. It was flavorful and delicious. The lobster dumplings however were very fishy and lacked the lobster which was not very noticeable. I would recommend ordering this tenderloin over the filet.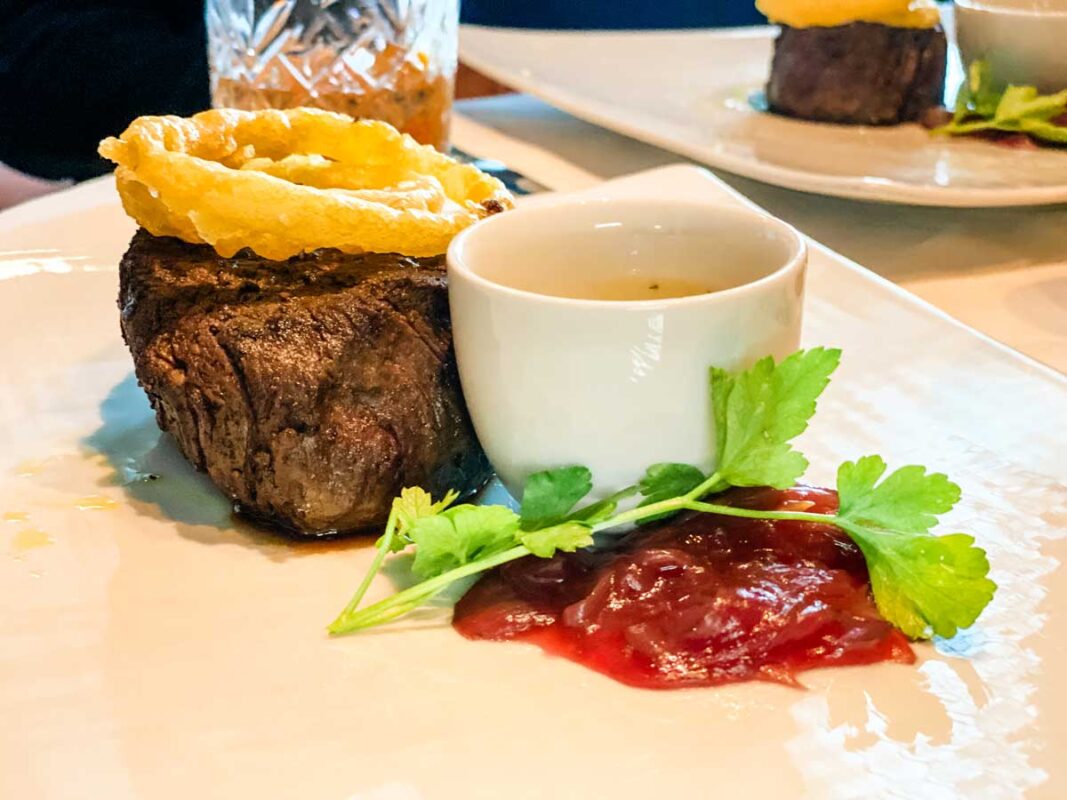 Filet Mignon
My fiance opted for the filet mignon. He said it was overcooked, a bit tough, and cold. During our visit, it was incredibly busy so it was likely our meals might have been sitting a bit before they arrived to us. I also am not a fan of ketchup ever being served on a plate with steak, I'm sure it was for the onion ring though, I hope!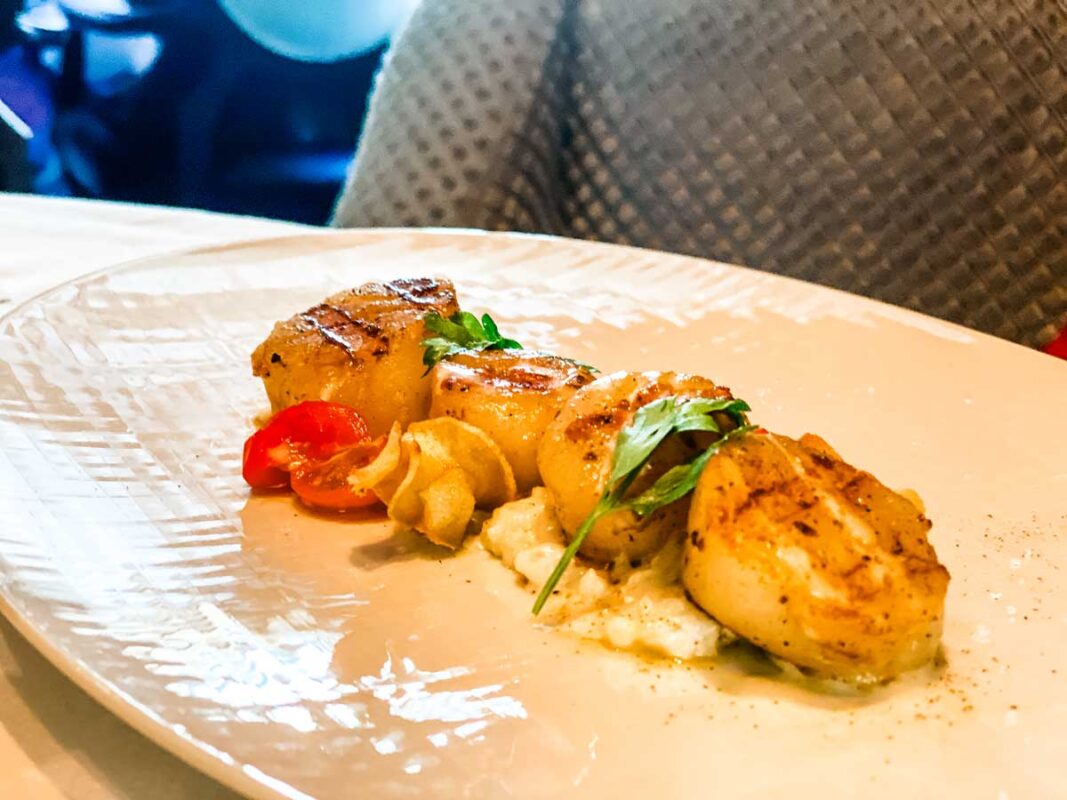 Seared Jumbo Scallops
My mother-in-law ordered the seared jumbo scallops and she loved them. Her entree was probably the most delicious out of everyones entrees. They were cooked perfectly and served over a bed of cauliflower risotto.
Side Dishes
You can order as many side dishes as you would like for your meal. The potato dishes are a good size, but if you are ordering vegetables, I recommend ordering an extra side as they are much smaller. For sides, I ordered the baked potato, asparagus, and beets. The baked potato arrived with butter, sour cream, bacon, and chives on the side which was great. The asparagus I would definitely order two plates since they are the thin type of asparagus.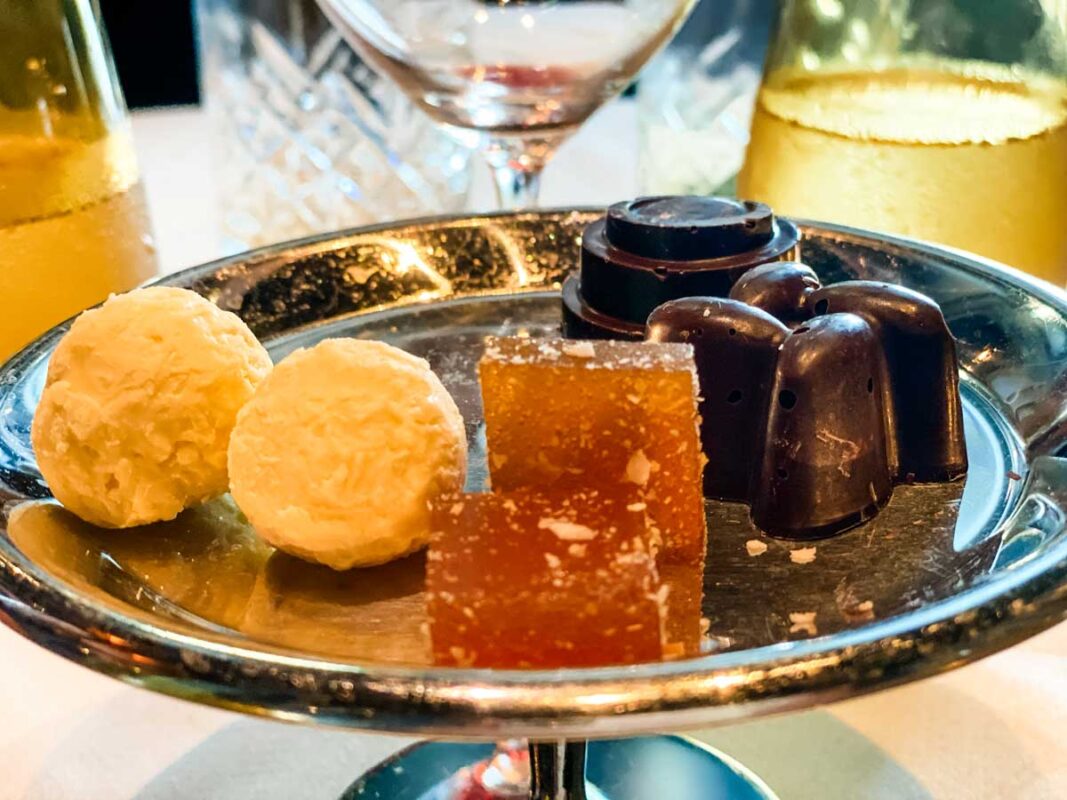 After Dinner Chocolates
After the entrees were finished the server delivered a selection of chocolates and jellies. We were honestly getting so full and trying to save room for dessert so we could not appreciate these as much as we should have, but it was a nice touch. They are beautiful.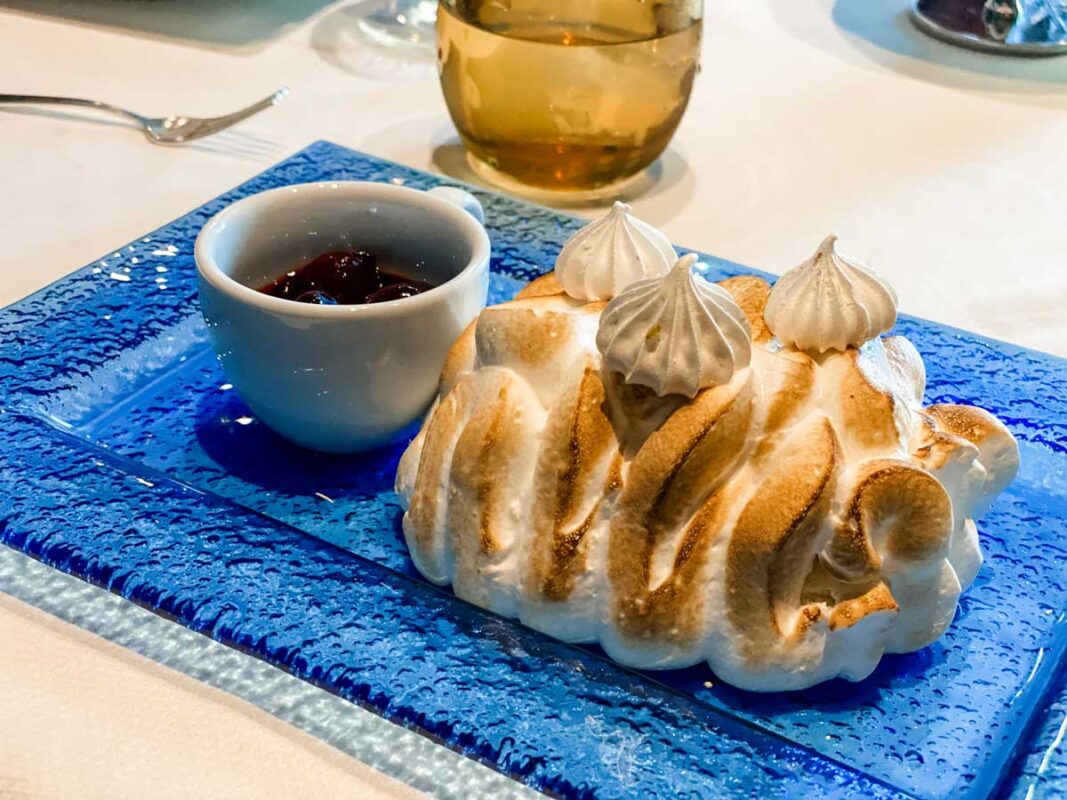 Baked Alaska
For dessert, I really enjoyed the deconstructed baked Alaska. I should however mention, that our last meal in the MDR also had a baked Alaska dessert which I actually enjoyed more. You may want to try a different dessert for this reason. My in-laws and fiance are all very boring and ordered the creme brulee. This is their favorite dessert and they all seemed to enjoy it! I think if I was ordering again, I would go for the Souffle.
Available Cruise Ships
Dining at the Pinnacle Grill Holland America specialty restaurant is available on almost all of their cruise ships. Below is the list of ships that have Pinnacle Grill as dining options.
Discover More Travel Articles