Posts may contain affiliate links. Read our full disclosure policy here.
If you're wondering how to make hummingbird nectar, it is incredibly easy and much more beneficial for hummingbirds. Store-bought hummingbird nectar is not only expensive but often contains red dye which can be harmful to hummingbirds. Luckily, it is so incredibly easy to learn how to make your own hummingbird nectar at home.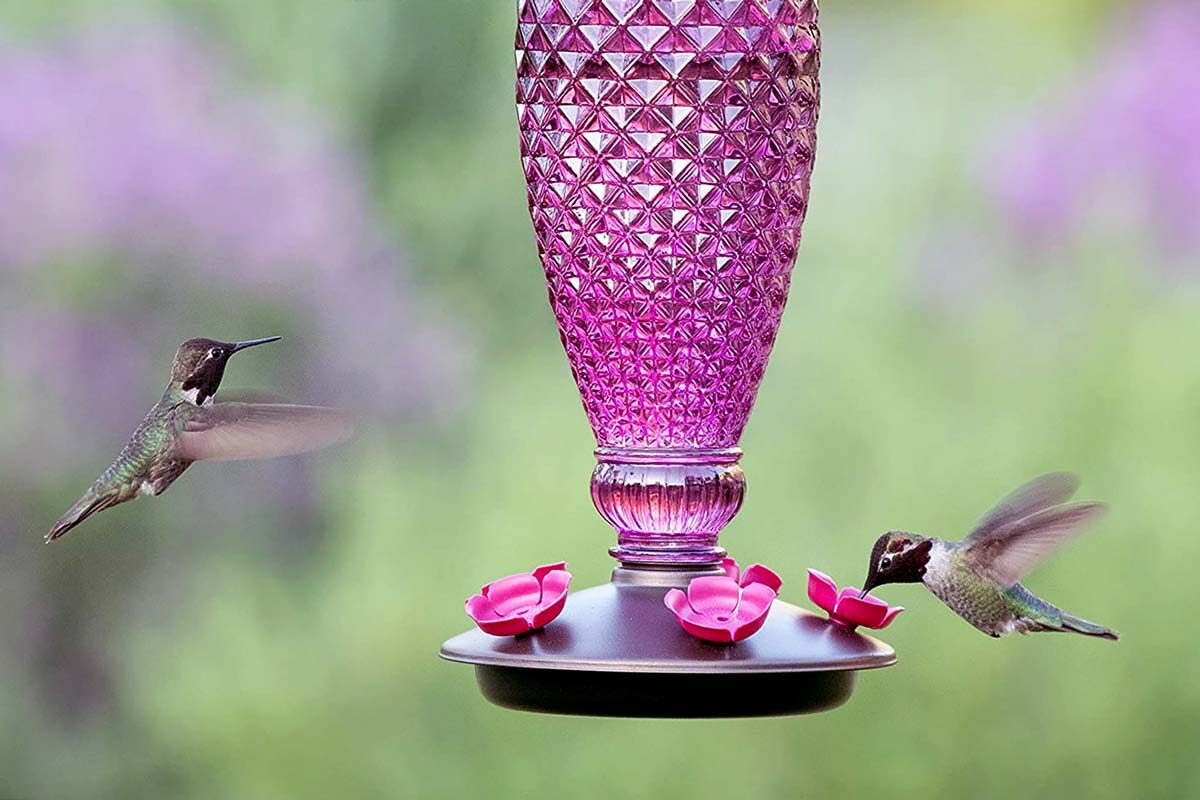 Is Red Dye Harmful to Hummingbirds?
Many store-bought hummingbird nectars contain dyes, additives, and preservatives for shelf stabilization. Although there are no conclusive studies on the effects of red dye on hummingbirds, there are studies that were conducted on rats and mice which show there could be a negative impact. In 2000 a Japanese study revealed that red dyes used in food produced DNA damage in mice. Another US study in 1983 showed that "Red-40 significantly reduced reproductive success, parental and offspring weight, brain weight, survival, and female vaginal patency development".
This Hummingbird nectar recipe is so easy to make at home that there is really no reason to put the hummingbird population at risk. My mentality is, better safe than sorry. After all, the reason we feed hummingbirds is that we love these unique and beautiful creatures so I feel it's our job to also protect them.
Why do they put red dye in hummingbird food?
Hummingbirds are naturally attracted to the color red. During Christmas, we had big red bows tied to the columns on our balconies pergola. Throughout the entire day, we would watch hummingbirds fly up to the bows. In fact, we always tie a red bow above our hummingbird feeders to help the hummingbirds find them more easily. This works especially well if you are placing your feeder in a new area.
While hummingbirds are attracted to the color red, there is no reason to use red dye. The better alternative would be to tie a red bow above your feeder or purchase a hummingbird feeder with red glass or flowers. Though I am happy to report that even without a red bow, hummingbirds still had no problem finding our pink hummingbird feeder. It's amazing how these tiny birds just know how to find them.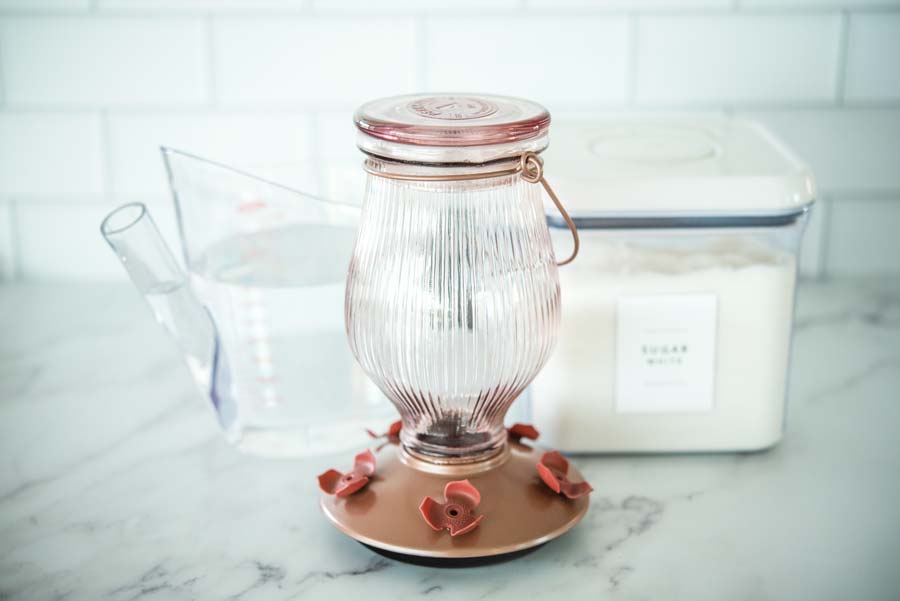 What are the best hummingbird Feeders?
As mentioned above, you can purchase a hummingbird feeder with red glass to help attract them, but there are also so many really fantastic hummingbird feeders on the market I just had to recommend a few. If you will be placing your hummingbird feeder in the sun, also make sure the flowers are plastic so it does not burn their fragile tongues.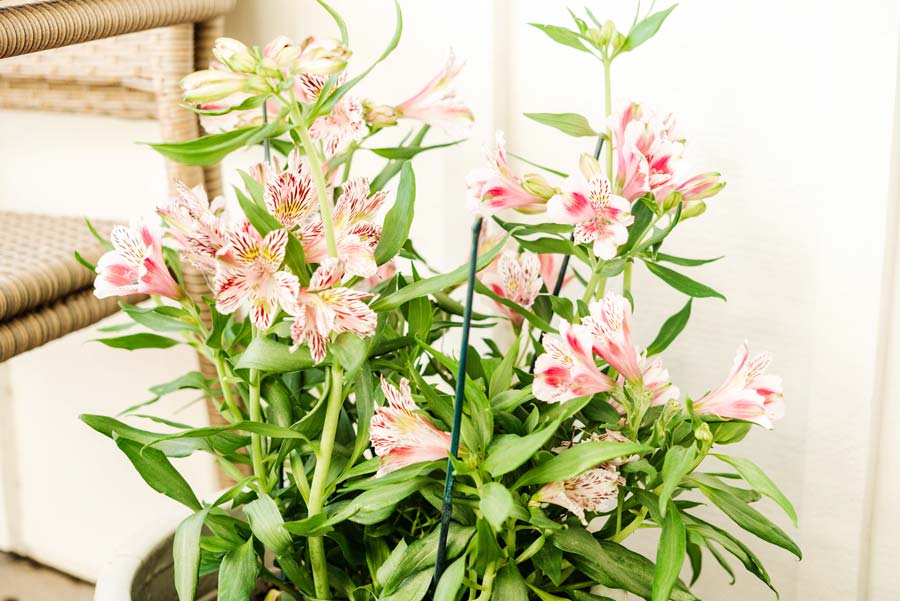 What type of flowers do Hummingbirds get nectar from?
In addition to my guide on how to make hummingbird nectar, you can also plant hummingbird-friendly flowers and plants. Hummingbirds especially love tubular flowers they can stick their long beaks into. When I was designing my landscape, I wanted to find evergreen plants that would stay green and even flower the entire year. I live in Southern California, zone 10b, so luckily we had a few options. Salvia Tubular Bells are one of the best choices to attract hummingbirds as they bloom all year.
I also recently discovered that hummingbirds like Peruvian Lilies which are very popular cut flowers to grow that are great for making flower arrangements. Other popular hummingbird plants are Penstemons, Honeysuckle, and Firecracker plants. If it is a tubular flower, you can bet that hummingbirds will love it.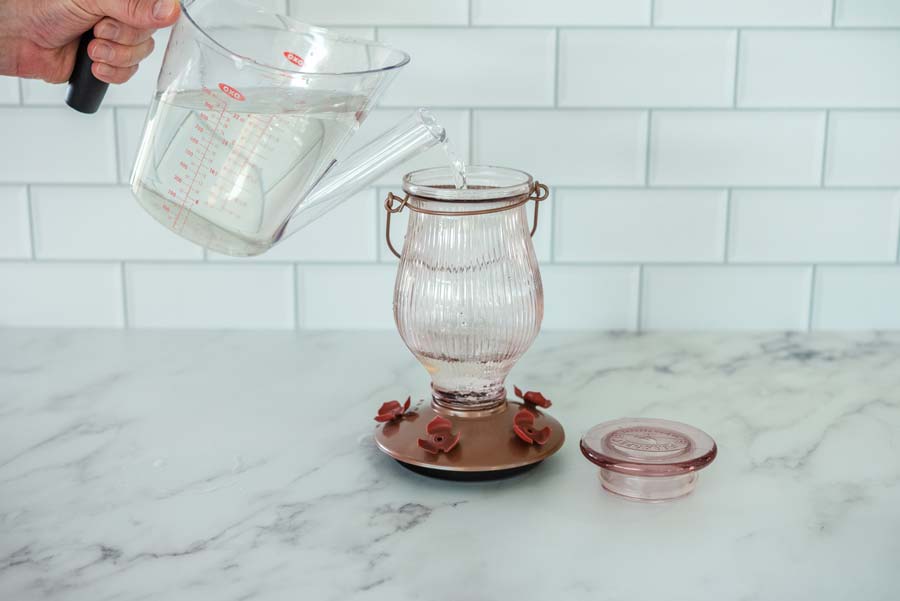 How to make hummingbird nectar
If you're curious about how to make hummingbird nectar at home, this hummingbird nectar recipe is very easy. It also only takes two ingredients which are granulated white sugar and water. Make sure you are only using refined white granulated sugar.
You will use a ratio of 1 part sugar to 4 parts water or 1 cup of granulated white sugar and 4 cups of water. Simply add your sugar and water to a medium sauce pan over low heat. Continuiously stir the water and sugar until it is completely dissolved which should take only a few minutes. Then let your mixture cool before adding it to your feeder.
How to store extra hummingbird nectar
You will very likely have extra hummingbird nectar left over. I will usually put this into a large empty water bottle and store the nectar in the refrigerator. Hummingbird nectar will last in the refrigerator for up to two weeks. Always check to make sure there is no mold.
How often should I change the nectar in my hummingbird feeder?
Hummingbird nectar should be changed every 2-3 days and the feeder should be cleaned thoroughly to prevent any rusting or mold growth. There is no need to fill up your hummingbird feeder completely with nectar since it is changed so frequently. I usually fill my feeder just under halfway and change it out frequently. This is the best way to ensure your hummingbird nectar stays fresh, especially during the hot summer months.
If you found our article on how to make hummingbird nectar useful, you may also enjoy our article on the benefits of ladybugs and how to properly release Ladybugs into your garden.
Hummingbird Nectar
Making your own hummingbird nectar is incredibly easy, safer for hummingbirds to consume, and is much more cost efficient.
Ingredients
1

cup

sugar

white granulated

4

cups

water
Instructions
Add the water and sugar to a medium sauce pot over low heat. Continue stirring until all the sugar is dissolved.

1 cup sugar,

4 cups water

Once the sugar is dissolved, let the sugar water cool until it reaches room tempurature. Then pour into your hummingbird feeder.
Notes
Since hummingbird feeders are changed out 2-3 times per week, I recommend only filling up your feeder a quarter of the way full.
Your humming bird feeder should be cleaned 2-3 times per week.
You can store the left over hummingbird nectar in the refrigerator for up to two weeks.
Nutrition
Serving:
1
cup
|
Calories:
193
kcal
|
Carbohydrates:
50
g
|
Fat:
1
g
|
Sodium:
12
mg
|
Potassium:
1
mg
|
Sugar:
50
g
|
Calcium:
8
mg
|
Iron:
1
mg
|
Net Carbohydrates:
50
g