Posts may contain affiliate links. Read our full disclosure policy here.
If you're looking for some quick dinner ideas, this Peppers Sausage and Pasta with burrata is one of the easiest restaurant-quality dishes to make. I am always looking for ways to simplify my cooking when I'm short on time. For this pasta, I use my simple Sausage and Peppers recipe, which I then portion into containers and store in the freezer. Any time I want to make this pasta, I just take out a container of my frozen sausage and peppers and put this dinner together in only a few minutes!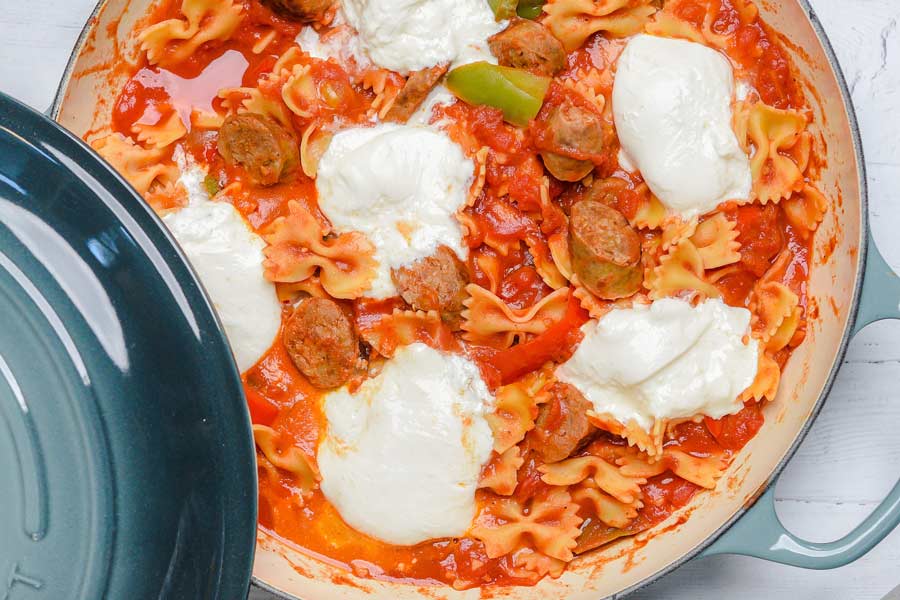 This delicious Peppers Sausage and Pasta is an easy dinner recipe using our homemade marinara sauce and easy sausage and peppers recipe. Perfect a quick low calorie dinner that is also great for freezer-friendly meal planning.
This recipe is perfect for anyone who is short on time, has a large family to feed, or does not want to spend an hour prepping and cooking. I make a big batch of sausage and peppers every month which I freeze and use in a variety of different quick meals like my One-Pan Sausage and Pepper Breakfast Skillet.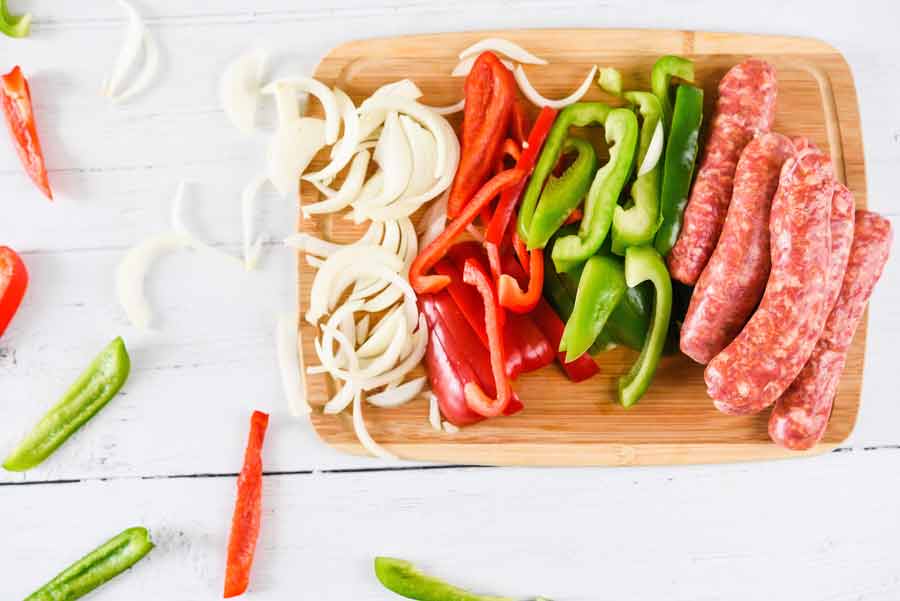 Start by making the Sausage and Peppers
First, if you haven't already, start by making your sausage and peppers. My easy sausage and peppers recipe gives you foolproof instructions to make sausage and pepper in the oven or sausage and peppers in the Instant Pot. I slice up the sausage and peppers and place them in 16oz freezer-friendly containers. This equals about 2-3 cups of sliced sausage and peppers. To make this recipe, you'll use one of your pre-made containers or 3 cups of sausage and peppers. If you already have a batch in the freezer, just take your sausage and peppers out the evening before to defrost a bit.
How to reduce the fat when making Italian Sausage
To make your sausage less greasy and reduce the fat, you want to make sure to always puncture 3-4 small holes in your sausage so the fat can drain. Then bake it on a broiler pan so the fat can drip below the rack instead of sitting in the grease while it bakes. You can also cook your sausage in the Instant Pot or pot of boiling water with a small amount of water to collect the fat which is then discarded. If using this method you can give the sausages a nice seer after in the frying pan to get them nice and browned.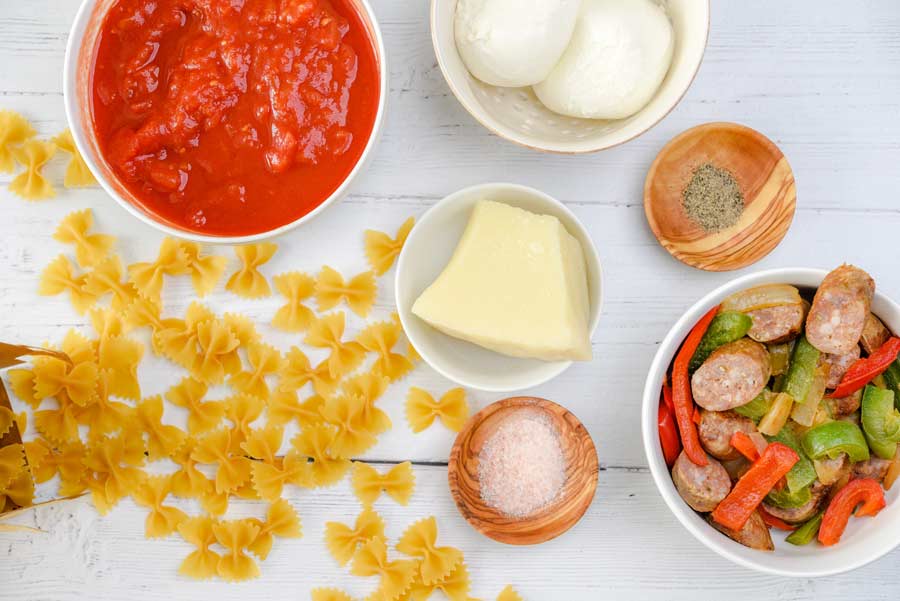 Making the pasta
Next, you'll want to make your pasta. I find it easier and much quicker to just cook your pasta before adding it to the pan. The trick is to cook your pasta very al dente, only about 6-7 minutes. Then let your pasta finish cooking in the marinara sauce. This is how my Italian mother always cooked her pasta dishes growing up to infuse the pasta with more flavor.
For this Peppers Sausage and Pasta recipe, I used bowtie pasta, but you can use any type of pasta you would like. I really love to use pasta that is high in fiber and protein. This is how I continue to eat pasta without gaining weight. I do not believe in depriving myself of the foods I love so I just find healthier alternatives. The Barilla line of protein pasta is my favorite. As women, we never tend to get enough protein in our diets and this is a great way to sneak in a little extra. Each serving has a whopping 10g of protein and 4g of fiber!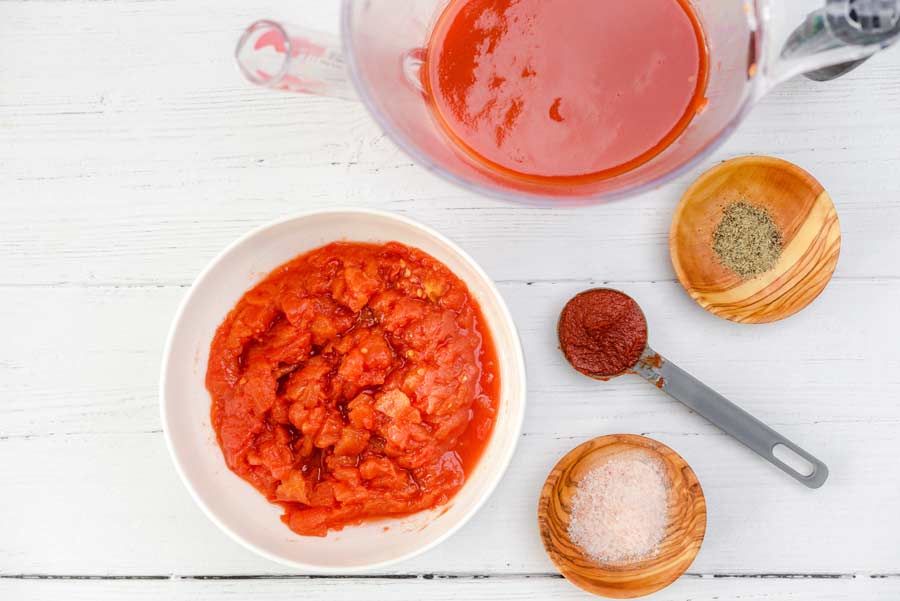 How to make homemade marinara sauce
Making homemade marinara sauce for our Peppers Sausage and Pasta recipe is incredibly easy. This sauce is a staple in almost all of my red sauce Italian dishes. The best part is it only consists of two main ingredients, San Marzano Peeled Tomatoes and Tomato Paste. This is the base for every marinara sauce and I promise you will never buy spaghetti sauce in the store again. San Marzano tomatoes are a favorite among Italian chefs due to their combination of sweetness with less acidity and fleshier wall.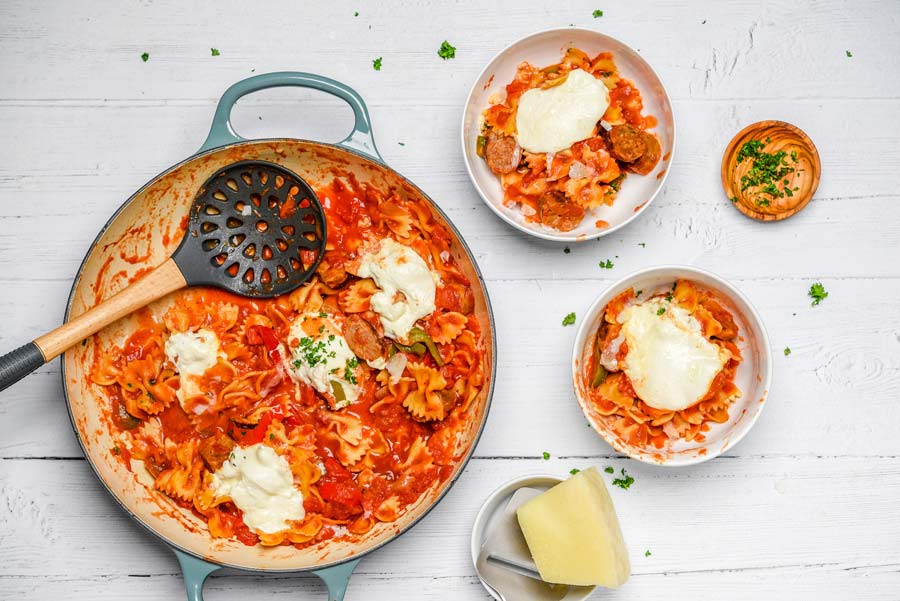 First, you will drain the peeled tomatoes and save the juice off to the side in a medium bowl or large measuring cup. I pick up each tomato and squeeze the extra juice into a metal mesh strainer so I can collect as much liquid as possible. Then I chop the peeled tomatoes and set them off to the side.
Next, you will add 1 tablespoon of tomato paste to the liquid and whisk it together. It is that simple. For this Peppers Sausage and Pasta recipe, we are just going to add this directly to the pan. If you were making this for another recipe you might add some sauteed garlic and onions to the pan with fresh herbs like oregano or basil. This recipe has so much flavor from the sausage and peppers that it doesn't need anything special.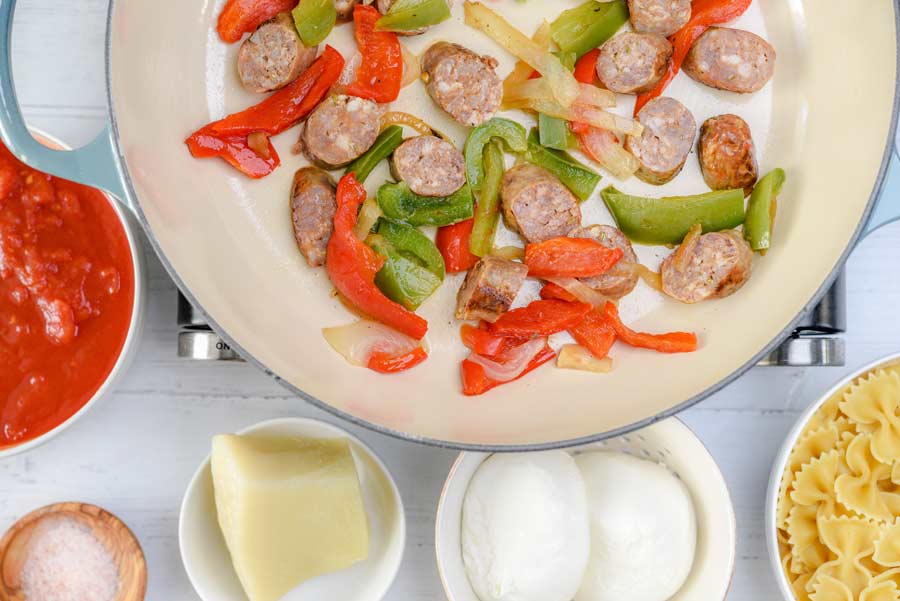 How to make Peppers Sausage and Pasta
Now that we have our sausage and peppers, pasta, and marinara ready to go, all we need to do is combine them into a pan. First, preheat your pan on medium heat. When the pan is warm add a very, very light spray of olive oil. Since the sausage is naturally fatty, it does not need much oil, if any. Once heated add your sausage to the pan.
The sausage and peppers are already cooked so they only need to be sauteed for a minute or two. Then you'll add your marinara sauce and chopped tomatoes. Season with salt and pepper to taste. This recipe has the amount I enjoy, but add your salt and pepper slowly and taste the sauce so you can make your own adjustments.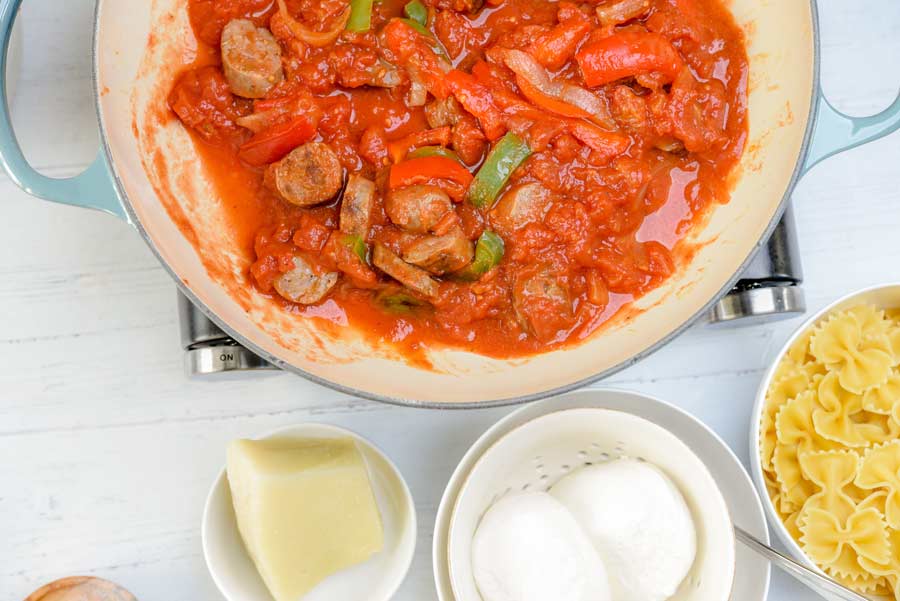 Next, add in your pasta and give everything a good stir. Finally, you'll add your cheese. I am personally obsessed with burrata cheese which is a soft form of mozzarella. If you cannot find Buratta, you can also just add slices of fresh mozzarella. The Burrata I buy is from amazon fresh and comes in two large balls. Simply cut the balls in half and place with the smooth side facing up around your dish. Then cover the pan with the lid and let your Peppers Sausage and Pasta simmer on low heat for 5 minutes until the pasta is cooked and the cheese is slightly melted.
Storage Suggestions
The best part about our Peppers Sausage and Pasta dish is that it makes great leftovers and can even be stored in the freezer to enjoy later. This will hold up in the refrigerator for a week and freezer for 3 months. This dinner however does not typically last long enough in my home to have any leftovers.
More Recipe Suggestions
If you enjoyed our Peppers Sausage and Pasta, please comment below and enjoy these additional recipes.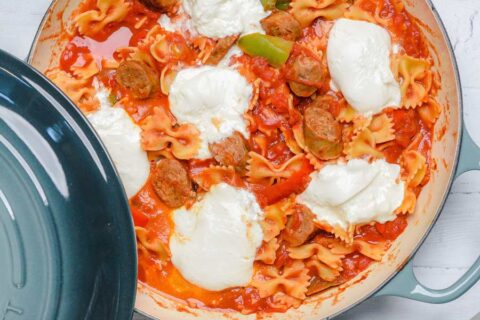 Peppers Sausage and Pasta with Burrata Cheese
This delicious Peppers Sausage and Pasta is an easy dinner recipe using our homemade marinara sauce and easy sausage and peppers recipe. Perfect a quick low calorie dinner that is also great for freezer-friendly meal planning.
Diets: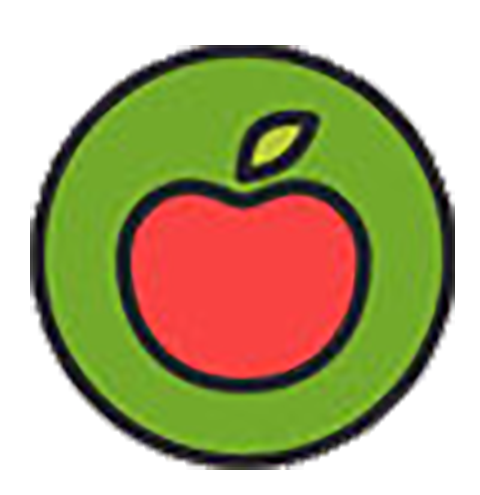 Low Calorie
Ingredients
2.5

cups

sausage and peppers

4

oz

bowtie pasta

barilla protein plus

28

oz

peeled tomatoes

large can San Marzano

1

tbsp

tomato paste

8

oz

burrata cheese

½

tsp

sea salt

fresh, not table salt

¼

tsp

black pepper
Instructions
First, make the Sausage and Peppers following our recipe linked in the article for either the oven or Instant Pot.

2.5 cups sausage and peppers
Pasta
Next, boil a large part of water. Once it reaches a boil, add your pasta and reduce the heat so the pasta is cooking with a light boil.

Only cook the pasta for 6-7 minutes so it is al dente. Then remove, drain, and set to the side.
Marinara Sauce
While your pasta is cooking, strain your can of peeled tomatoes into a medium size bowl. Using a metal mesh strainer, squeeze out the extra juice from each tomato into the bowl.

Then, dice the tomatoes and set them to the side.

Add 1 tbsp of tomato paste to the tomato juice and whisk.
Peppers Sausage and Pasta
Heat a large pan over medium heat. Once hot, spray a small amount of olive oil and add your sausage and peppers. Saute for 1-2 minutes.

Then add your tomato juice mixture and diced tomatoes.

Add the pasta and mix everything together. Season with salt and pepper to taste.

1/2 tsp sea salt,

1/4 tsp black pepper

slice your balls of burrata in half and place on top of the pasta. reduce the heat to low, cover the pan with the lid and simmer for 5 minutes.

serve with an optional garnish of fresh basil and grated parmesan.
Notes
substitute Burrata Cheese for fresh Mozarella
Nutrition
Serving:
2
cups
|
Calories:
327
kcal
|
Carbohydrates:
31
g
|
Protein:
18
g
|
Fat:
18
g
|
Saturated Fat:
10
g
|
Polyunsaturated Fat:
1
g
|
Monounsaturated Fat:
1
g
|
Cholesterol:
55
mg
|
Sodium:
747
mg
|
Potassium:
553
mg
|
Fiber:
3
g
|
Sugar:
6
g
|
Vitamin A:
898
IU
|
Vitamin C:
32
mg
|
Calcium:
375
mg
|
Iron:
3
mg
|
Net Carbohydrates:
27
g
Find Delicious Recipes By Category