Knotts Berry Farm Boysenberry Festival 2023 returns on March 10, 2023 – April 16th, 2023 with a whole new line-up of boysenberry treats and a handful of returning favorites. Here are all the details of this years Boysenberry Festival.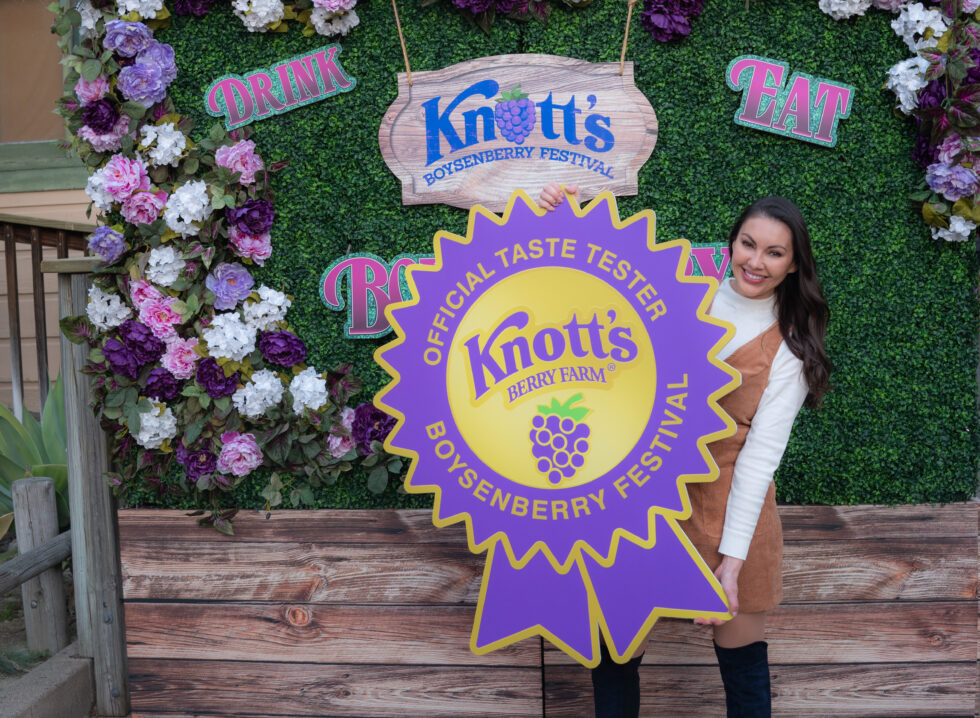 Discover the Knotts Berry Farm Boysenberry Festival
The Knott's Boysenberry Festival is the ultimate annual food-inspired event that celebrates the park's historic roots by highlighting the little berry that started it all, the boysenberry. Guests will have the opportunity to indulge in a range of dishes, from savory foods with a boysenberry twist to one-of-a-kind specialty desserts and a wide selection of both alcoholic and non-alcoholic drinks.
In addition to the numerous food and drink offerings, the Knott's Boysenberry Festival offers a wide selection of local crafters, live music, and a brand-new musical stage show for guests of all ages to enjoy.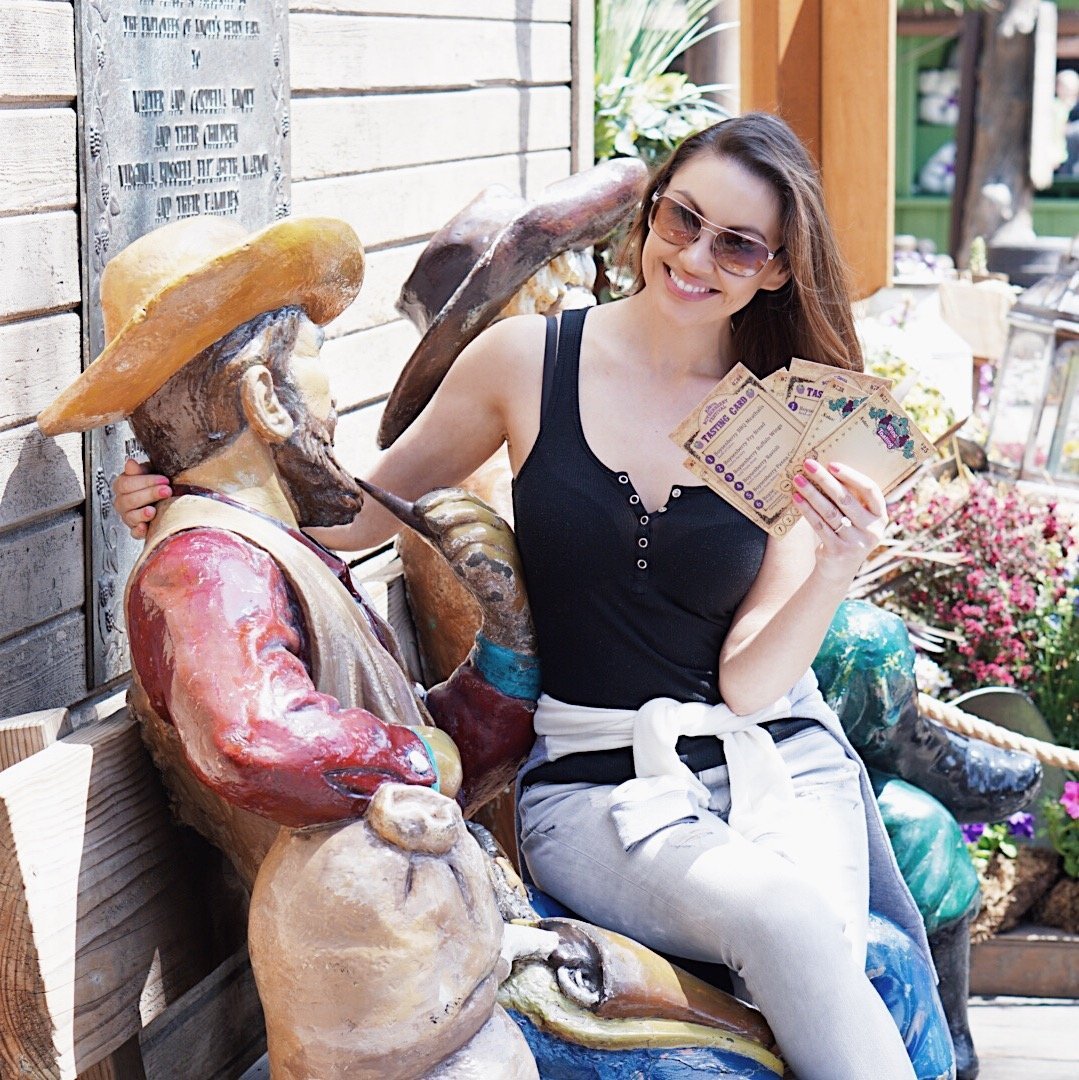 Boysenberry Festival Tasting Cards
Guests can purchase a Boysenberry Festival tasting card for $55 or a Festival Admissions Bundle for $104 which includes admission to Knotts Berry Farm, parking, and 3 tastings.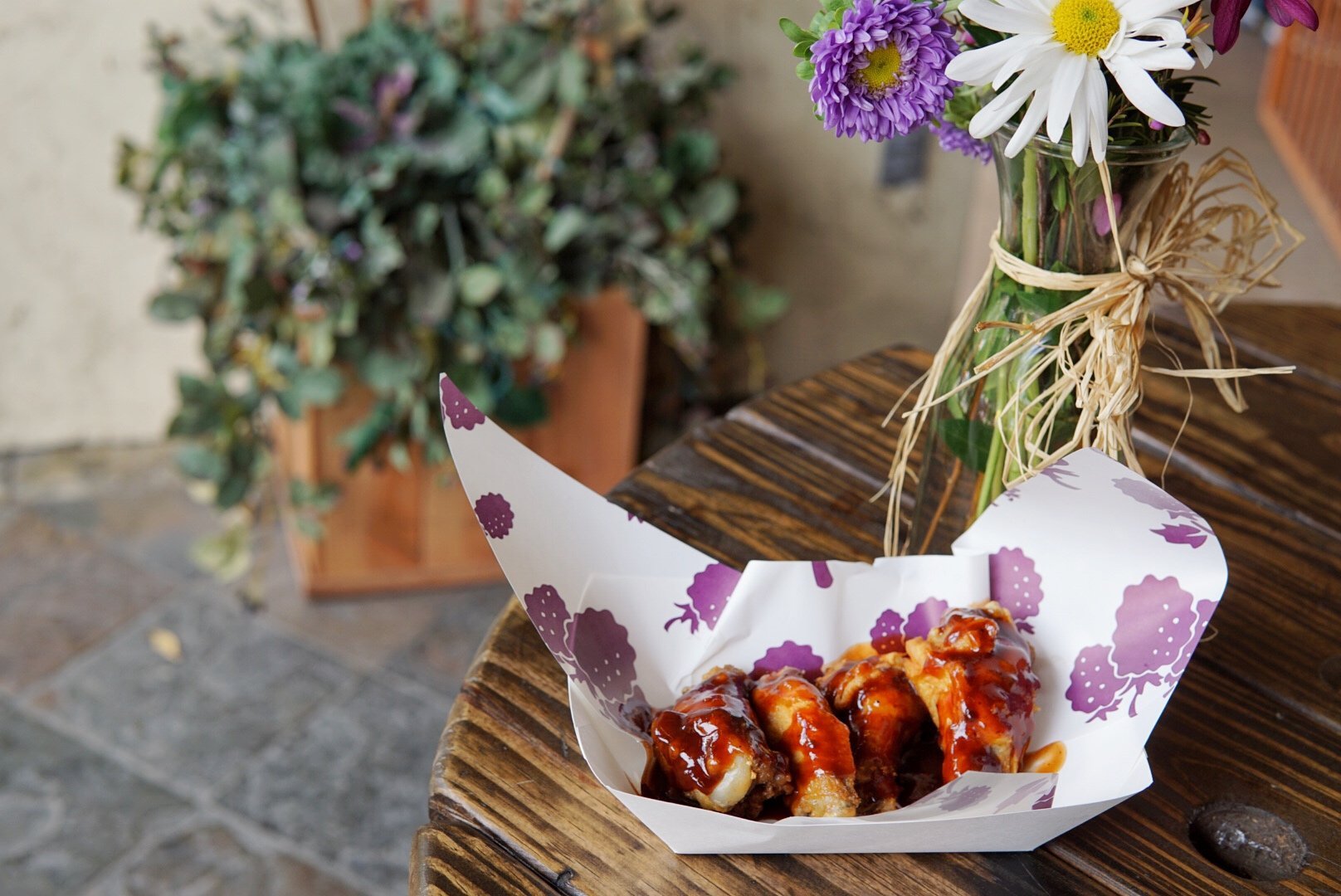 Best Returning Boysenberry Bites
This year, several of my favorite boysenberry bites from previous years are returning to the festival. Here is a list of popular Boysenberry Festival items returning this year and where to find them at the park.
Boysenberry Chicken Wings at Spurs Chophouse
Boysenberry Elote at Chow House: Boysenberry Butter, Boysenberry Mayo, and Cotija Cheese
Boysenberry Sausage Hoagie at Wilderness Broiler
Charcuterie Board with a Boysenberry Crostini and Boysenberry Mustard: Wilderness Dance Hall
Check out the 2022 Boysenberry Festival photos.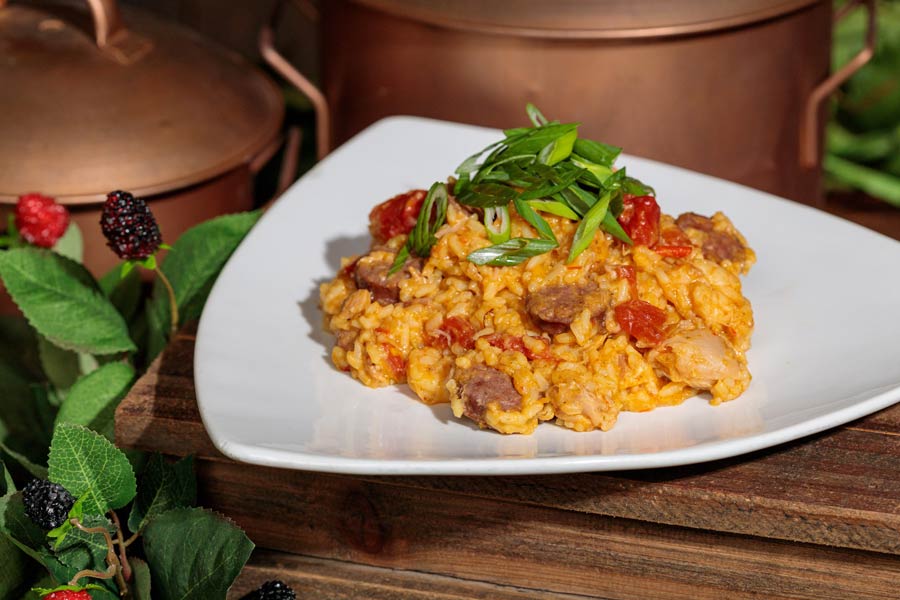 What's New at Knott's Boysenberry Festival 2023
Knott's Boysenberry Festival 2023 has a plethora of new and exciting dishes from savory to sweet. Here is a complete list of all the new boysenberry foods and where to find them. I am personally the most excited about trying the Caprese Garlic Bread with Boysenberry Balsamic Glaze, Boysenberry Jumbalaya, & the Panna Cotta!
Vegan Tofu, Wild Rice, and Kale Bowl with an Apricot and Boysenberry Glaze: Gold Mine Trail
Boysenberry Jumbalaya at Gold Mine Trail Booth: a delicious stew of Boysenberry Sausage, Chicken, and Shrimp garnished with Green Onions.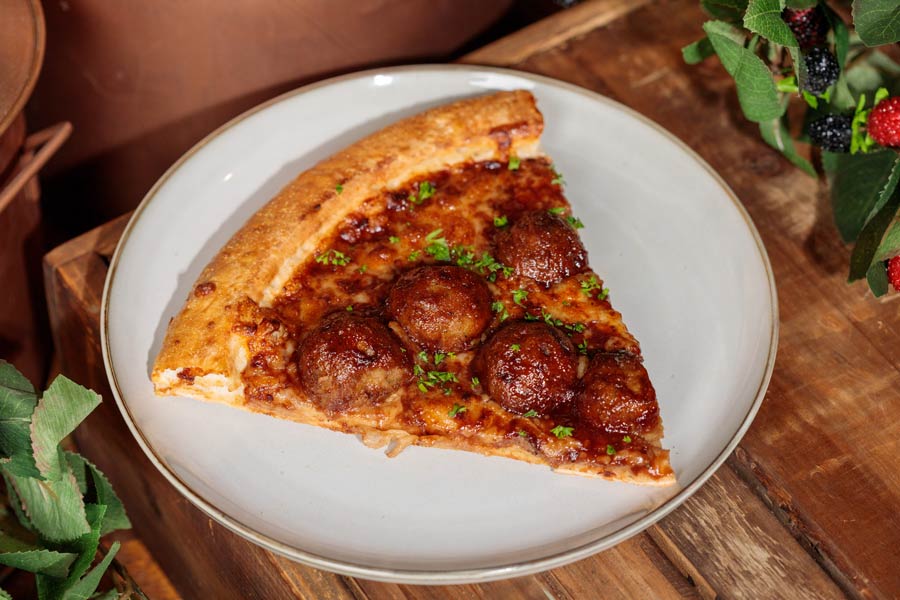 Buffalo Chicken over Mac & Cheese with a Boysenberry Ranch Drizzle: Gold Mine Trail, Chow House
Boysenberry BBQ Meatball Pizza: Wagon Wheel Pizza
Caprese Garlic Bread with a Boysenberry Balsamic Glaze: Wagon Wheel Pizza
Sushi Burrito with Spicy Crab Surimi, Avocado, Lettuce, Crispy Onions, Sesame & Unagi Sauce and Boysenberry Sweet Chili Dipping Sauce: Ghost Town Bakery & Wilderness Dance Hall
Beef Barbacoa over Mac & Cheese with a Boysenberry Chipotle Crema: Silver Bullet & Wilderness Dance Hall
Cauliflower Bites with a Boysenberry Curry Drizzle: Wilderness Dance Hall
Cajun Shrimp Po' Boy with Coleslaw and a Boysenberry Remoulade: Wilderness Broiler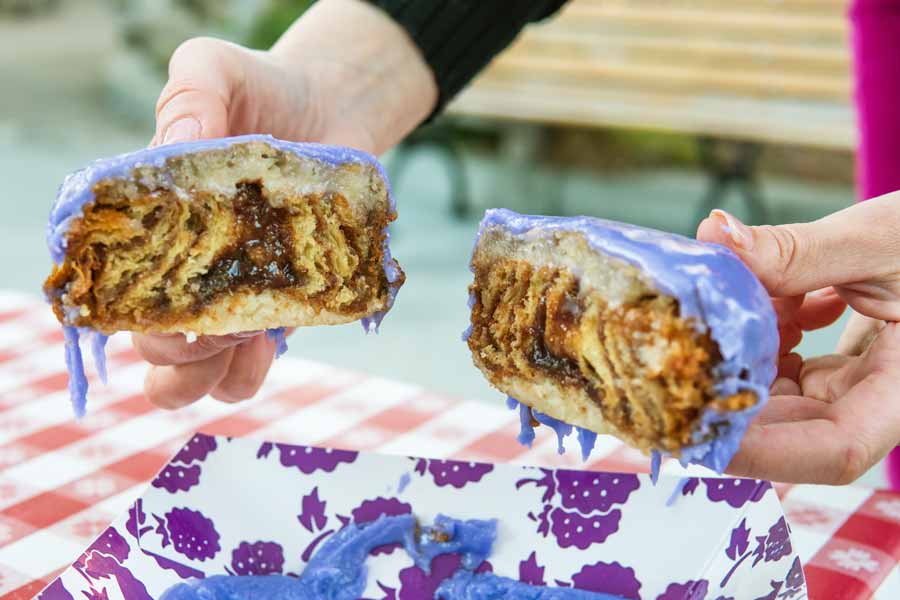 Boysenberry Festival 2023 Desserts
When it's time for a little sweet indulgence, you'll find there is no shortage of desserts at the Boysenberry Festival. Here are some of this year's treats and where to find them.
Boysenberry Panna Cotta with a Shortbread Cookie: Gold Mine Trail & Ghost Town Bakery
Boysenberry Waffle with Whipped Cream and Boysenberry Maple Syrup: Ghost Town Bakery & Ghost Town Grub
Boysenberry Ice Cream Cookie Sandwich: Spurs Chophouse
Boysenberry Bread Pudding: Wilderness Dance Hall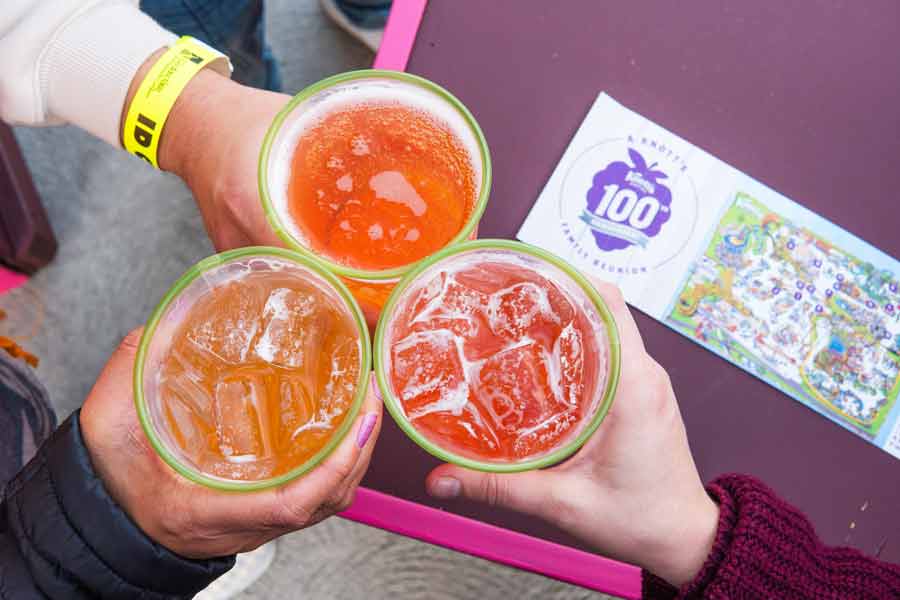 Boysenberry Wines, Beers, & Cocktails
One thing I love about the Knotts Berry Farm Boysenberry Festival is you can use your tickets to get a variety of wines, beers, & cocktails. The Boyseberry Hard Cider has noticeably been missing from the parks which breaks my heart every visit, but it's finally returning for the festival!
Other drink options include the Boysenberry Wine, Beers, Sangria, Margarita, Mudslide, Seltzer, & Frosè.
In addition to the tasting card options, there are also numerous Boysenberry Festival foods and treats throughout the park available for purchase such as the fun buns and funnel cakes.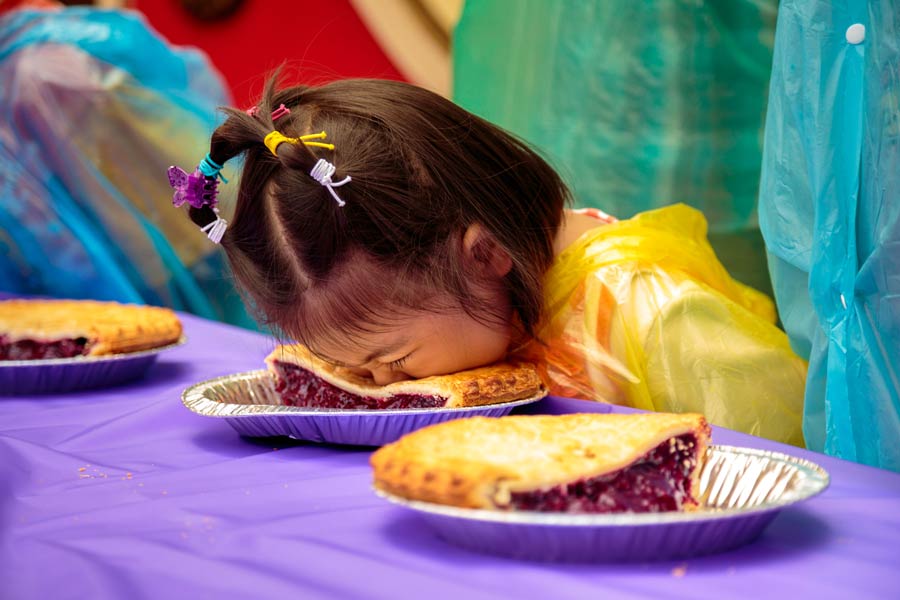 New Entertainment & Shows
This year introduces some new entertainment and yearly favorites like the pie eating contest. here are all the details below.
Knott's Preserved
Through song, dance, and storytelling, Knott's Berry Farm comes alive as the audience takes a musical journey from the little ghost town of Calico to the Seaside Boardwalk of the Roaring '20s to commemorate the heritage of the park.
Riverboat Revenge
All aboard for a boysenberry bon voyage at the legendary Bird Cage Theatre with a special presentation of the comedy melodrama.
Boysenberry Fun and Games
Guests are challenged to try their berry best, which includes the wildly entertaining Boysenberry Pie Eating Contest. Also don't miss the cookie decorating in Ghost Town.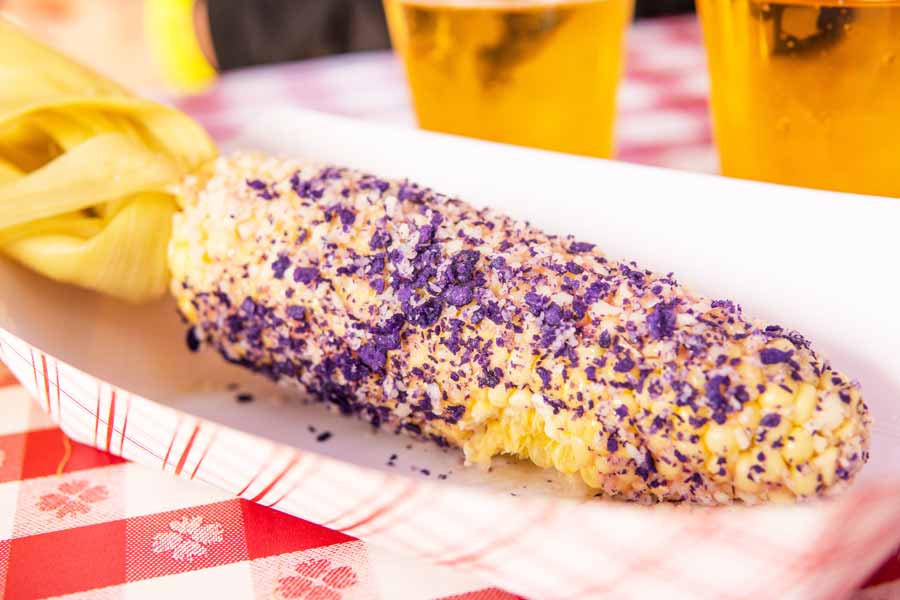 Stay at the Knotts Berry Farm Hotel
After all that eating and drinking, you might as well stay overnight. Knott's Berry Farm is running a special room rate of only $81 a night.
Visit the Knotts Berry Farm Boysenberry Festival 2023 website for more information & to purchase your tickets in advance. As always, the Knotts Berry Farm annual pass is the deal of the century for only $145 or 6 month payments of $18 with a $37 initial payment. You can also never go wrong with their all season dining plan which is only $155.
Discover More