Knotts Scary Farm 2022 is back with all new mazes and a spooktacular new food menu. From September 22 – October 31 guests will experience an evening of haunts and scares including 17 five spine-chilling scare zones, nine monstrous mazes, three sinister shows, a spooktacular new menu of themed food items, and blood-curdling cocktails.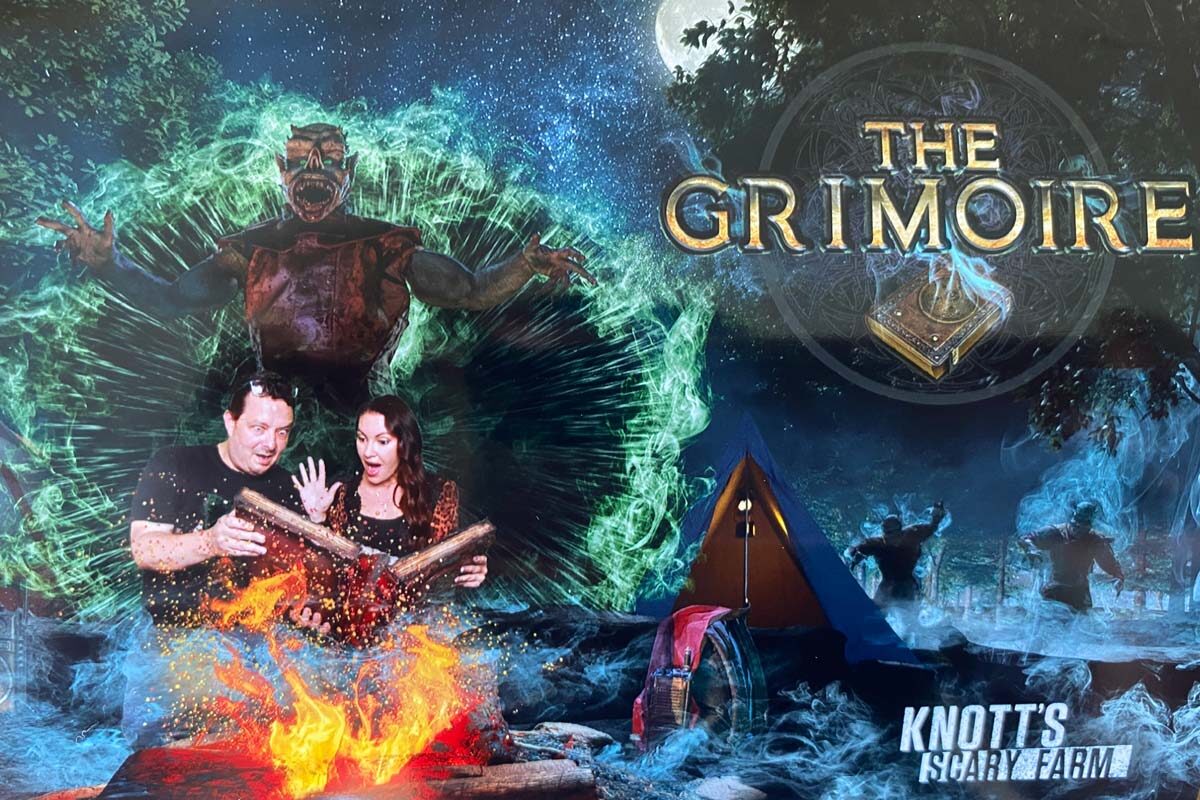 New Mazes
Bloodline 1842 – Armed with the latest Bellatorian weaponry, you can choose to heed the call to action and embark on a perilous journey with the immortal Daybreakers. Travel through the busy city streets of Valdonia while hunting the bloodthirsty Valhymphri in an all-out war.
Bring light into the darkness, survive the vicious onslaught of vampires, and bring honor to your order! Is this a replacement for the popular discontinued Zombie Maze? I sure hope so, fingers crossed.
The Grimoire – Turn the page and enter the world of an ancient relic whose dark stories exist purely to turn your greatest nightmares into a reality. Enter the world of a mysterious spell book and escape the demonic creatures inside or be eternally trapped within!
Knotts Scary Farm 2022 returning mazes include Mesmer, Wax Works, Origins: The Curse of Calicio, Pumpkin Eater, Dark Ride, The Depths, and Dark Entities.
New Behind the Scenes Tour
This year for the first time, guests can book a 3 hour behind the scenes tour experience! The Beyond the Fog: A behind-the-scenes tour of Knott's Scary Farm will pull back the veil for a Lights On, Frights Off Tour. You'll learn the history of Scary Farm and take part in a walking tour of multiple Knott's Scary Farm mazes with the lights on! Grab your walking shoes for a one-of-a-kind opportunity to go Beyond the Fog for only $79.99.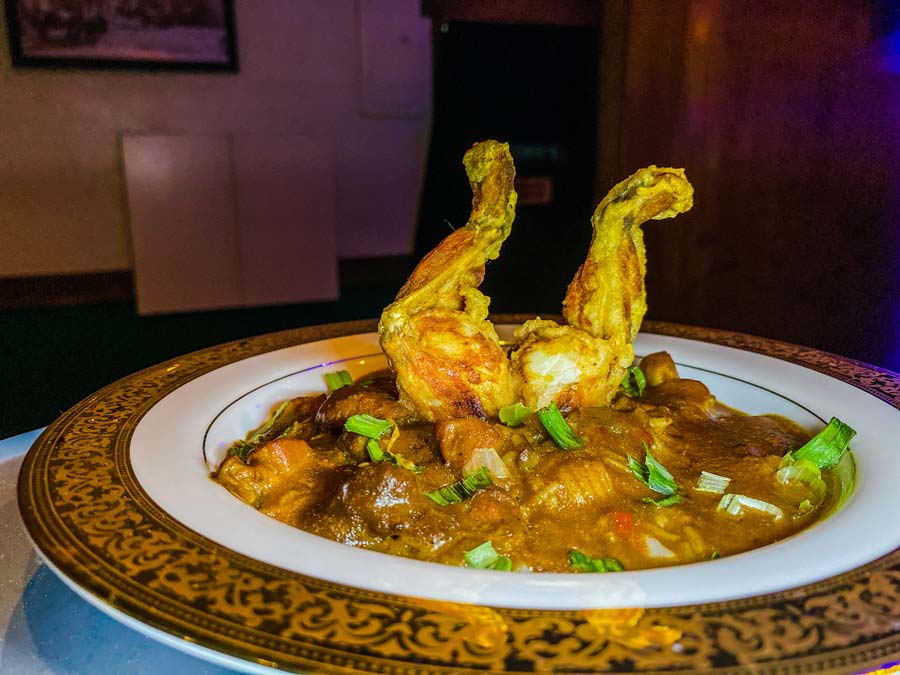 Knotts Scary Farm 2022 Halloween Themed Food Menu
I love the mazes, but I am equally excited about all the new Knotts Scary Farm 2022 Halloween themed food items at the park this year. The culinary team at Knotts truly outdid themselves with a huge list of spooky food and treats.
The menu is not even online yet so I'm going to list some of the new foods, desserts, and cocktails that are going to be available this year.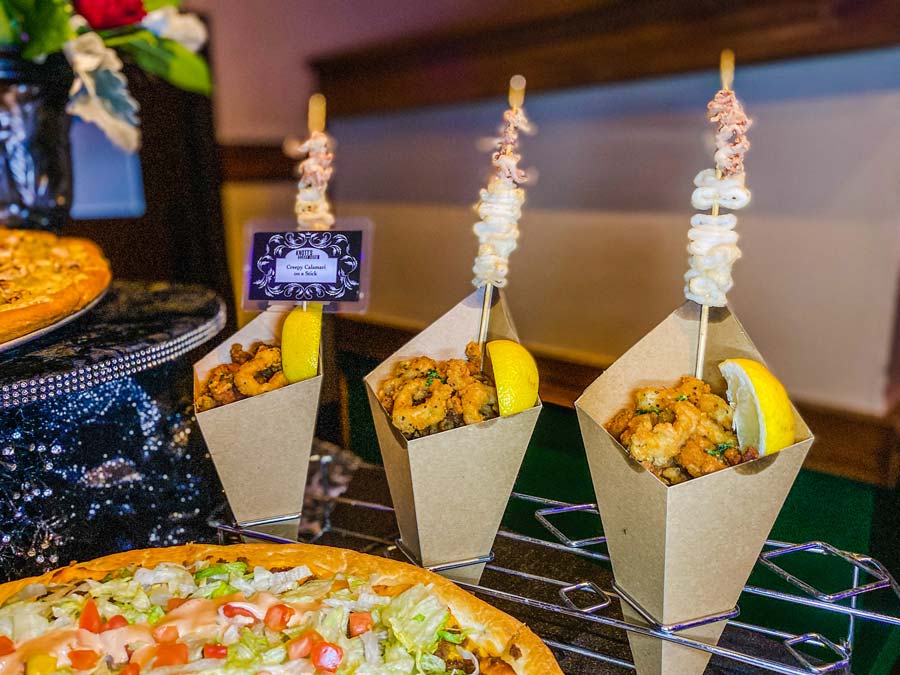 Savory New Food Items
First, my favorite Knotts Scary Farm 2022 food item is the Sausage Gumbo with Frog Legs. This dish is super flavorful and the frog legs taste just like chicken. Trust me on this one!
Creepy Calamari on a stickBratty Bratwursts with Saurkraut & Mustard, Scary Sausage and Veggie Sub, Nachos Hot Dog
The Hallows Chicken & Hatch Chili Pizza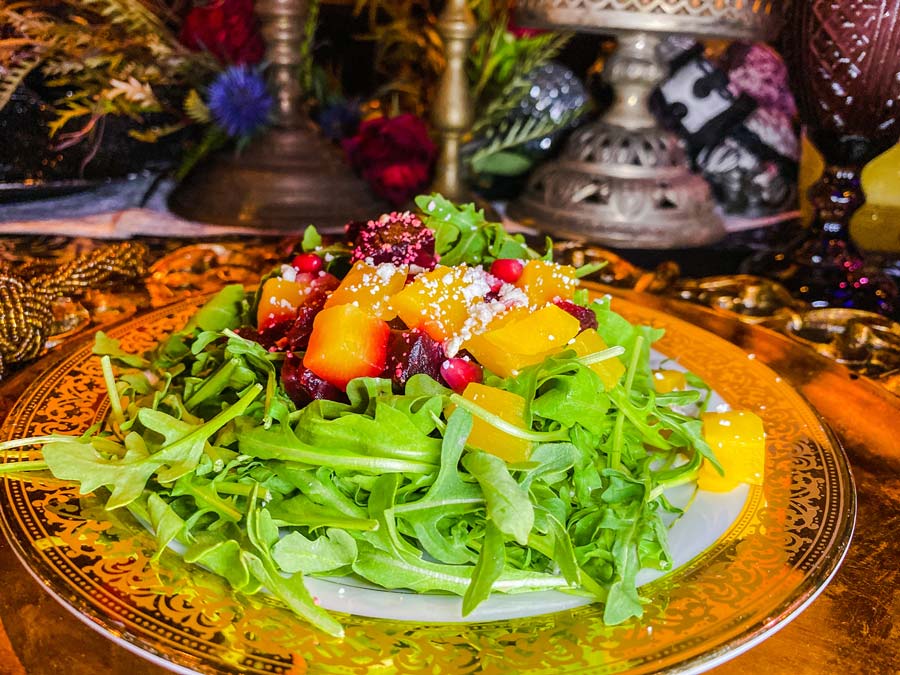 Butternut Squash & Beet Salad
Chili & Cheese Tamales
Mexican Chorizo & Garlic Shrimp Burger
Frightened Philly Cheese Tater Tots
Ghouls Mac & Cheese with Steak Bites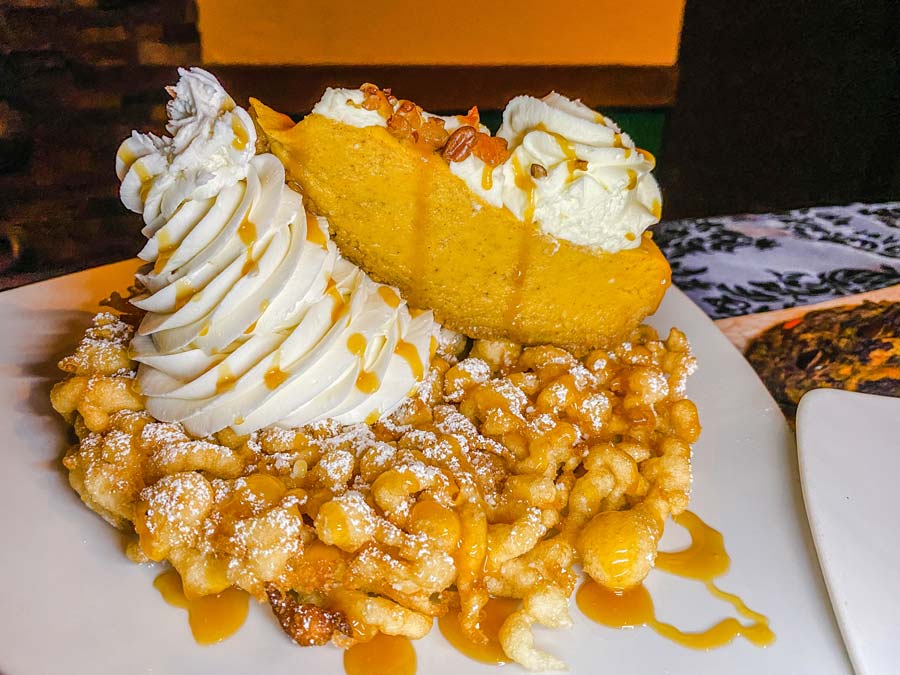 New Desserts
There are so many new dessert items, I don't even know where to begin. I might need to take several trips just to try each funnel cake!
Murder Us S'more Funnel Cake
Bonker's Banana Foster Funnel Cake
Perilous Pumpkin Cheesecake Funnel Cake
Spooky Snoopy Themed Cookies
Derby Chocolate Pie
Pecan Pie Brownie Bombs
Chia Pumpkin Latte Whoopie Pie
Candy Corn Macaroon
Zombie Brains Churro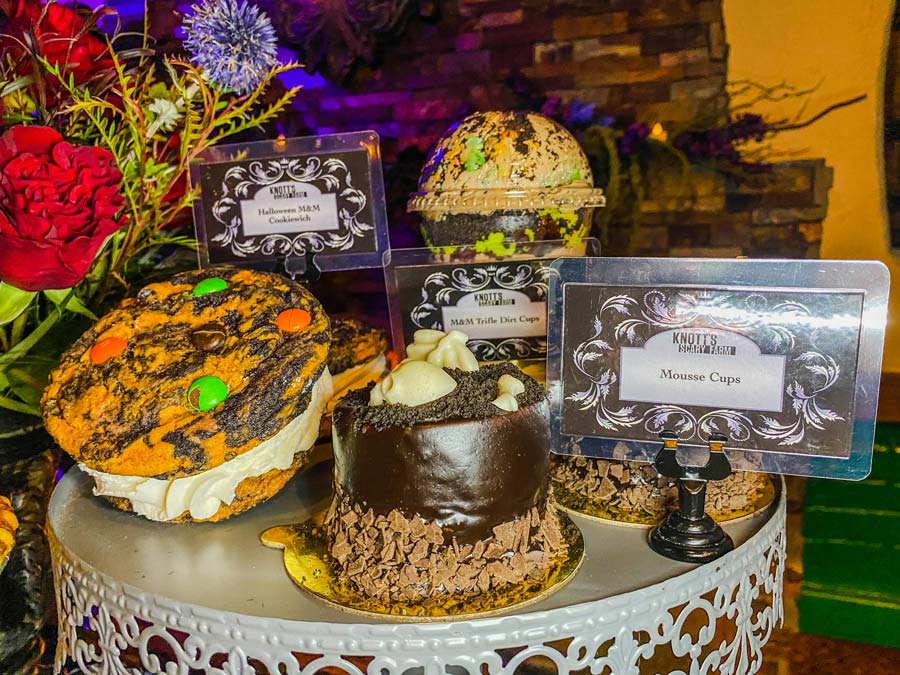 Halloween M&M's Cookiewich
Mousse Cups
M&M's Trifle Dirt Cup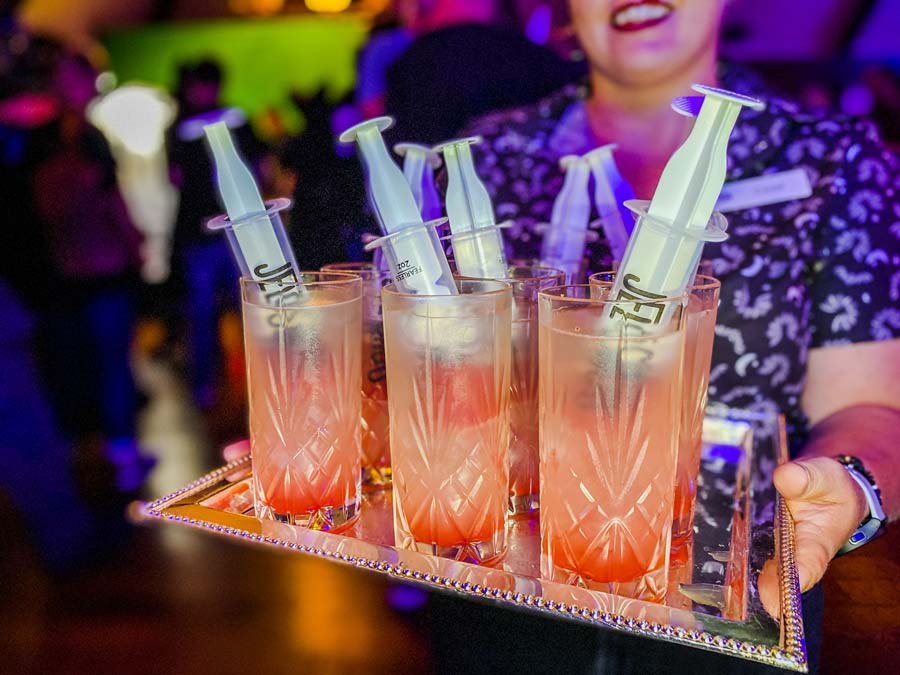 Chilling New Cocktails
Knotts Scary Farm 2022 really went all out with the cocktails. I had the opportunity to try their new "I Vant Your Blood Vodka Strawberry Lemonade" and was both delicious and refreshing. I love the addition of the syringe used to add the strawberry, so clever!
I Vant Your Blood Vodka Strawberry Lemonade
Black Widow Lemonade (non alcoholic)
Bourbon Smash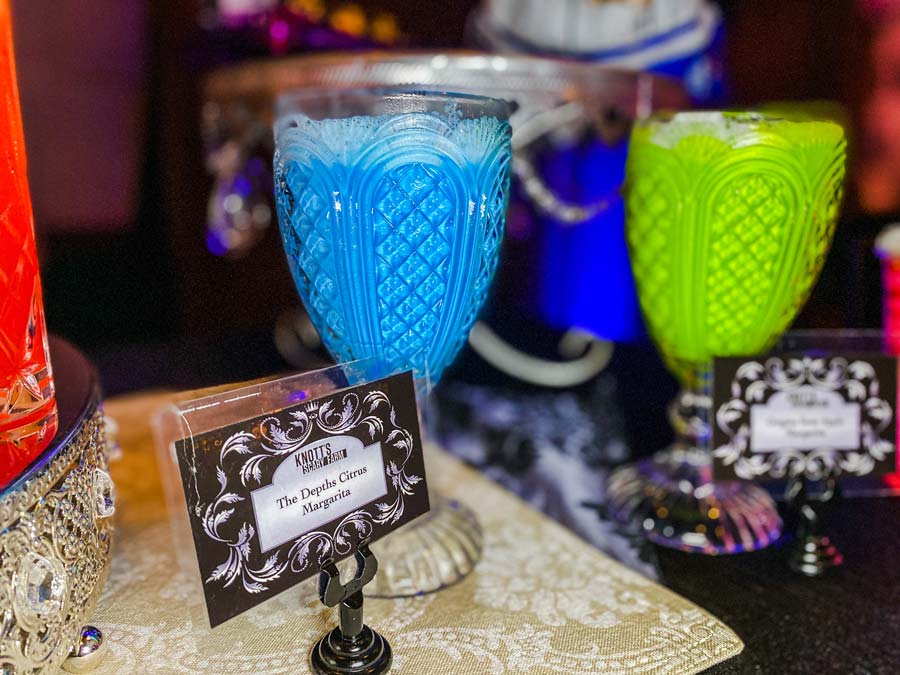 The Depths Citrus Margarita
Origins Sour Apple Margarita
Pumpkin Eater Pina Colada
Spiders Strawberry Milkshake
Red Rum
New Shows
Le Magnifique Carnaval du Grotesque at Calico Mine Stage- Step right up and walk into the mystique and darkness of the malevolent Le Magnifique Carnaval Du Grotesque. This reimagined show features a collection of death-defying feats and dangerous carnival acts to delight your darkest desires and fill your senses with terror.
Conjurers: Dark Magic at Bird Cage Theater – The fog in Calico is thick. The screams of the denizens of the night echo all around. The only safe place to take refuge is in The Bird Cage Theatre with this newest evolution of the Conjurer's magic show. You know the place, right next to the Undertaker.
It seems that with death no longer the end, the Undertaker has nearly been run out of business. Fortunately, in all his dealings with death and the afterlife, he's got a few tricks up his sleeve. Tricks will come in handy as he crosses over to the other side to show our still-living guests what he's learned.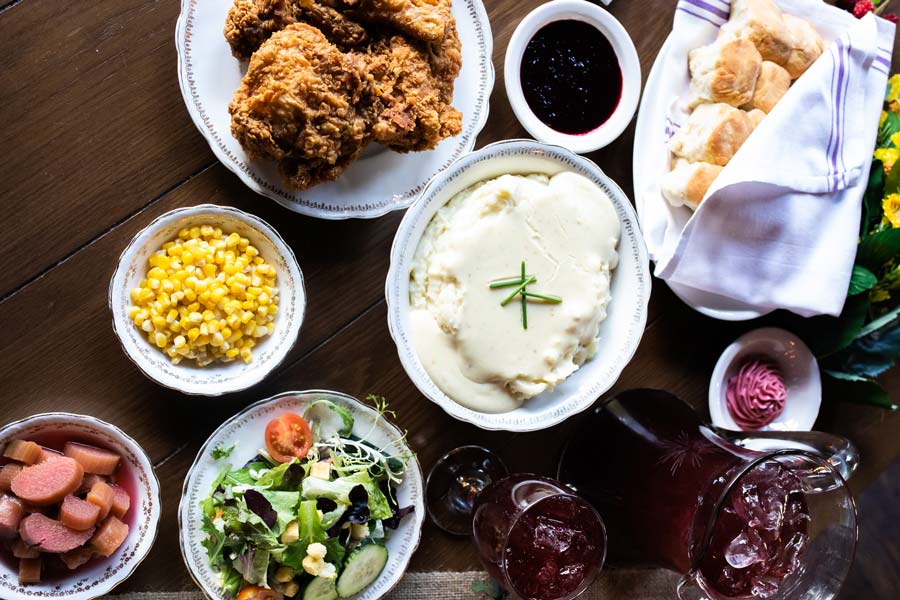 Get Early Entrance to Knotts Scary Farm 2022 with the Boo-fet Dinner
If you want to check out some of the mazes before anyone else, consider having a fried chicken feast before your visit. Knott's Scary Farm Boo-fet Dinner features endless portions of signature Knott's entrees and desserts with a souvenir cup. The menu includes Knott's classics such as Mrs. Knott's fried chicken, a chef carving station, boysenberry pie, and more.
Boo-fet diners receive early entry to select mazes and attractions. Boo-fet guests will also have exclusive monster photo opportunities before the park opens to the general public. The Boo-fet dinner is only $45!
Need to Know
Chaperone Policy
This year Knotts Scary Farm 2022 is enforcing a chaperone policy. All general park guests ages 17 years old or younger must be accompanied by a chaperone who is at least 21 years old to be admitted to the park. The chaperone must present a valid photo ID with date of birth. One chaperone may accompany no more than four guests ages 17 or younger per day.
Bag Policy
Guests may not bring bags larger than 6.5" x 4.5" x 2" of any kind including purses, backpacks, or diaper bags, into the park during Knott's Scary Farm. All bags are subject to be searched prior to entry.
Dates & Hours
Knotts Scary Farm 2022 runs select nights from September 22 – October 31, 2022. Knott's Scary Farm opens at 7 p.m. and closes at 1 a.m. or 2 a.m. depending on the night. For a complete list of dates and hours, visit our calendar page.
Discover More