Knotts Merry Farm 2023 returns on November 17 through January 7 with nostalgic entertainment and all-new holiday food. This year is brighter and merrier than ever with festive entertainment, delicious-themed treats, and fantastic shows. Here is the full lineup of this year's shows and a special first look at the Knotts Merry Farm food offerings!
Don't miss our complete list of Holiday Events in Orange County!
Table of Contents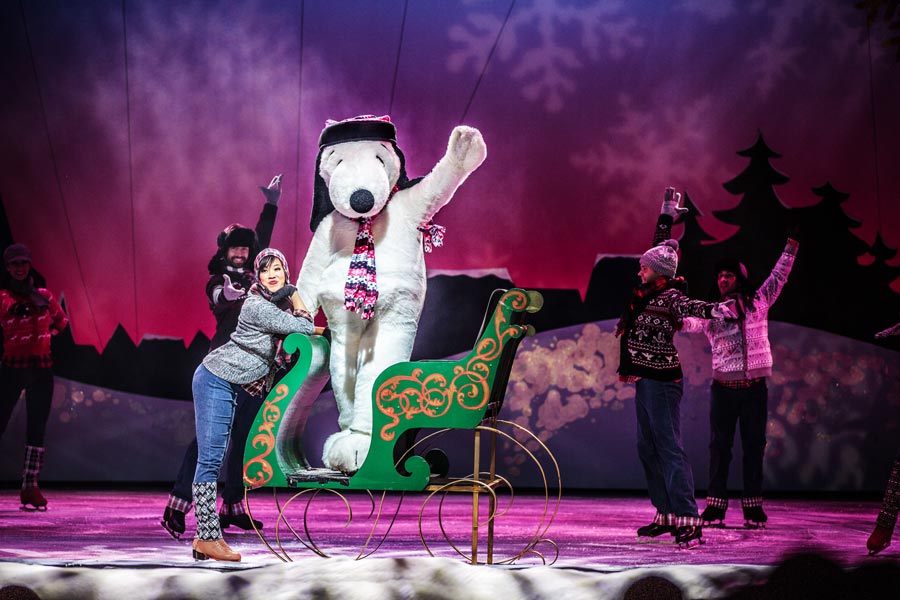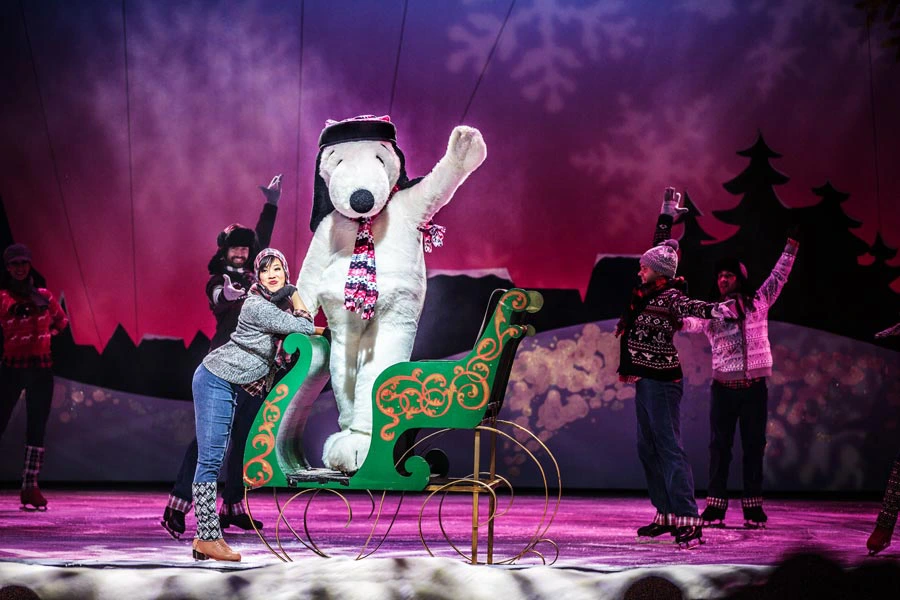 Snoopy's Night Before Christmas Show
The beloved ice show is reimagined for the 40th anniversary of Snoopy on Ice. Snoopy's Night Before Christmas will have all of the aspects that guests have come to love from the ice show, with special technological additions to make it more magical than ever. The Camp Snoopy Theatre debuts Best Wishes, a heartwarming tale of the Peanuts gang spreading the word of the true meaning of Christmas.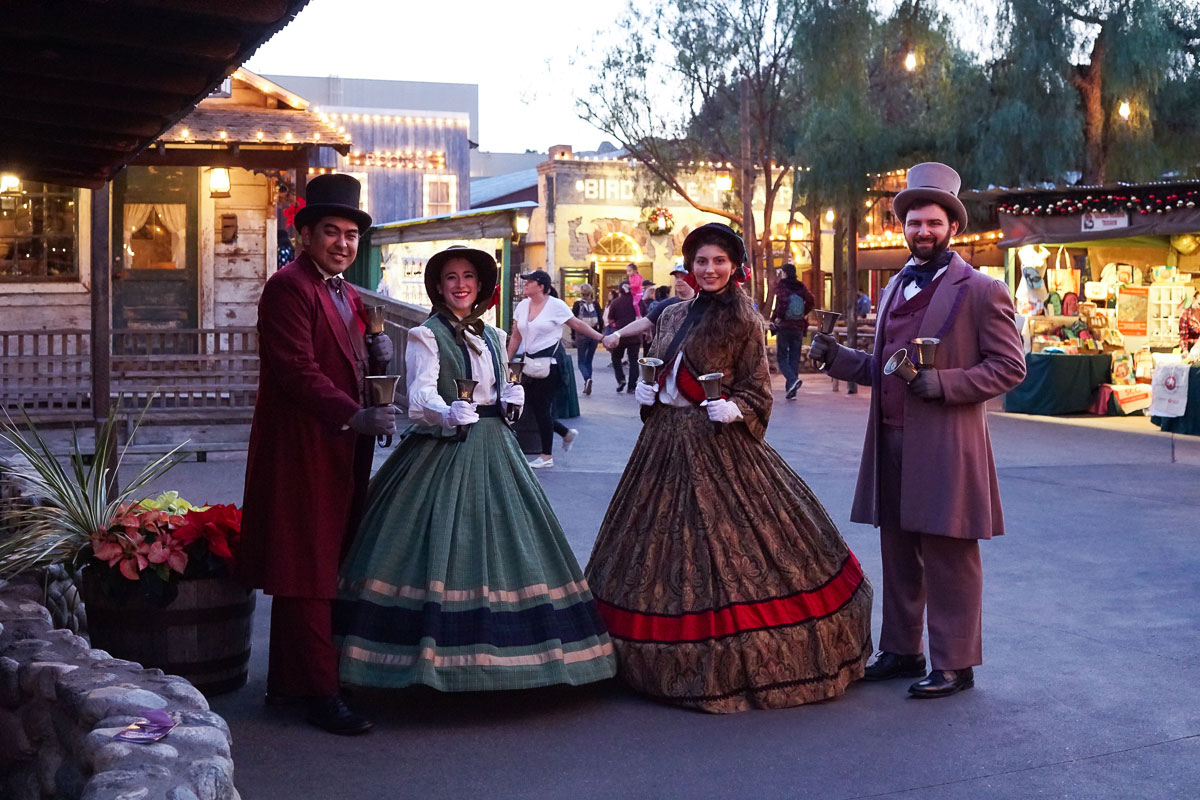 Knott's Merry Farm 2023 Performances & Entertainment
Home for the Holidays, where joyous merriment takes over the Calico Mine Stage with dancing and fun set to popular holiday tunes.
Charles Dickens' A Christmas Carol comes to life in the intimate setting of Ghost Town's historic Bird Cage Theatre
The Gift of the Magi, 1885, a brand-new adaptation of a classic Christmas tale
the Calico Carolers, Knott's own vocal quartet, transport guests back in time to a Victorian Christmas as they perform the season's songs throughout the streets of Ghost Town.
The Sleigh Bells, the a capella group, will be in Calico Park serenading guests with soulful versions of Christmas classics.
Bluegrass Duo takes the stage at Firemans BBQ with a variety of classic bluegrass hits and old favorites, and this Duo will have toes tappin' and hands clappin'!
Krazy Kirk and the Hillbillies will put on a foot-stompin' Christmas show with energetic music and comedy for the whole family. In Boardwalk Ballroom, the dance floor is open as the best swing bands around put their own spin on the season at the
Tinsel Top Club is open in the Boardwalk Ballroom. The dance floor is open as the best swing bands around put their own spin on the season at the Nearby at Boardwalk BBQ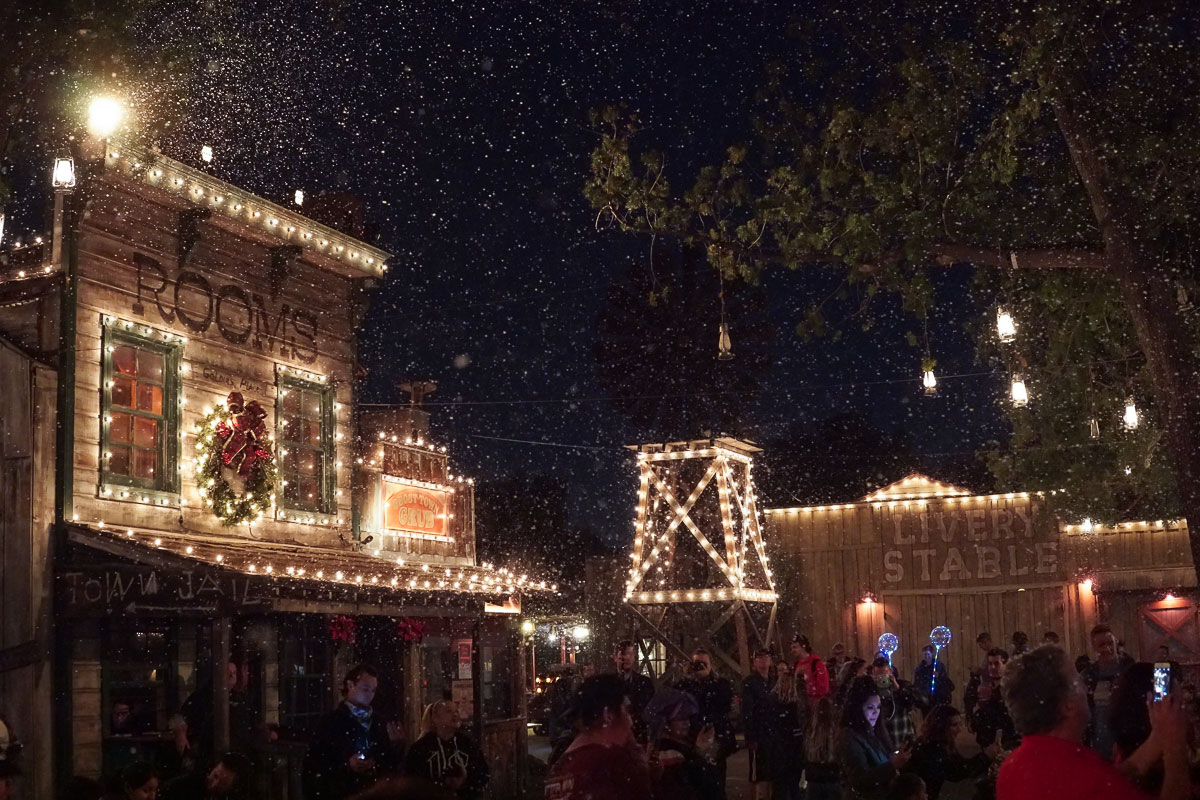 Magical Snow & Glow Experience
Every night during Merry Farm, the park comes alive as the lights of the season brighten the night. In Ghost Town, a magical Snow and Glow experience fills the buildings and paths with thousands of lights dancing to the beat of Christmas music while "snow" gently falls.
Then as day turns into night, the park will also sparkle and shine with a nightly tree lighting ceremony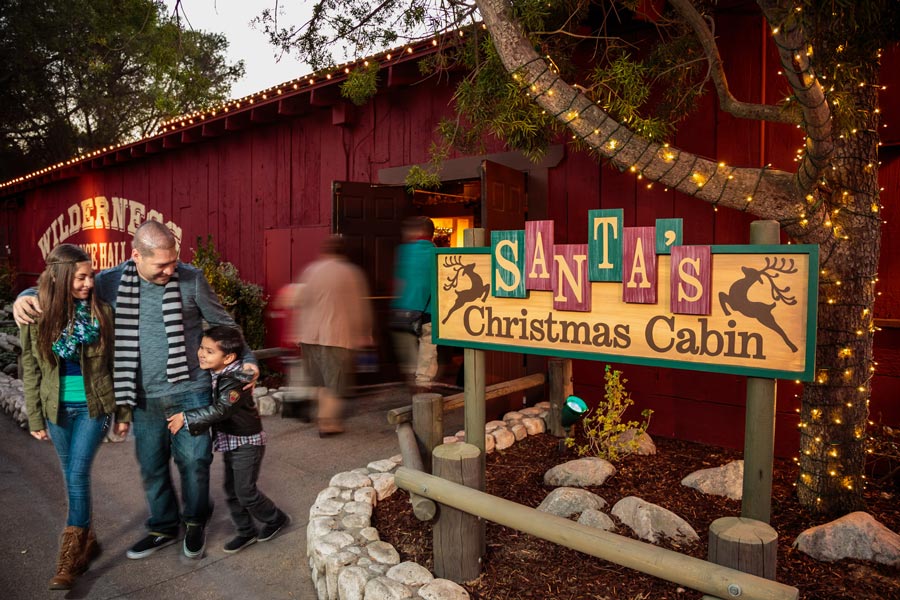 Santa's Christmas Cabin
Families will want to head to Santa's Christmas Cabin for meet and greets with Santa and fun holiday treats. After meeting with Santa, kids can enjoy cookies and milk while parents enjoy cups of hot cocoa with some Baileys Irish Cream.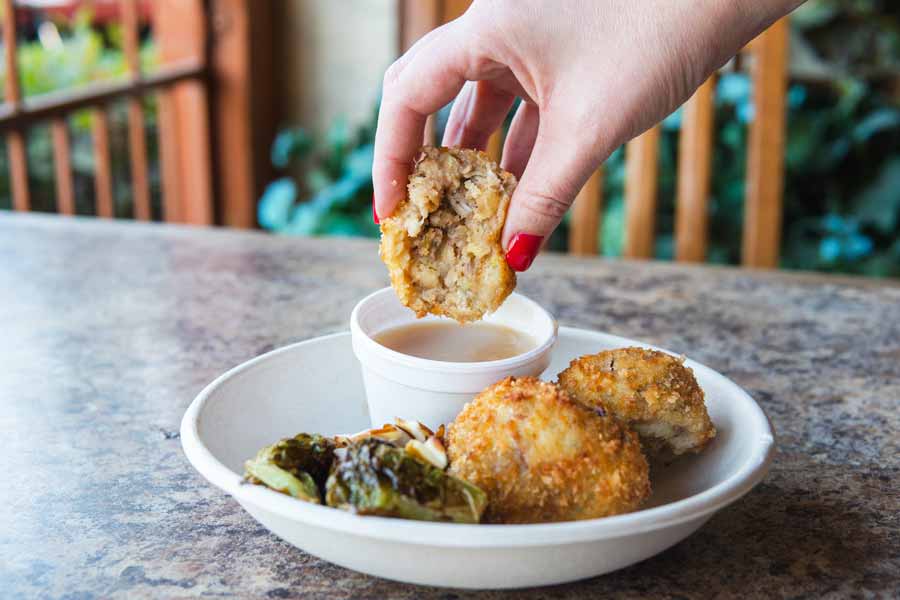 New 2023 Knott's Merry Farm Food
Knott's Merry Farm 2023 has a huge line-up of new holiday food and treats. Guests can enjoy my favorite crispy breaded "Turkey Ball" filled with perfectly seasoned stuffing and sweet cranberry sauce, the Red Velvet Churro stuffed with peppermint bark cream cheese and so much more. Here's what you get to look forward to this year.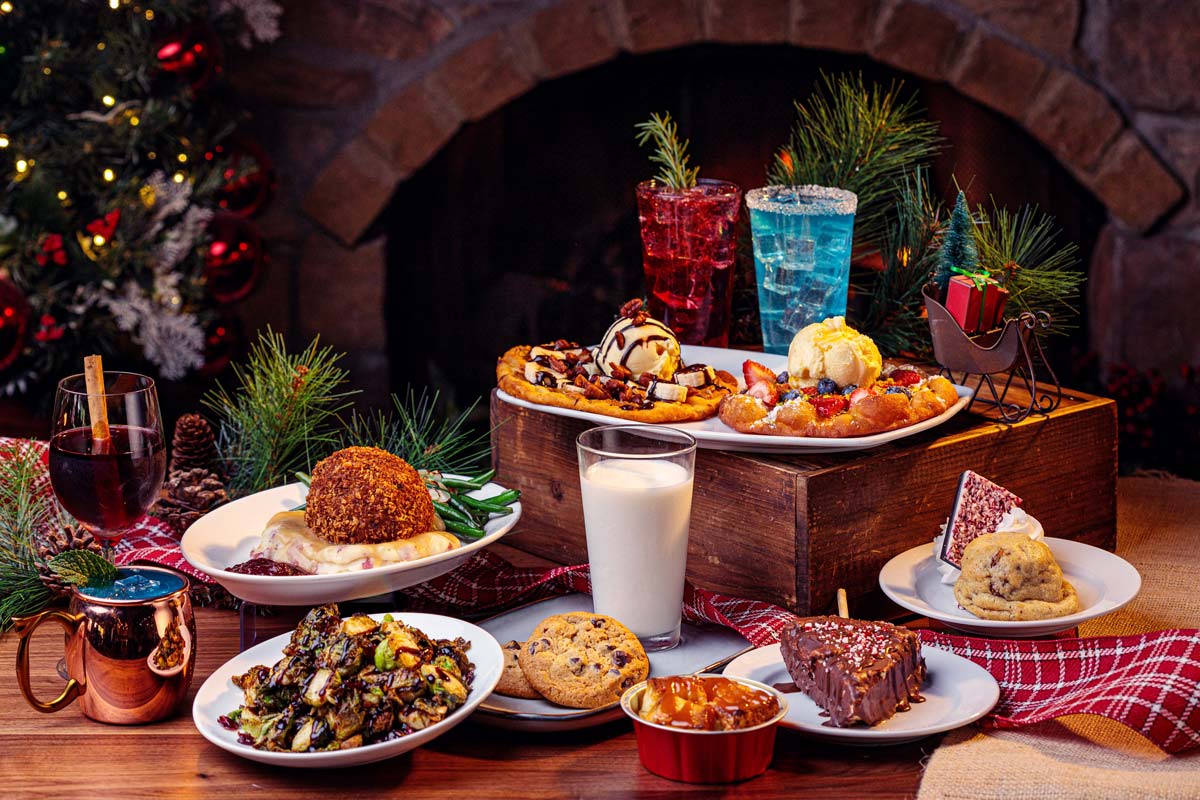 Knotts Merry Farm Food 2023 Offerings
Enjoy this first look at some of the Knotts Merry Farm food offerings available this year. Be sure to check back soon and follow us on Instagram @cuisineandtravel for our Knotts Merry Farm food preview!
Pictured above are the Indian Fry Bread with Fruit and Ice Cream, Cheesecake on a Stick, Pecan Cookie a la Mode, Christmas Brussel Sprouts with Cranberries, and Freshly Baked Chocolate Chip Cookies which can all be found at Santa's Cabin.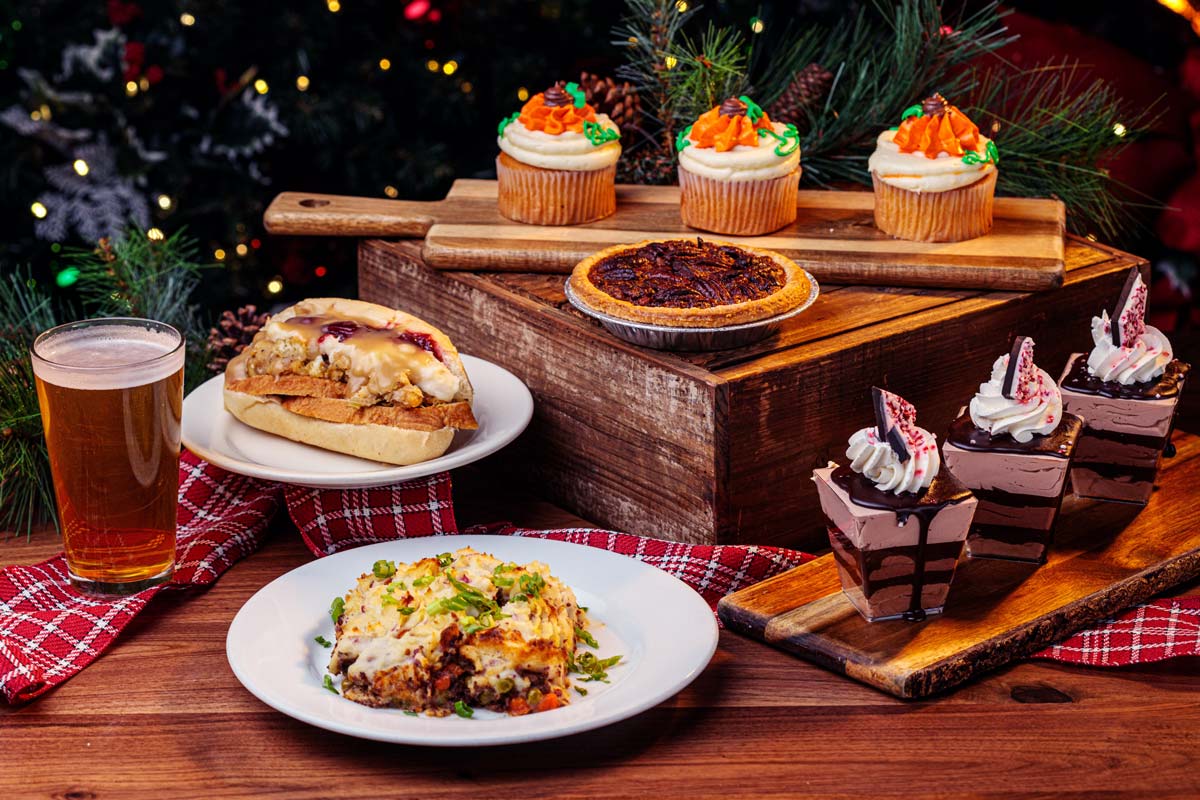 Boardwalk BBQ
Over at Boardwalk BBQ, you'll find the Classic Turkey Sandwich with all the Trimmings, Sheppard's Pie, Pecan Pie, Triple Chocolate Peppermint Trifle, and Pumpkin Spice Cupcake.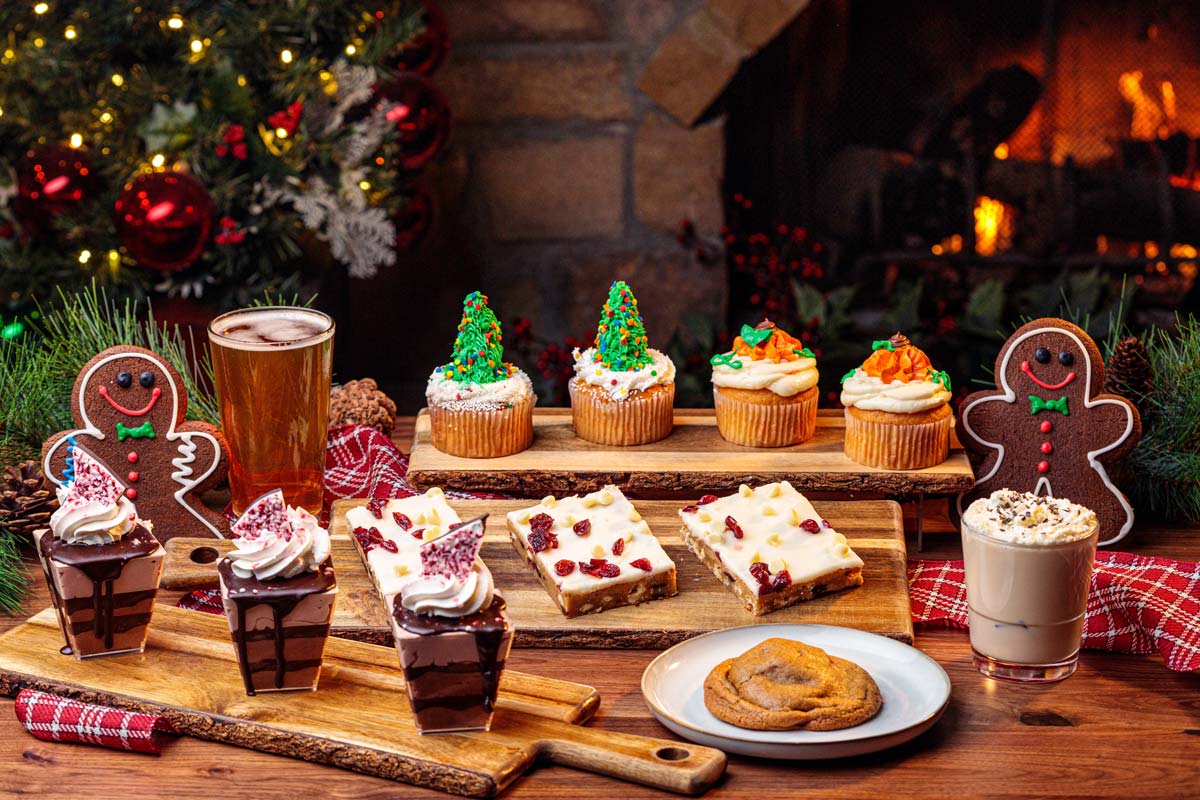 Charleston Circle Coffee
Head on over to Charleston Circle Coffee to enjoy a wide variety of desserts and drinks including the Holiday Bliss Bar, Tinseltown Triple Chocolate Peppermint Trifle, Gingerbread People, Chai Me a River Cider, and Peppermint White Russian.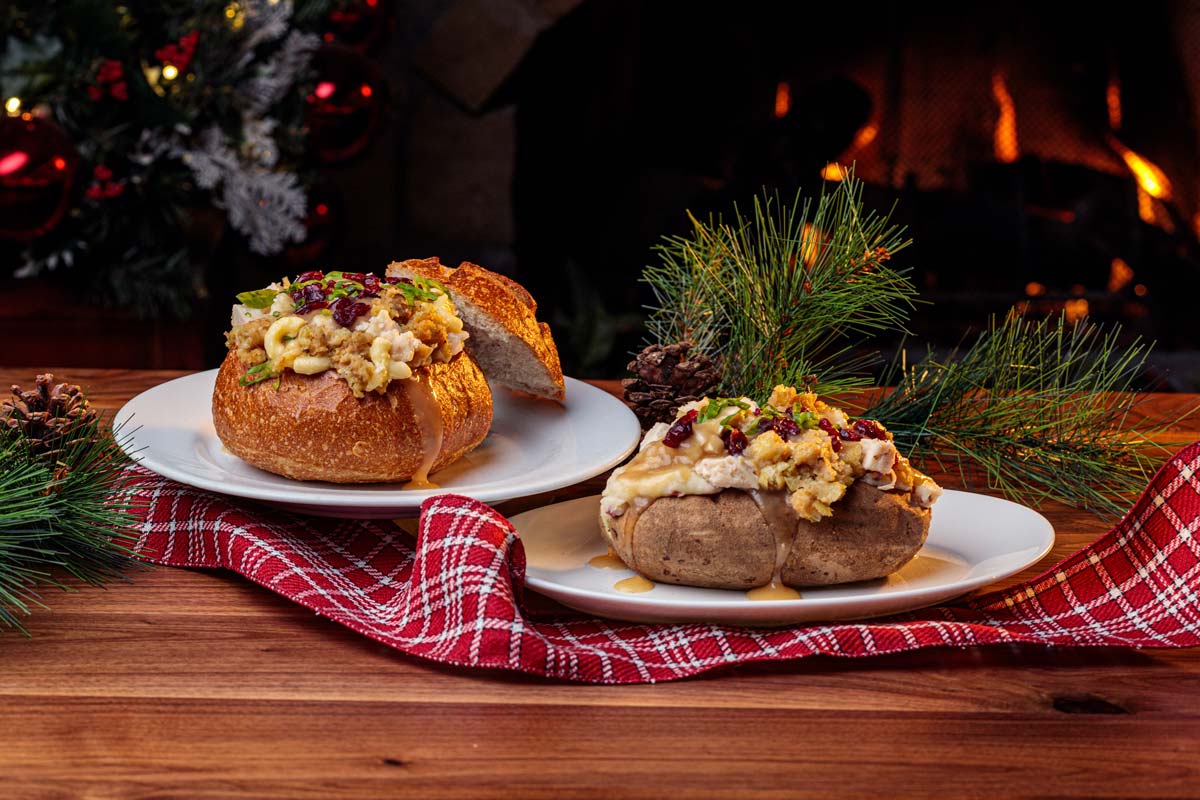 Miner's Mac and Spuds
At Miner's Mac and Spuds, you'll find the awesomely delicious Gobble Gobble Turkey Dinner with Turkey, Stuffing, Gravy, and Cranberry on a Baked Potato as well as the massive Mac and Cheese Sourdough Bowl topped with stuffing, gravy, and cranberry.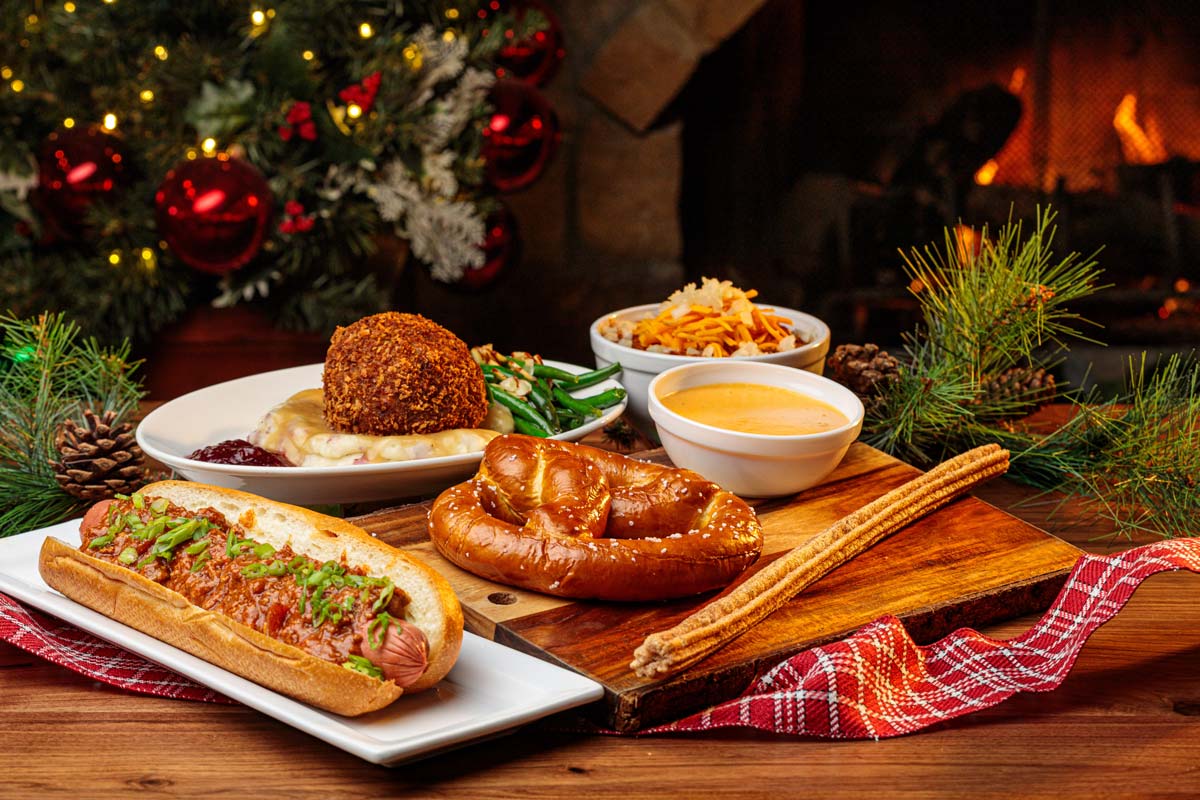 Gold Mine Trail
Warm up from that cool winter weather with a Chili Cheese Footlong Hotdog, Bowl of Chili, or Pretzel with Christmas Cart Beer Cheese at Gold Mine Trail. Then grab a Cinnamon Sugar Churro for dessert. They also have my absolute favorite Knott's Merry Farm Food, the Got to Have it Turkey Ball on a bed of Mashed Potatoes.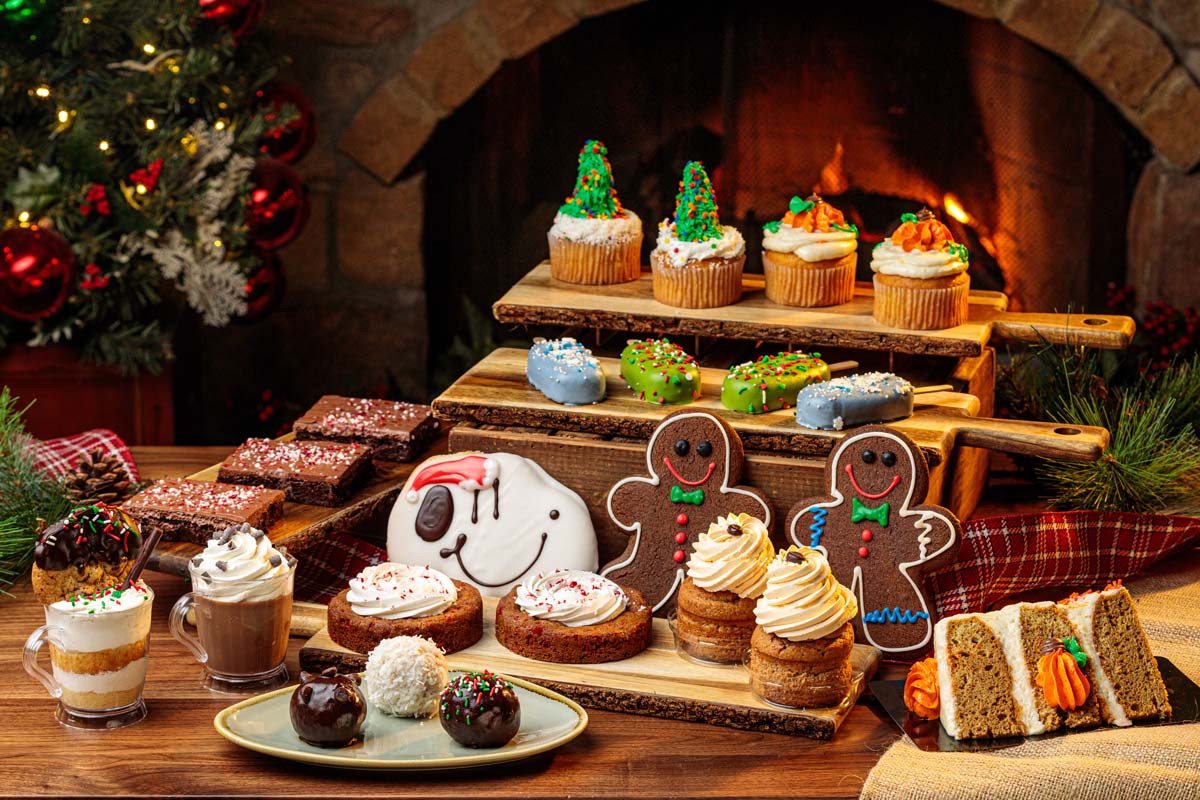 Ghost Town Bakery
Satisfy your sweet tooth with a wide array of new treats at Ghost Town Bakery. Here you'll find Pumpkin Spice Cakes, Gingerbread People, Gourmet Chocolate Minty Cookies, Christmas Tree Cupcakes, and Candy Cane Lane Brownies.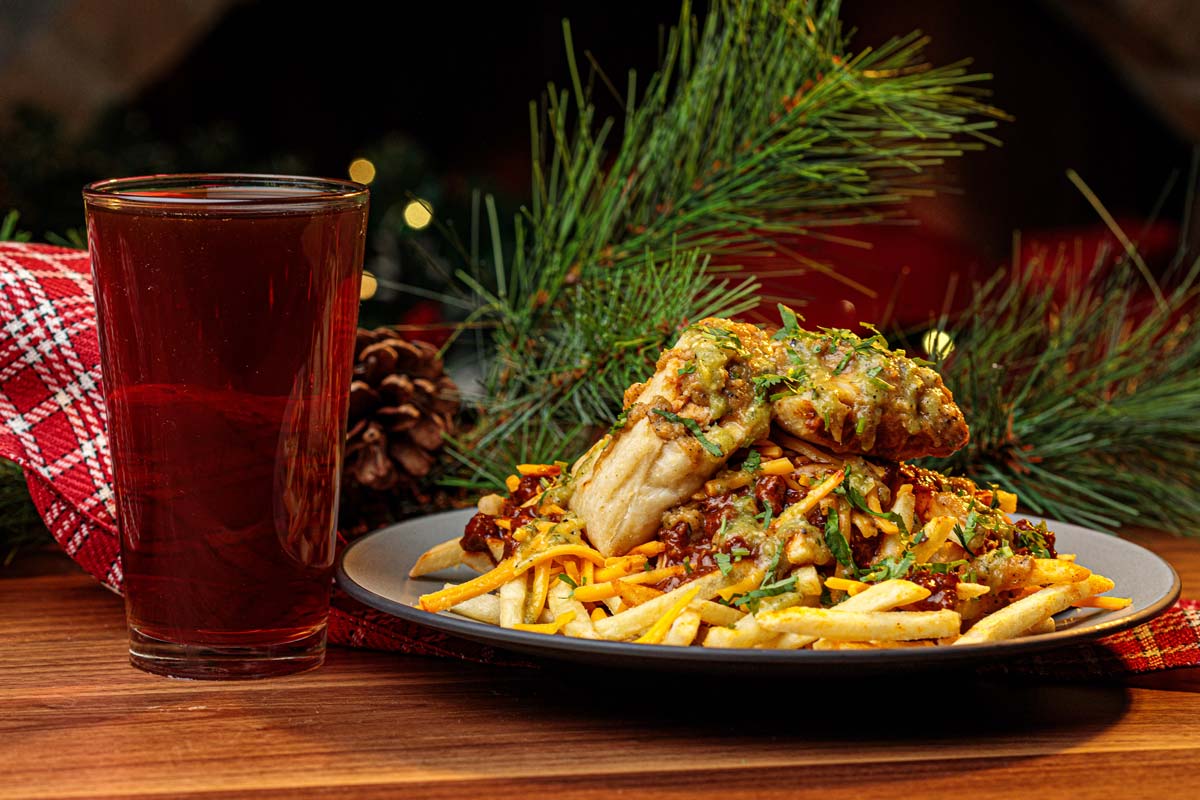 Papa's Mexicanas
One of my favorite new 2023 Knotts Merry Farm foods is the Chicken Tamales Fries at Papa's Mexicanas. Knott's Berry Farm completely updated its Fiesta Village with new restaurants and food items and it's fantastic. This is one of my favorite areas of the park.
Here is a full list of all 2023 Knotts Merry Farm food offerings and where to find them.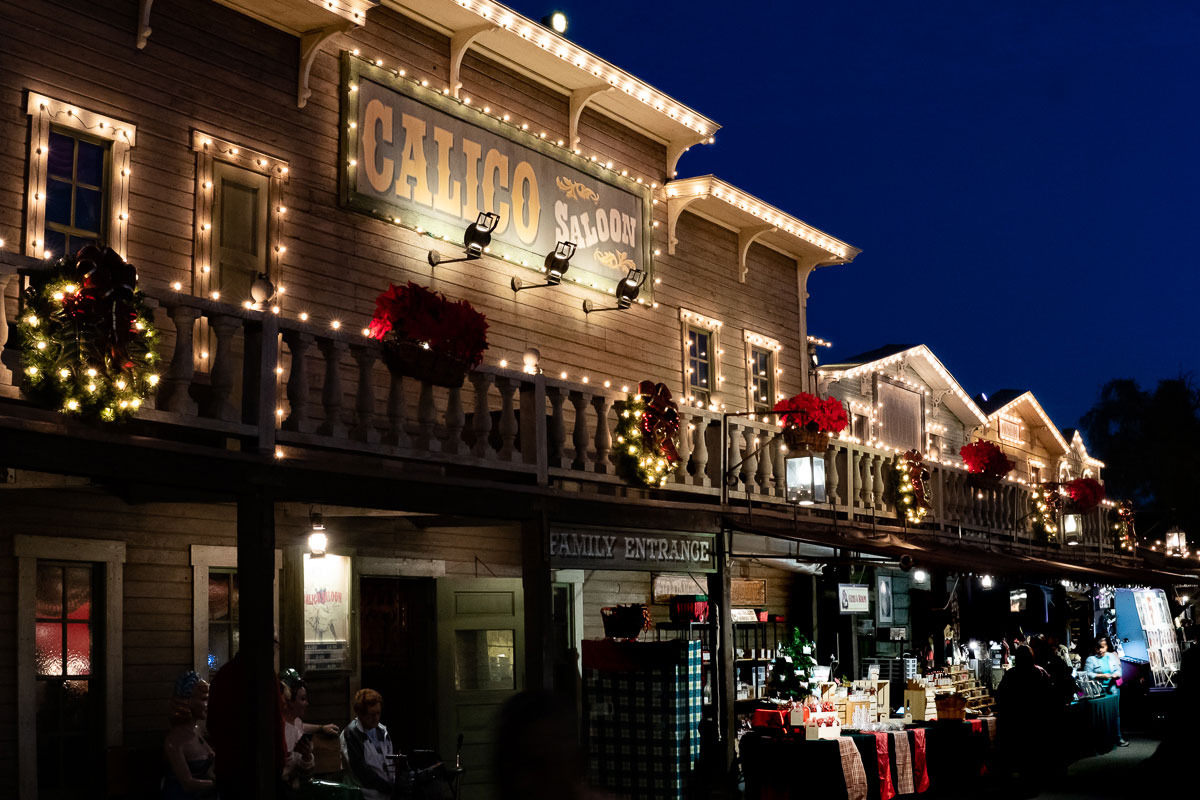 Season Passes
One thing I always love about Knott's Berry Farm is how affordable it is for families. There really isn't a better deal in all of Southern California and the park is beautiful. Talk about a great Christmas present the kids will continue to love all year long.
Give the gift that keeps on giving all year with a 2024Season Pass. A 2024Season Pass includes unlimited visits through 2023 plus all of 2024, discounts on select food and merchandise, and access to exciting year-round seasonal events. A Regular Season Pass includes admission to Knott's Berry Farm and a Gold Season Pass includes admission to both Knott's Berry Farm and Knott's Soak City Waterpark. Regular Season passes are as low as 10 payments of $ 7 after the initial payment plus applicable feesandGold Season Passes are as low as $9.50 after the initial payment plus applicable fees. These offers end on January 7, 2024. Pricing and more information are available at knotts.com.
Knott's Hotel
Turn your Merry Farm experience into a holly jolly hotel getaway with an overnight stay at The Knott's Hotel.The Knott's Merry Farm Hotel Getaway Package includes hotel accommodations, Knott's MerryFarm admission for one day for each registered guest, and hotel parking. Upgrade to the Hotel Getaway Package + Breakfast for an unforgettable holiday celebration. Book your Knott's hotel reservations. 
Discover More Knotts Berry Farm Travel Guides