There are many Laguna Beach restaurants to choose from, but none serve an entire whole fish that is so enormous it could feed a family of 4-6 people. This Asian Fusion restaurant is non-other than the popular Starfish in Laguna Beach located directly across from the Montage Hotel.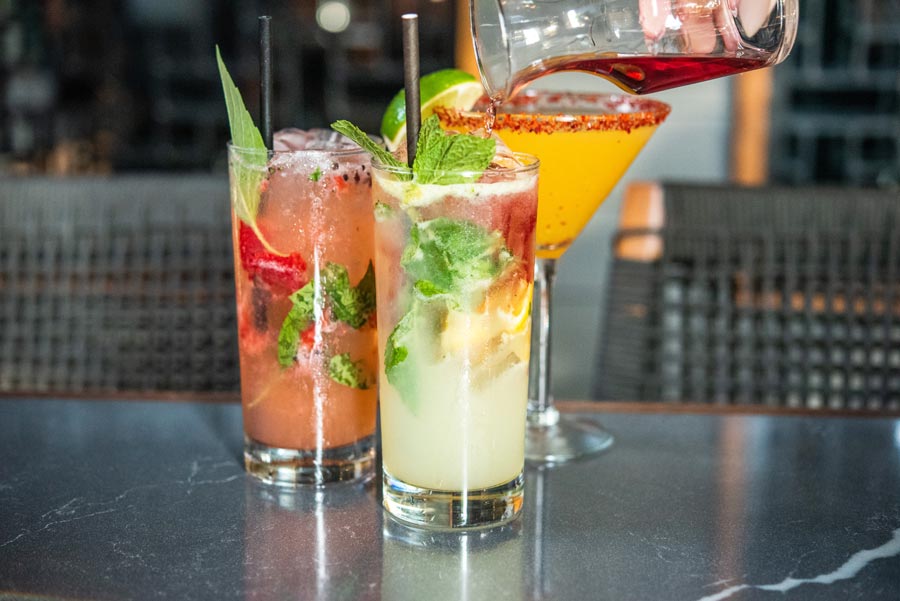 Pictured from left to right, the Thai Strawberry Breeze, Starfish Cooler, and Buhda's Kiss
Before we dive into the most amazing whole fried fish, let's take a look at the festive cocktails from this popular Laguna Beach restaurant. First, the Thai Strawberry Breeze features Coconut Vodka, muddled strawberry, Thai basil, lemongrass, & citrus. This cocktail is a perfect fusion of Asian influence and flavors.
I especially enjoyed the beautiful Starfish Cooler with his ombre of colors from the Pama liqueur float that is poured atop Mandarin Vodka, muddled mandarin orange, fresh mint, and a splash of soda. The Buhda's kiss is a delicious blend of Vodka, mango purée, and fresh lime served up with a chili-salted rim.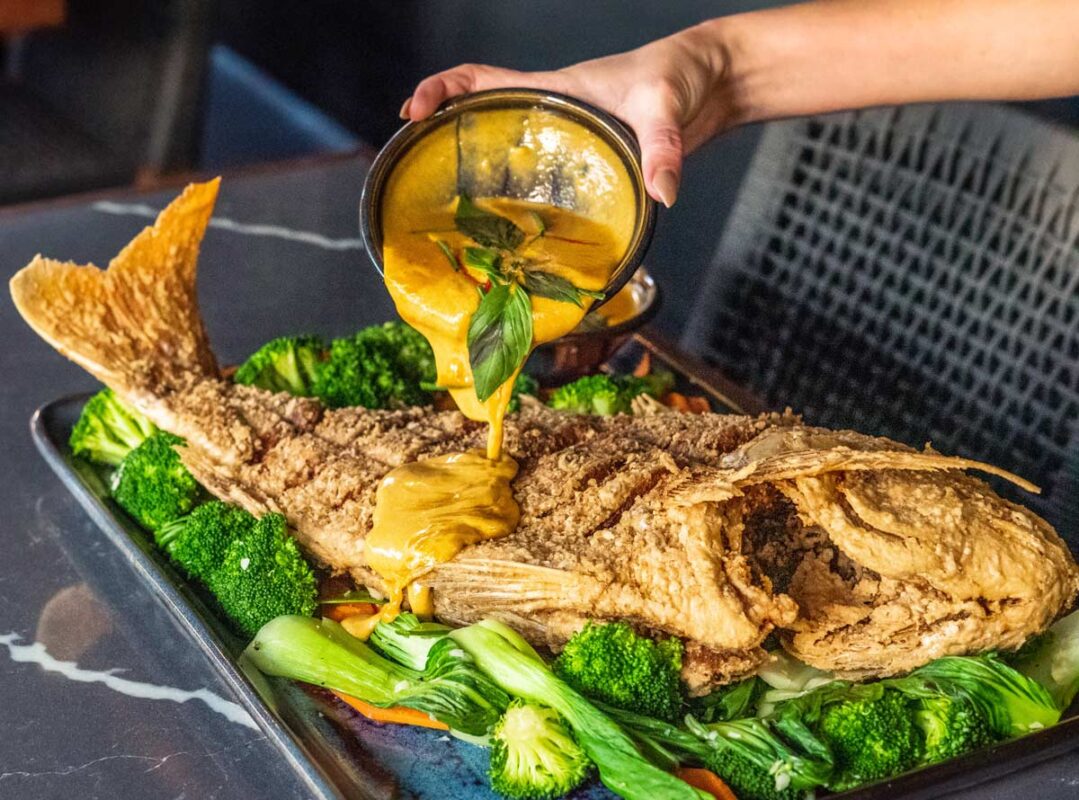 Popular Laguna Beach Restaurant Starfish Serves Massive 4lb Snapper
While Starfish is best known for their delicious fusion cuisine like creative sushi rolls, stir fry, and noodle dishes, we can't help but drool over their massive market-fresh fish that can weigh as much as 4lbs. The fish will arrive with crispy fried skin drenched in your choice of either Kung Pao, Thai Curry (red, green, or pineapple), scratch black bean, or a lemon pepper rub. Each platter will also arrive with either mixed vegetables or green beans and your choice of rice.
Have your whole fish filleted tableside.
The giant whole fish can also be filleted tableside. I even attempted to lift the plate to another table to get the process on video and could not believe how heavy it was. Once I finally finished my workout, our server began filleting the fish with nothing more than a spoon. The fish is so tender and flaky that the bone easily slides out so everyone can dive right in.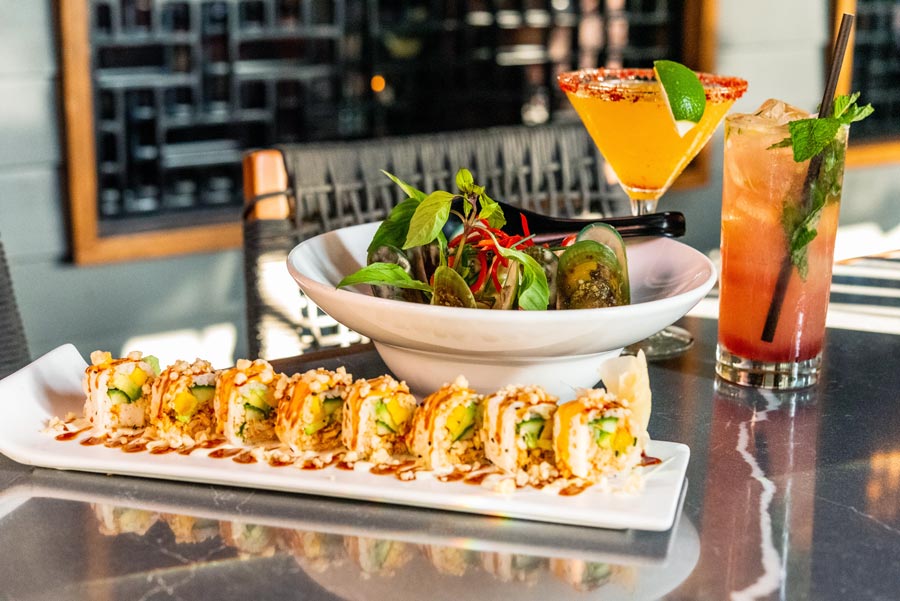 Don't miss the Starfish "Opium Hour"
If you are also looking for a Laguna Beach Restaurant that serves a fantastic happy hour, then you'll be impressed with the huge selection at Starfish. You will almost certainly want to make reservations, even for Happy Hour. I arrived early on a weekday at around 4pm and the restaurant was packed.
Wok Fired Mussels
In addition to our amazing fried snapper, we also decided to enjoy several "Opium Hour" (happy hour) selections. Two of their most popular selections are the Lobster Macadamia Roll and Wok Fired Mussels. The wok fired steam regional mussels arrive swimming in a bowl of thick spicy Thai basil curry with bell peppers & sautéd onions. Each mussel is plump, firm, and fresh. The sauce was so delicious we even ordered an extra side of rice to dip it all in.
The Lobster Macadamia Roll features lobster tail, avocado, mango, cucumber, cilantro, roasted macadamia nuts, soy paper, and sriracha aioli. Each bite has a great crunch and pleasant, slight sweetness from the mango.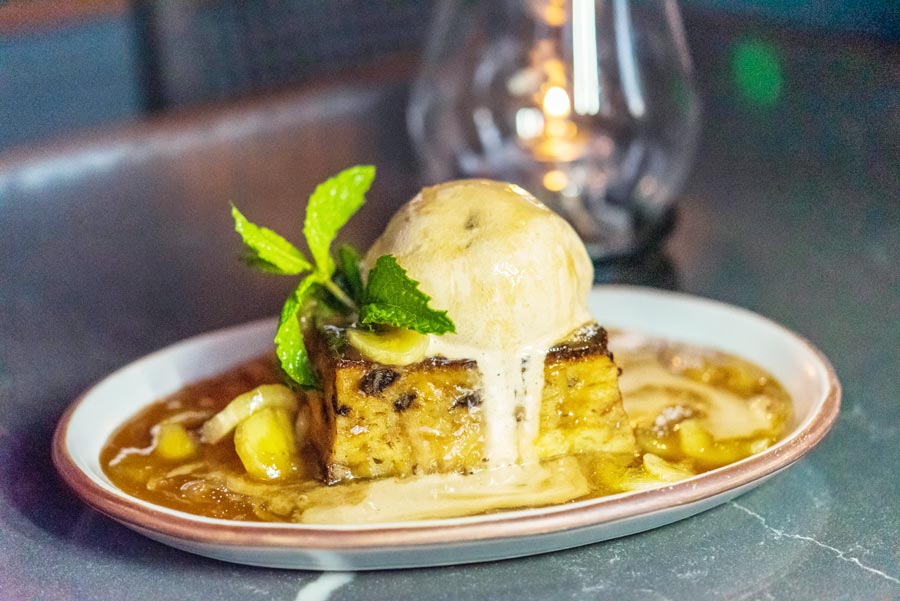 Don't skip dessert!
If you are not already incredibly stuffed, be sure to save some room for dessert. You'll definitely want to try the Chocolate Chip Bread Pudding made with Hawaiian sweet bread, bananas, cinnamon, and chocolate chips, resting on a plate of caramel sauce, topped with cinnamon gelato.
Starfish Laguna Beach Restaurant
30832 S. COAST HIGHWAY, LAGUNA BEACH, CA 92651
Hours of Operation
LUNCH Daily from 11 am – 3 pm
OPIUM HOUR Everyday from 3 pm – 6 pm (dine-in only)
DINNER Daily from 3 pm – 9 pm
Reservations are encouraged, please call 949-715-9200 to speak to our team!
Discover More Amazing Laguna Beach Restaurants