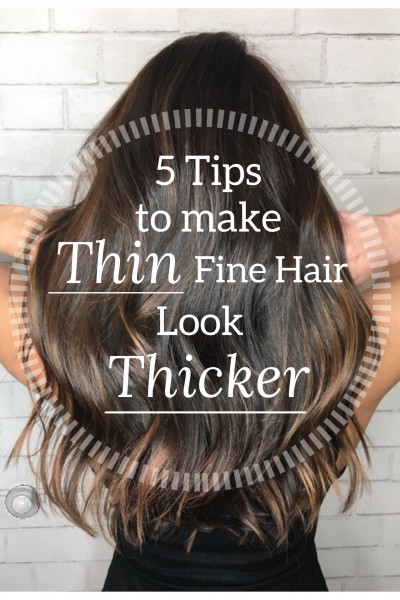 This article may contain affiliate links. You can read our full disclosure policy here.
[lwptoc hideItems="1″]
The Sad Truth Is, Most Stylist Are Not Experienced Working With Very Fine Hair
I finally found an amazing hair stylist in Orange County and wanted her to share her top 5 tips for making thin fine hair look thicker and more full. I completely understand the struggles of those of us with baby fine thin hair.
Stylists are either frying it with the curling iron, ripping the knots out while taking my hair along with it, or over-bleaching it until it's a frizzy damaged mess.
It took me over a year to finally find a hairstylist who understands how to handle the hair challenged woman like myself who are completely cursed with thin fine hair that is a delicate and lifeless mess.
Below are her top 5 tips for fooling the world into thinking you have thick full hair that is fabulous!
How Having the Right Haircut Can Make Thin Hair Look Thicker
1. Get the right haircut. Unfortunately, if you have thin hair you're pretty limited to the types of cuts you can get. The best haircuts for thin hair are blunt, short, and long square layers. If the hair is texturized too much or given too many layers this will cause the hair to look even thinner.
When our eyes see a straight line our brains automatically think weight and structure. Creating that blunt, strong line around the perimeter of the hair will give the appearance of thicker, stronger hair.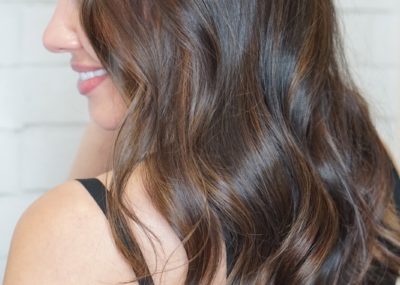 Hair Breaks Easiest When It's Wet
2. Be very gentle with your hair when it is wet. Thin hair is very delicate naturally, but add water to it and it becomes even more fragile. When any hair type encounters water it becomes stretchy. When we yank a brush through wet tangled hair all we are doing is stretching and breaking our hair.
A great tip to avoid this is to spray the hair with a light leave-in conditioner (I love Davines Oi All in one Milk). Do not brush the hair! Take your blow dryer and lightly dry your hair from root to ends and gently run your fingers through it. The hair untangles as it drys and you are not ripping your hair with a brush. When it is about 80% dry section off and style with a professional round brush designed to reduce frizz.
How A Subtle Highlight Can Add Dimension
3. Get highlights. This may sound counterintuitive with thin hair, but hear me out. I'm not saying to go crazy and fry your hair with all over highlight, but getting a beautiful Balayage from a stylist who is gentle and experienced with thin hair can do wonders.
Highlighted hair causes the cuticle to get slightly roughed up. This gives the hair some texture and volume, creating the illusion of fuller and thicker hair. You will also notice your hair should hold curls and styles longer with a few highlights in there.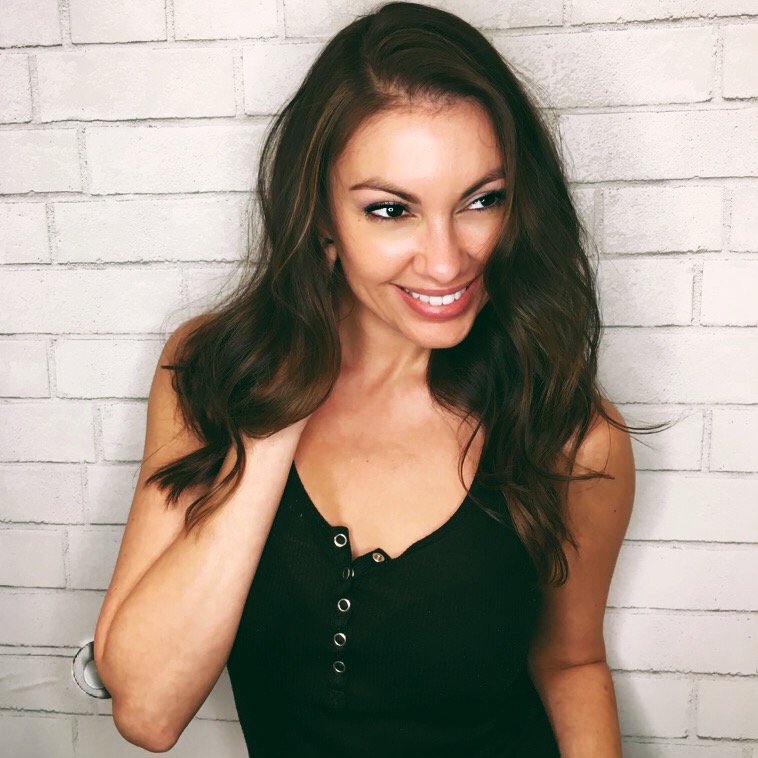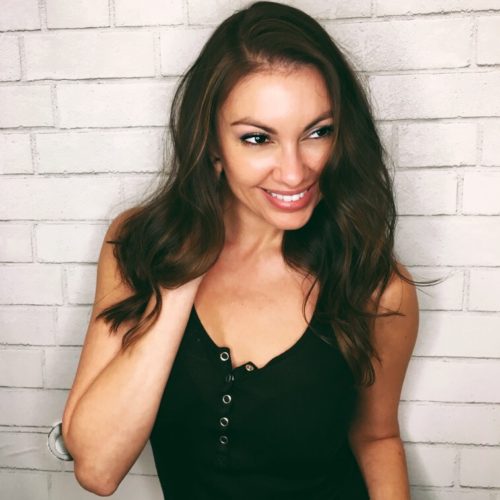 Tips On How to Style Thin Fine Hair
4. Invest in a good volume spray. Try and find a volume spray that is light and allows movement. I absolutely love Davines Volu Hair Mist. Follow step 3 when drying the hair, but before you start to blow dry, spray the volume mist at your root and crown area and massage into your hair.
Don't go overboard as you don't want to weigh the hair down, but enough so you feel a slight bit of texture as the hair drys. Flip your head over and dry the hair in the opposite direction it grows for added volume. But remember to wait until the very end when your hair is ready for the round brush.
5. Use a Dry Shampoo. I'm aware that thinner hair gets greasier faster, but if you can hold off on washing your hair every other day and invest in a good dry shampoo, you can get great volume in your hair.  I swear by dry shampoo and I live for Big & Sexy's Dry Shampoo. It gives the hair enough grit and texture for day two hair and it gives it that tousled lived-in look that is so popular now.
Take small sections around the crown area and spray the dry shampoo 6-8″ away from the scalp. Repeat wherever you feel the hair needs it. Let it sit for two minutes to absorb the oils, then flip your hair over and brush your hair from root to ends. Instant volume! Visit @kimberlynicolehair for a new tip posted every Tuesday!
6.  I also recommend using hair fibers or the powders used to cover grey hairs which will also fill in sparse areas of hair growth so they look fuller. The hair fibers I use are by Elevate and they grip onto your hair giving a fuller appearance. If you decide to try the hair fibers you can also find cheaper fiber refills on Amazon.
If you decide to try the powder, Wow is a great brand and is also waterproof. The powder is better if you have blond or red color hair as it comes in more shades.
Give Thin Hair Body With Lose Curls
7. Add a light wave. I always take large sections of hair and quickly wrap them around the outside of a large curling iron. I then brush out the curls to give my hair a nice wave which makes my hair appear fuller than it actually it.
Hot Tools has an amazing and affordable curling iron that uses ceramic nano technology to keeps your hair healthy while still being able to hold your curls. This curling iron is perfect for those of us with thin, fine hair.
When curling with thin fine hair you always want to use a heat protectant spray first (Kenra's Platinum Blow-Dry Spray is amazing and also fights fizz and humidity). Then make sure you're using a low heat setting around 350 degrees, and use larger sections of hair.
I completely understand the struggles of having thing fine hair and hope these tips help make your hair looks beautiful and voluminous!