If you're seeking mouth-watering cuisine that will have you coming back for more, the best restaurant Long Beach has to offer is the irresistible Panxa Cocina. Their southwestern Latin flavors are the perfect blend of creative, sophisticated, and traditional flavors all wrapped into one perfect bite. Whether you are craving a savory chorizo con queso,  light and refreshing ceviche, or the best taco's in Long Beach, there is nothing ordinary about the extraordinary cuisine at Panxa Cocina.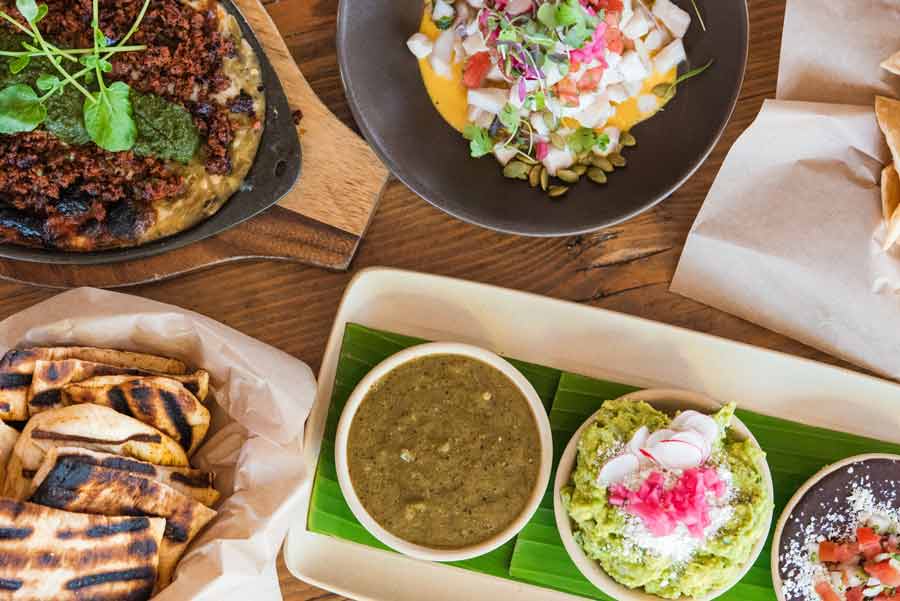 Panxa Cocina is headed by Chef Gonzalez and partner Venessa Auclair. Inspired by Chef Gonzalez's New Mexican roots, they both created a wonderfully creative menu heavily influenced by the home cooking of the Chef's family growing up. I have to admit, I'm jealous I was not part of this family!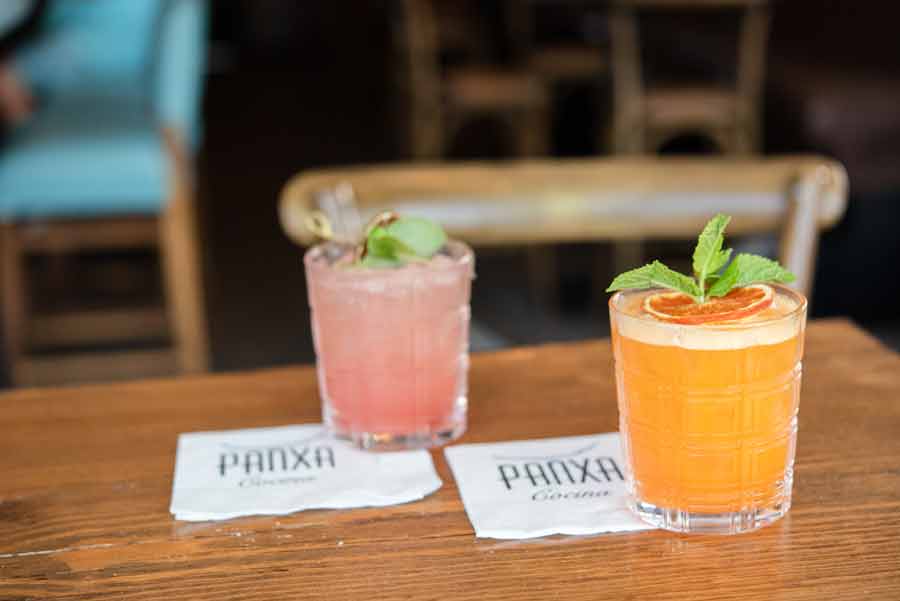 The best restaurant long beach has to offer is a creative blend of Southwestern Latin flavors.
To begin our visit to Panxa Cocina, we started with a few of their signature cocktails. The Blood Orange Old Fashioned, pictured above, is a mix of Redemption Bourbon, honey, blood orange, and ango. It was the perfect refreshing substitute for the more traditional old fashioned. We also tried the Lavendar Old Fashioned because they're both just way too pretty to pass up. Lavender-infused Dickle Rye, Lavender bitters, Angostura bitters, and orange flame made this a cocktail you must-try during your visit, it was delicious!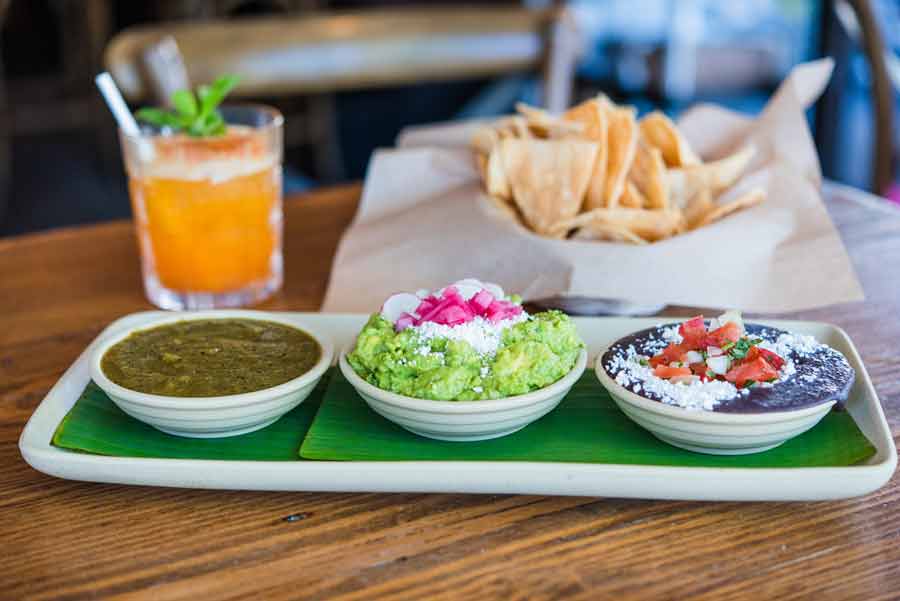 For appetizers, we decided to order a variety of different bites. Panxa Cocina has so many tasty small plates it would be hard to limit yourself to just one, or even two. First, you will want to get their trio of dips because who passes up hatch green chili salsa? The House Chips and Dip also come with guacamole and black bean dip. They were perfect for sharing with the table and delicious.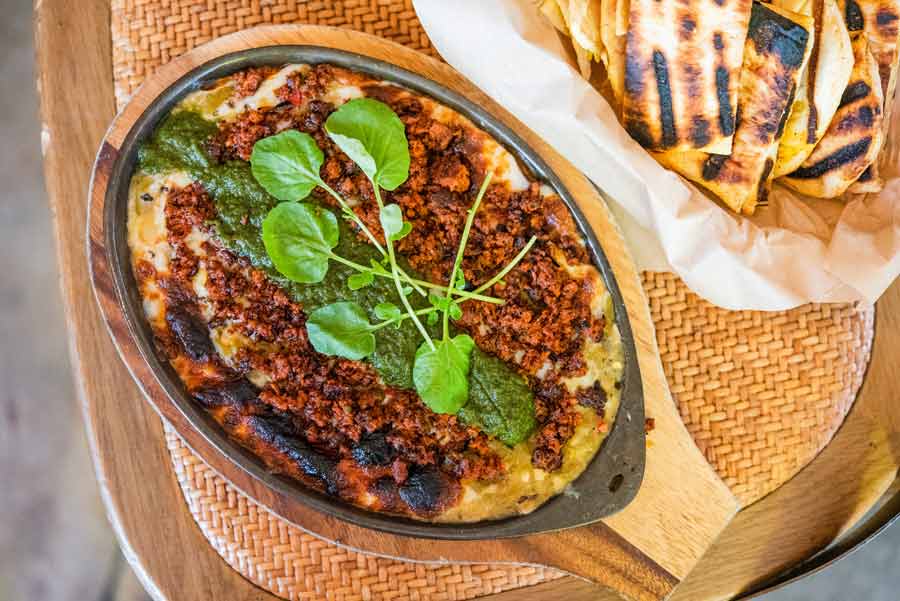 Next, The server recommended the Charred Queso Oaxaca which was amazing. They also let you choose your topping which was a bonus. I went with the more traditional chorizo, but diners can also select short rib, pork, or chicken. The Oaxaca is also served with a basket of delicious grilled bread.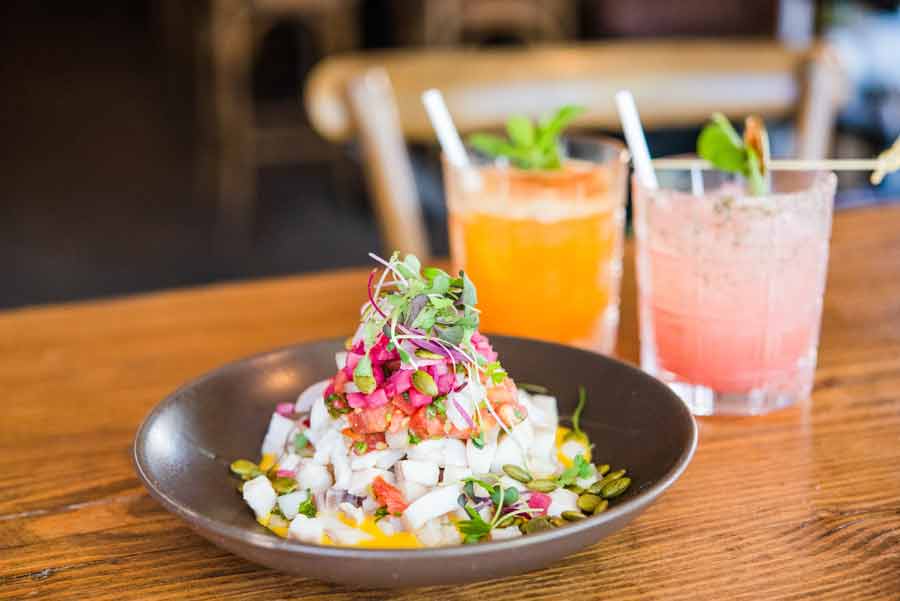 Panxa Cocina in Long Beach features one of the best ceviches in all of Orange County!
To lighten things up we also ordered the Ceviche which was both exceptional and creative. It contained whitefish on top of an Aji Amarillo sauce with pico, and pepitas. This is definitely rated in my top ceviches in all of Orange County.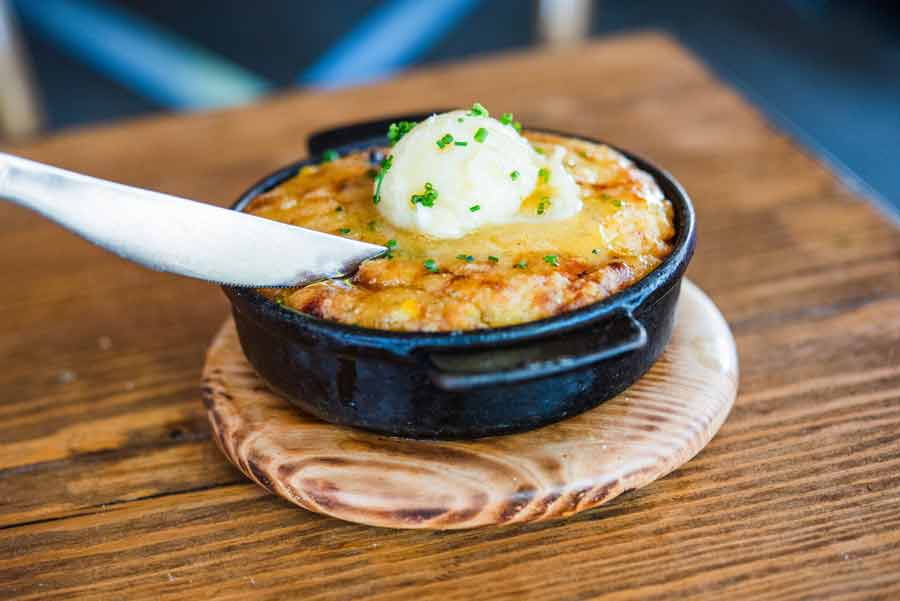 The last small plate we tried was a personal favorite of mine. I will order skillet cornbread every time I see it on a menu. It's a personal weakness of mine. Their Green Hatch Chili cornbread with honey whipped butter did not disappoint. In fact, I tend to create an inspired version for my big Thanksgiving dinner. I love to create dishes inspired by my favorite restaurants so I can only hope mine is half as good!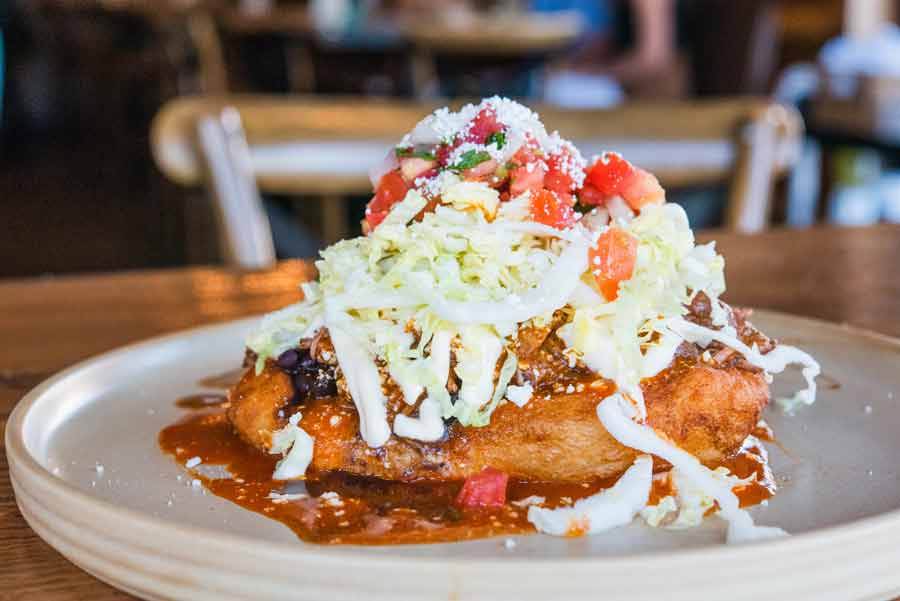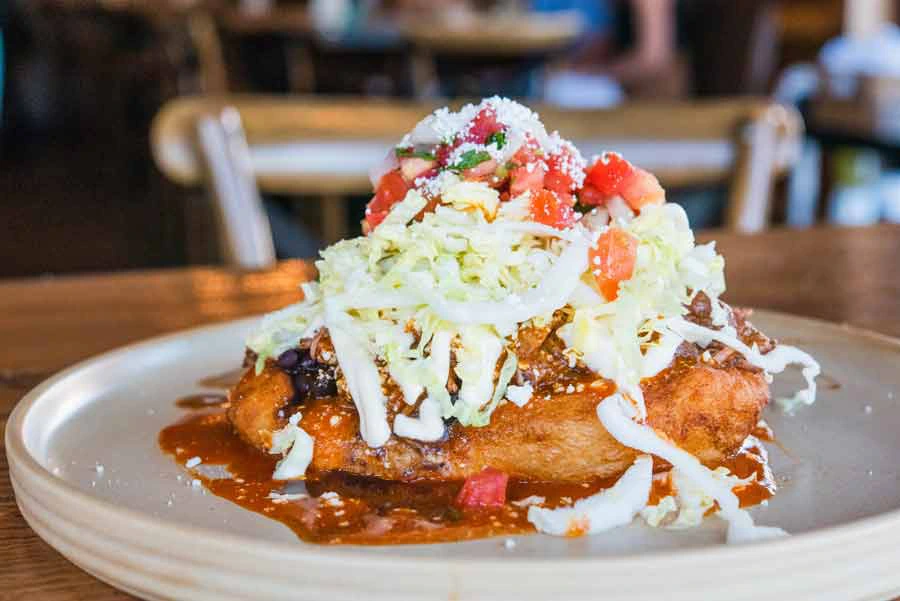 Be sure not to leave without trying their famous Fry Bread Taco.
We were all so full after our small plates (which were not small), that we started running out of room in our bellies. I did not want to leave, however, without trying their famous Fry Bread Taco. It is like nothing I've ever seen or tasted. This creative taco features Navajo fry bread, chimayo red sauce, crema, black beans, cabbage, pico, and cojita cheese with your choice of pork, short rib, chicken, or veggies. It is a must-try when you visit Panxa Cocina.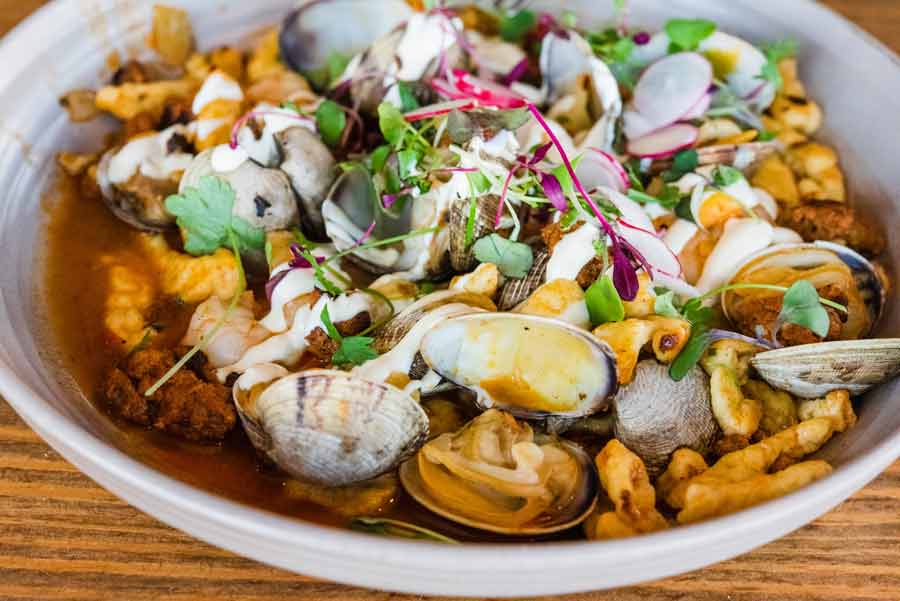 Finally, we enjoyed the delicious clams with shrimp, chorizo, and spätzle. This was only my third time finding a dish with spätzle and I was impressed with how creative its inclusion was. Spätzle tastes like a cross between pretzel bread and pasta. This dish was not only creative, but it was also fresh and full of flavor. Nothing was left but the shells.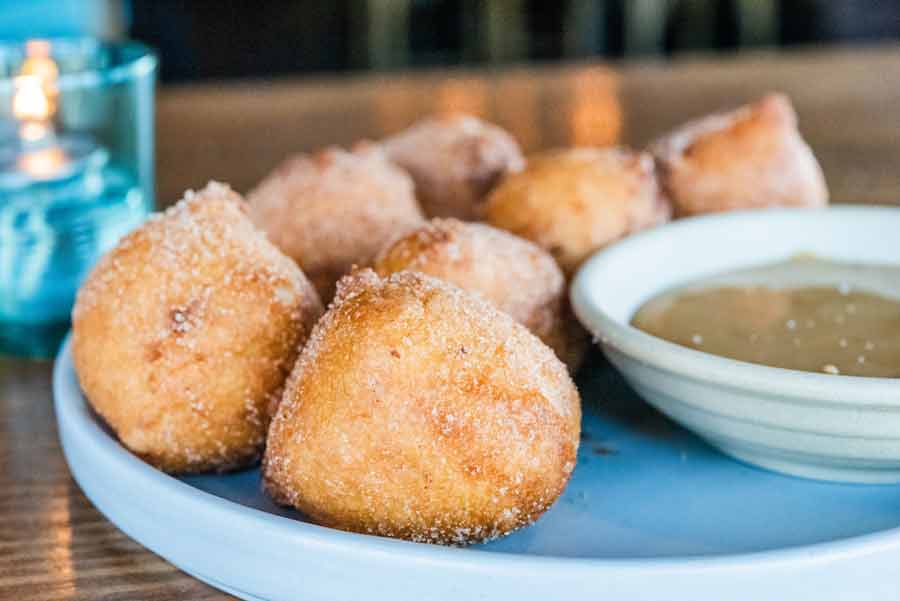 As if we were not already busting at the seams, we still had to order dessert. No meal ever feels complete without dessert and I am a huge fan of fresh donuts. I could not resist trying their Boscochito Donuts featuring Biscochito cookie crumbs encasing light crispy donut holes. Bischochito is a New Mexican butter cookie rolled thin and flavored with sugar, cinnamon, and anise.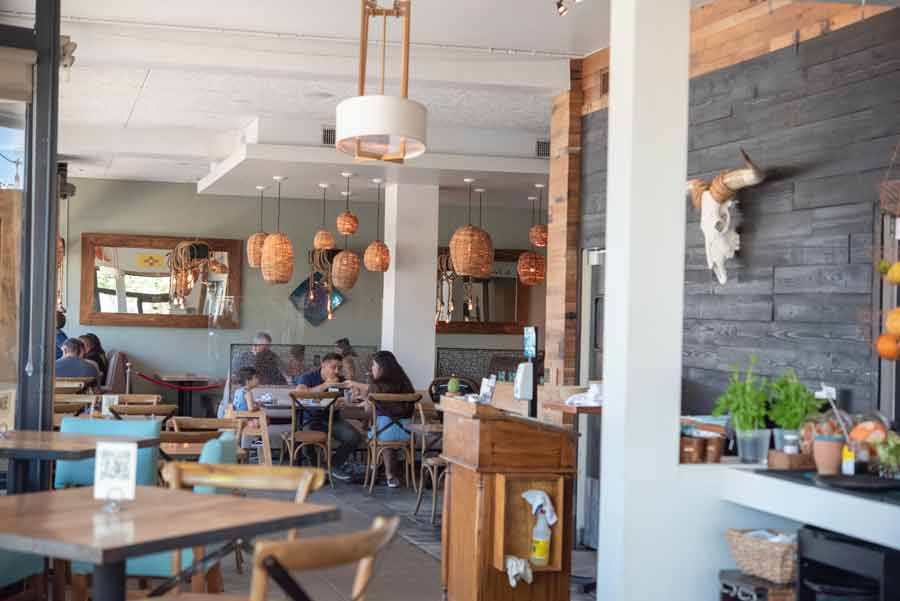 In addition to their amazing dinner, our best restaurant long beach favorite also offers an amazing brunch and happy hour Wednesday through Saturday from 3pm-6pm.
Panxa Cocina
3937 E Broadway, Long Beach, CA 90803
If you love Panxa Cocina, try these other Latin Inspired Restaurants