Posts may contain affiliate links. Read our full disclosure policy here.
Fall is finally here and these deliciously healthy pumpkin pancakes gluten free are simple to make and the perfect breakfast to start the season. I'll admit that I make these all year, but as soon as September comes around, I make these gluten free pumpkin pancakes nearly every week.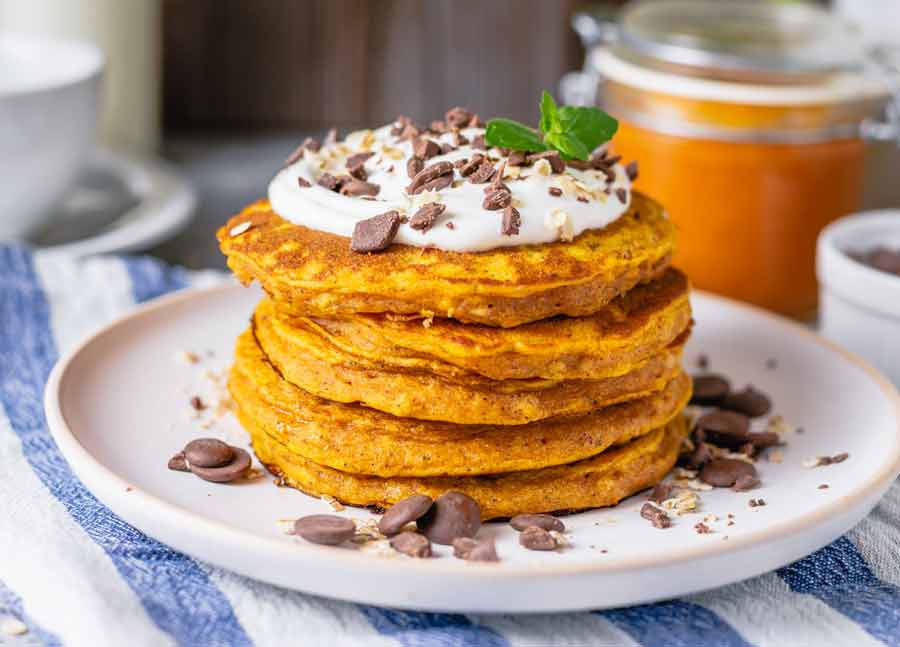 These Healthy Pumpkin Pancakes are so light, fluffy, and delicious you guests will never know they're also gluten free.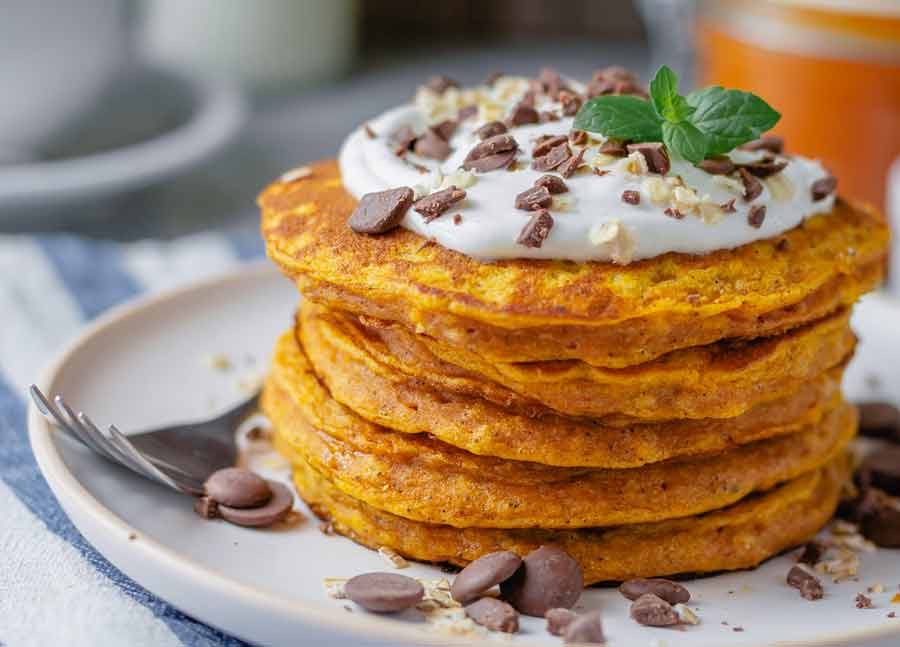 Will making my pumpkin pancakes gluten free sacrifice taste?
First, let me say that making pumpkin pancakes gluten free does not sacrifice taste at all. In fact, unless you tell your family and friends in advance, no one would ever know. Gluten free flour is so easy to obtain and available at almost all super markets. Many people suffer from digestive issues and reducing your gluten intake can relieve these issues, provide a boost in energy, promote weight loss, and reduce inflammation.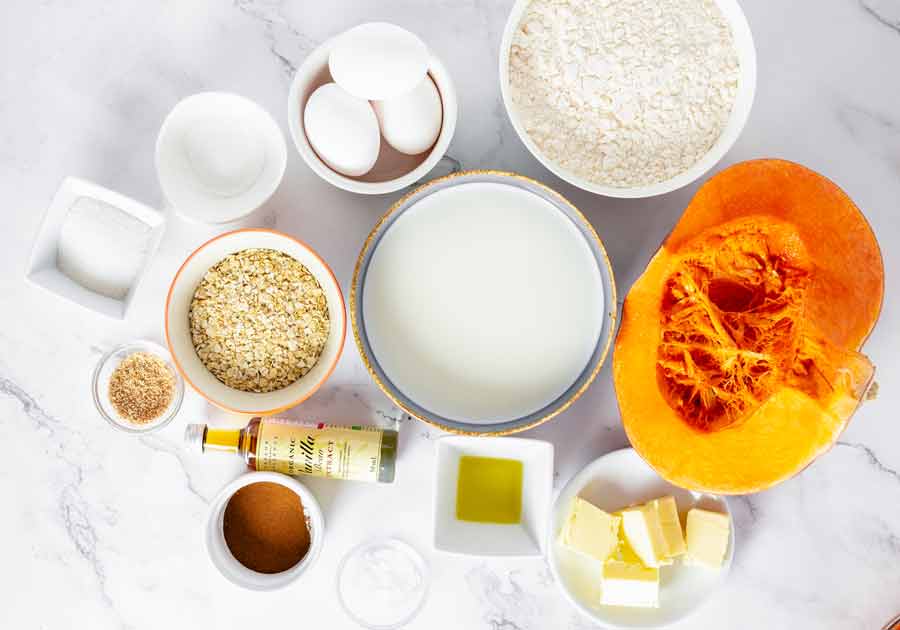 How to Make Healthy Pumpkin Pancakes (Gluten Free)
Thanks to the use of gluten-free flour mix, this recipe is just as easy to make as traditional pancakes. They are fluffy, moist, and delicious. The trick that makes these pancakes so air is the use of whipped egg whites and sifting the flour and baking powder.
To begin you'll want to separate the egg yolks from the whites and add your egg yolks to a large bowl. Then, using a standard electric mixer, add sugar and pumpkin puree on low. Next, add you're melted butter and continue mixing until combined. Then add your milk.
In a separate bowl, you'll sift your flour and baking powder and then add them to the bowl with your wet ingredients. Next, you can add the oats, cinnamon, nutmeg, vanilla, and salt.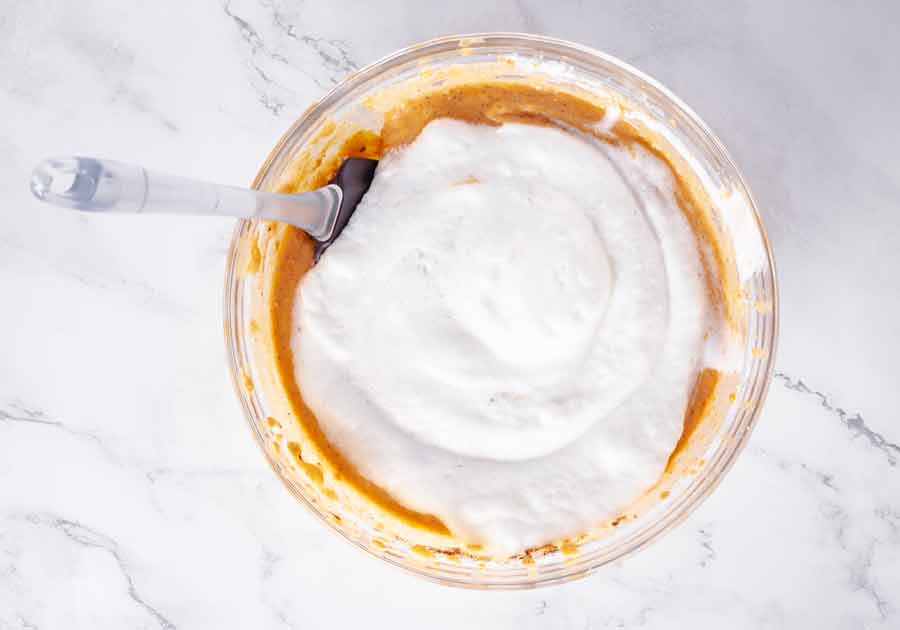 Right before cooking, you want to start mixing your egg whites until they are creamy and fluffy like a meringue. You want to do this right before you're about to saute your pancakes and very gently fold them into the mixture with a spatula so they do not lose any of the airy texture. Be sure not to use the mixer when you're doing this part.
Next, you are ready to add your batter to a preheated pan. Once the batter starts to form bubbles at the top and becomes a nice golden brown around the edges, you're ready to flip. Then you can garnish with some homemade whipped cream or coconut whipped cream, sprinkle with a few chocolate chips and serve nice and hot!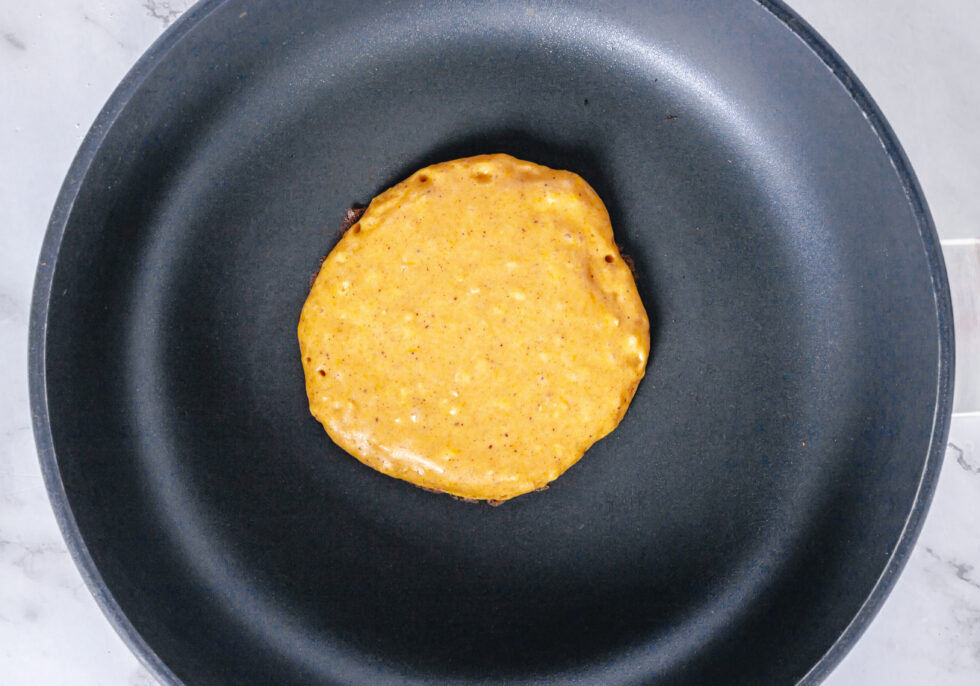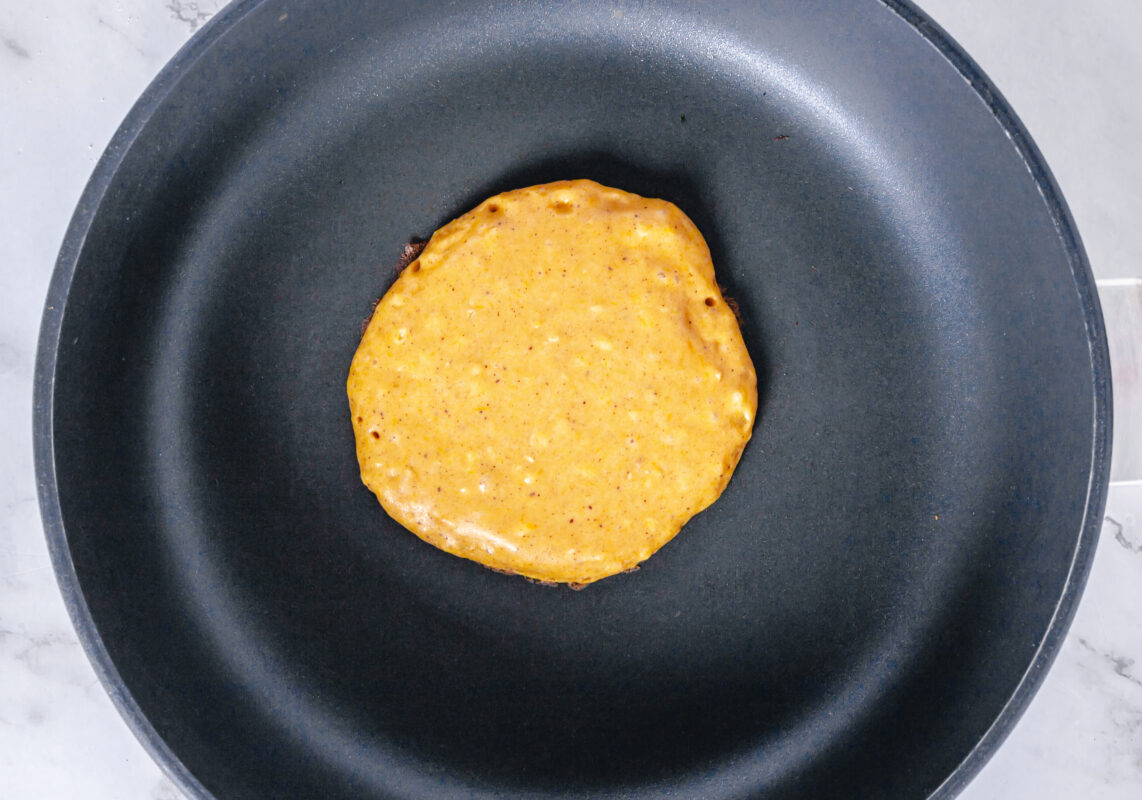 Should I use canned pumpkin puree or fresh pumpkin puree?
For this recipe, you can absolutely use canned puree. If you do decide to use fresh puree by roasting your own pumpkin, I really like to use the Musquée de Provence pumpkin which is sweet with a darker flesh inside. It has a great texture for pancakes puree. The easiest way to make pumpkin puree is to simply scoop out the center of your pumpkin, drizzle with a little olive oil, and bake in the oven at 350 degrees for 45-60 minutes until fork tender. Once cool just scoop out the pumpkin pulp and put it in a blender.
What are the best pumpkins to use for baking?
When baking or making pumpkin puree, you never want to use the pumpkins that are known for carving. Instead, you want to use heirloom pumpkins that have low water content and rich-tasting flesh. Some great pumpkins for baking include Musquée de Provence, Dickinson, Jarrahdale, Kabocha, Nantucket, Sugar Baby, Winter Luxury, and Autumn Gold.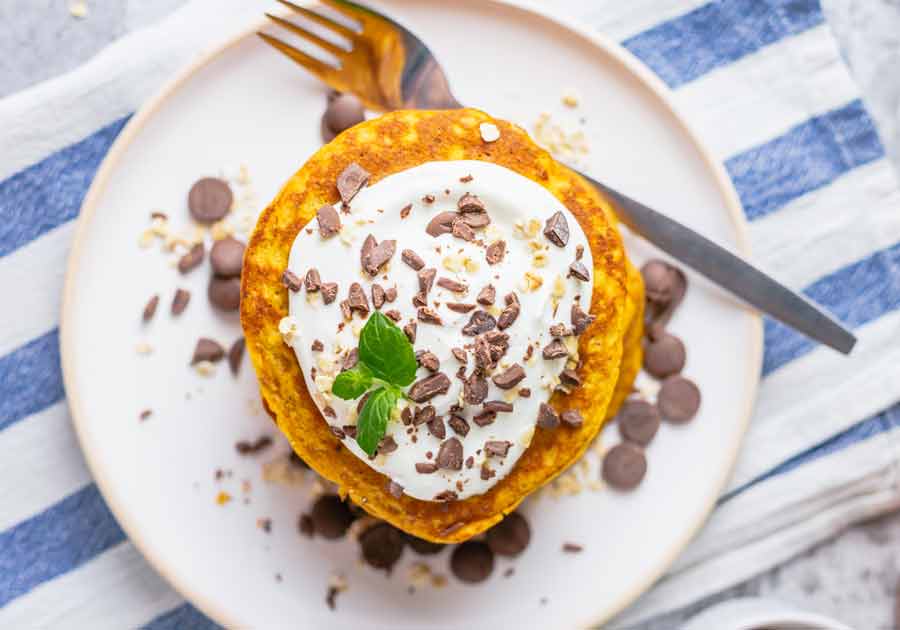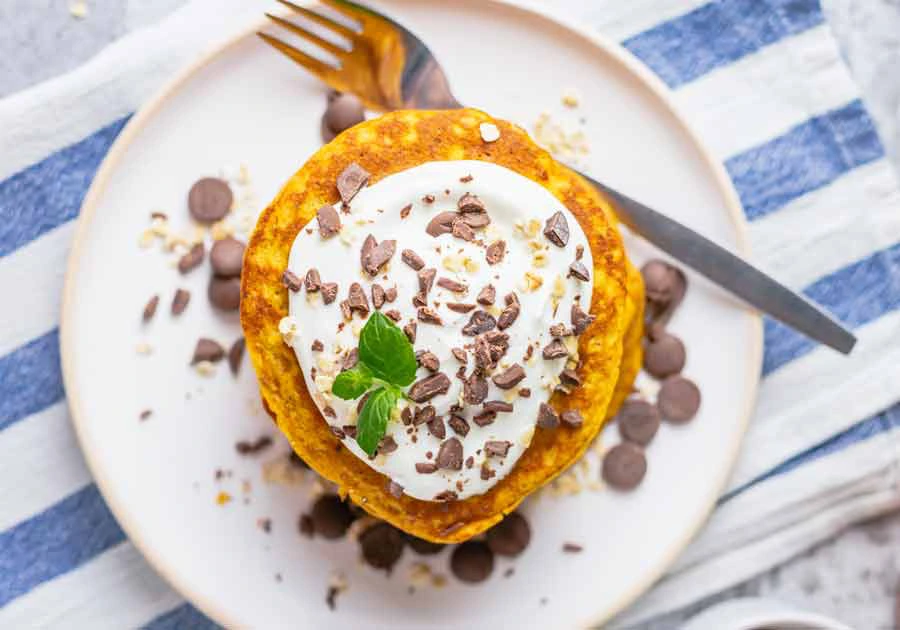 Topping Ideas For Pumpkin Pancakes
For our pumpkin pancakes, we used homemade whipped cream with a mix of chocolate chips and chunks. However, there are so many delicious toppings you can use depending on what you might already have in your pantry.
cinnamon sugar & powdered sugar
cinnamon and brown sugar coated pepitas
white chocolate, salted, caramel, or butterscotch chips
candied pecans or walnuts
shaved coconut
cinnamon apple or pear compote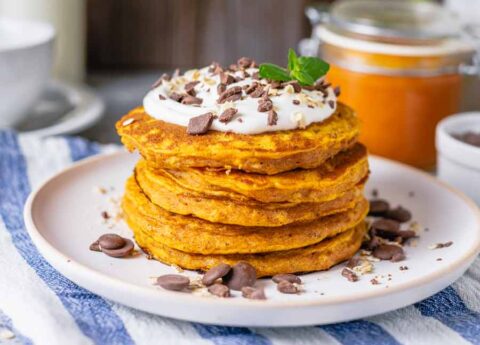 Fluffy & Healthy Pumpkin Pancakes (Gluten Free)
These Healthy Pumpkin Pancakes are so light, fluffy, and delicious you guests will never know they're also gluten free.
Diets:

Gluten Free

,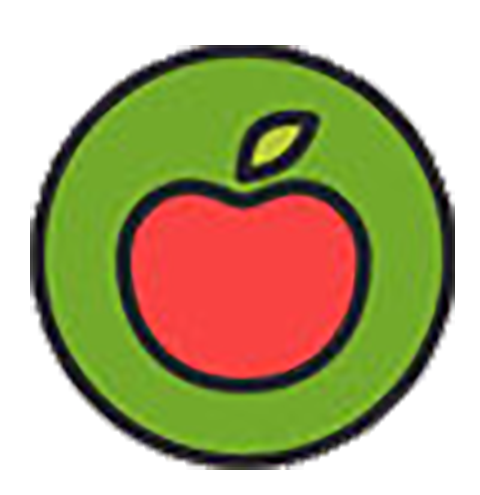 Low Calorie

,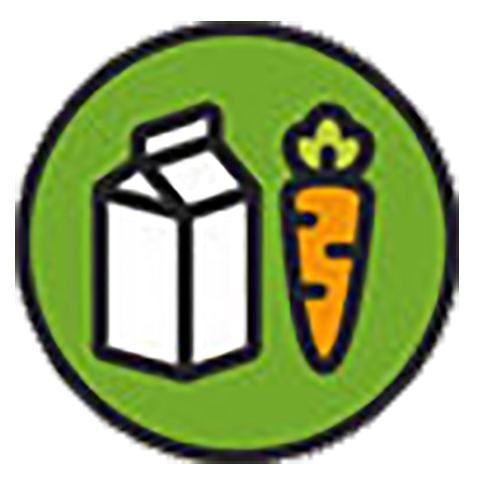 Vegetarian
Ingredients
2

cups

gluten free flour

½

cup

gluten free oats

rolled oats

1

tbsp

gluten free baking powder

Clabber Girl

1

tsp

salt

1.5

cups

milk

whole

4

tbsp

sugar

white granulated

3

large

eggs

1.5

tsp

cinnamon

ground

4

tbsp

butter

melted

1.5

cups

pumpkin puree

1

tsp

vanilla extract

½

tsp

nutmeg

1.5

tbsp

olive oil
Instructions
Separate the egg yolks from the egg whites and add the yolks to a large bowl. Set the egg whites aside to use later.

Next, add the sugar to your egg yolks and blend with an electric hand mixer on low.

continue blending and add in your pumpkin puree.

Now add the melted butter and the oil. Blend until combined, then blend in the milk.

In a separate bowl, sift together the flour and baking soda. Then add to the batter and mix on low.

Next, add the oats, cinnamon, nutmeg, vanilla, and salt.

Let the batter sit for 10 minutes.

Right before cooking, in a separate bowl, mix your egg whites until they become fluffy like a meringue. Then gently fold them into your pancake batter with a spatula (do not use a mixer for this step).

Pre-heat a nonstick pan and then add a pancake size amount of batter. The batter will begin to form bubbles and turn a golden brown on the edges. Flip and cook until golden brown, about 2 minutes on each side.

Serve hot with your choice of toppings.
Notes
Remember to fold in your egg whites, do not add them in with a mixer. This will keep your pancakes light and fluffy.
you can lightly spray your pan with non-stick spray or oil. In a good nonstick pan you can also make them dry.
Feel free to use canned pumpkin puree if you do not want to make fresh puree
Nutrition
Serving:
1
pancake
|
Calories:
129
kcal
|
Carbohydrates:
17
g
|
Protein:
4
g
|
Fat:
6
g
|
Saturated Fat:
2
g
|
Polyunsaturated Fat:
1
g
|
Monounsaturated Fat:
2
g
|
Trans Fat:
1
g
|
Cholesterol:
40
mg
|
Sodium:
244
mg
|
Potassium:
91
mg
|
Fiber:
2
g
|
Sugar:
5
g
|
Vitamin A:
3334
IU
|
Vitamin C:
1
mg
|
Calcium:
85
mg
|
Iron:
1
mg
|
Net Carbohydrates:
15
g
Enjoy More Healthy Breakfast Recipes