Posts may contain affiliate links. Read our full disclosure policy here.
Paragon Costa Mesa just opened its new location at The OC Mix after gaining a massive loyal following as a pop-up restaurant inside Shuck Oyster Bar. Paragon is defined as a model of excellence or perfection and Paragon Costa Mesa has most certainly excelled at perfecting brunch.
Sasha Fierce
Upon entering Paragon Costa Mesa you cannot help but notice their long expansive bar with plush blue velvet seating, marble counters, and brass accents. Each crafted cocktail has a musical reference so I had to try the Sasha Fierce.
This beautiful ombre cocktail is layered with Empress Gin, mint, lemon, berries, and yuzu. The flavors are light and refreshing with only the most subtle undertones of gin.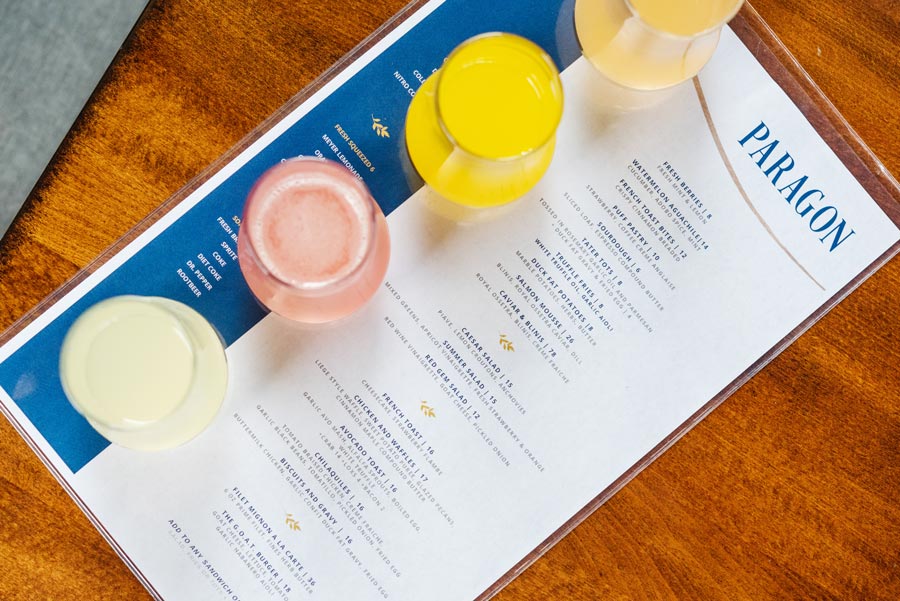 Mimosa Flight
It wouldn't be brunch without a Mimosa Flight which is always my go-to drink of choice. Each flight has a sample of fresh watermelon, orange, grapefruit, and yuzu lemon. While I always end up preferring the watermelon, I was pleasantly surprised that my favorite was the yuzu lemon.
This is now the second time I've preferred the yuzu mimosa, the first time being at the Disneyland Wine & Food Festival. I think it's safe to say I've found a new favorite!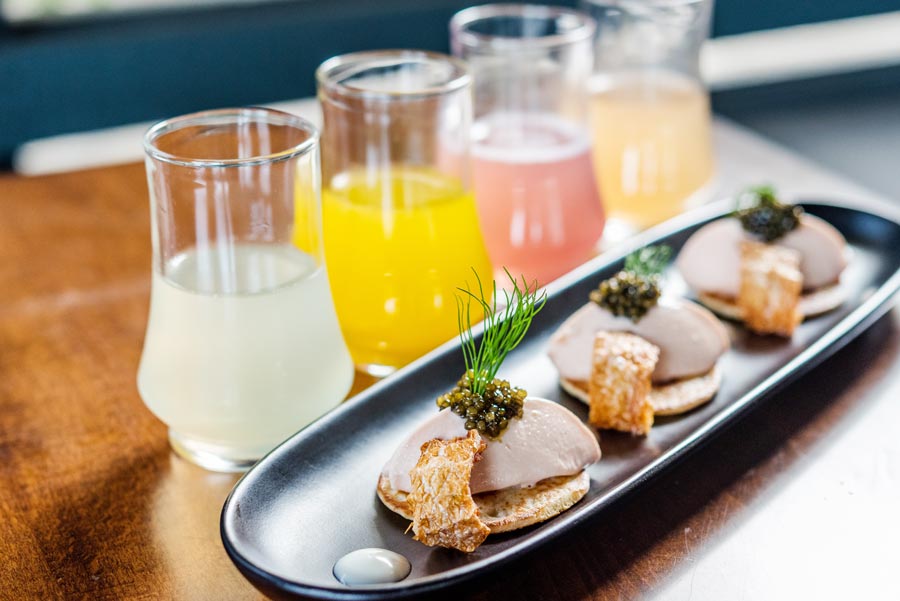 Salmon Mousse
To begin our perfected brunch experience we started with a light bite of the Salmon Mousse served atop blinis with a generous dollop of royal Ossetra Cavier. Paired with each blini was a sliver of chicharrones that added the perfect crunch. While these are meant for sharing, I'll admit, I did not want to share!
Biscuits & Gravy
Next, I was incredibly excited to see Biscuits and Gravy on the menu. While I love my Chicken and Waffles (which they also have), I rarely find this savory indulgence on the brunch menus in Orange County. The Biscuits and Gravy at Paragon Costa Mesa are served with a thick breast of flavorful buttermilk chicken sitting on buttery biscuits, drenched in duck fat gravy, and topped with a fried egg.
The fried chicken was perfectly seasoned, crispy, tender, and juicy. The biscuits were perfect, surprisingly light, and not too dense. I could eat an entire plate of those biscuits, soaking up every drop of gravy. Good luck not licking the plate.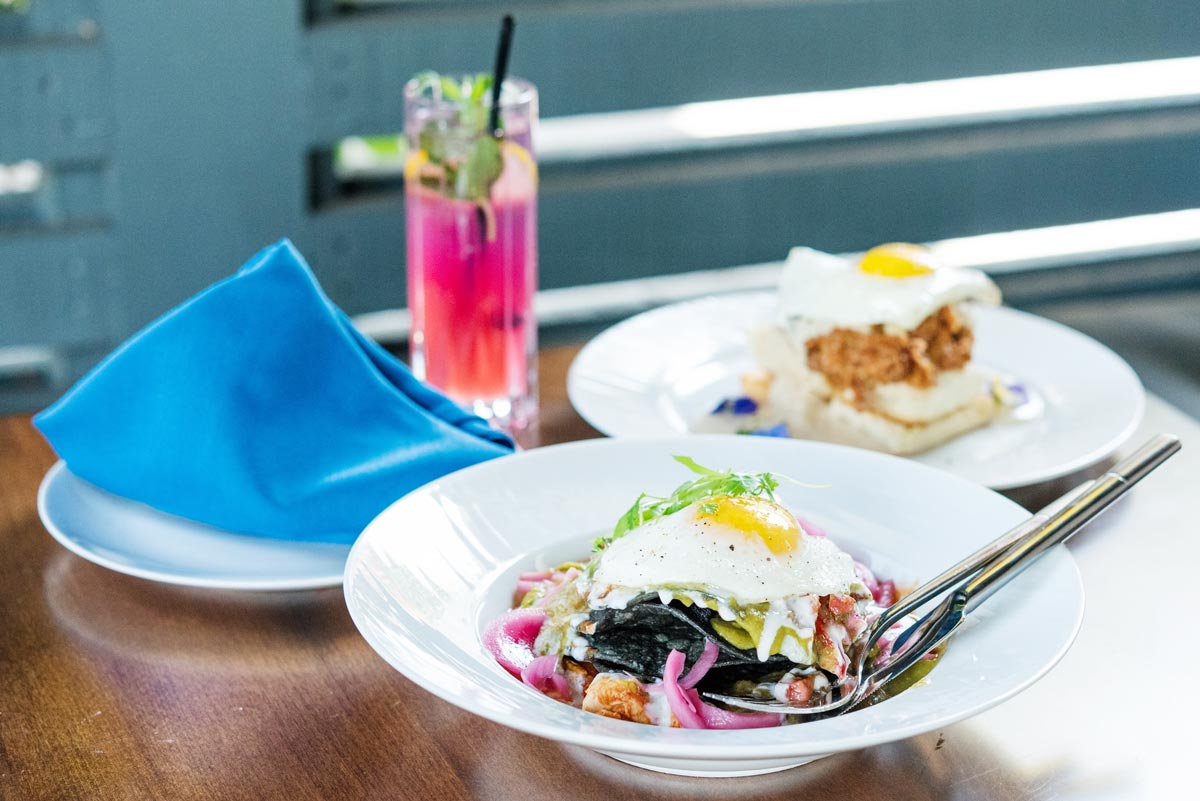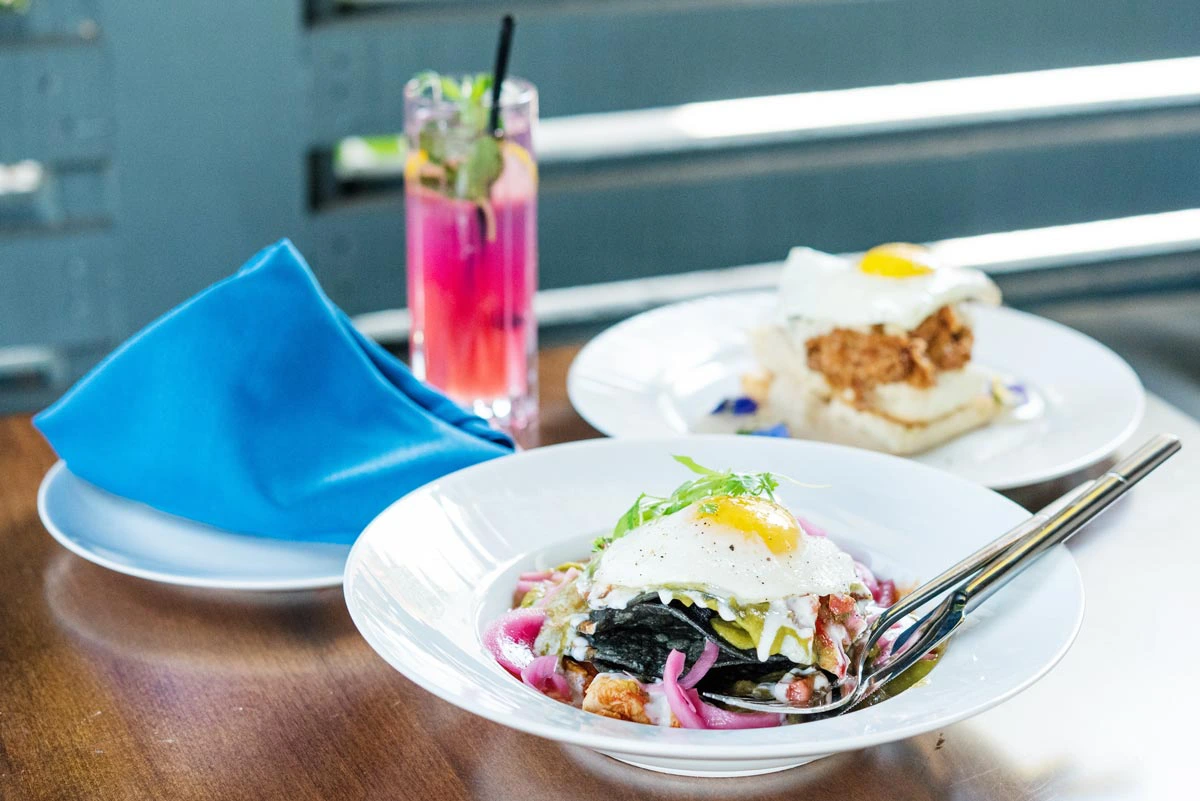 Chilaquiles
After seeing the order at another table, we decided the Chilaquiles looked too delicious not to partake. They arrived with extra crispy blue tortillas stacked with tomato braised chicken, creme fraiche, garlic black beans, tomatillo, pickled onion, and a fried egg.
It didn't take long for us to take these down, but I appreciated that not once did our Chilaquiles become soggy. Each bite had a nice crunch and a little spicy kick.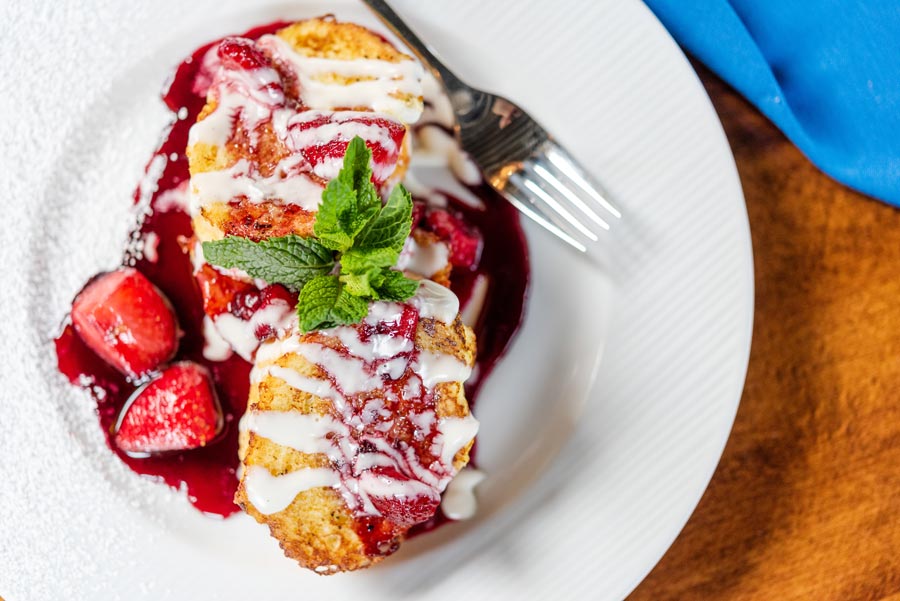 Strawberry Flambe French Toast
Finally, for our brunch dessert, we enjoyed the strawberry flambee French Toast which had a decadent cheesecake drizzle and jammy strawberry reduction. The brioche bread was thick and soft with a toasty sear. At this point, you might be full, but I assure you there will be enough room for this French Toast.
Additionally, right at the end of our brunch, the chef surprised us with a few puff pastries which I gobbled down so fast that I forget to snap a photo. These little magical puffs were stuffed with an espresso Creme Anglaise with a light hint of anise. They were the most delicious reminder of the perfected brunch experience that Chef Dean has brought to Paragon Costa Mesa.
Weekends Paragon has a Jazz Brunch. Stay tuned for their new dinner service coming soon…
Paragon is located at SOCO in The OC Mix
3321 Hyland Ave E. Costa Mesa , CA 92626
Tuesday – Sunday from 8am – 3pm
Reservations are highly recommended on weekends! (657)-247-0101
Discover More Of Our Favorite OC Brunch Spots