Where to stay, what to do, and how to save in Temecula Wine Country…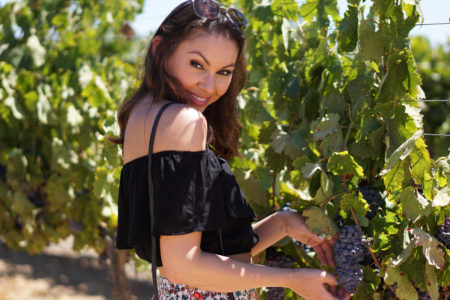 Last weekend I decided to take an impromptu girls trip to Temecula wine country. It is so close to Orange County and San Diego that it makes the perfect day trip or weekend get away to relax for a few days. It has become one of my favorite places to visit among all the different wine tasting town in Southern California. I just love how the main stretch is just row after row of vineyards and you can hop from one wine tasting to the next. Its nearly impossible to get through even half of the wineries so you"ll want to make sure you plan ahead. Hopefully this list will help you narrow down where to stay, what to do, and how to save!
Where to Stay….
First you're going to want to book your hotel. You can either stay in Wine Country at one of the Vineyards or you can stay in town for about $75 less. I'm going to give you a few different options and start with my personal favorite.
Carter Estate Winery: This is where I stayed this past weekend and I was so impressed. I almost don't want to announce it because they only have 42 adorable luxury Bungalows available. You have several different options to choose from and the service is outstanding. What really sets this resort apart is the way each Bungalow has beautiful french doors that open up right onto the vineyards. In just a few steps you can walk through the vineyards and even taste the grapes if you go during August and September when they are in season. They also have it written on their website that they will match any price you find on the internet and I've seen in the Yelp reviews that if you book from their site you are likely to get a special upgrade or treat when you check in! Rates range from $130-$200 per night
Ponte & South Coast: These two hotels are right next to each other though Ponte is more expensive. These are by far the most popular hotels to stay at. Both are expansive and offer large restaurants. South Coast also has a beautiful day spa. Carter Estates is actually the sister property to South Coast, so you can enjoy many of the same benefits. Rates range from $160-$275 a night.
Embassy Suites: This is the best budget friendly hotel. Though its not right in wine country, it is only about 5 minutes down the street and is easy to see as soon as you get off the highway. I've loved the Embassy Suites since I was little and we used to stay here on family vacations. They have a huge hot breakfast buffet and a cocktail hour everyday from 5pm-6pm. Now how can you beat that!
Things to do in Temecula…
Horseback Riding: Besides wine tasting, there are several fun activities to enjoy during your stay in wine country. My personal favorite is horseback riding. I have found a great company called Lil bit of Country on Horseback. This company felt very intimate and what made them so great was that they take you through Orange Orchards and Vineyards! You really get that Temecula experience. Their ride also comes with a tasting for two at the nearby Danza De Sol winery who also happen to be very generous with their pours. If you decide to go horseback riding be sure to plan it during months where its not too hot. Trust me you do not want to be horseback riding when its 100 degrees in August. I've made that mistake before.
Hot Air Balloon Rides: This is another popular Temecula activity which usually has a Morning ride and an evening ride followed by a champagne toast with brunch or appetizers. This is on my to do list for sure!
Helicopter Tours: If you are looking for something more intimate then a Helicopter tour might be your best option. They usually have only 4-6 people and offer a much more personal adventure.
Coupons, Deals, and Ways to save in Temecula
Groupon: hands down first visit groupon, especially for your activities. You will find discounts on all the mentioned above activities. If you already know which wineries you would like to visit you can also find many special tasting rates and packages on groupon as well.
Temeculawines.org promotional page: here you will find a discounted pass you can purchase for during the week wine tastings. The pass is good for 5 tastings at a long list of affiliated wineries. They also have several coupons you can print for some of the local winery restaurants.
2 for 1 Wine Tastings: if you go directly to the website of your favorite wineries, they often have 2 for 1 coupons listed. Here are a few to save you some time. Faulkner Winery, Bel Vino, Wiens Family Cellars, Wilsons Creek, Danza del Sol, Oak Mountain Winery
Have you visited Temecula before? What as your favorite winery to visit? Stay tuned for my next posting on Where to Dine in Temecula!
Pin It!