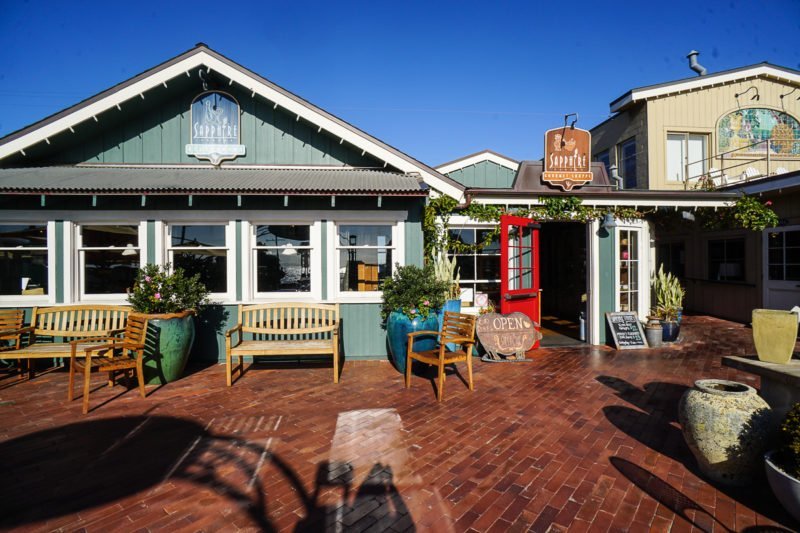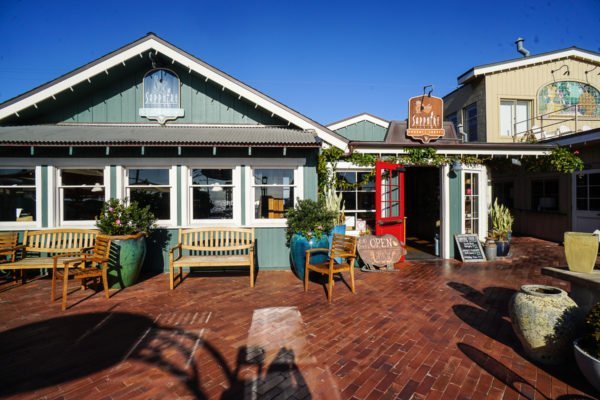 We always say that OC Restaurant Week is the perfect excuse to try a new restaurant and this year we've chosen Sapphire Laguna Beach. Located along the popular Pacific Coast Highway, this beach town eatery features fresh cuisine with traditional and Pacific Island-inspired cuisine. There are so many amazing restaurants in Laguna Beach and we've been waiting for the perfect opportunity to check another one off our list of places to visit.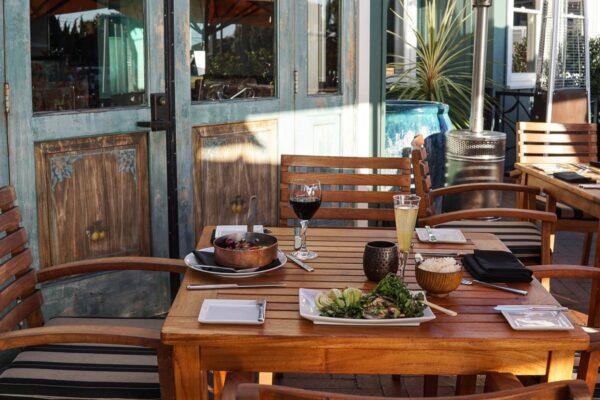 The OC Restaurant Week menu at Sapphire Laguna Beach instantly intrigued me with unique selections like their Fermented Tea Salad and Braised Beef Cheek Bourguignon; trust us on this.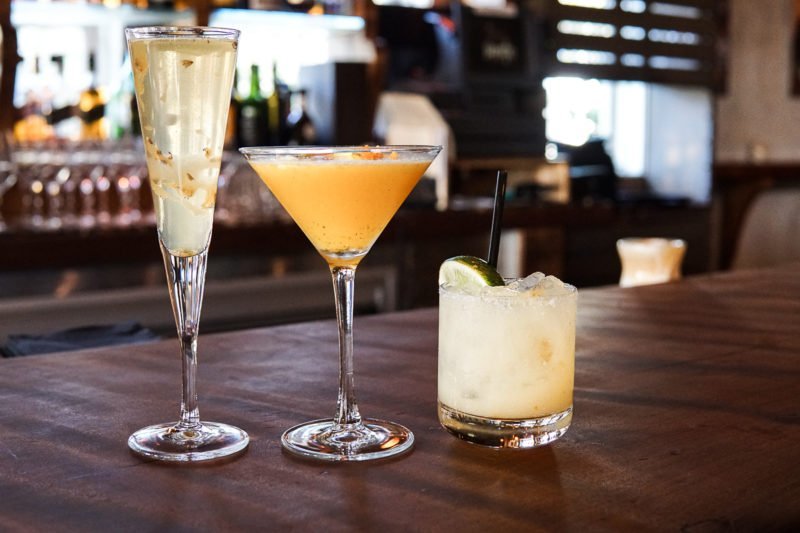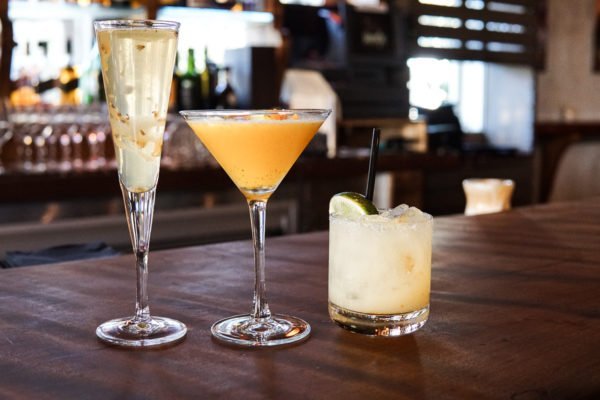 Left to Right: Sans Permis, Passion Martini, Buddha Margharita
Before we get into the cuisine, let's talk about those cocktails. As you may have heard, this year's OC Restaurant Week is featuring $10 specialty cocktails at many of the participating restaurants. Sapphire Laguna Beach has three amazing selections to choose from including their Pure Passion Martini, Sans Permis, and Buddha Margharita. My personal favorite was the Sans Permis which was a refreshing champagne cocktail with lavender infused honey swirled inside the glass. It was equally beautiful as it was tasty. I'm a girl who loves her champagne.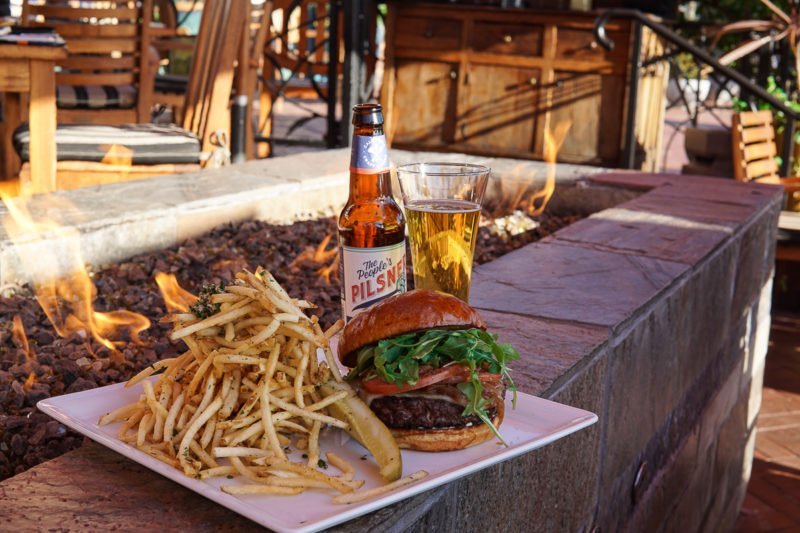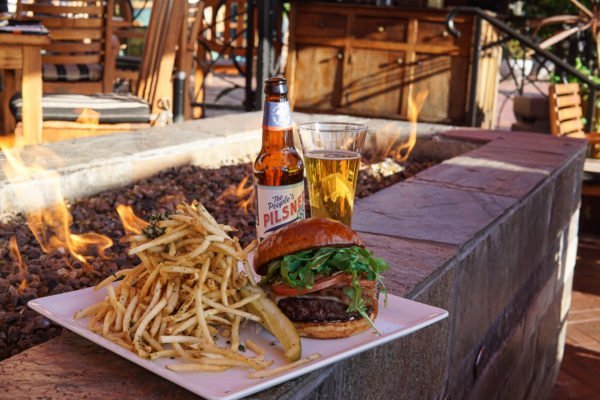 Lunch Options include their guest favorite Beef Harvarti Cheese Burger and perfect for spring Miso Salmon Salad
If you are stopping by for lunch you cannot go wrong with their Kobe Beef Havarti Cheese Burger topped with caramelized onions, arugula, tomatoes, dijonnaise, and served with Garlic Parsley Fries. This is one of their most popular selections and is also served next door at their specialty market which features many of the chefs' favorite ingredients and dishes.
I especially loved the refreshing Honey Miso Salmon Salad. It comes served with soba noodles, cucumbers, bean sprouts, snow peas, carrots, cabbage, and mixed garden greens with a creamy sesame dressing. This dishes fresh ingredients make it a perfect choice for spring which is just around the corner.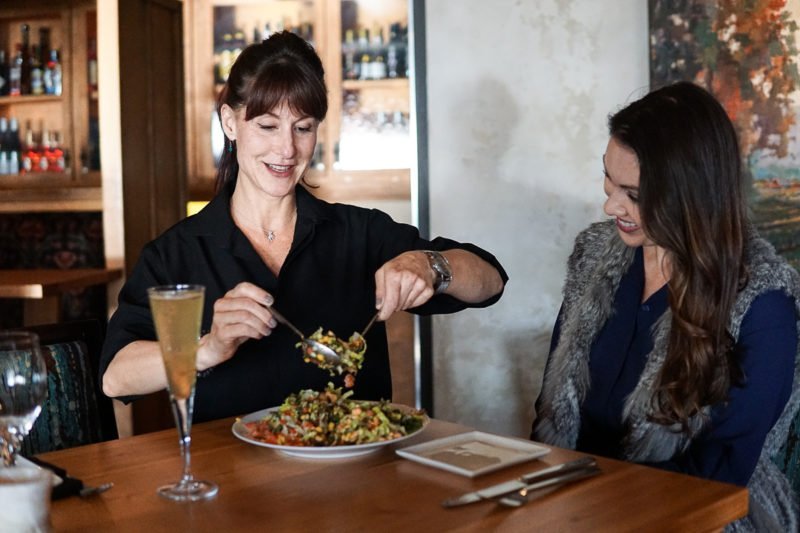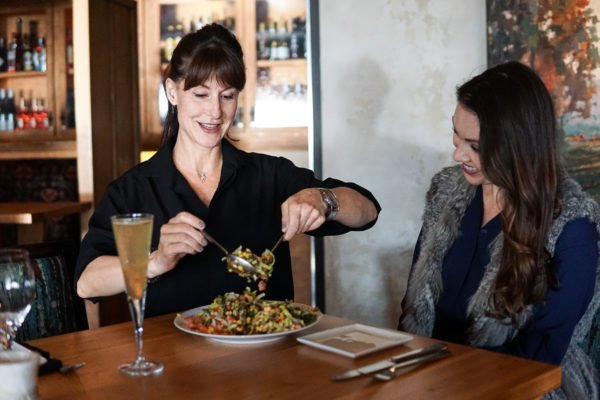 If you're arriving for dinner then I highly recommend starting with their Fermented Tea Salad which was incredibly unique and delicious. This clever dish is composed of peanuts, sunflower seeds, fried garlic, romaine, and lemon sesame dressing. It's also tossed tableside making it that much more enjoyable. The fermented tea added such a wonderful earthy flavor that really shined with the acidity of the freshly squeezed lemon.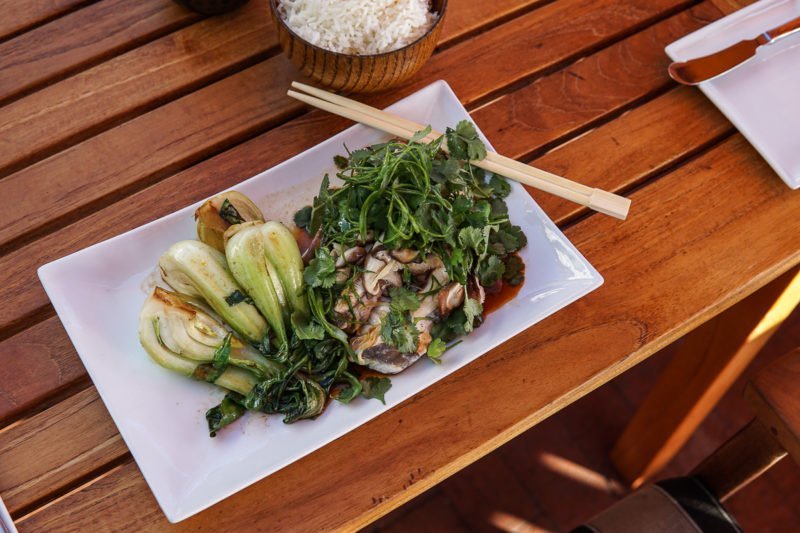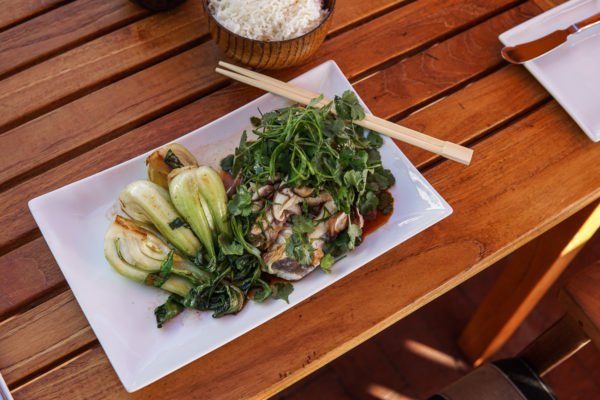 The Fermented Tea Salad pairs perfectly with the Pacific Asian inspired Barramundi
Next, the Fermented Tea Salad would pair perfectly with the Barramundi dinner selection for a complete sensory experience of Pacific Island flavors. This wonderful fish is delicate, light, and has always been a personal favorite of mine. The Barramundi is perfectly composed with shiitake mushrooms, cilantro, green onions, and shoyu. Its flavors instantly transported me back to my time spent living on the Hawaiian islands.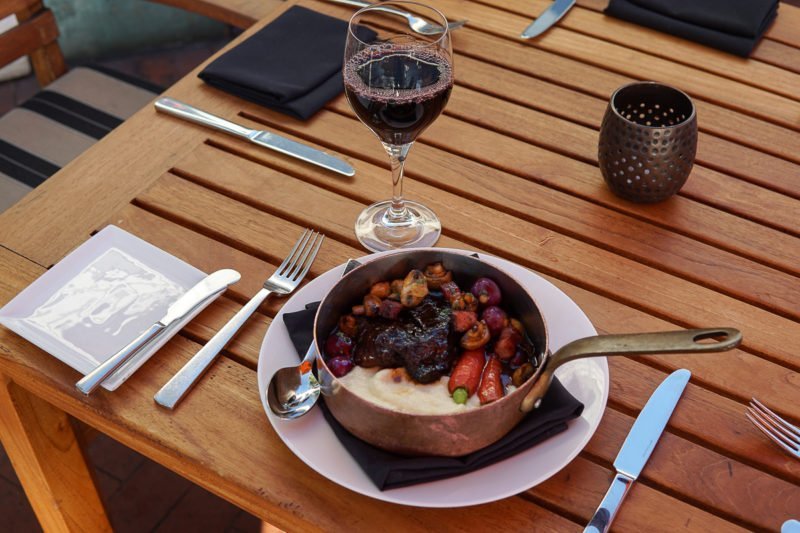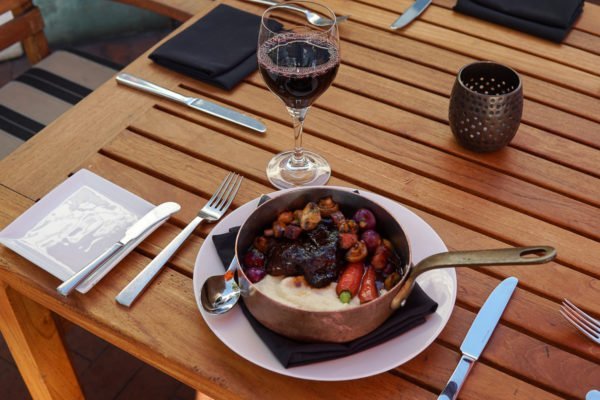 If you are looking for a heartier option then you cannot go wrong with the Braised Beef Cheek Bourguignon
The Braised Beef Cheek Bourguignon comes beautifully presented in a cooking pot with creamy potatoes, fresh carrots, and pearl onions. If you have never had beef cheek then you are in for quite a treat. The cheek is incredibly tender and flavorful, reminiscent of a pot roast or short rib, but even more succulent.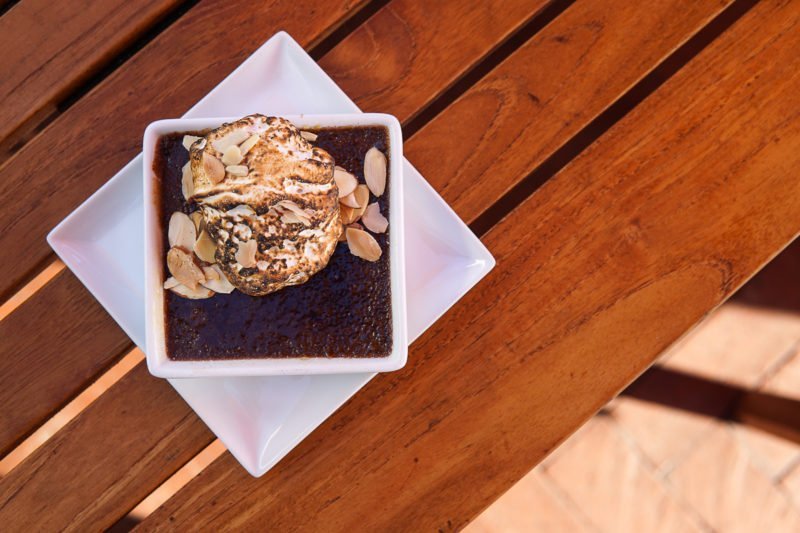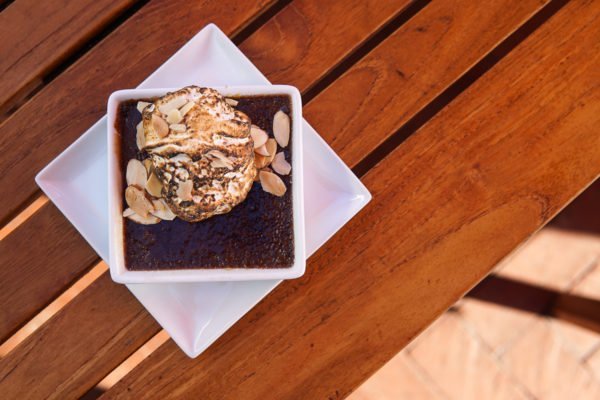 Finally, no meal is truly complete without dessert and I thoroughly enjoyed the Chocolate Creme Brulee. This dark chocolate custard comes topped with toasted marshmallow and sliced almonds. Its unique flavor is reminiscent of an elevated s'more; a perfect ending to an evening gazing out at the Laguna Beach Shores.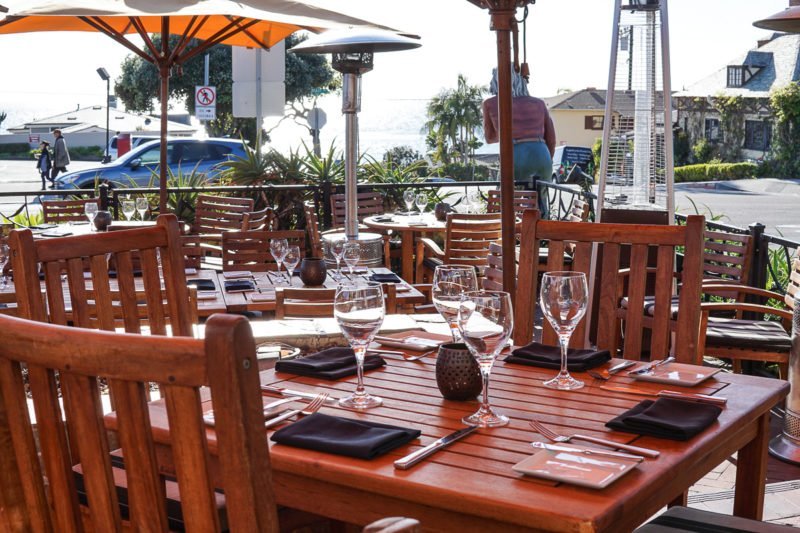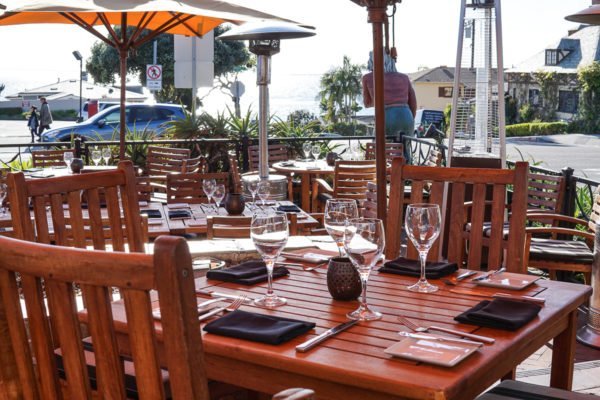 Sapphire 
1200 S Coast Hwy #101
Laguna Beach, CA 92651
(949) 715-9888