Laguna Beach is home to spectacular views and some of the most amazing restaurants in Orange County. Though often frequented for dinner, we recently discovered Selanne Steak Tavern also boasts one of the best brunches in the area. With their elegant decor, fabulous menu, and prime location we can guarantee this restaurant will become your latest weekend obsession.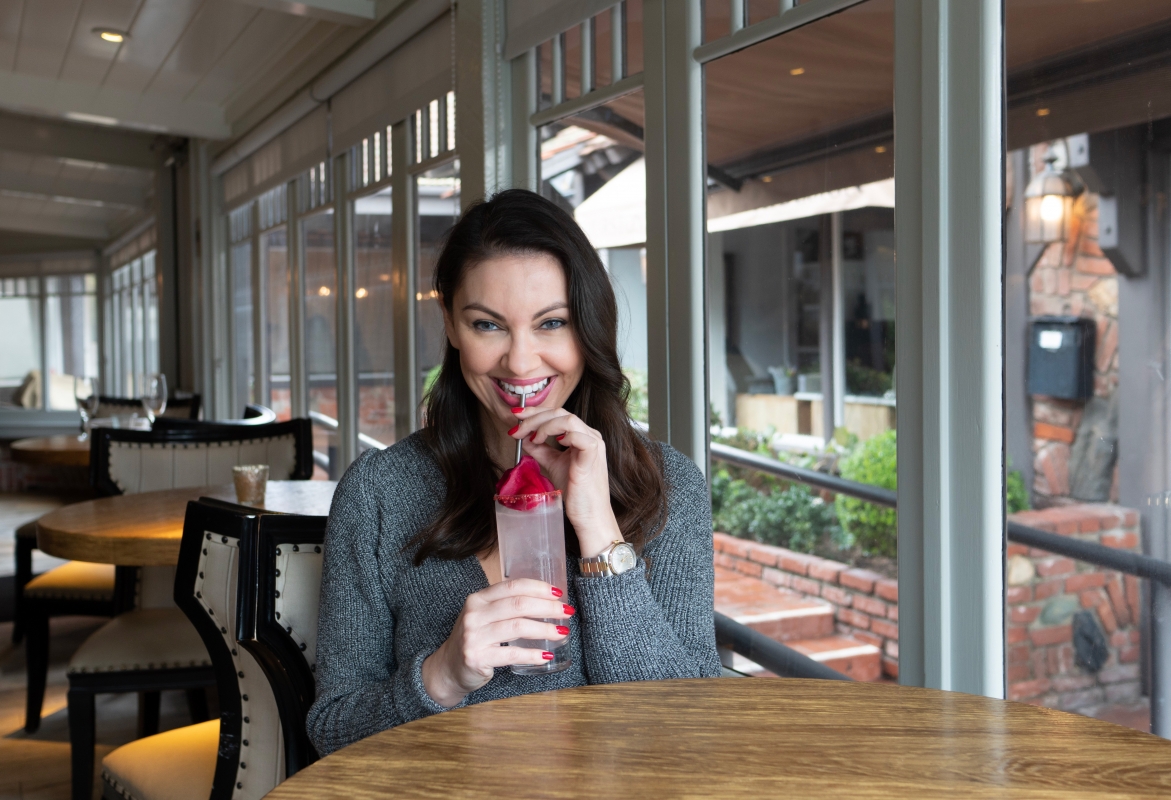 To begin our visit, we were immediately intrigued by their most recent cocktail offerings in celebration of Valentines Day. The beautiful "Make Up Kiss" featured Ketel One Botanical Grapefruit & Rose Vodka, fresh lime, and Q Grapefruit. A red sugar rim and fresh rose petals accented the drink. This is easily one of the prettiest cocktails we've ever seen.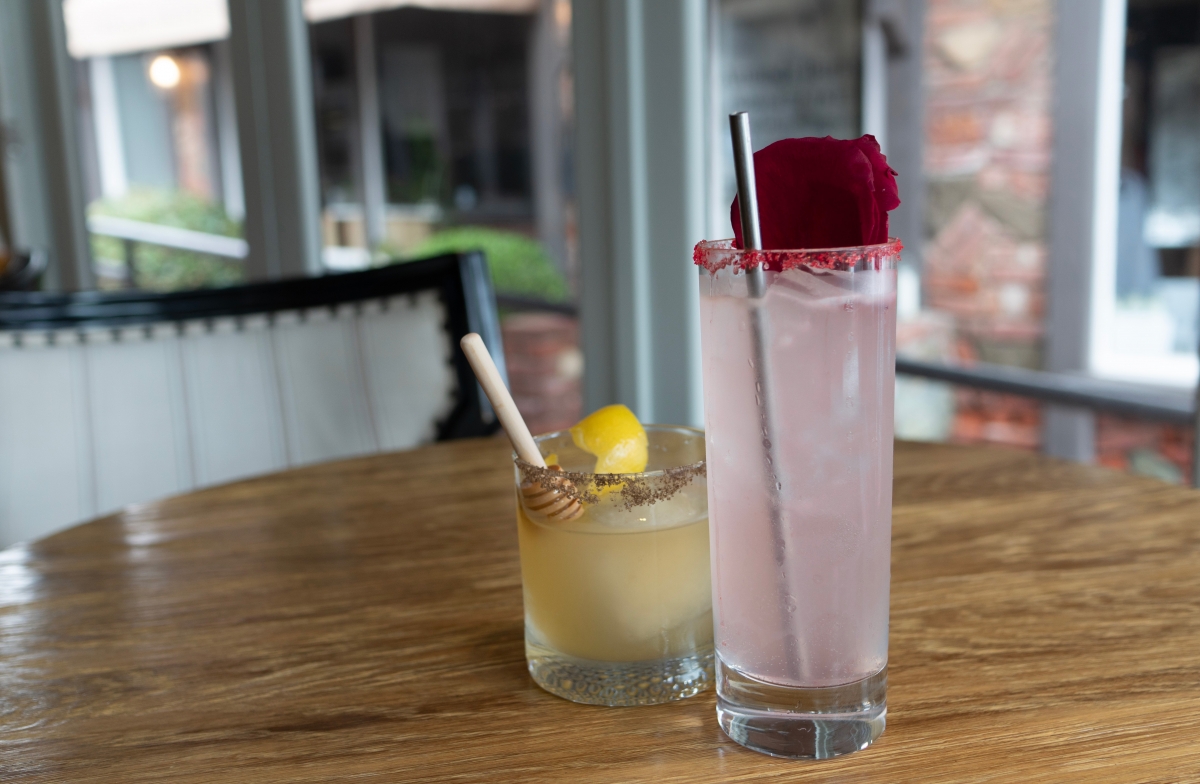 In addition, we also tried their more manly "Lovers Quarrel". This fun cocktail included Hibiki Suntory whiskey, fresh lemon, honey syrup, and a smoked sea salt rim. I especially loved the little honeycomb stirrer.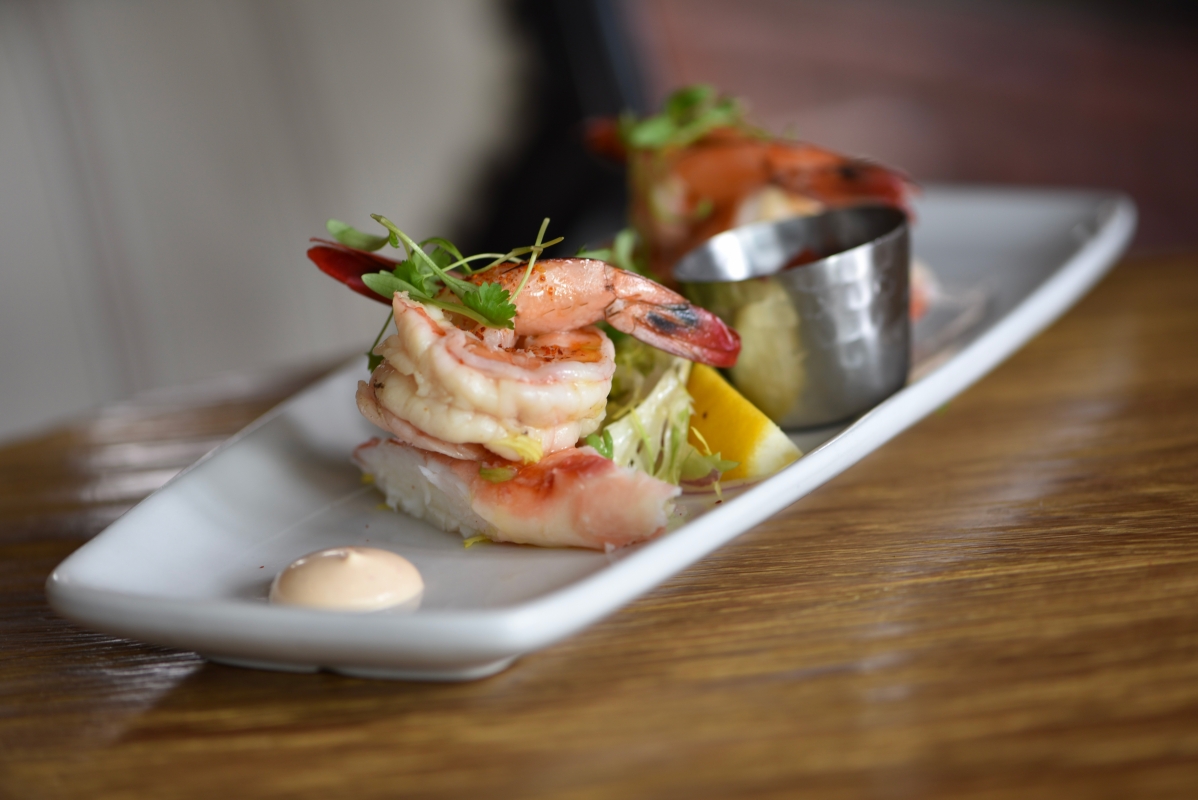 For starters we enjoyed the Shrimp & King Crab Cocktail.
To accompany the cocktails, we enjoyed the Shrimp and King Crab Cocktail with sweet onion salad, sriracha aioli, and Ketel One cocktail sauce. Their seafood is as fresh as a Laguna Beach breeze and paired perfectly with the selected accoutrements.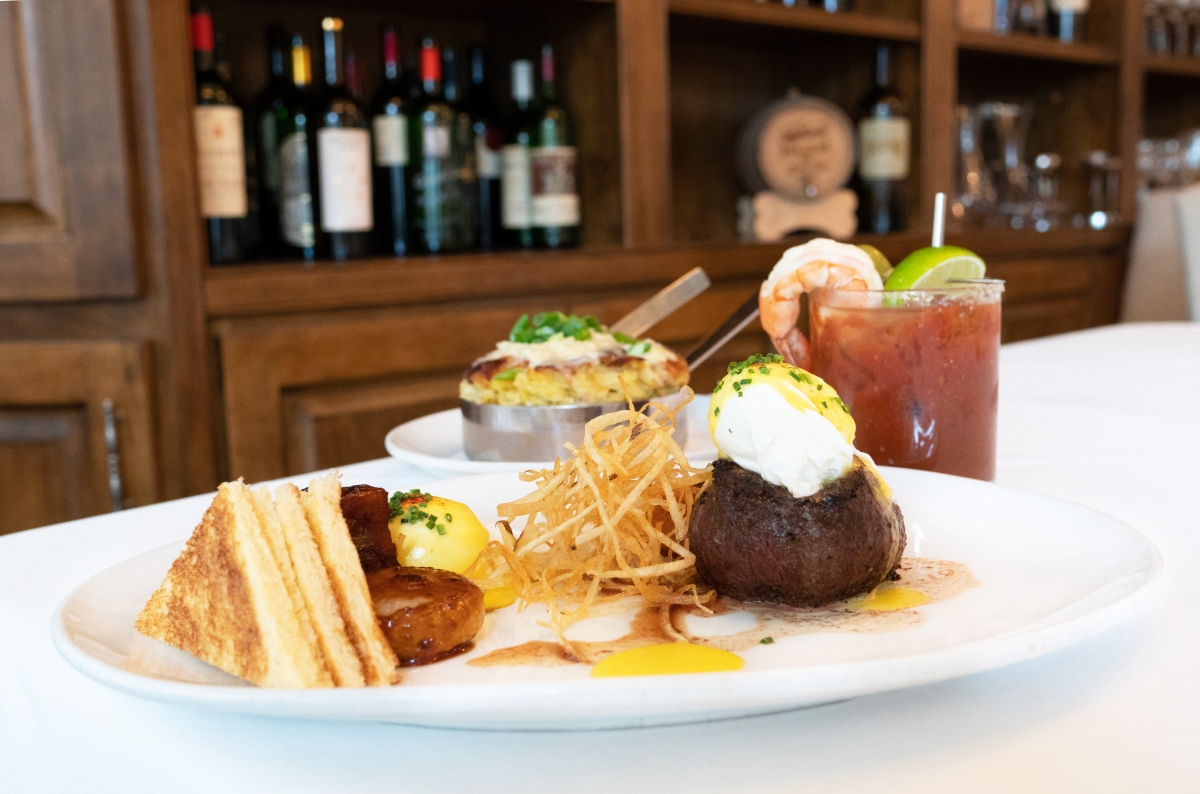 Steak, Bacon, and Eggs pictured above with hash browns au gratin & signature bloody mary.
For our first entree, the obvious choice was their Steak, Bacon, and Eggs. Locals often revere Selanne Steak Tavern as the most outstanding steak in all of Orange County. Even more so than trendier, well-known restaurants like Mastro's.  Their 6 oz prime filet mignon did not disappoint. It was fabulously plated with crispy pork belly, poached eggs, and toast points. The pork belly was extra meaty and a great alternative to traditional bacon.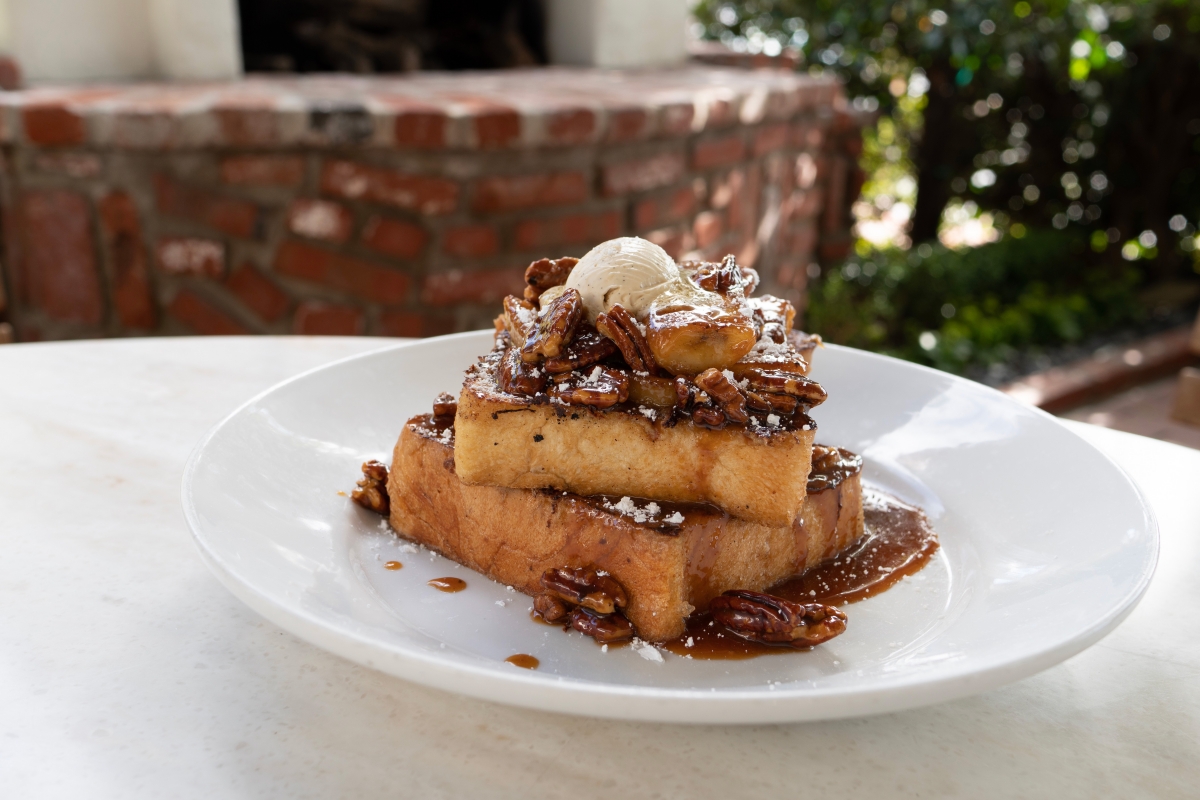 I always like to conclude my brunch with a decadent sweet treat.
Finally, I always like to conclude my brunch with a decadent sweet treat. The "Kevins" Bananas Foster French Toast Pain de mie with Kaluha flame bananas and marscapone whip was a perfect choice. I especially loved that they used plantains instead of traditional bananas so the dish wasn't overly sweet. It was absolutely delicious.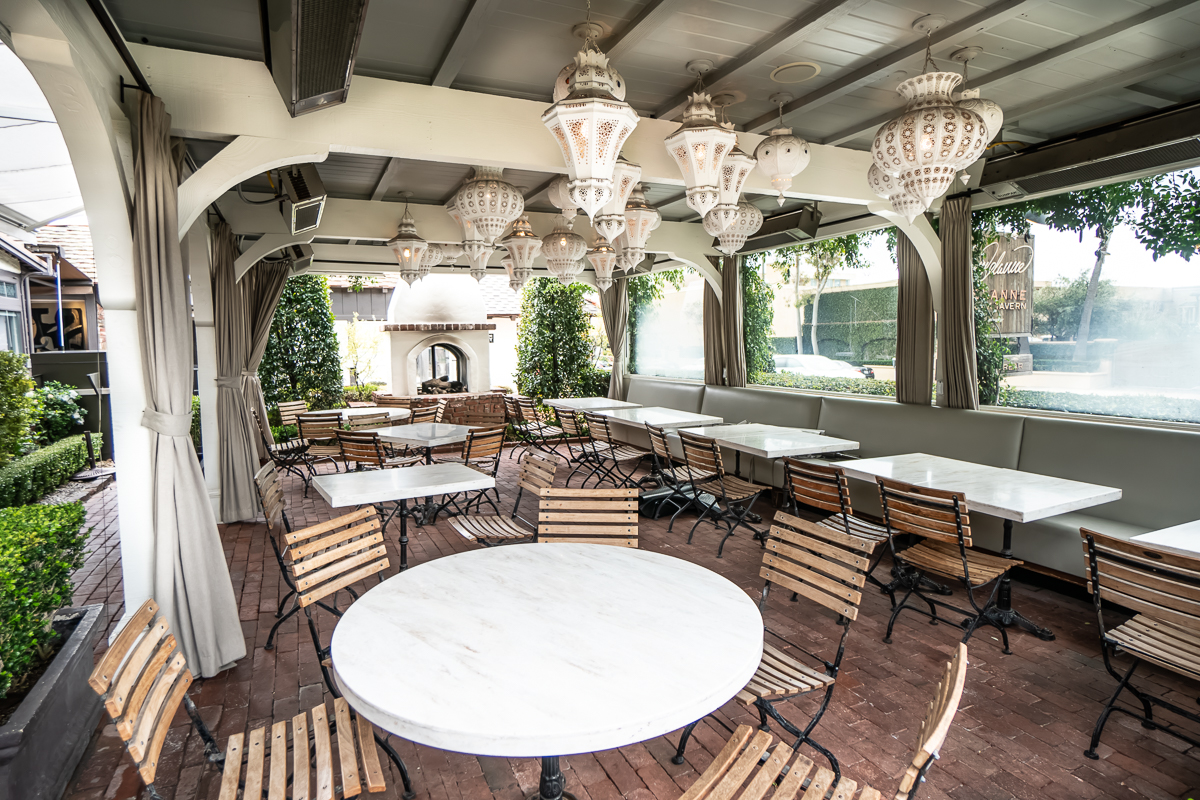 If you haven't had the chance to visit Selanne Steak Tavern in Laguna Beach, it is easily one of the best restaurants in Orange County and should be on everyones list!