First Month of Wedding Planning
During the first month of planning your wedding I think its important to start deciding your wedding inspiration, theme, and colors. I've really focused a lot on figuring out the type of wedding I see myself having. This can even help you narrow down a wedding venue that fits your desired feel and style.
Deciding a Wedding Theme
I think the first step is to make a list of the things you and your fiance enjoy. Then I would look at wedding inspiration pertaining to each idea and see what you find the most appealing. We love wine, so a vineyard wedding would represent us well. I also love flowers and gardens so I would be equally as happy with a garden wedding. I am not very modern and really love and appreciate all things vintage, but at the same time I love the glamour of the 1920's and old Hollywood. In other words even though I love vintage I don't necessarily love shabby chic. I decided after looking at a variety of pictures that a French Vintage Glamour theme would fit my style well. Below you will see some inspiration boards I've created. Please feel free to use or pin if you like them. To come up with your inspiration boards, don't just look at pictures on pinterest. I suggest finding real life inspiration to represent your theme in a way that is not cliche. Having a french themed wedding shouldn't mean having the Eiffel tower in your decor. Its more about capturing the feel of an era in an understated way.
French Wedding Inspiration Ideas 
ruffles, lace, bird cages, vintage clocks, French glass mirrors, macaroons, croquembouche (traditionally served at French weddings instead of cake), French furniture, fountains with cascading flowers, afternoon tea, pink Rosaline vintage glasses made in France out of depression glass ( I love these so much I recently purchased a set of 6 Rosaline wine glasses), vintage french signs, chandeliers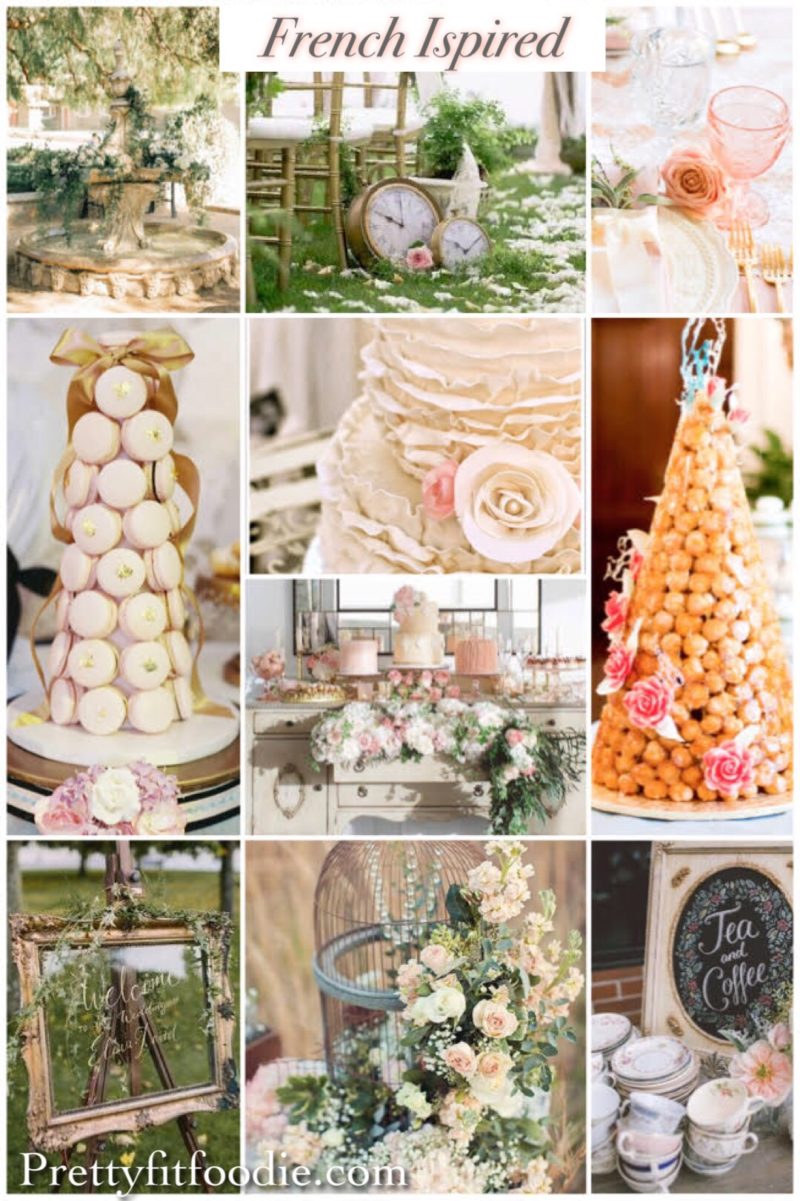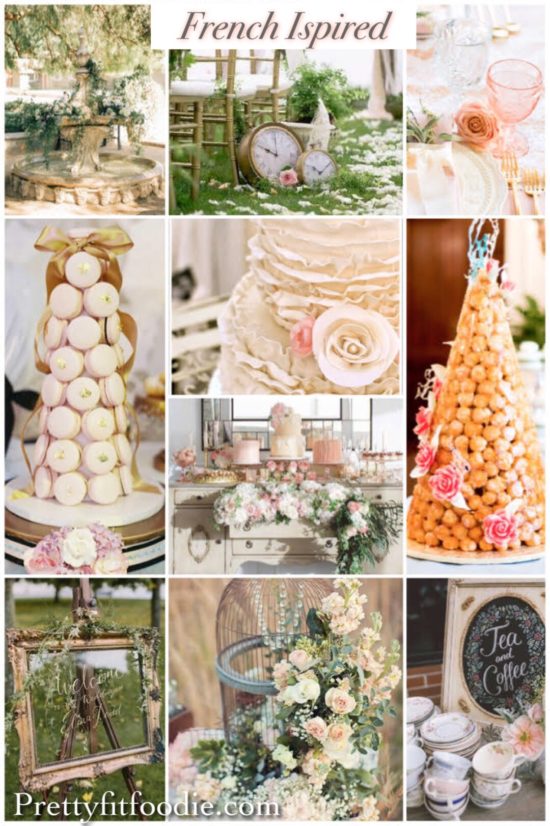 Deciding Your Wedding Colors
Deciding your wedding colors is really just a matter of personal taste and you can really make any color scheme work with any theme you choose. I knew grey would for sure be one of our wedding colors because both my fiance and I love this tone. Our house is painted grey and before we met we both had a grey color scheme in our home. It also has a great soft vintage feel to it and can go well with any color. I also new that I wanted some glamour in our wedding, but wasn't sure if using gold really went well with grey. Until that is, I randomly was walking through Target and found a painting that instantly caught my attention. I thought to myself "these are my wedding colors, this is exactly what I want!". In the middle of the picture below I included the snapshot of the painting I took on my iPhone. I think you"ll agree, its perfect.
Grey, Blush, Champagne, Gold, Soft White Wedding Color Palette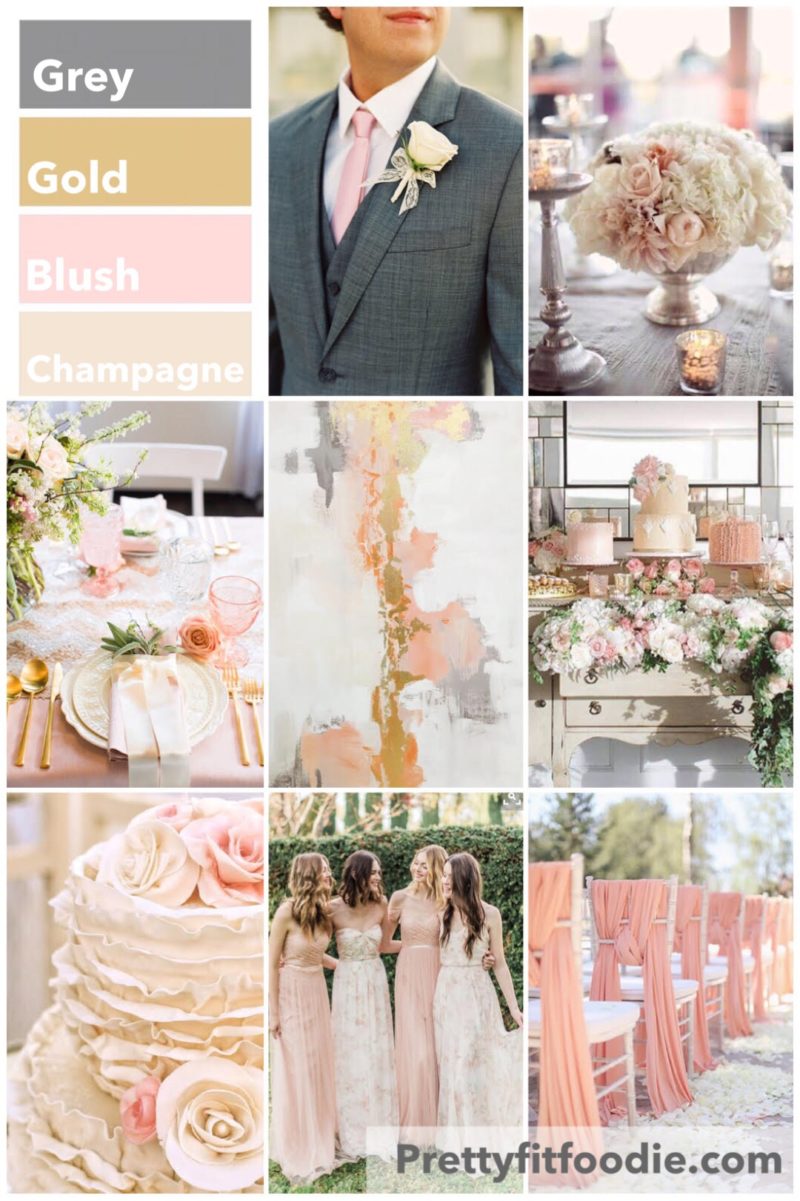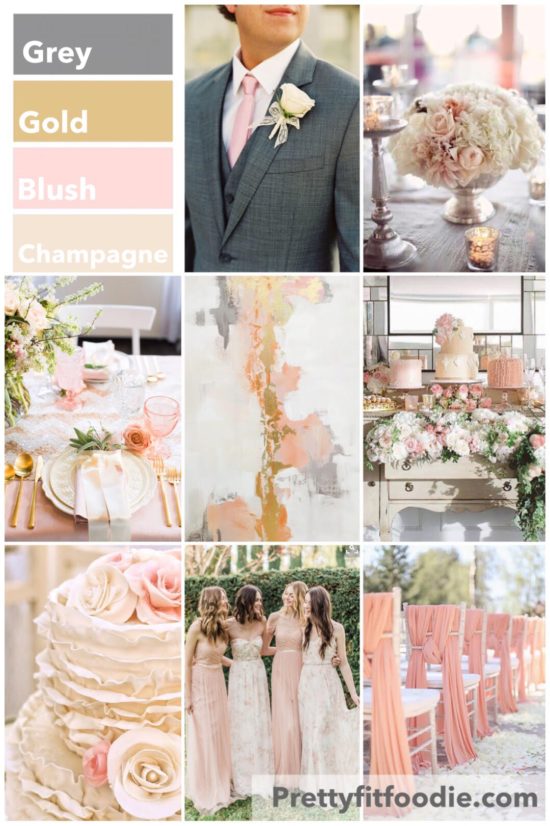 My biggest piece of advice is to stay away from trends for two reasons. First think about looking back at your wedding photo's 10 years from now. I don't want to look back and think "why did I do that?". Its like getting a bad tattoo in your early 20's that you thought was cool and then having to live with that decisions 20 years later. Secondly, don't decide not to do something just because its trending. For example, I love peonies. I loved them before anyone even knew what a peony was. Even though its really trending right now, I'm still going to stay true to who I am. You can be rest assured there will be peonies everywhere at my wedding! Same thing with the color blush. For me this color is soft, romantic, elegant and fits in very well with my theme. I love the idea of using french vintage wine and champagne glasses. At the end of the day choose a theme and color palette that represent your taste and personal style. Choose something that you will look back on 20 years from now and still love.