There is nothing I love more than an amazing brunch and Snooze Eatery coming to Orange County is a foodies dream. This popular San Diego brunch spot serves breakfast creations that are unique and innovative. The second I took a peek at their menu and saw they had 4 different eggs Benedict and pancake combinations like upside down pineapple, I knew I had to give this place a try. Apparently, I also was not the only one because their first week opening brought in 2 hour wait times. Foodies from all over Orange County were flocking to The Irvine Market Place to give this new brunch spot a try.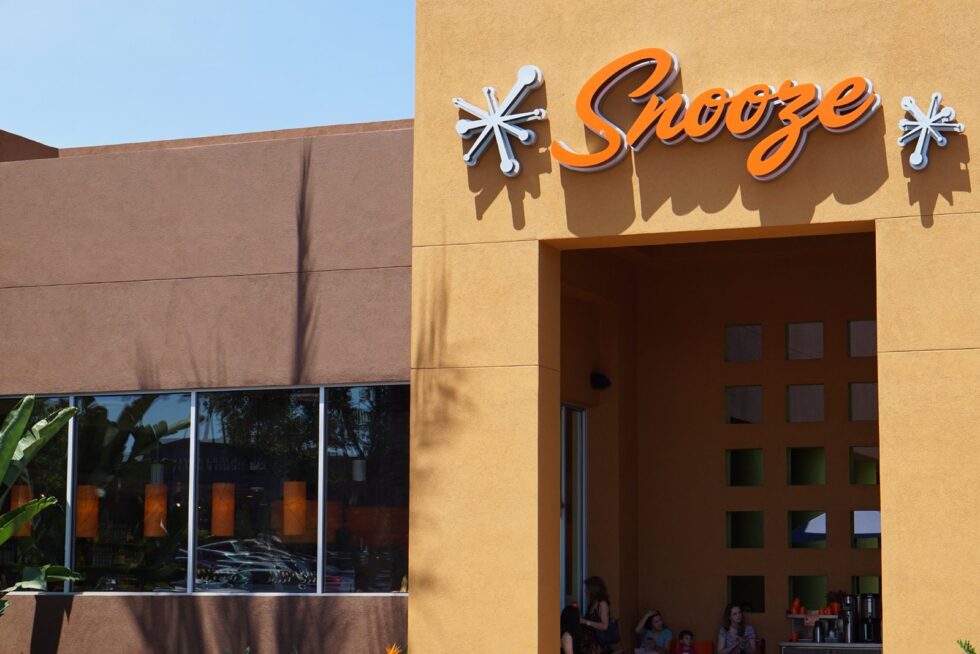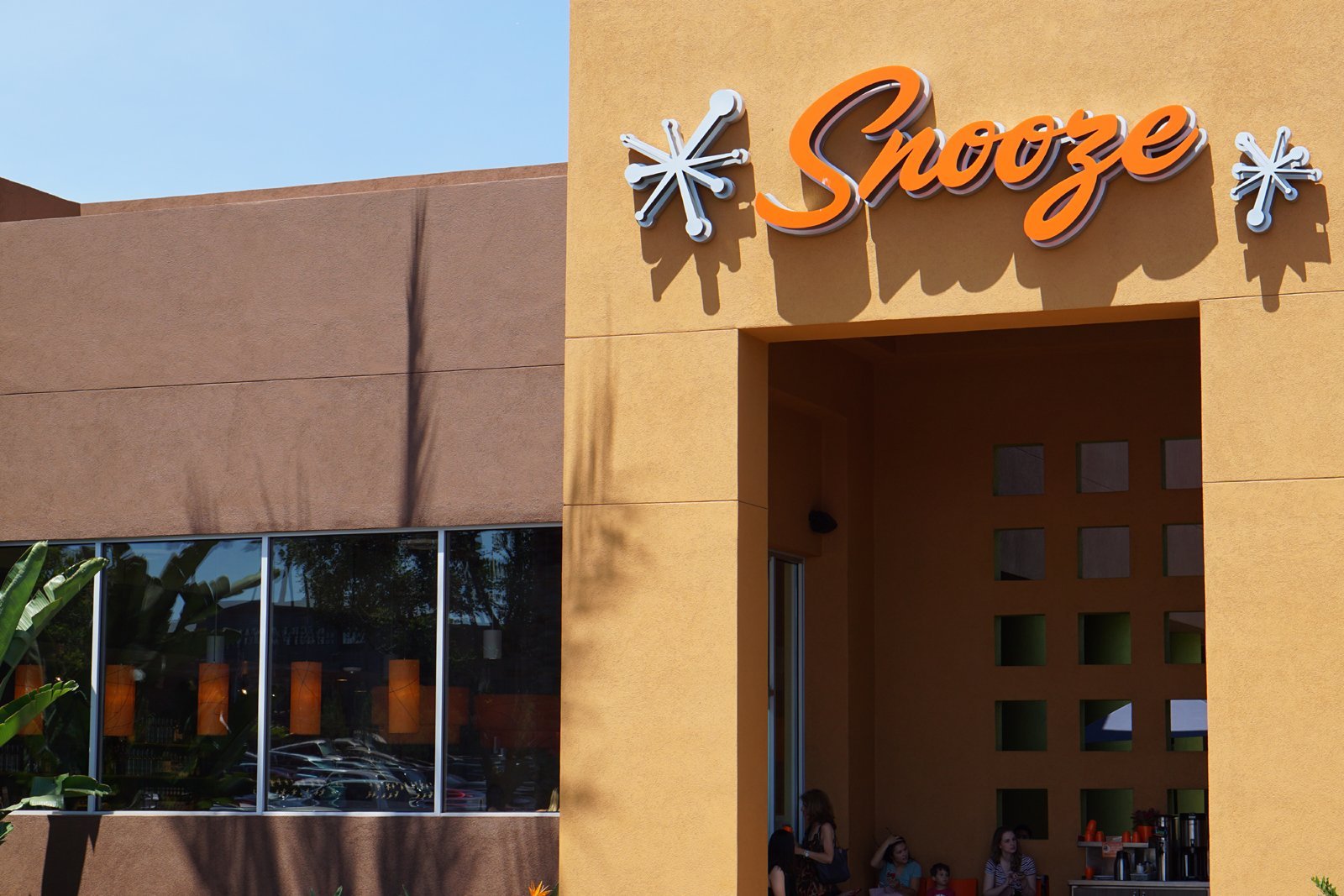 From first impressions, you will see that Snooze is just as bright and vibrant as their food. I loved all the colors that felt like a hip throw back to a 1950's dinner. The best part, however, was hands down their amazing food. Snooze boasts every traditional brunch creation your heart desires including some unique selections like a Chilaquiles, Chile Verde, and Prosciutto Benedict. They even have an option that lets you choose 2 different types of Benedict's, music to my ears.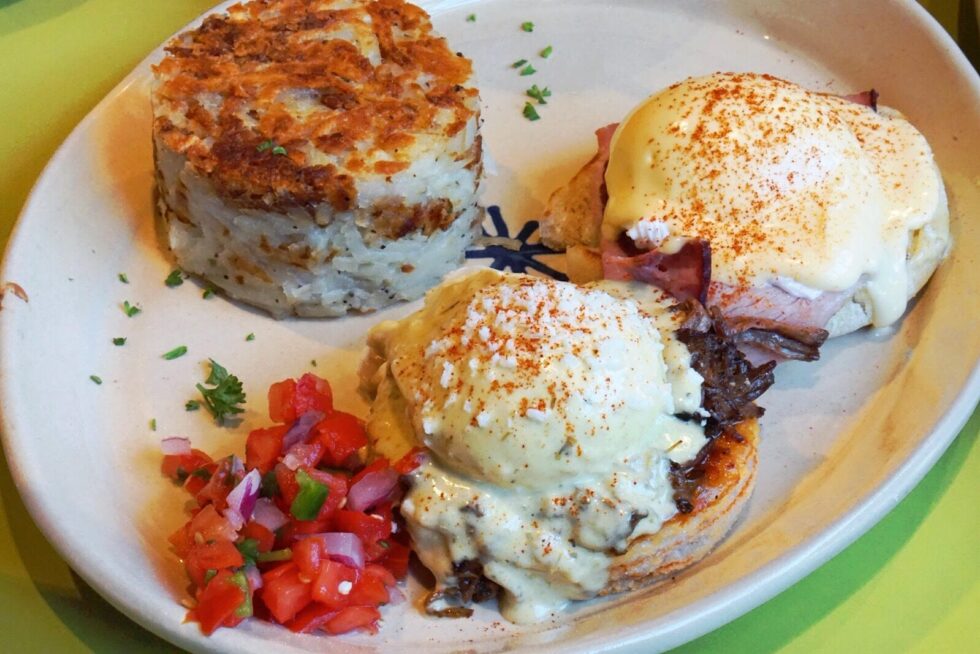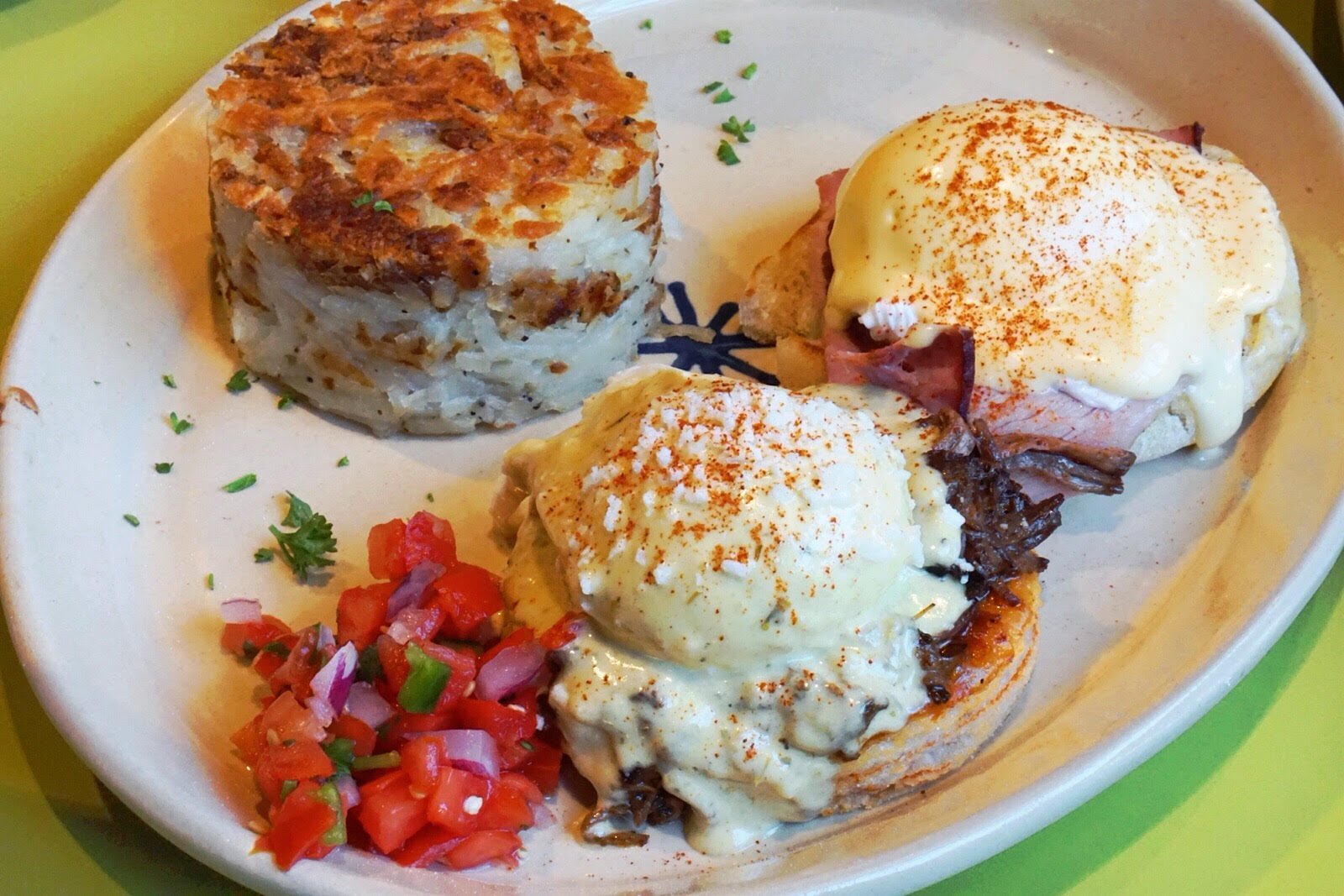 My boyfriend has no sense of adventure so being able to order two different kinds allowed him to order his traditional benedict and I hands down went with the Chilaquiles Benedict. They had me at barbacoa and ranchero sauce! Let me tell you, this was the best eggs benedict creation I've ever had. Notice I did not say "one of the best". It was THE best. I was soon regretting my decisions to order only one of these.The egg, poached perfectly, was served on top of crispy stacked tortillas with melted cheese and poblano hollandaise sauce. I don't think I've ever devoured an eggs benedict so quickly. Seriously, just look at that picture!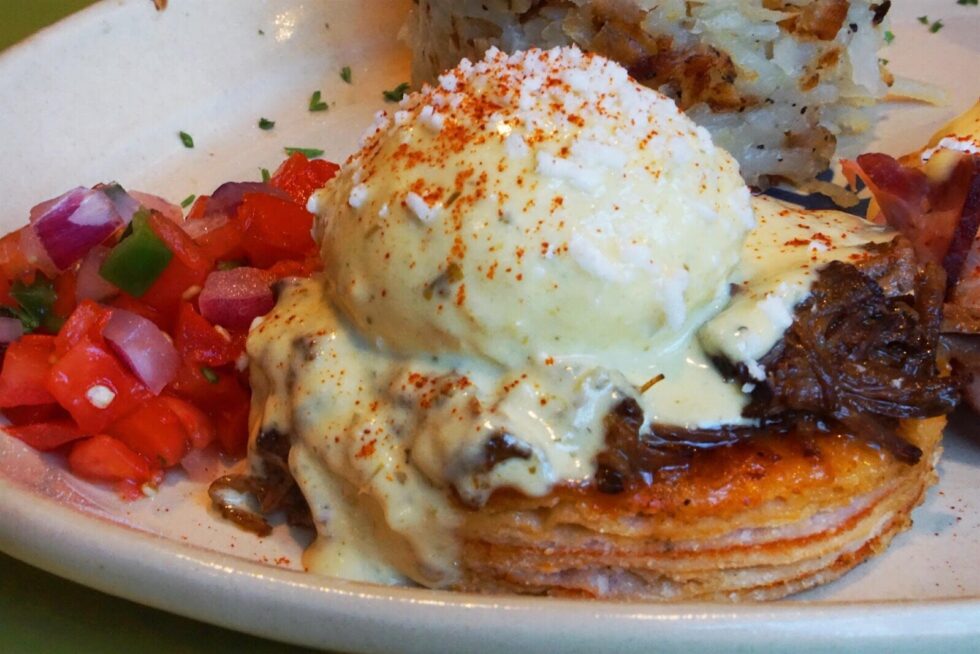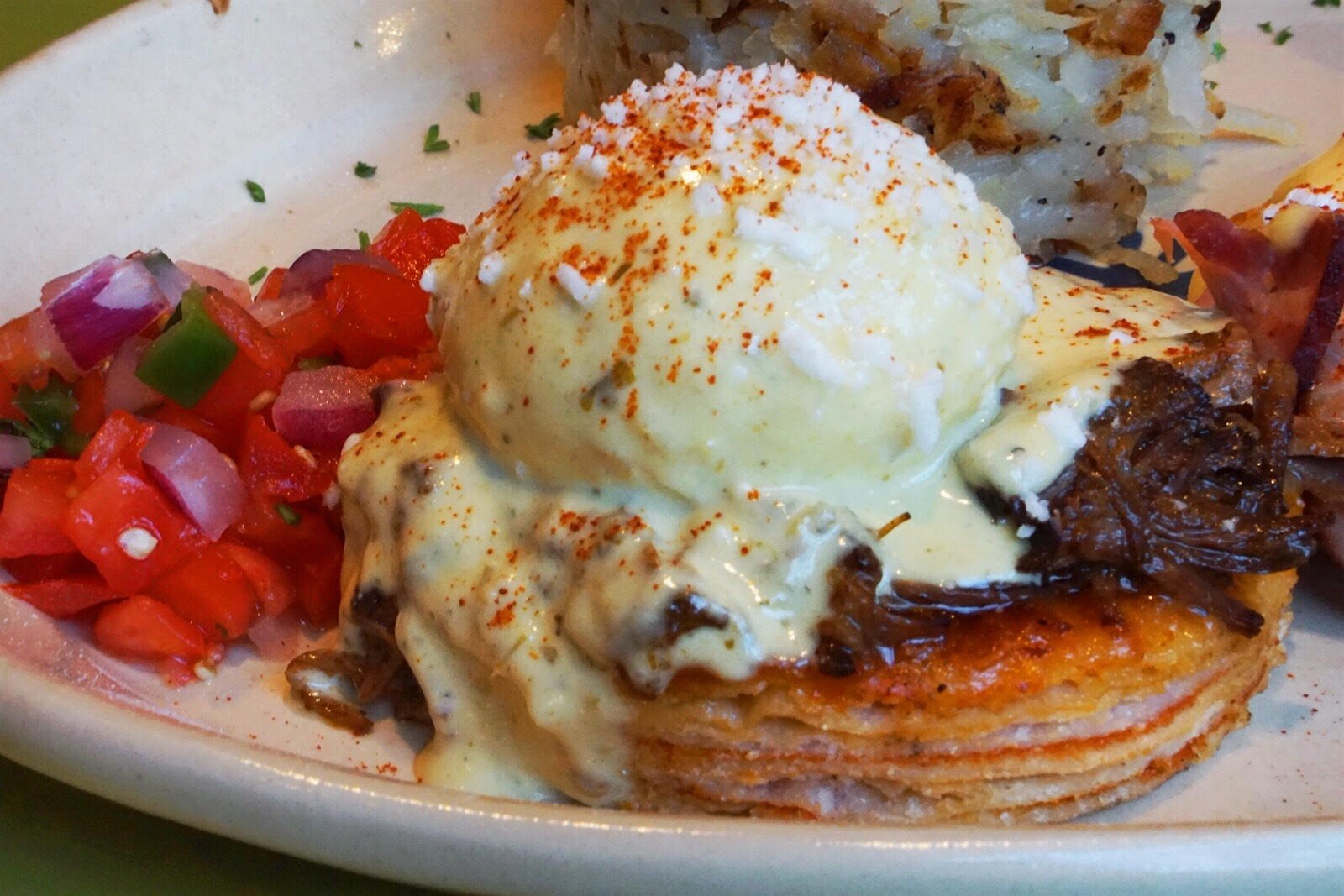 Now if it's something sweet you're craving then you are going to be one happy camper. There are over 6 different types of pancakes including a pancake of the day. They even have a pancake flight which lets you choose 3 different types. Variety is my spice of life so I, of course, ordered the flight. I chose the pineapple upside down, blueberry danish, and pancake of the day which included chocolate mouse and heath bar. My favorite was the pineapple upside down pancake which had an amazing flavor of brown butter and perfectly caramelized pineapple. I have a very good feeling that you could close your eyes, point to anything on the menu, and it would be delicious.

The Upside-Down Pineapple Pancakes are One of Their Most Popular Items
Finally, whatever you do, don't miss out on their amazing Bloody Mary's. Choose from the most noteworthy creations like Boss Hog which features a bacon-infused bourbon or get even more daring and try The Bangkok with sriracha, lime, cilantro, basil, and a dash of fish sauce.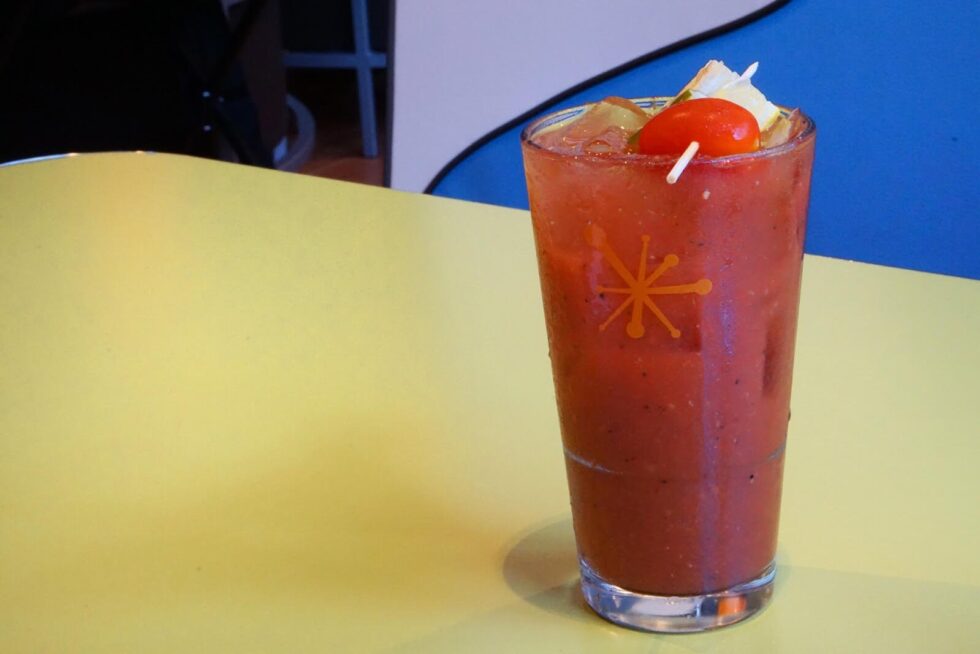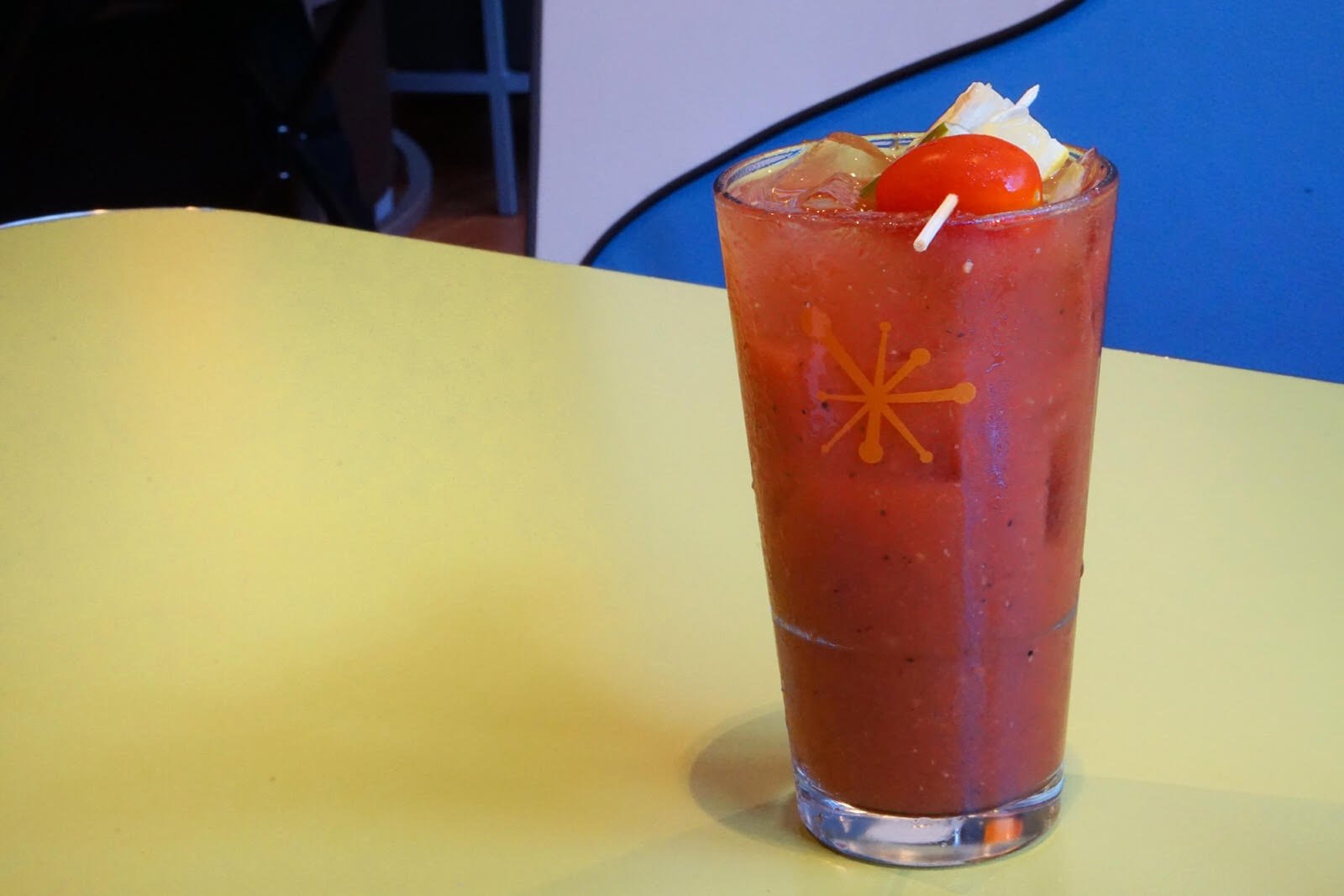 Snooze an A.M. Eatery
5 out of 5 Stars
Irvine Market Place
3032 El Camino Real
Tustin, CA 92782
714.415.6269
Hours: 6:30am-2:30pm