Today is National Donut Day and to celebrate I packed on the pounds to bring you the best donuts in Orange County and Los Angeles. I scoured through the Instagram feeds and even asked around on the Yelp threads. The majority agreed that while an outrageously decorated donut (doughnut) might be cool, it all still comes down to the taste. I selected the best donuts based on two categories: originality and flavor.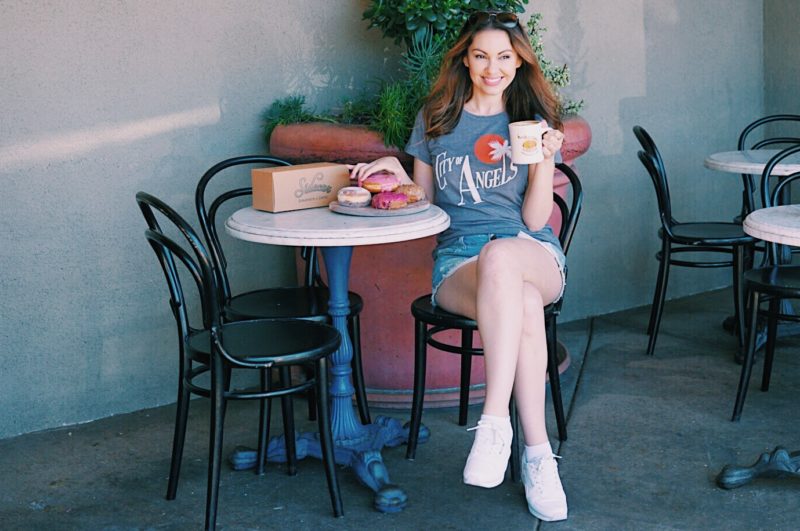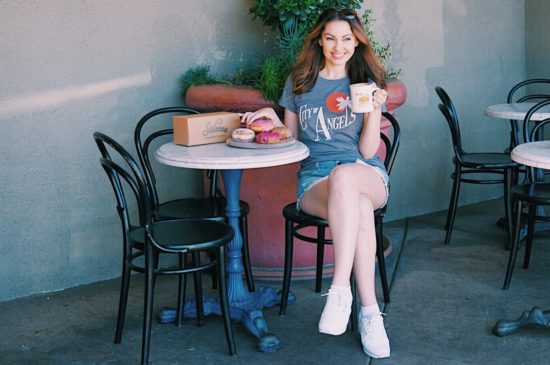 Five pounds later I can say without a doubt, I finally found the perfect donuts. In fact, these are going to blow you away! Not only were these donuts creative and unique, but they were delectably delicious. There was a variety of the denser cake doughnuts as well as the lighter yeast doughnuts. Each variety was fluffy, moist, and even remained fresh a week later when I finally enjoyed my last one. Additionally, these were some of the most original and well thought-out donut combinations I've ever encountered.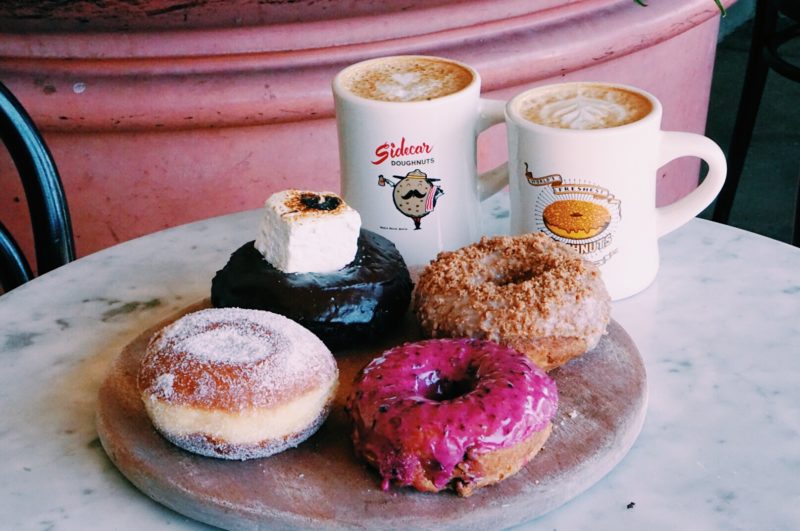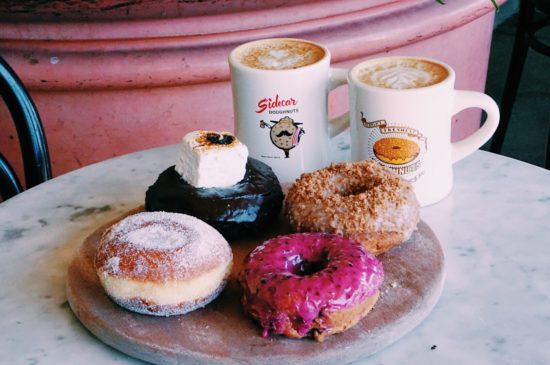 clockwise: Mexican Hot Chocolate, Cinnamon Crumb, Horchata Malasada, Huckleberry
So who won my PrettyFitFoodie seal of approval for the best donuts in Orange County? That would be the insanely scrumptious and one of a kind creations from Sidecar Doughnuts located in both Costa Mesa and Santa Monica. Each month they debut a limited variety of unique and specially curated donuts which are unlike anything you've ever enjoyed before. During my visit, I sampled their Rasberry Elderflower Glaze, Mexican Hot Chocolate, and Horchata Malasada monthly flavors, as well as their two regular flavors Huckleberry and Cinnamon Crumb.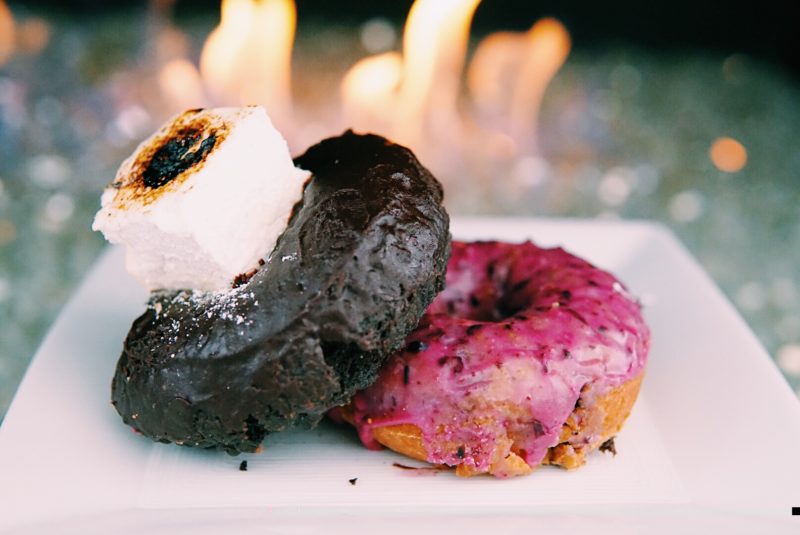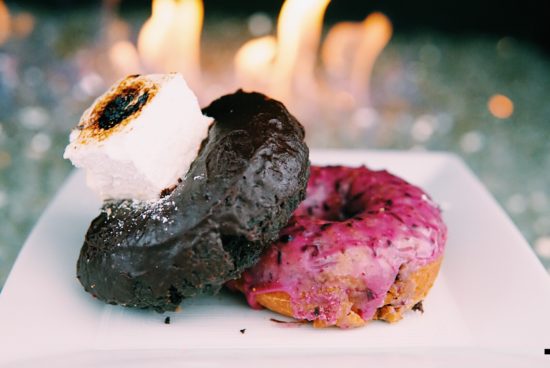 Their specialty flavors were so incredibly distinctive and delicious. I love Elderflower, also known as St. Germain, which also happens to be my favorite liquor to top off my champagne! This was a genius combination of flavors which worked perfectly together. Then there was the Horchata Malasada, perfect for Cinco de Mayo. Imagine a light fluffy churro with a creamy cinnamon filling. My personal favorite was the Mexican Hot Chocolate. I always have a preference for double chocolate cake donuts so believe me when I tell you everything here is amazing. What really made this donut so spectacular was the most subtle hint of spice. It worked so well and added to this explosion of flavor. Truly unique and most of all scrumptious!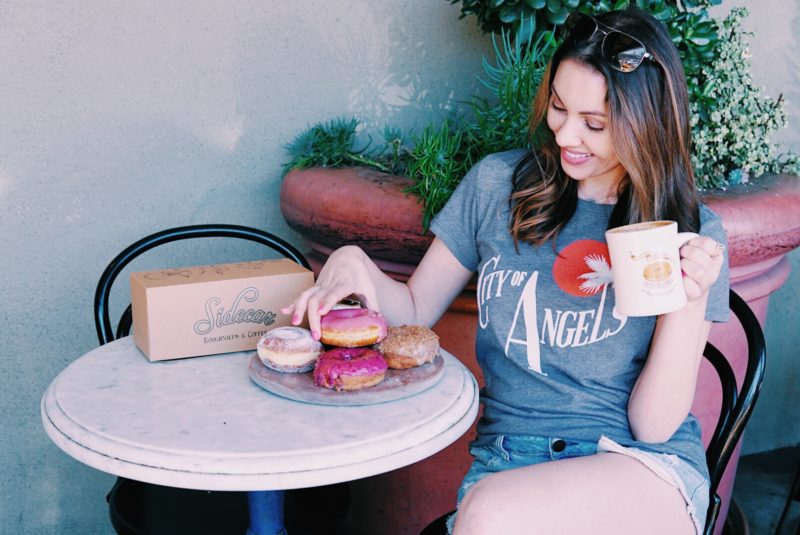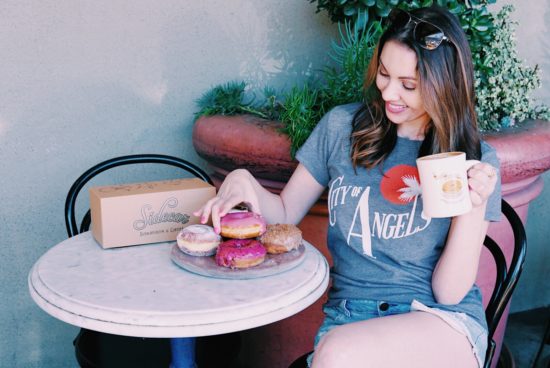 If you haven't been to Sidecar Doughnuts yet, do not delay. These are truly well-crafted gourmet donuts. I mean anyone can throw fruity pebbles on a donut right? At Sidecar Doughnuts, however, you can tell that there was a serious creative process happening in that test kitchen. How do I become a taste tester?
Sidecar Doughnuts
June Flavors
Lemon Pound Cake
Light and fluffy lemon pound cake doughnut, topped with house made fresh lemon glaze.
German Chocolate Cake
Chocolate coconut cake, made with Black Onyx Cocoa and shredded coconut, topped with chocolate ganache glaze, coconut frosting, and toasted coconut.
Blueberry Cheesecake
Chocolate coconut cake, made with Black Onyx Cocoa and shredded coconut, topped with chocolate ganache glaze, coconut frosting, and toasted coconut.
Barley Forget Stout & Pretzel
This one's for the dads! Raised and topped with a stout beer glaze, made with a local stout from Costa Mesa's own Barley Forge Brewing Co., and topped with crumbled pretzels. Happy Father's Day!
They also prepare their donuts(doughnuts) fresh throughout the day which is evident in each bite.