Posts may contain affiliate links. Read our full disclosure policy here.
Our best new restaurant in Orange County for 2022 is the impeccable Bottega Angelina in Laguna Niguel. Diners will be mesmerized by their exceptional Italian cuisine, sophisticated decor, charming Mercato (market), and indulgent pastries. Bottega Angelina is more than just a restaurant, it is an experience.
As Bottega Angelina likes to say, this is the best place to "sit, sip, and savor the Italian way"!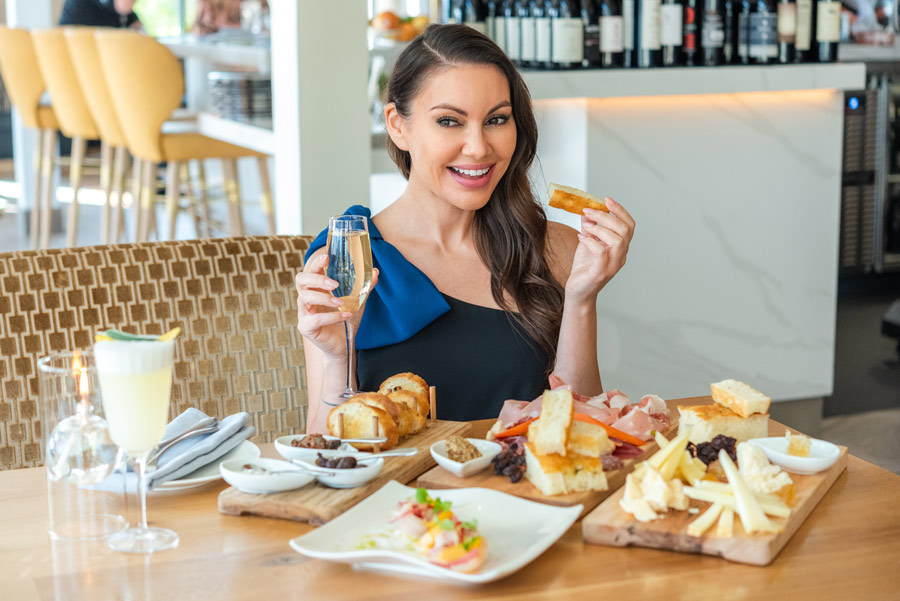 Bottega Angelina features a unique Marcato with a Salumarie, gifts, gelato, and pastries.
As you enter the restaurant you will immediately walk through their unique Mercato (market) offering unique items imported straight from Italy. To the left is a Salumerie deli-style area where guests can bring home fresh imported meats, cheeses, and handmade pastas. Then to the right, there are a selection of fresh gelatos and the most amazing variety of pastries. It is impossible to just simply have dinner at Bottega Angelina and not spend time looking through their unique imported gifts or bring home a box of pastries.
Bottega Angelina is incredibly expansive with a beautiful dining area in front of their gorgeous pizza oven and a wrap-around patio complete with ocean views.
The Sage Gin Fizz Cocktail
To begin our dining experience we first ordered one of their many gorgeous cocktails at the bar top. The Sage Gin Fizz is made with gin, lemon juice, egg whites, and sage simple syrup. It is then topped with a sprig of sage and lemon peel.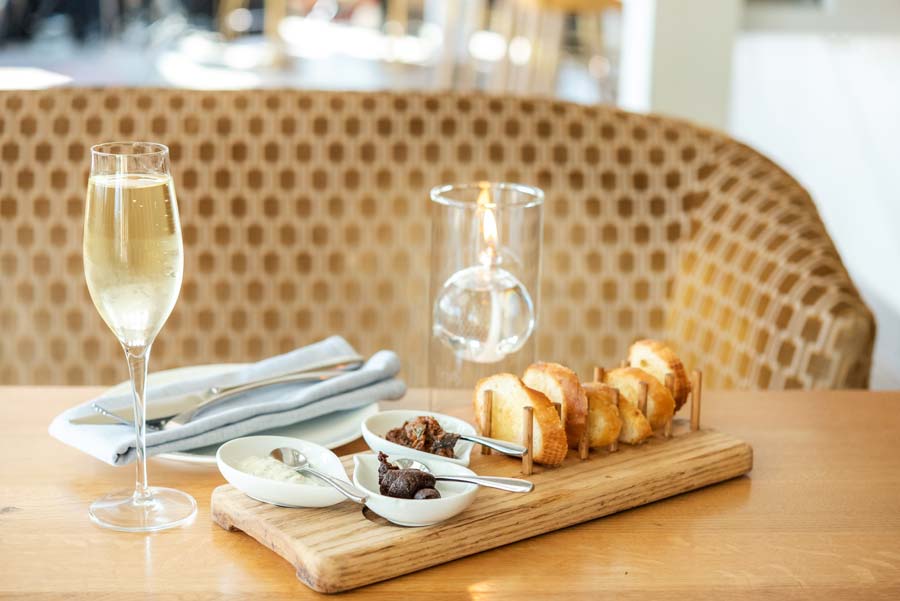 Complimentary Amuse Bouche
As we enjoyed our cocktails, we were surprised with a complementary Amuse-Bouche that is served at every table. This unique greeting arrived on a wooden board with crisp, buttery crostinis next to a goat herb, balsamic fig, and eggplant caponata spread. I especially enjoyed the herbed goat cheese.
Vibrant Crudo di Hamachi
For appetizers, we started with the popular and vibrant Crudo di Hamachi which featured sashimi-grade Yellowtail, buttermilk-limoncello vinaigrette, pickled Calabrian chili, and seasonal citrus. The hamachi was a light and refreshing way to begin our evening.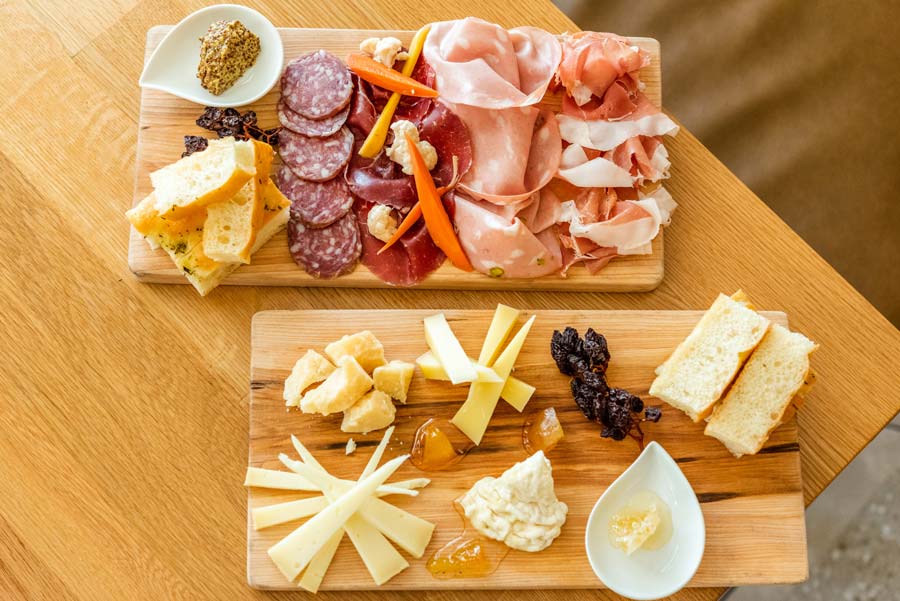 The Formaggi Misti & Affettati Misti
Next, the table shared the Chef Selection of 4 Formaggi Misti cheese plate and the Chef Selection of 4 Affettati Misti cured meats plate. The cheese board came with Parmigiano Reggiano, Caciocavallo, Percordino Moliterno, and a very unique soft cheese called La tur. The meat board consisted of Prosciutto Crudo Parma, Bresaola Punta D'Anca, Mortadella Con Pistacchio, and Coppa. Both Chef Selection mixed boards came with Bottega Angelina's soft house-made Focaccia sprinkled with fresh herbs. The most wonderful part about trying both the meat and cheese boards is the ability to bring back a selection of your favorites from the Salumerie located at the Mercato.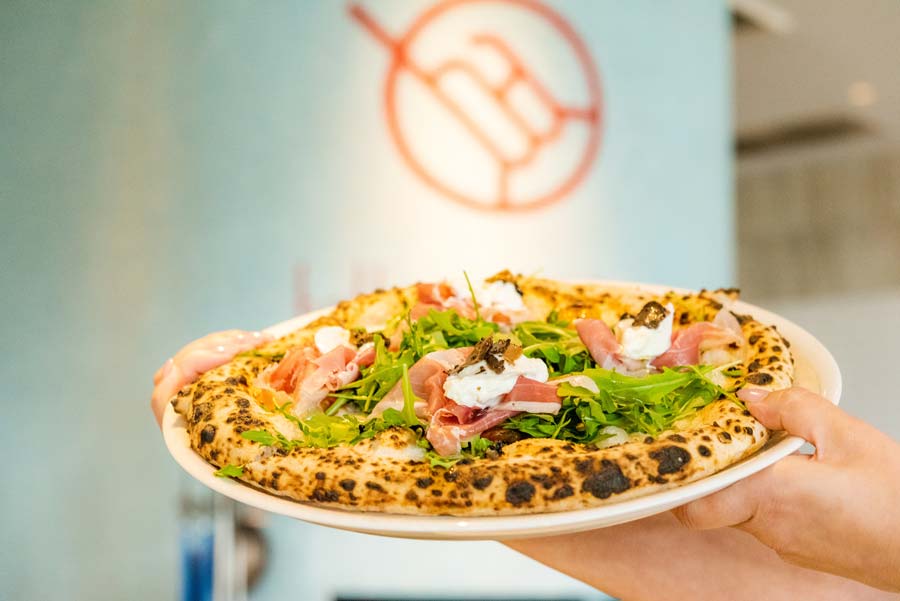 Bottega Angelina's fresh pizzas with ingredients imported from Italy
A visit to Bottega Angelina would not be complete without ordering a fresh pizza. You can even watch it being made at their pizza bar. All of the ingredients for their pizzas are imported from Italy to give a truly authentic experience. We decided to order their classic Burrata Tartufata which is a white pizza with Mozzarella di bufala, basil, cherry tomatoes, arugula, prosciutto di Parma, burrata, and truffles.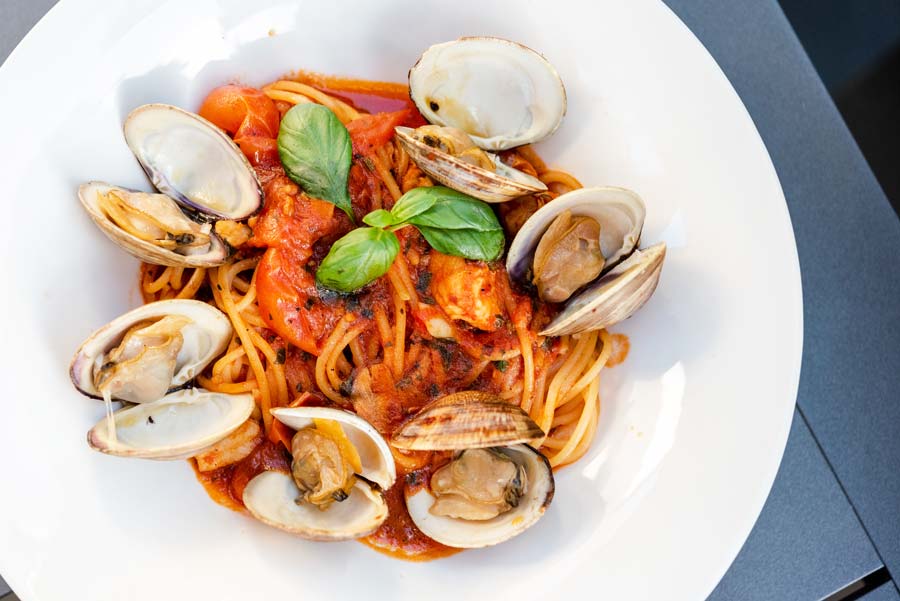 Spaghettoni Alle Vongole e Gamberi
For entrees, we started with the Spaghettoni Alle Vongole e Gamberi so we could enjoy their fresh in-house pasta. The Spaghettoni Alle Vongole e Gamberi is served with Rummo spaghetti, clams, shrimp, white wine, cherry tomatoes, and chili flakes. The pasta arrived perfectly al dente with an abundant amount of fresh seafood and just a hint of spice.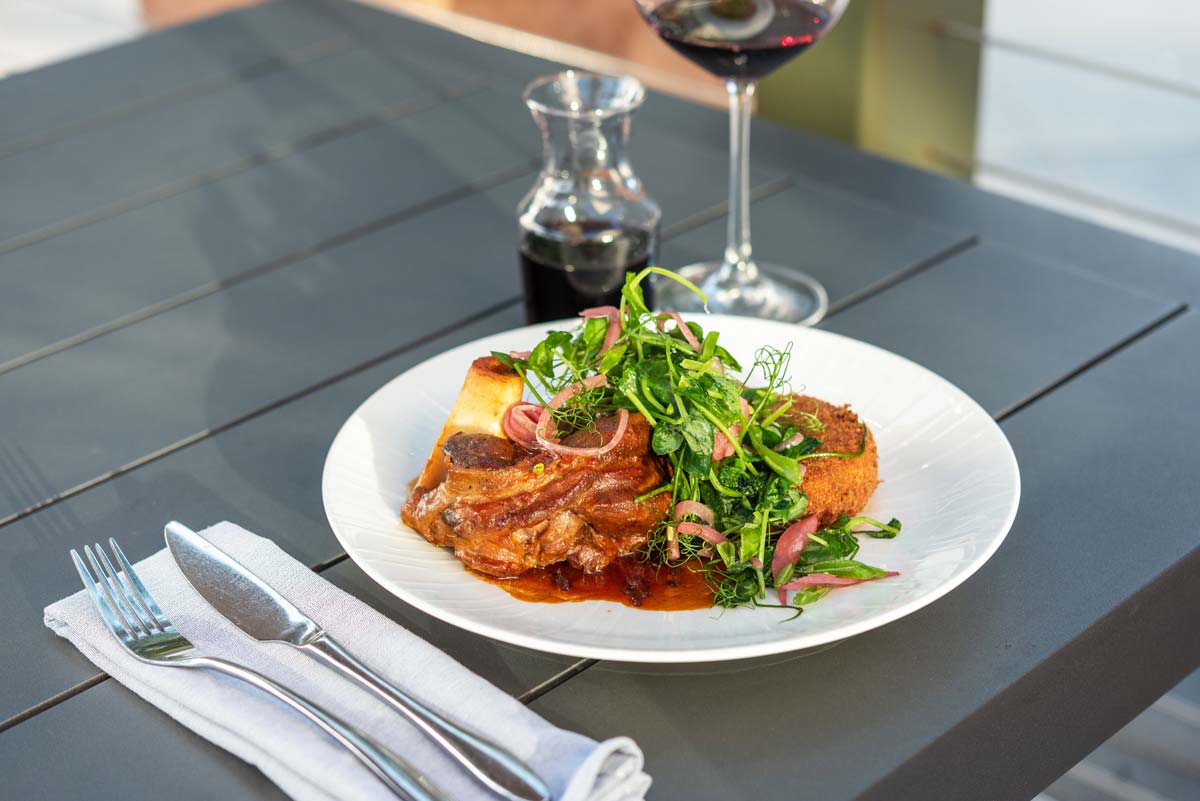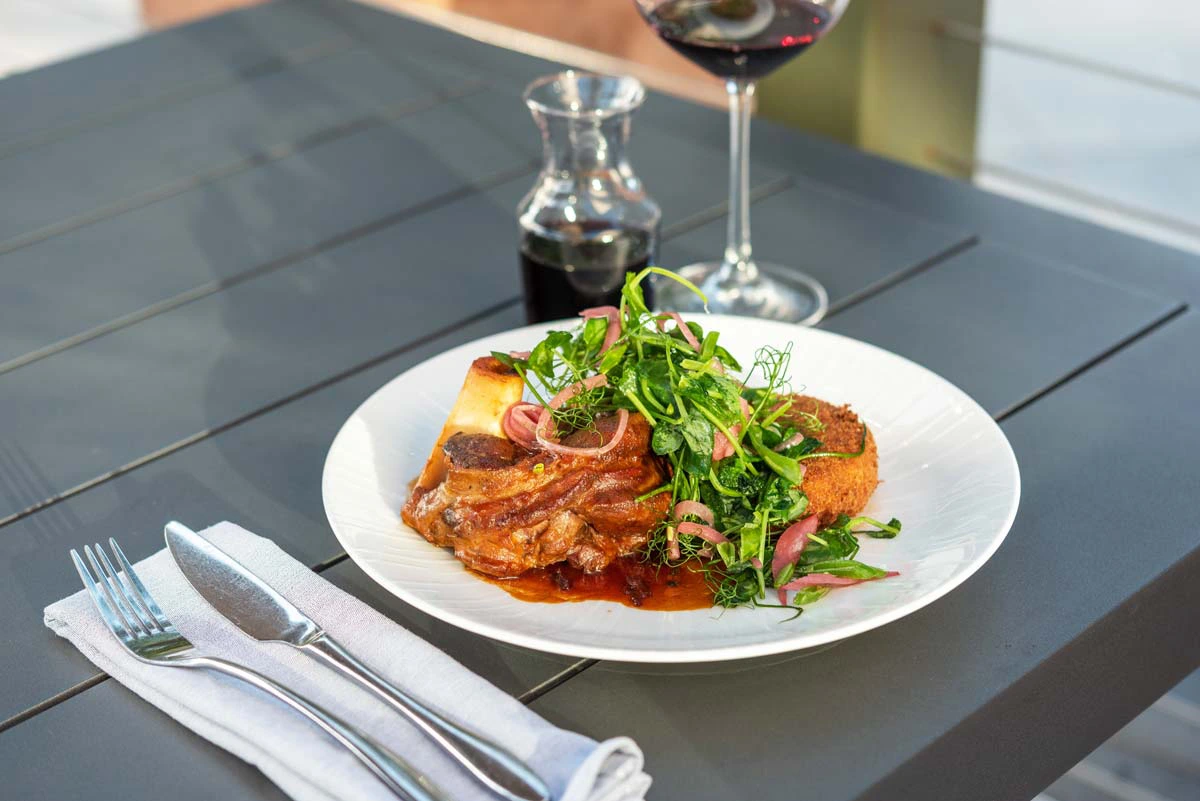 Garretto D'Agnello (Lamb Osso Bucco)
One of my personal favorite entrees currently being featured on the menu is the Garretto D'Agnello lamb osso buco with spring vegetable salad, crispy aged goat cheese polenta, roasted garlic, and a savory jus. The lamb was fall off the bone tender and paired perfectly with the crisp goat cheese polenta. Bottega Angelina nailed this classic flavorful dish.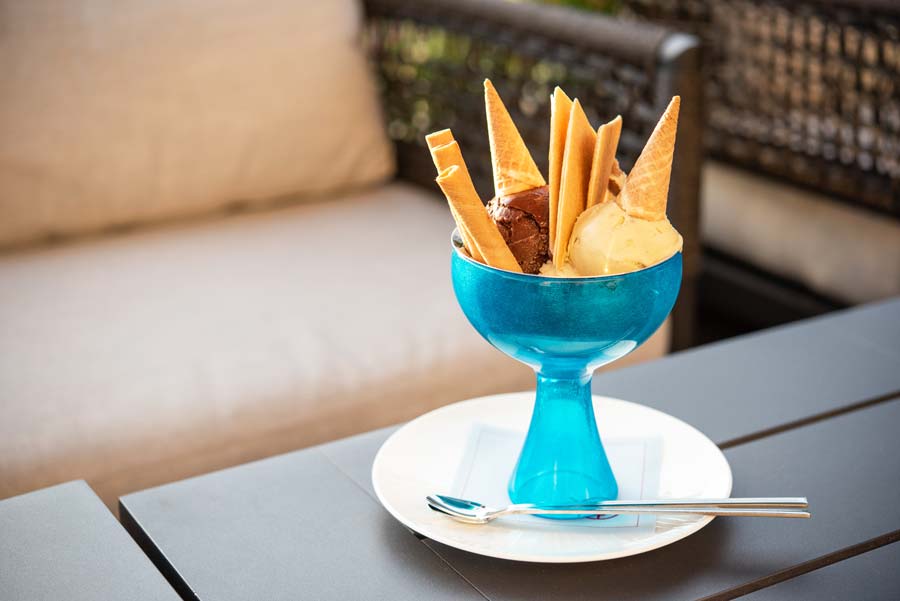 Housemade Gelato's with Pirouettes
For dessert, we enjoyed their housemade Gelati e Sorbetti from the menu. This trio of vanilla, chocolate, and pistachio gelato was complimented by an assortment of Pirouettes and waffle cone cookies. Guests can also visit the Mercato and enjoy an expanded selection of various gelatos and sorbets.
Various fresh parties and chocolate truffles
Finally, we could not resist bringing home a box of their fresh pastries and chocolates. We selected the crostata alla frutta, maritozzi Alla Panna, Tairamisu, and a variety of truffles and puffs.
The moment I dined at Bottega Angelina I knew they were the perfect choice as our best restaurant in Orange County 2022 winner.

Bottega Angelina
Laguna Nigel at 32441 Golden Lantern
Saturday-Thursday at 11:30am-9pm
Friday and Saturday only 11:30am-10pm
Reservations at Bottega Angelina can be made on their website or by phone at (949) 542-8220.
Enjoy More New Orange County Restaurants