The Holland America Canaletto specialty restaurant offers cruisers exceptional fine dining Italian cuisine. During our 7-day cruise, we loved Canaletto restaurant so much, that we visited it twice. Here is their new menu, photos of everything we ordered, and my full review.
About Canaletto Holland America
Canaletto is Holland America's signature Italian specialty restaurant and is available on most of their ships. They offer a full menu of Italian classics as well as daily specials. Pasta is made fresh daily and they also have seafood options like Branzino, as well as land options like grilled lamb chops.
Canaletto Specialty Restaurant Price
Most cruises have a selection of specialty restaurants cruisers can dine at for an additional fee. While the main dining room on Holland America is terrific, I highly recommend splurging on the specialty restaurants. Dinner at Canaletto restaurant is an additional $25. If you have the "Have It All" package, cruisers can also choose Canaletto as one of their complimentary dining options.
Should You Choose Canaletto or Pinnacle Grill?
During our 7-day cruise, we dined at both Pinnacle Grill and Canaletto Restaurant. We loved Canaletto so much that we decided to enjoy dinner there twice. Based on our own experience, we would choose Canaletto for dinner and enjoy Pinnacle Grill for lunch. Be sure to also read our full Pinnacle Grill Review.
Canaletto Restaurant Menu
The Canaletto Holland America menu offers a wide variety of options including seafood dishes like Branzino, freshly made pasta, Italian classics like lasagna, and land options including steak and lamb. I especially enjoyed their selection of appetizers and the beef carpaccio was exceptional. The additional price of $25 feels like a bargain once you experience the quality of the cuisine.
Below are photos of the Canaletto Holland America Menu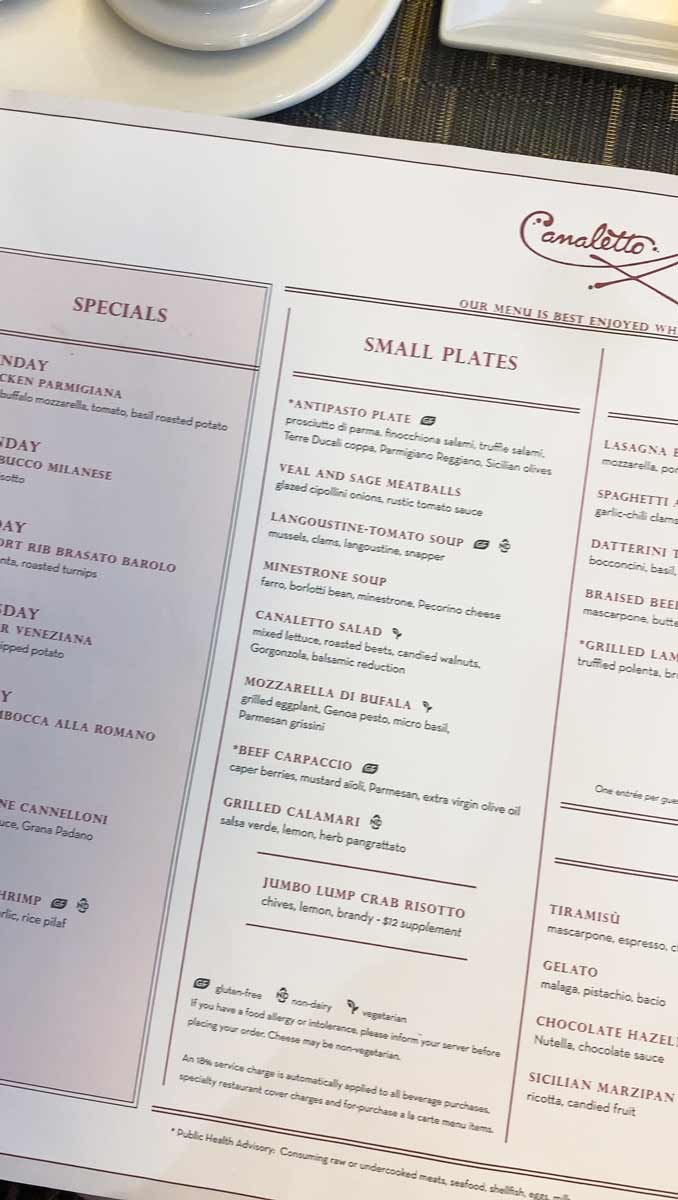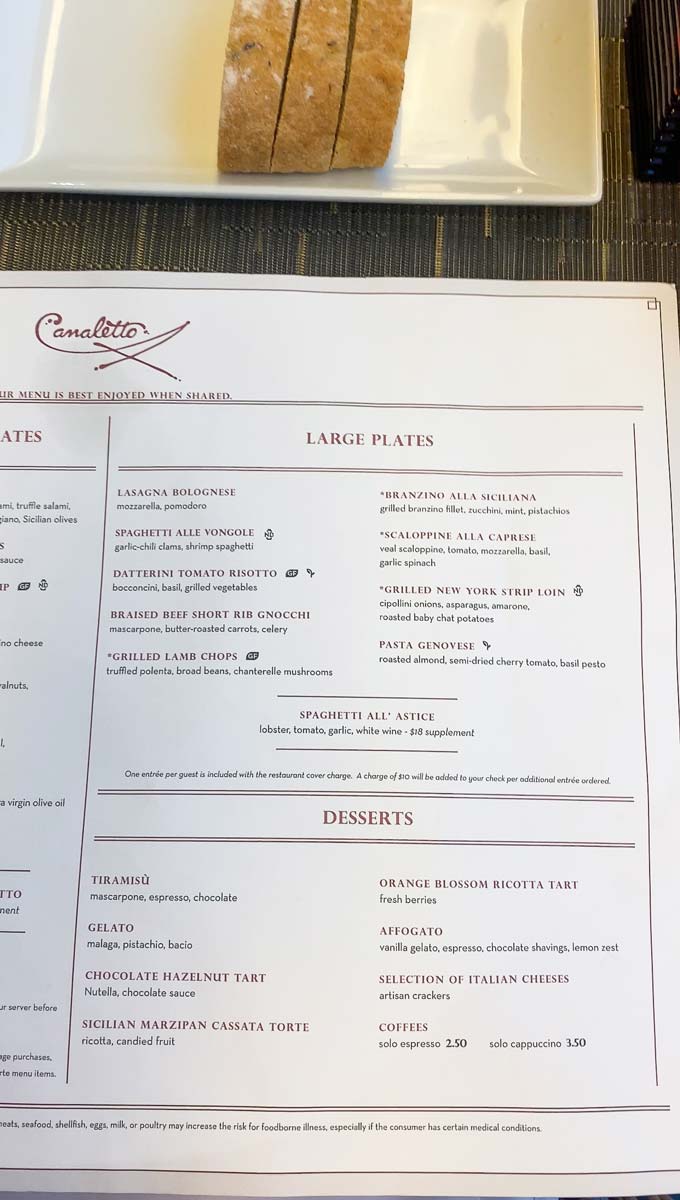 Our Canaletto Holland America Dining Experience
We absolutely loved our dining experience at Canaletto. We dined there twice and even paid for our in-laws to enjoy a nice dinner there as well. Here are pictures and my review of everything we ate beginning with their small plates.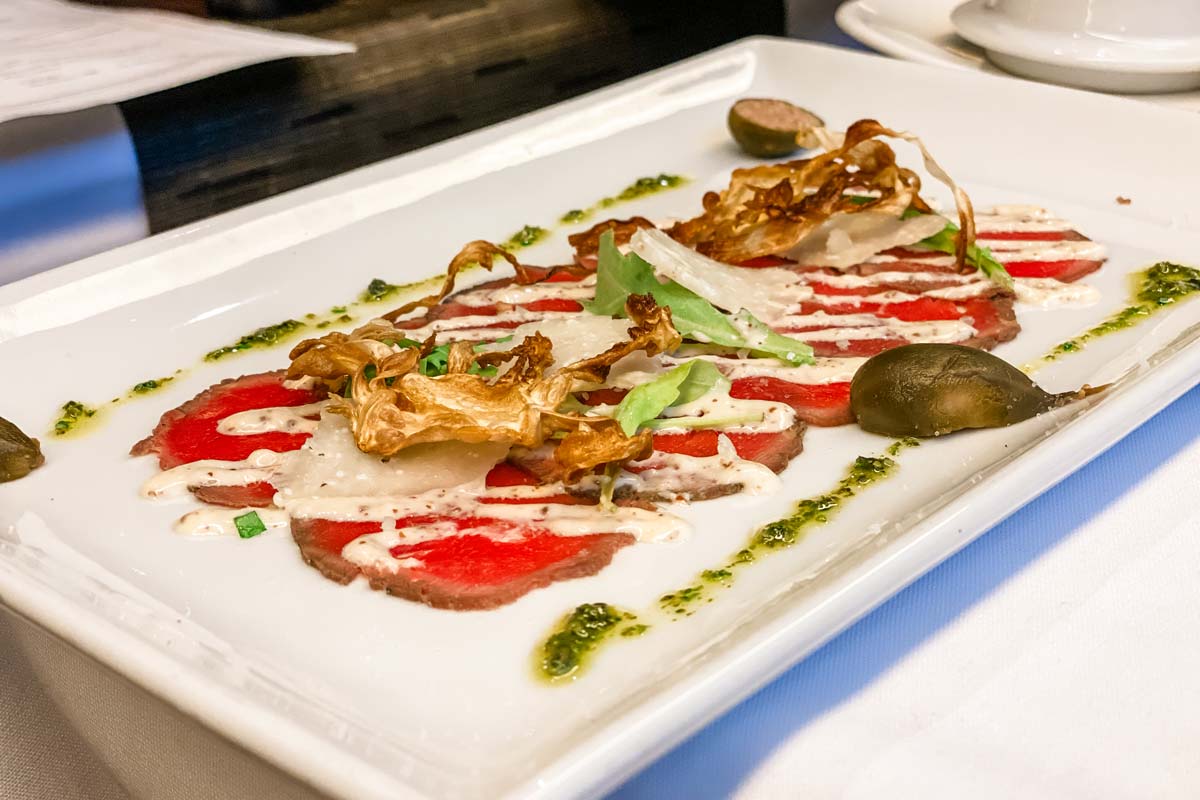 Beef Carpaccio
First, we both ordered the beef carpaccio which happens to be a favorite of mine. It is served with caper berries which I very rarely see used in restaurants, but they are fantastic. We actually keep a jar of caper berries at home and I use them on all my charcuterie boards. The Beef Carpaccio at Canaletto was impeccable and we ordered it again on our second visit.
Pro-tip: At Canaletto, you are able to order more than one small plate without an additional charge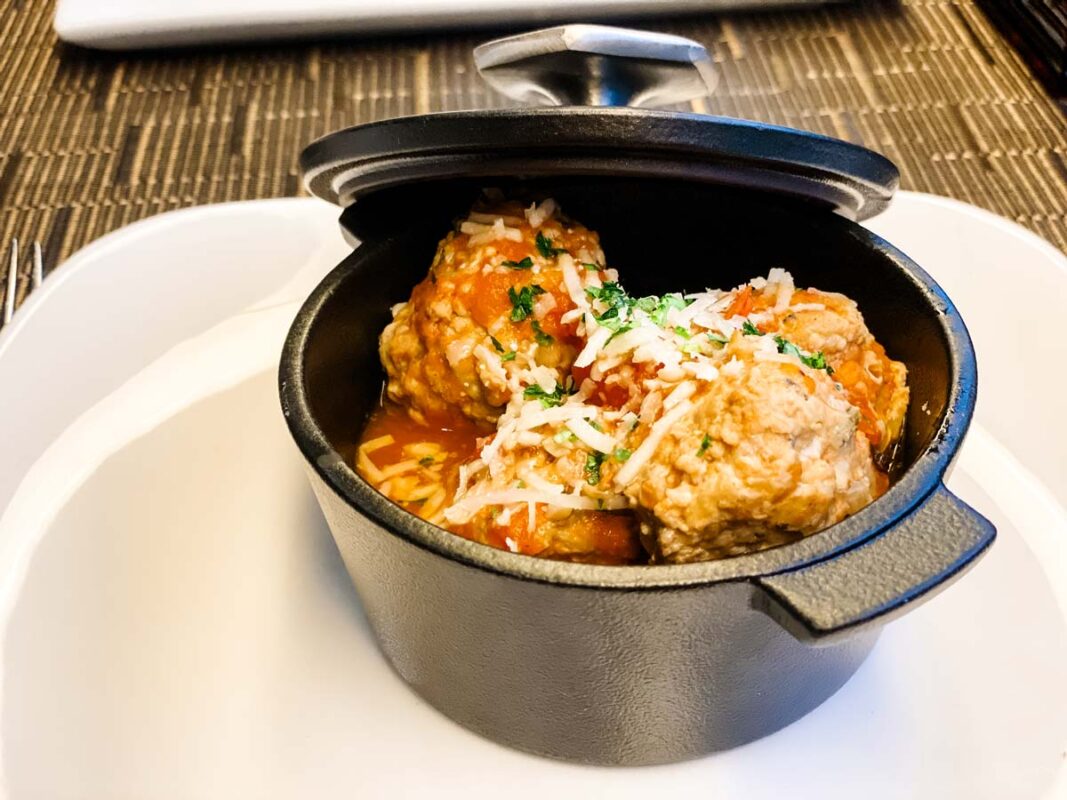 Veal Meatballs
Next, I ordered the Veal Meatballs for us to share. The meatballs were tasty, but I have to admit, I am very picky about meatballs and the meatballs I make at home are better. Here is my beef meatball recipe which is from my Aunt Annie who grew up in Italy. I have not had many meatballs that are as delicious, moist, and tender as my own.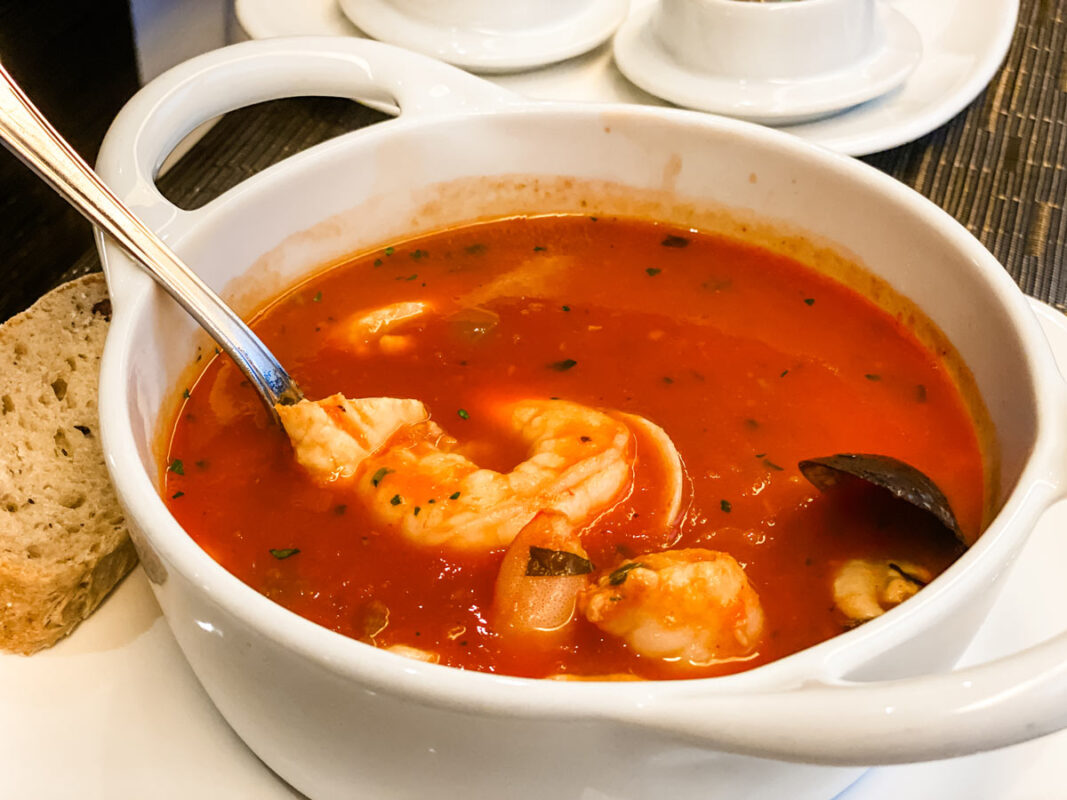 Langoustine-Tomato Soup
When I saw Langoutine on the menu, I was incredibly excited. I love Languostine, which are also known as crawfish. I don't see crawfish very often on menu's so I knew I had to try this soup. Unfortunately, when it arrived, it had shrimp and no langoustine. To be fair, I doubt most people know what langoustines are and the soup was very tasty but it was more of a Ciopino and I am not a huge fan of shrimp.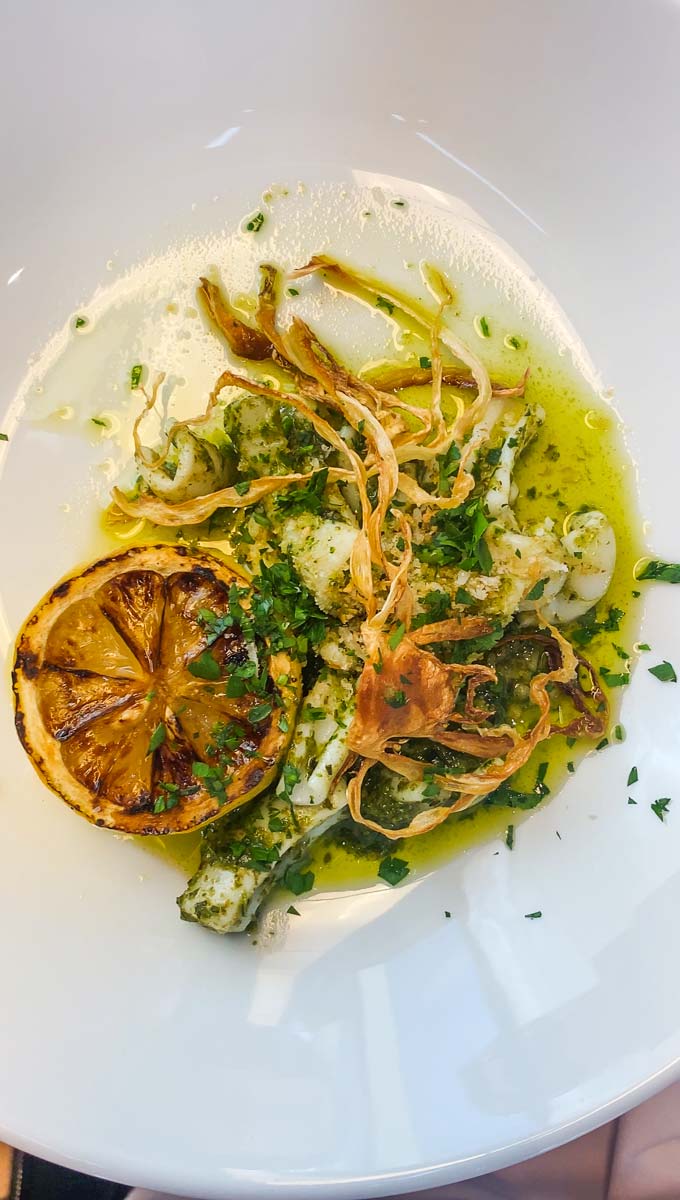 Grilled Calamari
Finally, on my second visit, I decided to try the grilled calamari. I much prefer grilled calamari over fried, but this dish may not be for everyone. However, if you've have had grilled calamari and enjoyed it, then you will not be disappointed.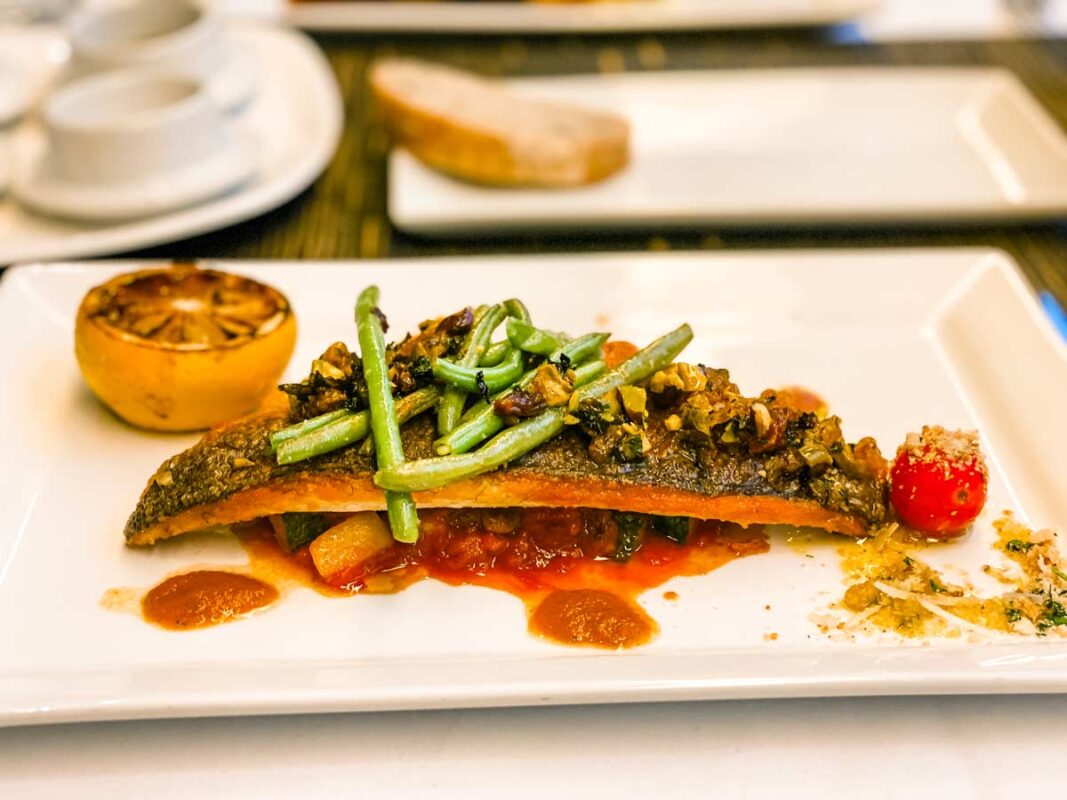 Branzino Alla Siciliana
For entrees, I first tried the pan-seared Branzino on our first visit and it did not disappoint. It was perfectly seared with crispy skin and delicate moist flaky fish. The Branzino featured diced zucchini, mint, and pistachio. The flavors all worked together nicely and it was my favorite meal during the entire cruise.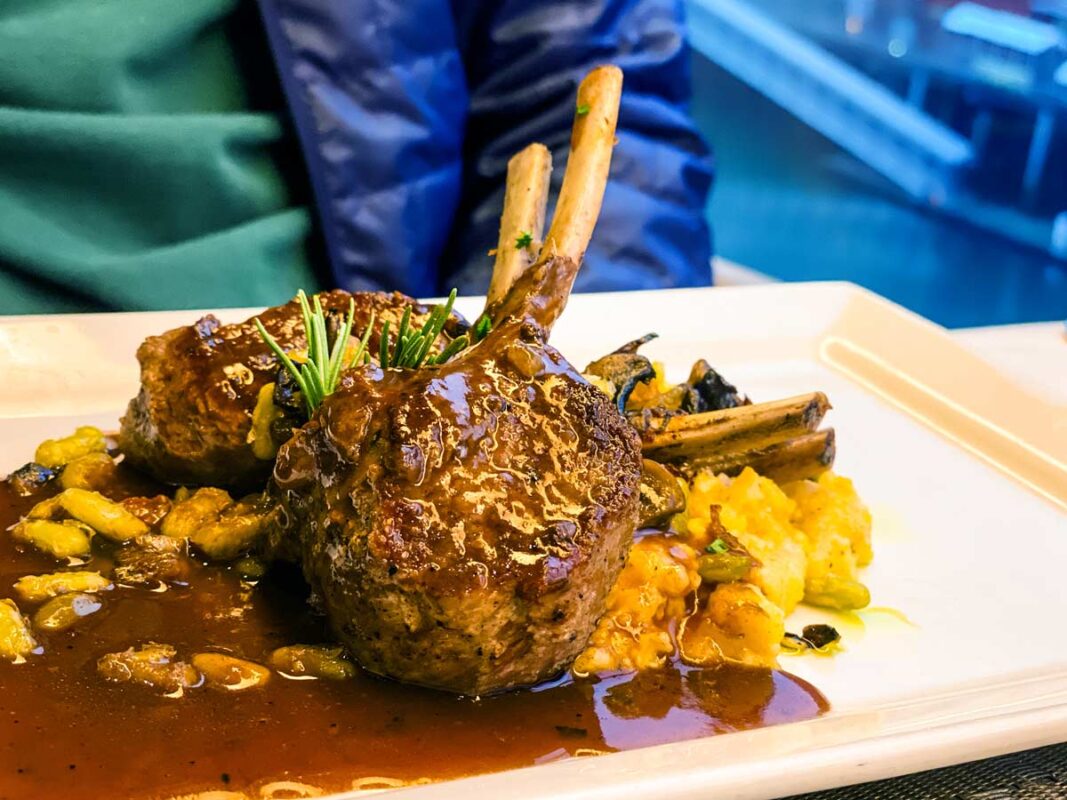 Grilled Lamp Chops
My fiance decided to enjoy the Grilled Lamb Chops and on our second visit, I chose this as my entree as well. The lamb chops were cooked perfectly and served over a bed of truffle risotto. A mote of reduction surrounded the plate and perfectly accented each slice of lamb. We both agreed this dish was wonderful and my fiance ordered it a second time on our second visit.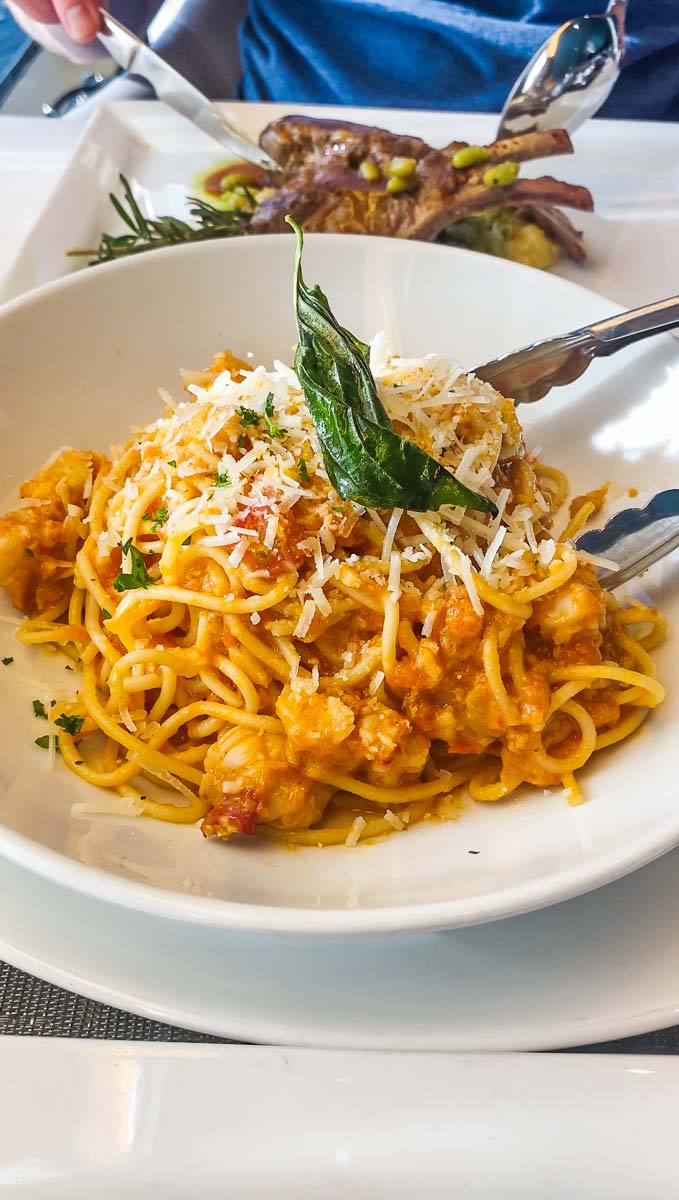 Spaghetti All' Alstice
For our second visit, I really wanted to try their homemade pasta so I decided to also try the Lobster pasta. This dish was an additional $18 which was a bit much, but the pasta was absolutely delicious. I'll admit, it did not look like it would taste as fantastic as it did, but I could not stop eating it. I would absolutely get this again.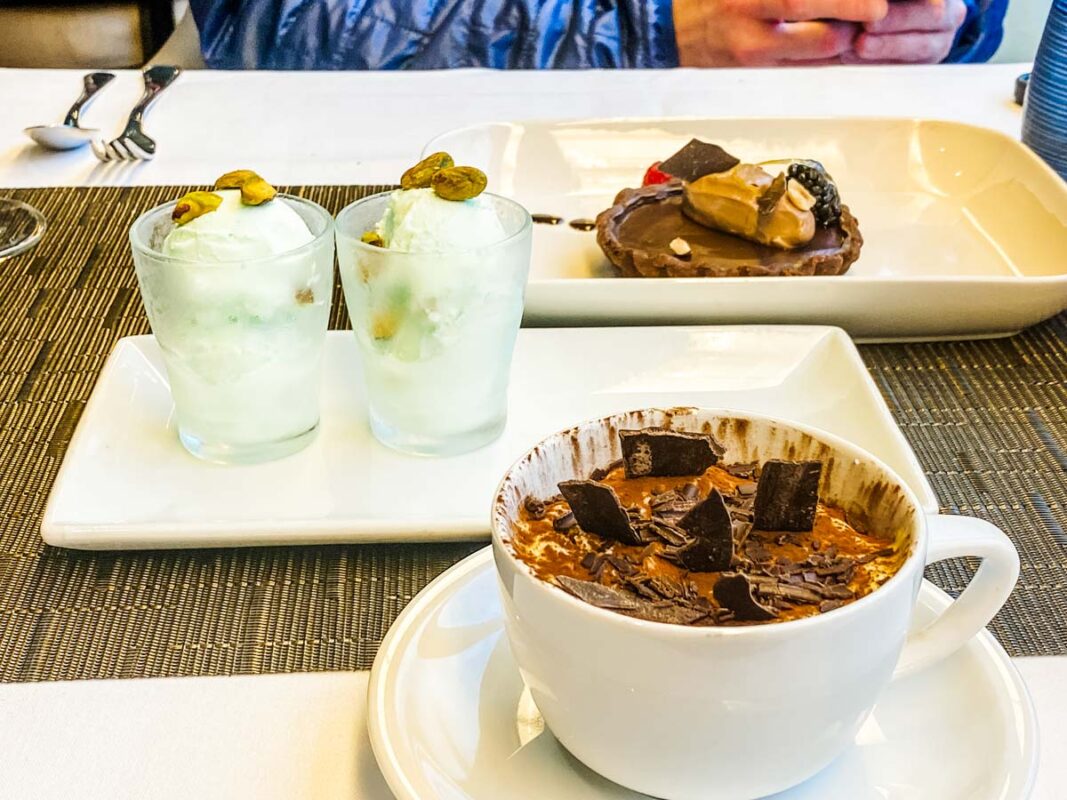 Dessert
We tried several desserts on the Canaletto Holland America menu including the tiramisu, pistachio ice cream, chocolate hazelnut tart, and orange blossom tart. We both agreed, however, that the clear winner was definitely the Chocolate Hazelnut Tart. It was not as rich and heavy as I thought it would be. It was the perfect balance of flavors and I especially loved the chocolate tart crust.
The Dining Experience
Since Canaletto is smaller, they do not take as many dining reservations but it is a much more intimate experience. The Staff are all incredibly attentive. The Pinnacle restaurant seemed overbooked and you could tell the food suffered and the staff felt overwhelmed. Canaletto was the opposite and felt much more relaxed where the staff could be more attentive and the cuisine was perfectly executed. By our second visit, we knew all of the staff by name.
Canaletto Restaurant Location
My final thoughts on Canaletto are its location. We dined on the Westerdam and on most Holland America ships the Canaletto restaurant is located in a sectioned-off area of the Lido Deck where the buffet is located. This is a huge disservice to Canaletto and makes the restaurant feel like it may not be as amazing as it actually is. The Canaletto Holland America restaurant deserves its own location on the ship away from the lido deck buffet. That is really my only complaint.
Discover More Travel Articles