I have a future mother-in-law who loves a naughty southern style brunch. She recently introduced me to Jimmy's Famous Tavern. My initial instinct was to stay away from the fried chicken, but as they say "when in Rome." Luckily I didn't hesitate to order "The Bubba" which is their fried chicken with applewood smoked bacon, sunny side up egg, homemade biscuits and sausage gravy. Needless to say, that was a great decision. Their fried chicken is out of this world. Perfectly crispy, light and fluffy, tender and juicy. In other words, it was perfection.
Then there was the Buttermilk Fried Chicken and Malted Ale Waffles. Let me tell you, Roscoe's has nothing on these chicken and waffles. If it's dinner you are craving, then you will definitely want to try their buttermilk fried chicken dinner served with garlic mashed potatoes, thyme gravy, and green beans.
A Bloody Mary topped with a jalapeno deviled egg? Yes Please!
As if that wasn't enough to get your taste buds jumping, Jimmy's Famous Tavern has the best bloody mary I've had in all of Orange County. So far nothing even comes close. Each bloody mary comes with a stick of celery, blue cheese stuffed olive, chilled shrimp, a crispy strip of bacon, pepperoni, jack cheese, pepperoncini, and a jalapeno deviled egg. There's a reason it's called "The Meal Mary" and it is every bit as delicious as it sounds.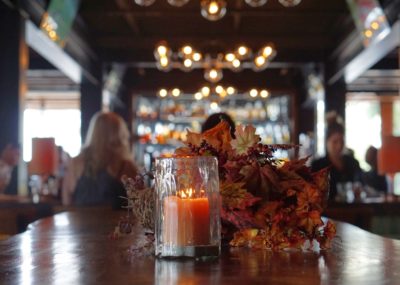 Jimmy's Famous Tavern (J-Fat) has several locations in Southern California including their newest location in Brea. Their brunch was so good I'll be heading back to the new Brea location for dinner soon. Stay tuned!
Jimmy's Famous Tavern
Dana Point Harbor
25001 Dana Point Harbor Drive, Dana Point
949-388-8900
Other locations in Point Loma, Santa Monica, Westfield Topanga, and Brea *new