Justin Winery in Paso Robles is the furthest vineyard we visited from town and was worth every mile. Not only is Justins' wine incredible, but they also boast a Michelin-starred restaurant and a chocolate & wine pairing with the most beautiful hand-painted gourmet chocolates.
A lunch at Justin Vineyards is the perfect way to spend your wine-country afternoon, enjoying exceptional cuisine surrounded by lush vineyards in the country scape.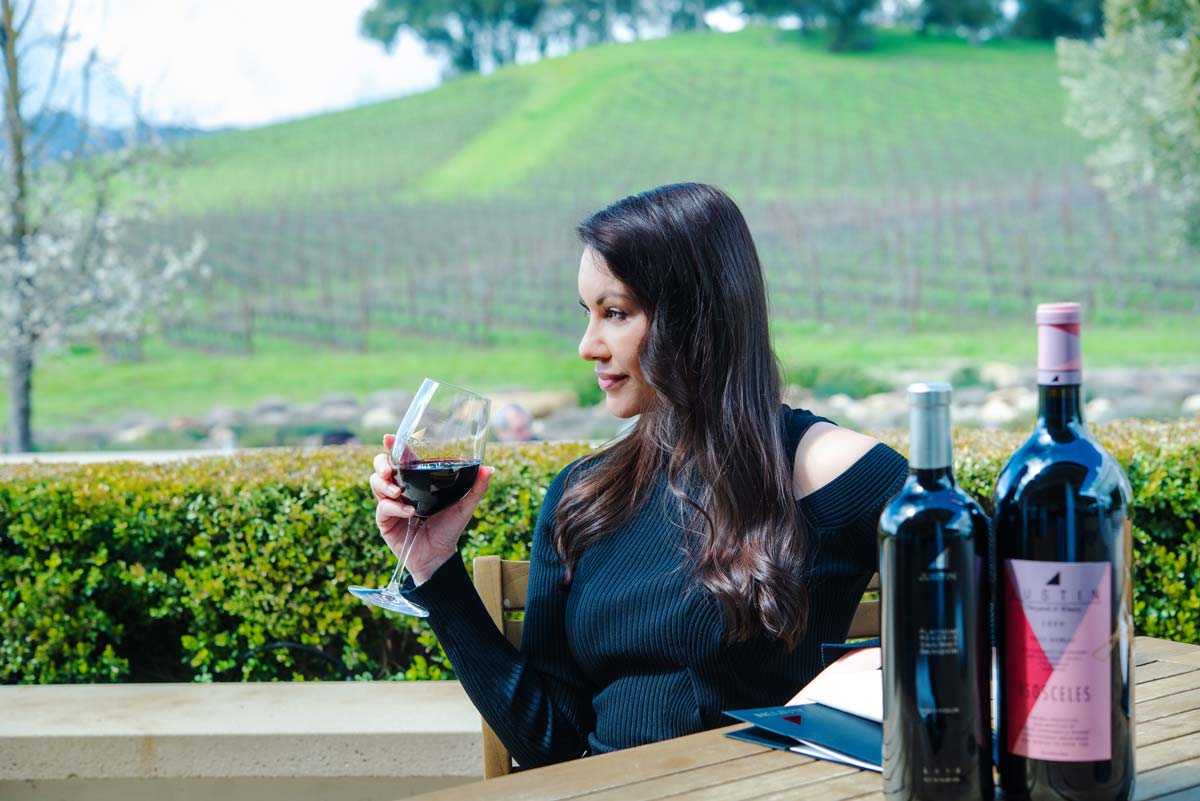 About Justin Winery in Paso Robles
Justin Vineyards are where the founder, Justin Baldwin, planted his first vines in 1981. Today the estate boasts some of the best varietals in California with their signature Iscoceles Blend putting Paso Robles on the map as one of the most incredible wine countries in the state. Today, Justin Winery in Paso Robles is home to a beautiful tasting room, a Michelin-starred restaurant, and world-class on property accommodations.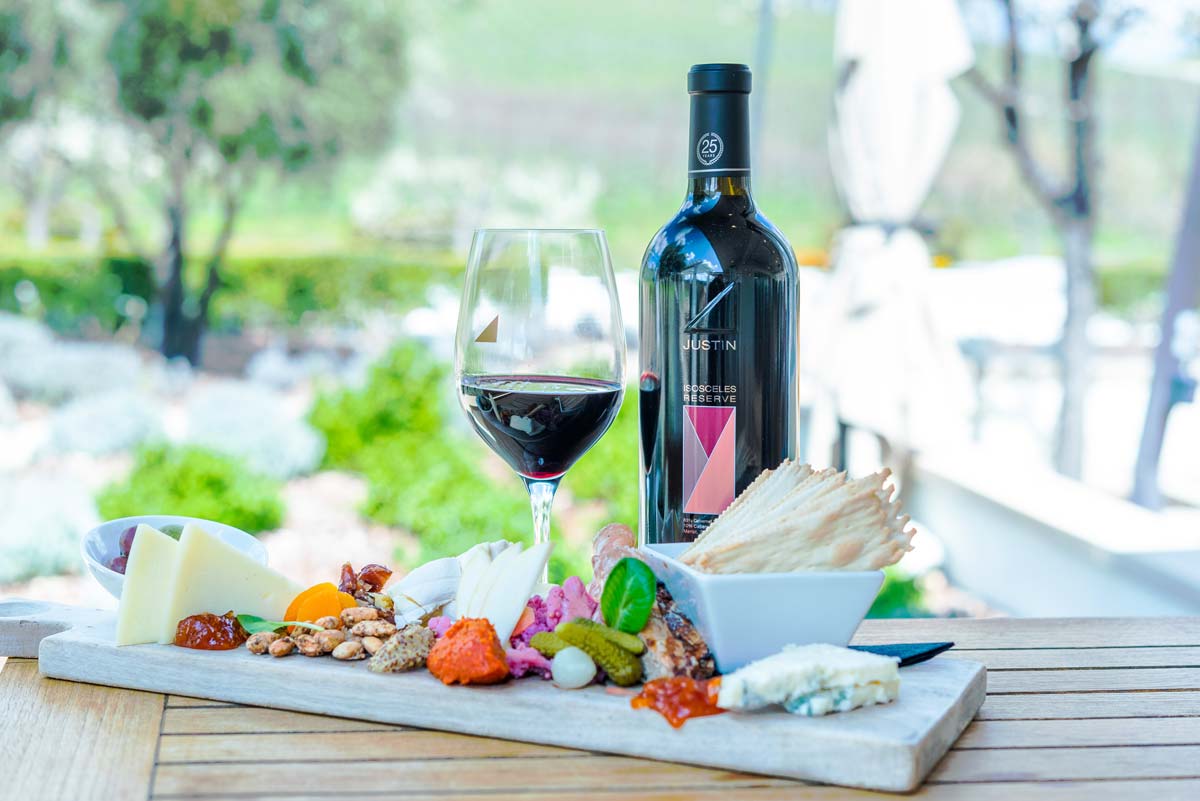 Cheese & Charcuterie Board
For lunch, we began our visit with the most epic Cheese & Charcuterie Board adorned with local cheese curated by Shooting Star Creamery paired with cured meats from Alle Pia. The board arrived with an array of pickled vegetables, salted crackers, spiced almonds, mixed olives, and dried fruit. The meat and cheese selections included an impressive display of rock blue cheese with a blood orange marmalade, Ewenique sheep's cheese with tomato jam, and a Formage D'Affinois triple cream.
The meats included an Alle Pia salami, Andouille sausage with tomato dip, and a chicken liver pate. The Andouille sausage tomato dip is quite popular in Paso Robles and makes for a delicious spread over crackers and fresh baked bread.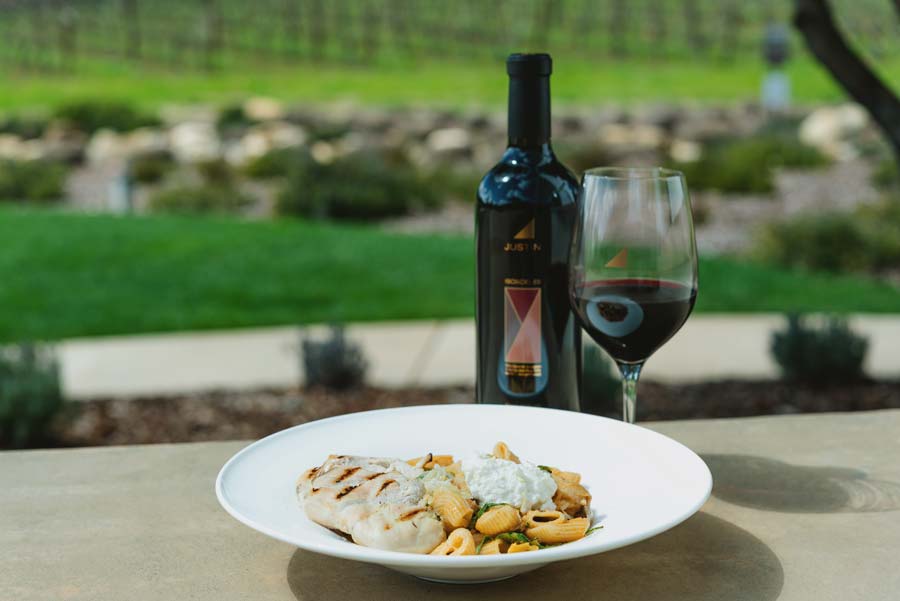 Homemade Garden Pasta
After enjoying our meticulous cheese and charcuterie board we shared their Homemade Pasta with leeks, braised greens, farmer Frank's mushrooms, N'Duja, and lemon ricotta with grilled chicken. The dish was light, refreshing, and perfectly seasoned.
This generous lunch could easily be shared by two, but it's also so good you may not want to share.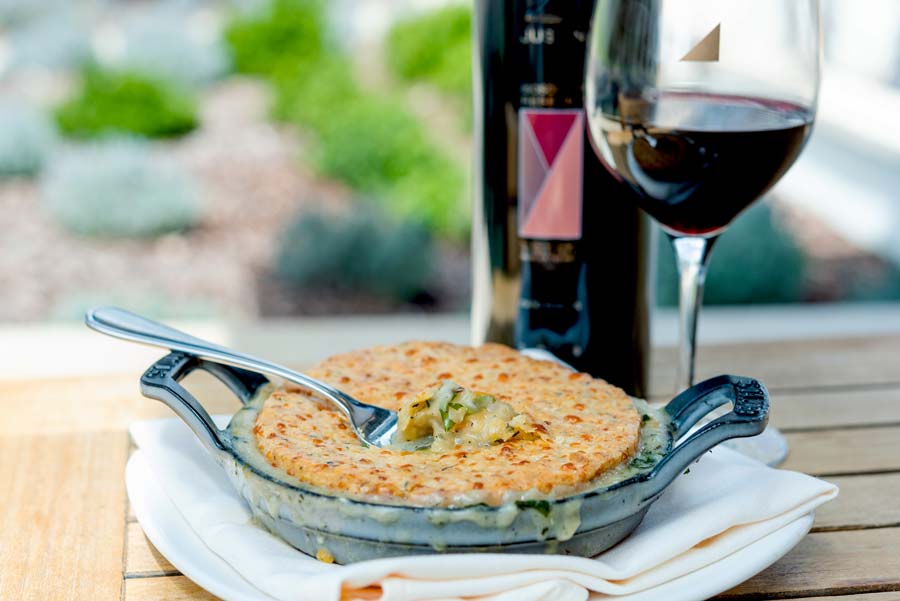 Chicken Pot Pie
Next, I couldn't resist diving into the Pot Pie made with grilled chicken thigh and farmstead vegetables. It was topped with a unique crispy cheddar and thyme crust. The broth was absolutely bursting with flavor as if it had been simmering for hours and the vegetables continued the heirloom farm-to-table theme.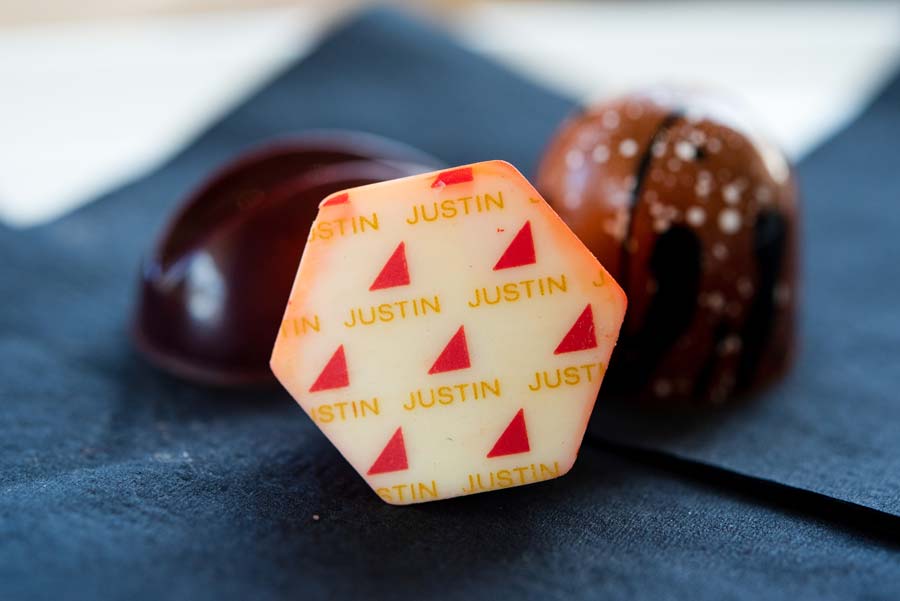 Chocolate & Wine Pairing
For dessert, we opted to try the artisan chocolate and wine pairing which featured artistically hand-painted chocolates from Justins' pastry chef accompanied by a flight of 5 classic wines. Justin Wineries Wine & Chocolate Flight is $74 and only $25 for wine club members. It includes the following: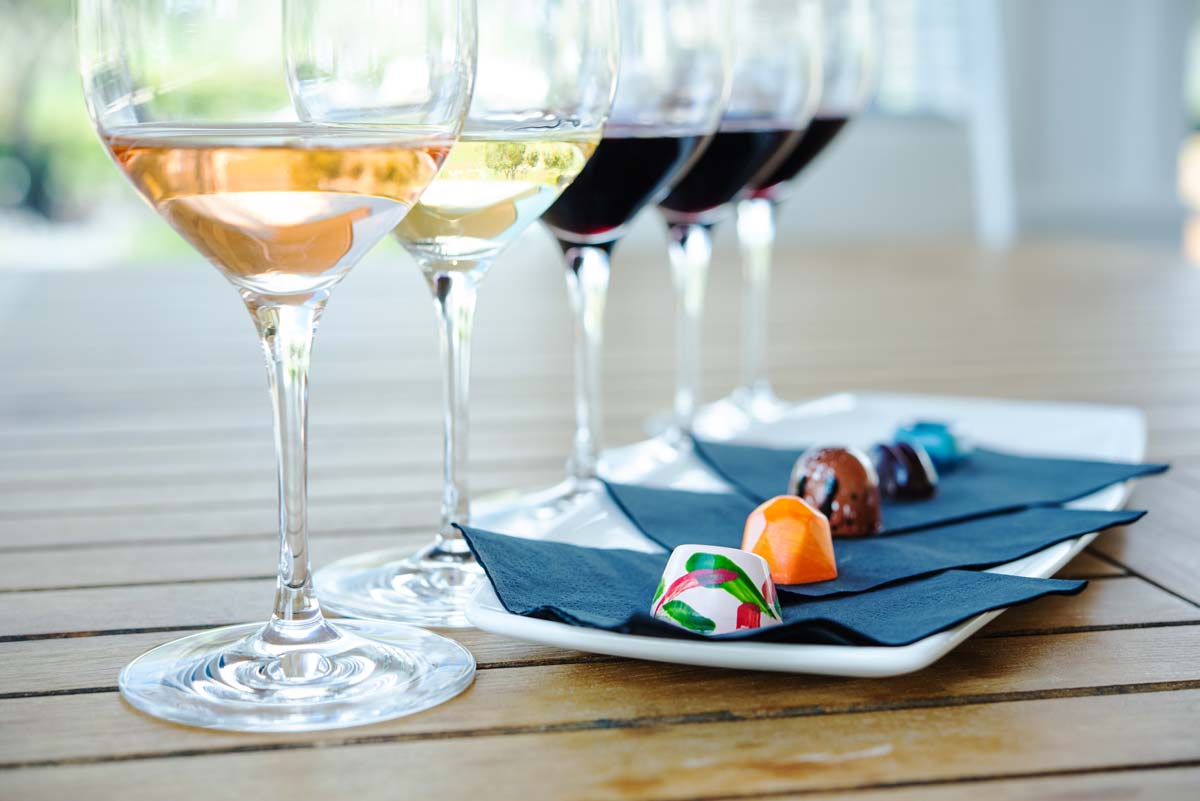 2021 Rose paired with a strawberry basil white chocolate
2021 Viognier with a passion fruit white chocolate
2020 Reserve Malbec paired with a smoked sea salt caramel milk chocolate
2020 Right Angle Cabernet Sauvignon with dark chocolate
2019 Well-known Isosceles with Hazelnut Praline Dark Chocolate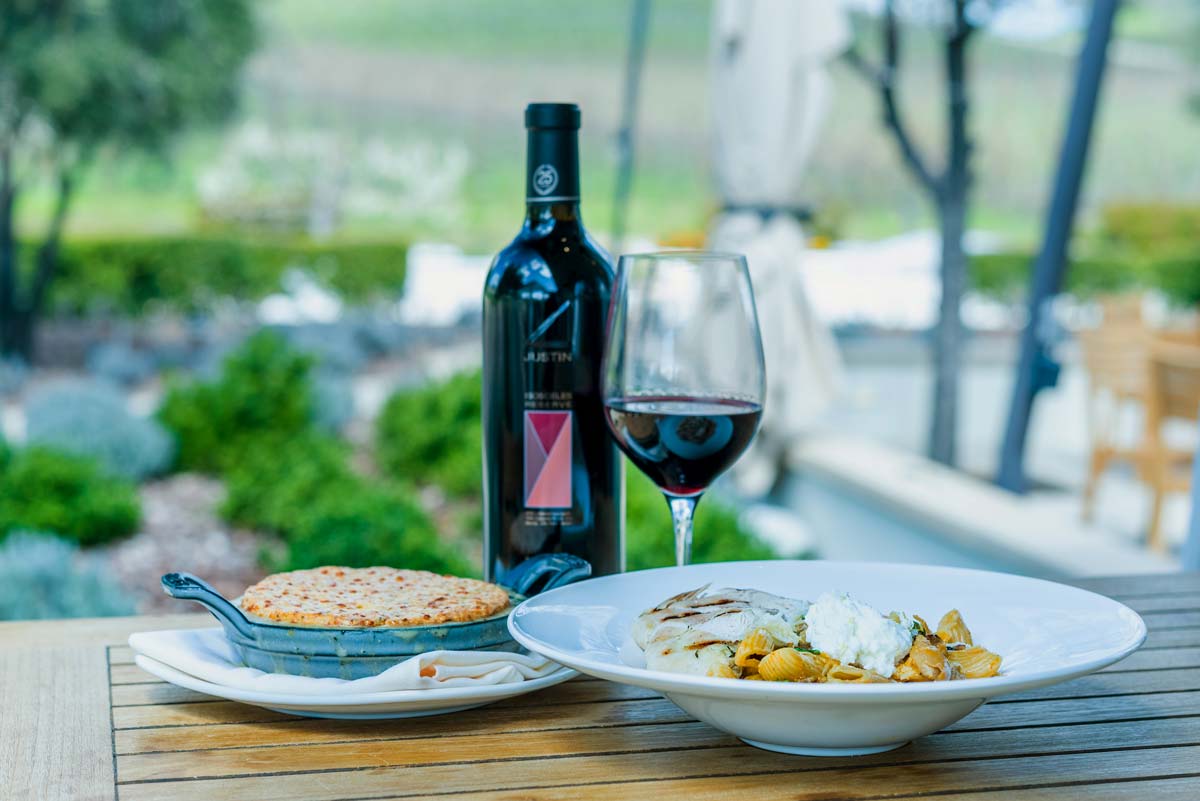 I must admit, Isosceles is one of my favorite wines so I might be a little biased but Justin Winery produces the most wonderful reds. As an extra special treat, we tried the Isoscleles 2019 Reserve made of 83% Cabernet Sauvignon, 5% Merlot, 10% Cabernet Franc, 2% Petit Verdot.  Full bodied Cabernet Sauvignon fruit-forward wines are the epitome of what Paso Robles reds are all about.
Justin owns 4 vineyards in Paso Robles and sources all of their grapes from their own Paso grown grapes. Paso Robles has so many different soil types and climates which allows a variety of grapes to be grown in this region.
Opening soon will also be Justin Wineries wine caves where they make and store all of their barrels.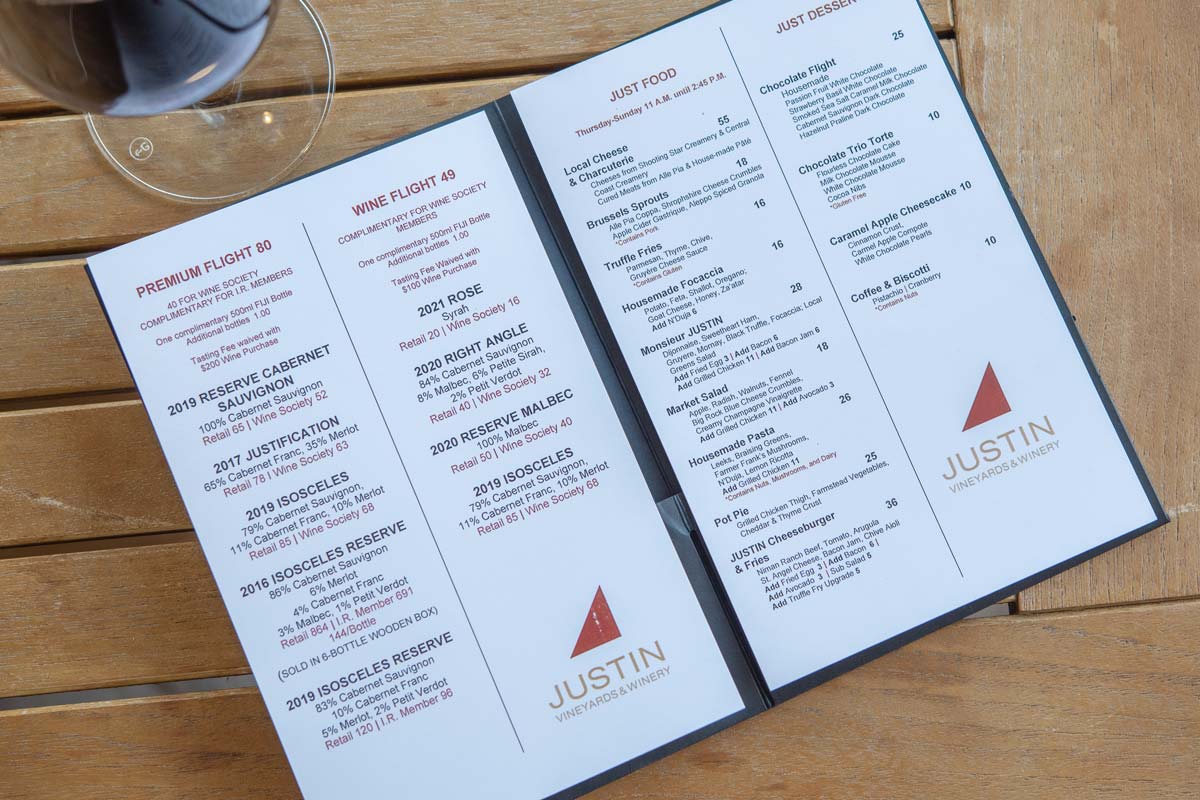 Justin Winery in Paso Robles Lunch & Wine Tasting Menu
11680 Chimney Rock Road Paso Robles, CA 93446
Discover More of Paso Robles