With limited ways to celebrate the holidays this season, park goers will love the Knotts Berry Farm Taste of Falloween. Knotts never lets us down and this fall they've created a delicious and safe getaway for the whole family. This new food festival will feature many family-friendly activities to enjoy, such as a new holiday food menu, trick or treating, and a special art show. When you first step into Knotts Berry Farm you can't help but notice all the awesome Halloween decor and the smell of tasty treats filling the fall air. To top off the fun, Knotts even allows all guests to dress up in their most festive costume while wearing a mask, of course. For all Halloween lovers who feared the holidays might be canceled this year, have no fear because the Knotts Berry Farm Taste of Falloween will be the perfect place to celebrate.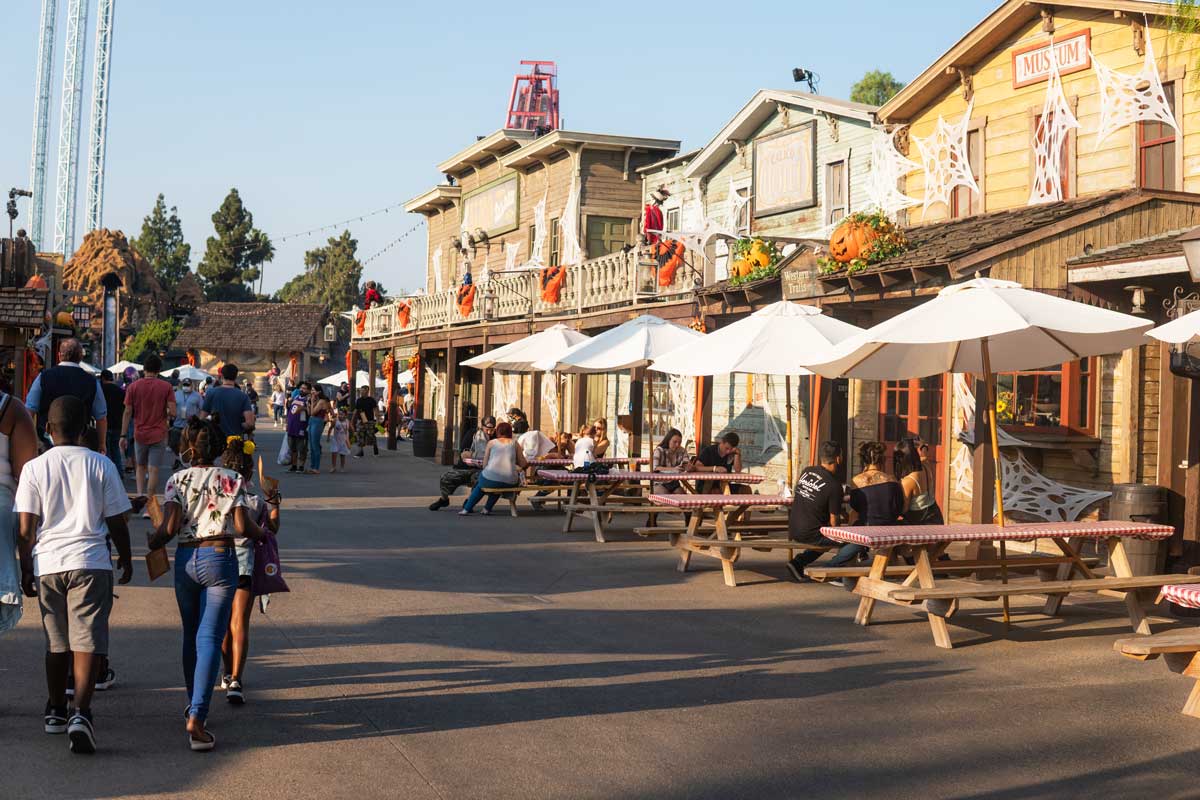 Taste of Falloween will be taking place Friday through Sunday, September 25th- November 1st. The event hours are Fridays and Saturdays from 12 pm to 9 pm and Sundays from 12 pm to 8 pm. Tasting cards for ages 12 and up are priced at $35 (plus tax) and include five tastings. For ages, 3-11 tasting cards are priced at $20 (plus tax) and have three tastings plus a special Campy Snoopy trick or treating trip. Tickets are limited, so be sure to buy your tickets in advance at knotts.com or through the Knott's Berry Farm mobile app.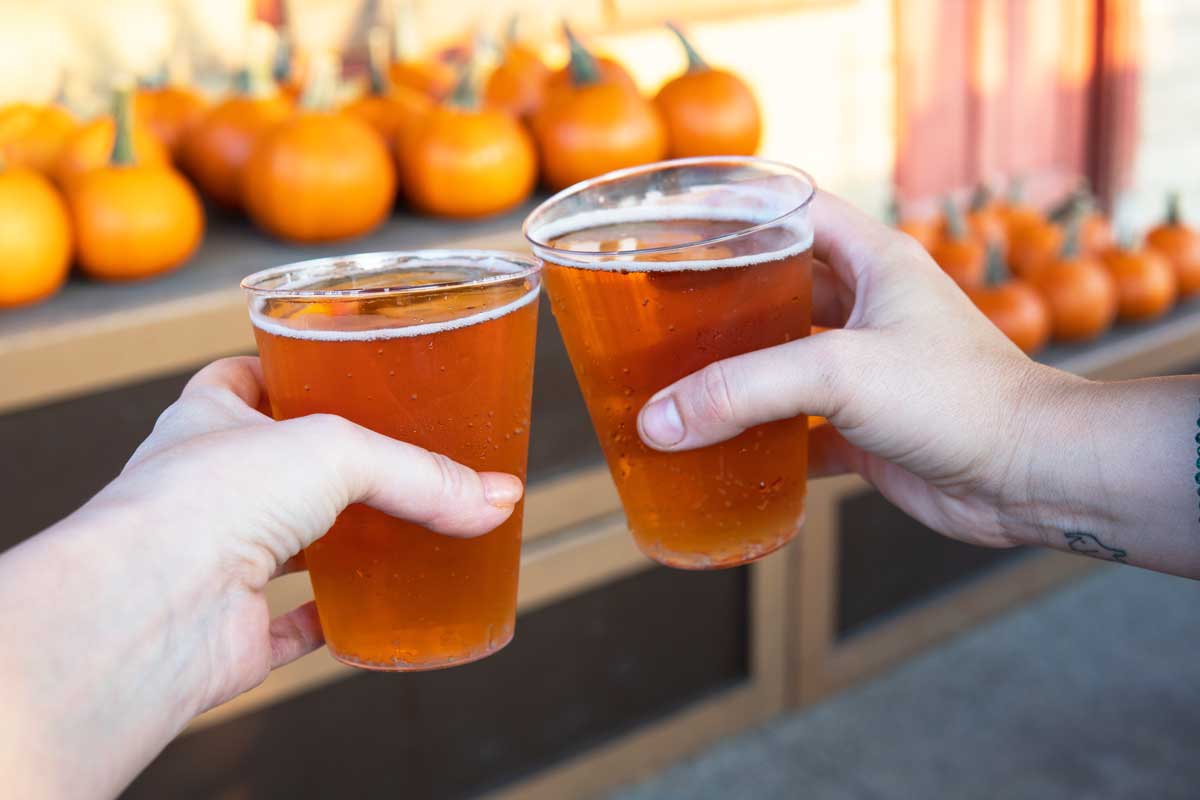 Below is just a small sample of some of the tasty treats you'll get to enjoy this year at the Knotts Berry Farm Taste of Falloween
First, to quench your thirst you'll want to head straight to Calico Saloon to try the new Pumpkin Hard Cider. This cider was slightly sweet with a pleasant taste of fall spices. You can also still get the Mango Cider at barn area.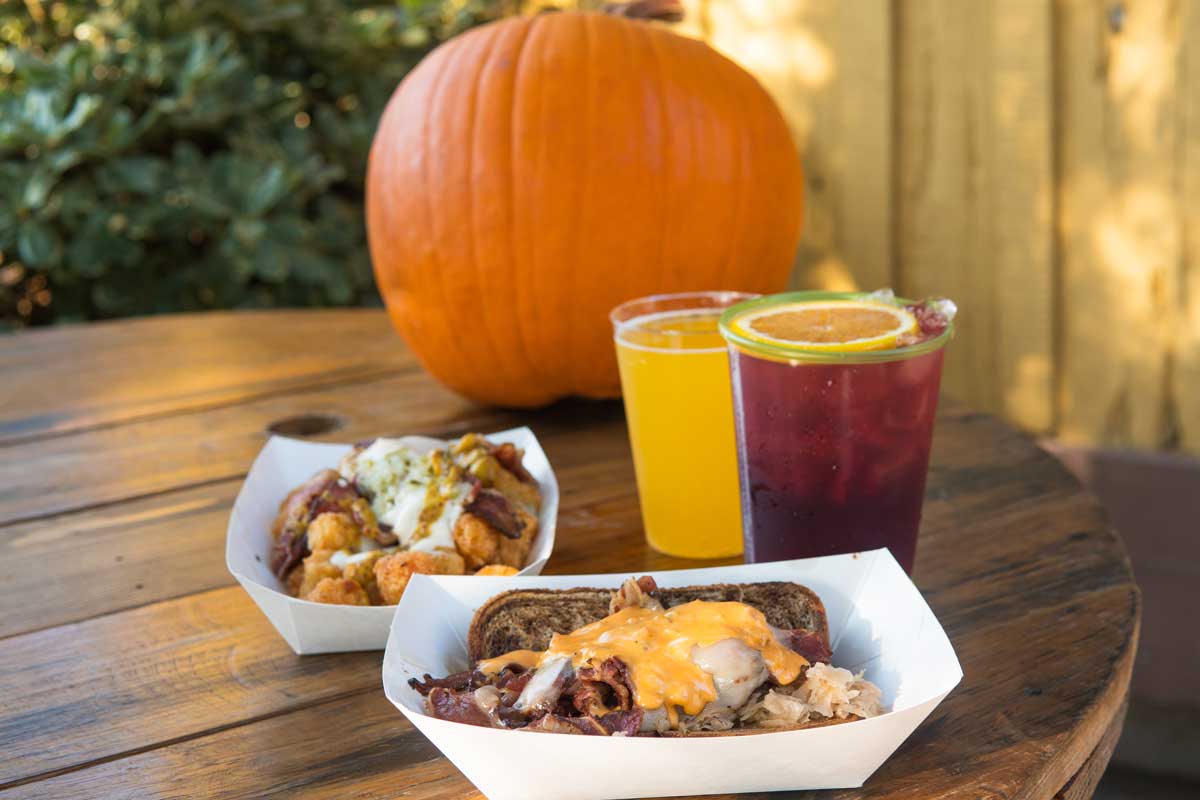 Next, be sure to stop by Sutter's Grill to try their Open Face Reuben Sandwich and Pastrami Tater Tots. The Open Face Reuben grill is served with hot pastrami on thick rye bread with swiss cheese, sauerkraut, and Russian dressing. The Pastrami Tater Tots come with hot pastrami, diced garlic pickles, and mornay cheese sauce over tater tots with a drizzle of boysenberry mustard. The perfect drink to enjoy with your meal is the Boysenberryberry Sangria or Mango Cider!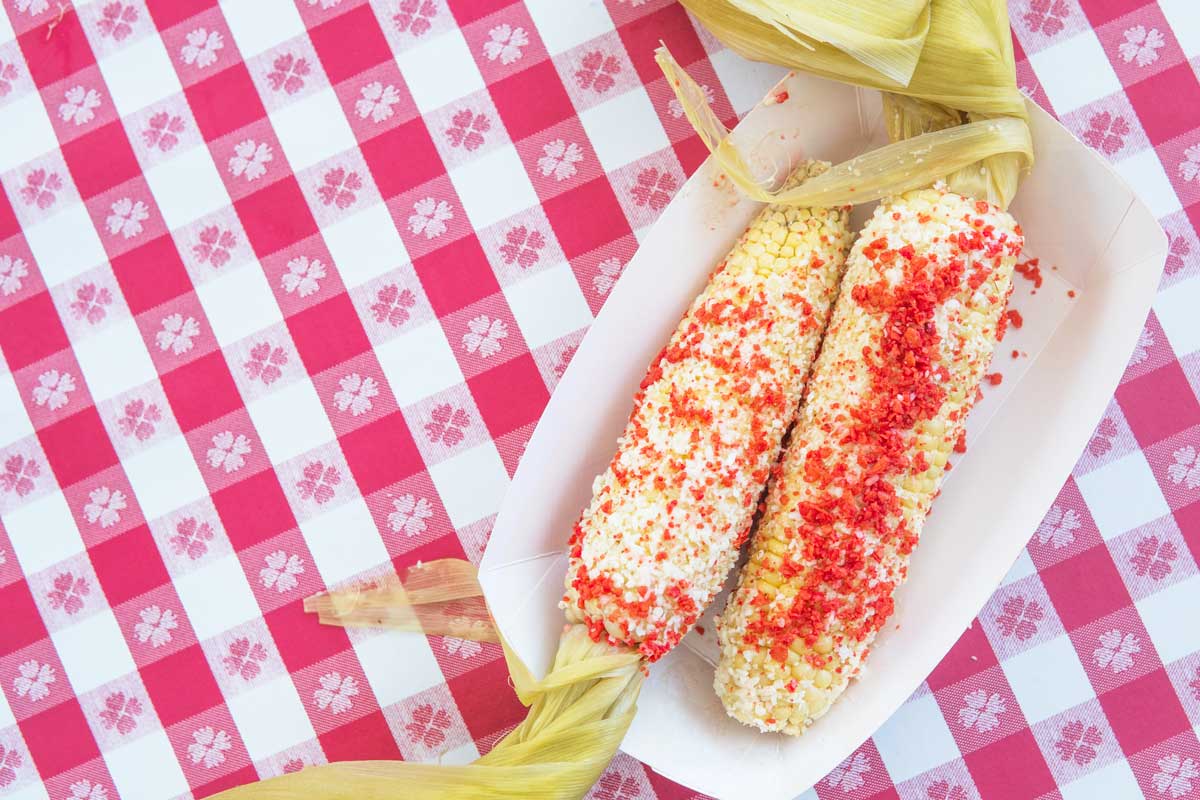 Then, I never go to a Knotts food festival without getting their delicious Elote. For Taste of Falloween, their special Corn on the Cob is topped with butter, mayo, and taki crumbles. Taki is a spicy Mexican potato chip that was such a clever combination. This delicious and quick bite can be found at the Fireman's BBQ.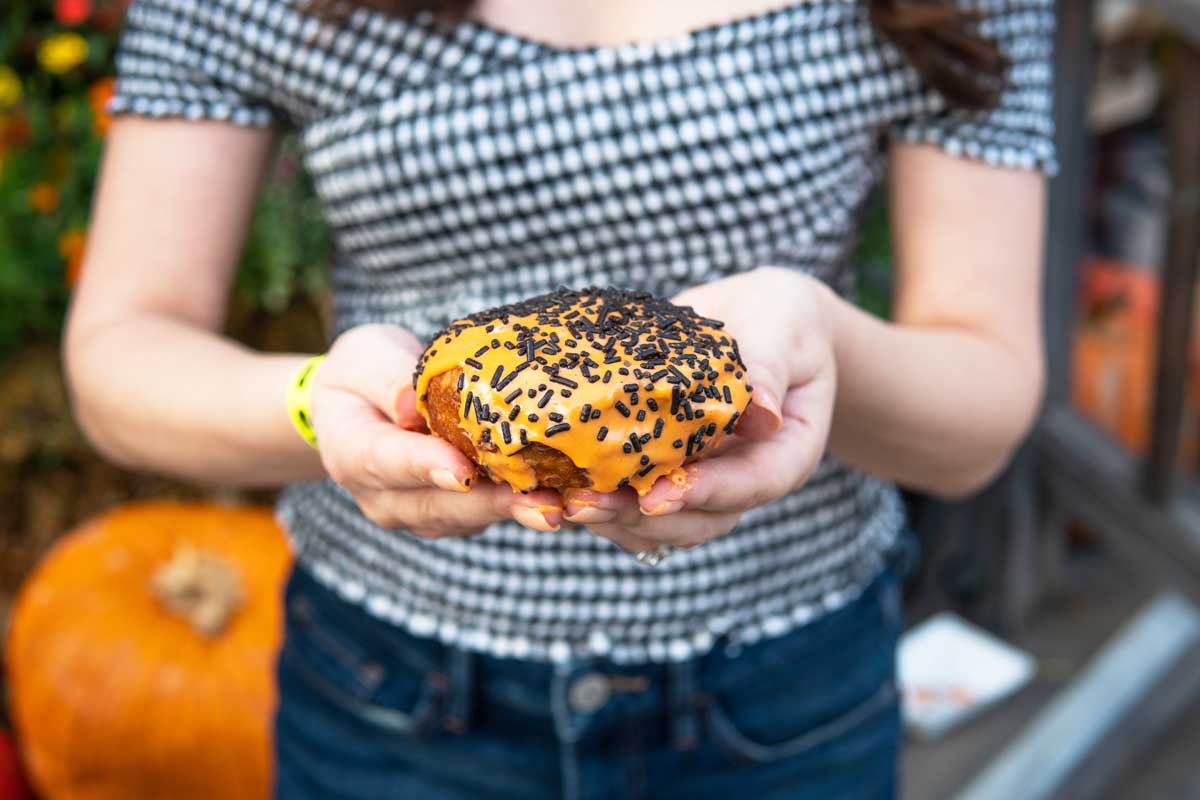 When you're ready for dessert I highly recommend my personal favorite, The Ghoulish Pumpkin Bun. This deep-fried cinnamon roll with pumpkin icing and sprinkles was amazing and oh so naughty. As if a giant cinnamon bun isn't delicious on it's own, having one deep-fried take it to a whole new level. You'll find this at Sutter's.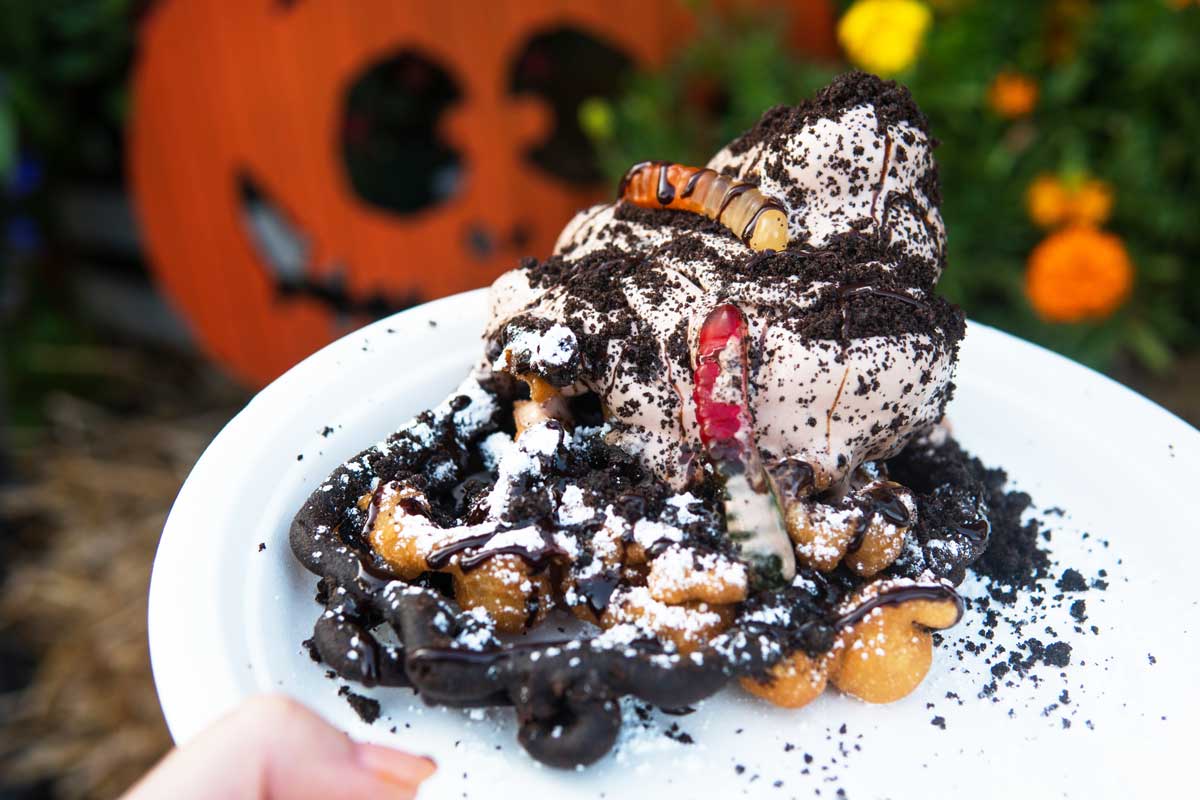 Also at Sutter's is the popular Graveyard Funnel Cake. If you love chocolate and Korea cookies then this dessert is for you. The Graveyard Funnel Cake features a chocolate and vanilla funnel cake with oreo dirt crumbles, chocolate ice cream, chocolate drizzle, and creepy candy worms.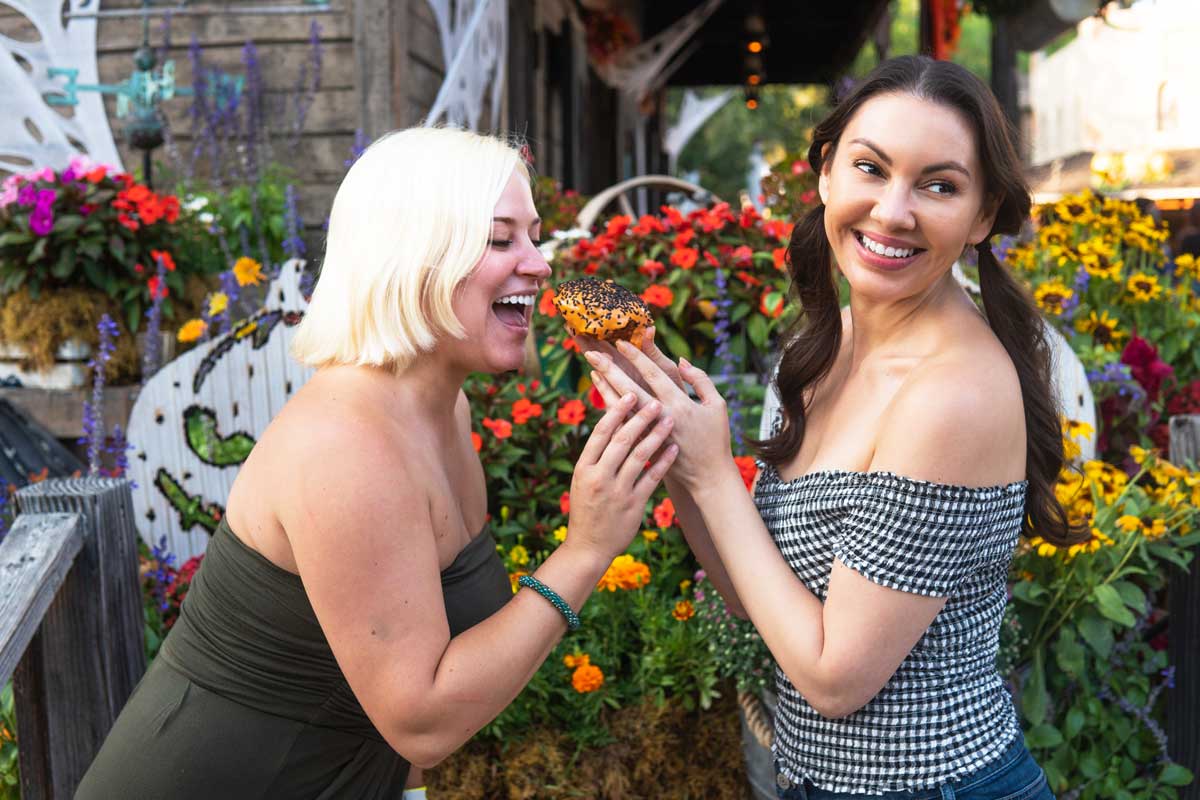 For all the tasty treats found at this year's Knotts Berry Farm taste of Falloween and to purchase tickets, you can visit their website here.