---
[lwptoc hierarchical="1″ numeration="decimalnested" title="Table of Contents" toggle="1″ labelShow="show" labelHide="hide" hideItems="1″ smoothScroll="0″]
Among numerous delicious dishes of Hue cuisine, people cannot forget the rich but still elegant flavor of this Vietnamese Hue Beef Noodle Soup Recipe. In Hue, Hue style beef noodle soup is also classified as the ancient capital's culinary quintessence. For thousands of generations in Vietnam, Hue style beef noodle soup is their typical breakfast. This article will guide you on making the best Hue style beef noodle soup for every enthusiast!
The origin of Vietnamese Hue Beef Noodle Soup
Hue style beef noodle soup is one of the most famous Vietnamese cuisine recipes, which contains rice noodle and beef mainly. This kind of noodle firstly originated in Hue, the ancient capital of Vietnam. Therefore, people call this dish "bún bò Huế" (Hue style beef noodle soup) to denote its origin. Within Hue's internal capital and surrounding areas, people simply call it "bún bò" (beef noodle soup).
Though this soup was cheap, historically Hue Beef Noodle Soup was served on the royal menu for the king and the Mandarin Aristocrats. The preference for beef in this soup most likely originated from the mandarins or the Nguyen royal family. For this reason, making Hue beef noodle soup represents the courtesy of Hue.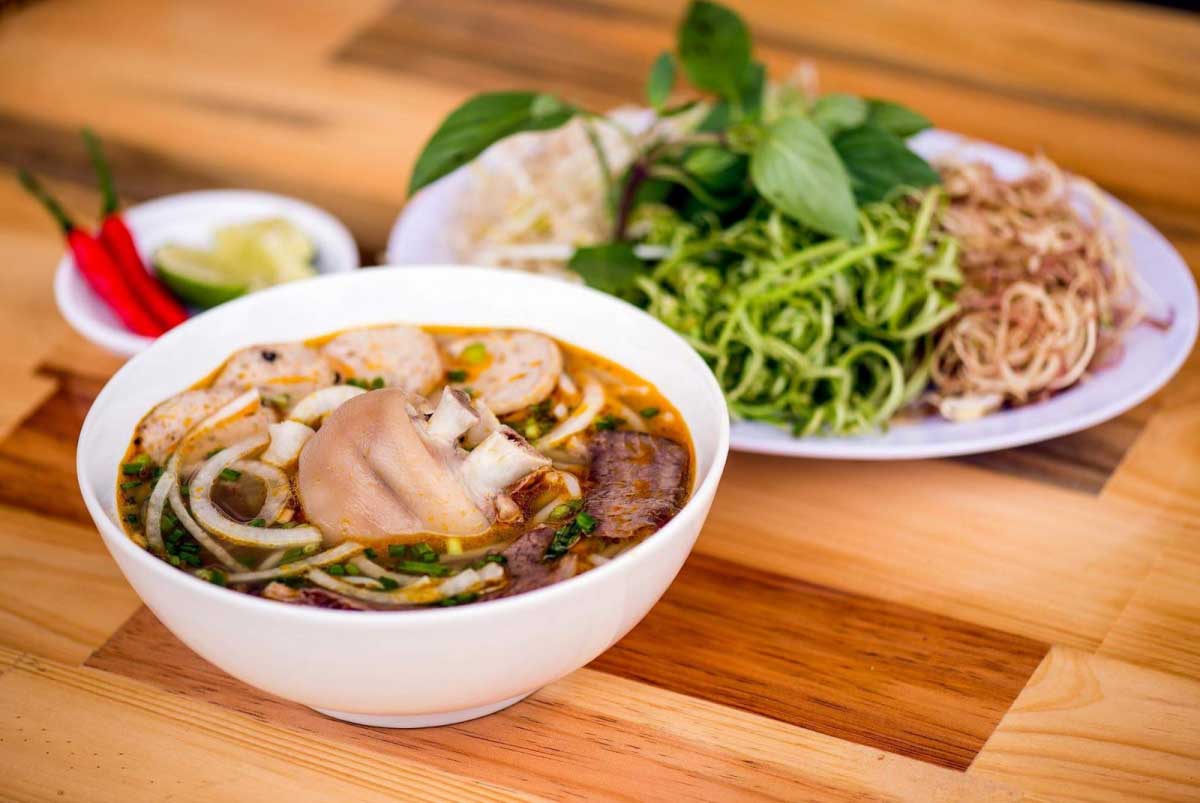 Hue style beef noodle soup is much appreciated for its perfect balance of salty, sour, spicy, and sweet taste.
The soup broth is made by simmering the beef shank and beef bones with lemongrass and flavored with fermented shrimp sauce to achieve the best taste. You can add a little spicy chili oil later in the preparation process.
Most Hue beef noodle soup recipes often consists of thin slices of beef shank, chunks of oxtail, and pigs' knuckles after marinated and boiled. Other ingredients are commonly served with the main noodles and beef. They are lemons, diced green onions, raw sliced onions, cilantro sprigs, sliced banana blossom, red cabbage, bean sprouts, and shredded lettuce and other herbs such as basil, mint, perilla, coriander to enhance the scent of the dish.
You can add the fish sauce and shrimp sauce to the soup according to your taste and preference. Each region might vary with other ingredients above due to its availability.
The popularity of Hue Beef Noodle Soup over time
Hue style beef noodle soup has been changed over time with different spices. But the remains still include the standard Hue spices with big and chewy noodles, served with an indispensable broth.
The soup is also different depending on the region. Some regions use beef. Others can add more details, muscle meat, pork rolls, crab rolls, and so on. However, Hue's specialty keeps going overtime, taking the hearts of Hue people and tourists visiting Hue. Its faint scent makes it difficult for the eater to resist its attractiveness.
Vietnamese Hue Beef Noodle Soup is the best ever. If you have already been from the Hue area in Vietnam and have tried this amazing soup, then you already know why this is one of the best recipes.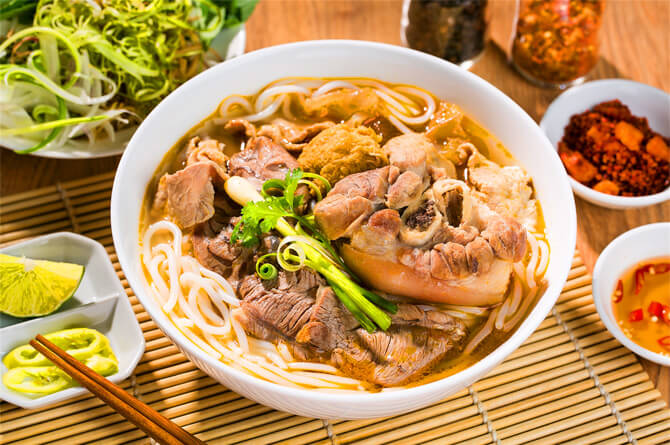 List of Ingredients:
 Fresh noodles 

 Beef shank 

 Pork Shoulder – Arm 

 Shrimp paste  (Hue shrimp paste)

 Rock sugar 

 Seasoning 

 Ginger 

 Shallots 

 Onions 

 Pineapple 

 Lemongrass 
Recipe Instructions:
Step 1
You baked 150gr onions, 10gr ginger, 25gr shallots until it smelled. Then parboil 500gr Pork Shoulder – Arm and 300gr Beef shank for discard all the dirt and then wash with clean water.
Step 2
After preparing all the ingredients, put all onions, shallots, ginger, beef shank, and pork shoulder-arm into the pot with 2.5 liters of water. Add 60gr pineapple and some chilies before turning on the heat. The initial simmer of bone with cold water helps clear the broth. You simmer with medium heat for about 2 hours. Then you immediately pick pork and beef corn into the ice water bowl to be firmed.
Step 3
Sate is the highlight of a delicious bowl of beef noodle soup, just fries 15gr minced lemongrass, 15gr minced red onion, 15gr minced garlic, 10gr minced chili, and 50ml cashew oil then you'll have your attracted sate cup.
Step 4
To have true Hue beef noodle, you must not ignore Hue shrimp paste, you mixed 50gr of shrimp paste with 150ml of water, just mix cold water, not boiling water. Stir to dissolve, filter over the sieve and then slowly pour into the pot of broth, try little by little to avoid the broth to be over salty. Add 60gr of rock sugar, 10gr of seasonings, and just-made sate into the pot, then you finished the beef noodle soup pot.
Step 5
Parboil noodles in very hot water, put on a few pieces of beef, sliced pork pies, pork shoulder-arm. Add a few slices of onion and flagrant knotweed leaves. Then add hot broth and serve with the shaved flower of a banana tree and water spinach. 
This Hue Beef Noodle Soup recipe is great for breakfast and there are many variations of this dish. It can also be named Beef and pork knuckle noodle soup or spicy beef noodle soup. The soul of this famous dish permeates the smell of sate, the natural salty taste of shrimp paste, sweet broth from the bone. This is a delicious meal the entire family can enjoy. Don't forget to enjoy our many other soup recipes!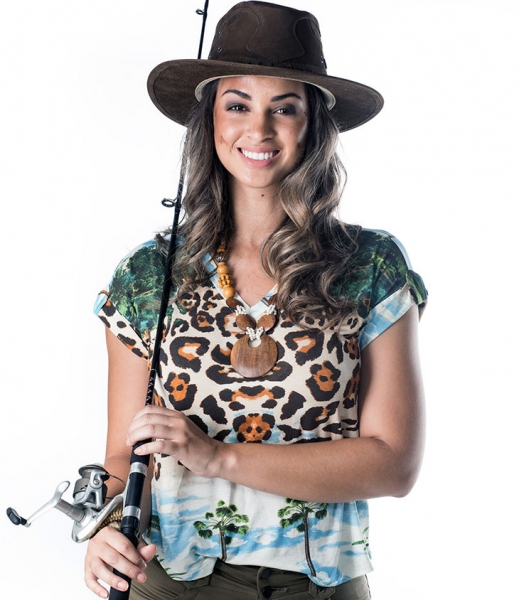 About Our Guest Author
Hi, everyone! My name's Rebecca, and I just love to write and to food! My friends call me "Becca." I'm 22 years old, single, and am currently residing in New York working at an office. With some free time I always give in to my passions, and that's why I started creating blogs and a website about food, it's two of my most favorite things!
Website: https://www.dowhatuloves.com
Our Latest Article & Recipes
Find Delicious Recipes By Category