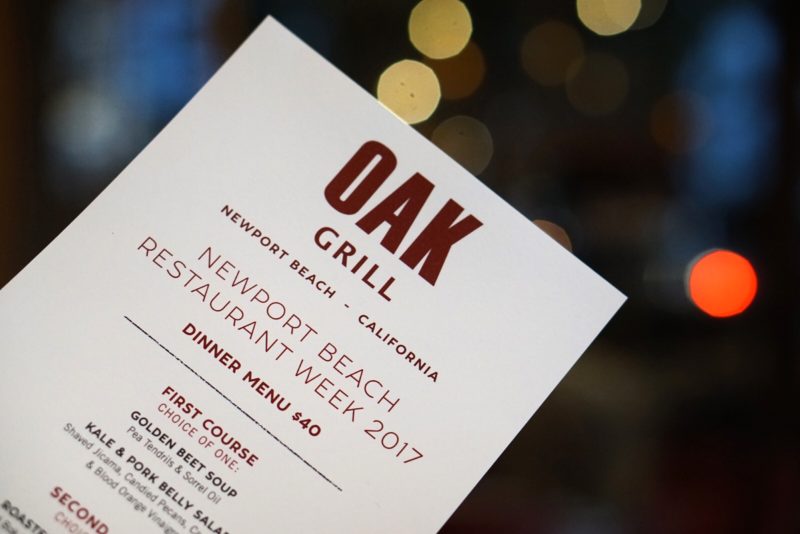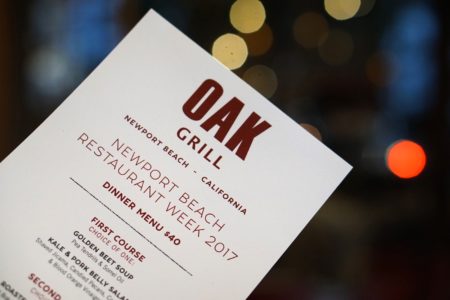 If you are an Orange County native you likely have already been to Oak Grill located inside the beautiful Island Hotel. My girlfriends love coming here for a great brunch on the weekends, but I'll admit I have never tried their dinner. Newport Beach Restaurant Week provided the perfect opportunity to stop by and indulge in some of their awesome menu offerings. At only $20 for lunch or $40 for dinner, I simply could not pass up this opportunity. Here are my top five reasons you need to visit Oak Grill for Newport Beach Restaurant Week 2017.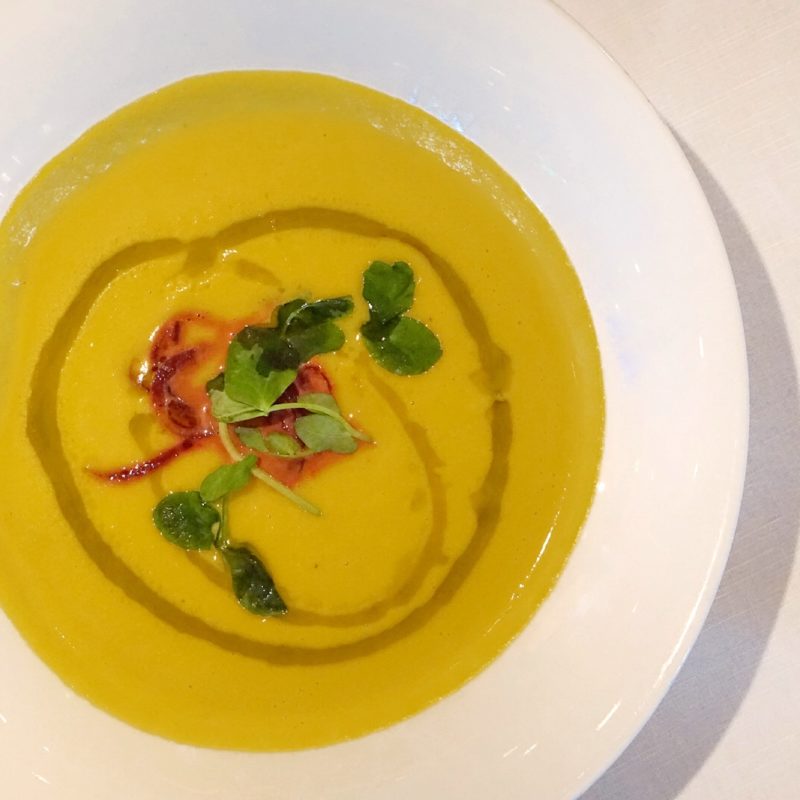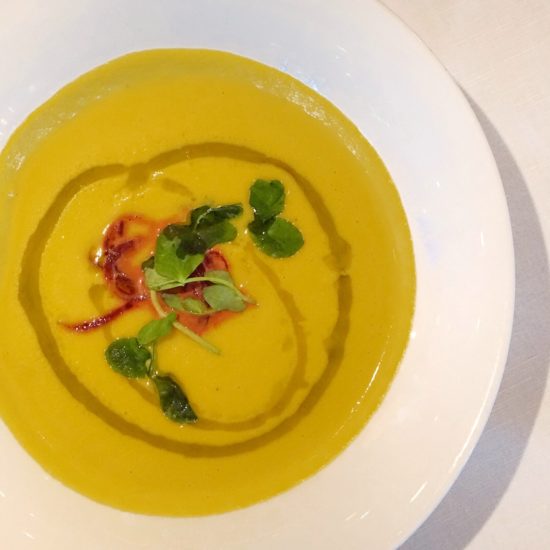 Golden Beet Soup with Pea Tendrils & Sorrel Oil
1. Creamy, Delicious Golden Beet Soup
As soon as I had my first sip of this amazing Golden Beet Soup, I knew I was in for a great dining experience. I can't even begin to explain how delicious and refreshing this soup was, but it is a must try. I just kept thinking "how am I going to recreate this at my next dinner party"?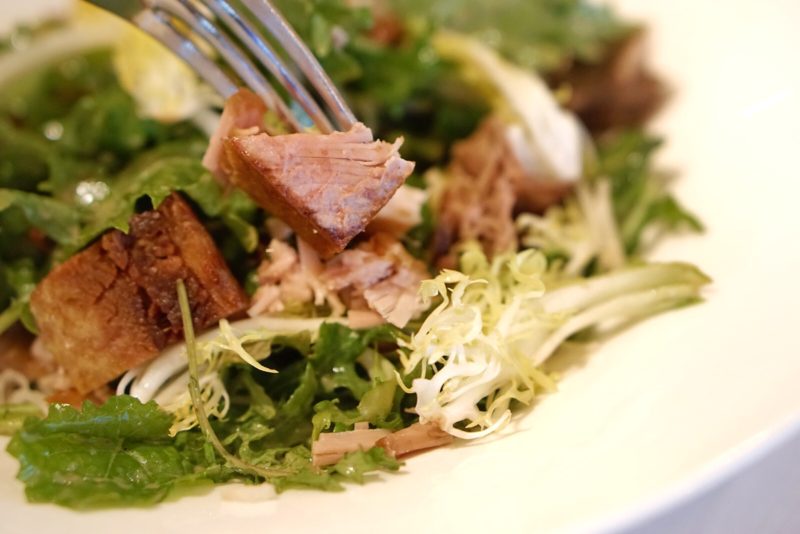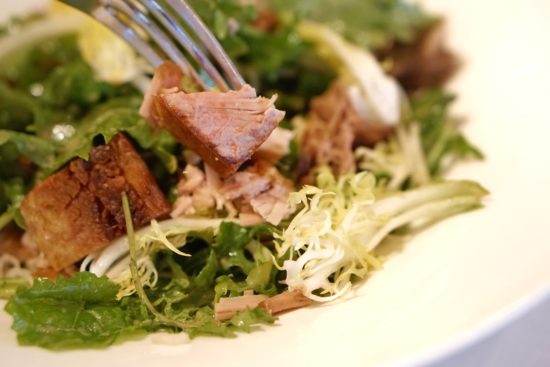 Kale & Pork Belly Salad with Shaved Jicama, Candied Pecans, Cambozola & Blood Orange Vinaigrette
2. Generous Chunks of Pork Belly 
If for some reason you are not a fan of beets, then not to worry. The second reason to visit Oak Grill for NB Restaurant Week is their amazing Kale and Pork Belly Salad. This salad could easily be a meal by itself as it comes loaded with huge meaty chunks of delicious tender pork belly. I especially appreciate the preparation of this dish and the use of only the meatiest portion of this usual fatty cut of meat.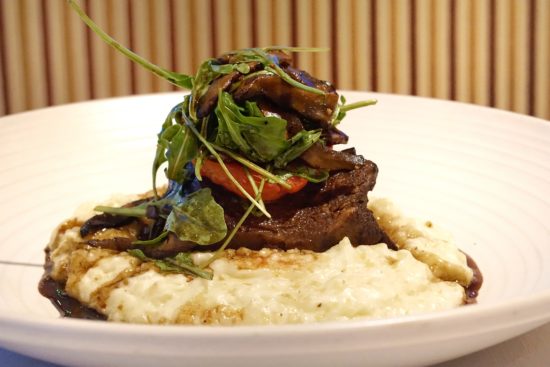 Braised Short Rib with Anson Mills Corn Grits, Portobello Mushrooms & Sauce Bordelaise
3. The Creative Use of Corn Grits and Braised Short Rib
Typically when I have enjoyed Short Rib it was always served with mashed potatoes. I absolutely loved that the chef used creamy corn grits instead. It added so much flavor and was the perfect texture to accompany the tenderness of the short rib. This dish was also served with a giant roasted tomato that was so tasty I wondered if they were growing them organically in the kitchen. The chef also did something very thoughtful which was removing the skin on the tomato. I always notice these little things because I do the same when I cook at home. It is this extra special attention to detail that will always keep me coming back to Oak Grill for more.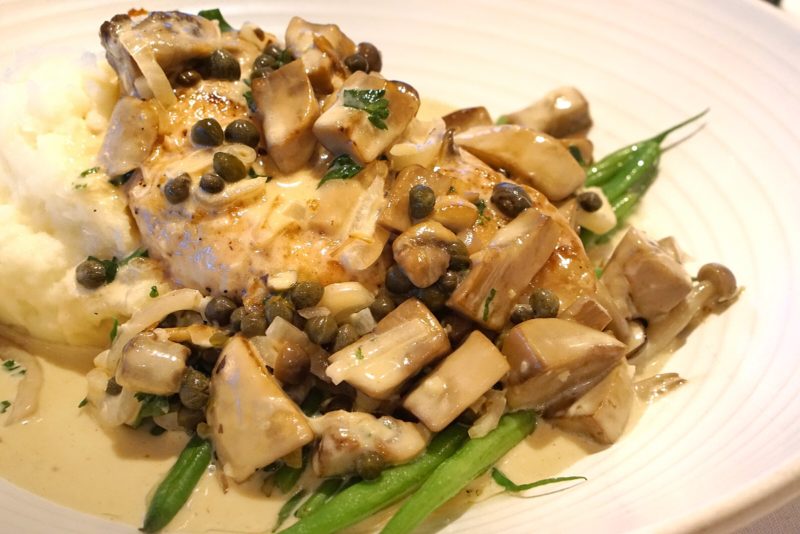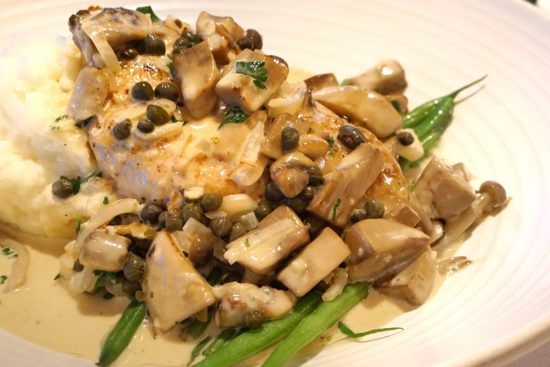 Chicken Marsala with Sauteed Green Beans, Mashed Potatoes & Forest Mushroom Cream
4. Out of This World Chicken Masala
If your preference is chicken, then you are in luck. The Chicken Marsala with sauteed green beans, mashed potatoes, and forest mushroom cream was pure comfort food. If this dish was a movie it would be called Gone in 60 Seconds.  I definitely had an only child moment where I selfishly wished I had dined her alone. I had a thought bubble where I began stabbing everyone's hands with my fork as I watched the chicken marsala quickly vanish. The few bites I was able to enjoy were so memorable I already want to go back so I can actually eat it all next time.
Valrhona 70% Guanaja Silky Custard, Salted Chocolate Streusel, Sassafras Whip Cream & Carrot Cake with Maple Walnut Icecream
5. Dessert, Dessert, Dessert
Yes, dessert is always a reason to dine out. There is no way I could recreate these desserts if I tried. I typically try to keep it classy, but when it comes to my desserts I would hate to be an onlooker watching myself. I might as well just put a spoon in each hand and take turns going back and forth. And would you just look at that presentation!
For all of you seafood lovers, Oak Grill is also offering their amazing Sea Bass!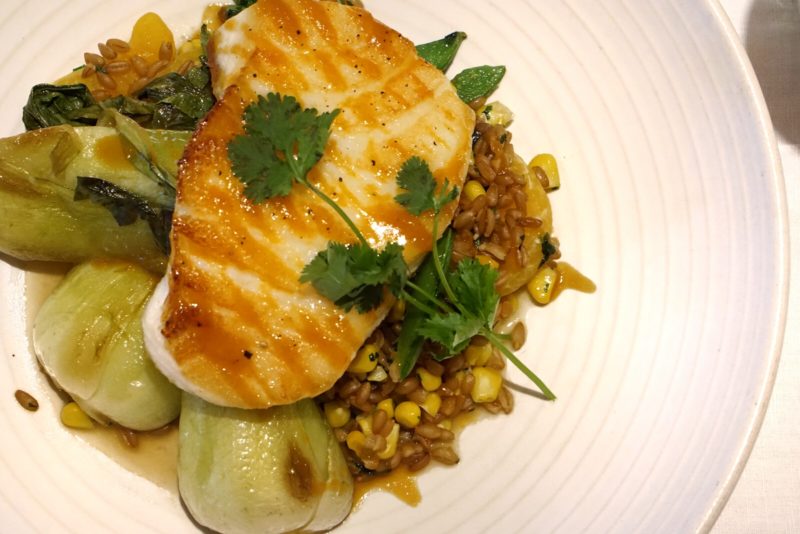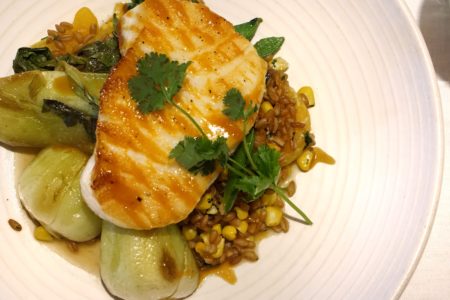 Roasted Chilean Sea Bass with Farro, Charred Bok Choy, Tangerines & Orange Ginger Miso Glaze
Oak Grill
Newport Beach Restaurant Week Menus Lunch | Dinner
Located in the Island Hotel
690 Newport Center Drive
Newport Beach, CA 92660
(949) 760-4920