If you're looking to score Blue Bayou Disneyland dining reservations you're not alone. It's one of the most popular Disneyland restaurants and also one of the most difficult to snag a reservation for. While I find the new process for making dining reservations incredibly convenient, it is crazy how fast they fill up. If you are celebrating a special occasion or visiting the park for the first time, making Disneyland dining reservations can be an incredibly frustrating and daunting task. Hopefully, I can help elevate some of your worries with these tips on how to score the coveted Blue Bayou restaurant reservations.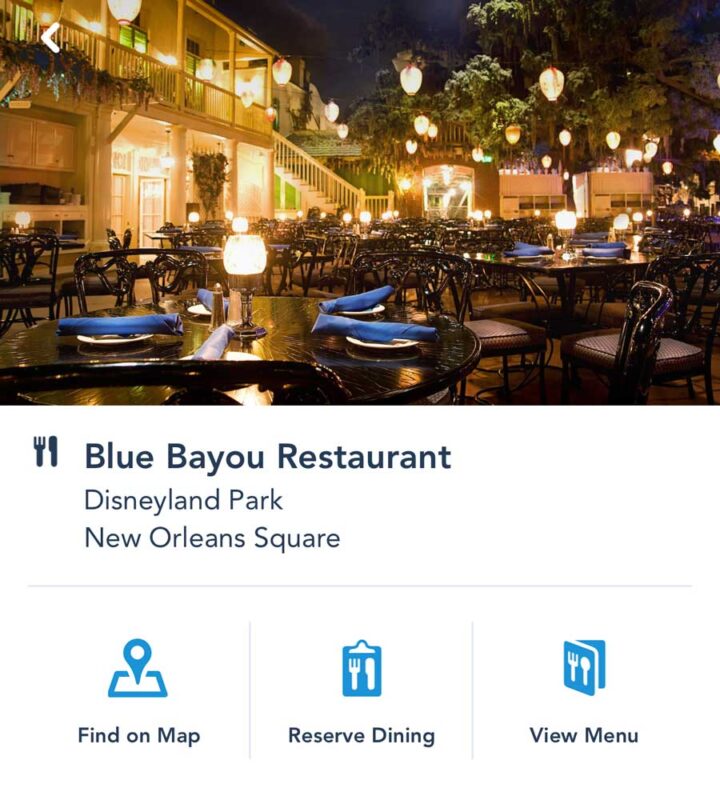 1. Make Your Disneyland dining reservations 60 days in advance.
The first and most obvious answer is to just book a reservation, but you need to be strategic. Disneyland dining reservations are released 60 days in advance. However, you cannot just check the app 60 days in advance and expect to get a reservation. You need to go on the app exactly when they are released. If you live in California or are on pacific standard time, that means you need to set an alarm and be on your phone at 6am.
Yes, you heard me correctly. Blue Bayou Disneyland dining reservations are released 60 days prior to your visit at 3 am pst. If you think I am exaggerating, trust me, every Disney pro actually sets an alarm and gets up in the middle of the night to book their Blue Bayou reservations and they go quickly. When I say quickly, I mean in a matter of minutes!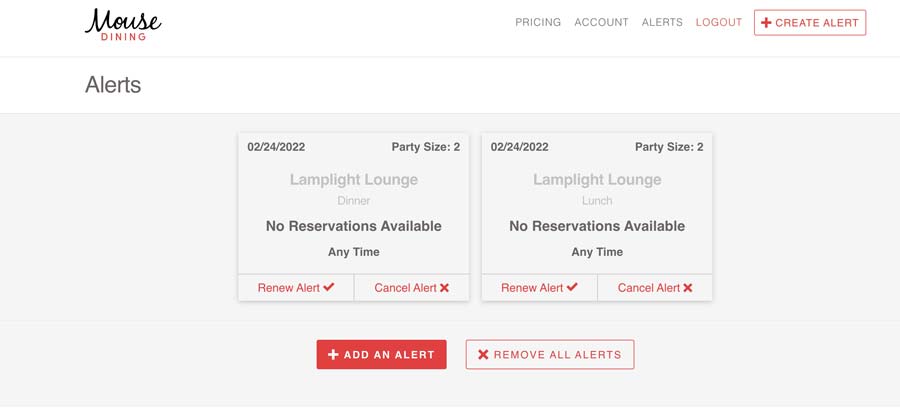 2. Use Mouse Dining and Set an Alert
If you're like me and have no intention of getting up at 3 am to make a reservation, there is another option. You can visit a website called Mouse Dining and set up an alert that will email you the second a reservation becomes available. I have snagged Blue Bayou Disneyland dining reservations this way. You really have to be quick and go to the bookings the second you get the alert.
I was lucky and just happen to be reading my emails when the alert came through. I am typically too late however and miss reservations all the time. Dining reservations at Disneyland get booked just as quickly as they are canceled.
The best part about Mouse Dining is this service is it is absolutely free!
3. Try Walk-Up Blue Bayou Dining Reservations
Many people do not know this, but you can walk up to Blue Bayou and ask to get put on the waitlist. This is actually very common and works 50% of the time. It's even easier for small parties of two. My tip is to be persistent. Even if they turn you away the first time, try again or let them know you are willing to wait as long as possible.
Many people will show up in the morning and put their names down for lunch or dinner reservations. If you missed out on getting a Blue Bayou dining reservation and are a small party, this is actually my number one tip. Just walk up and ask if you can be put on the waitlist. They are especially accommodating if it is a special occasion.
Can you walk into Blue Bayou without a reservation?
Yes, you can walk into Blue Bayou without a reservation. They often take walk up reservations, especially for smaller groups of 2 people. Even if they say no, you can keep checking in and they will likely eventually get you a table!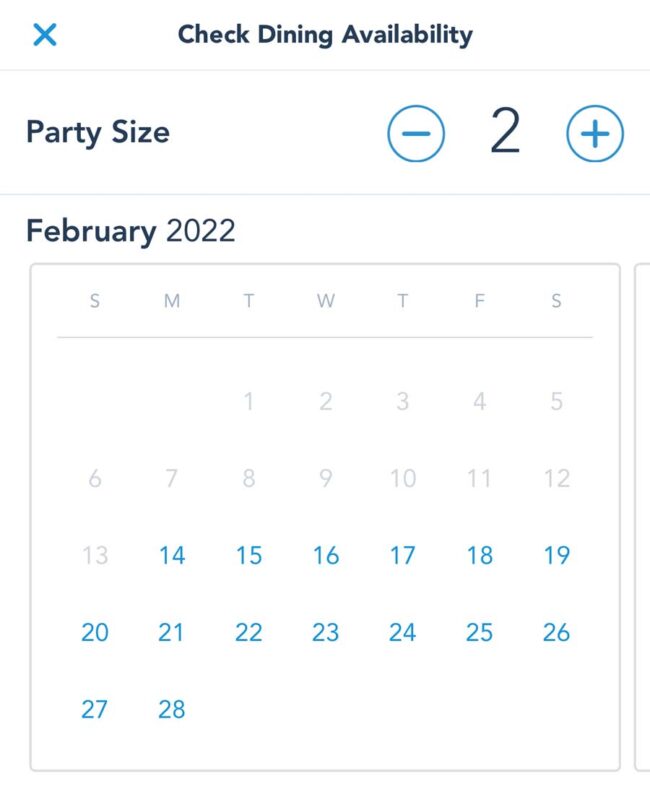 4. Check "Make a Reservation" on the Disney App regularly.
This one seems a bit obvious, but when I say Check the Blue Bayou dining reservations regularly, I mean 3x a day. It really is luck, but many die-hards find their Blue Bayou Disneyland dining reservations by checking the app constantly for a possible opening. Another suggestion is to check on dining reservations one day before your visit. This is because if guests do not cancel a reservation within 24 hours they are charged a $10 fee per person. Plans often fall through last minute and this is a great way to snag a last-minute reservation.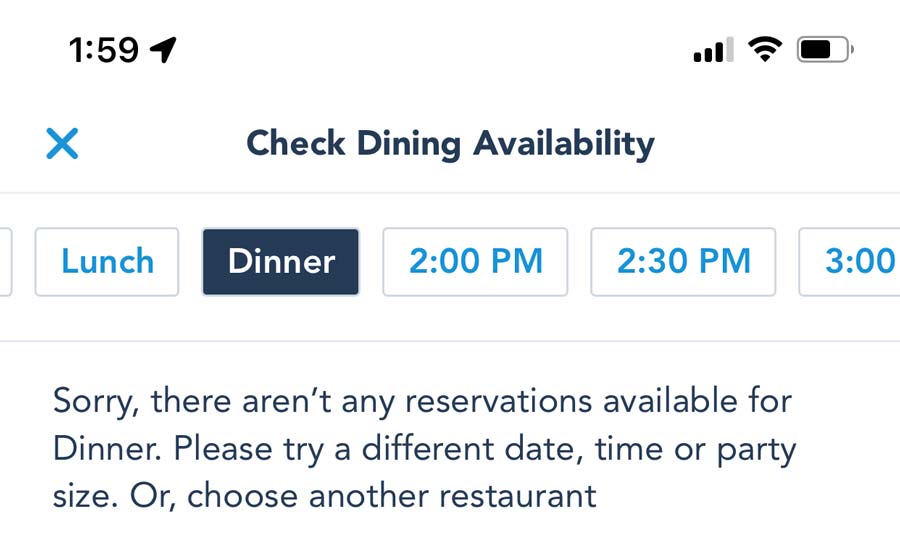 Pro Tip: when you are checking reservations, click on the actual times (not just lunch or dinner). Numerous times I have clicked on lunch or dinner and had it say there was no availability. Then when I go through and click on the different times, restaurants will pop up as available! In the two photos above you can see I checked dining reservations on Valentine's Day (one of the busiest days at the park) and it said there were no dinner reservations. However, when I clicked on the individual times, there was a reservation.
5. If you're staying at a Disney Resort Hotel, ask the receptionist.
Here is another tip you may not know. If you are staying on property at a Disneyland Resort Hotel, you will get priority dining reservations. I reconfirmed this information in several Disneyland groups. Multiple people confirmed that they were able to get help from their hotel to book Blue Bayou Disneyland dining reservations, even though they were completely booked up online. If you are paying a premium to stay at one of the on-property Disneyland Resort hotels, do not be shy about using their reception services. They can be very helpful and will often go above and beyond!
I hope you were able to find this article helpful. Please let me know if you've tried some of the tips and how they've worked out for you! Enjoy your Blue Bayou Disneyland reservations and don't forget, they now serve cocktails and wine on the Blue Bayou Disneyland menu, woohoo!
Here are some additional tips from our Disney Travel Guides.