Posts may contain affiliate links. Read our full disclosure policy here.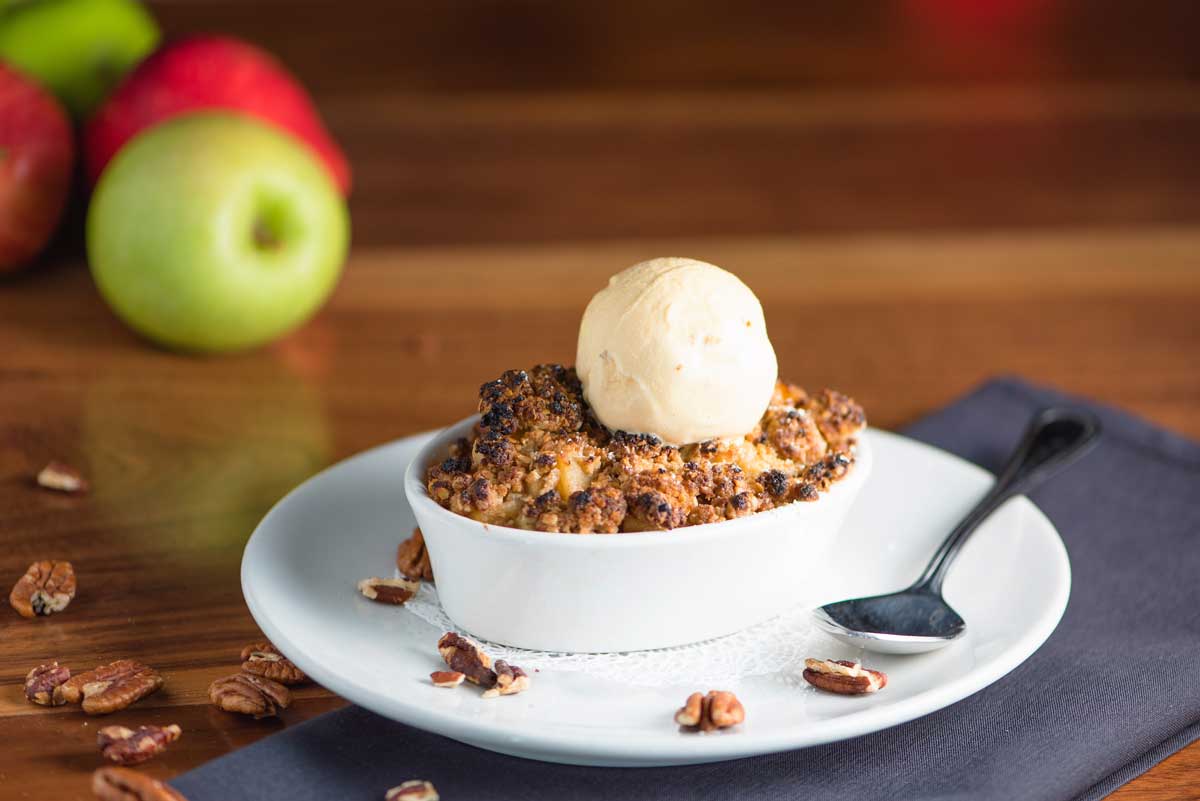 I discovered this amazing Butterscotch Apple Crisp while dining at one of my favorite restaurants in Orange County, Olea. Their Executive Chef, Jared Cook, was gracious enough to give me his recipe to share with my readers!
---
This Butterscotch Apple Crisp Recipe is from the amazing Newport Beach restaurant Olea and their chef, Jared Cook. I first tried this dish during the holidays and new I had to make it for Christmas dinner. This is hands down one of the best I've ever had. I was so delighted when the restaurant offered to share their Butterscotch Apple Crisp recipe with me to bring to my readers. The addition of butterscotch chips really make this cobbler exceptional and I even serve it with my homemade Butterscotch Ice Cream.
Now, when the restaurant first gave me this recipe, they gave me the original recipe which is made to serve an entire restaurant throughout the evening! Luckily I've cooked enough in my lifetime that I was able to modify the recipe to bring you an apple crisp recipe that will serve about 6-8 people.
The Benefits of Sauteing the Apples Before Baking.
Additionally, this recipe softens the apples by sauteeing them before baking. I find this to be a much better technique when baking cobblers or crisps. This ensures all of the apples are cooked consistently, cuts down on the baking time and also allows for using bigger chucks of apple for the recipe.
What Are The Best Apples For Baking?
Trying to decide the best apples for baking is a very common question that comes up time and time again. There are certain apples that are great for eating as is, and others which are great for baking. Apples that are good for baking tend to keep their shape and not get too mushy. They are also more tart than sweet. This particular recipe uses Granny Smith and Red Apples, but you can use any of the apples listed below. Mixing your apples with some that are more tart and others that are more sweet can produce a very delicious apple cobbler.
Granny Smith – this is one of the most popular apples for baking. It is nice and tart preventing recipes from becoming too sweet and also holds its shape nicely.
Jonagold – these apples are a hybrid of Jonathen Apples and Golden Delicious. They are slightly sweeter than a Granny Smith Apple and also hold their shape nicely when baked. These apples are also great for eating fresh.
Honey Crisp – one of the easiest apples to find are Honey Crisp. Their snappy crisp texture means they hold up exceptionally well when baking. As their name implies, they have a more honeyed sweetness, yet are still mild enough for baking.
Braeburn – Braeburns are definitely one of the best apples for baking if you're planning on having the apples be visible such as in a tart. They have an exceptionally beautiful skin and even begin to turn pink when baking. They also keep their firmness and wont break down when baking. Their flavor is a nice mix of sweet and tart.
Cortland – a nice feature of this apple viraety is that their flesh does not brown as quickly making them a great addition to cheese boards, as well as baking. They are sloghtly juicier and a little sweeter than some of the other apples. This would be a great apple to mix in with more tart varietals like the Grannysmith apples.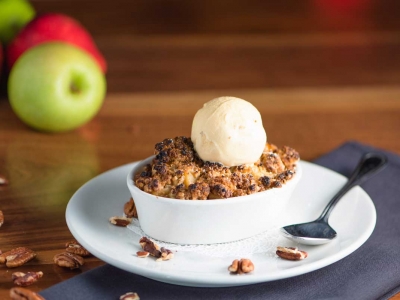 Butterscotch Apple Crisp Recipe
I discovered this amazing Butterscotch Apple Crisp while dining at one of my favorite restaurants in Orange County, Olea. Their Executive Chef, Jared Cook, was gracious enough to give me his recipe to share with my readers!
Ingredients
3

whole

Granny Smith Apples

peeled & cubed

3

whole

Honey Crisp Apples

peeled & cubed

1

cup

Butterscotch Chips

¼

cup

brown sugar

2

tbsp

unsalted butter

½

tsp

ground cinnamon

⅛

tsp

salt

or a pinch

¾

cups

flour

½

cups

brown sugar

¾

cups

Oats

½

tsp

ground cinnamon

8

tbsp

unsalted butter

cold and cut into cubed
Instructions
Peel apples and place in cold water with lemon juice.

Dice apples into cubed and then place into stainless pot with butter and begin cooking on medium.

Place everything else EXCEPT BUTTERSCOTCH CHIPS in the pot and cook together for 12 minutes over medium heat until apples are fork-tender but not mushy, stirring constantly.

Take off the heat and fold in butterscotch chips. Then butter a rectangular pan and place apple mixture inside.

For the crumble topping you"ll want to mix together the flour, half cup of brown sugar, oats, and cinnamon.

Then add butter using a pastry cutter, fork, or your hands and blend in until it forms into crumbled pieces.

Place crumbled pieces evenly overtop your apple mixture and bake in the oven at 400° for 20-25 minutes or until the top is golden brown and crispy.
Notes
You can use any of the recommended apple variations. It's usually good to ad a mixture of tart and sweet baking apples. Also since this recipe sautes the apples first, it is baked at a higher temperature and for less time to get a nice crispy crust!
Nutrition
Serving:
1
cup
|
Calories:
359
kcal
|
Carbohydrates:
54
g
|
Protein:
2
g
|
Fat:
16
g
|
Saturated Fat:
10
g
|
Cholesterol:
40
mg
|
Sodium:
128
mg
|
Potassium:
67
mg
|
Fiber:
1
g
|
Sugar:
37
g
|
Vitamin A:
459
IU
|
Calcium:
26
mg
|
Iron:
1
mg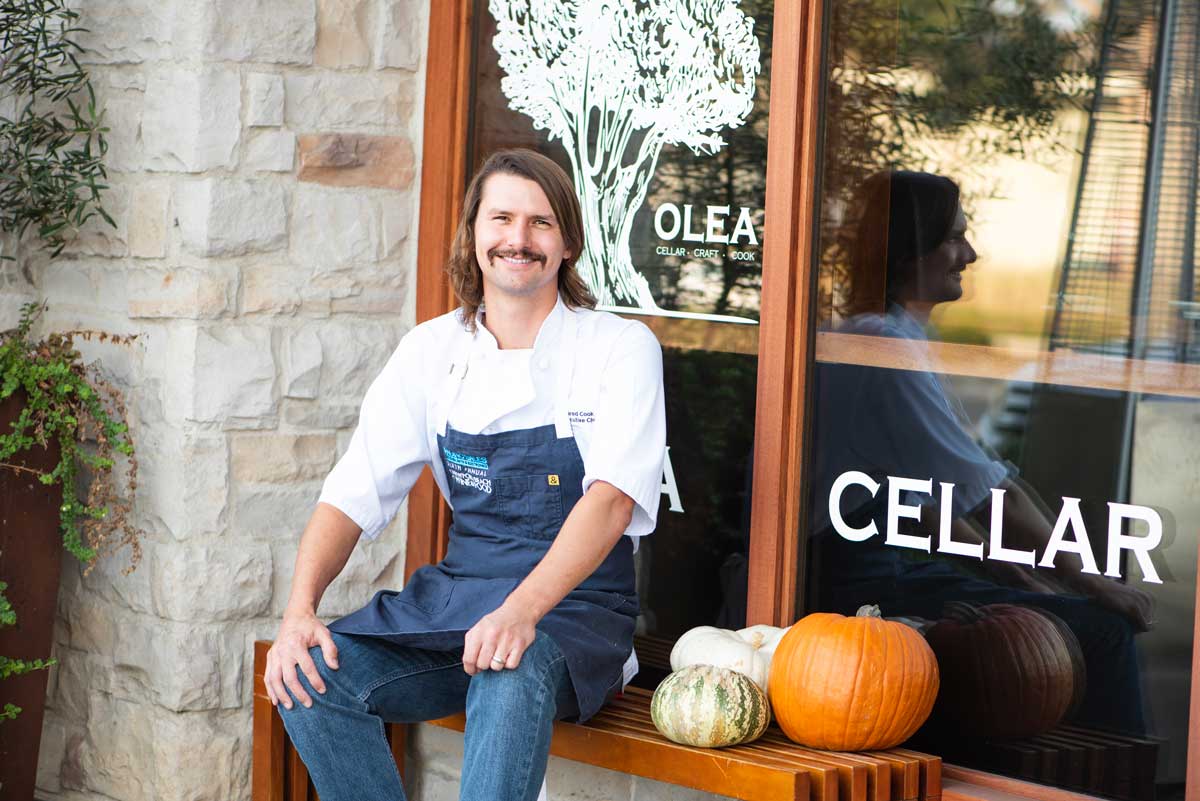 Chef Jared Cook has worked in restaurants such as French 75 in Laguna Beach, Chat Noir in Costa Mesa, and was promoted to Executive Chef at the Crow Bar and Kitchen, in addition to working at Vine Restaurant & Bar for the third time as a Cook, Sous Chef, and now Executive Chef. He is one of the best up and coming young chefs in Orange County, CA.
Have you made this Butterscotch Apple Crisp recipe?
Comment Below and let me know your thoughts!
Enjoy Our Most Recent Recipes & Articles
Find Delicious Recipes By Category