O Sea has opened in Old Town Orange and can best be described as fine casual dining with a focus on fresh seafood. The owner, Mike Flynn, emphasizes a distinction on thoughtful and responsibly sourced seafood which is how they developed their slogan "Seafood for Thought". All selections found at O Sea consider every aspect from how the fish are raised to the workers who are raising them.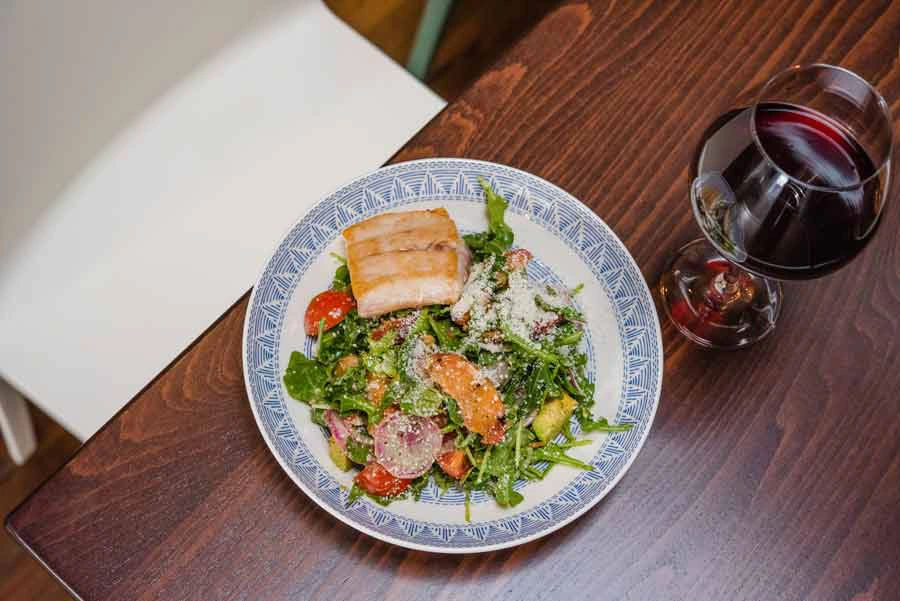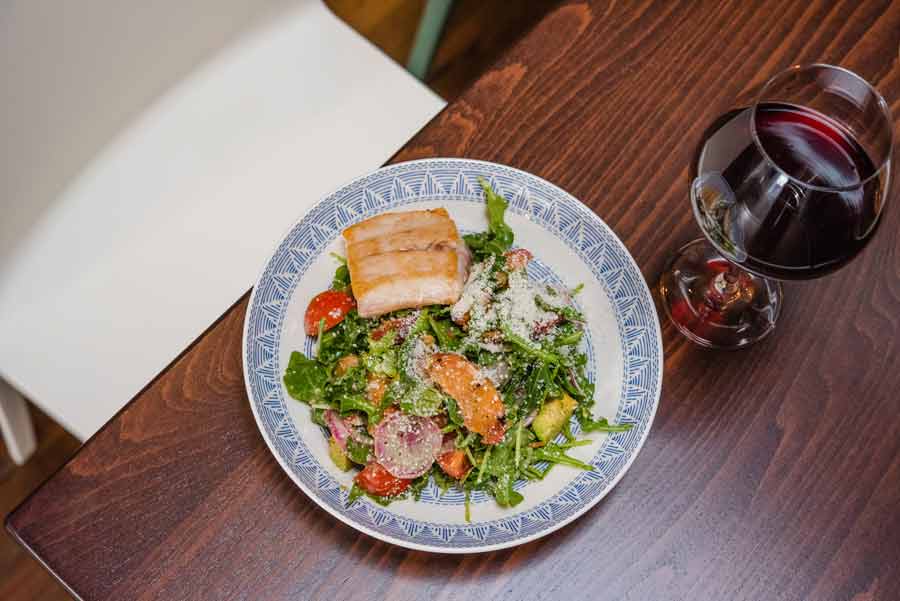 Enjoy seasonal selections like the Grilled Peach & Arugula Salad
At O Sea you'll find a wide selection of fresh seasonable seafood ranging from Wild Fijian Albacore Tuna to Wild Mexican Halibut. Each day guests can view the restaurant's "Market Card" to find their fresh responsibly sourced seafood options. Once you've decided what seafood you would like to try, you can add them to any Entree Salad or Mains Dish. Pictured above you'll find the seasonal Grilled Peach & Arugula Salad with hazelnut pesto, cherry tomatoes, cotija cheese, and radish topped with Local Wild Sea Bass.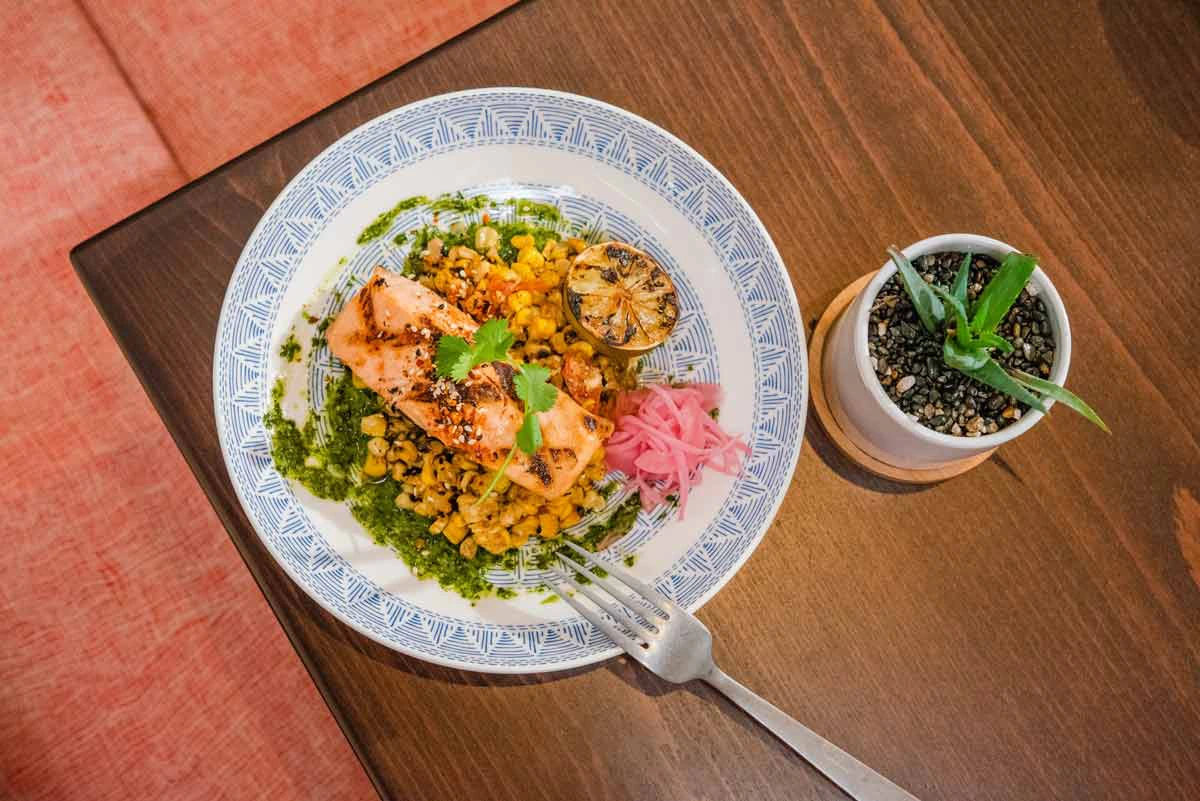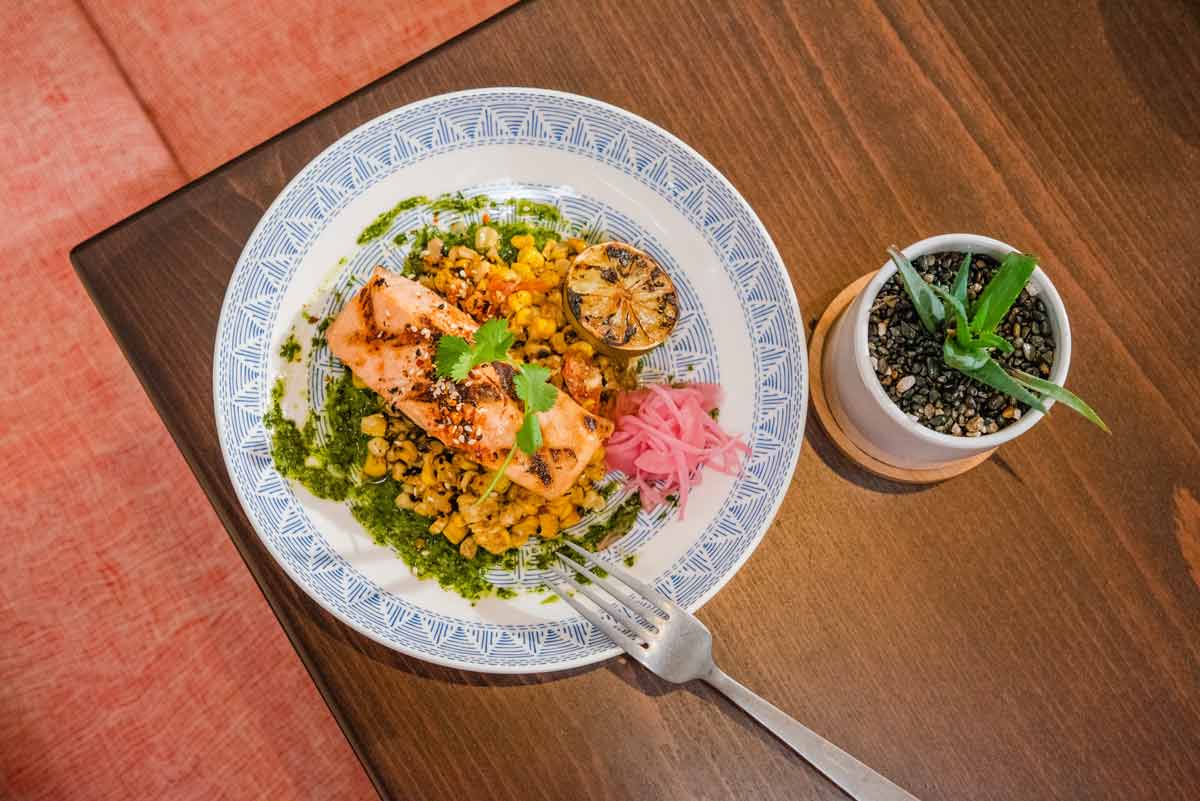 A guest favorite is the Mexicali with fire roasted sweet corn.
Another popular Mains option is the Mexicali made with fire-roasted sweet corn, cilantro pesto,
salsa seca, and pickled onions. I selected the Farmed Norweigen Salmon as my market seafood. O Sea introduces a variety of inspiring flavors in their menu ranging from Latin America, East Asia, South East Asia and Mediterranean.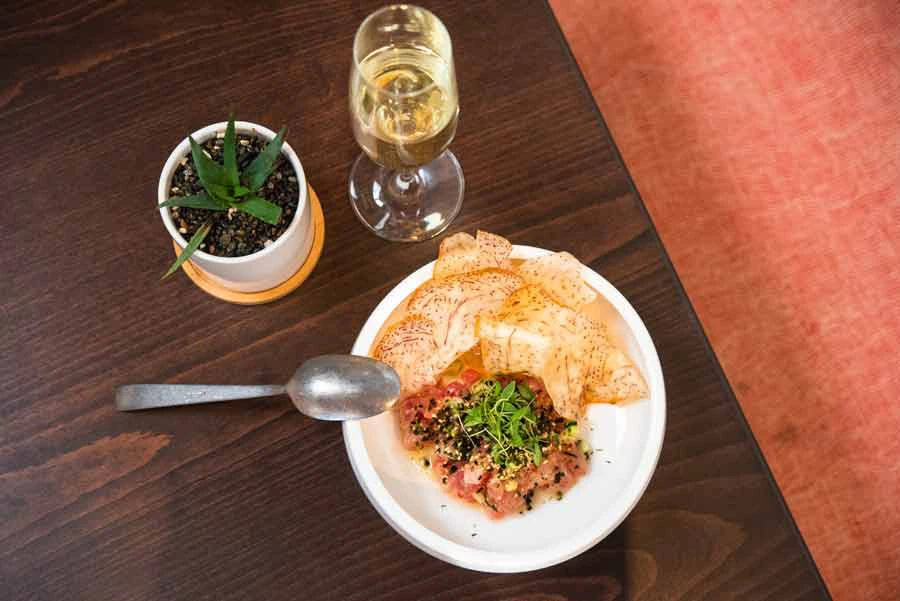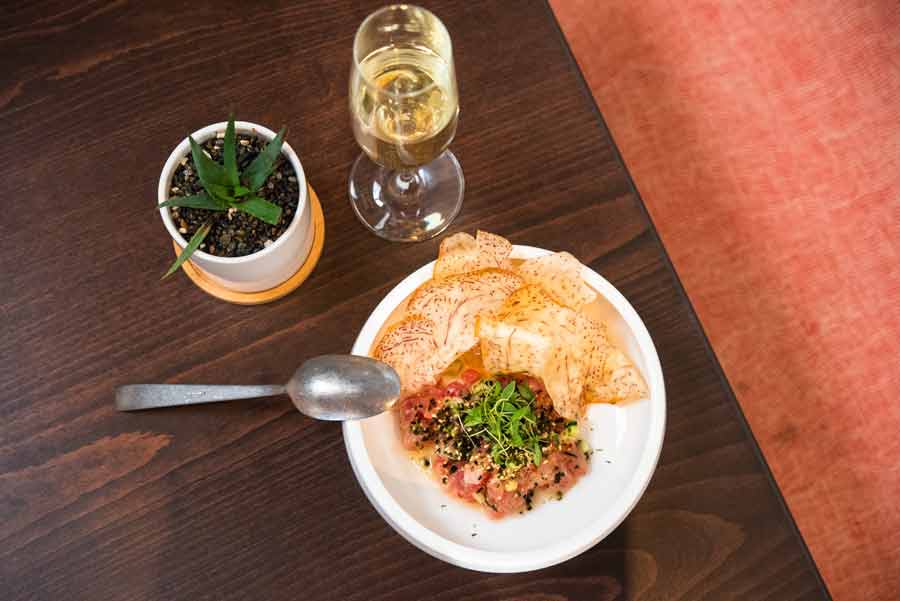 I Highly recommend the Poke & Ceviche
In addition to Entree Salads and Mains, O Sea also has a great selection of Smaller Bites like their Wild Fujian Albacore Tuna Poke which was one of my favorite dishes of the evening. It is made with white miso, watermelon, furikake, and served with taro chips.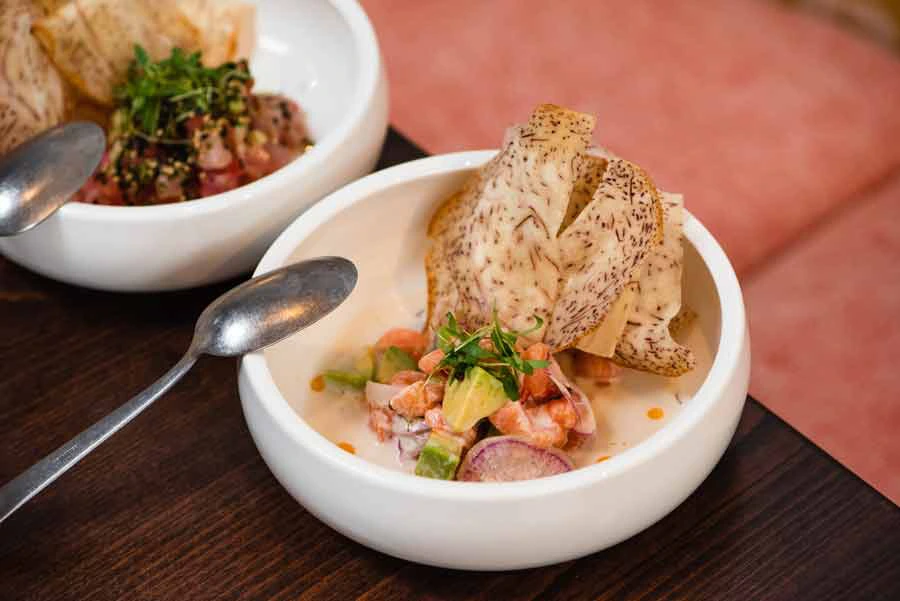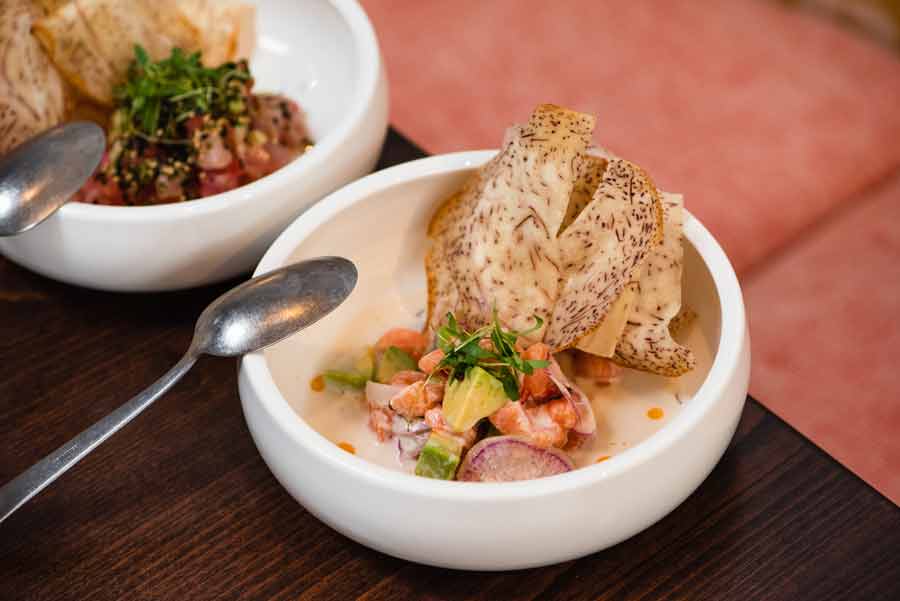 The Daily Fresh Ceviche is another popular dish made with coconut leche de tigre, habanero oil, and also served with taro chips. The flavors are both subtle and refreshing. During my visit, the ceviche was served with Farmed Norwegian Salmon.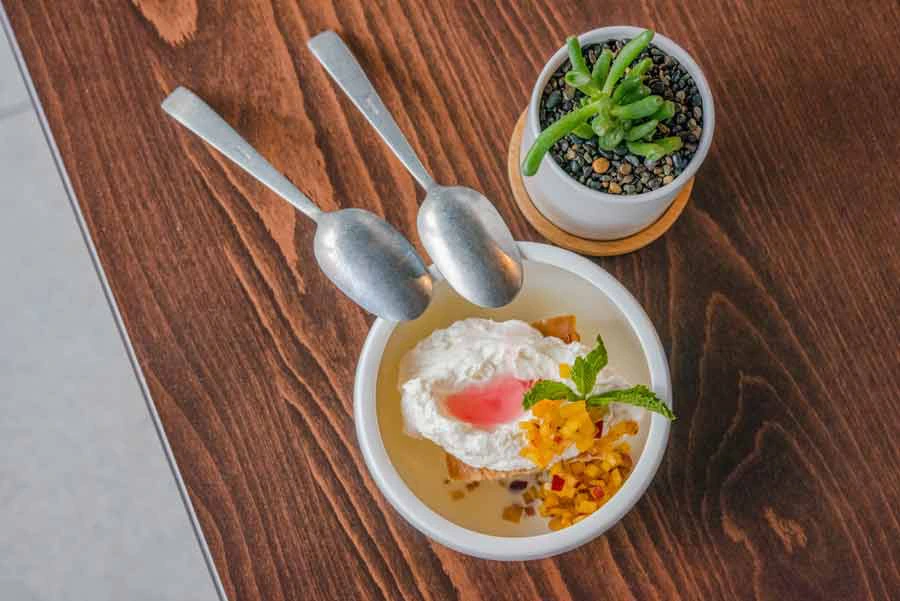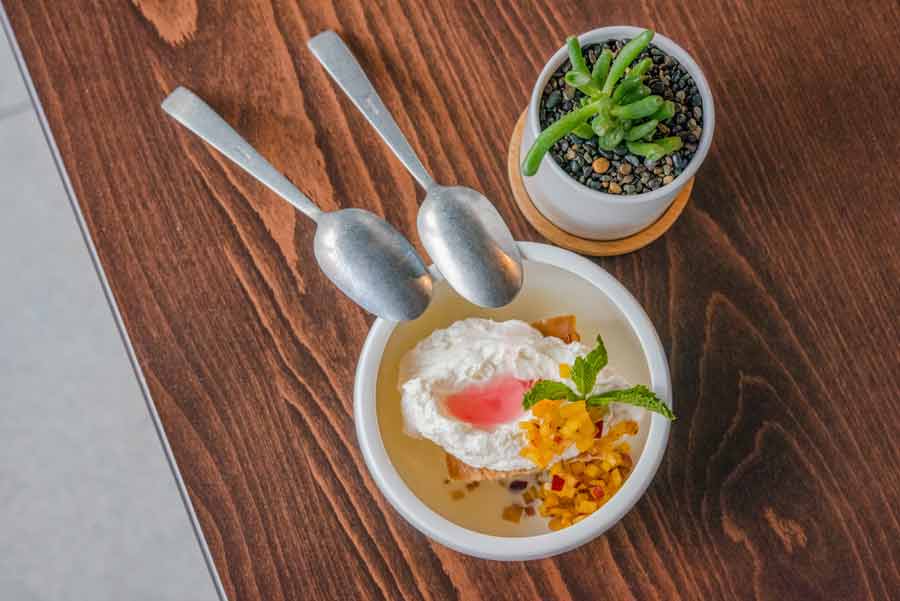 O Sea is one restaurant where you do not want to skip dessert.
While O Sea has many great seafood selections, I definitely would not skip dessert. Their sweet offerings are more delicious than many fine-dining restaurants. First, playing on their Latin-influenced cuisine, they offer a fantastic Dolce de Leche served with macerated peaches, housemade whipped cream, and peach syrup. I always order this when I am lucky enough to find it on a menu and the Dolce de Leche at O Sea did not dissapoint.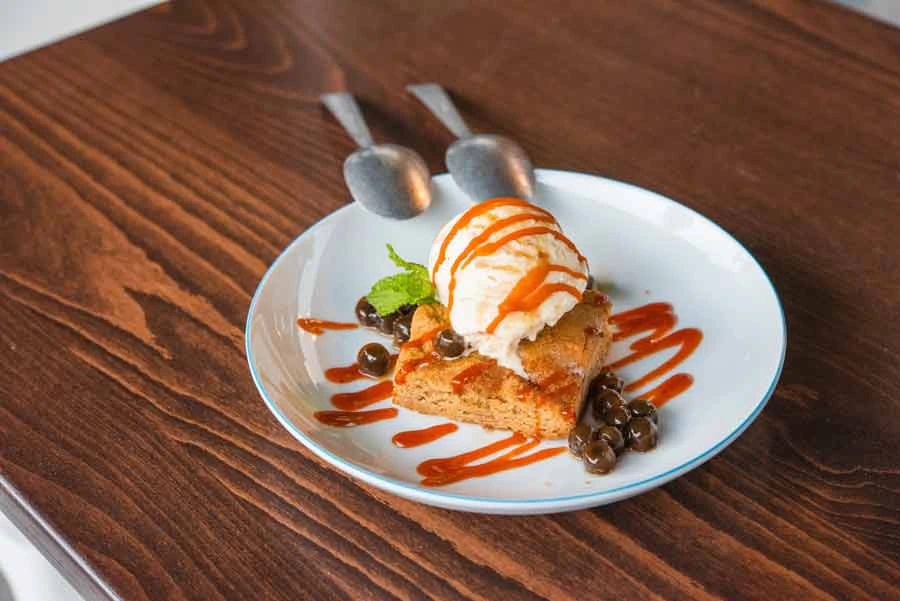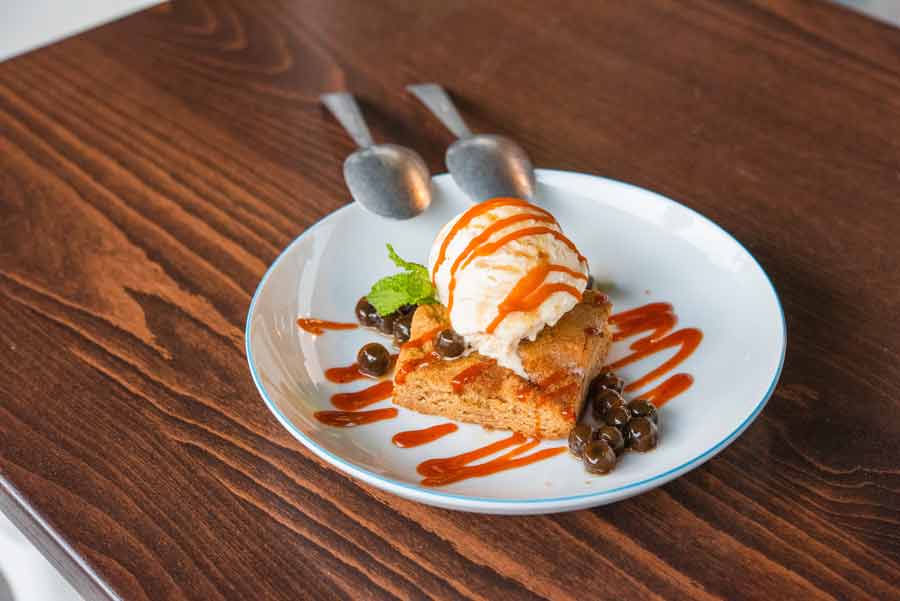 Sometimes the desserts look so amazing you just have to order more than one. The Thai Milk Tea Blondie Sundae was both intriguing and unique so I could not pass up the opportunity to give it a taste. It exceeded all expectations and was the perfect ending to a delicious evening. This one-of-a-kind dessert features a blondie brownie topped with a scoop of vanilla ice cream, drizzled with Thai tea caramel and boba. Trust me, if you order this dessert there won't be a bite left!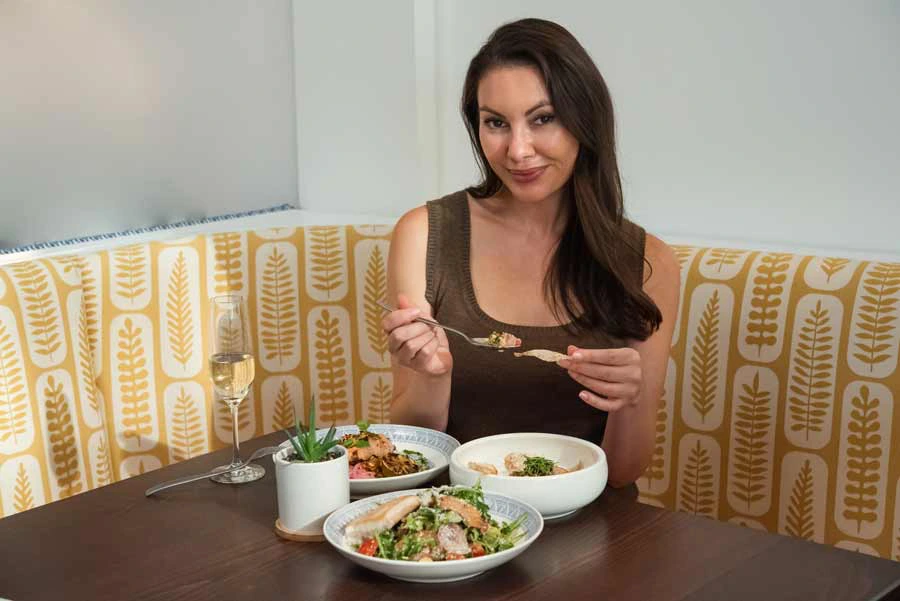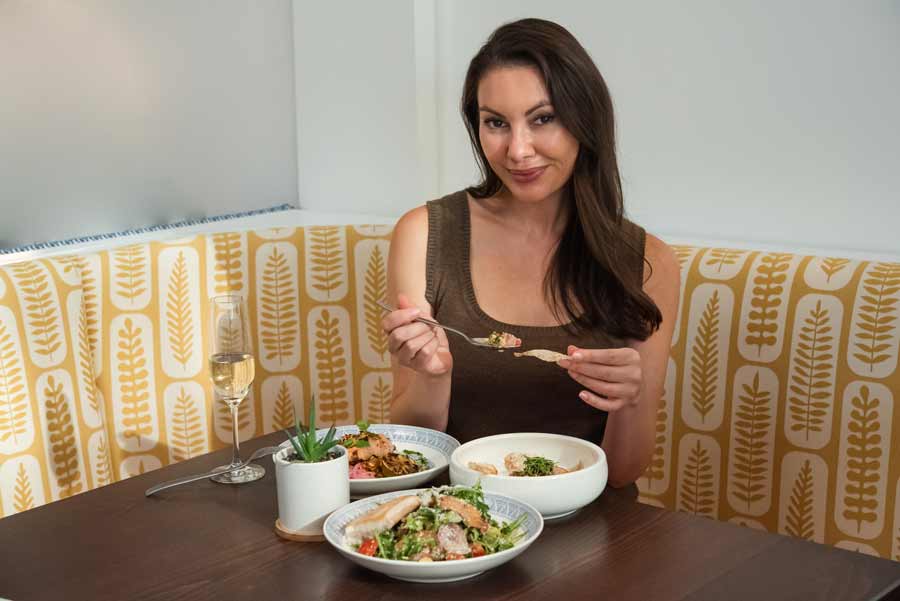 You can find O Sea right in the heart of Old Town Orange. Their laid-back restaurant offers the perfect spot to enjoy a relaxing glass of wine, fresh seafood, and delicious dessert in a casual unpretentious atmosphere.
109 S GLASSELL STREET, ORANGE, CA 92866
714-363-3309
Discover more delicious seafood in Orange County