Nestled amidst the rolling hills of Paso Robles lies the charming Cass Winery & Cafe, a haven for wine lovers and foodies alike. As we stepped onto the sprawling property, we were greeted by the sight of lush vineyards and the engulfing aroma of freshly made wood-fire pizzas, setting the tone for the ultimate winery lunch experience.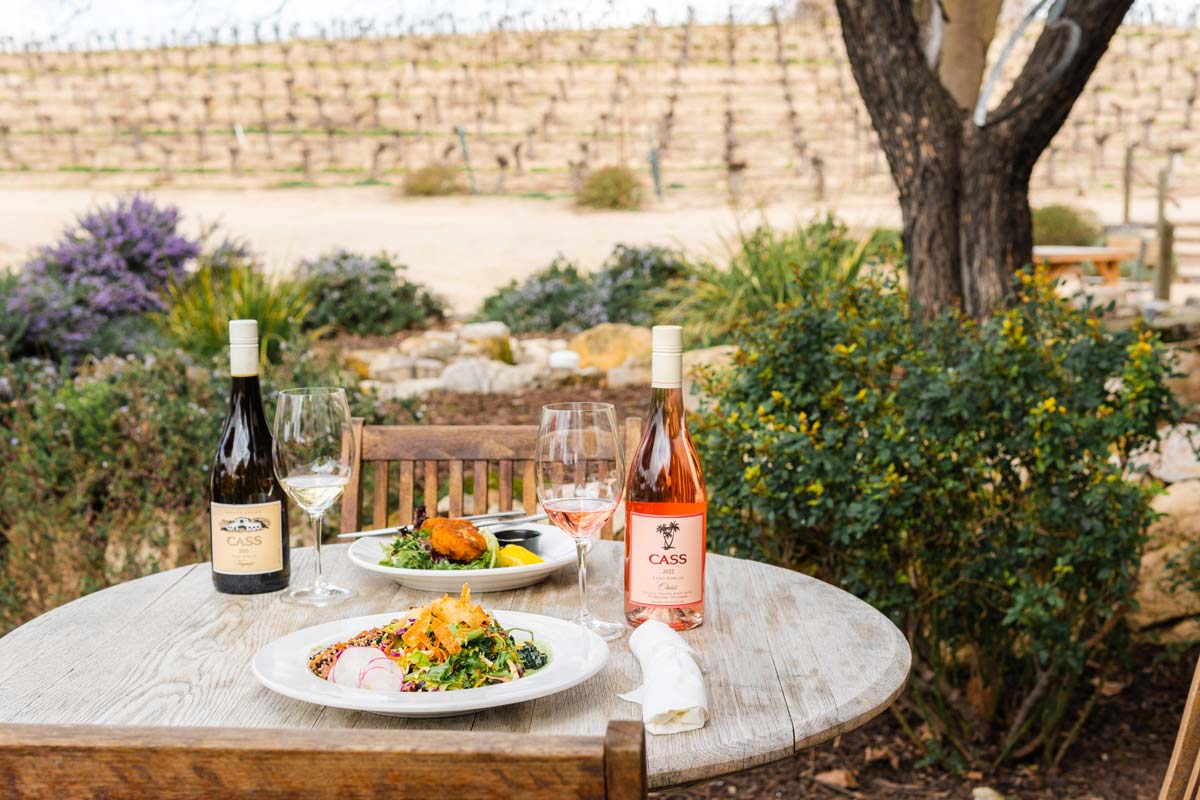 If you're looking for the perfect lunch on the Vineyard, Cass Winery Cafe has a wonderful chef-driven menu with refreshing salads, sandwiches, and fantastic wood fire pizzas made before your eyes.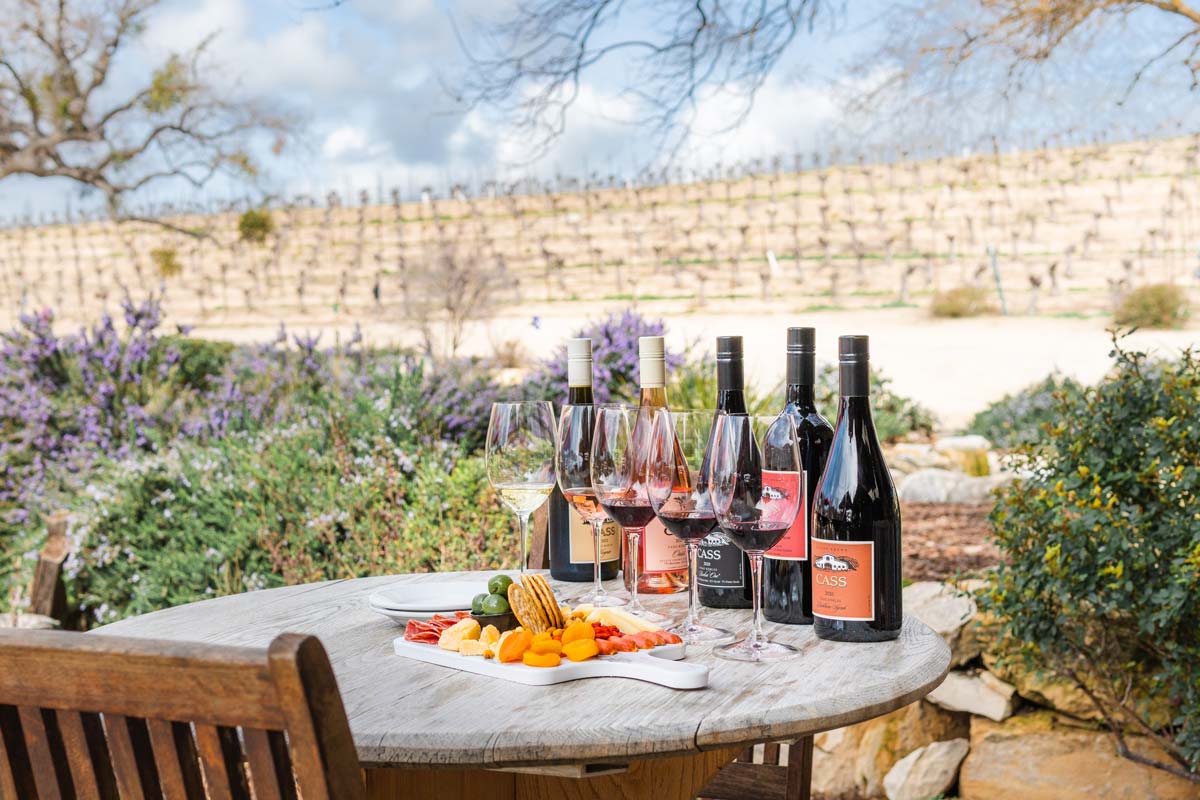 Cheese & Charcuterie Platter
We kicked off our visit with their insatiable Cheese & Charcuterie Platter. This meticulous board offered an array of bites for everyone including sliced chorizo & salami, açaí berries, sharp cheeses, olives, corn nuts, cranberries, and dried apricots.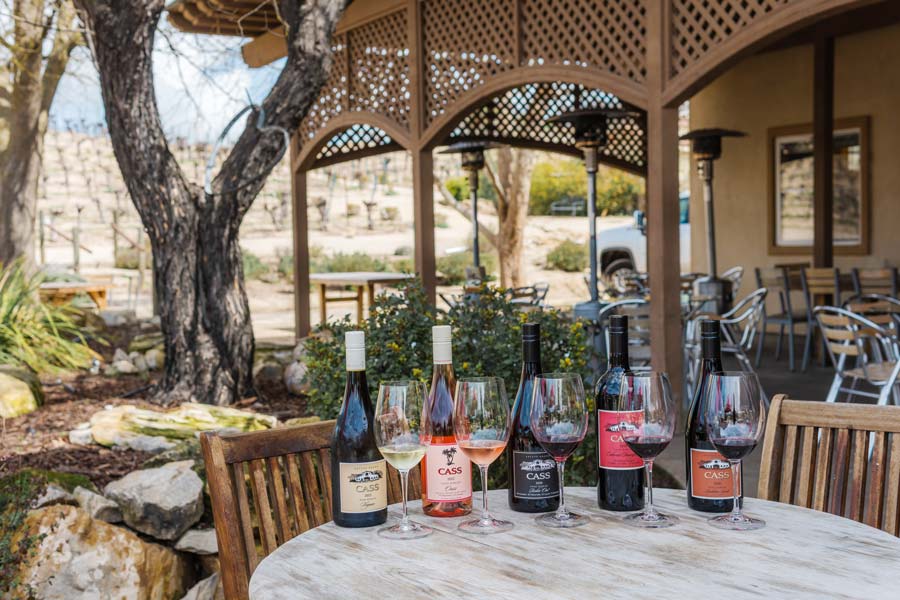 Cass Winery Wine Flight
We decided to pair our platter with their heavenly Cass Winery wine tasting flight which offered a pleasant mix of both white and red wines all produced from the surrounding 145-acre vineyards. A tasting flight at Cass is only $25 and each tasting is poured tableside to enjoy with your meal.
The servers are incredibly knowledgeable and take their time to go over each wine in detail. If you purchase two bottles, the tasting fee is waived and it would be near impossible to not bring home a selection of their signature French style Mourvèdre blends or juicy Grenache.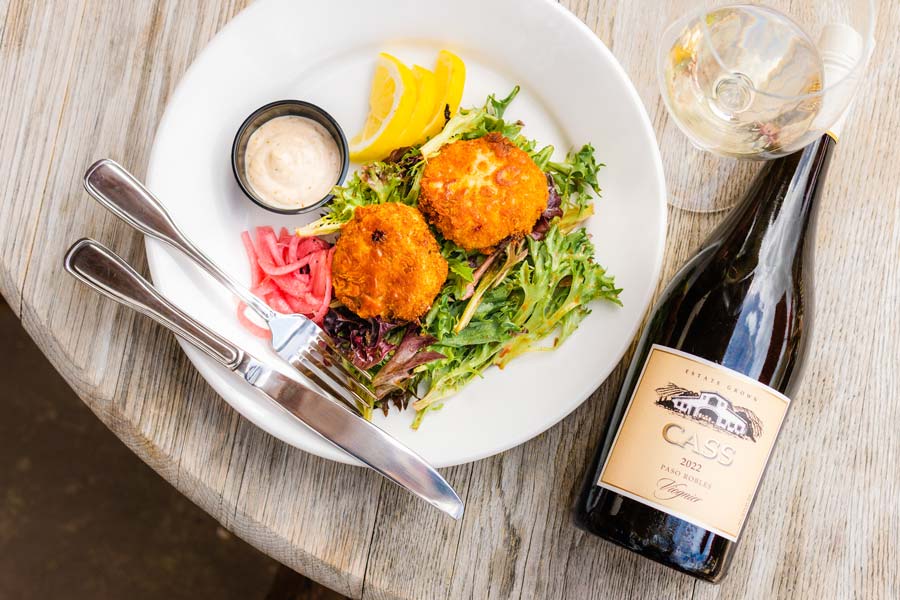 Alice's Crab Cakes
For lunch, guests will appreciate the variety of their expertly crafted & refreshing lunch offerings. Alice's Crab Cakes was an obvious choice and featured two meaty lump blue crab cakes topped with pickled onions accented by a flavorful remoulade dressing. They were seared to a crisp perfection on the outside and luscious on the inside with little filler to distract from the sweet chunky crab meat. We paired the crab cakes with the 2022 Viognier with notes of honeysuckle, apricot, and Asian Pear.
Torigoshi & Sesame-Seared Ahi Salad
We also enjoyed their lavish seared torigoshi & sesame-seared ahi salad. This colorful salad was surrounded by a wasabi aioli, then layered with a crunchy slaw of cucumber, julienned carrots, and red cabbage blended with spring lettuce. Rested atop were fresh edamame and wonton crisps for added texture. Our ahi paired perfectly with their 2022 Oasis Rose, a crisp exciting rose with hints of strawberry shortcake and grapefruit.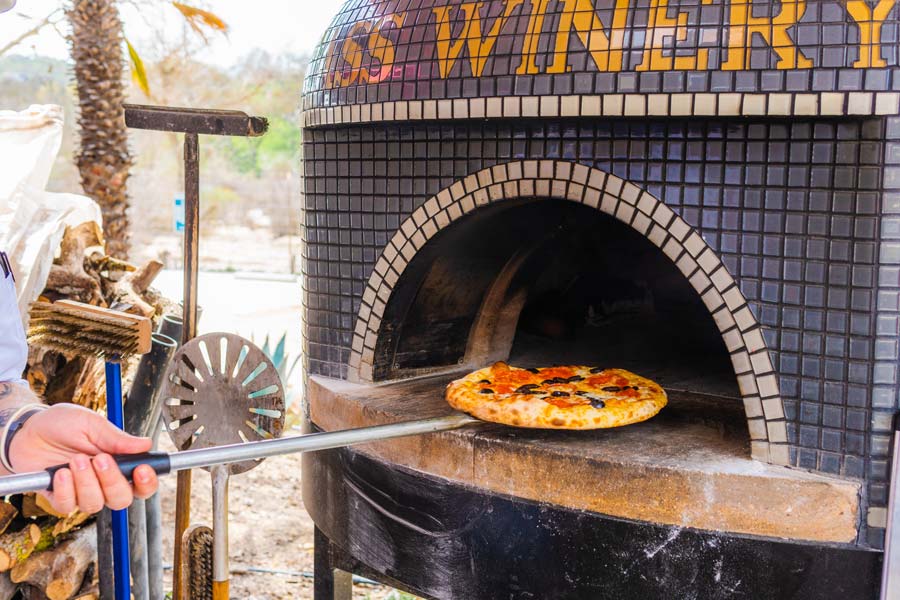 The Best Pizza in Paso Robles
Finally, a visit to Cass Winery & Cafe would not be complete without diving into one of their signature wood-fired pizzas. Guests can watch as the chef brings the pizza out to their giant wood burning oven and makes each one fresh before their eyes. I don't think I've ever watched a chef take so much care in preparing a pizza. I'm originally from NY so that is saying a lot.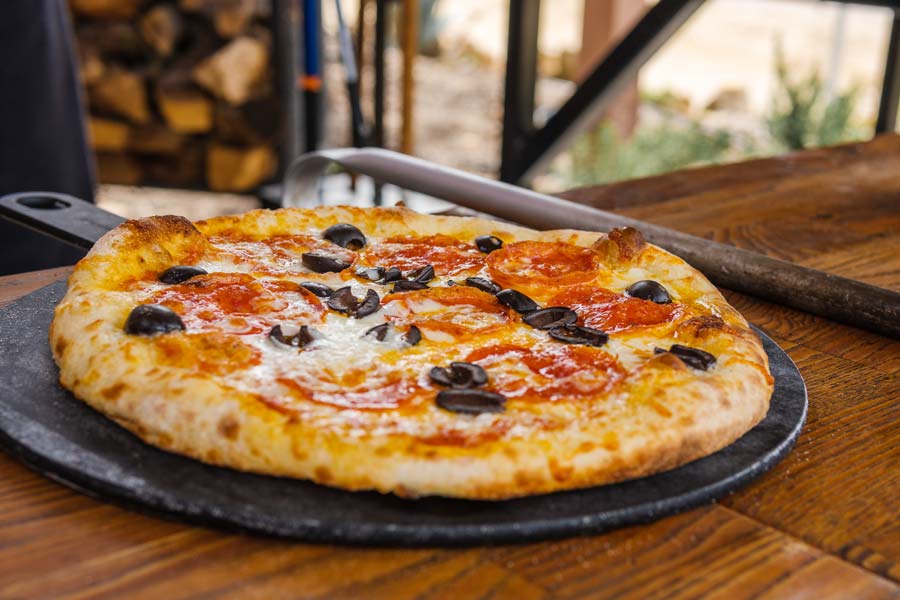 As he rotated the pizza, he took his time to achieve the perfect crispy crust before lifting it to the top of the oven to broil the bubbling melted cheese. Cass Winery & Cafe easily serves the best pizza in Paso Robles.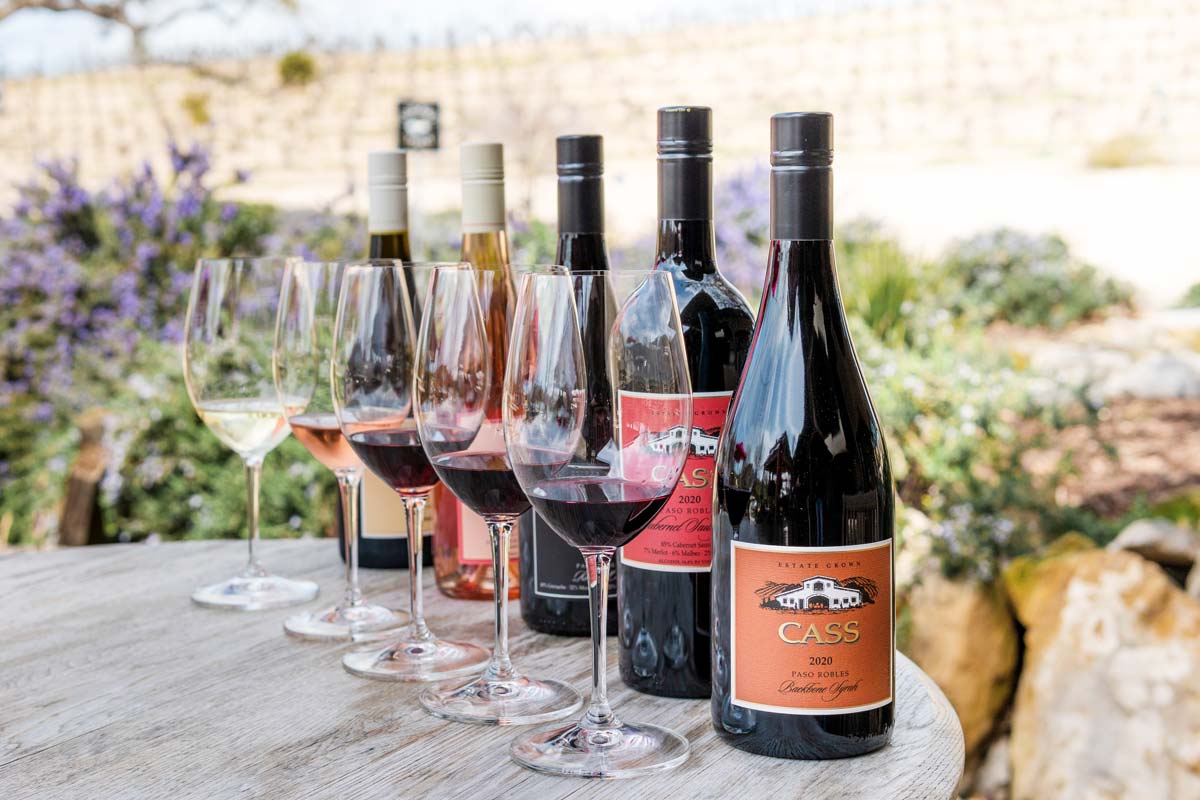 Our Favorite Cass Winery Reds
To pair with our delicious wood-fire pizza we enjoyed the 2020 Cass Winery Cabernet Sauvignon, 2020 Blackbone Syrah, and the 2020 Rockin Red One. The 2020 Cabernet Sauvignon exuded flavors of rich plum, black currants, and warm cedar. This was my fiancés' favorite wine of our visit.
I had a tough time deciding between the Cherry Vanilla finish of the 2020 Rockin' One Red, a leathery blend of 44% Grenache, 31% Mourvèdre, 17% Sarah, with 8% petite Syrah, and the 2020 Backbone Syrah. In the end, we ended up taking home a bottle of all three to add to our growing collection of amazing Paso Robles wines.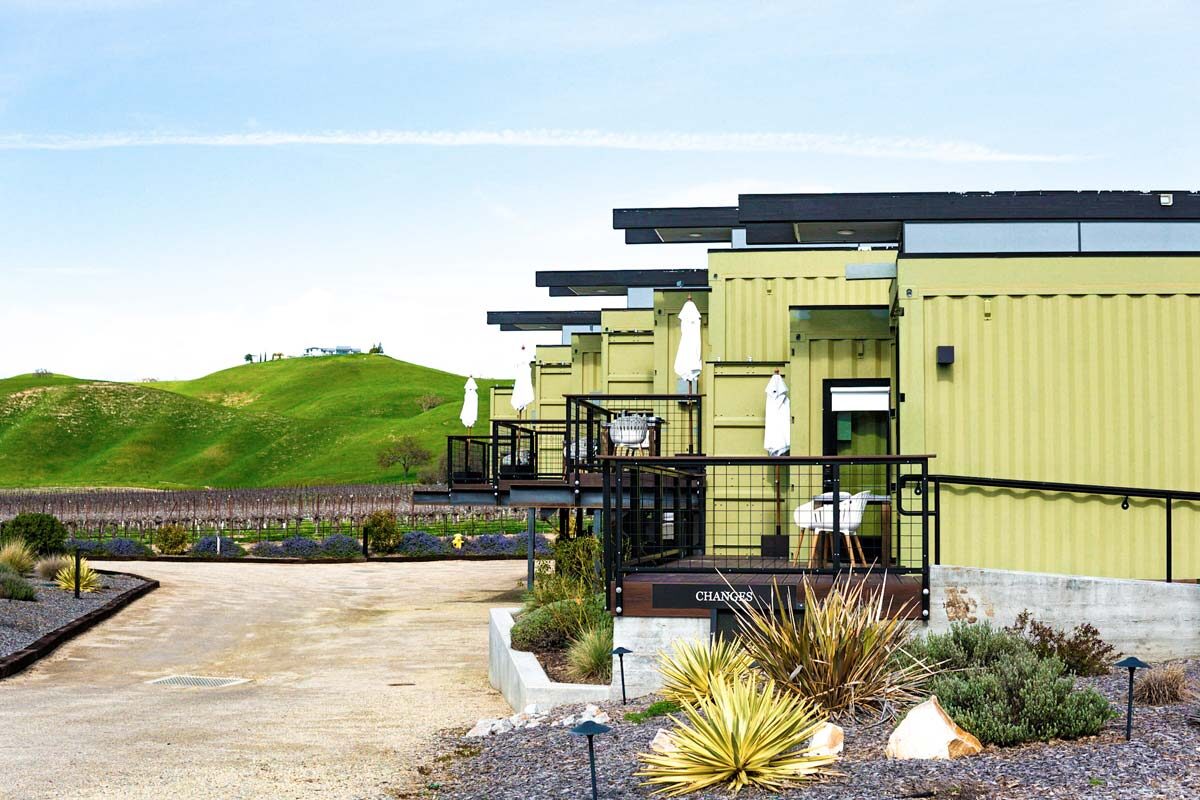 Geneseo Inn
For a truly immersive Paso Robles vineyard stay, Cass Winery also offers the ultimate in wine country accommodations at Geneseo Inn. Their boutique Paso Robles Inn is comprised of 8 unique industrial shipping crates which have been converted into luxurious rooms surrounded by their illustrious vineyards. Amenities include a world-class culinary breakfast made to order each morning to enjoy on your private patio.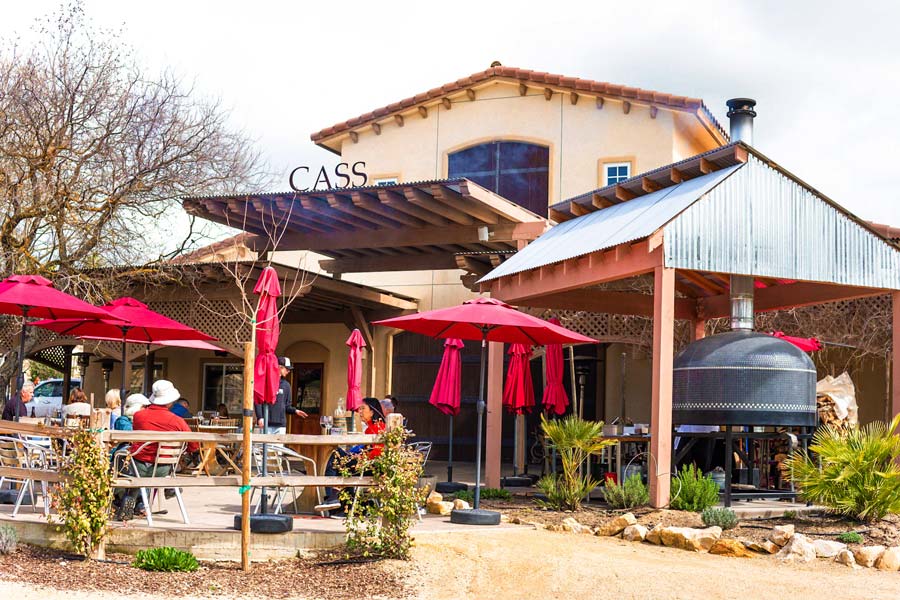 Cass Winery Location & Reservations
7350 Linne Road
Paso Robles, CA 93446
tel: 805.239.1730
Discover More of Paso Robles