My easy Italian Wedding Soup recipe is cooked in only minutes using the Instant Pot. The name Italian Wedding Soup is actually named "minestra maritata" which means married soup and refers to a marriage of flavors between meat and vegetables. This soup is not only delicious but also healthy and filling.
Surprisingly, I don't find this soup nearly enough on Italian menus in my area. If you enjoy visiting Disneyland you can find Italian Wedding Soup at the Wine Trattoria which I enjoy on every visit. I started making this soup at home in large batches because it's so incredibly easy to make and also freezes very well.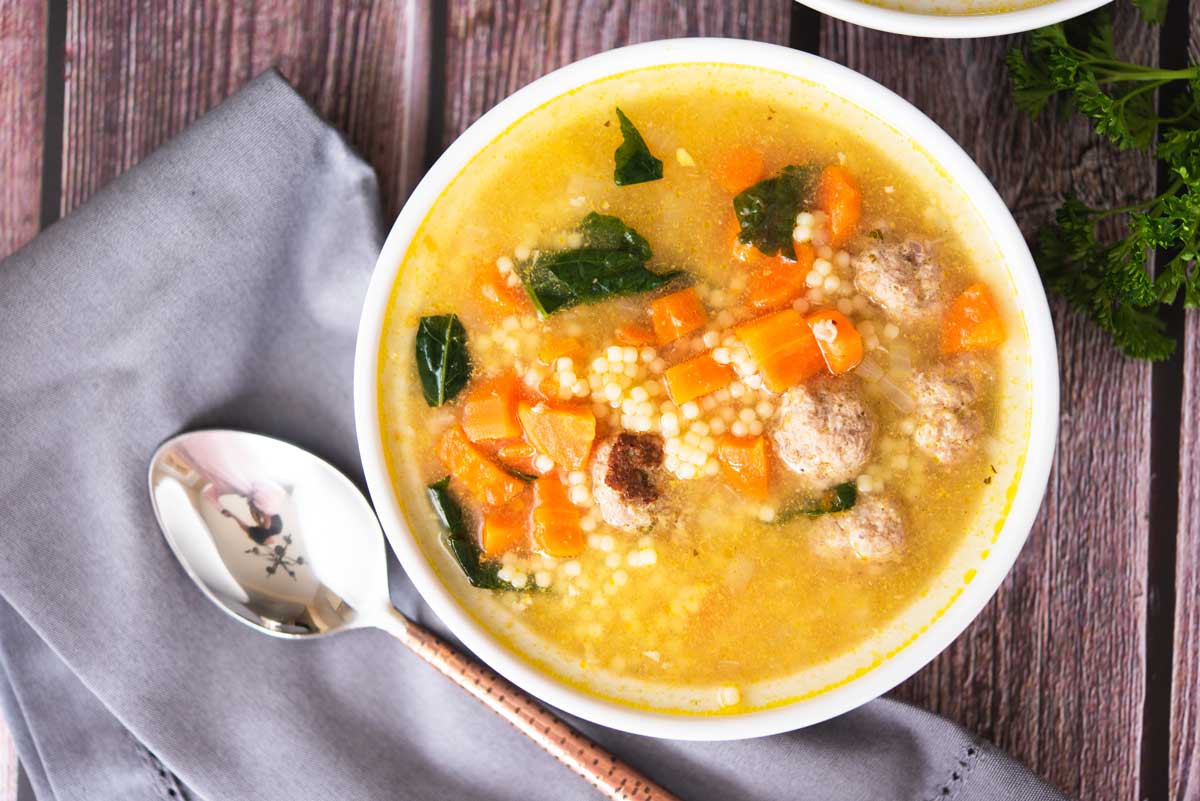 Easy Italian Wedding Soup Ingredients
First, to make the meatballs you will be the ingredients below. I like to double my recipe and will make additional meatballs for spaghetti later in the week or to make a larger batch of soup. These recipes are very similar to my regular Italian Meatball Recipe except that for these meatballs we use half pork and parsley instead of basil.
1lb ground meat
1lb ground pork
egg
parmesan cheese
breadcrumbs
2% milk
fresh oregano & parsley
garlic powder, salt, pepper
Next, for the soup, you'll need the other ingredients below. I prefer to use Tuscan kale over spinach because I enjoy the texture more, but you can substitute spinach if you'd like. I also purchased an Aerogarden during quarantine. It was my impulse purchase which actually turned out to be a great investment. In about a month I had zip lock bags full of fresh herbs and Tuscan Kale to store in my freezer. The Kale used in this recipe came from my aerogarden at home.
I also omitted celery because I am not a fan, but if you enjoy celery you can feel free to add 1/2 cup of diced celery.
chicken broth or vegetable broth
carrots
Tuscan kale
onions & garlic
salt & pepper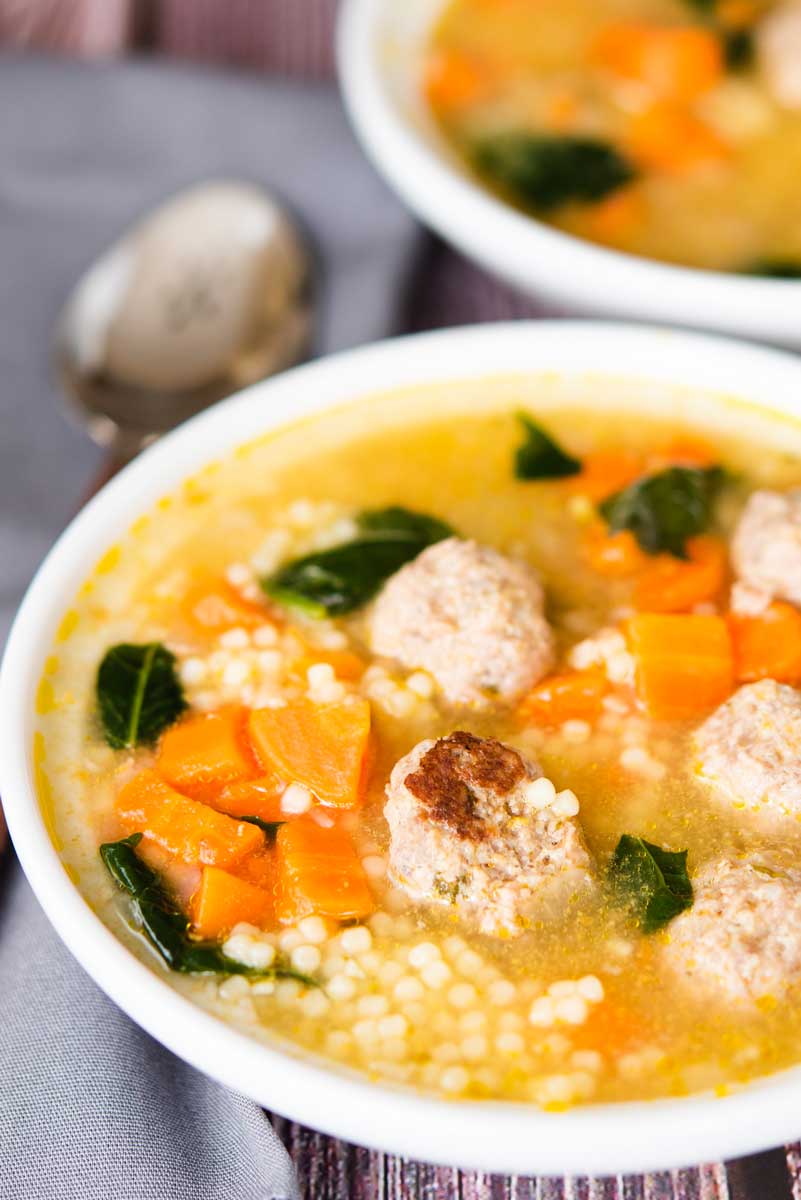 How to make this Easy Italian Wedding Soup Recipe
You'll begin by adding all of your meatball ingredients into a bowl. Be sure to soak the breadcrumbs in the milk so they are nice and moist when you add them to the bowl. This is a secret of making moist and tender meatballs. Mix all the ingredients very well with your hands. The more you mix your meat, the more tender it will be.
Once your meat is well mixed, measure a heaping 1tsp of meat into your hand and roll onto a ball. Once finished you can brown the meat which is optional. You do not need to brown the meat for this recipe. If you are in a rush you can completely skip this step. Also for the instant pot, it is better to use the nonstick insert to keep your meat from sticking. If you own an Instant Pot, I highly recommend ordering the nonstick ceramic insert.
If you've browned your meatballs you will remove them from the pan and then add the onions, garlic, carrots, and optional celery. Saute for 2-3 minutes and then add your chicken broth, salt, pepper. Stir well and scrape any brown bits from the bottom of the pan. Then add your meatballs and pressure cook on high for only 6 minutes.
Once finished, quick release and then turn your instant pot on Warm (high heat) and add your pasta and kale. Let continue to warm on the highest warm setting for another 10 minutes until the pasta is finished cooking. I like to serve this soup with a little parmesan cheese.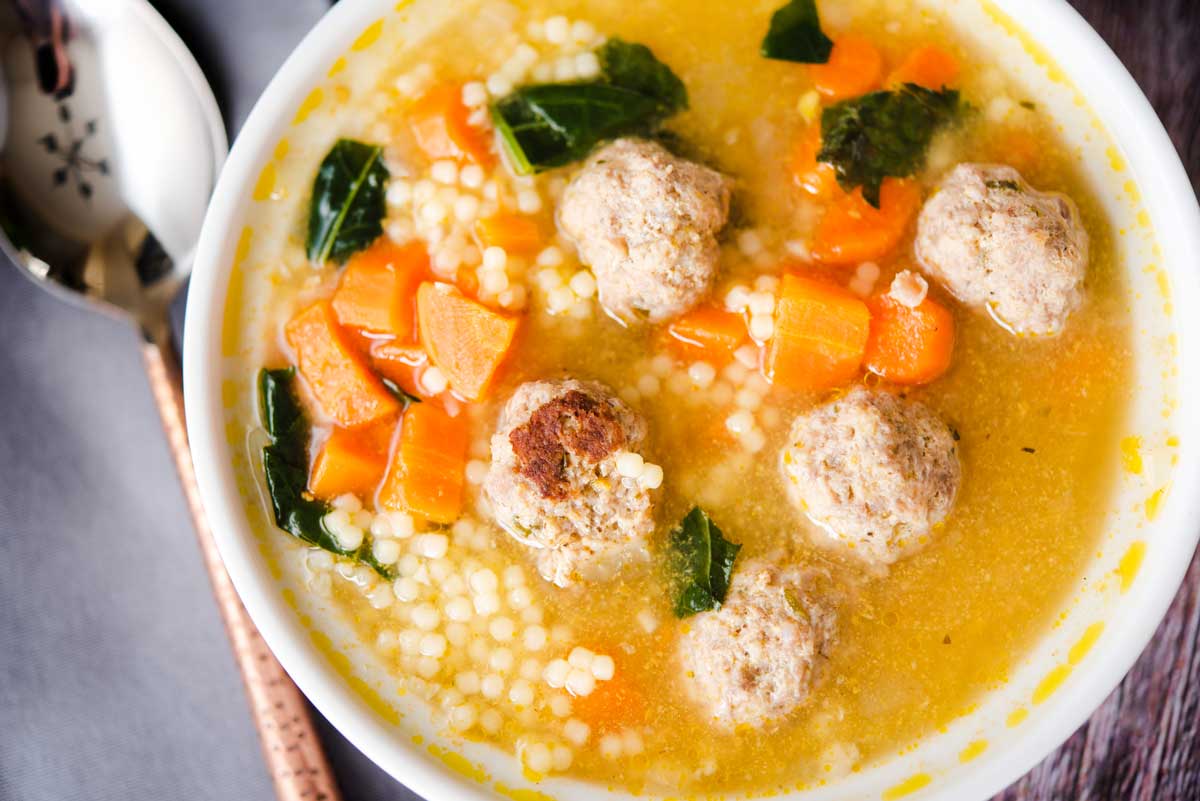 If you enjoy this recipe, be sure to check out my other Soup recipes. Making hearty comforting soups is one of my specialties!
Find Delicious Recipes By Category
Find Delicious Recipes By Category