---
This traditional Thai Coconut Soup Recipe (Tom Kha Gai) is always on my Thai takeout order. However, it is incredibly easy to make at home and I have to admit, my recipe is better than most of the Thai Coconut (Tom Kha Gai ) soups I've tried at restaurants. I really enjoy creating this recipe in the Instant Pot as pressure cooking often enhances the flavors of your soups and also makes the chicken nice and tender. With Tom Kha Gai, letting the flavors seep into the broth is key. If you do not own an Instant Pot, you can also use a slow cooker for 6 hours or simmer on the stove for 45 minutes to an hour.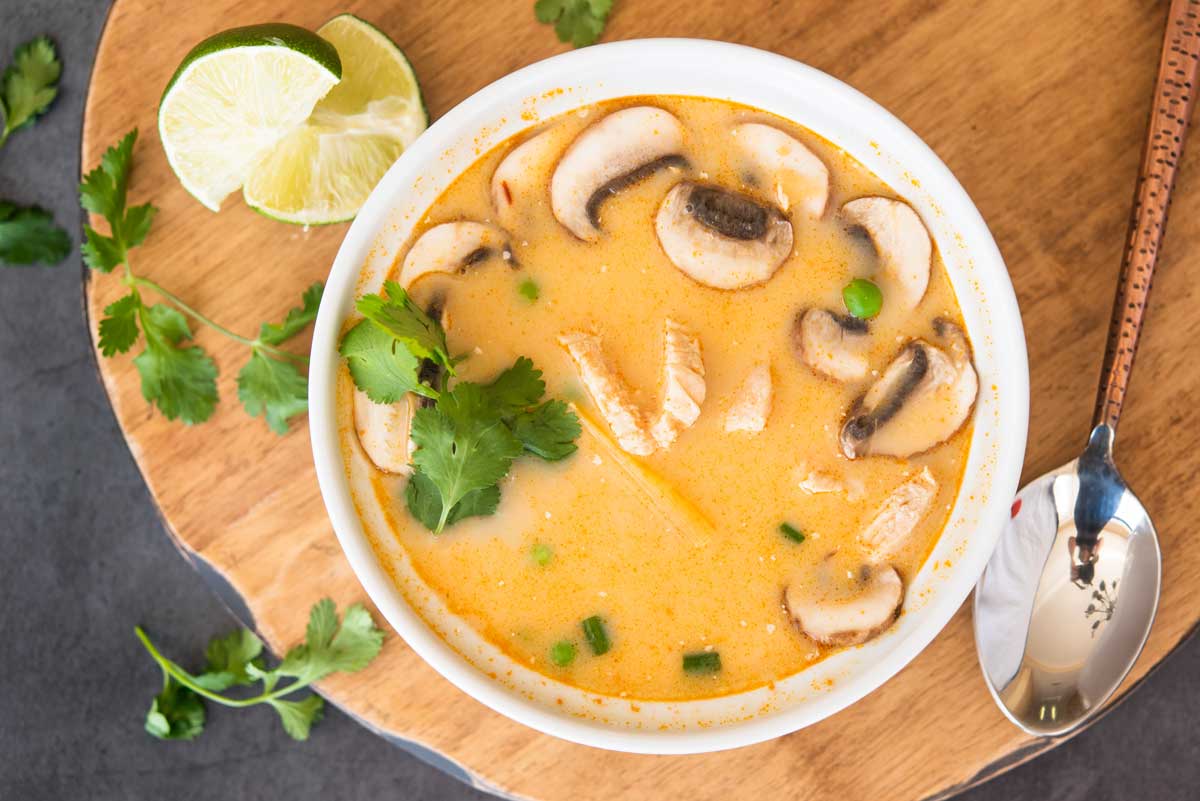 I've always found this soup to be incredibly comforting, even more so than chicken noodle soup. It can also be made with or without coconut milk, buy substituting the coconut milk for more chicken broth. Tom Kha Gai is Thai soup with coconut milk and Tom Yum Gai is Thai Soup without the coconut milk often referred to as a Thai Coconut Soup or Thai Sweet and Sour Soup.
Thai Coconut Soup or Tom Kha Gai, is traditionally made with chicken, but you can also make this recipe with shrimp. If you decide to use shrimp just be sure to add the shrimp at the very end. Shrimp only takes about 5 – 10 minutes to cook and most shrimp already comes pre-cooked so it just needs to be reheated. When I cook with shrimp at the very end when I add the coconut milk.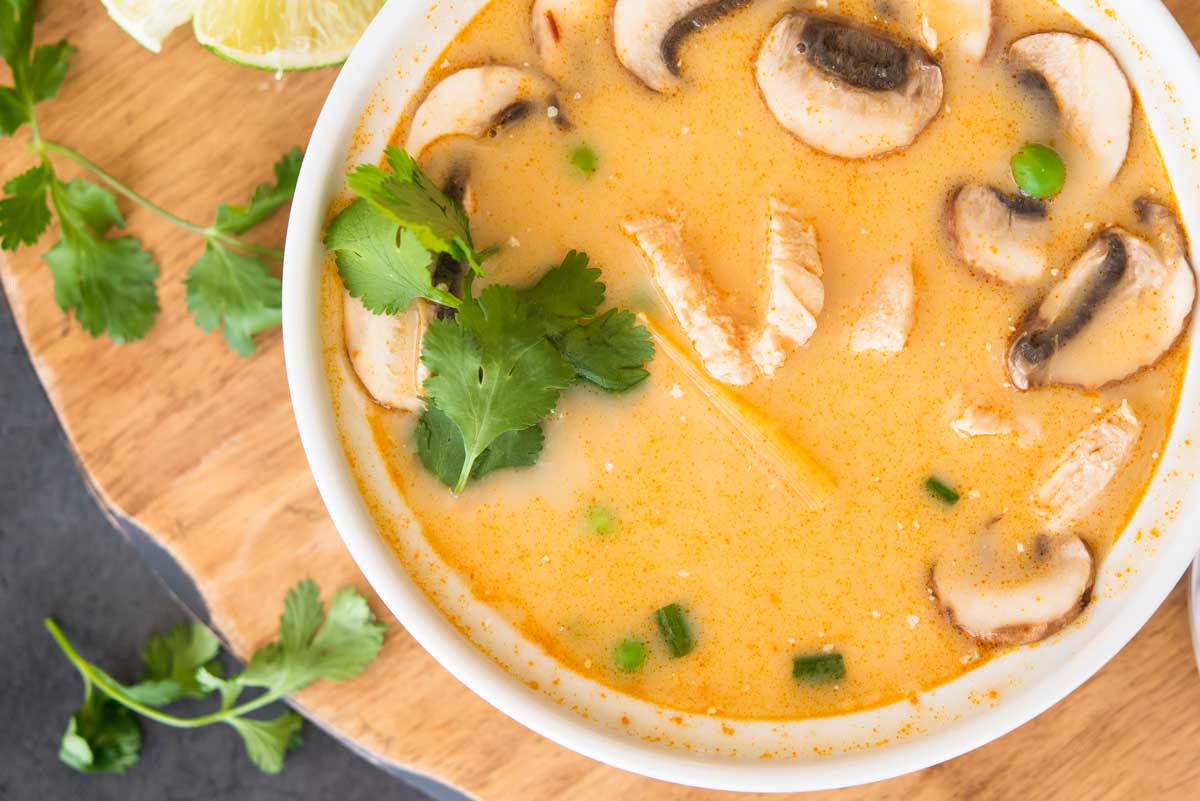 Thai Coconut Soup Recipe ( Tom Kha Gai) Ingredients
My Thai Coconut Soup Recipe uses a handful of traditional Thai ingredients which are great to have on hand for making Thai soups, curry, and pad Thai.
Chicken Breast, Mushrooms, and Peas (you can also add other vegetables like broccoli)
Chicken Broth & (Light) Coconut Milk
Fish Sauce (yes fish sauce, don't be afraid!)
Fresh Lemongrass and Lemongrass Paste
Chili Garlic Sauce ( A must-have ingredient for all of my Asian cuisine recipes)
Fresh Garlic & Ginger
Lime & Cilantro (you'll find that most Thai dishes are garnished with fresh lime and cilantro)
As I mentioned earlier, this recipe is so incredibly simple to make. You will first saute your onions with butter in the instant pot. Then add your chicken and saute for another 1-2 minutes (the chicken does not need to be browned or cooked all the way). Then in a separate bowl mix your chicken broth, red curry paste, fish sauce, lime juice, chili garlic sauce, lemongrass paste, fresh lemongrass, and sliced ginger. Add to the pot, turn off your saute setting and pressure cook on high for 20 minutes.
Once your soup is done pressure cooking you will want to turn your Instant Pot completely off. Then add your Coconut Milk, thingly sliced mushrooms, and frozen organic peas. If you are adding broccoli, you'll want to turn on the saute setting to light, add your broccoli and saute until the broccoli is tender. Then turn off your Instant Pot and let it cool slightly before adding the Coconut Milk and other ingredients. Remember not to add coconut milk to boiling broth so it does not curdle.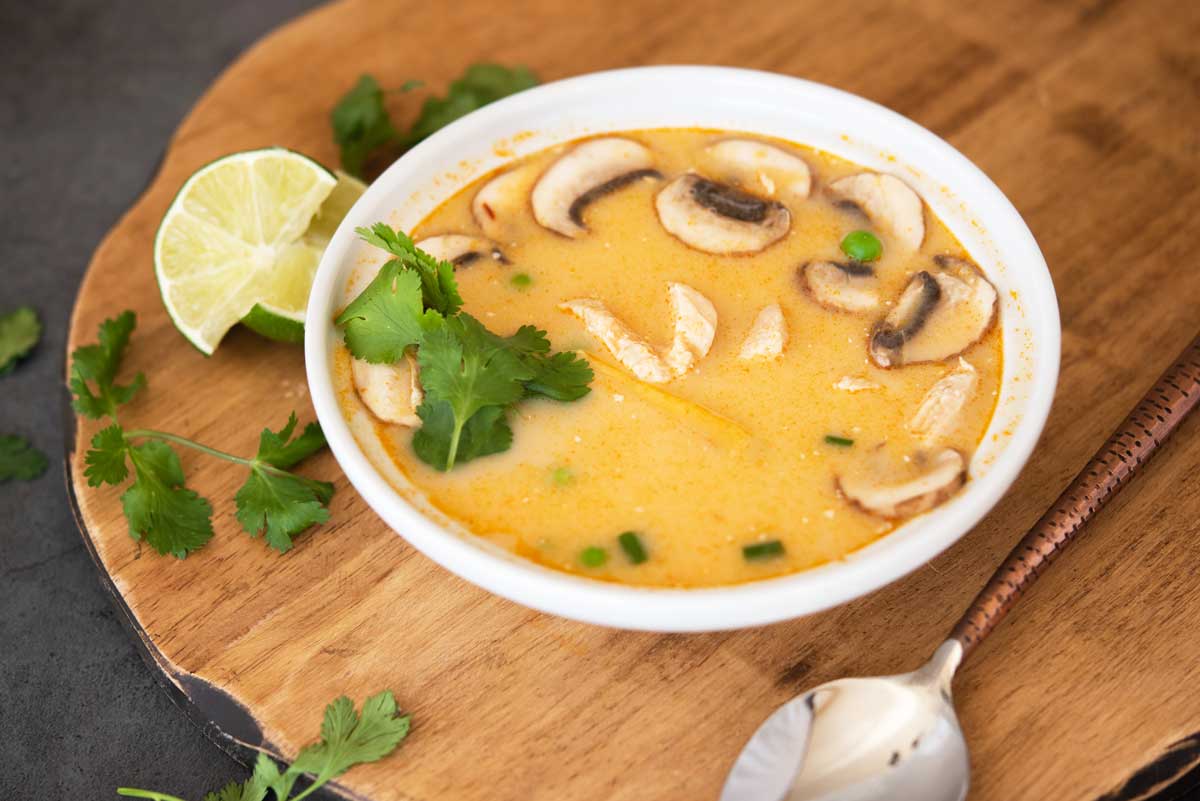 How to Adjust and Personalize This Thai Coconut Soup Recipe (Tom Kha Gai)
Skip The Coconut Milk: If you want to avoid reduce the calories even further or avoid using coconut milk, you can simply omit it and add extra chicken broth instead. This is how you would make the equally popular Tom Yum Gai soup.
Add Some Extra Spice: I don't make my dishes very spicey, but if you want a little more heat, just add more Chili Garlic Sauce
Add Additional Ingredients: Other ingredients you can add include tofu, shrimp, Julien carrots, broccoli, and different types of mushrooms.
I always garnish this dish with fresh cilantro and serve it with freshly sliced limes on the side. This can be eaten alone or with Jasmine Rice or Brown Rice Medley.
Find Delicious Recipes By Category