Posts may contain affiliate links. Read our full disclosure policy here.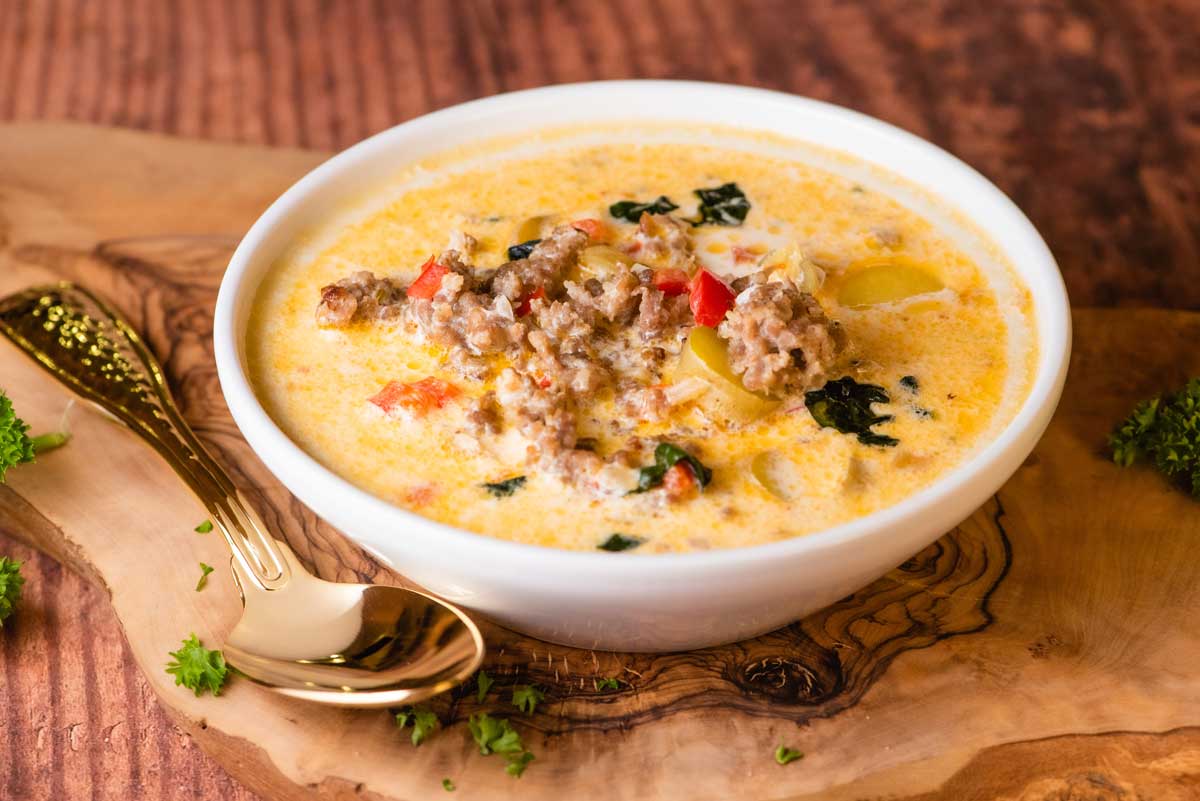 If you love this soup at Olive Garden, it is incredibly easy to make at home. This version is also lower in calories without sacrificing any of the flavor by using 2 % milk and half and half instead of heavy cream.
---
I created this Zuppa Tuscana Soup Recipe after spending years as a child enjoying unlimited bowls of this soup at Olive Garden. Surprisingly, it is incredibly simple and easy to make. I started experimenting with this dish over 10 years ago and came up with a healthier version that is still creamy, velvety, and full of flavor. This would be the perfect soup to enjoy on a chilly rainy day and makes enough to feed the entire family. It is also hearty and filling enough to serve as your main meal!
The Main Ingredients in This Zuppa Tuscana Soup Recipe Are:
The ingredients in this soup are very simple and this soup is incredibly easy to make in a large pot.
Ground Sausage
Tuscan Kale
Fingerling Potatoes
Red Peppers
Sweet Onions
Garlic
Red Chili Sauce
2% Milk
Half and Half
Salt & Pepper
lemon juice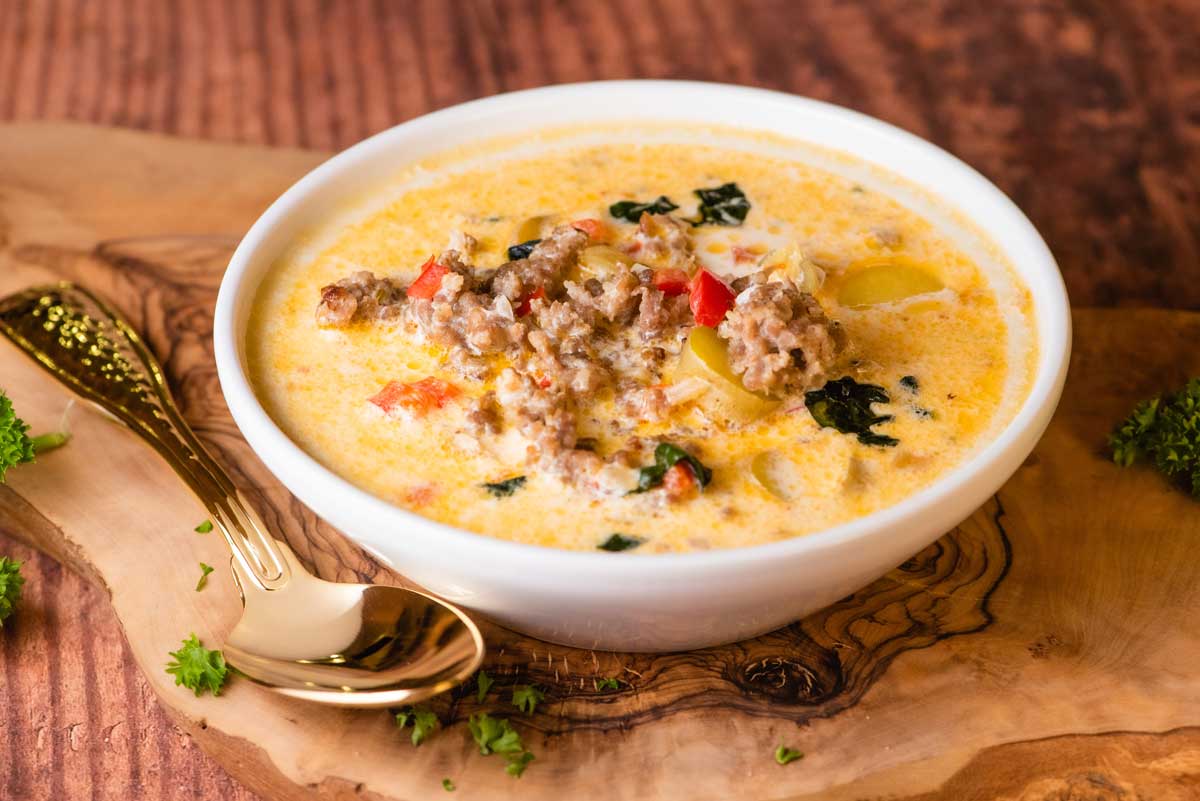 How to Keep Lemon from curdling in creamy soups and sauces?
One key ingredient to this soup is adding a tablespoon of lemon juice. It adds a lovely and balanced zesty flavor to the coup. When adding lemon to any cream-based soup or sauce there are generally two rules you need to follow in order to prevent curdling.
First make sure you are using a higher fat base such as whole milk, heavy cream, or half and half. In our Zuppa Tuscana Soup recipe, we use a combination of half and half with 2% milk.
Second, never add your citrus juice when your soup is at a high temperature. In fact, in any cream or milk-based recipe, you should never allow it to come to a full boil. Always simmer these soups and sauces. You'll want to add your lemon juice at the very end once the heat is turned off.
This recipe also freezes incredibly well for leftovers. Simply freeze and take out the night before. The extra fat from the sausage will also sit at the top so you can save some extra calories by not adding it back in when reheating!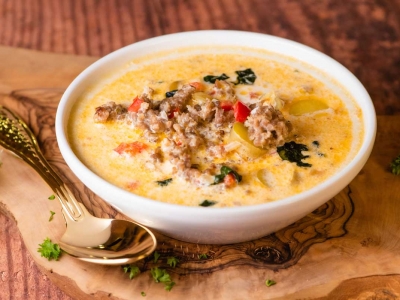 Zuppa Tuscana Soup Recipe
If you love this soup at Olive Garden, it is incredibly easy to make at home. This version is also lower in calories without sacrificing any of the flavor by using 2 % milk and half and half instead of heavy cream.
Ingredients
1

lb

ground sausage

1/2

cup

Fingerling Potatoes

Sliced

2

cups

kale

tuscan, chopped

¼

cup

red peppers

diced

1/4

cup

sweet onion

chopped finely

2

cloves

garlic

chopped finely

3.5

cups

2% Milk

16

oz

half and half

1/2

tsp

chili garlic

1

tsp

salt

Pink himalayan

1/4

tsp

white pepper

1

tsp

olive oil

1/2

tbs

lemon juice

frsh squeezed
Instructions
In a large pot set the heat to medium-high and add 1 tsp of olive oil or avocado oil. Add your ground sausage with 1/4 tsp of salt and chop as its cooking.

Then remove your ground sausage, leaving behind the remaining fat and add your garlic, onions, and red peppers. Let saute for about 1-2 minutes and add your kale. Saute for another 2-3 minutes and then add your ground sausage back to the pot.

Next add your milk, half and half, chili garlic sauce, salt, and pepper. Bring to a simmer and do not let your soup boil. Cook on low heat for about 15 minutes until your potatoes are tender.

At the very end, turn off the heat completely and add in 1/2 tbs of fresh squeezed lemon juice.
Notes
How to add lemon to milk without curdling
There are two main tips for adding lemon to cream and milk based soups and dishes without them curdling. The first is to use high fat milks such as whole milk, half and half, and heavy cream. 
The second is to add your lemon at the very end when you sauce or soup is at a lower temperature. You never want to let a cream based sauce or soup scorch and reach a complete boil.
This Zuppa Tuscana Soup Recipe is Great for Freezing!
I freeze 1-2 portions of almost all my recipes so I never get bored and have an abundance of lunch and dinner options. This is one of my weight loss tricks as when I'm hungry I will make poor choices of I don't have quick tasty and healthy options available.
Another great feature of freezing this recipe is that all the fat from the ground sausage will rise to the very top and coagulate. This way when you go to reheat the soup, you can save an additional 60-100 calories by not adding the fat back in when reheating.
Nutrition
Serving:
1
cup
Calories:
431
kcal
Carbohydrates:
15
g
Protein:
20
g
Fat:
32
g
Saturated Fat:
14
g
Cholesterol:
93
mg
Sodium:
995
mg
Potassium:
662
mg
Fiber:
1
g
Sugar:
8
g
Vitamin A:
2890
IU
Vitamin C:
40
mg
Calcium:
287
mg
Iron:
1
mg
Be sure to have a look at some of our other soup recipes. Soups are often healthy, low-calorie, hearty, and incredibly easy to make. I love to make soups and freeze them through the month to enjoy later!
Additional Healthy Soup Recipes
If you are looking for more delicious & healthy recipe soup recipes be sure to visit our Soup Recipes Section. Here are some additional soups you might enjoy.
Find Delicious Recipes By Category