We all love Disneyland, but if you're looking for gluten-free foods it can be a frustrating experience. There isn't really a straightforward list available so I've created this guide which you can bookmark and use as a reference next time you're in the parks.
Here is an updated list for 2024 of the gluten free Disneyland food options and exactly where you can find them throughout the park. They often rotate their menu's so be sure to check and make sure they're available.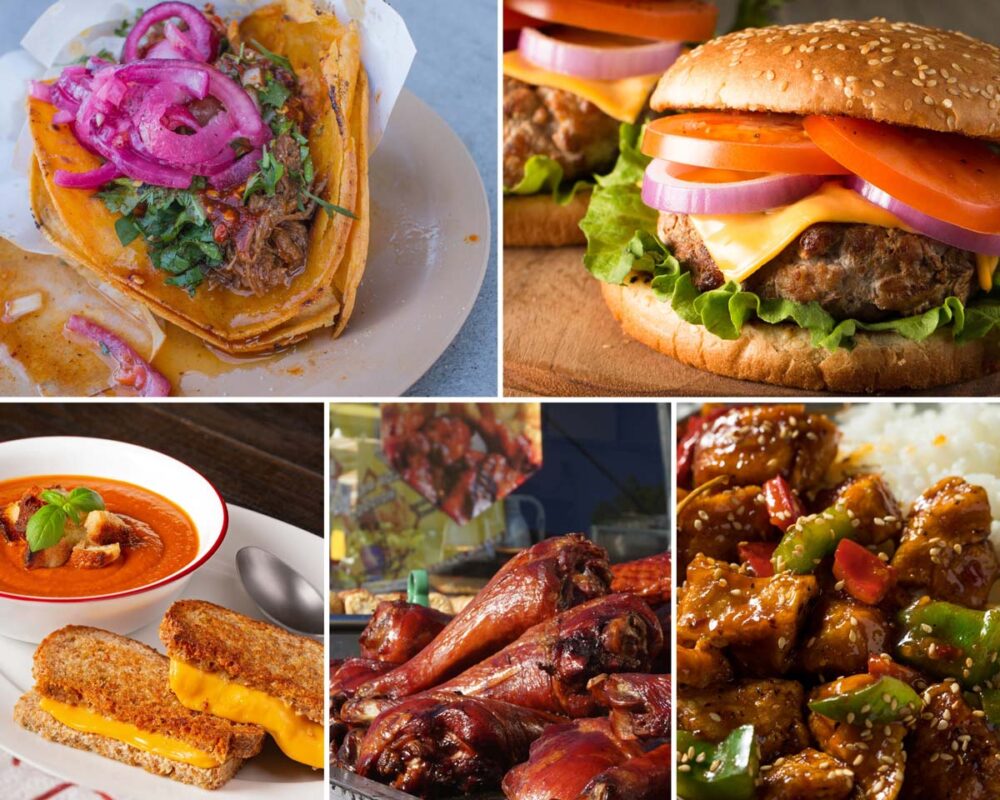 1. Gluten-free Turkey Wrap
This can be found at the Hungry Bear Restaurant and is made with a gluten-free wrap, turkey, lettuce, tomato, and mayonnaise.
2. Grilled Steak, Chicken, or Pork Belly skewers
Bengal BBQ offers tasty & healthy protein and vegetable skewers with rice. These are a tasty, protein-packed option for those following a gluten-free diet.
3. Ramone's Low & Slow Club
If you head to Flo's V* Cafe, you can enjoy the gluten-free Low & Slow Club with steak fries! They also have gluten-free burgers and a cobb salad.
4. Gluten-free Pizza
This gluten free Disneyland food option can be found at the Planet Pizza and is made with a gluten-free crust. You can enjoy the regular cheese pizza or pepperoni. Cafe Daisy also has gluten-free pepperoni pizza and cheese pizza.
5. Antipasto Salad
Also at Planet Pizza is the antipasto salad which sounds amazing.It has crisp lettuce with pepperoni, tomatoes, mixed olives, fresh mozzarella, roasted red peppers, artichoke hearts, roasted onions and shaved parmesan cheese with balsamic vinaigrette.
6. Grilled Shrimp Skewers
These can be found at the Bengal BBQ and are a tasty, protein-packed gluten-free option.
7. Albondigas Soup
Albondogas soup is a Mexican meatball soup with vegetables and is one of my favorites. You can find this gluten free Disneyland food option at Paradise Garden Grill.
8. Gluten-free Double Cheeseburger
At Smoke Jumpers you can order their double cheese burger on a gluten free bun and enjoy it with some gluten-free crinkle cut fries.
9. Regular Cheese Burger or Hamburger
If you're looking for just a regular hamburger or cheese burger you can head to Galactic Grill in Disneyland. It also comes as a kids' meal and you can order the fries gluten-free.
10. Chopped Salad
If you're looking for a healthier option. Galactic Grill also has a loaded gluten-free chopped salad with grilled chicken, red bell peppers, cucumber, red onions, tomatoes and feta cheese with a roasted red pepper ranch dressing.
11. Gluten-free turkey sandwich
This can be found at the Pacific Wharf Cafe and is made with gluten-free bread, turkey, lettuce, and tomato.
12. Gluten-free pasta
Pasta is a great gluten free Disneyland food option and is offered at numerous restaurants throughout the park. You can find it at Plaza Inn and Wine Country Trattoria.
13. Gluten-free chicken Caesar salad
Head to Galactic Grillor the Pacific Wharf Cafe for one of their delicious gluten-free chicken Ceasar Salads. It is made with grilled chicken, romaine lettuce, and a gluten-free Caesar dressing.
There is also a Cajun chicken ceasar at the French Market as well as the Caeser salad with Colossal Croutine at Pym's Kitchen in California Adventure (no chicken though).
14. Cajon Roasted Half Chicken
Located at the New Orleans Square French Market, this gluten-free Cajun roasted half chicken is served with potatoes and seasonal vegetables. Be sure to let them know you are gluten-free!
15. Gluten- Free Loaded Breakfast Sandwhich
If you're visiting the parks in the morning, head to Galacti Grill for a full loaded gluten-free breakfast sandwich. This sandwich comes with a sausage patty, egg, bacon and hash browns on a allergy-friendly Potato Bun.
16. Gluten-free Mickey-shaped rice krispy treats
Just because you can only eat gluten free Disneyland food doesn't mean you can't enjoy sweet treats. These can be found at various locations throughout the park, including the Galactic Grill and the Pacific Wharf Cafe, and are a fun, sweet gluten-free option.
17. Dole Whip
Who doesn't love a delicious Dole Whip. These famous Tiki Bar treats are gluten free.
18. Frosty Freeze
I'm obsessed with the Frost Parfait found at Adorable Snowman Frosted Treats in California Adventure. This lemon, blue raspberry swirl frosty treat is my favorite sweet treat on a hot summer day at Disneyland.
19. Gulf Shrimp & Grits
Jumbo Gulf Shrimp are simmered in a rich spicy creole sauce and served over cheesy grits. This dish is brand new and available at Tiana's Palace!
20. Toasted Grilled Cheese & Tomato Basil Soup
At Jolly Holiday you can enjoy their comforting toasted grilled cheese sandwich with tomato basil soup. You can even get a gluten-free chocolate chip cookie for dessert.
21. Trio of Street Tacos
At the Rancho del Zocalo Restaurante you'll find a trio of street tacos with Beef, Chicken and Cauliflower served in Corn Tortillas with Tomatillo Sauce, garnished with Onions and Cilantro served with Mexican Rice and Refried Beans.
22. Fire-Grilled Half Chicken
Also at Rancho del Zocalo is the delicious fire-grilled half chicken. it is marinated with chile and citrus, then served with Mexican rice and refried beans.
23. Gluten-free fried chicken
If you are a Disneyland veteran then you already know how popular the fried chicken is. Plaza Inn and Flo's Diner serves a crispy, delicious gluten-free fried chicken with vegetables and mashed potatoes.
24. Gluten-free Jumbalaya
One of the most popular items in New Orleans Square is the delicious Jumbalaya. This dish is made with creole spices, shrimp, chicken, and Andoille sausage over rice. It can be found at the French Market Restaurant.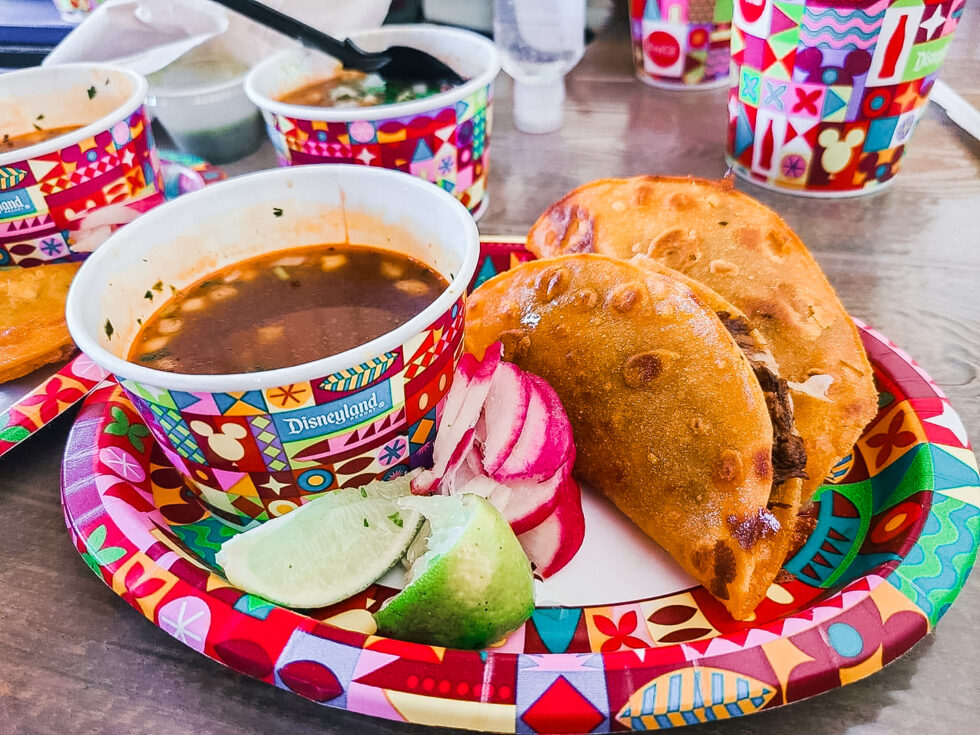 25. QuesaBirria Street Tacos
The very popular QuesaBirria street tacos can be found at Cucina Cucamonga Mexican Grill. These are one of the most talked about food items in the entire park!
26. More Tacos!
Here are all of the tacos from Cucina Cucamonga Mexican Grill that are gluten-free. They include the Durados, Al Pasto, and Carne Asada. Enjoy with cilantro rice and frijoiles.
27. Horchata
Horchata is a rice based cinnamon drink that is delicious. It is also found at Cucina Cucamonga and is listed as a gluten-free beverage.
28. Grilled Cheese & Tomato Soup
The Jolly Holiday offers their grilled cheese on a gluten-free bun with a side of soup. Perfect for when it starts to get a little chilly in California!
29. Chocolate Chip Cookies
If you want a sweet treat, also head to Jolly Holiday for their gluten-free chocolate chip cookies.
30. Gluten-Free Blueberry Muffins
If you're in the park early for breakfast and need a quick bite. Jolly Holiday also serves delicious gluten-free blueberry muffins!
31. Plant-Based 7-Green Gumbo
Also at the new Tiana's Palace is the Plant-based 7 Grains Gumbo made with okra, yams, sweet potatoes, and heirloom rice.
32. Grilled Chicken Sandwich
Also at Smoke Jumpers is their delicious grilled chicken salad served with cojita cheese, mixed lettuce, peppers, black beans, corn, pumpkin seeds, and a gluten-free cilantro dressing.
33. Spicy Szechuan Chicken
This gluten-free Szechuan chicken is spicy and flavorful, served with sauteed vegetables and white rice. You can find this in California Adventure at The Lucky Fortune.
34. Teriyaki Chicken
If you prefer something less spicy, The Lucky Fortune also has a gluten-free teryaki chicken which is also served with sauteed vegetables and steamed rice.
35. Pym-ini Sandwich
If you head to Pym's Kitchen in California Adventure you'll find the Pym-ini Sandwich which feature salame rosa with pistachios, rosemary ham, provolone, and sun-dried tomato spread on gluten-free bread. It is served with a marinara dipping sauce and arugula salad. Expect this to be a deconstructed sandwich.
36. PB3 Superb Sanwich
If your a fan of peanut butter and jelly sandwiches, you might want to check out the creative gluten-free version from Pym's Kitchen. It is a warm PB&J on gluten-free bread with banana's and candied bacon. It is served with a micro banana smoothie and crispy potato bites. They even have a kids version!
37. Endorian Roasted Chicken Salad
If your in Star Wars Galaxy's Edge, you can stop by Docking Bay 7 for the Endorian Chicken Salad. This salad is made with marinated chicken, mixed greens, roasted seasonal vegetables, quinoa, pumpkin seeds, and a green curry ranch dressing.
38. Giant Turkey Legs
You can find the giant turkey legs in Disneyland at Main Street Turkey Legs, Adventureland Turkey Leg Cart, Edelweiss Snacks across from Matterhorn Bobsleds (Fantasyland), Frontierland Turkey Legs in front of Tom Sawyer Island and in California Adventure at Don Tomas "The Midway's Best Bites" (Paradise Pier), and Hollywood Land Turkey Leg Cart at the corner near Award Wieners.
39. Gluten Free Icecream
Though it is not listed on the menu, if you go into Gibson Girl Icecream, they do offer gluten-free icecream selection. Just ask them.
40. Popcorn
All of the popcorn throughout the park is gluten free!
As always when you are ordering gluten-free Disneyland food items, make sure to let them know you need the item to be gluten free and to avoid any cross-contamination. Ensure that any gluten free fried foods use a separate fryer and stress that they need to use separate equipment like knives and cutting boards to prepare the food.
As much as we all hope restaurants and workers already know this, it doesn't hurt to reiterate or give a polite reminder. Many people think eating gluten-free is a diet and do not realize that eating gluten can have serious health complications for certain individuals.
It is also a good idea to double check with the restaurant to confirm that they have gluten-free options in stock, as the availability of specific menu items can vary. Certain gluten-free ingredients may have limited availability.
Gluten Free Disneyland Food Disclaimer
Disneyland includes this disclaimer on every menu which is also important to keep in my when you're looking for gluten free Disneyland food options:
Allergy-friendly offerings are reliant on supplier ingredient labels. We cannot guarantee the accuracy of the contents of each food item. Allergen advisory statements (e.g.,"may contain") are not regulated and therefore not taken into consideration when developing allergy-friendly meals. It is ultimately our Guests' discretion to make an informed choice based upon their individual dietary needs.

Disneyland
More Disneyland Articles