How to Seed and Peel Tomatoes Easily For Homemade Sauces
This guide on how to seed and peel tomatoes is going to be a game-changer for your recipes. Once you realize how easy it is to use fresh tomatoes in your sauces, you'll never buy a can of tomato sauce again. If you've ever tried a sauce that uses fresh tomatoes compared to canned, there is denying the difference in flavor.
Seeding and peeling tomatoes are incredibly easy. The very first step is to choose the right tomatoes. I prefer large vine-ripened tomatoes. When I purchase them at the grocery store, I look for tomatoes that still have the vine attached. I then set them on my counter to let them ripen even more until they turn a bright red color. Letting your tomatoes ripen will produce more tomato juice and a better flavor for your sauces.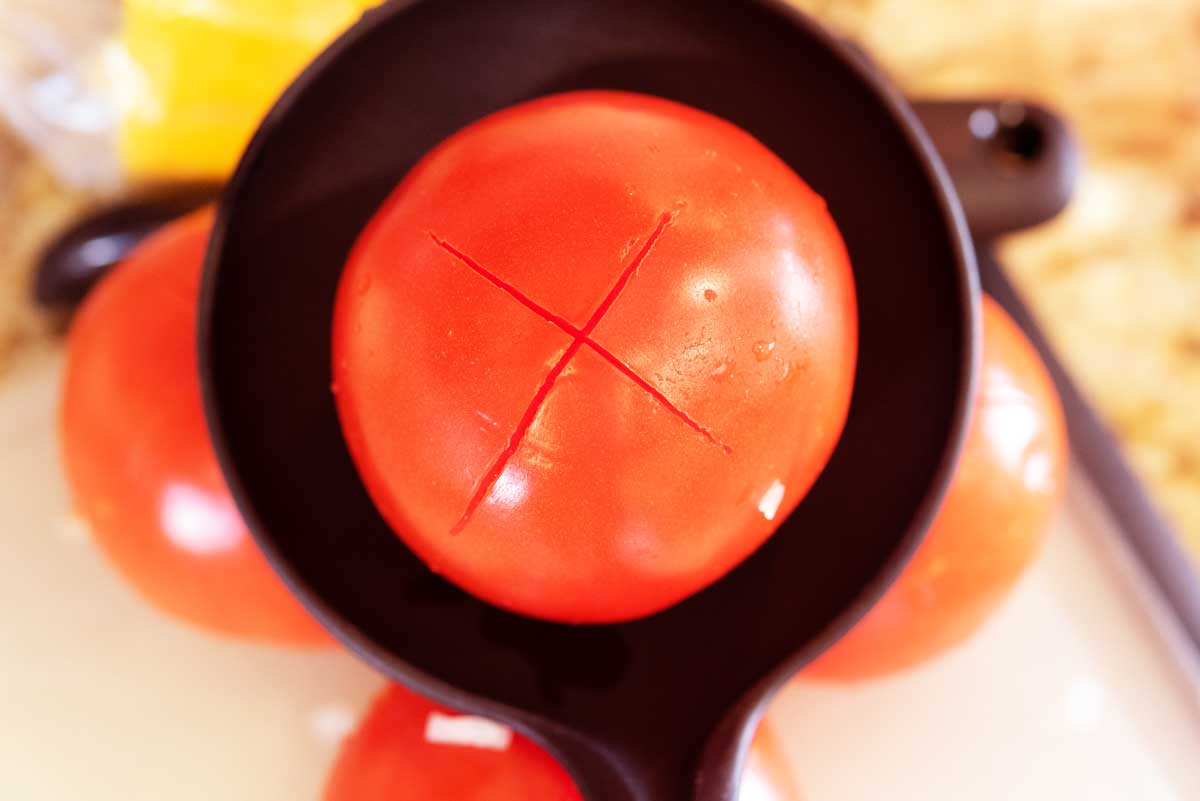 Once your tomatoes are ripe and ready to use, you're going to take off the stem and turn them over. You'll then use a small pairing knife and slice an X on your tomatoes.
Then you'll drop them in boiling water for only about 1 minute. Once you see the skin begin to peel back you'll know they're ready.
Once you remove your tomatoes, the skin will peel off easily with very little effort.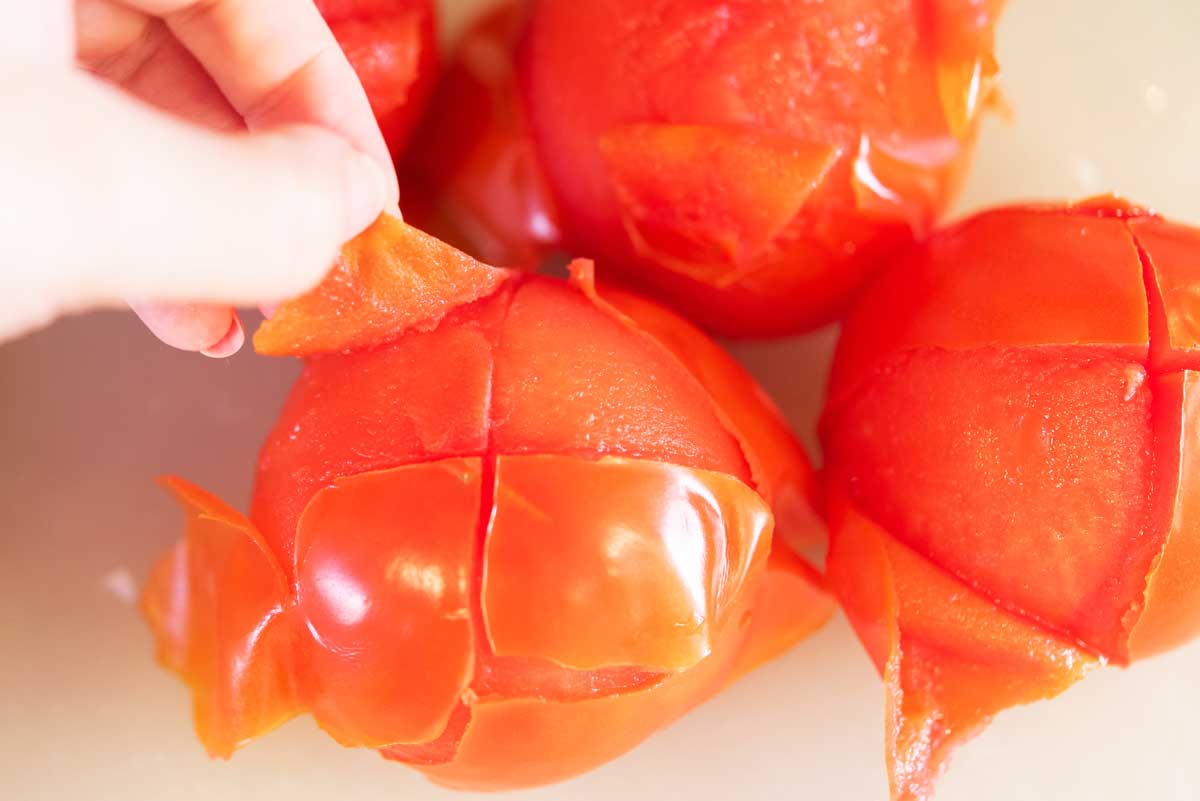 I then place a steel strainer over a bowl or large measuring cup and alive the tomato in segments. While holding the tomato over the strainer, you can remove all the seeds and core using your hands. I like to give the seeds a good squeeze to remove as much juice as possible. Once all the seeds are removed, I use a plastic spoon and push the seeds into the strainer to try and remove even more juice.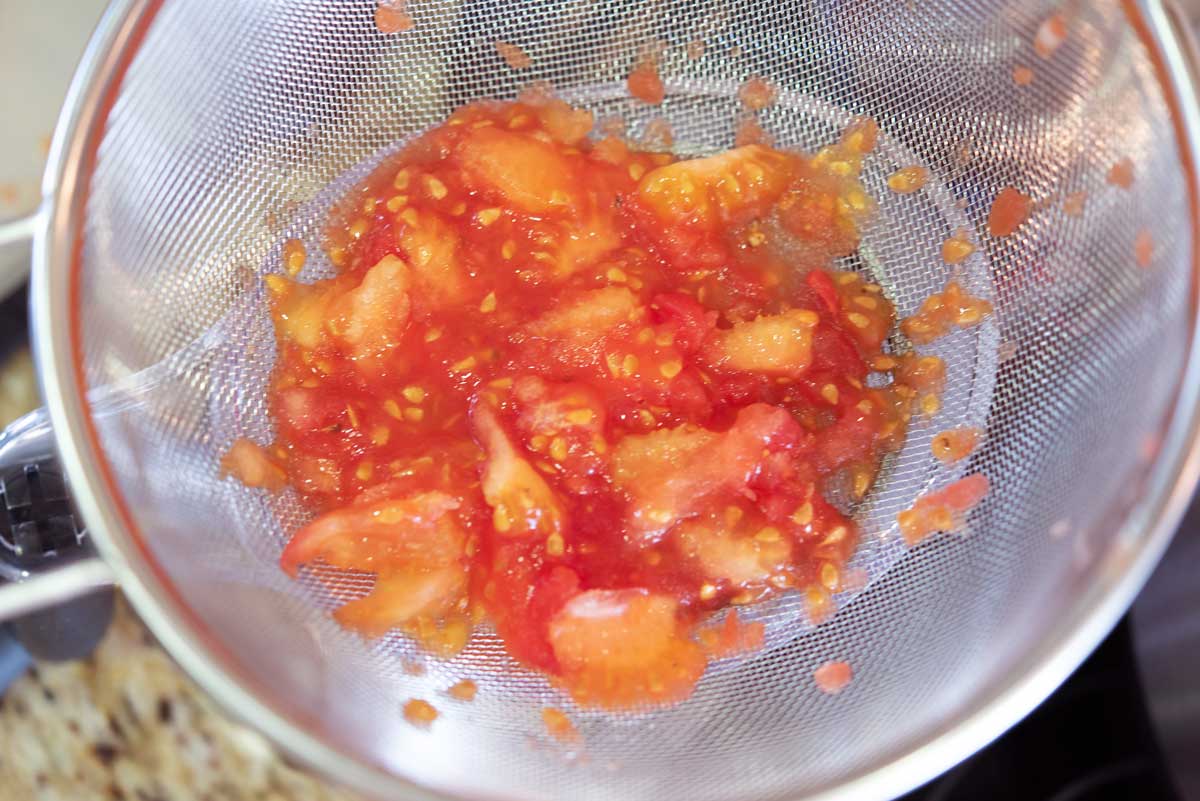 For a chunkier sauce, you can simmer your tomatoes and for a smoother sauce, you sautee them with your ingredients and then puree them.
If you like your sauce chunkier, you can chop up your tomatoes and add them to your sauce. They will cook down nicely creating a chunky sauce. If you prefer your sauce less chunky, you can add the tomatoes with your onions and garlic, cook them down for a few minutes, and then puree them in a blender.
This is the base for many sauces including my chicken tikka masala recipe. You can use this guide on how to seed and peel tomatoes for any recipe that has a tomato sauce base including tomato sauce, tomato soups, and many Indian dishes such as my lamb curry. Using fresh tomatoes adds such a wonderful flavor that I very rarely, if ever, use canned tomatoes anymore in my cooking.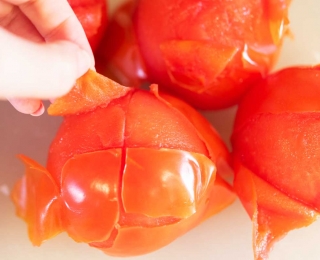 How to Peel and Seed Tomatoes
Seeding and Peeling tomatoes is so incredibly easy and it will change the way you cook. You'll never buy a can of tomato sauce again and the flavor of using fresh tomatoes cannot be beat!
Print
Pin
Email
Instructions
slice an X into the bottom of your tomatoes

place your tomatoes in boiling water for 1 minute.

remove tomatoes from water and the skin should effortlessly peel off.

cut the tomato into sections and remove seeds using a metal strainer over a bowl or large measuring cup.

saute your tomatoes with onions and garlic until the tomatoes become sauce. If you want a smooth sauce, just add them to a blender after sauteing.
Notes
This guide on how to seed and peel tomatoes is perfect to use for all your tomato-based sauces including spaghetti sauce, pizza sauce, tomato soups, chicken tikka masala, and lamb curry just to name a few.
Yum
Share on Facebook