Knotts Boysenberry Festival 2022 has finally returned and we have all the juicy details along with a delicious first look at all the tasty bites and drinks for this year! Whether you're craving fried chicken donuts or over-the-top funnel cakes, there is no shortage of amazing food this year.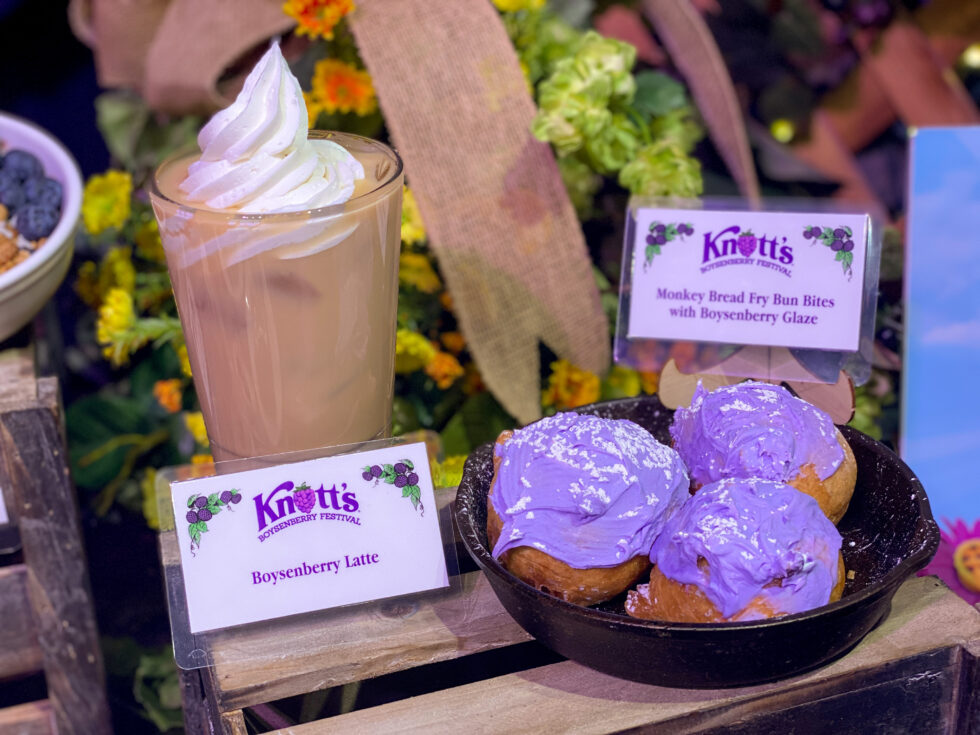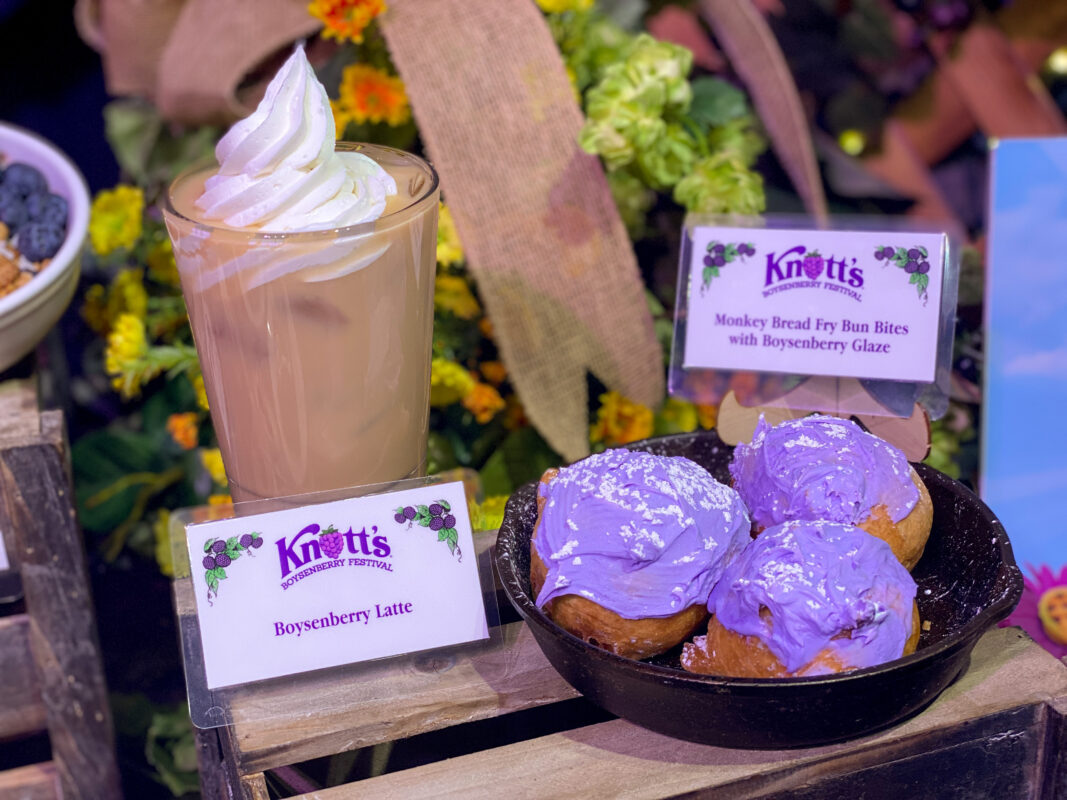 If you've never been to the Boysenberry Festival at Knotts Berry Farm you can check out our coverage from previous years like the Taste of Boysenberry in 202l or the Knotts Berry Farm Boysenberry Festival 2020.
If you prefer video you can also catch me stuffing my face and giving commentary on our Knotts Boysenberry Festival 2022 Youtube video.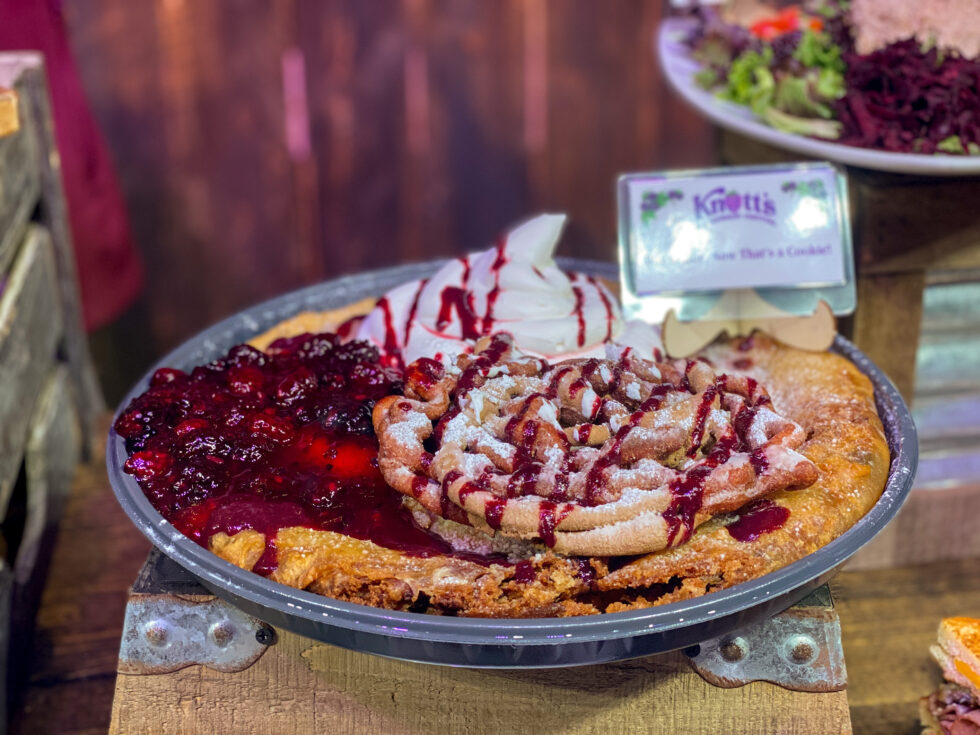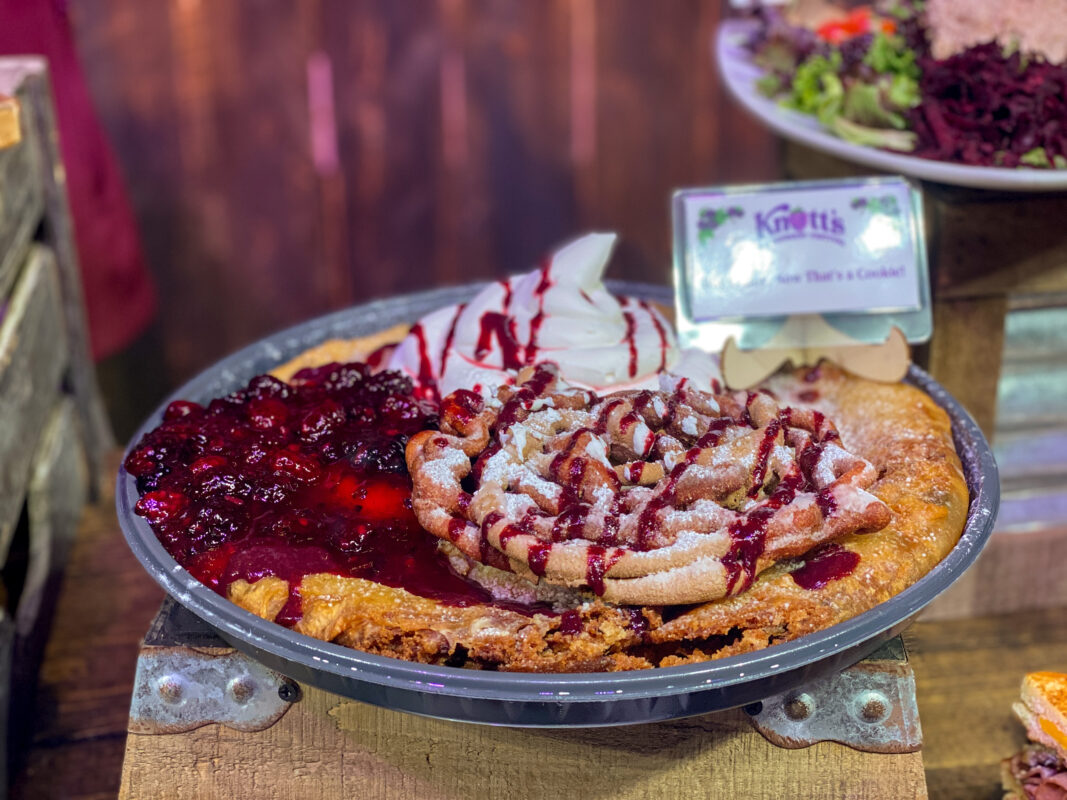 Knotts Boysenberry Festival 2022 will take place starting March 18th – April 24th, 2022
First, let's talk about the tasting cards. Each year guests can purchase a tasting card giving them 6 tastings to over 25 different Boysenberry samplings located throughout the park. A tasting card is $50 and season pass holders will save $5 on their tasting cards. You can even use your tasting cards to redeem alcoholic beverages like the Boysenberry Beer and Berry Cider (my personal favorite).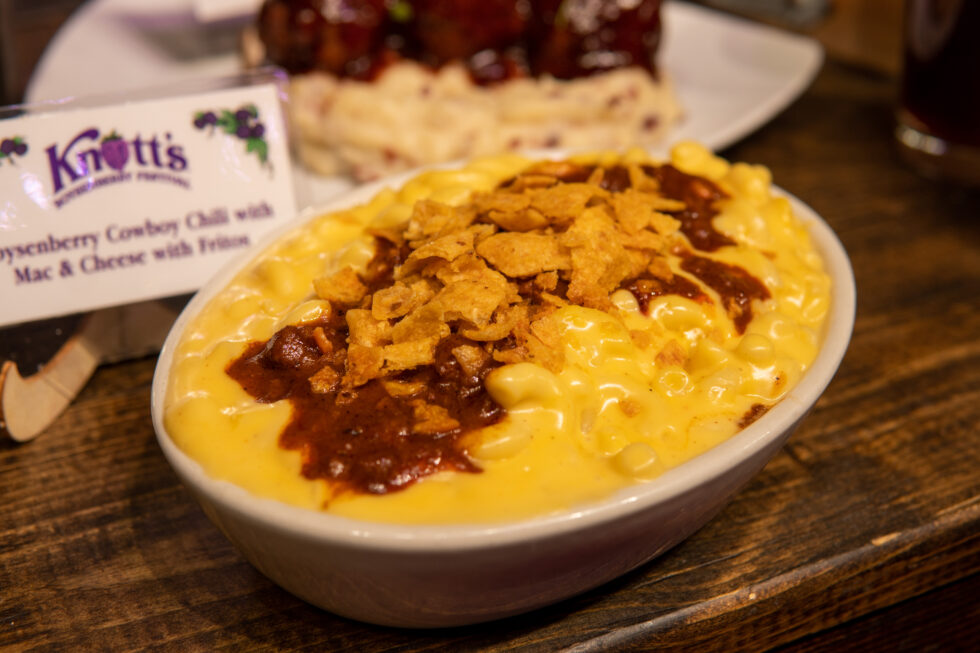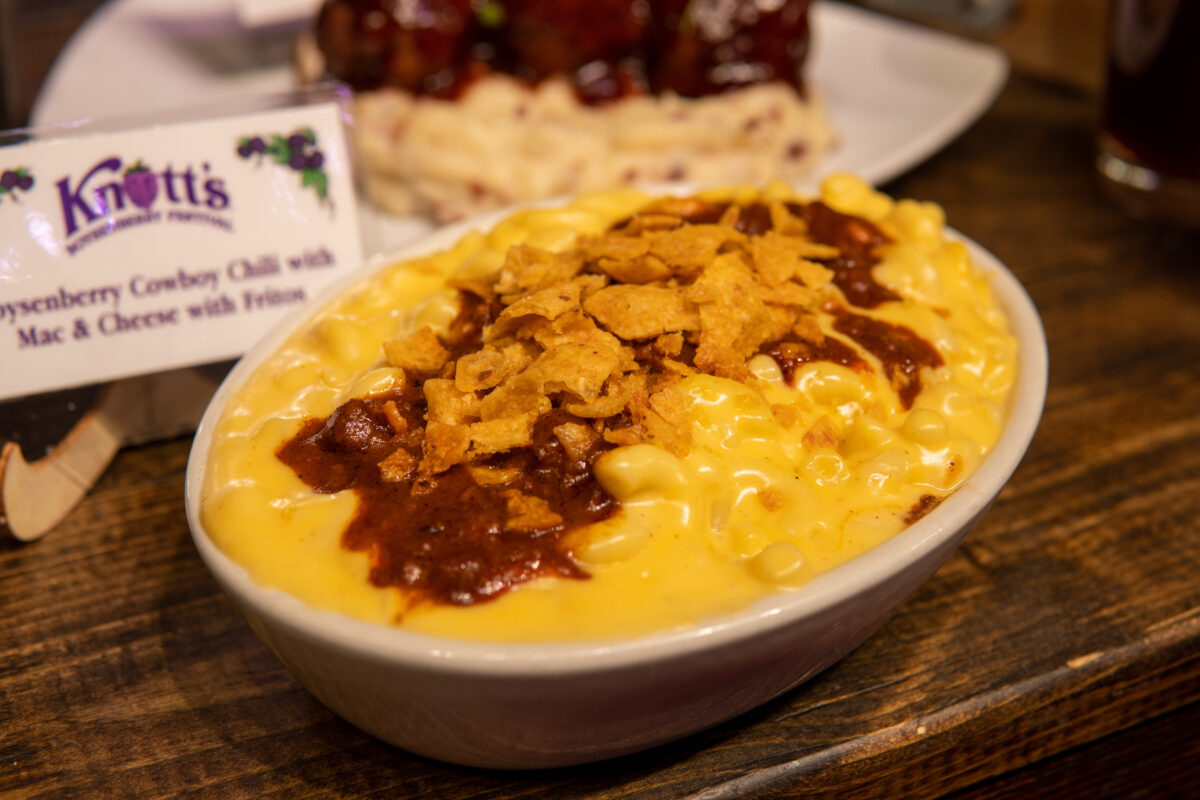 Knotts Boysenberry Festival 2022 Tasting Card Items
There is no shortage of amazing items to try this year. Luckily I was able to try many to bring you my favorites which included the Cowboy Chili Mac & Cheese and the Open-Faced Boysenberry Filled Donut with Bacon Jam. Some of the newer items being showcased this year are listed below.
Cowboy Chili Mac & Cheese (shown above)
Trio of Sausage & Pepper on Boysenberry Polenta
Mini Crab Sushi Rolls with Boysenberry Aoli
Pozole with Boysenberry garnish
Spring Fling Shrimp Salad with Boysenberry Vinaigrette
Boysenberry filled donut with open-faced fried Chicken and Bacon Jam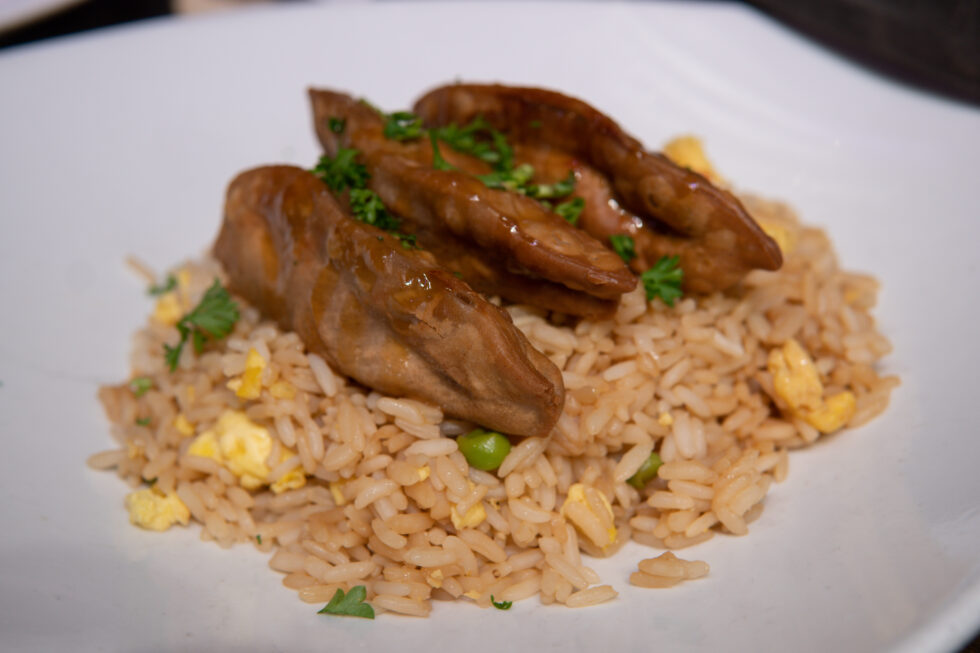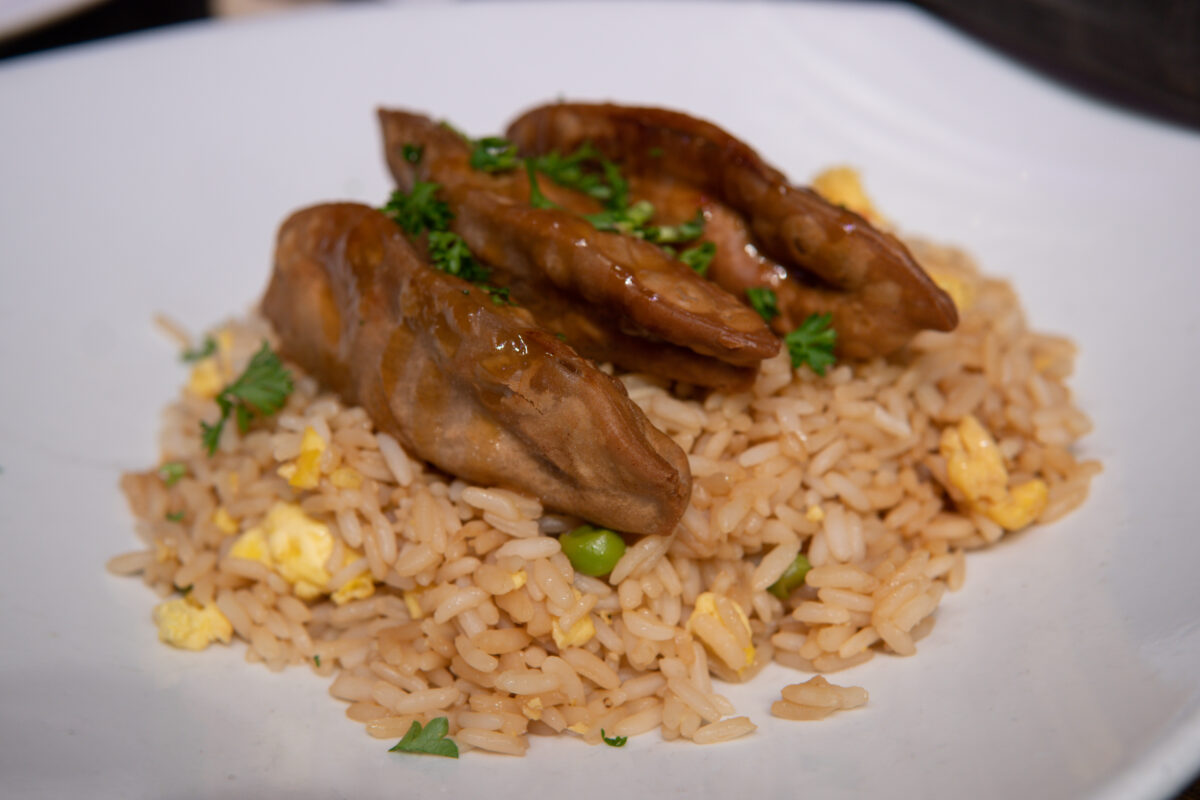 Chicken Dumplings & Wonton over fried rice (my least favorite)
Chicken Cordon Bleu with Boysenberry Cheese Sauce
BBQ Chicken Pizza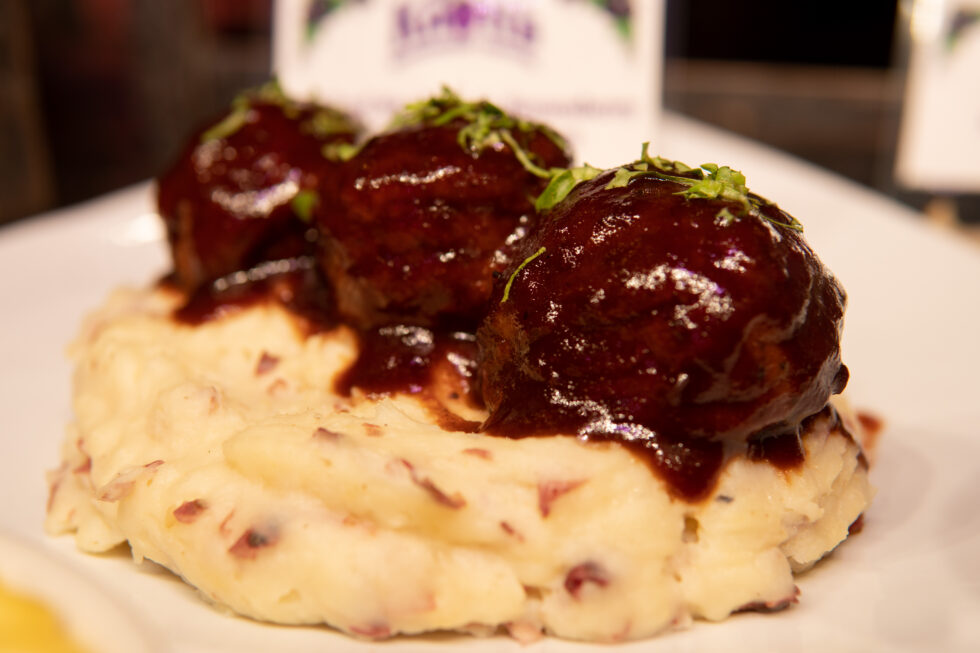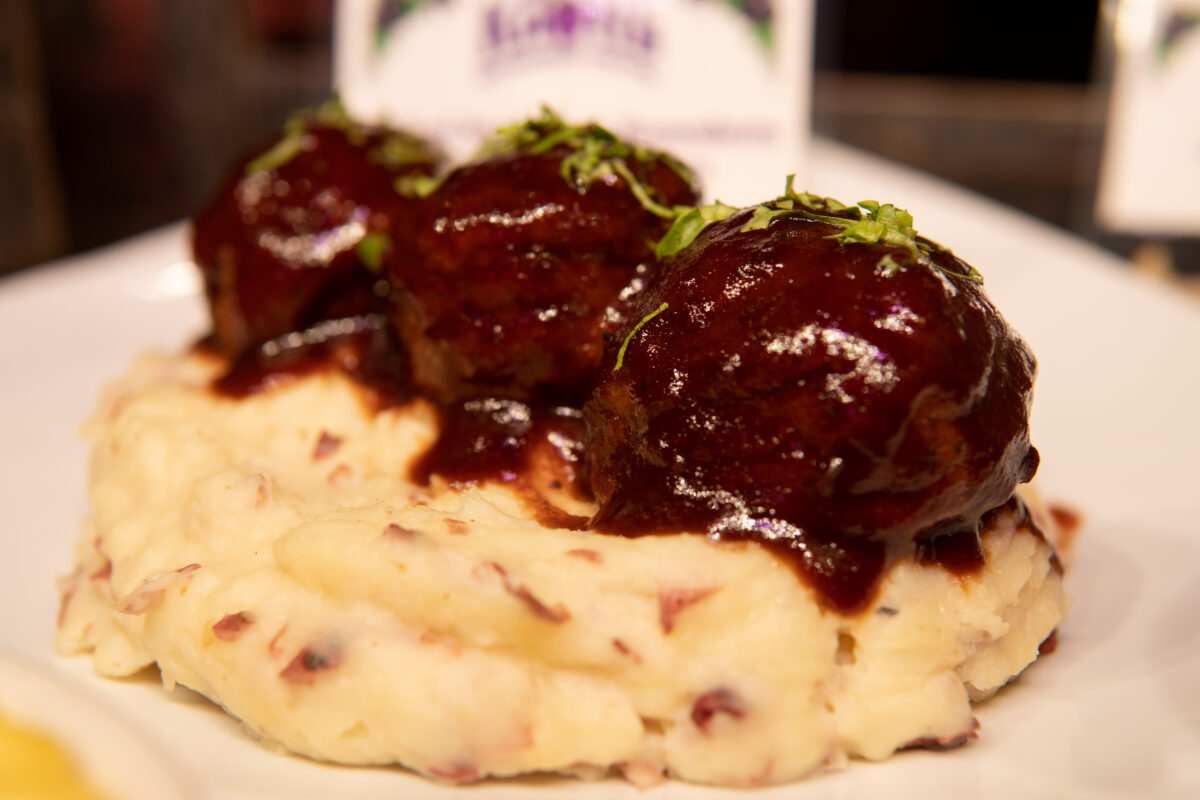 The Fan Favorite Boysenberry Meatballs are returning for Knotts Boyseneberry Festival 2022!
Park Goers will be thrilled to know that the Boysenberry Meatballs will be returning and served over a pile of mashers. The Boysenberry meatballs are always a fan favorite. Additionally, the Elote with Boysenberry Butter, mayo, and Cojita cheese will be available.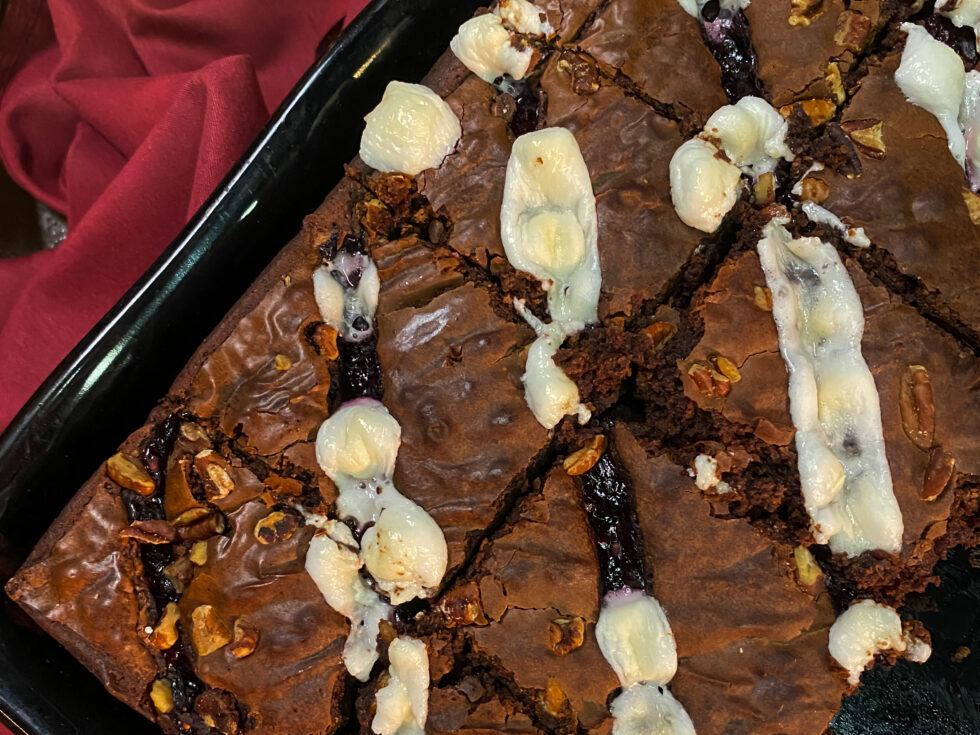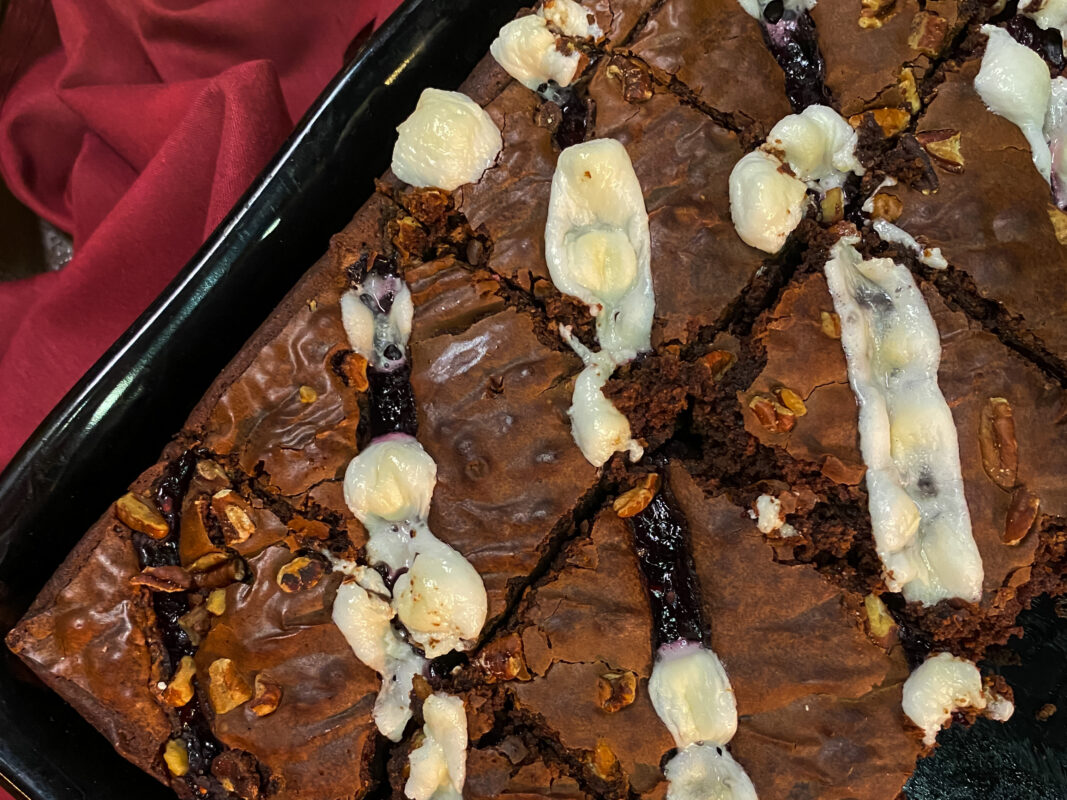 Sweet Treats available with the Boysenberry Festival 2022 Tasting Cards
There are 3 sweet treats also available with the Knotts Boysenberry Festival 2022 tasting cards. I highly recommend the Boysenberry Rocky Road Brownie which was to die for! The sweet treats available are listed below.
Boysenberry Pie Bar
Boysenberry Rocky Roas Brownie (favorite)
Boysenberry Mousse Chocolate Cake
Visit the full list of available items on the Knotts Boysenberry Festival Tasting Cards.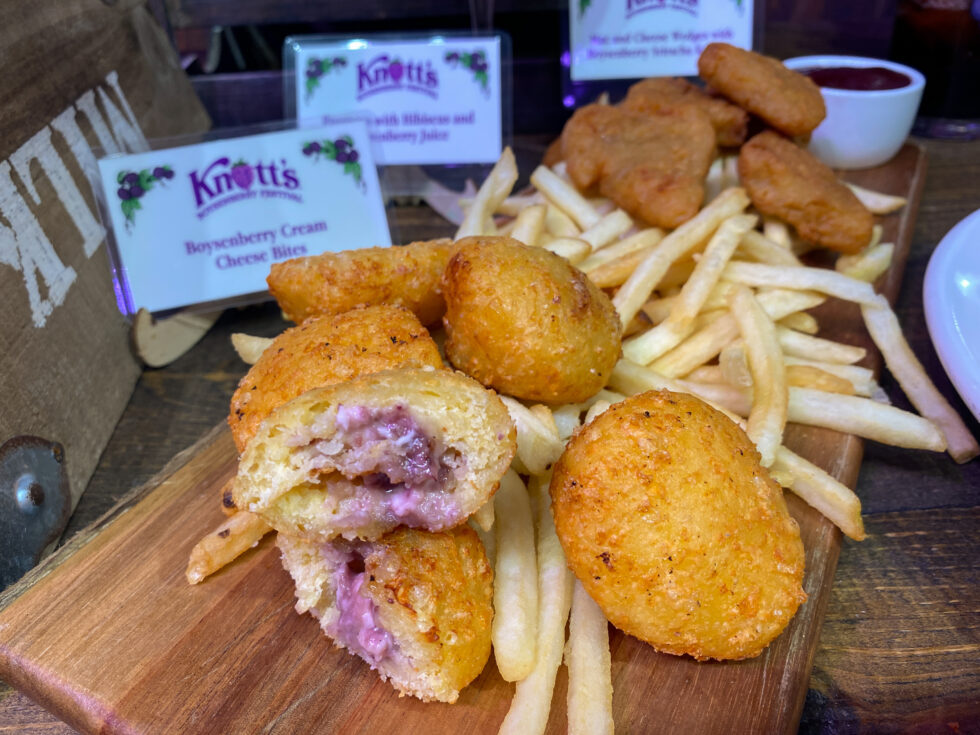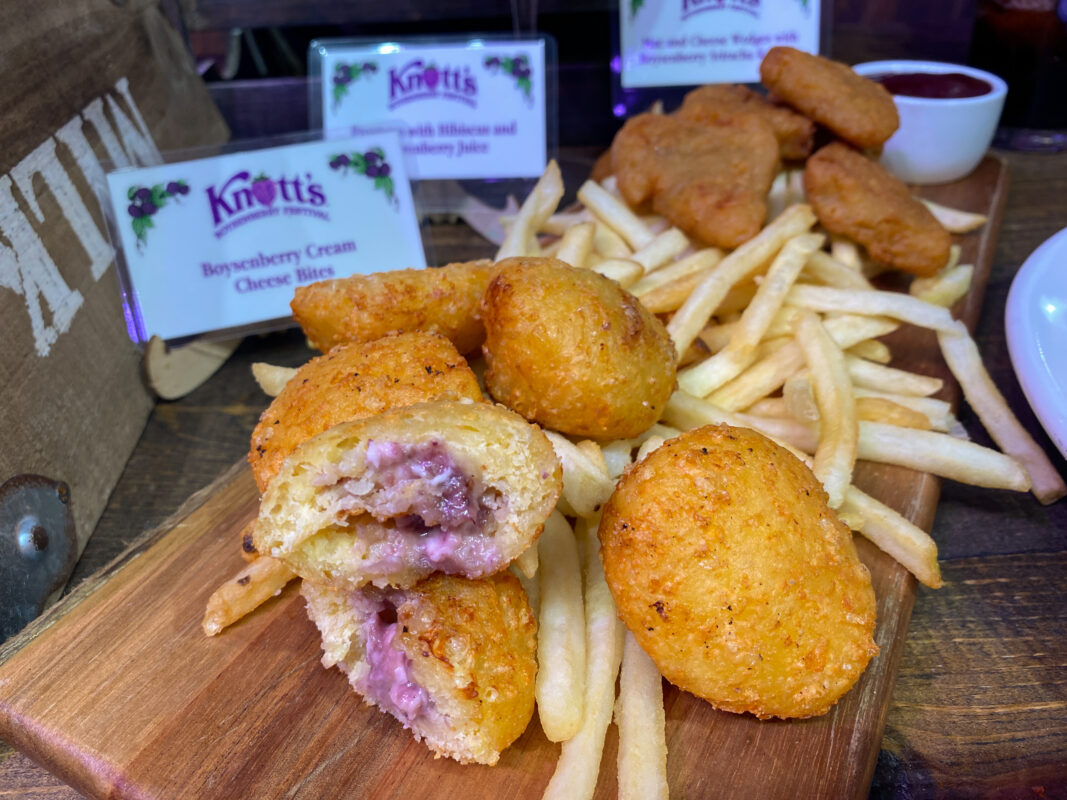 Boysenberry Cream Cheese Bites served with fries will be available for purchase
In addition to the 25 items available with the purchase of a tasting card, there are also numerous new Boysenberry food and drink items that can be purchased through the park. In fact, this year, there are more items spread throughout the park than I've ever seen. Pictures above are the Boysenberry Cream Cheese Bites served with fries.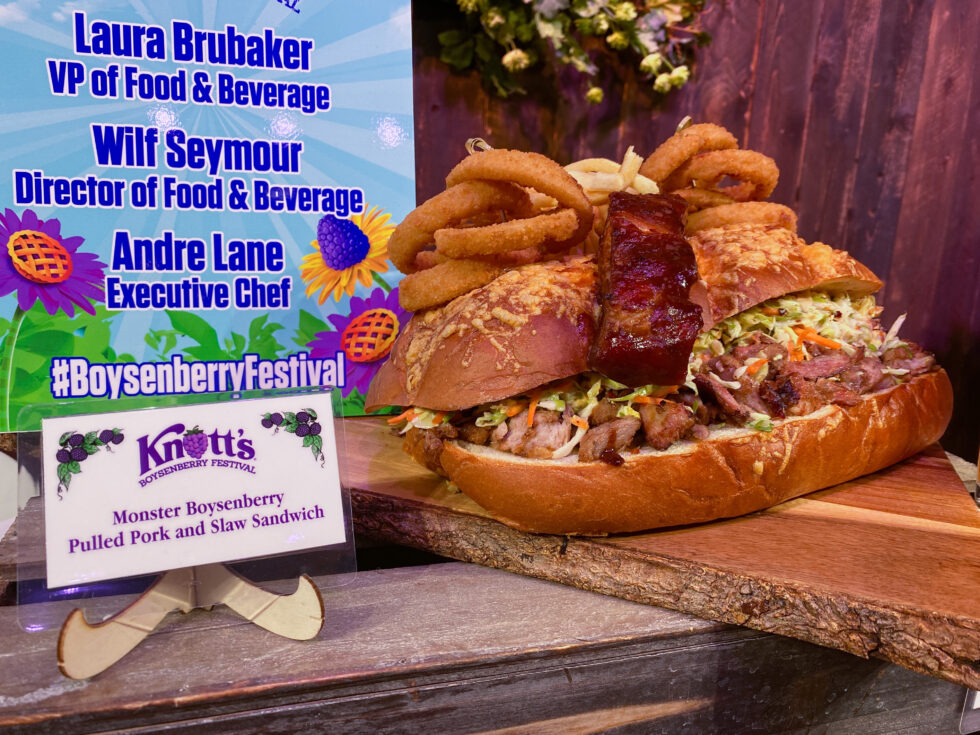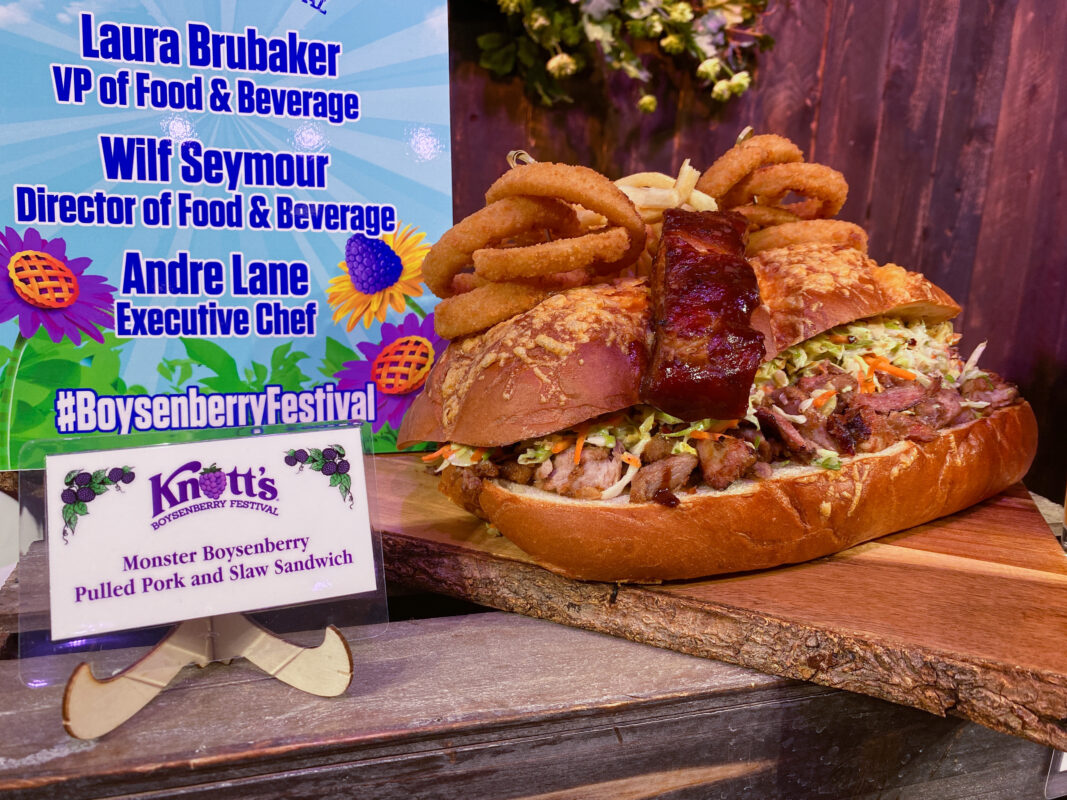 Don't miss the Knotts Boysenberry Festival 2022 Colossal Creations!
If you plan on attending the Knotts Boysenberry Festival 2022 event with a large group of friends, then you might want to check out their colossal creations which can feed a group of 4-5 people. These are absolutely enormous and definitely Instagram worthy! Most notable from the event was the Monster Boysenberry Pulled Pork and Slaw Sandwich topped with onion rings, served with fries, and estimated to feed 6-8 people!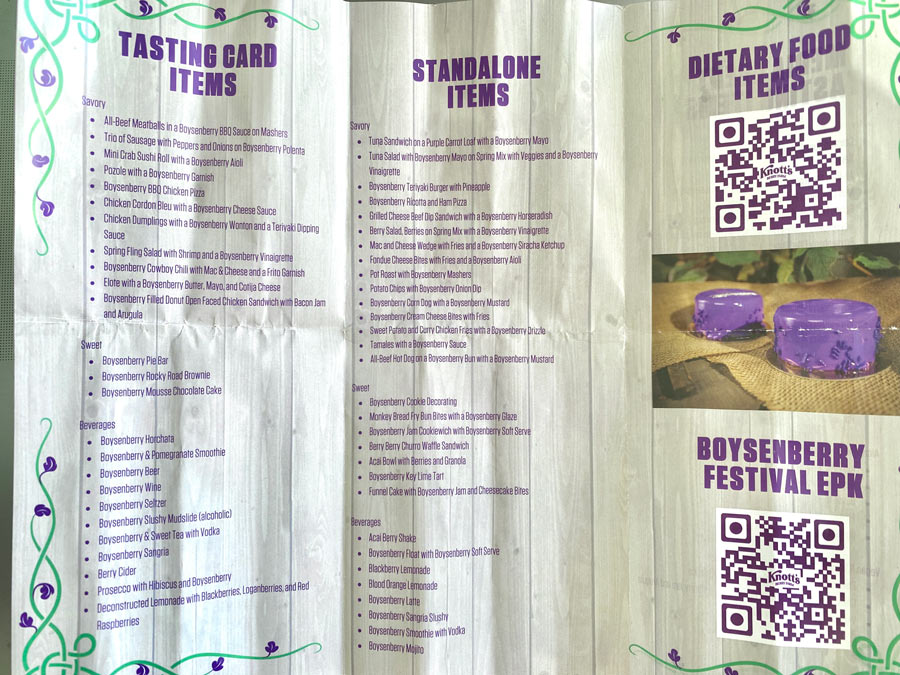 Here is the full Knotts Boysenberry Festival 2022 food list
I actually had a difficult time finding a full list of all the food items which are not listed on the website, but luckily they gave us a brochure at the media preview. Above you'll see all the tasting card items and non-tasting card items that will be available during the Knotts Boysenberry Festival 2022 event.
For more information and to purchase tickets in advance visit: https://www.knotts.com/events/boysenberry-festival
Check Out Our Latest Articles & Coverage!