Posts may contain affiliate links. Read our full disclosure policy here.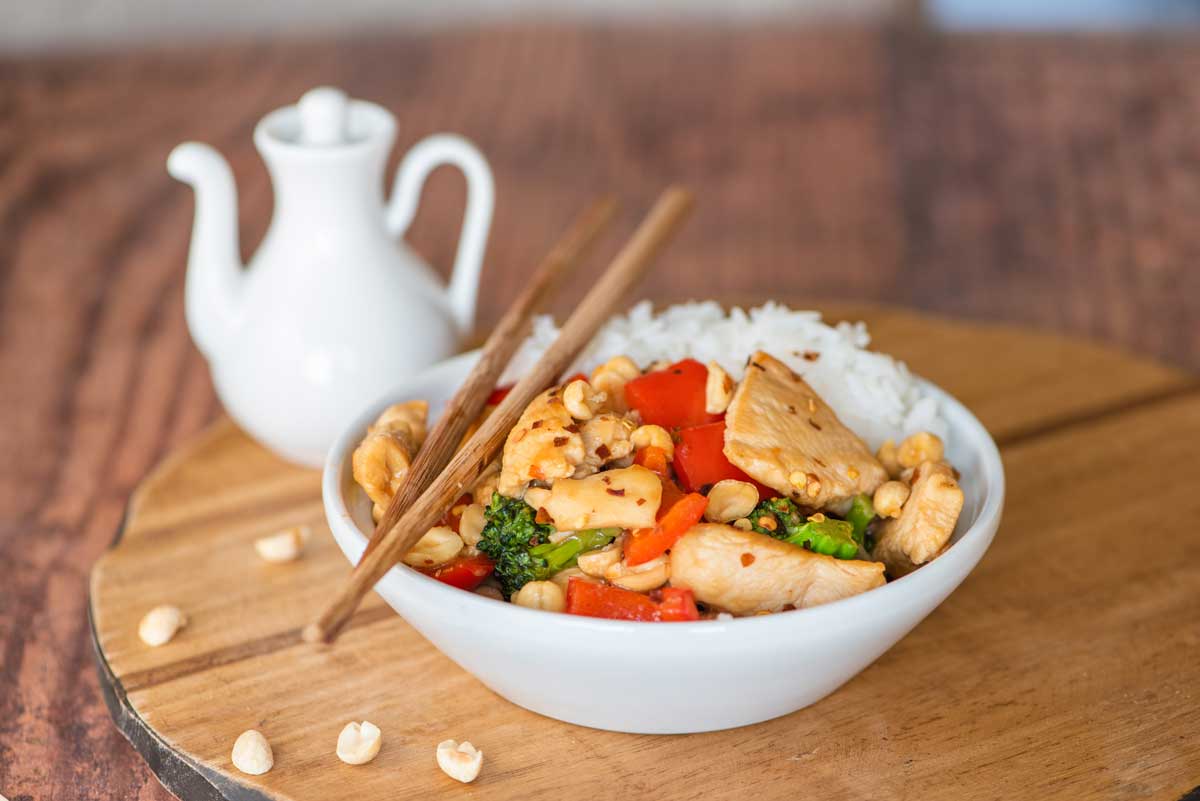 This Kung Pao Chicken Recipe is even better than Panda Express and uses a very similar sauce as well as a technique called "velveting" which makes the chicken extra tender.
---
You're going to love this Kung Pao Chicken Recipe which is just like the recipe from Panda Express, but better! I've been making stir-frys since I was a teenager and they are one of the most flavorful and healthy dinners you can make. Over the years I've perfected the traditional Chinese Brown Sauce and add one slight variation to our Kung Pao Chicken recipe with the addition of Red Chili Garlic Sauce. This is the same ingredient used in the Panda Express Sauce.
One benefit of using Chili Garlic Sauce instead of chili peppers is that you have better control over the heat of your dish. I personally do not like my food too spicy. My sauce uses 2tsp of chili garlic sauce which is more on the mild side and then I garnish the dish with red pepper flakes. If you enjoy your dish spicier, you can just add more chili garlic sauce.
What Vegetables Are Best in Stir-Frys and Kung Pao Chicken?
Don't feel like you have to use the same exact vegetables in the Kung Pao Chicken at Panda Express. I personally prefer the use of broccoli, but there are so many types of vegetables you can use in this dish.
Zucchini
Broccoli
Mushrooms
Baby Corn
Water Chestnuts
Peppers
Snow Peas
Carrots
Bok Choy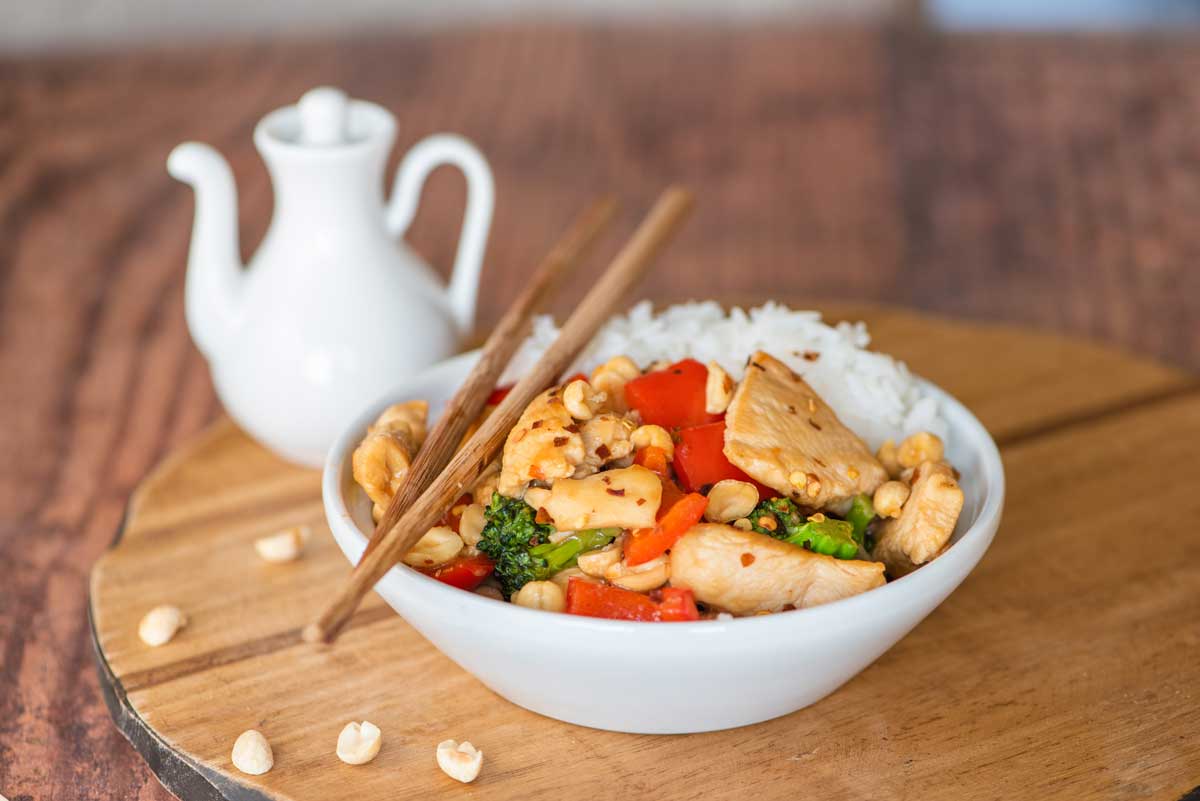 What is Velveting in Chinese Cooking?
One characteristic of most Chinese stir-frys is the tenderness of their chicken and beef. This tenderness is caused by a technique in Chinese cooking called Velviting. Velveting the meat involves marinating your chicken or beef in a mixture of either baking soda or corn starch. If you use baking soda you'll need to rinse the meat after its done marinating.
Since corn starch is a thickener, we use corn starch to velvet our meat because it also assists with thickening the sauce. The corn starch and baking soda help to break down the fibers in the meat making them nice and tender. I also add oil and vinegar to my velveting to help the corn starch cover the meat. Some recipes use egg whites. I prefer to instead make a nice flavorful marinade that can be directly added to the wok without needing to rinse the meat.
The first step to this Kung Pao Chicken recipe is to velvet your chicken with corn starch, sesame oil, rice vinegar, and sherry wine. You'll let the chicken marinate for 30-45 minutes. While your chicken is marinating you can chop up for broccoli, red peppers, and garlic.
How to Make a traditional Brown Chinese Sauce
Next, you'll make your sauce. This is a great recipe to use in any of your stir fry dishes. To make a traditional Brown Chinese Sauce you'll combine soy sauce, oyster sauce, brown sugar, sherry wine, sesame oil, chicken broth, and corn starch into a small bowl. If you're cooking with beef, you can add beef broth. To make this into a Kung Pao Chicken Recipe, we also add 2 tsp of red chili garlic sauce. You'll want to add the corn starch slowly while whisking all the ingredients together to there are no clumps.
Once your chicken is done marinating you will add it to a hot wok or skillet with a small drizzle of sesame oil, being sure to toss constantly. Cooking with a wok is incredibly quick, the chicken will only need to be cooked for 1-2 minutes and then you will add your veggies and garlic. After cooking for an additional 3-4 minutes ( tossing constantly to prevent sticking), you'll then give the sauce mixture a quick whisk and add that to your Kung Pao Chicken.
The sauce will begin to thicken in 2-3 minutes. Once finished you can turn off the stove and add your peanuts. When plating your Kung Pao Chicken, I like to sprinkle a few red pepper flakes on the top as a garnish. I also like to enjoy this dish with brown rice medley, but you can of course also use white rice.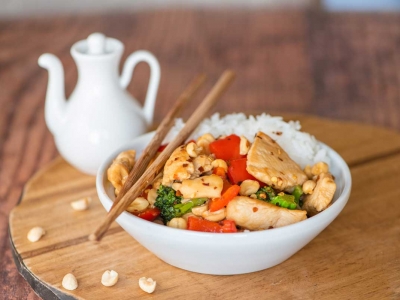 Best Kung Pao Chicken Recipe (Like Panda Express)
This Kung Pao Chicken Recipe is even better than Panda Express and uses a very similar sauce as well as a technique called "velveting" which makes the chicken extra tender.
Ingredients
1.5

lb

Chicken breast

2-3 breasts

1

cup

Broccoli

1

cup

red peppers

sliced

3

cloves

garlic

sliced or chopped

1/2

cup

peanuts

raw (can also use cashews)

1/4

tsp

red pepper flakes

for garnishing
Sauce
2

tbs

soy sauce

use real (not low sodium)

2

tbs

oyster sauce

1

tbs

sherry wine

1

tbs

rice vinegar

¼

cup

chicken broth

½

tbs

corn starch

1

tbs

brown sugar

2

tsp

red chili garlic sauce

add less or more for your spice preference. 2tsp is medium to mild.

¼

tsp

sesame oil
Marinade (for velveting chicken)
2

tbs

corn starch

1

tbs

sherry wine

1

tbs

soy sauce

1

tbs

rice vinegar

¼

tsp

sesame oil
Instructions
Velvet Chicken for 30 minutes
First you will want to slice your chicken and then velvet your chicken using the ingredients under marinade ( corn starch, soy sauce, sherry vinegar, rice vinegar, sesame oil). You will then let your chicken marinate for 30 minutes, letting the marinate break down the chicken fibers to tenderize the meat.
Prepair Sauce
Next combine all the ingredients under "sauce" and whisk together. Add the corn starch last, slowly while whisking to prevent clumping.
Cook in the Wok or Skillet
This dish is best cooked in a wok or skillet. The chicken is so tender that the Instant Pot or Slowcooker will turn it into shredded chicken. Trust me!

Once your chicken is done marinating, turn your wok on medium high heat and add a small amount of cooking oil to prevent sticking. I prefer avocado oil which can withstand high tempurates.

Very quickly brown the chicken being sure to turn often to prevent sticking (about 1-2 minutes). Then add the veggies & garlic and continue stirring for about 2-3 minutes. Next give your sauce a quick whisk and add the meat and veggies. Cook an additional 1-2 minutes until sauce begins to thicken. This Kung Pao Chicken cooks very fast.

Last, turn off the heat, and stir in your peanuts or cashews.

Garnish with red pepper flakes before serving.
Notes
Velveting Your Meat
Velveting is a chinese cooking technique which uses corn starch or baking soda to make the meat incredibly tender by breaking down the fibers. There are serveral variations to velveting and we use corn starch with a vinegar and oil which helps the corn starch coat the meat. This technique I prefer because you can just add it directly to the recipe with any rinsing and you do not need to boil the chicken first.
Panda Express Kung Pao Chicken
This sauce is the most similar to what is used at Panda Express. Their ingredients use Red Chili Garlic Sauce. I prefer this to using real peppers because it allows each chef to tailor the spice level to their preference. It also adds an amazing flavor.
Oyster Sauce
Do not skip the Oyster Sauce. You can find this at any grocery store. This is the secret ingredient to the Chinese Brown Sauce everyone knows and loves. All my chinese stir-fry dishes use this sauce as its' base. The only difference with my Kung Pao Sauce is the addition of the red chili garlic sauce.
Veggies
Feel free to use your favorite veggies. While the Kung Pao Chicken at Panda Express uses zuchini, I prefer broccoli. You can also add carrots, mushrooms, baby corn, or water chestnuts. 
Nutrition
Serving:
1
cup
|
Calories:
379
kcal
|
Carbohydrates:
17
g
|
Protein:
44
g
|
Fat:
14
g
|
Saturated Fat:
2
g
|
Cholesterol:
109
mg
|
Sodium:
1389
mg
|
Potassium:
965
mg
|
Fiber:
3
g
|
Sugar:
6
g
|
Vitamin A:
1359
IU
|
Vitamin C:
72
mg
|
Calcium:
48
mg
|
Iron:
2
mg
Enjoy Our Other Asian Cuisine Recipes!
Find Delicious Recipes By Category