Posts may contain affiliate links. Read our full disclosure policy here.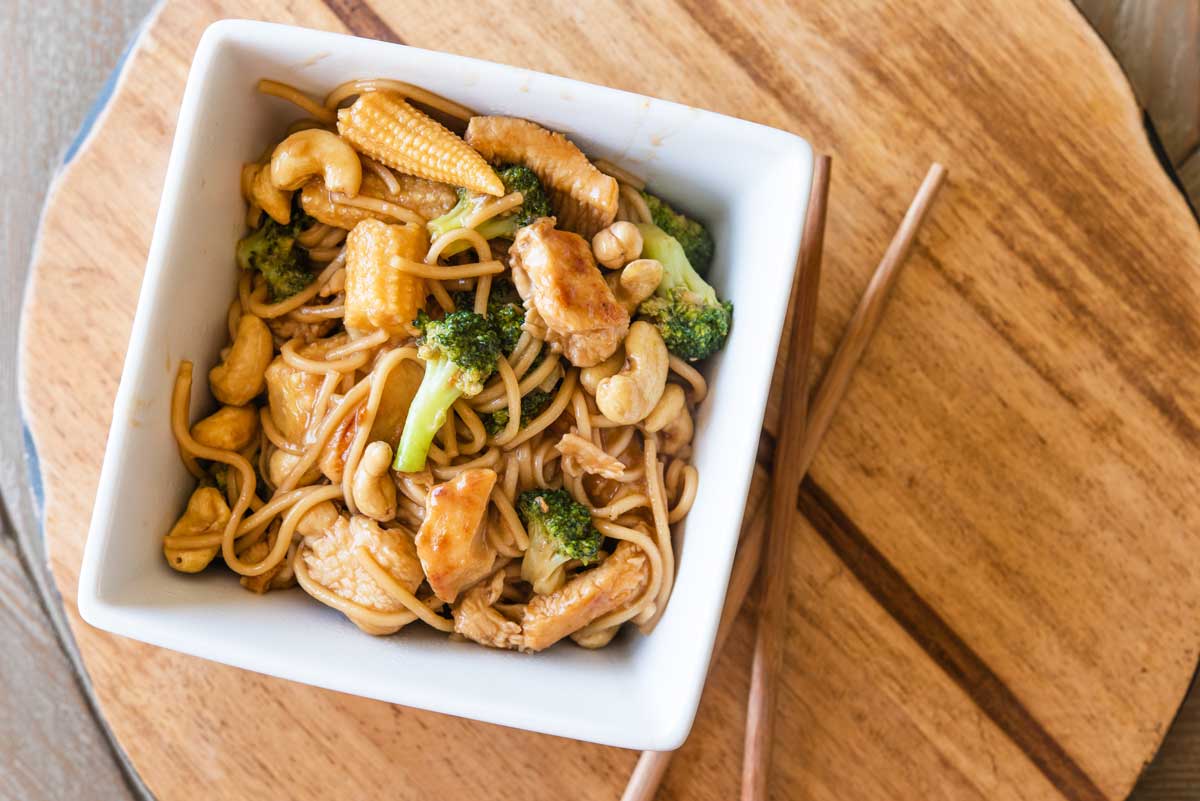 This Chicken Lo Mein recipe is so quick and easy to make and can have dinner ready on the table in 10 minutes. It's also healthy and low calorie!
---
Some days you just don't have time to cook an elaborate meal and this quick and easy Chicken Lo Mein recipe is the perfect solution, cooking in only 10 minutes! With very little prep time you will have this ready to serve in a snap.
One reason I love to make stir-fry's and lo mein dishes are that they are so easy to customize in addition to being incredibly quick. I will often just add what I have on hand which is typically broccoli and I always keep a can of baby corn in the pantry. I also love adding dry-roasted cashews or peanuts and typically always have some on hand. Below are additional ideas for vegetables that go great with this quick and easy chicken lo mein recipe.
What Vegetables Should I Add to My Chicken Lo Mein Recipe (Also great for stir-fry's too!)?
red & green bell peppers
carrots
zucchini
Japanese eggplant
bok choy
water chestnuts & bamboo shoots
mushrooms
snow peas & green beans
Another important technique of creating this authentic chicken lo mein recipe is velveting your chicken. This is essentially like a special marinade that uses cornstarch to tenderize your meat. I always do this to my chicken or beef when making a stir-fry or lo mein dish. Velveting your chicken is incredibly easy. I do this step first so that by the time I finish prepping my vegetables, sauce, and lo mein it's ready to go.
How to Velvet Chicken for Stir-frys and Lo Mein recipes.
To velvet your chicken you are going to slice your chicken and add it to a bowl with the following ingredients as a marinade and let sit for 10-30 minutes.
2 tbs corn starch
2 tbs soy sauce
1 tbs sesame oil
1 tbs rice vinegar or sherry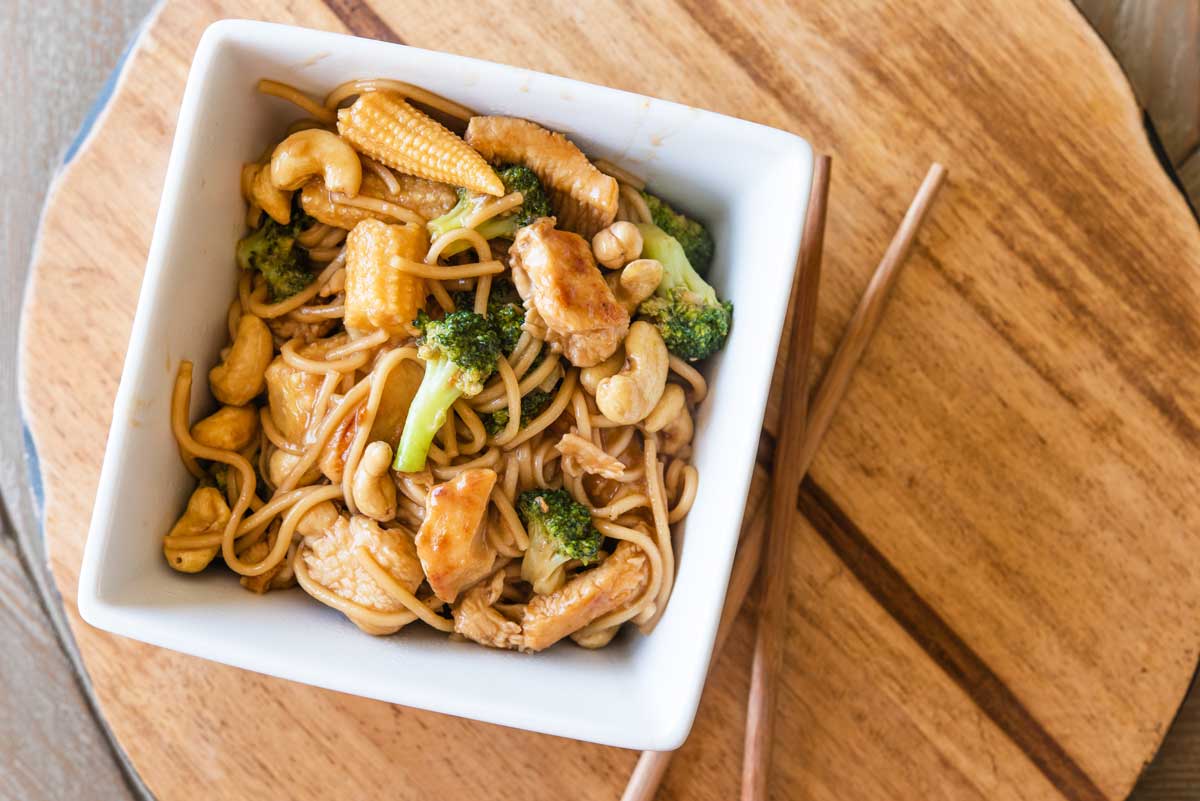 How to Make the Perfect Chinese Brown Sauce
I always like to make my sauce in a small bowl so it is ready to go. Making a Chinese brown sauce is the base for my chicken lo mein recipe and almost all of my stir-fry's. A traditional Chinese brown sauce is a mixture of Chicken Broth, Oyster Sauce, Soy Sauce, Rice Vinegar, and Brown Sugar. If you like a little spice you can also add Red Chili Garlic Sauce which I use when I make my Kung Pao Chicken recipe.
What Types of Noodles Should I Use for Making an Authentic Chicken Lo Mein Recipe?
Finally, you'll want to choose the right noodles to make a genuinely authentic dish like you would have if you were at your favorite Chinese restaurant. You can find most Lo Mein noodles in the aisle of your grocery store right where you would find the different Asian sauces. They are in a small package and look like little sticks. Another option is to use yakisoba noodles which you can find in the refrigerated section. As a final option, you can use spaghetti noodles but this is my least favorite if you want a truly authentic dish.
It's also important to note that Lo Mein noodles cook incredibly quickly in only 4 minutes while yakisoba noodles come pre-cooked. I also prefer using a wok instead of the instant pot because the wok is actually quicker. Velveting also makes the chicken incredibly tender, therefore using an Instant Pot would just overcook and shred your chicken to pieces.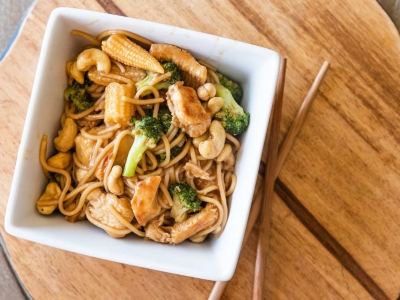 Quick & Easy Chicken Lo Mein Recipe
This Chicken Lo Mein recipe is so quick and easy to make and can have dinner ready on the table in 10 minutes. It's also healthy and low calorie!
Ingredients
5

oz

lo mein noodles

half of the package (can also use yakisoba or spaghetti noodles)

1

lb

chicken breast

sliced

1

cup

broccoli

15

oz

baby corn

1 can

½

cup

cashews

raw

1

tbs

garlic

1

tbs

sesame oil

use for heating the wok
Chicken Velveting Marinade
2

tbs

cornstarch

1

tbs

soy sauce

1

tbs

sesame oil

1

tbs

rice vinegar

or sherry
Chinese Brown Sauce
¼

cup

chicken broth

3

tbs

oyster sauce

2

tbs

soy sauce

2

tbs

rice vinegar

1

tsp

brown sugar
Instructions
The first step is to get your water boiling. Then velveting your chicken by adding your sliced chicken to a bowl with all of the velveting marinade ingredients. Set aside while you are prepping your veggies and mixing your chinese brown sauce ingredients in a seperate bowl while waiting for your water to boil.

Once your water starts to boil, add the Lo mein noodles which only take 4 minutes to cook.

Then heat up your wok. Once heated add your sesame oil, 1 tbs of garlic and your chicken. Remember this will all cook very fast. Cook your chicken until it starts to brown about 2-3 minutes. Then add your veggies.

Your veggies will only take 2-3 minutes to cook. While they are cooking in the wok, drain your lo mein noodles.

Finally, add your lo mein noodles and pour over your chinese brown sauce. Give a good mix and your dish is ready to serve.
Notes
Remember if you cannot find Lo Mein Noodles you can also use Yakisoba Noodles or Spaghetti noodles.
Other Vegetables to use in your Chicken Lo Mein Recipe
carrots
red & green peppers
bok chow
Japanese eggplant
snow peas & green beans
mushrooms
zucchini
asparagus
Velveting your chicken is the traditional method used in Chinese cooking to create incredibly tender chicken and beef. The method involves using cornstarch or baking soda to tenderize your meat. I always use cornstarch because it also acts as a thickener for your sauce when cooking.
Nutrition
Serving:
1
cup
|
Calories:
466
kcal
|
Carbohydrates:
61
g
|
Protein:
36
g
|
Fat:
19
g
|
Saturated Fat:
3
g
|
Cholesterol:
73
mg
|
Sodium:
1428
mg
|
Potassium:
870
mg
|
Fiber:
4
g
|
Sugar:
7
g
|
Vitamin A:
455
IU
|
Vitamin C:
29
mg
|
Calcium:
33
mg
|
Iron:
2
mg
If you try this recipe I would love to hear your feedback. Stir-fry's and Lo Mein's are so quick and easy to throw together. The sauce is also foolproof. Once you know the ingredients you can literally pour in a splash of this and splash of that. The sauce will always taste delicious even if the measurements aren't perfect!
Enjoy More Asian Cuisine Recipes
Find Delicious Recipes By Category