The Lighthouse Bayview Cafe is a special hidden gem located on Balboa Island in Newport Beach. Not only is this restaurant adorable, but the menu is equally as magnificent as the views. You could not help but notice the reaction of astonishment as each diner entered the restaurant. The Lighthouse Bayview Cafe is easily the most charming restaurant you've ever dined in.
At Lighthouse Bayview Cafe You Actually Dine Inside a Lighthouse!
First and foremost you will truly feel like you are dining in a lighthouse overlooking the ocean. The architect and designers did an excellent job creating this concept. Furthermore, the interior is decorated like your favorite tasteful beach cottage accented with beachy lanterns and stylish pillows throughout. If I owned a beach front house in Newport Beach this is exactly how I would imagine my home.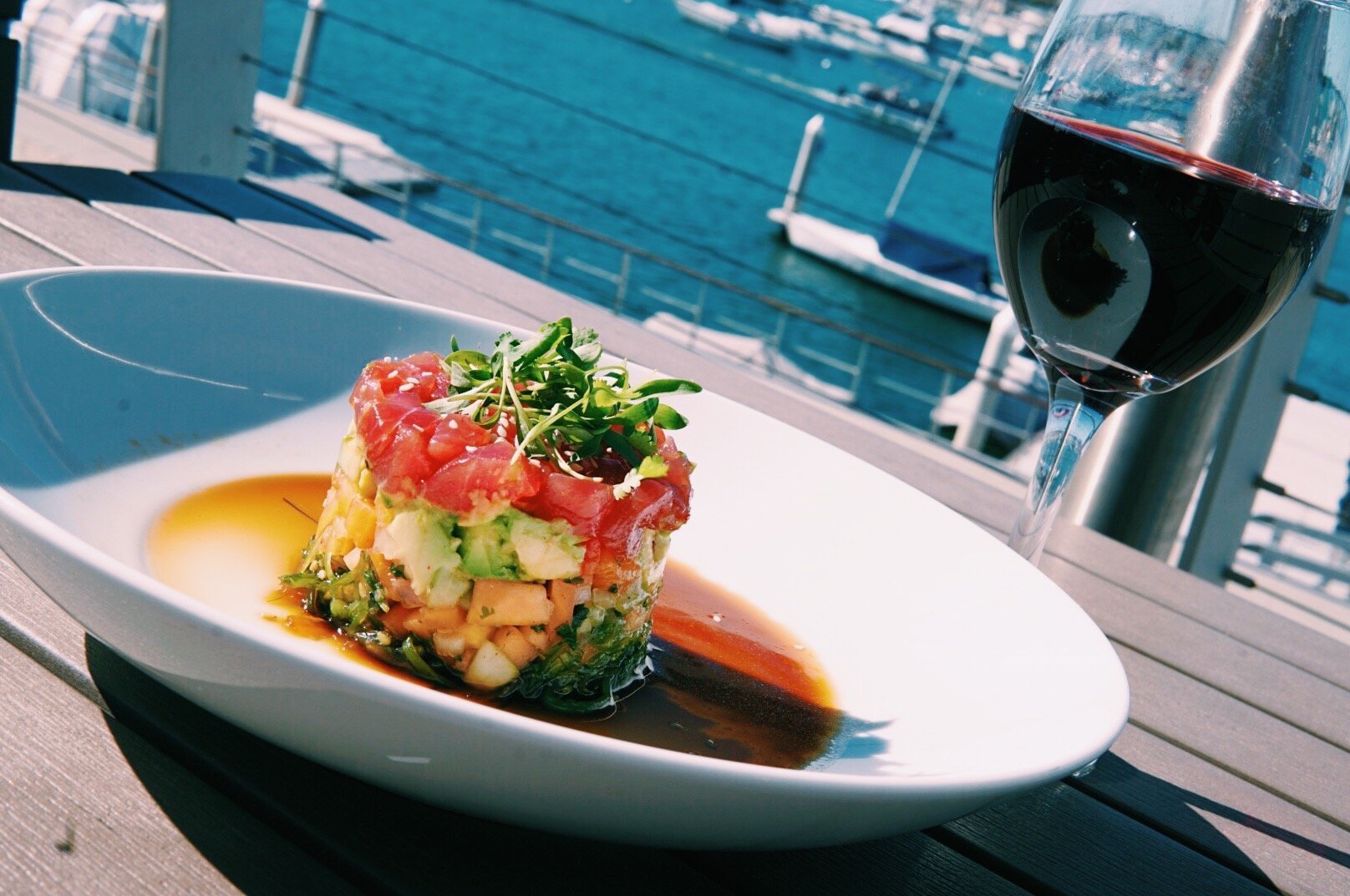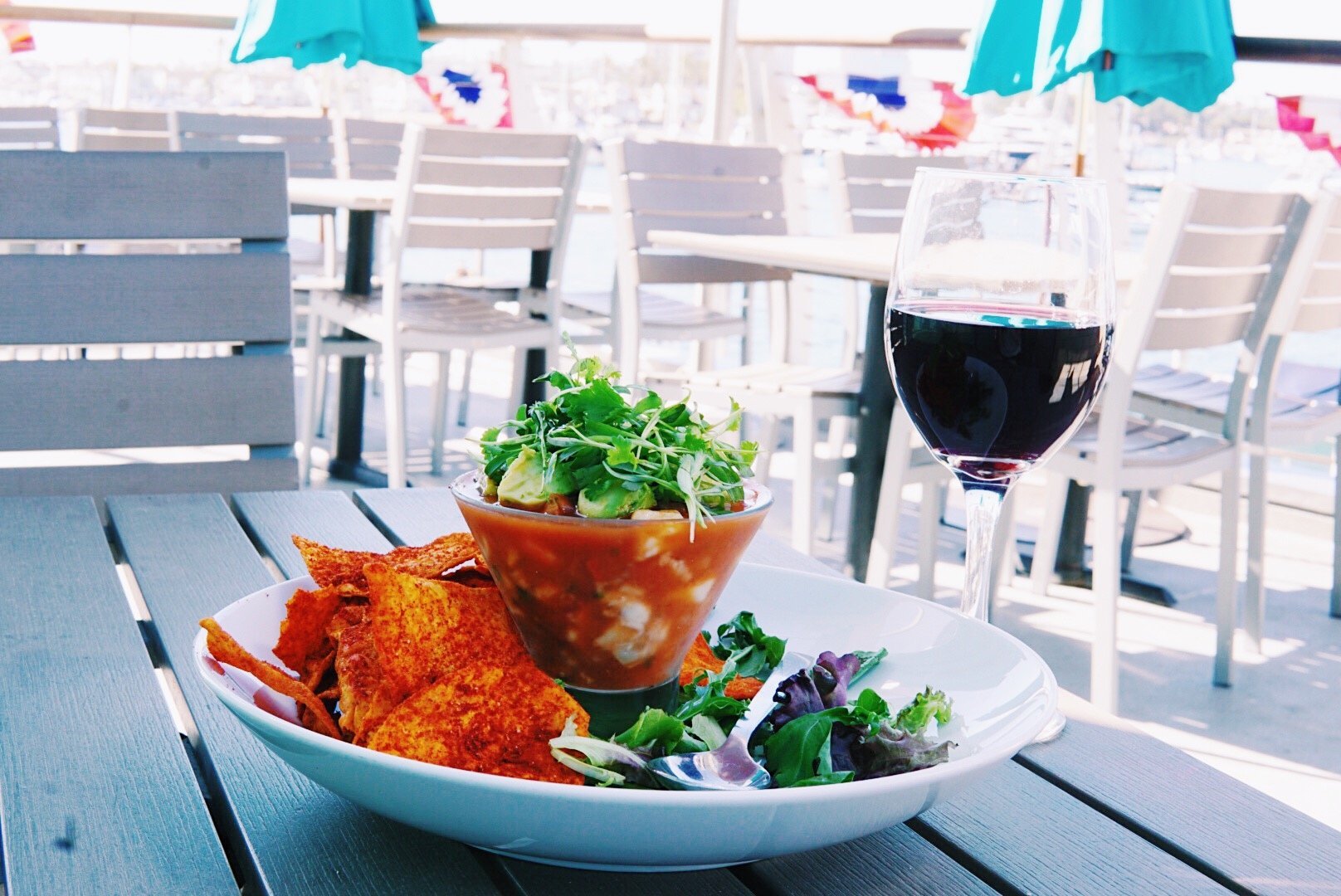 Pictured Above is the Seafood Ceviche and Tuna Stack
In addition to the fantastic ambiance, their food is equally delicious. For starters, we enjoyed their popular Seafood Ceviche and Tuna Stack. The Seafood Ceviche includes bay scallops, shrimp, white fish, and avocado completed with a bloody mary mix. It's no wonder why this is such a popular item on their menu. Equally delicious was their fresh Ahi Tuna stacked with a papaya relish, avocado, and seaweed salad. Both of these appetizers really set the mood for beach front dining.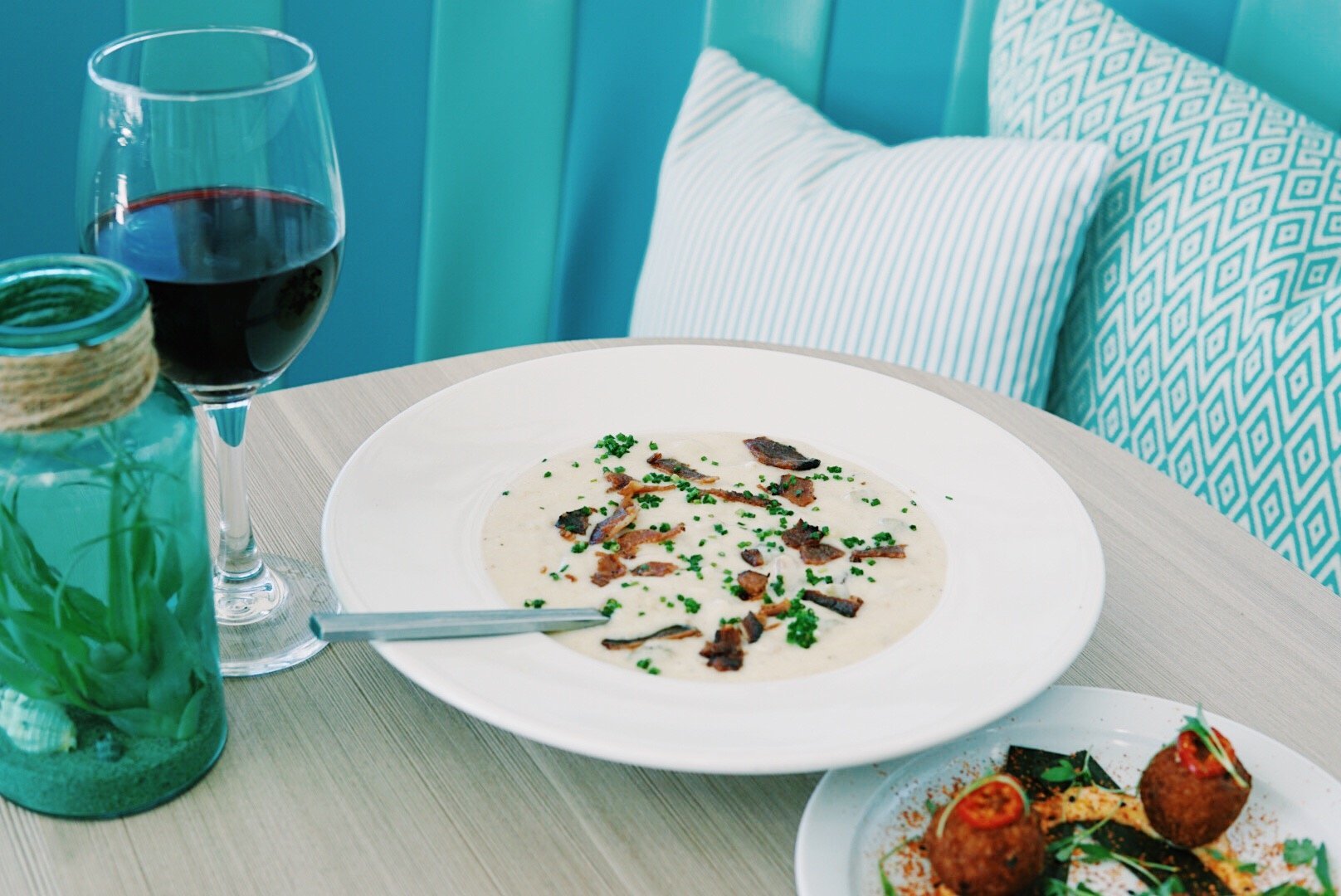 What is a Seafood Restaurant Without Exceptional Clam Chowder?
Next, I ordered their New England Clam Chowder. How can you not? It's just such a classic selection, especially when it's homemade. The clam chowder here comes topped with crispy bacon and is the perfect compliment to any entree. There is just no way you can come here without ordering it. Especially when it starts getting a little chilly during sunset. Absolutely perfect.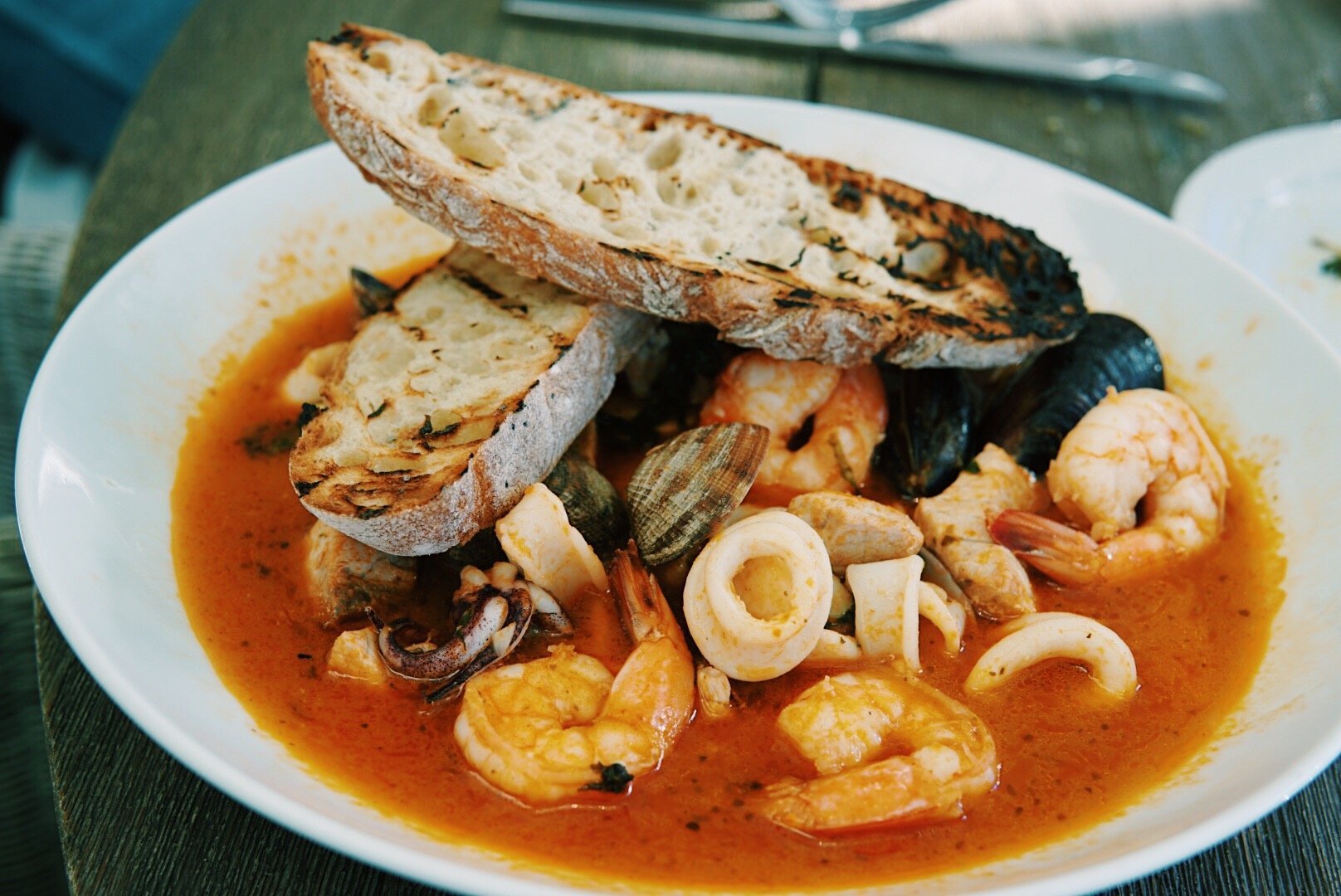 The Seafood Cioppino at Lighthouse Bayview Cafe is a Show Stopper!
Then, before I had a chance to order our entree, one of the tables next to us ordered the Cioppino which was stunning. We were just chatting up a storm about how charming the Lighthouse Bayview Cafe was and they insisted I snap a few photo of their lovely dish. Why of Couse, how could I possibly resist!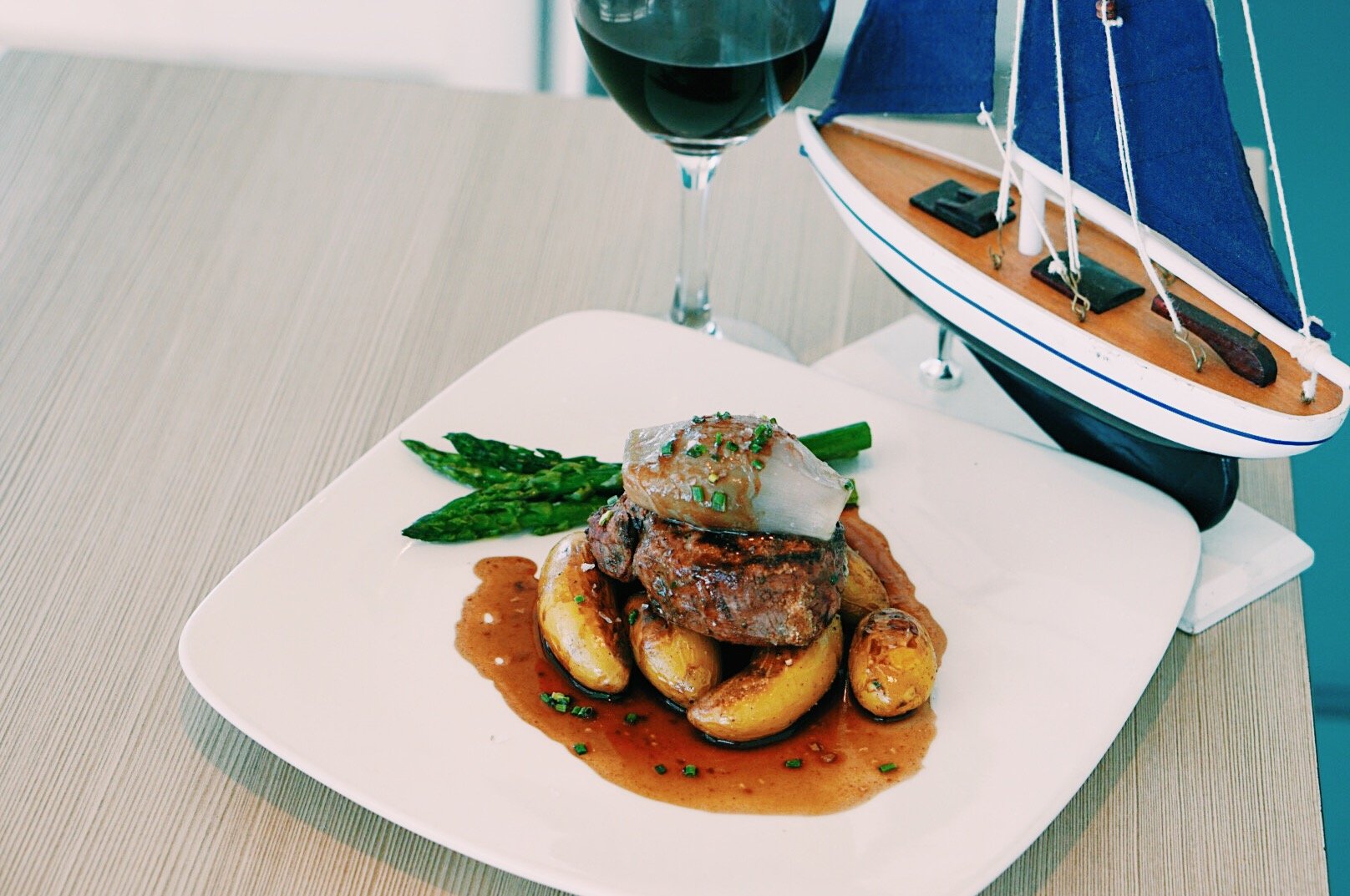 Finally, for our main course, we enjoyed the 6oz Filet over fingerling potatoes, and jumbo asparagus complete with a red wine sauce. This dish was beautifully presented, tender and juicy. I'm a woman who loves her steak and the Lighthouse Bayview Cafe did not steer me wrong.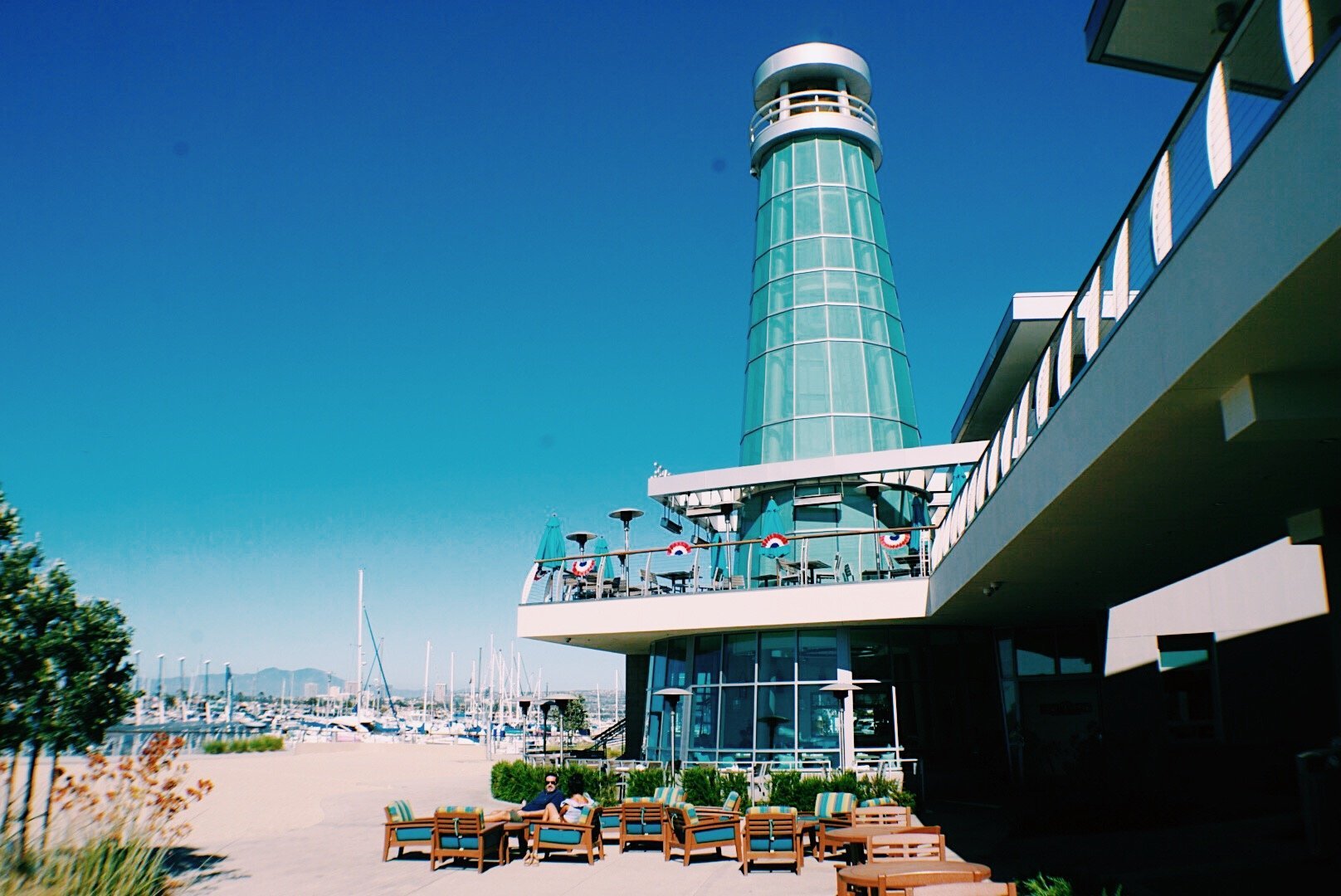 The Lighthouse Bayview Cafe Offers a Delicious Well-Rounded Menu for a Newport Beach Brunch
In fact, this would be the perfect Sunday Brunch spot. Additionally, I cannot imagine any girl not swooning if she were brought here on a first date or anniversary. Not only is this restaurant incredibly charming, but it also has a killer view of the Newport Beach marina.
Lighthouse Bayview Cafe
1600 W Balboa Blvd
Newport Beach, CA 92663
Reservations: 949-933-1001
Check Out These Other Great Orange County Restaurants With an Ocean View