This post may contain affiliate links. Read our full disclosure policy here.
---
If your guy is anything like mine, then you're going to love this guide on how to make a Valentines Day Charcuterie Board with a video on how to make Salami Roses. My guys love charcuterie and wine. In fact, he will order one at any restaurant with a charcuterie board on their menu. So I decided to create this awesome Valentines Day Charcuterie Board with his favorite meats, my favorite cheeses, and lots of yummy little goodies for grazing. Best of all, I've included a guide on how to make Salami Roses, which are so adorable and simple.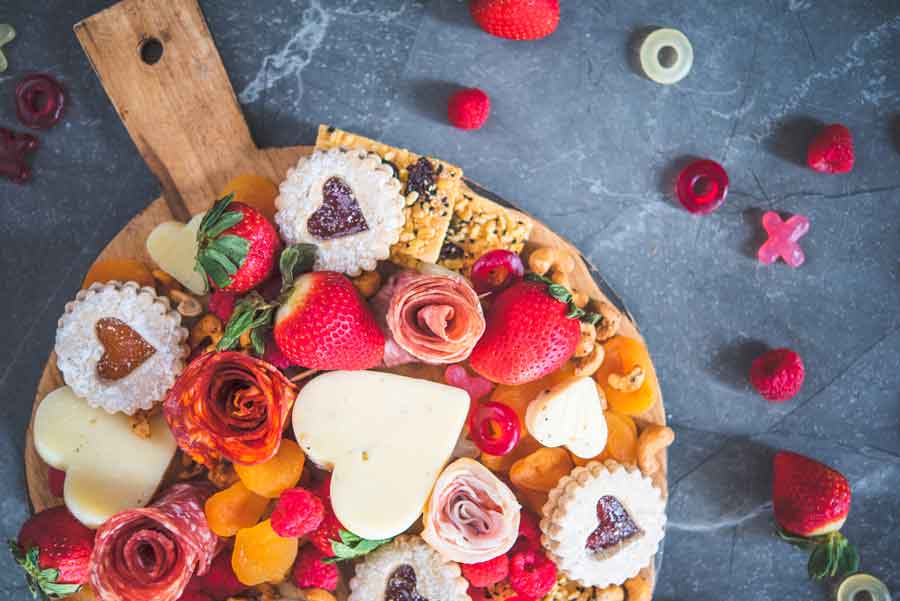 How to Make a Valentines Day Charcuterie Board (What You'll Need)
The best thing about this Valentines Day Charcuterie Board is that you can really customize it with all your honey's favorites. In order to call it a charcuterie board, however, you need a selection of good meats. Since I'll be showing you how to make Salami Roses, you'll need to get sliced meats, as opposed to small hard salami. Trader Joes makes a fantastic pack of sliced salami and prosciutto.
Next, to really make this Valentines Day Charcuterie Board extra cute, I purchased these simple heart cookie cutters to use for the cheese. I got a pack that also came with stars which I figured I could use for July 4th. Since we're using cookie cutter, you want to make sure your cheeses aren't too hard. My favorite cheeses are Italian Truffle Cheese and Manchego which I also get from Trader Joes. They have such a killer selection and they are also affordable.
Finally, you'll want to grab a selection of fresh fruit, dried fruit, nuts, crackers, Gerkin pickled, olives, and some sweets like candy or cookies. I personally purchased strawberries, raspberries, dried apricots, everything bagel cashews, Trader Joes trail mix crackers, Linzer cookies, and xoxo gummies. Of course, select items that your honey likes best. These are just the treats I know he enjoys.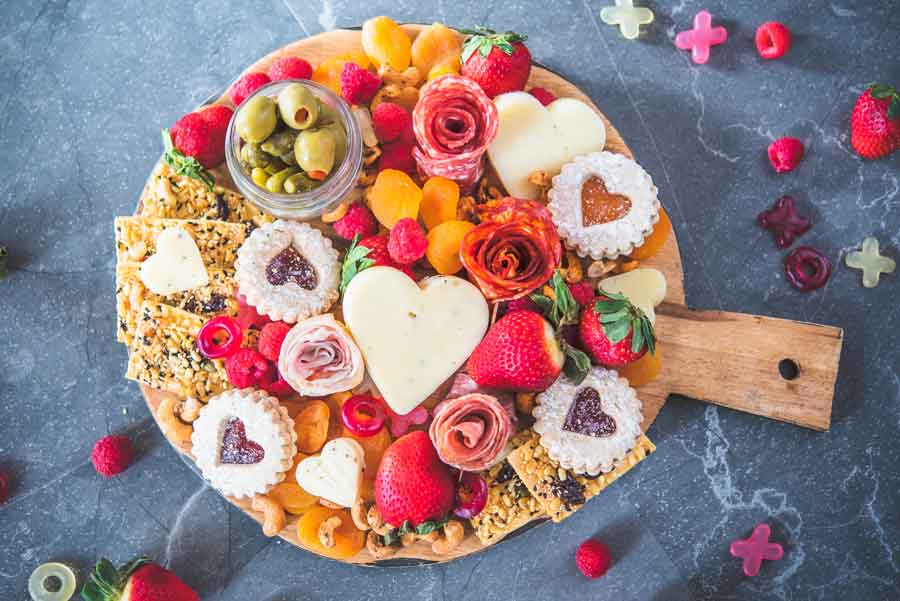 Other Suggestions to Add to Your Valentines Day Charcuterie Board
Here are a few other ideas you can add to your Valentines Day Charcuterie Board depending on what you both like.
Other types of nuts like Pistachio's, Marcona Almonds, Pecans, and Walnuts
Dried fruits such as mangos, apples, pears, oranges, pineapple, cranberries
Fresh fruits such as pomegranate seeds, cherries, grapes, cherries, blackberries, plums, dragon fruit. (try to avoid fruits that will oxidize and turn brown)
Sweet Treats such as chocolate hearts, rochers, red skittles, truffles, mini brownies, and red velvet cupcakes
Savory treats like beef jerky, anti-pasta, beets, radishes & red peppers with dip, Caper Berries (which we love, but I wasn't able to find in time).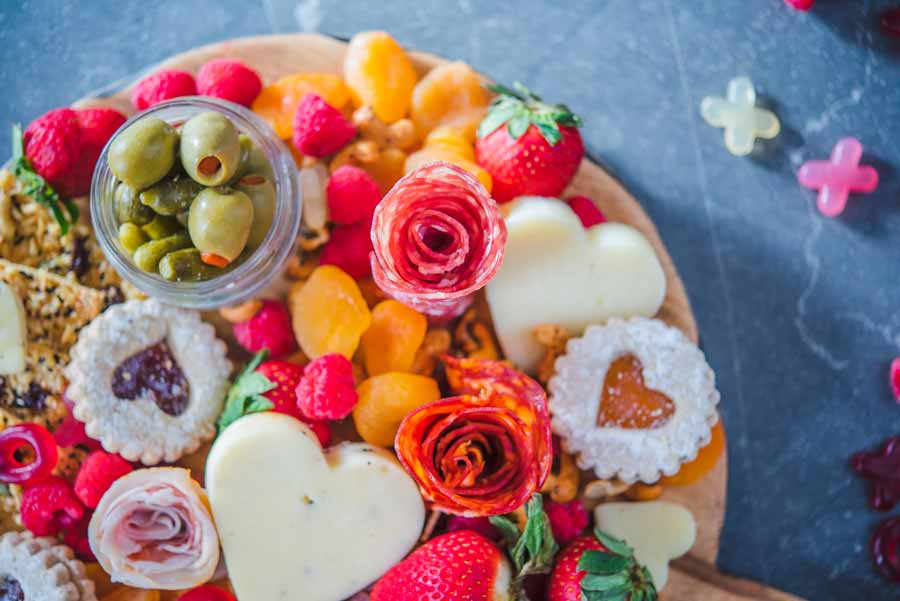 How to Make Salami Roses
For your convenience, I made a youtube video on how to make Salami Roses. They are such a fabulous touch and so incredibly easy to make.
Cut two pieces of Salami in Half
Roll the first piece which will be the center of your rose
Then layer the other three pieces so they overlap and place them a little higher than your centerpiece
Next, you'll use regular slices of Salami and continue to layer them, making this new layer slightly higher
When you're finished you'll hold it together at the bottom with a toothpick and place it on your board. You can hide the toothpick by placing your charcuterie items around it.
Tips for making the perfect Valentines Day Charcuterie Board
Always make sure you have items placed all the way to the very edges of your board
Layer your dried fruit, then nuts, and then fresh fruit so they overlap and are not in separate piles
Layer your colors. For example, if I have dried orange apricots, I'll layer it with red raspberries or dried cranberries.
Place your ramekins and larger items first, then add your other items around them.
You can see the entire process of how we place each item in our video!
For more Cheese & Charcuterie Tips, check out our other article on how to put together the perfect Cheese & Charcuterie Board for Your Next Wine and Cheese Party.
Find Delicious Recipes By Category