This weekend I'm partnering up with Uncommon Goods to plan the perfect Wine Party for my girlfriends. I have to admit, my cheese & charcuterie board skills have gotten exceedingly good. I have it down to a science now so I've even created a cute tutorial to help you put a perfect board together that is sure to impress all of your guests!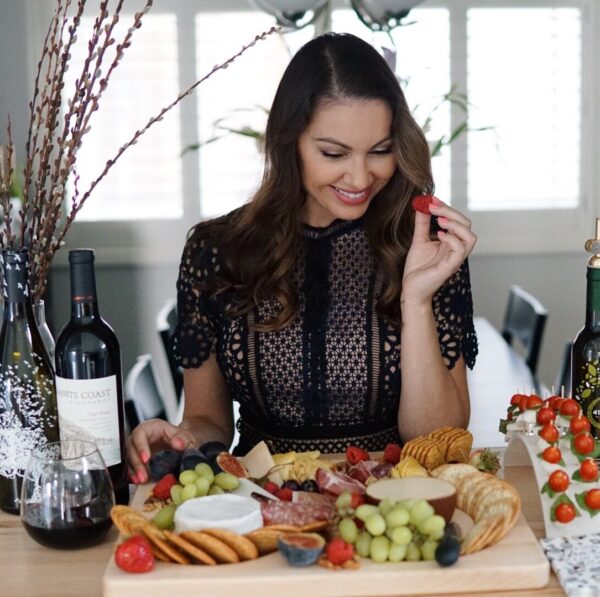 Before getting started, we, of course, need to find the perfect serving board and party platters. I was lucky enough to come across an amazing new online store called Uncommon Goods which has the most unique dining and server wear, in addition to a whole array of quirky cool items. I love having friends over and planning dinner parties so my eyes immediately zoomed in on this super cool cheese & charcuterie board. This board's unique grooves enable a full proof cheese board every time. I also love putting together easy toothpick appetizers and I've never seen anything like their arched toothpick appetizer display. It definitely makes a statement when on display.
One of my favorite easy party appetizers is toothpick caprese skewers. Below is a quick and easy recipe on how to make these at your next gathering. To make them extra special I added a dipping tray with a Milanese Gremolata Olive Oil and Lavender Balsamic Vinegar. The olive oil adds a hint of lemon, garlic and parsley flavors. The lavender balsamic also blends very nicely by adding a touch of herbal sweetness. I get all my specialty olive oils and balsamic from 41 Olive. They take any easy appetizers and make it feel fancy and elegant. Then when you display them on this arched toothpick hors 'd oeuvres holder it is a sure show stopper.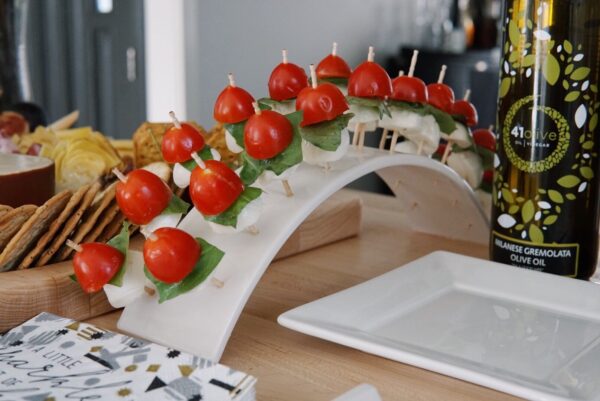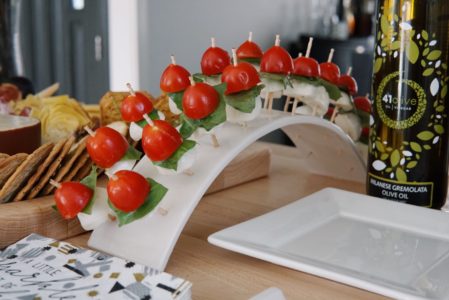 Easy Caprese Skewers Appetizer
These Caprese Skewers are the perfect bite and make a terrific appetizer for your next gathering.
Diets:

Gluten Free

,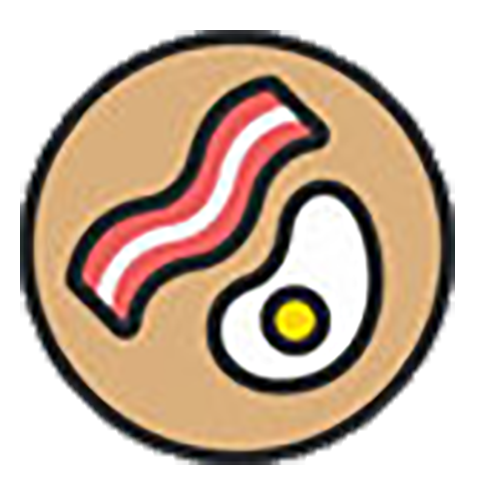 Keto

,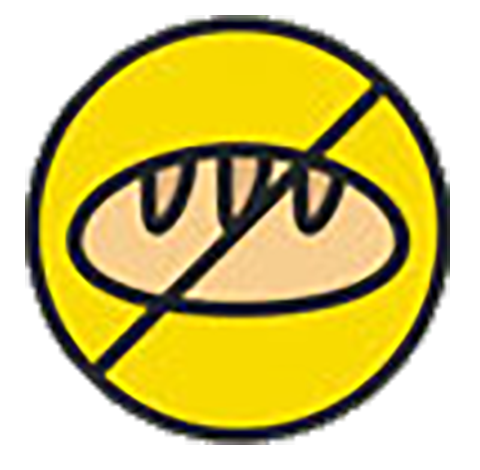 Low Carb

,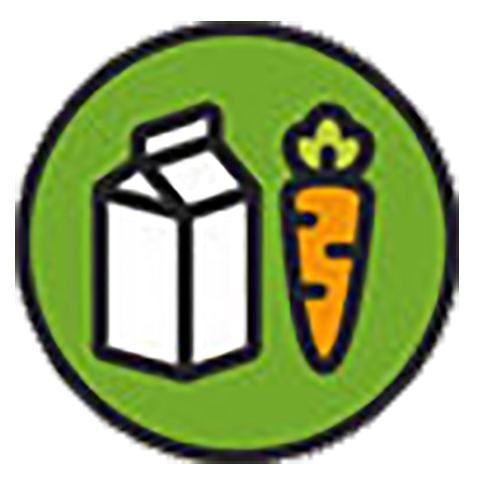 Vegetarian
Ingredients
1

package

Cherry Tomatoes

1

container

Mozzarella Balls

1

package

Basil

large

2

tbsp

Olive Oil

2

tbsp

Balsamic Reduction
Instructions
Cut cherry tomatoes and mozzarella balls in half. Rip basil into small half inch pieces. Stack starting with tomatoes, then add basil, and finish with the mozzarella.

Rip basil into small half inch pieces.

Stack on tooth pics starting with tomatoes, then add basil, and finish with the mozzarella.

Add a plate of delicious olive oil and flavored balsamic reduction for dipping or drizzle over the top.
Nutrition
Calories:
34
kcal
|
Carbohydrates:
2
g
|
Protein:
1
g
|
Fat:
3
g
|
Saturated Fat:
1
g
|
Cholesterol:
1
mg
|
Sodium:
3
mg
|
Potassium:
49
mg
|
Fiber:
1
g
|
Sugar:
1
g
|
Vitamin A:
116
IU
|
Vitamin C:
5
mg
|
Calcium:
2
mg
|
Iron:
1
mg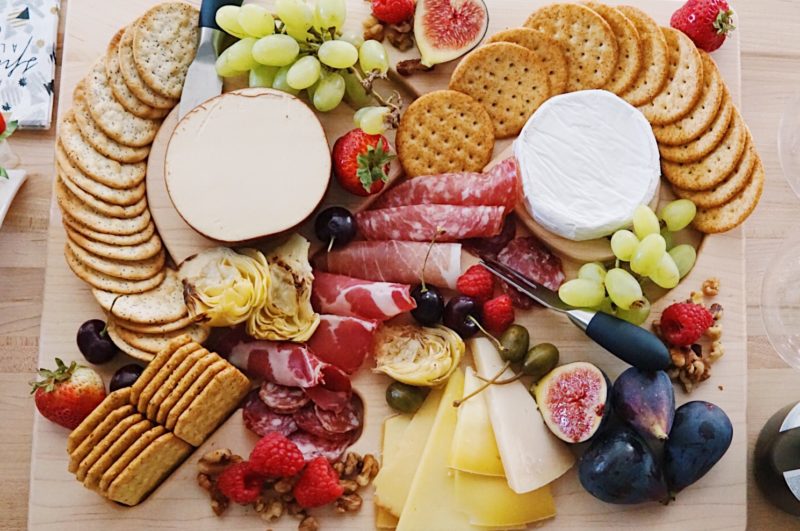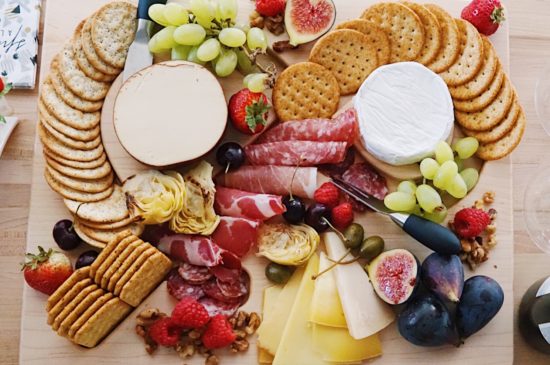 When it comes to arranging the perfect cheese & charcuterie board I have some easy tips that will ensure it comes out perfect every time. Below is a little tutorial you can add to Pinterest, print out, or save as a quick reference for your next wine party!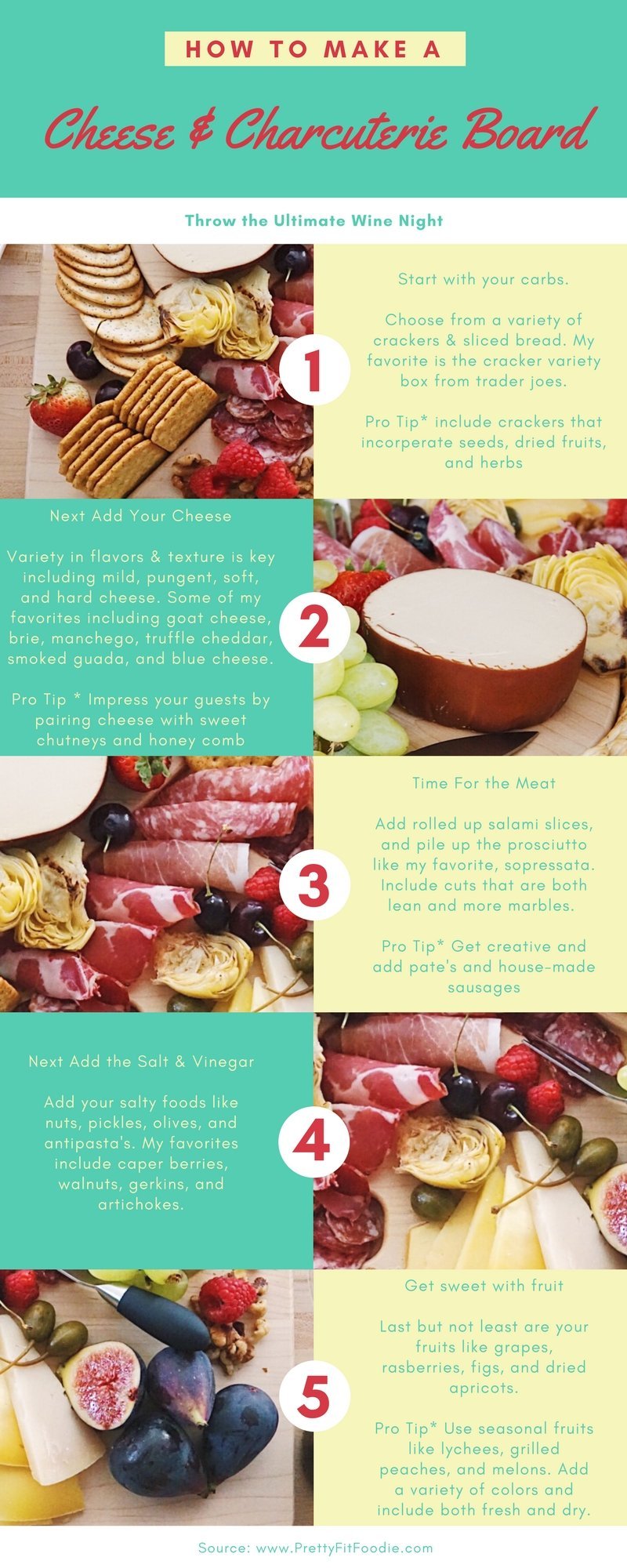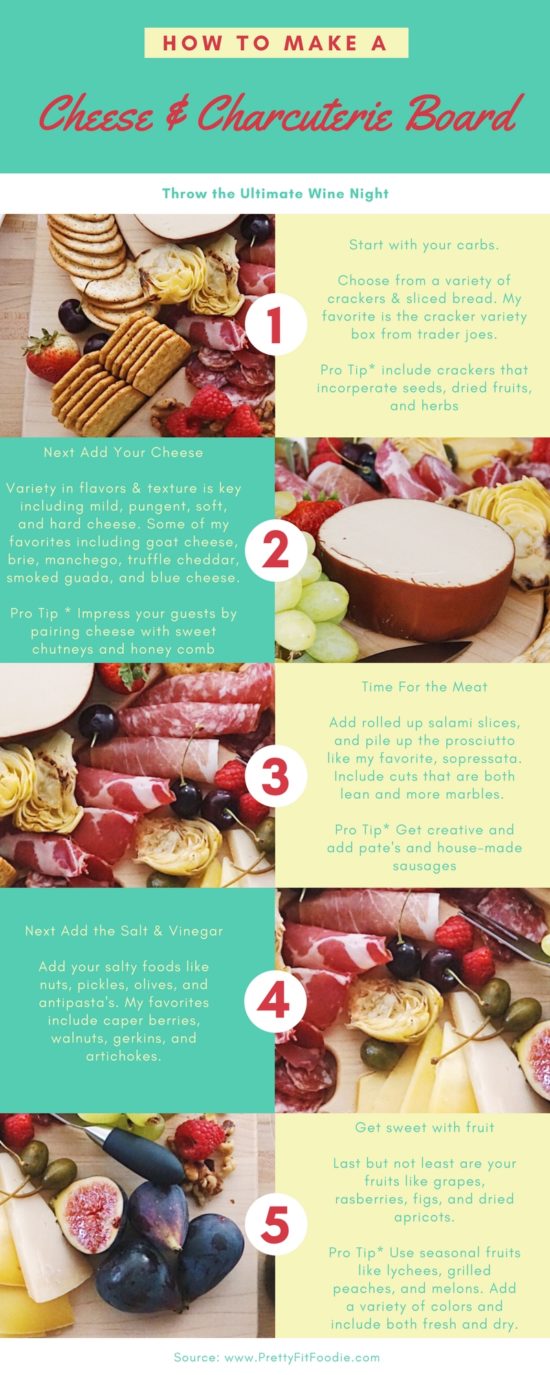 1. Carbs
The very first thing you want to arrange on your board are carbs like a variety of bread and/or crackers. I love the way this board holds crackers so I went with a simple variety pack of crackers from Trader Joes. They always have amazing options to choose from. You can keep it simple or even add a few like their rosemary cranberry crackers which I love.
2. Cheese
Next, you want to add a variety of cheese with different textures and pungencies. Arrange these around the board and use a combination of wheels, slices, blocks and even cubes. For cheese selections, I always include brie, truffle cheddar, goat cheese, and manchego. Adding harder cheeses and more pungent cheese like blue cheese will also appeal to a variety of different tastes. If you want to get really fancy, try pairing your cheeses with different jams, chutneys, and honey comb.
3. Meat
The third item you will want to add is your meat. My favorites are [amazon_textlink asin='B00PGUX24K' text='soppressata' template='ProductLink' store='prettyfitfood-20′ marketplace='US' link_id='46f50da5-8852-11e7-ae90-79a618bc2367′] salami and prosciutto. It's nice to add a variety of meats which you can slice into smaller circles like hard salamis, roll, and even just pile on. I tend to like my meat leaner so it's good to also add a variety of textures for different tastes. If you really want to impress you can also add pate, duck prosciutto, and specialty sausages.
4. Salt & Vinegar
Next you want to think about additions like pickles, olives, antipastos, and nuts. I love [amazon_textlink asin='B00VXA5ZW4′ text='caperberries' template='ProductLink' store='prettyfitfood-20′ marketplace='US' link_id='a554d194-8850-11e7-a180-1d060a488b83′]. They are amazing and the seeds pop in your mouth like caviar. I am also a fan of cauliflower antipasto.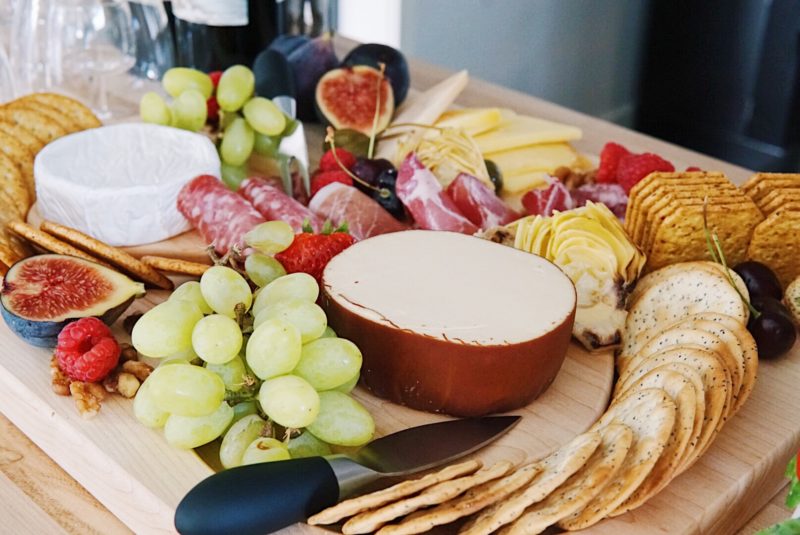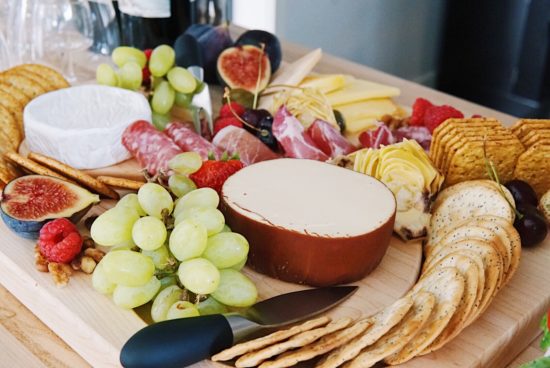 5. Fruits
Last but not least you will want to add your fruits. These should always be a variety of fresh and dried fruits like raspberries, strawberries, dried apricots, and dried cranberries. However, don't be afraid to get creative. You can very easily change the entire style and feel of your board just by changing your selection of fruits. You can do a summer board of pineapple and watermelon. For fall you can add in selections like pears and apples sprinkled with cinnamon. I also like to add fruits that are seasonal and include everything from figs, grilled peaches, and even exotic fruits like lychee.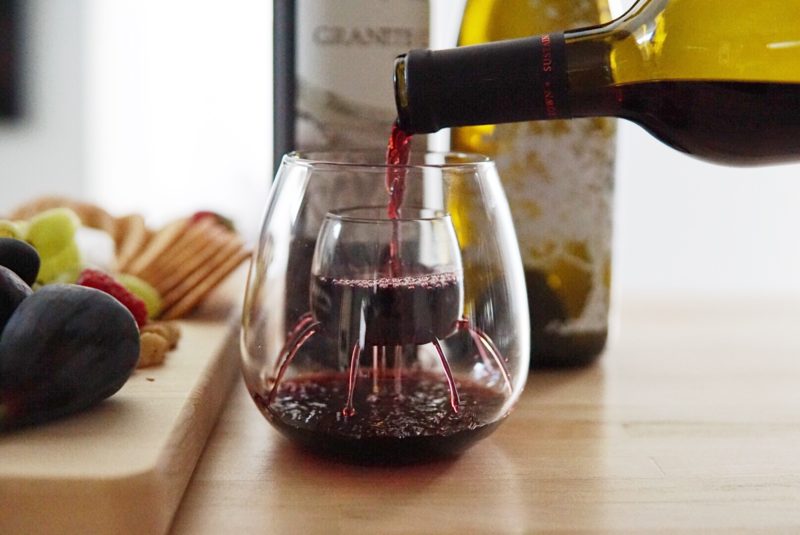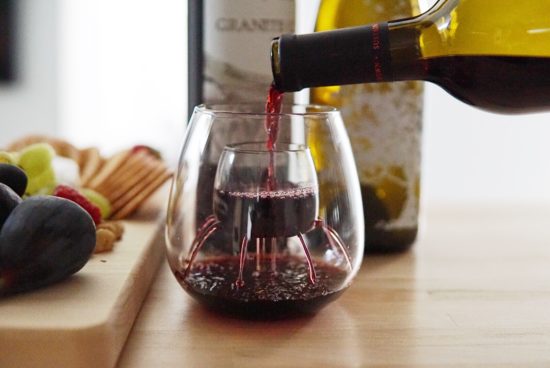 Finally, no wine party would be complete without the wine! I found the coolest and most amazing wine glasses I've ever seen with a built in aerator. This is the inspiration for my entire wine party. I just wanted to show off my cool new glasses. These are only of its kind that I've seen. Not only are they fun to use, but they also aerate the wine perfectly straight from the glass. I always drink reds so these glasses were a must for my wine bar. If you are looking for a great cheap easy drinking wine, I'm addicted to Cocobon and Unruly. If your friends like white wine you can grab a [amazon_textlink asin='B01DFMDT2K' text='White Cabernet' template='ProductLink' store='prettyfitfood-20′ marketplace='US' link_id='07c758f8-8852-11e7-a8b6-73a9bddf0576′] from Wilsons Creek and they"ll be just as happy. This wine is amazing and doesn't use sulfur which is why most white wines might give you a headache. Instead, Wilsons Creek uses a process that freezes the yeast leaving a deliciously smooth white wine made from 100% cabernet sauvignon grapes.
In addition to planning amazing dinner parties, here are also some great ideas for Anniversaries, Baby Showers, and Bridal Parties!
Love It? Pin It!