Posts may contain affiliate links. Read our full disclosure policy here.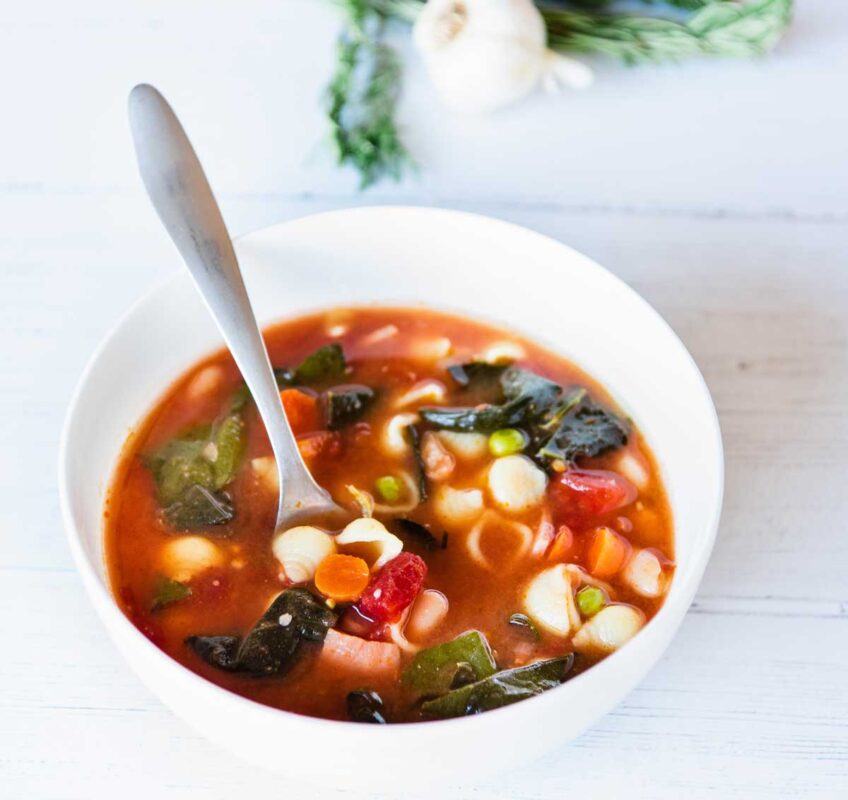 A delicious and healthy minestrone soup recipe that is perfect for the winter months featuring Tuscan Kale, Cannellini Beans, and fresh Rosemary.
---
During the winter month, this Tuscan Minestrone Soup Recipe is the perfect comforting soup. This recipe variation uses Canadian Bacon instead of traditional bacon, making it a fantastic healthy meal to kick in those New Year resolutions. I also added one of my favorite ingredients, Tuscan Kale, which adds great texture and added nutrients. This Tuscan Minestrone Soup is my winter twist, adding white canella beans, Canadian bacon, and the familiar flavor of rosemary.
One of my favorite culinary purchases has been the addition of using a Herb Holder or Spice Ball for my soups. They can also be used to infuse large batches of tea. I find that rosemary can often become overpowering and an herb holder is a perfect way to add just enough flavor. Continue checking your soup every few minutes as it simmers and remove your herb holder once the rosemary flavor is perfect for your taste.
Here is a List of Other Vegetables You Can Also Add to This Minestrone Soup Recipe.
One of the reasons I love making minestrone soup is because it can be customized in so many different ways. Here is a list of other vegetables and ingredients that are perfect to add to your minestrone soup.
Green Beans (even canned work great)
Celery (I am not a fan of celery, it is strangely one of my least favorite foods)
Zucchini
Kidney Beans
Spinach (I love the texture of Tuscan Kale so much more but spinach is always an option)
How to Make this Minestrone Soup Recipe Vegetarian, Vegan, or Gluten-Free?
Additionally, if you are vegetarian or vegan you can completely omit the addition of Canadian bacon and use vegetable stock instead of beef stock. If you are gluten-free you can easily add gluten-free pasta. If you are just looking to add more fiber to your diet, I highly recommend adding whole wheat pasta. I typically always use whole wheat pasta at home, but could not find a whole wheat option for the smaller pasta variations. Next time, I will likely opt for using my whole wheat spiral pasta which I get from Trader Joes. It is loaded full of fiber and so good for you. I always love to give options and variations for my recipes so they can be adjusted to fit everyone's taste and dietary needs. You can find our Vegan Minestrone Recipe here.

What are the Benefits of Bone Broth?
To make this Tuscan Minestrone Soup recipe even healthier I added a container of Beef Bone Broth. These cartons are typically half the size of regular beef stock so if you did not want to use Bone Broth you could just add a half container of beef stock instead. Bone Broth is an amazing addition that adds an additional 20g of protein and 6g of collagen. I was ecstatic when Trader Joes began selling this item. If you do not live near a Trader Joes, Kettle is also a very popular brand for their Bone Broth varietals. I highly recommend adding these into all your soups for additional health benefits.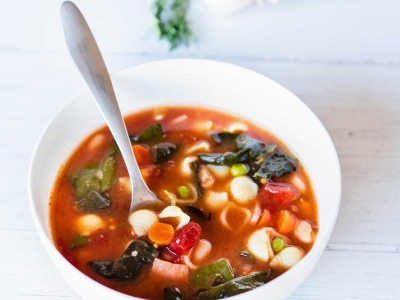 Delicious & Healthy Tuscan Minestrone Recipe
A delicious and healthy minestrone soup recipe that is perfect for the winter months featuring Tuscan Kale, Cannellini Beans, and fresh Rosemary.
Ingredients
4

cloves

garlic

chopped

1

whole

shallot

chopped

3

sprigs

fresh rosemary

placed in herb holder

1

bushel

tuscan kale

chopped

6

whole

baby carrots

or 1 large carrot chopped

½

cup

peas

fresh or frozen

6

slices

Canadian bacon

diced

1

can

Cannellini beans

1

can

diced tomatoes

large can

1

cup

mini shell pasta

you can use any small pasta, sub for gluten free or whole wheat pasta

1

block

parmesan cheese

cutting of the rind to add to your soup and grate to top when serving

1

carton

beef stock

use vegetable stock if creating a vegetarian or vegan recipe.

1

carton

beef bone broth

option, if not used add an additional 1/2 of beef broth

1

tsp

salt & pepper
Instructions
First you want to heat up a small amount of Olive Oil into your pot on medium high heat. Once its heated add your chopped garlic and shallots, cooking until lightly golden.

Then reduce heat to medium and add your diced carrots and Canadian bacon. Cook for a few minutes until carrots begin to soften.

Next add your chopped Tuscan kale in small batches until cooked down. Then add the peas, Cannellini beans, diced tomatoes, and parmesan cheese rinds. There is no need to drain the tomatoes or beans. I also prefer to chop the tomatoes into even smaller pieces. Cook for an additional 2-3 minutes.

Then add your Beef Stock, Bone Broth, salt and pepper.

Add 2-3 sprigs of rosemary to your soup infuser and add to your soup. Bring to a slow boil and then reduce heat and simmer for 10-15 minutes until carrots are almost soft.

Finally add your pasta and continue to simmer for another 5-7 minutes until your pasta has finished cooking. Since this pasta is smaller it takes a lot less time to cook. If you are using a larger pasta or whole wheat pasta you can add this when you add the carrots.

When your soup is finished, ladle into bowls and top with freshly grated parmesan cheese.
Notes
This recipe is made even healtheir with the additional of Tuscan Kale which has a much heartier texture. You can also very easily make this recipe gluten-free, vegetarian, vegan, low carb, and high fiber. 
Nutrition
Serving:
1
g
|
Calories:
247
kcal
|
Carbohydrates:
35
g
|
Protein:
23
g
|
Fat:
3
g
|
Saturated Fat:
1
g
|
Cholesterol:
17
mg
|
Sodium:
1047
mg
|
Potassium:
362
mg
|
Fiber:
6
g
|
Sugar:
3
g
|
Vitamin A:
393
IU
|
Vitamin C:
14
mg
|
Calcium:
95
mg
|
Iron:
3
mg
If you make this recipe, please let me know! Leave a comment below, or take a photo and tag me on Instagram with #cuisineandtravel.
Additional Healthy Soup Recipes
If you are looking for more delicious & healthy recipe soup recipes be sure to visit our Soup Recipes Section. Here are some additional soups you might enjoy.
Find Delicious Recipes By Category