---
This healthy low calorie chicken tortilla soup with rotisserie chicken is so easy to make and delicious. It also makes a perfect meal for meal prepping and can be thrown in the freezer. I make this soup all the time whenever I have left over rotisserie chicken or need some quick lunches during the week.
This low calorie chicken tortilla soup is so incredibly easy to make. It only takes about 10 minutes total! When you make your chicken tortilla soup with rotisserie chicken it is a breeze and I love the flavor shredded rotisserie chicken adds. To make this recipe you also only need a handful of ingredients and they can be canned which makes this recipe even simpler.
If you love Mexican cuisine, also be sure to check out our easy Regular and Keto Friendly Taco Bowls made with a cheese taco shell!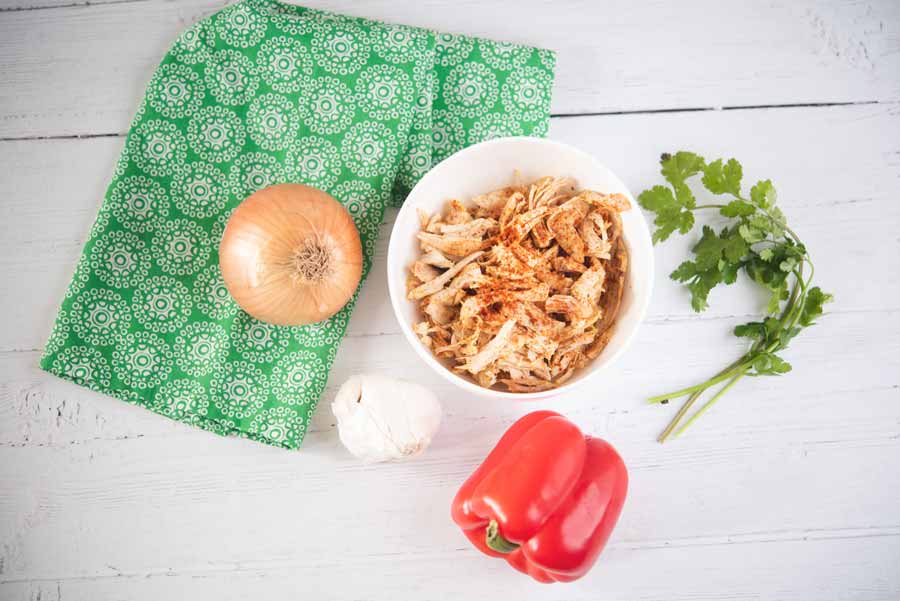 What Key Ingredients Do I Need For Making a Healthy Low Calorie Chicken Tortilla Soup
Rotisserie Chicken, I use half a rotisserie chicken, but you can always use more if you like extra chicken.
Good Quality Chicken Broth (I always look for organic and check the ingredients)
Canned black beans, corn, and fire roasted tomatoes (the best part is you don't need to drain them, just pour it all in)
fresh chopped onions and diced red peppers (you can also add chopped garlic which is optional. I love garlic but my fiance does not so I sometimes leave it out. If you were to add garlic, I would chop 2 cloves of garlic)
chilli pepper seasoning, salt, and pepper
Thats all you need, now how is that for a quick and easy chicken tortilla soup? This version of chicken tortilla soup is so simple your kids could make it. What especially makes this low calorie chicken tortilla soup extra delicious are the toppings!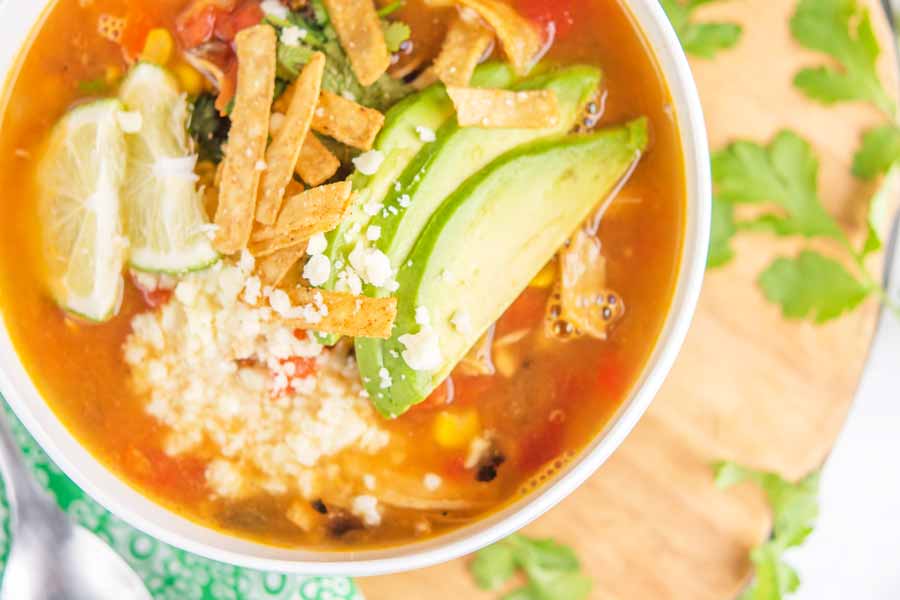 What Are My Favorite Toppings to Put on Chicken Tortilla Soup
I really think what makes this tortilla soup recipe shine, are the toppings. You would never guess this is a healthy & low calorie chicken tortilla soup because all the toppings make each bite so delicious! Below are my must have favorite toppings for chicken tortilla soup, but I'll also include some alternatives. For convenience, sometimes it's easier to use what you already have on hand.
Fresh Cilantro – If you do not have fresh cilantro you can omit it, but I love the flavor of fresh cilantro adds to this dish and the beautiful color it adds as a topping.
Cotija Cheese – You can find this traditional Mexican cheese in most grocery stores. It is a very soft crumbly cheese used often in Mexican cuisine and it's fantastic when added to Mexican soups, tacos, and salads. You can of course always used shredded cheddar cheese, but trust me, Cojita cheese is so good!
Fresh Squeezed Lime – I always add a wedge or slice of lime to squeeze the fresh lime juice into the soup. It really gives it a special flavor. In fact, almost all of my soups I like to balance with a squeeze of citrus so you will often see me add a squeeze of lime or lemon to my soups.
Avocado – You either love them or hate them and I love avocados, but you can of course omit them.
Tortilla Strips – In most grocery stores you can find tortilla strips. Some are flavored almost like Doritos and others are multi-colors. If you don't have these on hand you can always crush up some tortilla chips to sprinkle on top of your soup. You can also slice up some fresh tortillas and make your own by adding them to a pan with a little oil. If you have an air fryer, that is even better. Just lightly spray with olive oil and let them get nice and crispy.
Other chicken tortilla soup toppings you might include diced red onions, black olives, and sour cream (or greek yogurt). Since we are making a healthy low calorie chicken tortilla soup I did not add sour cream. If you are health conscious I recommend measuring the amount you add so its not more than a tablespoon or you can use greek yogurt as a substitute which will also add extra protein.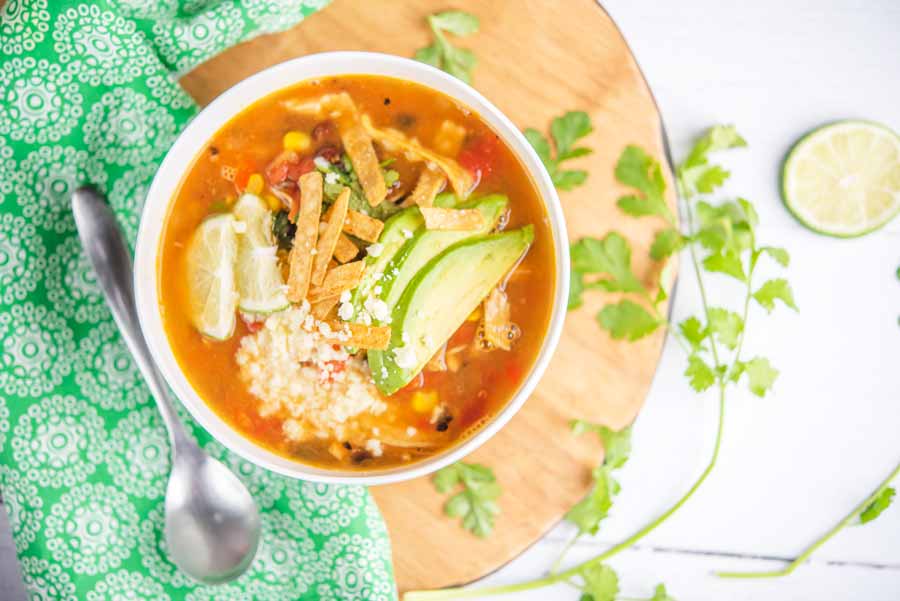 How Do I Make Chicken Tortilla Soup with Rotisserie Chicken?
You're going to love how easy it is to make chicken tortilla soup with rotisserie chicken. All together it only takes about 10 minutes. You'll start by warming your pot on medium heat or if using your Instant Pot turn the saute mode on to medium.
Once your pot is warm, add a light spray of olive oil or avocado oil and saute your onions and peppers for 2 minutes. Then add your canned tomatoes, shredded chicken, and seasonings. Give everything a nice stir and add in the rest of your canned ingredients.
Finally pour in your chicken broth and bring your soup to a simmer. Once your soup is not and hot, you can enjoy it right away since all of the ingredients are already cooked. Just garnish your chicken tortilla soup with your favorite toppings and enjoy.
How Do I Make Chicken Tortilla Soup With Raw Chicken Breasts?
Maybe you don't have any rotisserie chicken, but you have some raw or frozen chicken breasts you would like to use up. Using chicken breasts for an Instant Pot chicken tortilla soup is incredibly easy, but it will add about 10 minutes to the cooking time.
To use raw chicken breasts you'll want to first saute the onions and peppers just like in our regular recipe. Then you will add the chicken breast, your seasoning, the can of fire-roasted tomatoes with all the juice, and chicken broth. Set your Instant Pot to pressure cook for 10 minutes, quick release, and you'll have awesome tender chicken that shreds with no effort. Then you can add in the rest of your canned ingredients.
If you wanted to cook this as a slow cooker chicken tortilla soup in your crock pot, you would just add 2-3 breasts of whole chicken with the tomatoes, onions, peppers, seasoning and chicken broth. Cook for 6 or 8 hours and then add the corn and beans at the very end.
Are You a More Visual Learner? Check Out Our Video of How to Make Easy Healthy Chicken Tortilla Soup Below
For more cooking videos you can also subscribe to my youtube channel! We will be releasing a new video every week.
Meal Planning and Storing Your Chicken Tortilla Soup
I make this low calorie chicken tortilla soup with rotisserie chicken pretty often because it stores so well in the freezer. Simply pour your soup in a freezer safe container and it will last for 3 months! Then just take it out the night before, heat in the microwave for 2-3 minutes and enjoy.
When I meal plan, we also label the meals we stick in the freezer. I always try to create recipes that are freezer friendly because it really does make our life easy and we are so much healthier because of it. When I started storing a variety of freezer friendly lunches like this easy chicken tortilla soup, I lost 5lbs in less than a month. I make horrible decisions when I'm hungry and by making freezer friendly meals, I never get hungry or bored.
Did you forget to take your soup out the night before? No worries at all because I do it all the time. Simply place your container in a large pot or container filled with water so it covers your soup container about half way. It will defrost in a few hours and be ready for lunch!
Be Sure to Check Out Our Other Healthy Soup Recipes
Find Delicious Recipes By Category