Posts may contain affiliate links. Read our full disclosure policy here.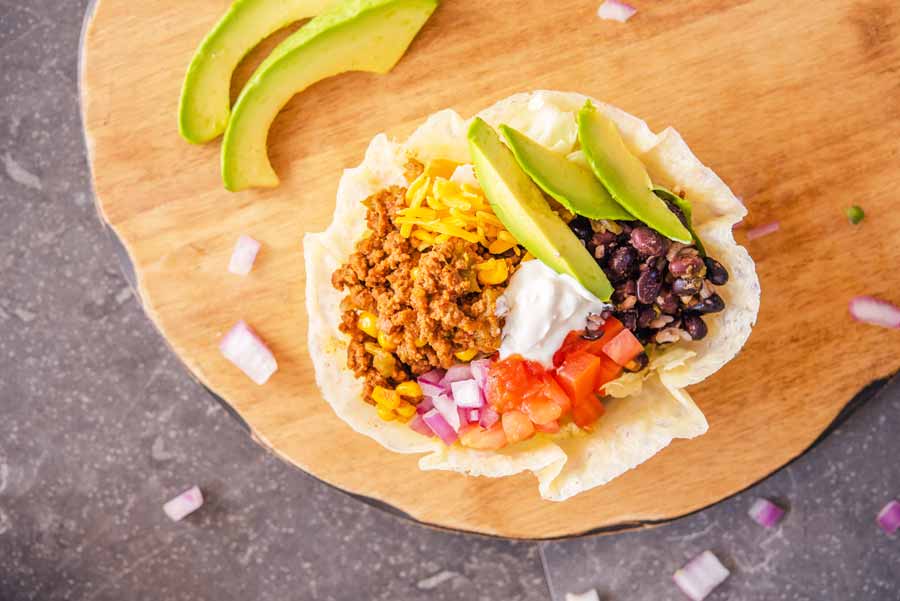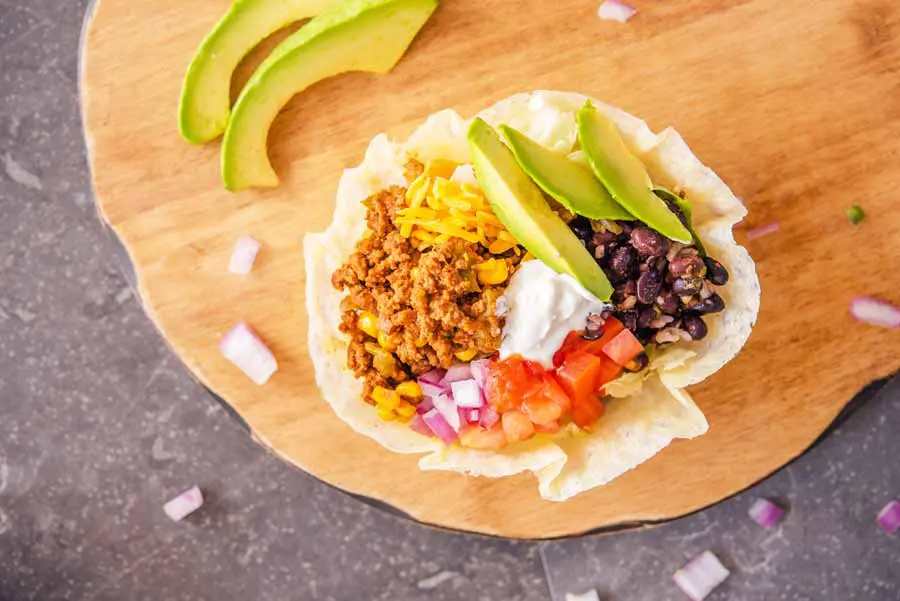 Serving this low carb keto taco bowl in a cheese shell makes this recipe even more delicious and perfect for meal prep.
---
If you're living a keto or low carb lifestyle then this Keto Taco Bowl with cheese shell is going to be your new favorite meal prep lunch. After I discovered these new cheese wraps at my local grocery store, I couldn't wait to get home and see what recipes I could create with them. The best part is, these Cheese Wraps are even easier to use than I expected.
How to Make Flavorful Taco Meat
I always try to make my taco meat as flavorful as possible. There is nothing wrong with throwing in a packet of taco seasoning and they even make low sodium versions. Here are my tips if you want to make your taco meat extra special.
I always add sautéed onions & garlic. Occasionally I'll also add diced red peppers if I happen to have them on hand.
To keep my taco meat moist, I also like to include 2 tbsp of salsa
sweet corn is my favorite ingredient to throw in my taco meat
green chilies also work great
most recently I added chopped pickled jalapenos in my taco meat and they were amazing, I'll be adding this more often!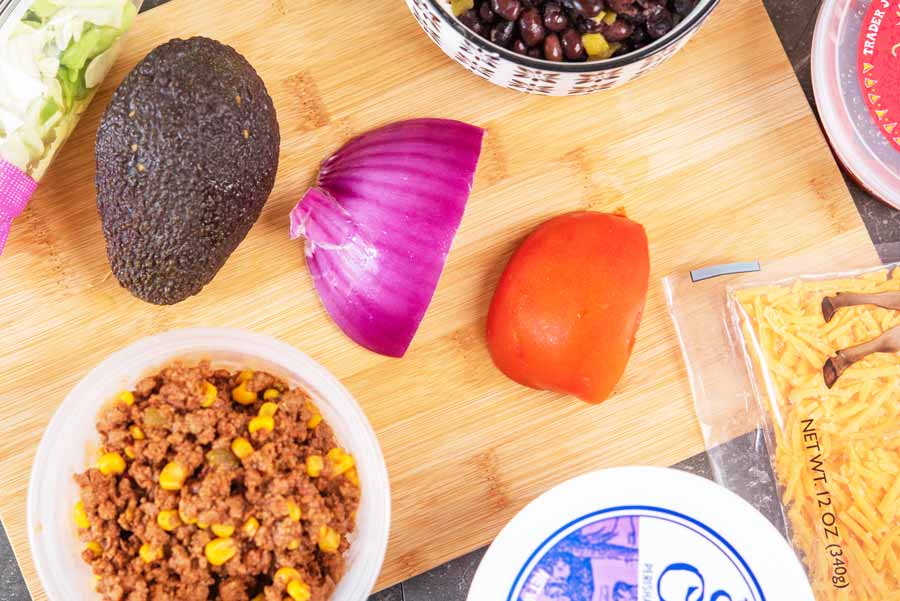 What Other Ingredients Should I Include in a Low Carb or Keto Taco Bowl?
In our Keto Taco Bowl, I included black beans, 90% lean ground beef (made with corn, green chilies, and taco seasoning), butter lettuce, diced tomatoes, red onions, sliced avocado, shredded sharp cheddar cheese, salsa, and sour cream.
Important notes: If you are following a very strict diet be sure to omit the black beans and corn. There are however, many great additional ingredients you can include. I love this Keto Taco Bowl recipe because you can customize it any way you'd like.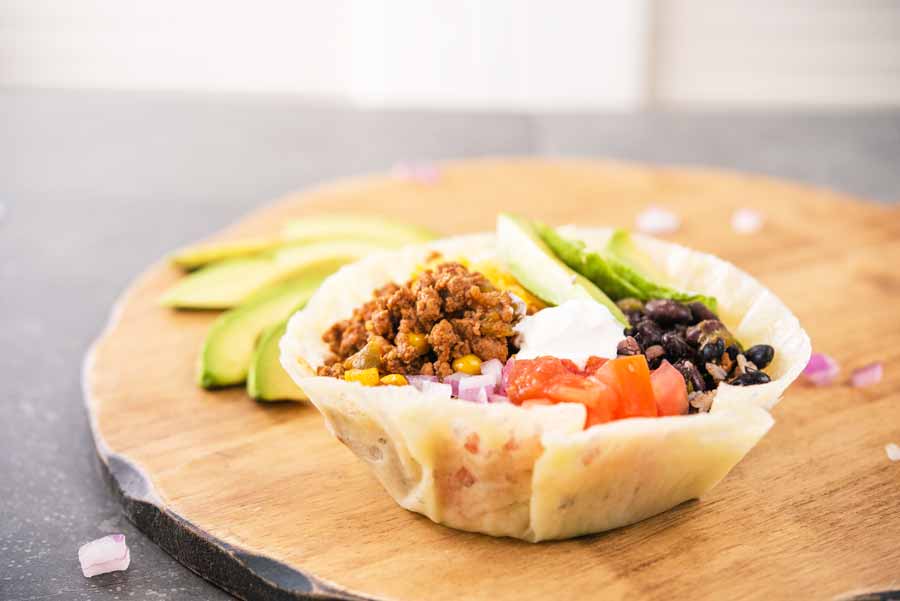 Great Alternative Ingredients to Add to Your Low Carb Taco Bowl
Other great alternative ingredients to include in a low carb taco bowl include black olives, cauliflower cilantro lime rice, sautéed or diced red and green peppers, kale salad mix, shredded chicken, grilled steak, jalapeños.
To keep this Low Carb Keto Taco Bowl as healthy as possible, it's also important to measure your ingredients. Anytime I meal prep, I scoop everything with measuring spoons and measuring cups. The calories in ingredients such as cheese and sour cream can really add up so it's best to measure them out, especially if you are watching your calories.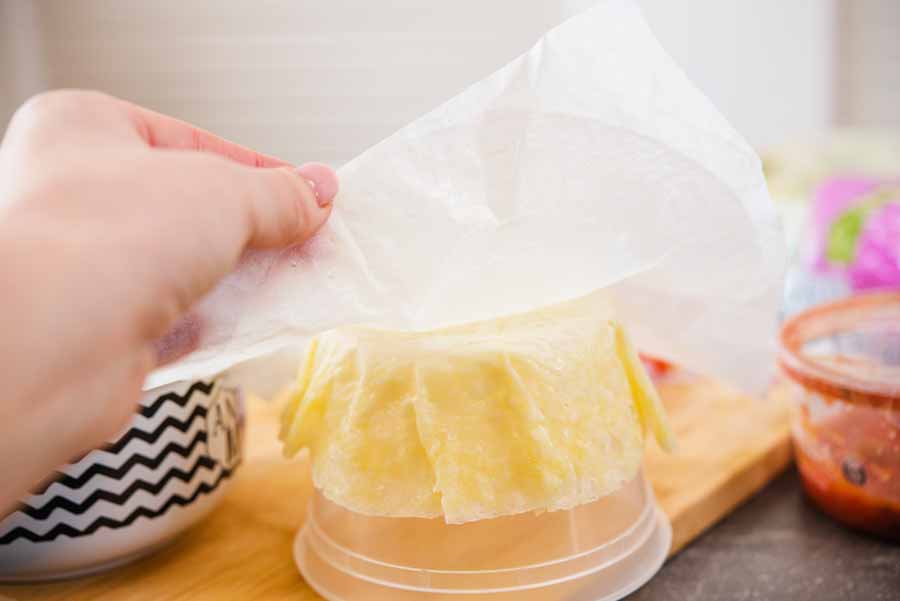 For my cheese bowl, I used the Folio Brand Cheese Wraps. I usually get them in a variety pack since my fiance is obsessed with them. I was truly shocked when I realized how easy it was to make a cheese bowl. It was far less complicated than I thought it would be and it only took 2 minutes. Check out the directions below.
How to make a cheese taco shell bowl using Cheese Wraps 
– Each cheese wrap comes on wax paper, place the cheese with wax paper side down in the microwave for 1 minute
– wait 30 seconds
– then select a small bowl and place it upside down
– place the cheese wrap over the bowl so the cheese side is touching the bowl
– press it firmly in place and let it cool for another 1-2 minutes
– remove the wax paper from the cheese and remove your cheese bowl (it will not stick to your bowl)
– these cheese bowls are great and will hold their shape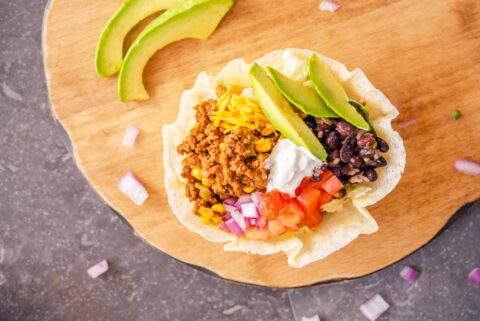 Low Carb Keto Taco Bowl with Cheese Shell
Serving this low carb keto taco bowl in a cheese shell makes this recipe even more delicious and perfect for meal prep.
Diets:

Gluten Free

,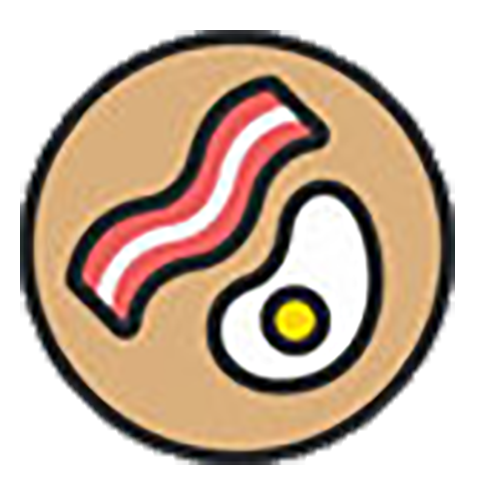 Keto

,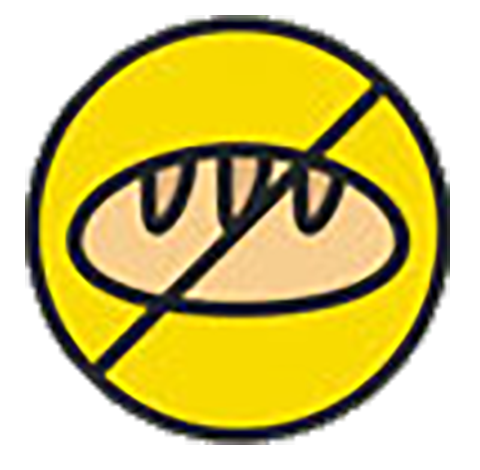 Low Carb
Ingredients
Taco Meat
1

lb

ground beef

90% Lean

1/2

cup

corn

canned

1/4

cup

green chillies

canned

1

packet

taco seasoning mix
Toppings
4

cups

butter lettuce

any bag of mixed lettuce 1 cup per bowl

1/4

cup

red onions

chopped, 1 tbsp per bowl

1/2

cup

tomatoes

dices, 2 tbsp per bowl

1/2

cup

salsa

2 tbsp per bowl

1/4

cup

sour cream

1 tbsp per bowl

1/2

cup

black beans

2 tbsp per bowl

1/2

cup

cheddar cheese

shredded, 2 tbsp per bowl

1

whole

avocado

medium size sliced, 1/4 of avocado per bowl
Instructions
Cook the Taco Meat
Turn your stove on medium to high heat. Once warm add a small spray of olive or avocado oil. Then add your ground beef chopping it with a spatula as it cooks. Then add your taco seasoning packet. Once the meat is browned, add your corn and green chilies.
Make Your Cheese Shell Bowl
First you will make your cheese bowl by placing the wrap in the microwave with the wax paper facing down for 1 minute. Then let rest for 30 seconds. Turn a small bowl upsidedown and place the cheese wrap over the bowl with the cheese side facing down. Mold to the shape of the bowl and let cool for 1-2 minutes. Then remove the wax paper and bowl.
Assemble Your Bowl
Add one cup of lettuce to your cheese bowl. Then in seperate sections of the bowl add 1/2 cup ground beef, 2 tbsp black beans, 2 tbsp chopped tomatoes, 1 tbsp chopped red onions, 2 tbsp shredded cheddar cheese, and 3-4 slices of avocado. Finally scoop 1 tbsp of salsa over the tomatoes and 1 tbsp of sour cream in the center of your bowl.
Notes
It's very important that you use the leanest beef possible which will drop your calories by 100-200 per serving!
Be sure to measure out your toppings since cheese and sour cream can easily add on extra calories
Feel free to use any lettuce you enjoy or even kale
Nutrition
Serving:
1
bowl
Calories:
611
kcal
Carbohydrates:
20
g
Protein:
43
g
Fat:
38
g
Saturated Fat:
18
g
Polyunsaturated Fat:
1
g
Monounsaturated Fat:
4
g
Trans Fat:
1
g
Cholesterol:
103
mg
Sodium:
1476
mg
Potassium:
730
mg
Fiber:
6
g
Sugar:
6
g
Vitamin A:
3072
IU
Vitamin C:
12
mg
Calcium:
176
mg
Iron:
4
mg
Keto Taco Bowl Meal Prep Tips
These Keto Taco Bowls with cheese shell are great for meal prep. This recipe will give you four bowls. I highly recommend using a bento box so you can easily heat up the taco meat and/or black beans to add to your salad. This Salad Bento Box is one of my favorites as the compartment for salad dressing is removable and microwavable so I use it for salads where I want to heat up part of the salad. It also comes with a built-in ice tray which is nice and a clip in fork. Trust me I've searched long and hard to find the perfect bento boxes for meal prepping. Here is my complete list.
Enjoy our other Keto & Low Carb Recipes
Find Delicious Recipes By Category