The Best Moroccan Lemon Chicken Recipe for the Instant Pot or Slow Cooker
This is the best authentic Moroccan Lemon Chicken recipe you will find and we've included instructions for both the Instant Pot and Slow. If you're just visiting my blog for the first time you may not know that I was born in Morocco. I felt it was only natural that I learn to make at least one authentic Moroccan recipe and I knew I wanted to learn my families Moroccan lemon chicken.
I remember having this when I went to visit my aunt in Virginia Beach and it was absolutely delicious. This is such a memorable dish and I receive so many compliments any time I serve this to friends or family. If you enjoy cuisine that is incredibly flavorful, then you must give this Moroccan Lemon Chicken recipe a try.
This Moroccan Lemon Chicken recipe cooks in only 7 minutes using the Instant Pot.
This Moroccan Lemon Chicken recipe can be made in both a slow cooker or Instant Pot. Pressure cooking is a popular cooking method that has been used in many Moroccan dishes, long before the Instant Pot grew in popularity. When using an Instant Pot, this recipe cooks in only 7 minutes, compared to 8 hours in a slow cooker! If you still have not invested in an Instant Pot, this might be the perfect time. I personally use the Instant Pot Duo Plus.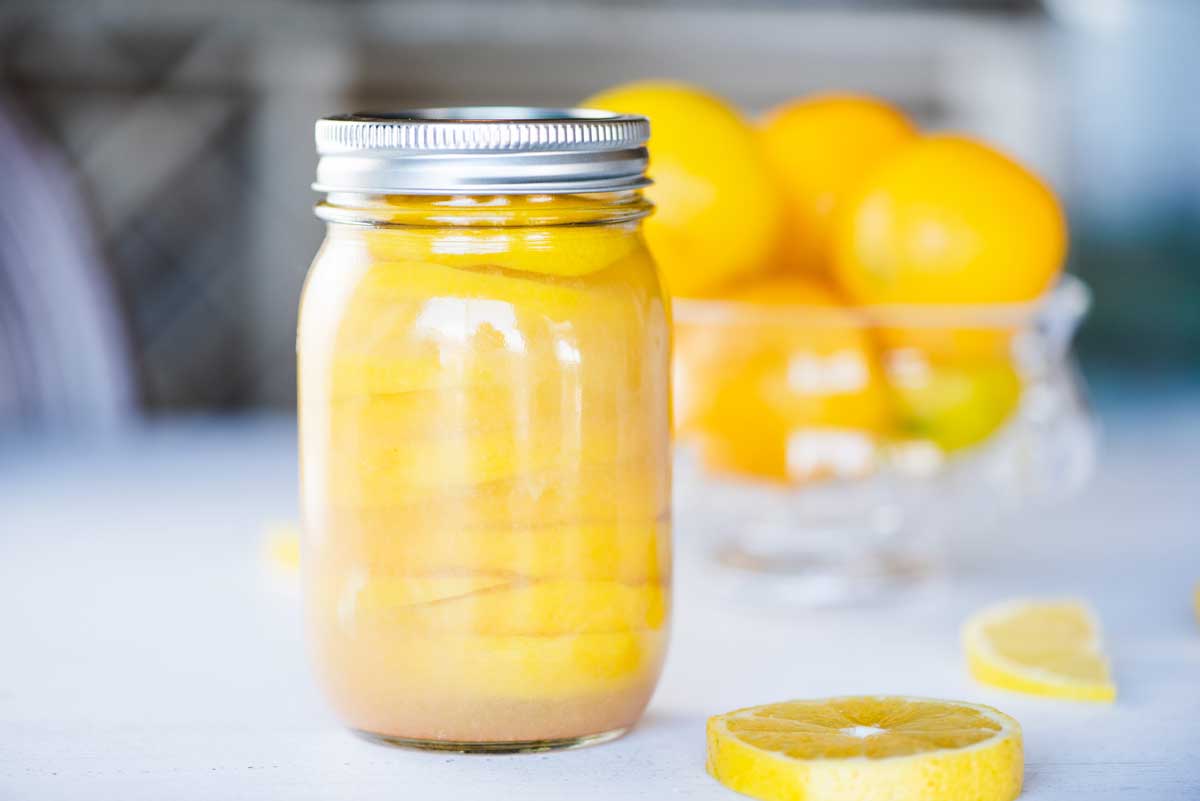 I experimented with this recipe several times and added my own personal touches until it was perfect. This Moroccan Lemon Chicken recipe is full of flavor and uses one of my favorite ingredients, preserved lemons. These lemons are jarred in a brine of salt and lemon juice which eliminate the bitterness. This allows you to eat the entire lemon and gives dishes an extra zip of citrus flavor.
If you are unable to find preserved lemons at the grocery store, they are incredibly easy to make. You only need two ingredients to make preserved lemons, salt, and a bag of lemons. You can find our Preserved Lemon Recipe here. This unique ingredient is used in many Moroccan recipes, but it also has a plethora of uses. You can find additional suggestions on how to use Preserved Lemons here.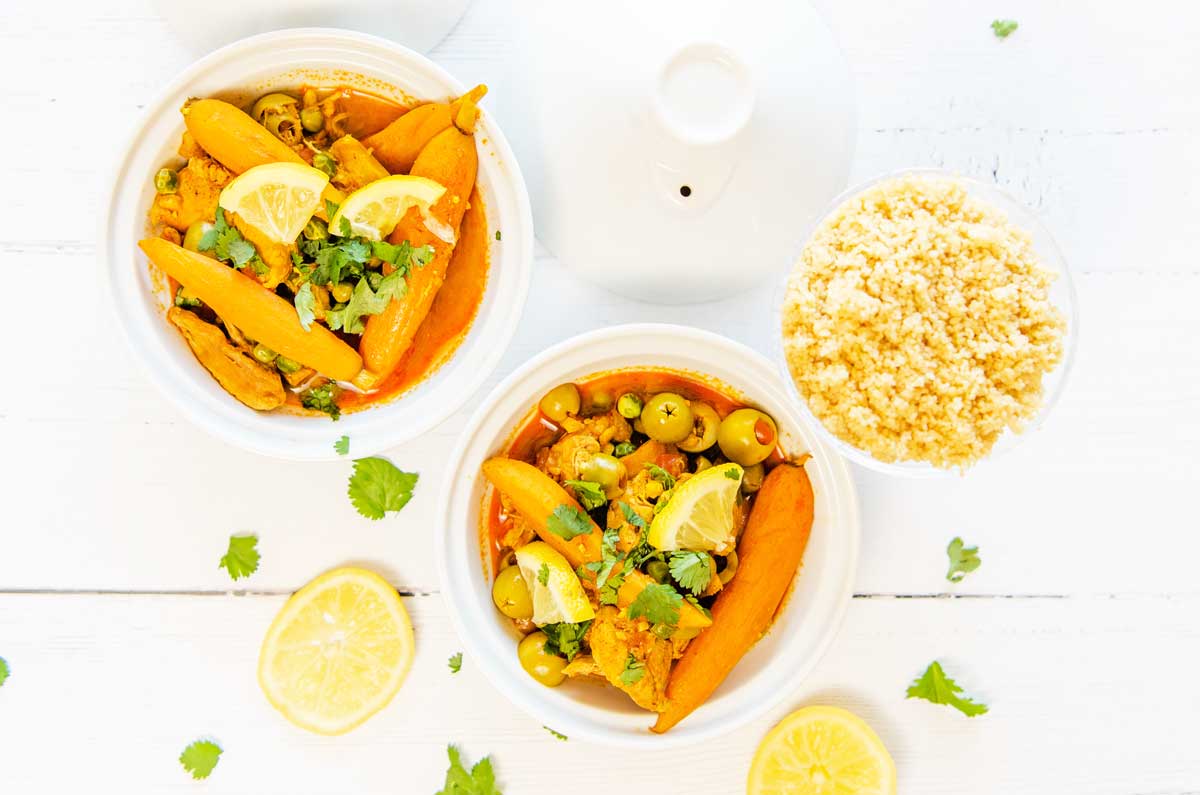 If you own an Instant Pot you will love how incredibly quick this recipe is to make.
If you prefer to use a slow cooker, this is a great recipe to prepare in the morning and enjoy once you arrive home from work. If you own an Instant Pot, you will love how incredibly quick this recipe is to make. Since this dish begins by using the saute feature and uses smaller pieces of chicken with only 1 cup of liquid, it pressurizes very quickly. In only 7 minutes this recipe is cooked with incredibly tender chicken that tastes like it's been stewing for hours.
This Moroccan lemon Chicken recipe pairs perfectly with whole wheat couscous or Basmati rice. If you are eating healthy or trying to lose weight, Trader Joes Whole Wheat Couscous is amazing. Each serving, which I calculate at 1/4 cup, has only 166.5 calories with 5g of fiber and 6g of protein! An entire serving of this recipe, with couscous, is only 398 calories!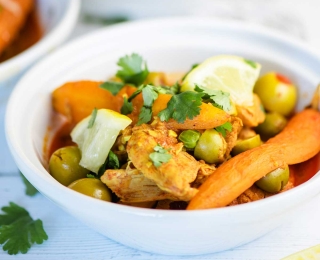 Moroccan Lemon Chicken Recipe Instant Pot or Slow Cooker
This is an authentic Moroccan Lemon Chicken recipe passed down from my family ( I am half Moroccan). There is also a recipe for making your own preserved lemons which are key and the use of the Instant Pot or Slow Cooker makes this dish easy and convenient.
Print
Pin
Email
Diet :

Gluten Free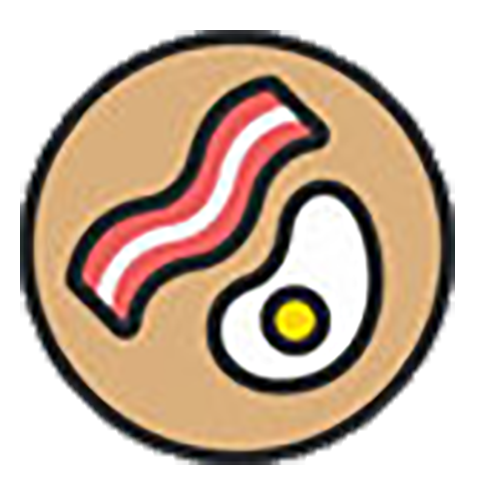 Keto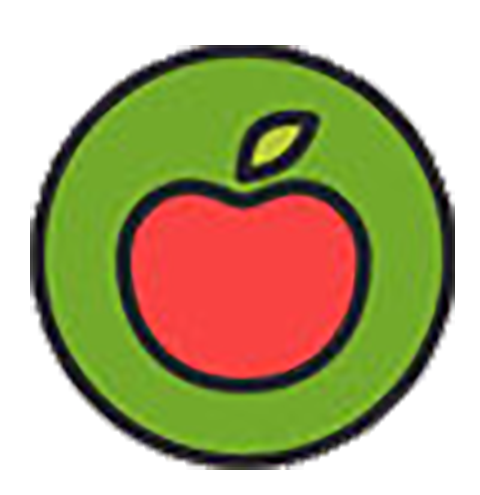 Low Calorie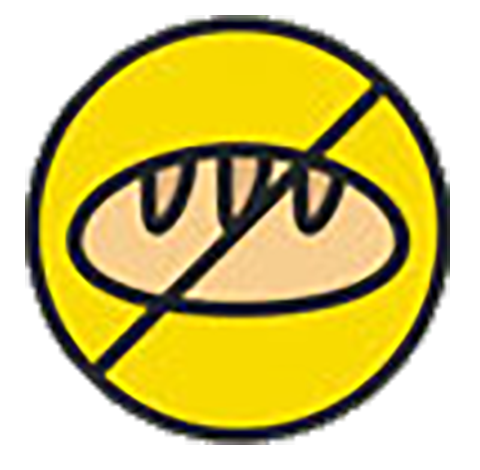 Low Carb


Paleo
Ingredients
1

package

Chicken Thighs

skinless and cubed

1

tbsp

ginger

use only fresh grated ginger

2

cloves

garlic

chopped

½

cup

sweet onion

finely chopped

1

tbsp

flour

or cornstarch if you're gluten free

½

cup

peas

frozen organic

1

lb

Carrots

6 medium to large carrots cut in half

1

tbsp

Olive Oil

¼

tsp

olive oil

a light spray

1

large

Lemon

juiced

1

tsp

Salt

I prefer Himalayan Pink Salt for its mineral content, read more about the benefits here.

1

tbsp

Paprika

1/2

tsp

Cinammon

1/4

tsp

Black Pepper

1/2

tsp

Tumeric

1/4

tsp

Cumin

.8

tsp

Cayenne Pepper

1

cup

Chicken stock

I like Trader Joe's organic stock

¼

whole

preserved lemon

2 slices diced small

½

cups

large green olives

sliced in half

⅛

cup

cilantro

for garnish
Instructions
Slow Cooker
First, remove excess fat from chicken thighs. Then, in a large bowl add the chicken, spices, grated ginger, garlic, lemon juice, 1 tbsp olive oil and marinate in the fridge for at least 30 minutes or even overnight.

Take out your slow cooker and add the carrots, then top with the chicken.

Then add the onions,peas (if fresh, if frozen add at the end), broth and set the crock pot on low heat for 6-7 hours (never lift the lid).

10 minutes before it's finished you can start your couscous. If you are making rice start 30 minutes before its finished. For low carb, keto, and gluten-free diets omit carbs.

10 minutes before the dish is finished, remove 1/2 cup of broth and whisk in 1 tbsp flour or corn starch, then add back to the crockpot to thicken the sauce.

Then also add the Olives, Peas (if frozen), Preserved Lemons, and Fresh Herbs.

Let simmer with the top open for an additional 10 minutes. You can give a little taste and add more salt or lemon juice if needed.
Instant Pot Instructions
Set Instant Pot to Saute to medium heat and once hot, spray with olive oil and add onions. Saute for about 1-2 minutes and add your 1 tbsp of flour or corn starch to create a rue.

Then using prongs, add chicken thighs with juice and combine.

Add in the chicken broth making sure to get all the scrapings from the bottom.

Next, turn off the saute setting and add the carrots, it is ok if they are not completely submerged.

Put on the lid and turn on the pressure cooker to high pressure and set for 7 minutes. Once it is finished, quick-release the steam and remove the top.

If serving with Couscous, you can begin this now which should only take about 5 minutes using Trader Joes whole wheat couscous.

Put the Instant Pot back on the lowest saute setting and add in the frozen peas, olives, and preserved lemon. Simmer for about 1-2 minutes.

Scoop into your bowls, garnish with chopped fresh cilantro, and serve.
Notes
Serving Suggestions for Moroccan Lemon Chicken
I usually enjoy this dish with whole wheat couscous from Trader Joes which is very easy to make and cooks in only 5 minutes. Adding 1/4 cup of cooked whole wheat couscous will add an additional 160 calories, 4g of fiber, and 6g of protein to this recipe.
This Moroccan Lemon Chicken is also great for meal prep. It will freeze and reheat very well. I'll often double the batch and freeze several serving. Don't forget, making your own preserved lemons is incredibly easy and you can find the recipe here.
Nutrition Facts
Moroccan Lemon Chicken Recipe Instant Pot or Slow Cooker
Amount Per Serving (1 cup)
Calories 274
Calories from Fat 99
% Daily Value*
Fat 11g17%
Cholesterol 109mg36%
Sodium 912mg40%
Potassium 734mg21%
Carbohydrates 19g6%
Protein 26g52%
Vitamin A 16196IU324%
Vitamin C 24mg29%
Calcium 65mg7%
Iron 2mg11%
* Percent Daily Values are based on a 2000 calorie diet.
Share on Facebook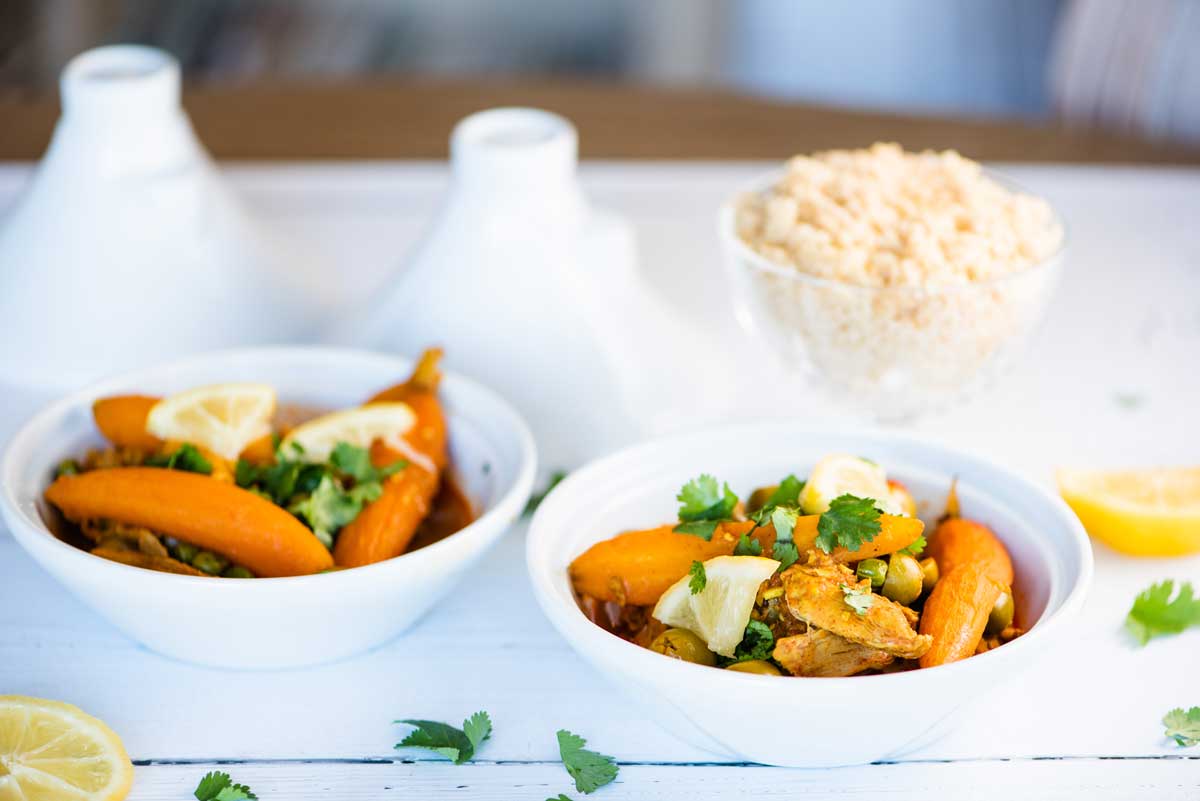 For an extra special touch, I recommend serving this dish in small tagines. I found this amazing 10pc. set on Amazon and use them all the time when I make Moroccan or Indian dishes. They add that extra special touch and are a hit at dinner parties.
If you decide to make this Moroccan Lemon Chicken recipe I would love to hear your feedback. Please leave a comment below. This is one of my absolute favorite recipes and it is full of flavor so I really hope you enjoy it!